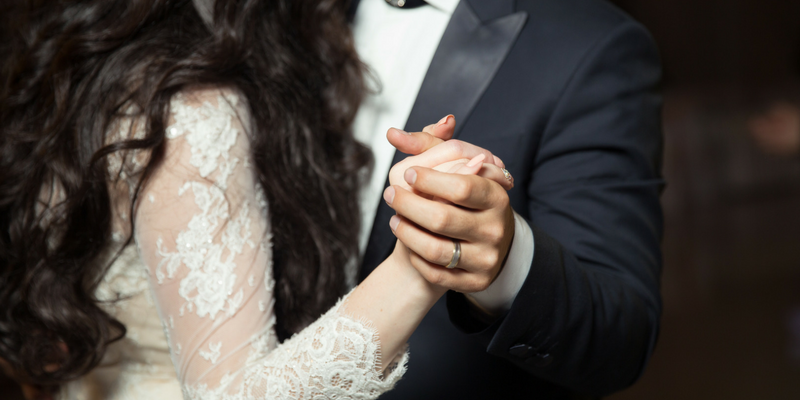 Top 10 Wedding First Dance Songs For 2018
At Wedding Journal we are in tune with what most couples want to lead off on the dance floor with for their first dance as husband and wife…
Like most wedding decisions choosing the right song for the all-important first dance is very personal to the couple. The first dance song can be a hotly contested topic among couples. For some their shared history together will mean there is one natural choice as it is 'their song' and therefore the only one for them.
But if you're still looking for the perfect music, you've come to the right place. There's no denying that the song you choose as your first dance song will go down in history. It will stand out as a moment in time which you will always remember so you want to get it right. It's a big decision.  For many, choosing first dance song is like picking a name for a baby: a long-winded process that often involves endless internet searches and throwing out suggestions over your morning cereal and evening dinner.
It is one way of unfolding a love story and starting your journey together. But, fear not, because help is at hand. Keep reading to discover our pick of the best wedding first dance songs for 2018. You'll find tunes to suit every type of couple and their individual relationships….
Perfect – Ed Sheeran and Beyonce
One of the key songs of 2018, this duo's rendition of Ed Sheeran classic song makes for the ideal choice. This song will reduce even your most harden-hearted guests to tears. We loved it so much, we thought it deserved a video of a real life couple – prepare for tears!
Song Bird – Eva Cassidy
This is a very popular walking down the aisle as well as a first dance song. The song became even more popular following the singer's death in 1996.
A Thousand Years – Christina Perri 
Twilight fans and loving couples will be able to appreciate the pure emotion that oozes from this song. Ideal choice for entering married life together.
All Of Me – John Legend
This modern day love song took the UK by storm when it was released. John Legend wrote it about his own fiancée Chrissy Teigen and he sung it to her during their own nuptials – how romantic.
Say You Won't Let Go – James Arthur
This former X-Factor star's song went double platimum in the UK and is the perfect choice for starting off your wedding celebrations.
The Way You Look Tonight- Frank Sinatra 
This timeless classic will appeal to all ages!
Have I Told You Lately That I Love You- Van Morrison
This song by Van the Man is the ideal romantic slow song for those who just want to smooch around the dance floor.
Make you feel my Love – Adele
She is the nation's favourite and her talents are unarguable. She is well known for portraying situation of love and heartbreak through her music and this song is about as love-felt as you can get.
(I Can't Help) Falling In Love With You' – UB40 / Elvis Presley
This song was originally a hit by Elvis Presley and is the perfect upbeat version for starting out your evening celebrations.
At Last – Eta James
This song is incredibly romantic and full of emotion, It was recorded back in 1961 and is still a popular wedding song in 2018. Perfect for slowing things right down.
I'm Yours- Jason Mraz
Jason has been reported saying this song is about generorsity. 'It is about giving yourself or your time to someone or something else.' What better way to represent a marriage? We can't think of any!
For more inspiration on your first dance or how to wow guests on your big day, check out our top five wedding first dance clips HERE