We know weddings are all about making that special commitment, but they're also about creating an unforgettable experience, which is exactly what these four couples did with their unique and quirky weddings.
With social media these days it can feel like there's nothing new under the sun, so choosing your wedding theme can be easier said than done. After all, you want a day that is truly memorable and stands out from all the rest.
Everyone's wedding day is special, but when it comes to thinking outside the box these couples have outdone your average ceremony celebration. Taking an unconventional approach will win the day, make magic memories – and create unforgettable photo opportunities.
Love Is In The Air
Meet Patrick and Melaine Russell who took their love to new heights (literally!) when they decided on a hot air balloon/sky dive wedding. Yes, you read that right – Patrick, who is originally from Cork, met his wife Melaine on a skydiving adventure in America and the rest is history.
"We met at Skydive the Ranch in Gardiner, NY," Melaine says. "I was working there when he enrolled in the student training program to earn his license in skydiving."
And it wasn't long before the two adrenaline junkies found love in each other and started dating in 2017 – the same year they had their wacky sky dive and hot air balloon wedding.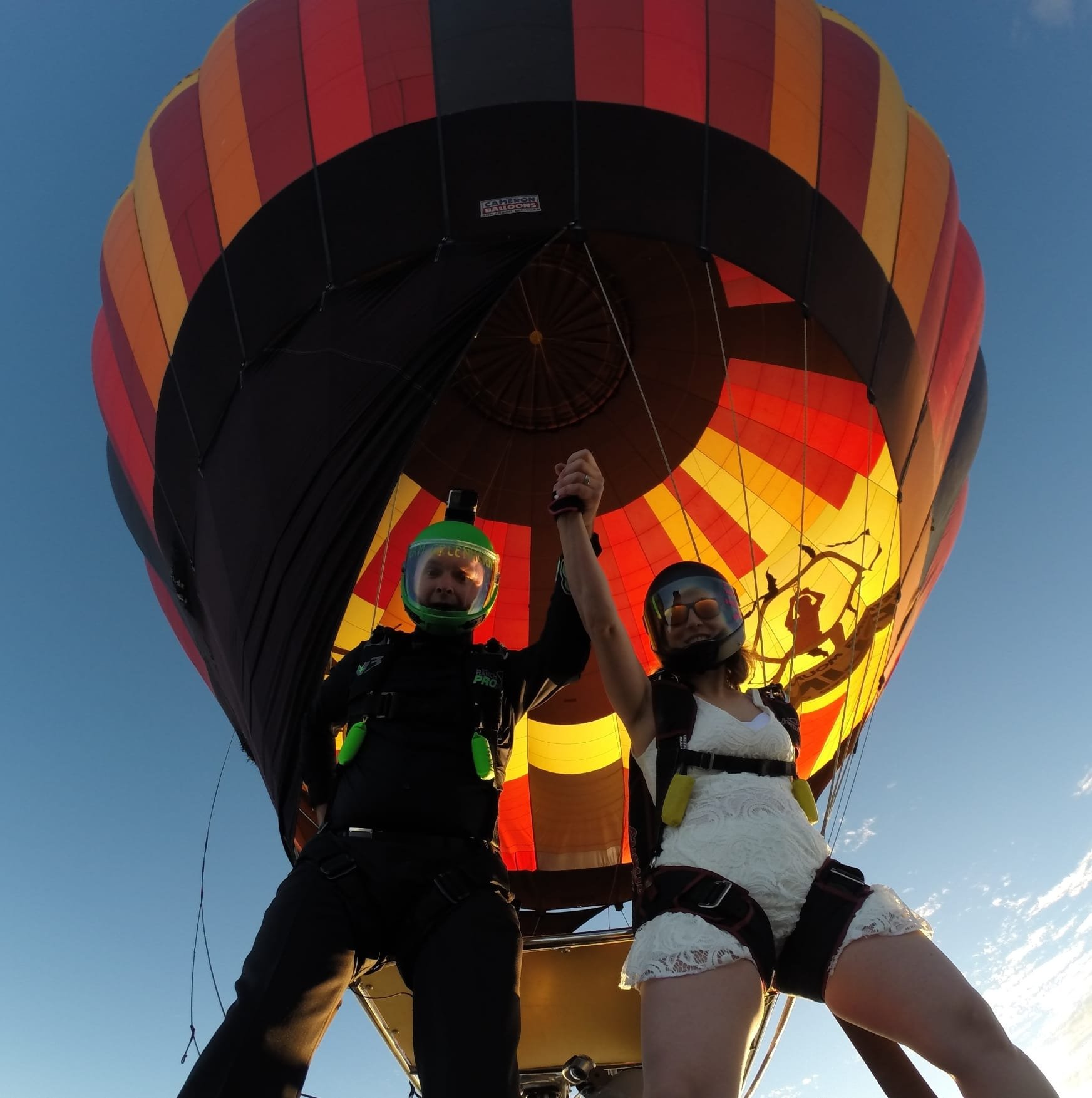 "We never actually got formally engaged," Melaine explains. "We've both been married before, so we were super casual about it. Patrick just looked at me one day and said something like, 'I could picture having you as my wife' and I said, 'me too.'
"He followed that by asking if I wanted to get married and I said 'sure'. I specifically asked him not to bother with an engagement ring because we didn't want to make a big thing of it."
Although they went for a casual engagement, Melaine and Patrick went above and beyond for their wedding celebration which they held on their one year anniversary, 11th July 2017.
"What we did make a big deal of was getting married on our one year anniversary," Melaine shares. "Given that skydiving is already a weather-dependent sport and flying a hot air balloon additionally requires low winds, we were really taking a big risk by narrowing it down to one specific day.
"We decided to get married in a hot air balloon because it's much more peaceful than jumping out of a plane and we had both made balloon jumps before, but the experience was definitely surreal given that we climbed into the basket as boyfriend and girlfriend and jumped out of the basket as husband and wife!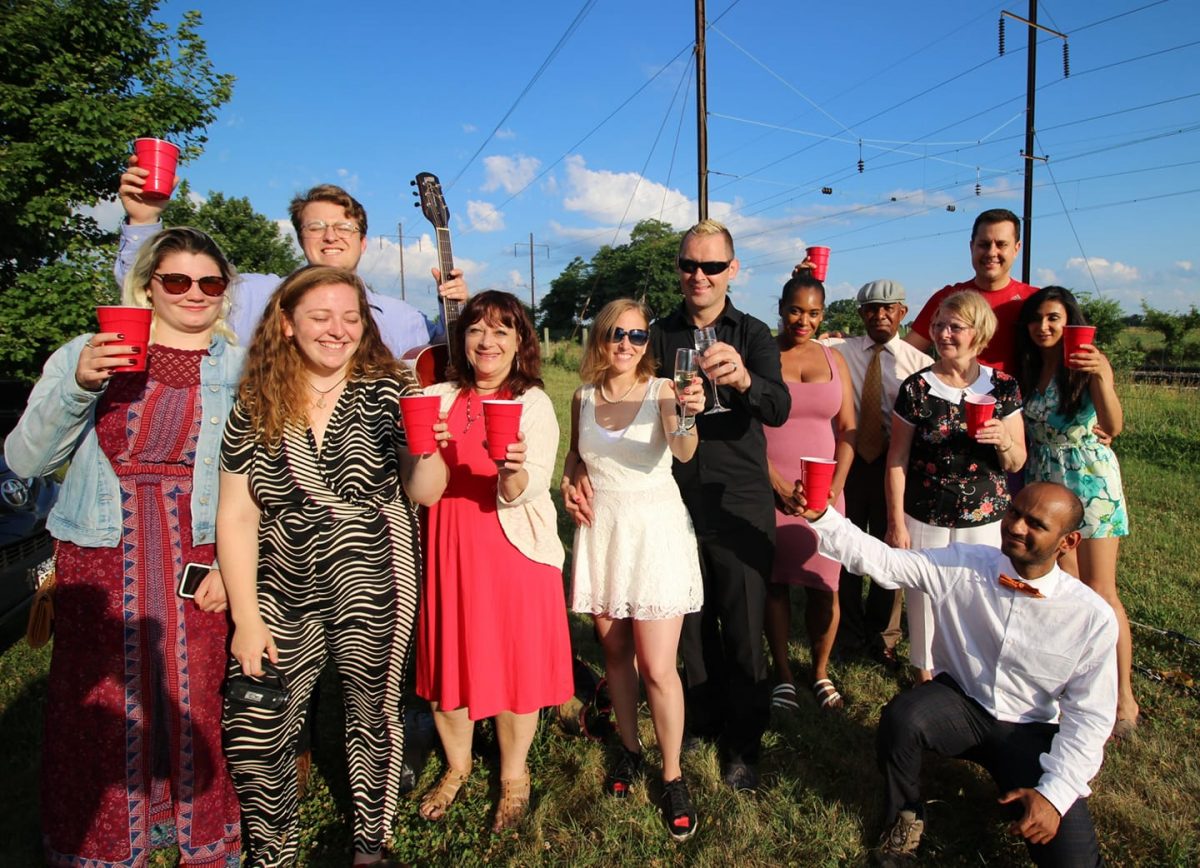 RELATED TO: 'We Planned A Pandemic Wedding in 1 Week'
"Our family and friends had an unforgettable experience. Our friends Kevin and Rahul were stoked about making another balloon jump – they jumped right after us. My mother, on the other hand, was concerned that she wouldn't have the courage to even ride in the balloon, but she became ordained just for the purpose of marrying us, so I told her that she'd have to suck it up and ended up loving it!
"We were pleased that the space in the balloon was limited because we didn't want to have a big wedding. Little did we know our video would go viral and we'd be recruited for interviews all over Ireland, and even a television show, "Outrageous Weddings", which we have yet to see!"
Parachute Plunge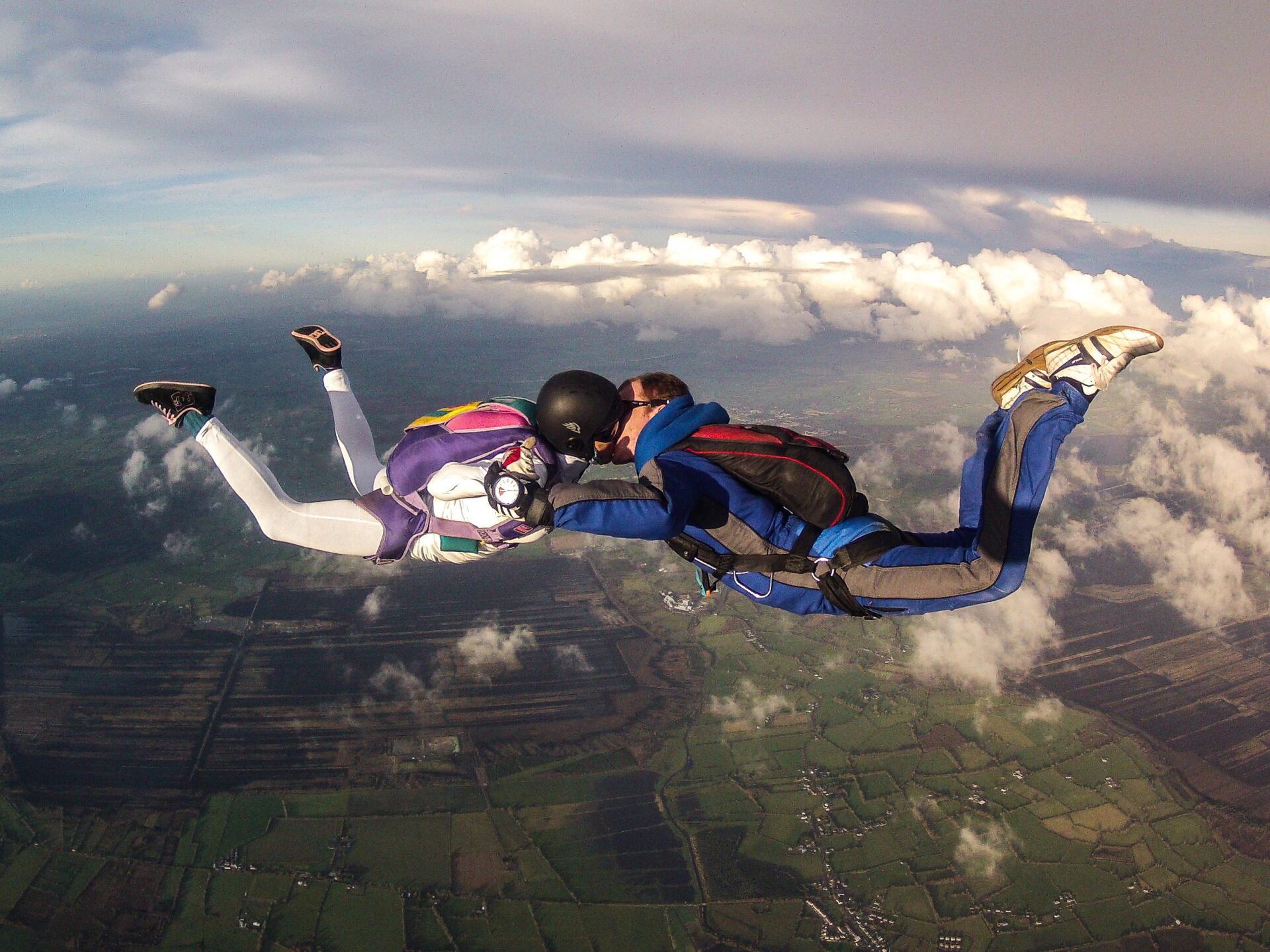 We love an adventurous couple who go above and beyond for their big day. Meet professional skydivers David and Christine Duffy from Dublin, who are members of the Irish Parachute Club and took their guest experience to the next level.
"Me and Christine actually met in 2014 when we were stunt doubles for a movie and enacted a mid-air kiss as part of a wedding scene – little did we know, years later we would be the ones to marry!" David shares.
After saying 'I do' in Glassan Lakehouse Hotel in Westmeath, David and Christine surprised their guests with a parachute plunge over the golf course from their skydiving friends.
"After the ceremony, during the drinks reception, our friends from The Irish Parachute Club dropped in with gifts of Milk Tray and Jagermeister. The best part was that they were in full tuxedo wear and looking the part. They dropped in, successfully and safely creating a great surprise show for the guests.
"It was quite spectacular for some of the guests who had never seen this type of thing before – it was great craic and something we'll never forget," David says.
Marathon Matrimony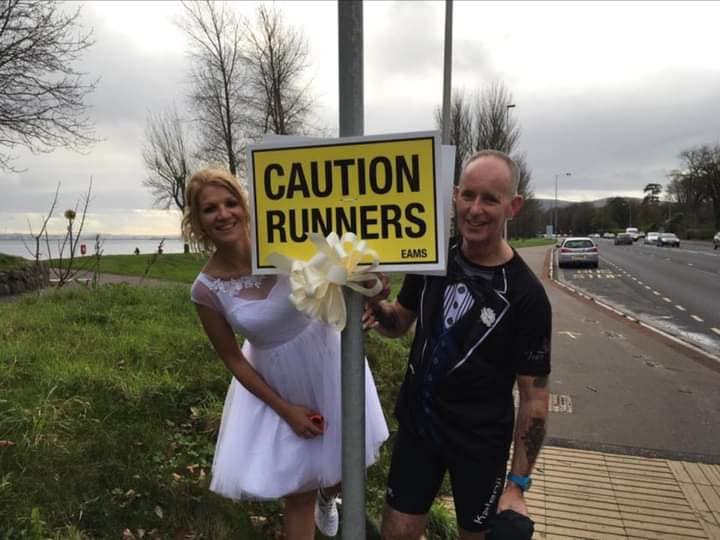 Meet the owners of We Run Wild NI, Gillian and Gary Connelly, who swapped out their wedding attire for running gear to celebrate their marriage with a marathon. "Running is what really brought us together, so we thought why not!" Gillian says.
"We both met at our local running club and it's what we've always loved doing together ever since. We never really had a desire for a traditional church wedding, so we thought we'd do something different and get all our friends and family involved in something we enjoy!"
Gillian and Gary held their ceremony in their hometown at Carrickfergus Castle before family and friends came to join in the 10k marathon to Loughshore. They even had specially made running gear, with a little wedding glamour of course!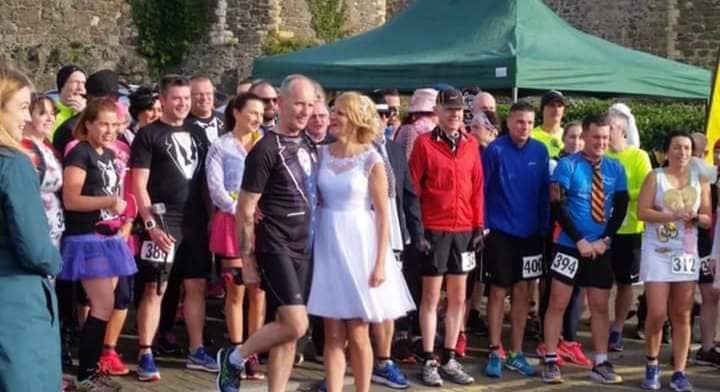 "Our friends and family loved it and they joined us and did what they could on the laps," Gillian explains.
"I had got married in my long dress and then quickly got changed into a short wedding dress for the run, which was not designed for running at all, but it was short and sleeveless and the weather was reasonably kind to us.
"Gary got married in his suit before changing into running shorts and a specifically designed running tuxedo shirt as well! We are so glad we did it – it was a great day for everyone and one we'll never forget."
RELATED TO: Wedding of the Week: Nikki & Stephen's Romantic and Relaxed Galgorm Ceremony
Festival Fiesta
Festival loving couple, Helen Keys and Charlie Mallon from Moneymore, wanted an intimate wedding with a twist.
"Charlie and I were always festival goers, we've been to Glastonbury and Electric Picnic and we loved that kind of relaxed vibe," Helen explains.
"Neither of us wanted anything too formal, we just wanted everyone to come together, enjoy themselves and have a relaxed evening."
Helen and Charlie transformed their garden venue into a festival wonderland with everything from marquee tents, food stands and a disco barn to festival inspired tickets!
"We did our invitations like tickets and called it 'the hitching' and made sure to tell people to bring their wellies," Helen laughs. "For food, we approached St George's Market and arranged little food stalls – we had paella and crepes, so the guests had plenty to choose from, and my aunt also organised an ice cream van so everyone could get their 99s!
"My dad also has a barn in his garden and my friends who run a bar brought staff to help out and they gifted us a keg of Guinness which ran out in about five minutes. We then had tents all around the garden and Charlie is a blacksmith, so he made fire baskets and we lit fires in the evening, and everyone was dancing and having fun!"
To find out more about quirky and unique wedding venues – view details HERE
If you haven't already, sign up to our newsletter HERE to stay up-to-date on all things news, style and wedding inspo