It's the crowning glory that will set your ensemble off to perfection – so here are the best styles for your wedding dress!
There's no denying a veil can be the showstopper that will really turn heads on the big day. But getting it right is essential – you want the veil to complement your look, not overwhelm it.
Whatever your dress style, there's a veil to suit, so check out our guide below and slay them on the day!
The Lace Dress
If you're rocking an all-over lace wedding dress, you might want to keep the veil fairly simple. But if it's just a few touches of lace here and there, then feel free to go for an ornate veil – it's all a matter of keeping a good balance. If you are adding a lace veil to a lace wedding dress, try to get as close as you can to the pattern of the lace on your gown.
Polka dot silk style tulle wedding veil (Dot) from Britten Weddings, left. Bella Rose 3D floral veil from Visionary Veils, right.
RELATED TO: Four Undone Hairstyles For An Effortless Bridal Look
The Simple Dress
Congratulations, the world is your oyster! If your dress is simple and unadorned, you can choose from the whole range of veils out there.
An ornate veil could be the perfect option if you've gone for a simpler gown than you'd expected and want to include a little detail in your ensemble.
We love this showstopping multilayered veil (C568B), available from Marie Me Bridal, or this pretty floral veil from LA Bridal House. Or if you're rocking a perfectly simple train, this classic chapel veil with comb (VTBM20162) from Enzoani will really create a dramatic impact, right. Stockist The Attic Bridalwear Boutique.
RELATED TO: Which Celeb Inspired Bridal Hairstyle You Should Choose For Your Face Shape
The Tea Length Dress
A tea length dress can have quite a flouncy triangular shaped skirt, and a sweet elbow length veil can echo that shape and create a cute retro but laid-back look. Crystal drop veil from LA Bridal House.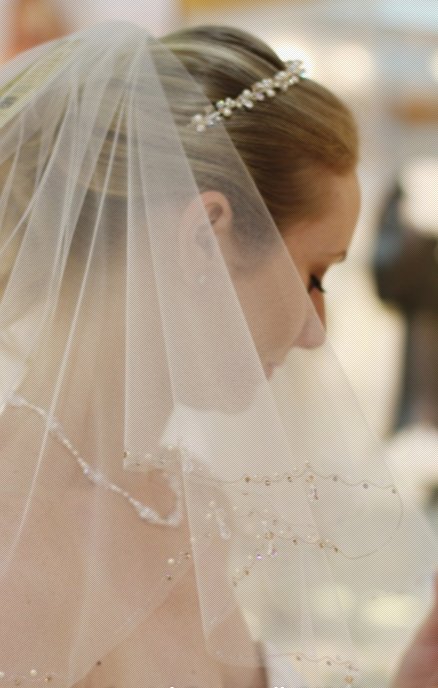 The Fishtail, Mermaid Or Fit And Flare Dress
These style of dresses usually have a particular point at around fingertip level where the train begins to flare out, so a fingertip veil that ends just above that point is perfect. Enzoani fingertip veil with comb (VTEN20163FT) – stockist La Bella Sposa.
RELATED TO: How To Choose The Best Wedding Dress Style For Your Body Shape
RELATED TO: Our 2021 Wedding Dress Trends Update
The Beaded Dress
If you do have some sparkle in your dress, you can pick up the look with a few beads scattered about your veil – it will really catch the light. Don't worry about overpowering your dress – the tulle is so sheer that the detail on the dress will be really visible. Beaded veil from Angelo Bridal.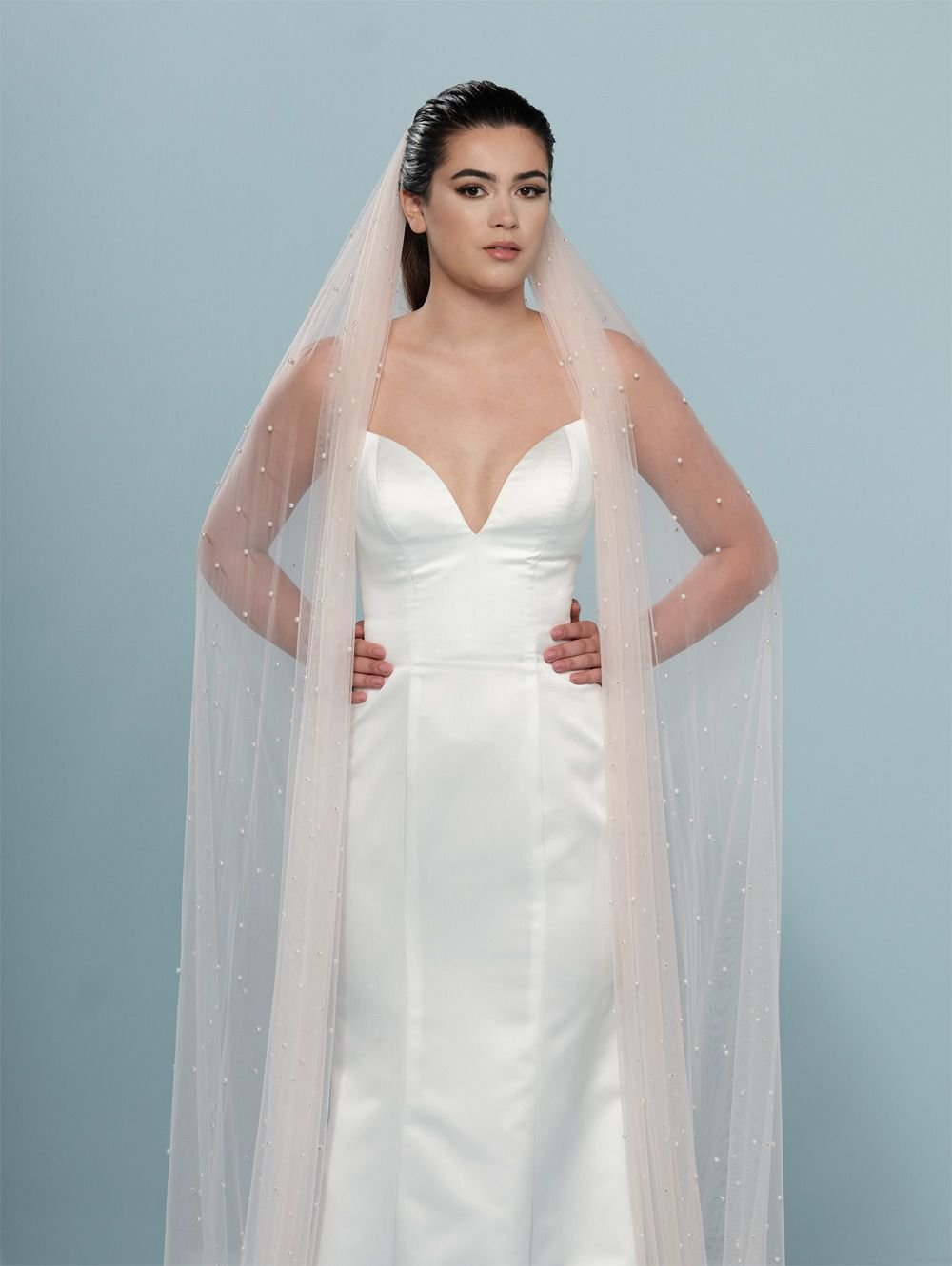 RELATED TO: 10 Gorgeous Boho Wedding Dresses Worn By Celebrities – Get The Look!
The Vintage Dress
We love the cute new retro-style birdcage veils – just a touch of high couture without taking away from the dress. This Purity Birdcage veil by Arianna from the Wedding Veil Shop is perfect for a put-together vintage look.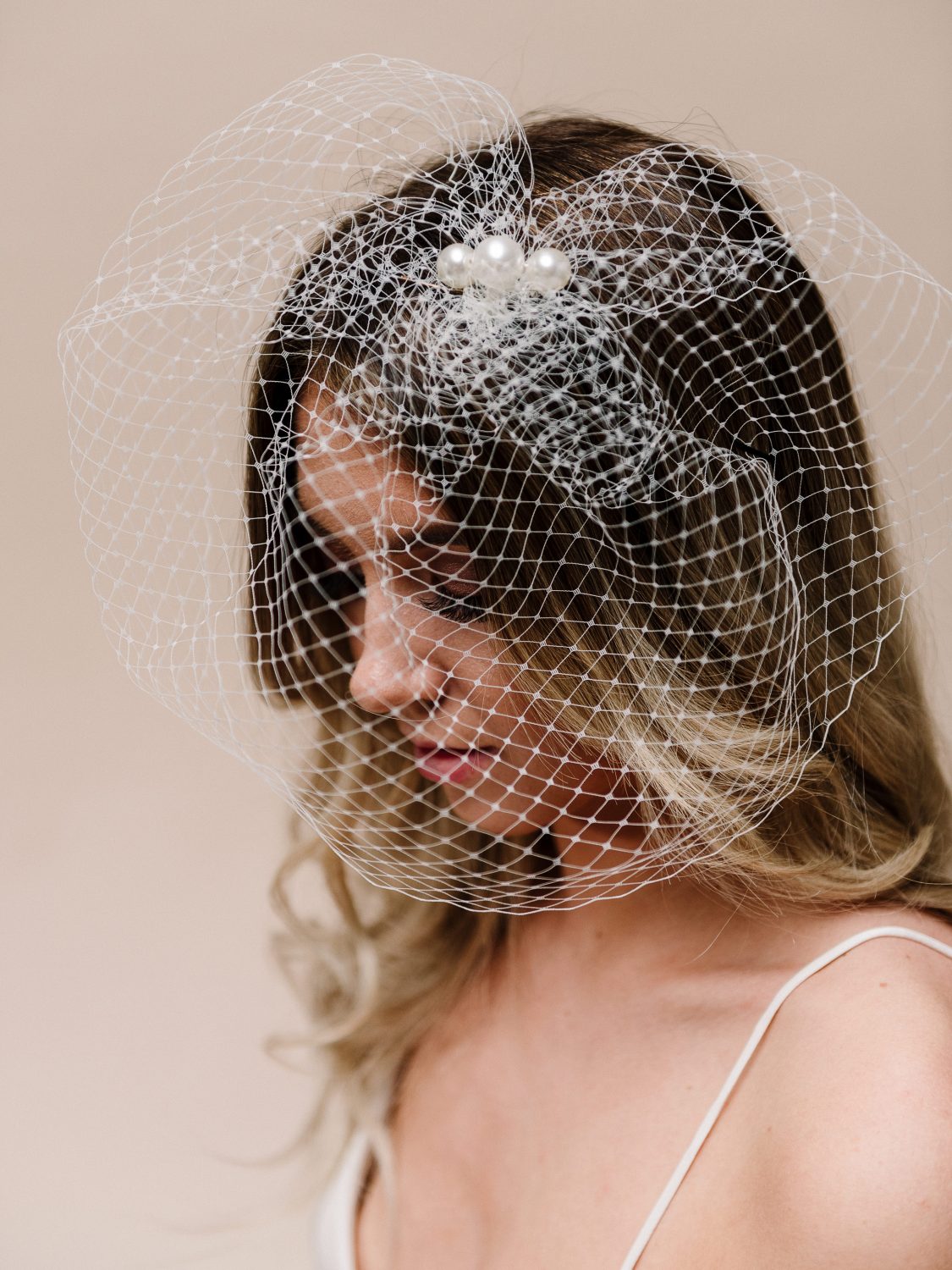 RELATED TO: Dramatic Back Wedding Dresses For The Statement Bride
The Train
There are three train lengths that touch the floor – if your dress has no train or hardly any train, go for a floor length veil. A train with 2-3 feet of fabric on the floor would call for a chapel length veil, while longer than that is cathedral length. The Couture Veil from Beau Bride, left, and the Niamh two-tier chapel veil from Fitzpatrick's Veils of Ireland, right.
The Traditional Look
For an alternative yet traditional look, we love the pretty embroidered skullcap veil – combine with a simple and modest gown for a sweetly boho style. The Kate Moss veil from Visionary Veils, left; the wedding skull cap with detachable silk veil from Fitzpatrick's Veils of Ireland, middle; and the Clarissa veil from Visionary Veils, right.
RELATED TO: 10 Most Popular Celebrity Wedding Dresses – And How To Get The Look
Still on the hunt for your dream dress? Check out all our wedding dress suppliers HERE
If you haven't already, sign up to our newsletter HERE to stay up-to-date on all things news, style and wedding inspo