Naked wedding cakes are the new big thing! From delicate gold flexes to neatly scraped edges and colourful berries, check out our edit of trending sweet treats that will add a stylish touch to your day
One huge wedding trend that's really taken off is naked and semi-naked wedding cakes! So we thought it's only right to round up our top favs and give you some food for thought (see what we did there? 😉 ).
The Victoria Sponge is having a big comeback – but this time it comes with stunning scraped edges and delicious details and it's heading to a wedding near you, maybe even yours read after you read this post!
What is a 'Naked Wedding Cake'?
The naked cake or semi-naked cake, is a cake with less exterior frosting than you're usual wedding cake. They can be stacked with flavourful fillings to retain moisture, whilst the outside is usually marked with scraped frosting or none at all to create an overall rustic and chic aesthetic.
RELATED TO: 6 Wedding Cake Trends For 2022 That You Need To Know
Ready for some naked cake inspo? Keep on scrolling to get inspired…
Cake by Cove Cake Design
This semi-naked buttercream wedding cake from Cove Cake Design is a dream come true! The pale blue frosting topped adorned ruby sugar dahlia and gilded blackberries creates an overall relaxed and modern vibe. The gold flexes add that perfect finishing touch and luxurious feel.
RELATED TO: 8 Fabulous Tiered Wedding Cake Trends You Need To See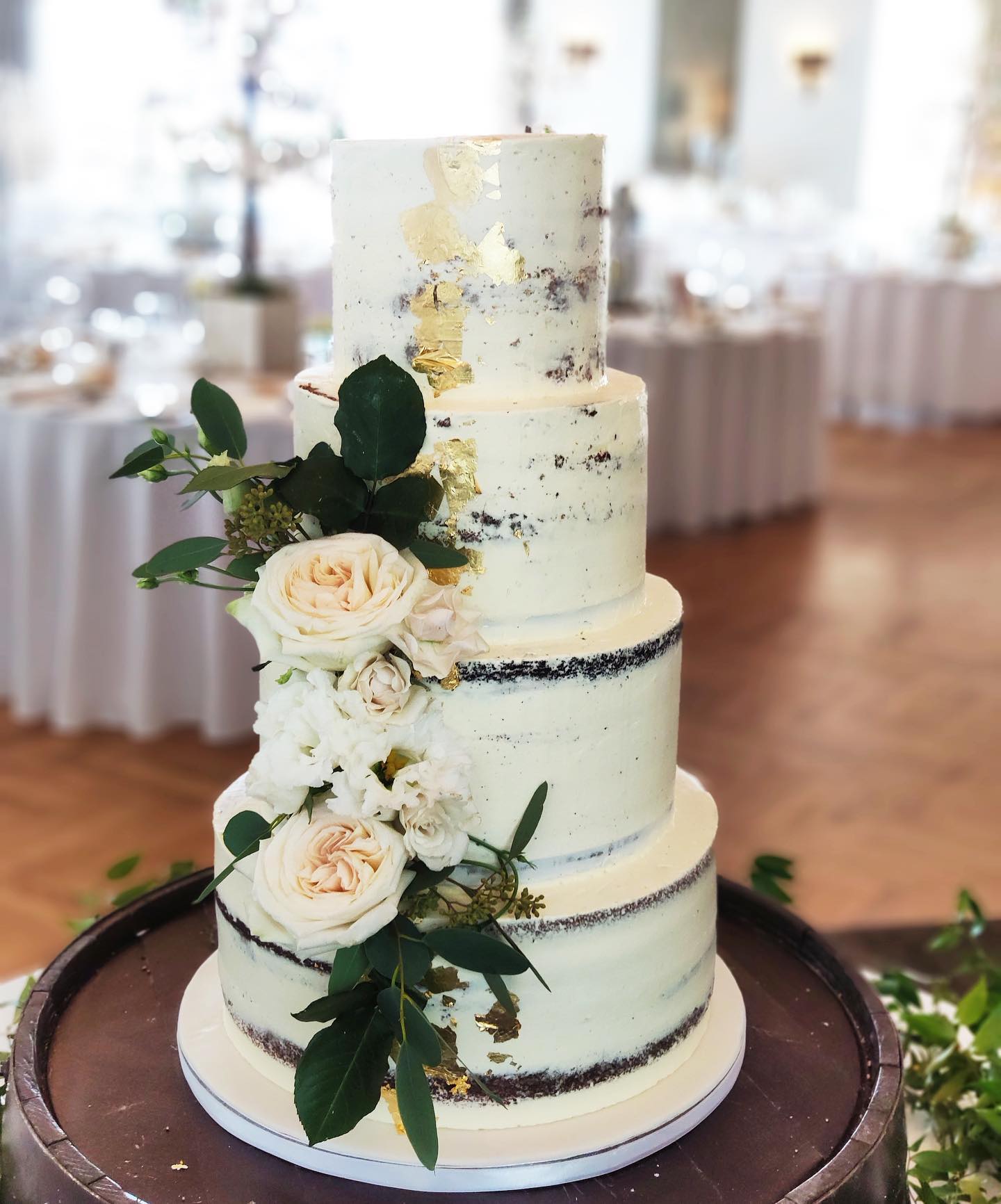 Why have two tiers when you could have four?! Better yet, go with a semi-naked wedding cake like this beauty by MM Cookies finished with some delicate buds and roses and you're in for a style statement that looks good enough to eat!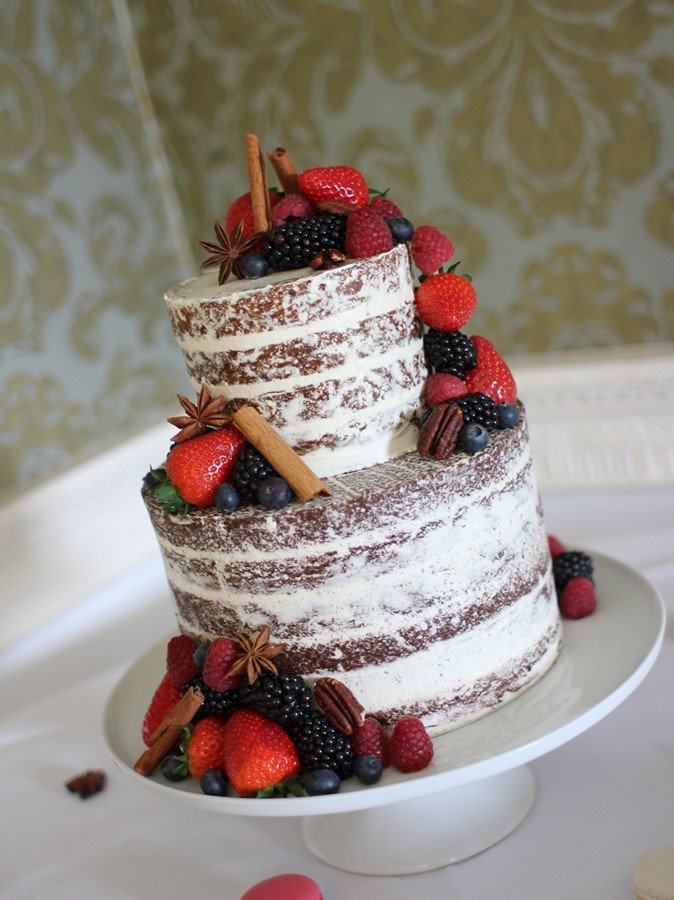 Cake by French Wedding Cakes
This beautiful berry and cinnamon naked wedding cake by French Wedding Cakes is perfect for a rustic autumn or winter wedding. The lightly scraped white frosting paired with the bold and bright colours of the fruit and cake base provide contrast and make this a super cute sweet treat!
RELATED TO: 17 Romantic 3-Tier Wedding Cakes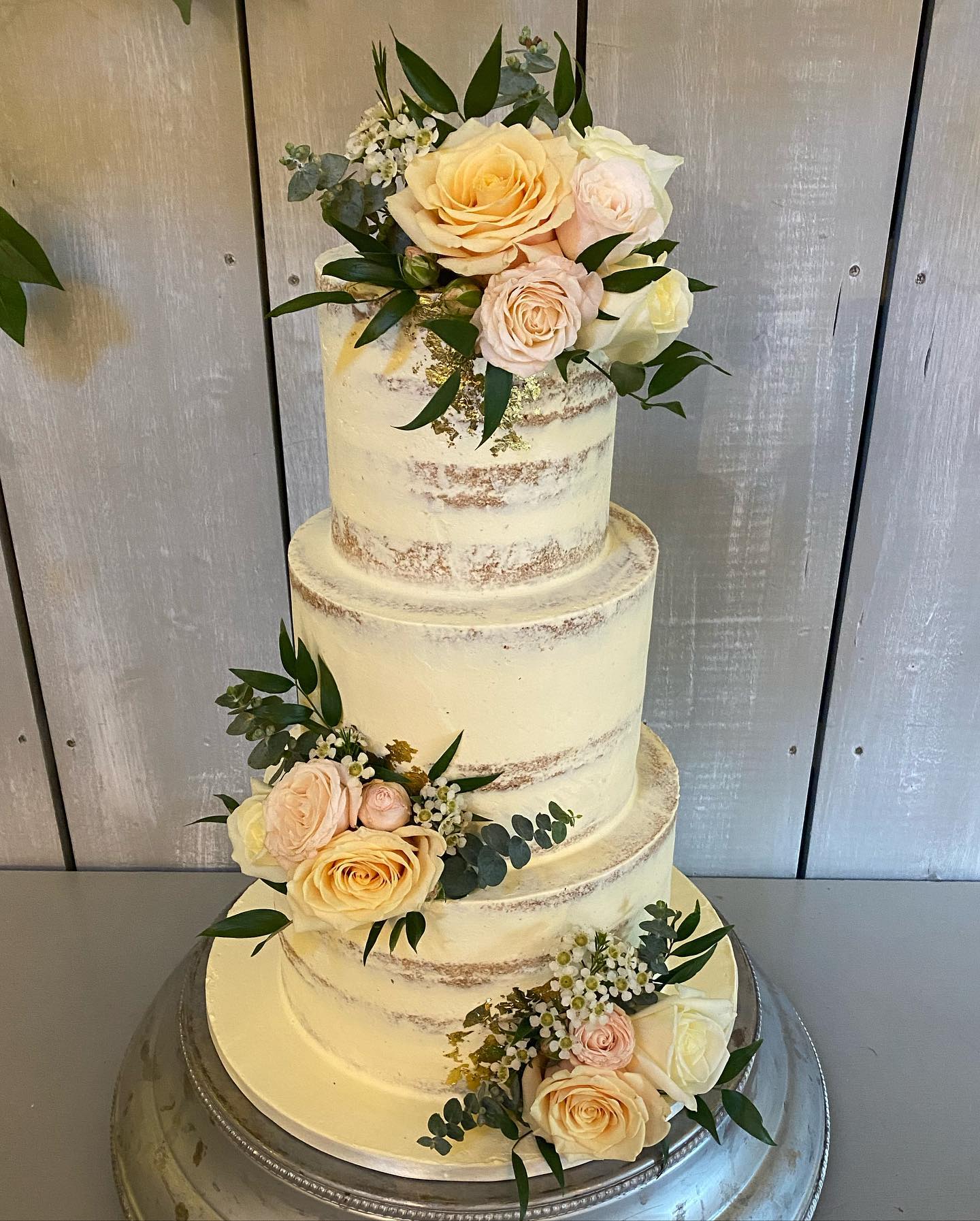 There's something about a naked wedding cake topped with pastel florals and foliage that we adore! This delicious find from Creative Cakes is the perfect example of an elegant wedding cake with a neat look and a modern semi-naked finish.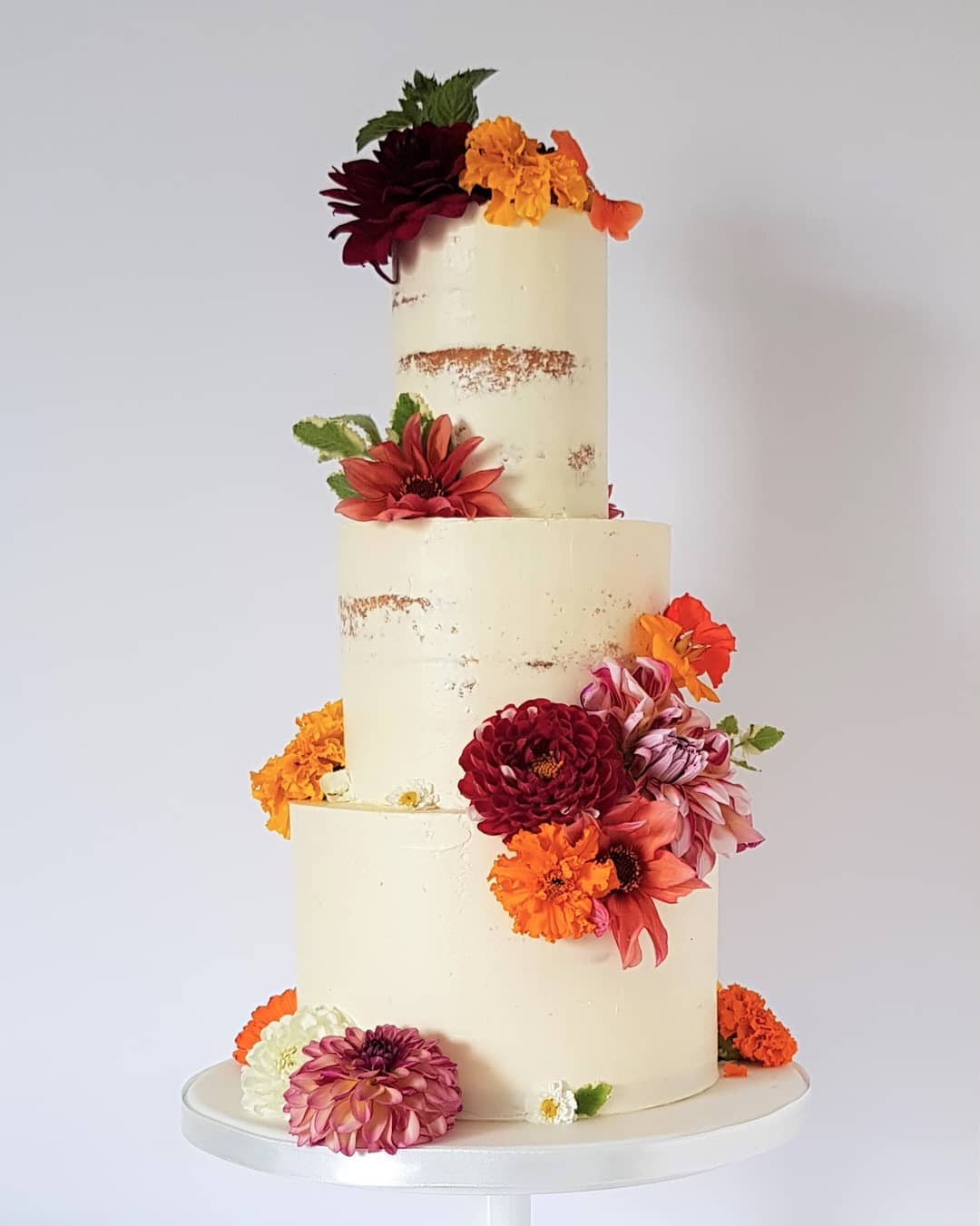 Cake by Clare Ann Taylor Couture Cakes
Go bold with bright florals to tie in with your wedding colour palette. We love this cake style by Clare Ann Taylor Couture Cakes with a minimal naked design and splashes of colour to really bring this cake to life. It's almost to pretty to eat!
RELATED TO: 10 Alternative Wedding Cake Ideas To Make You Drool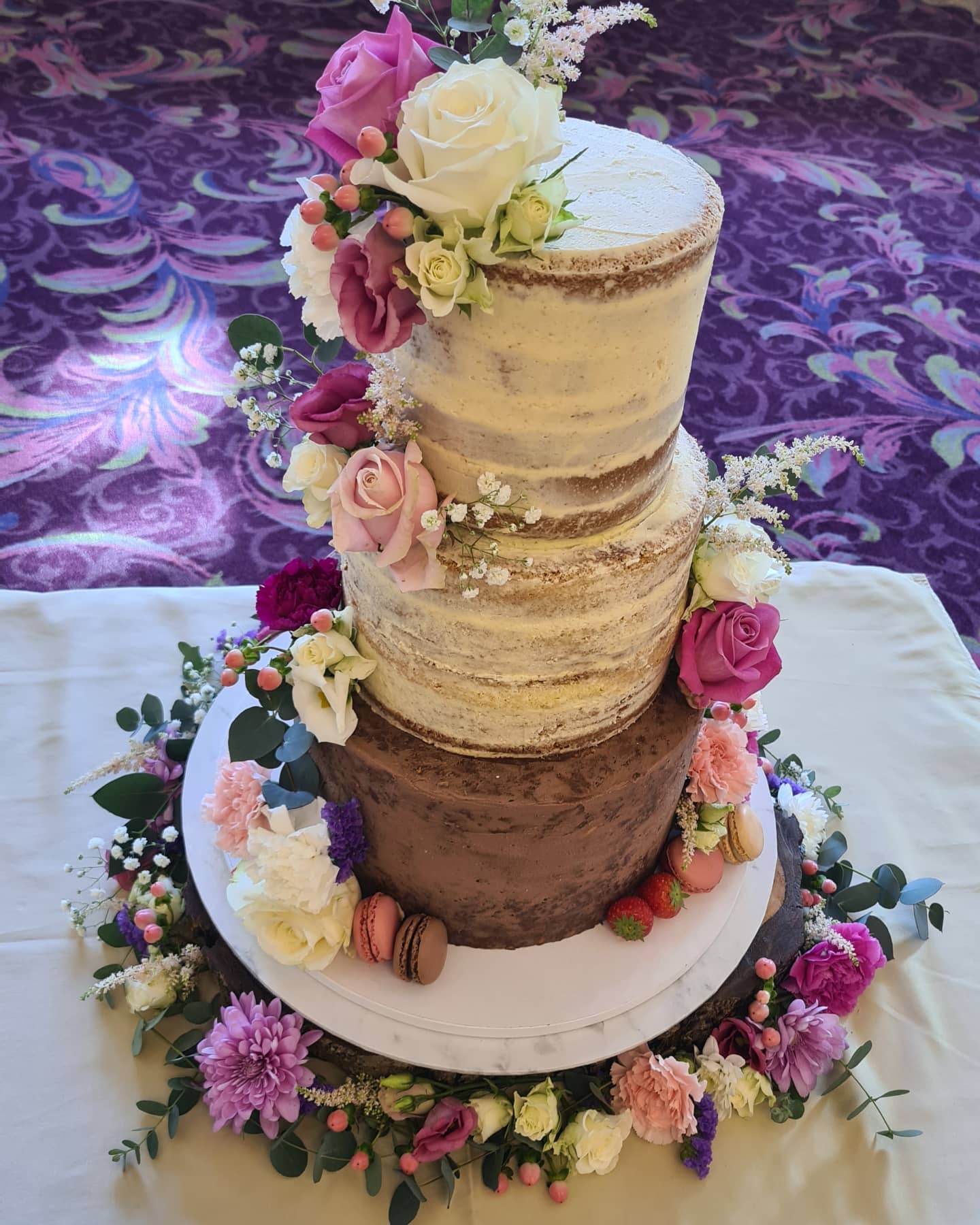 A different coloured bottom base to your naked wedding cake is another way you can really make it pop! As seen here on this beautiful design by Celina's Cakes, you can dress up a naked cake as much as you like with floral buds, macaroons and lots of colour!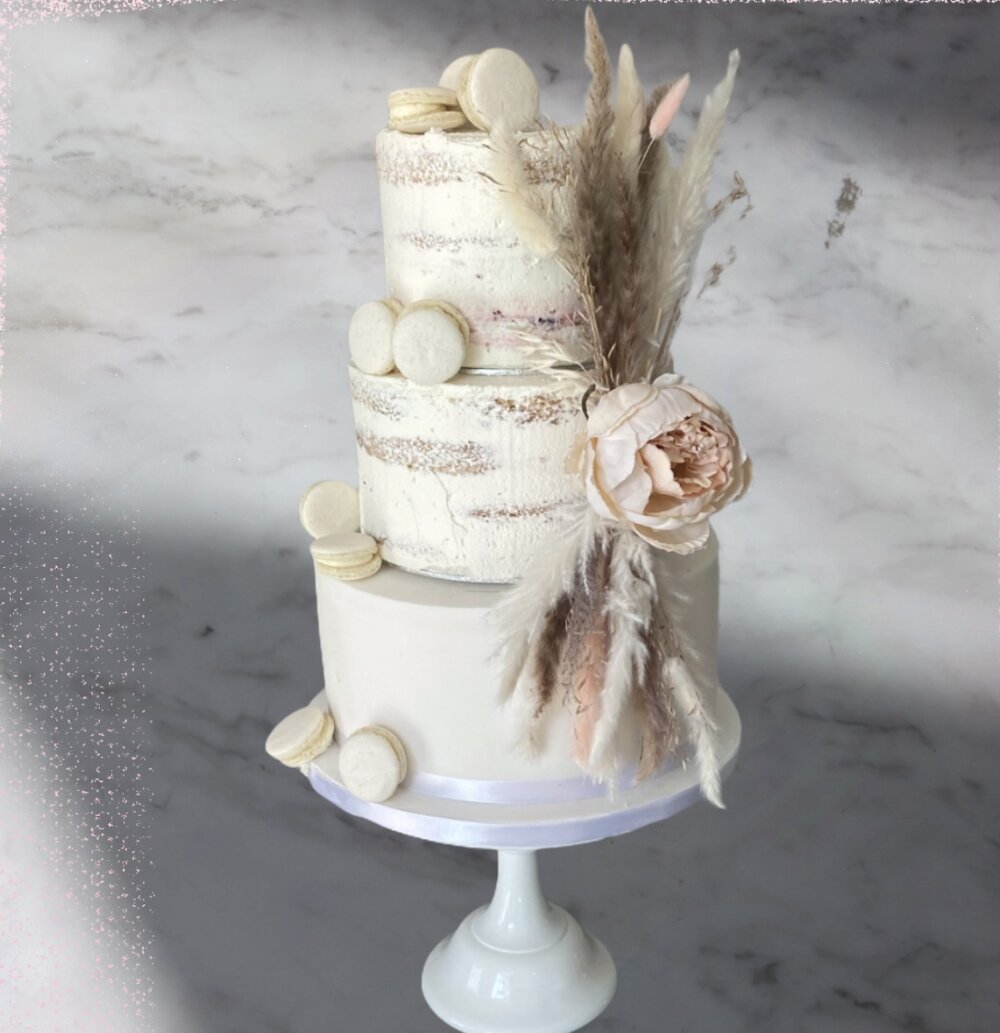 Cake by Sugar Flower Cake Company
This pretty neutral cake by Sugar Flower Cake Company is heavenly. We love this three-tier beauty with neatly scrapped edges, lightly scattered macaroons and dreamy pampas grass galore!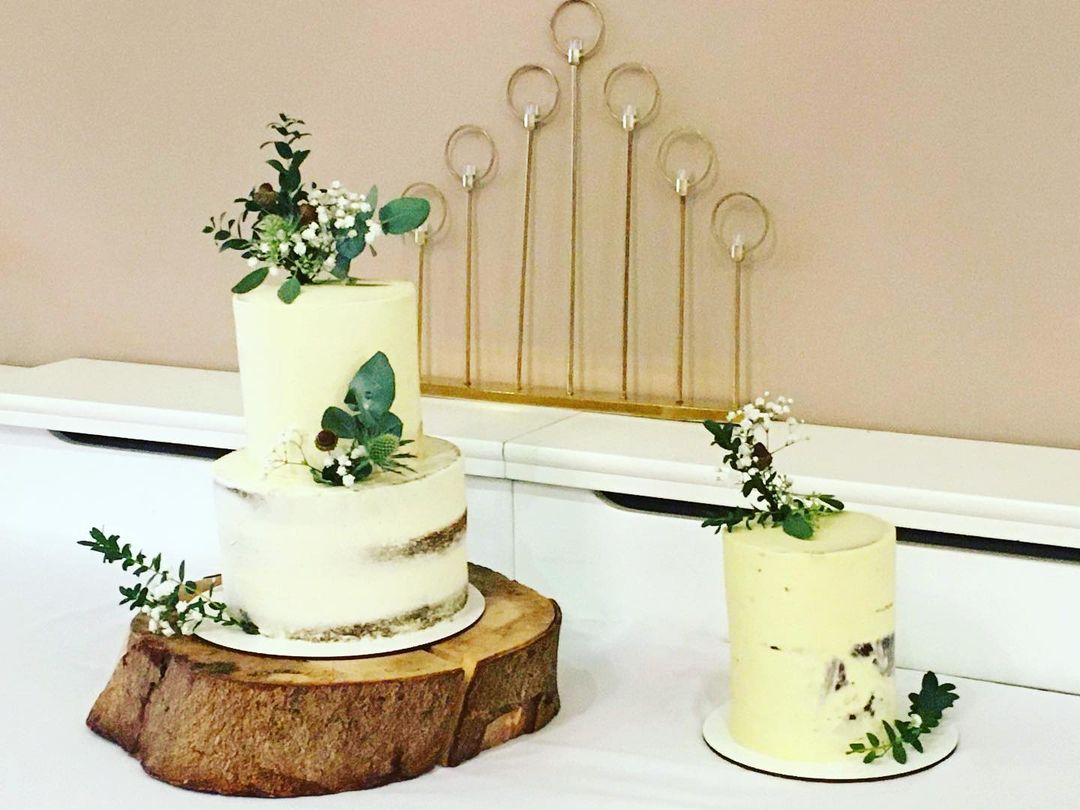 The only thing better than one wedding cake is two wedding cakes! We're seeing more and more couple go for mini matching wedding cakes which add an adorable touch to their day. These to semi-naked cakes by Zuko's Bakery definitely add a style statement and are sure to taste divine.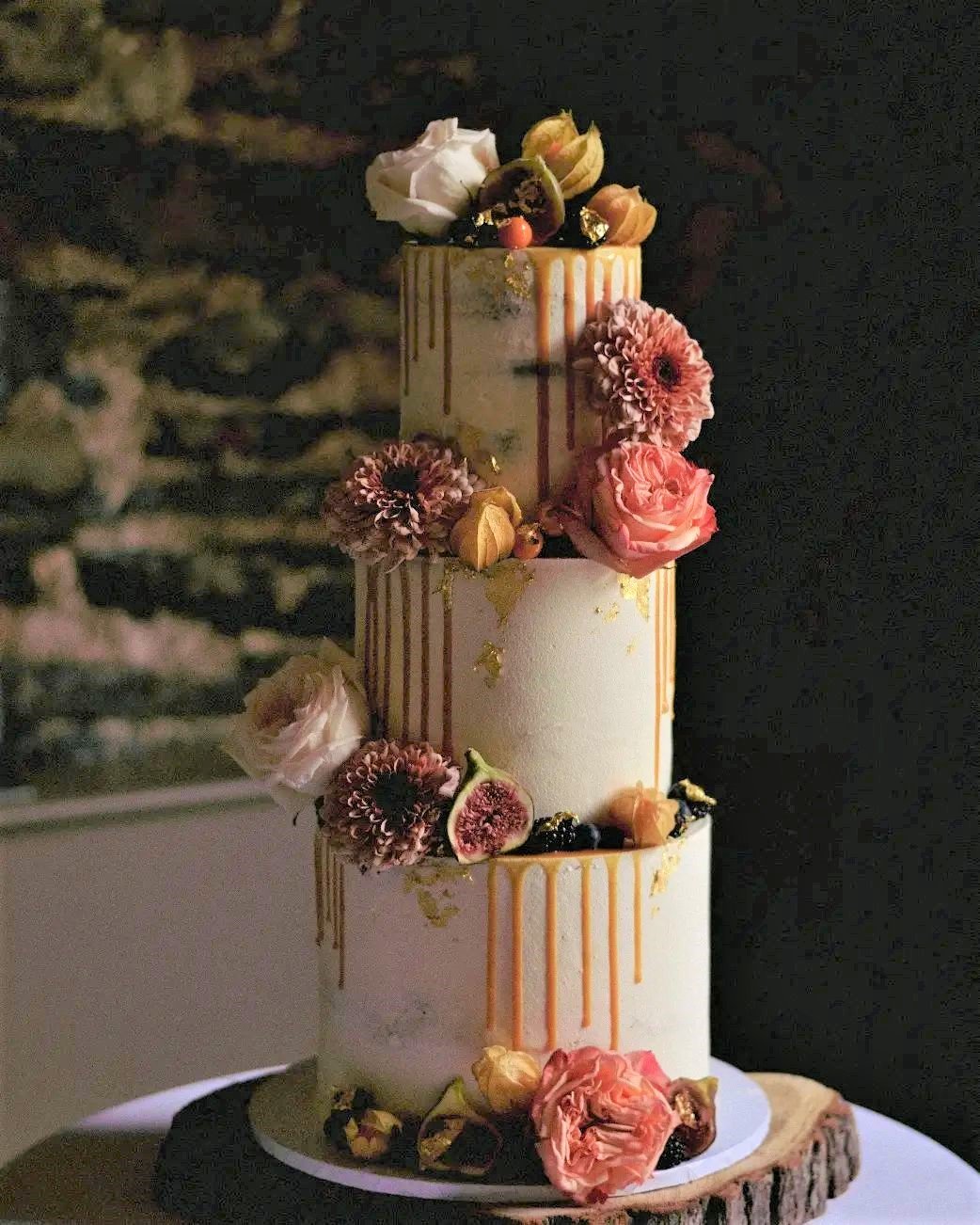 Cake by NI Cake Design
NI Cake Design never miss the mark. The beautiful rustic semi-naked cake with dripping details, gold flexes and colour florals and fruit is everything a wedding cake could be and more. An Instagram-worthy wedding cake for sure!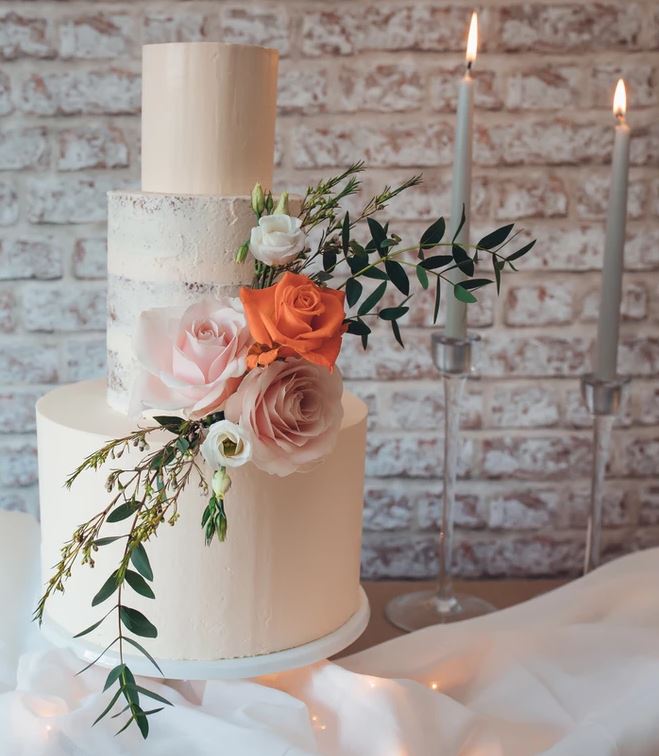 Cake by Synnotts Signature Bakes
For our minimal brides, this sweet and simple design by Synnotts Signature Bakes could be your perfect match! We love everything from the pale frosted colours, the neatly scrapped edges and just the right amount of florals and foliage to bring this cake to life.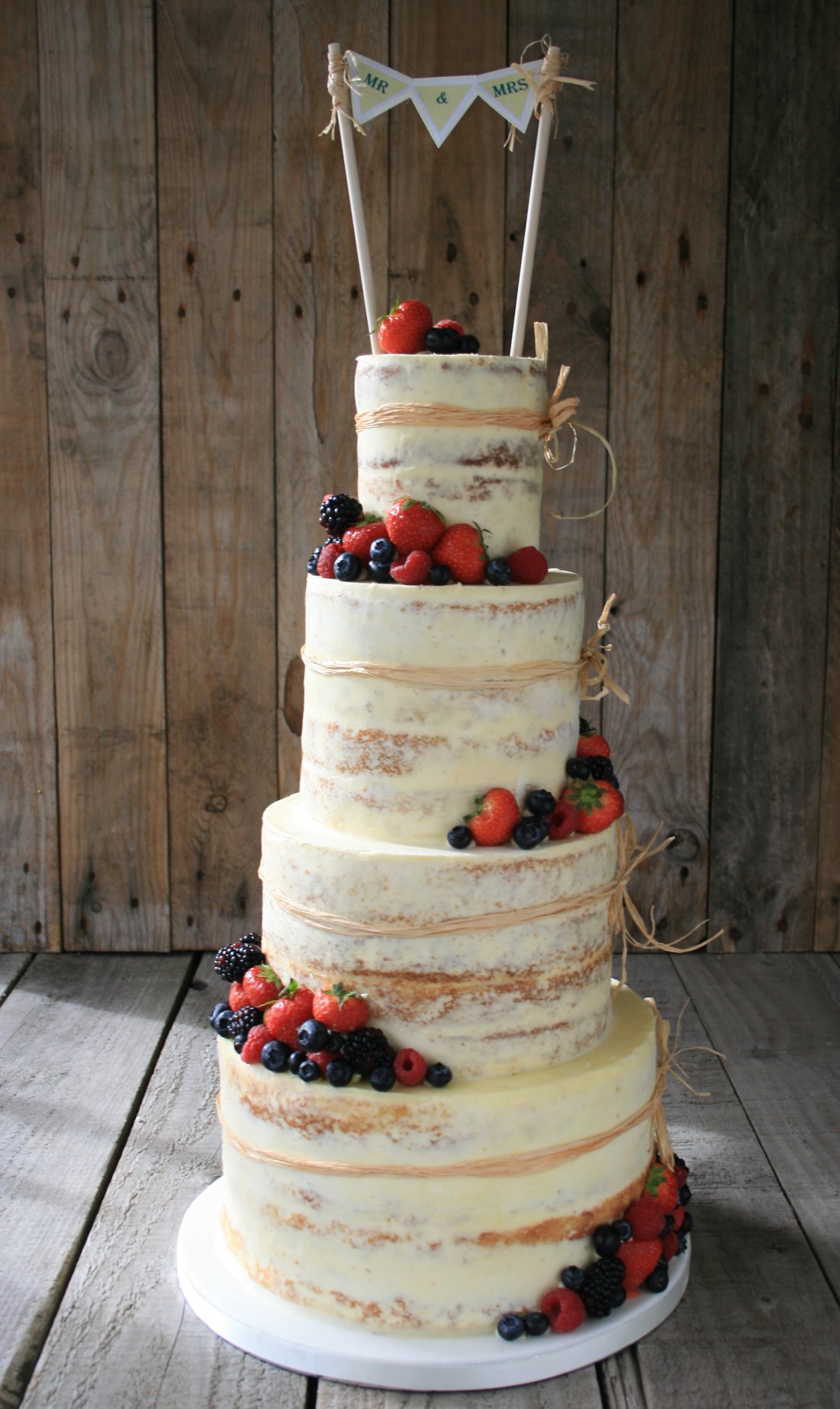 Cake by Love Um Cakes
Berry beautiful! We'd like to finish with this adorable semi-naked cake from Love Um Cakes. This is perfect for an outdoor rustic wedding or cosy autumn or winter nuptials we're this cake will be a stylish finishing touch to your wedding day theme.

Sign up to our newsletter to get all the latest from The Wedding Journal! Join Here>>>>http://eepurl.com/ck9vLb