Everything you wanted to know about wedding buttonholes but were afraid to ask!
You've got the bouquets sorted, the floral arch, the flower wall and the pedestals – so now's the time to perfect the finer details.
Your very tiniest flower arrangements will be the buttonholes for the groom, groomsmen and anyone else who wants to wear one. These will be appearing over and over again in your wedding albums so it's vital to get it just right!
Buttonholes are typically very modest in size and can be pinned through the buttonhole of the jacket, hence the name, or pinned to the lapel. We love this pretty colourful buttonhole from Blossoms and Bluebells.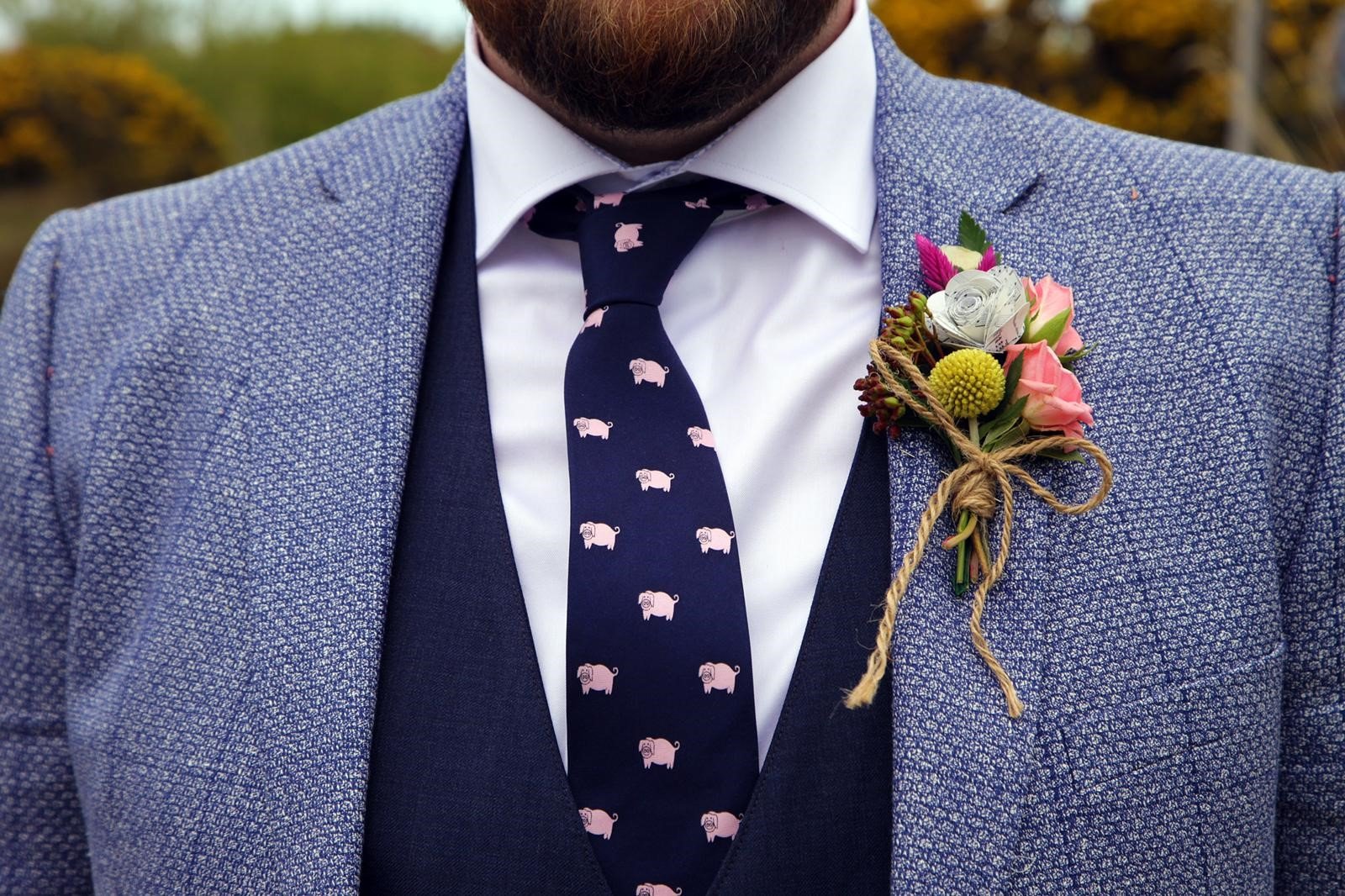 RELATED TO: 11 Showstopping Floral Looks For Your Wedding Hair
They're usually composed of just a single flower or a small collection of flowers with decorative elements. We've seen everything from cute Lego pieces to Harry Potter style spectacles incorporated into these miniature arrangements!
Buttonholes are usually only worn by the main players in the wedding such as the groom, possibly the bride, depending on her outfit, parents, groomsmen and maybe the bridesmaids.
We love the lucky spray of heather in these arrangements by La Belle Fleur and the single blue hydrangea blossoms in these buttonholes, right, from Eden Flowers by Gemma.
You'd expect to have a bigger arrangement for the groom's suit as the star of the show, with more modest versions for the other players, and the key thing is to match the style and colour scheme of the wedding, complementing the other flowers that form part of the decor.
RELATED TO: Nine Floral Arches That Will Wow Your Wedding Guests
Every one of the buttonholes, left , from Hayford & Rhodes is completely different, yet has many of the same blooms, but there's no denying having all buttonholes matching, like these rosebud sprays from House of Flowers, makes for a striking look in the groom's party photos.
You can use one of the boldest blooms from the main arrangements to pick up from each other, like this gorgeous fluffy pink buttonhole from Pure Flowers Of Distinction or go for a neutral toned flower if you prefer to be more low-key, like this artificial arrangement from Innocent Chaos.
And there's no rule saying you can only incorporate flowers – or that you have to have any flowers at all! Many grooms like to add a little nod to something they're into – maybe a fishing fly or a playing card.
We've also seen buttonholes that are all greenery and no flowers and some that are made of paper or buttons.
White roses are far and away the most popular blooms for the buttonhole – they hold their shape and consistency well and will keep for hours without wilting too much.
And depending on what you add in and the stage of development of roses – from bud to full blown bloom – you can achieve a very different look. Double bloom from Bella Botanica, left; white rose and ivy from Eden Flowers by Gemma, middle; rose arrangement by Pure Flowers of Distinction, right.
It makes a huge difference to the cost if you go for seasonal flowers, so think anemones, ranunculus, hellebores and hyacinths in spring; peonies, delphiniums, scabious and larkspur in summer; agapanthus, sedum and aster in autumn, and euphorbia, tulip, snowdrop and ilex in winter.
RELATED TO: 10 Decor Details To Take Your Wedding To The Next Level
All-year round blooms include calla lily, roses, lilies, gypsophila, orchids and anthuriums.
Peacock buttonhole from Pinterest, left; rose buttonhole from Fleuriste, middle; thistle buttonhole from La Belle Fleur; roe and sedum from Wedding Flowers by Josephine; rose and thistle from Fleuriste.
And most importantly, look after your buttonholes! Store them in the fridge overnight to keep them as fresh as possible and make sure they're placed away from fruit and vegetables.
If you have a lot of fruits nearby, the flowers will emit ethylene, a natural gas that speeds up ripening and flowering, which is the last thing you want!
Either remove fruit from the fridge or make sure it's stashed away in a plastic bag or veg drawer. When you're ready to pin on the buttonholes, mist them with some water to keep them fresh and fabulous! Rose buttonholes from Blossoms & Bluebells.
Orchid buttonhole from Pinterest, left; blue hydrangea buttonhole from Fleuriste, right.
RELATED TO: How To Choose Your Wedding Flowers
Still looking for your perfect wedding flowers? Check out our gallery of fabulous florists HERE.
Sign up to our newsletter to get all the latest from The Wedding Journal! Join Here>>>>http://eepurl.com/ck9vLb