Featuring cute and colourful details, a fairytale venue and a special furry friend!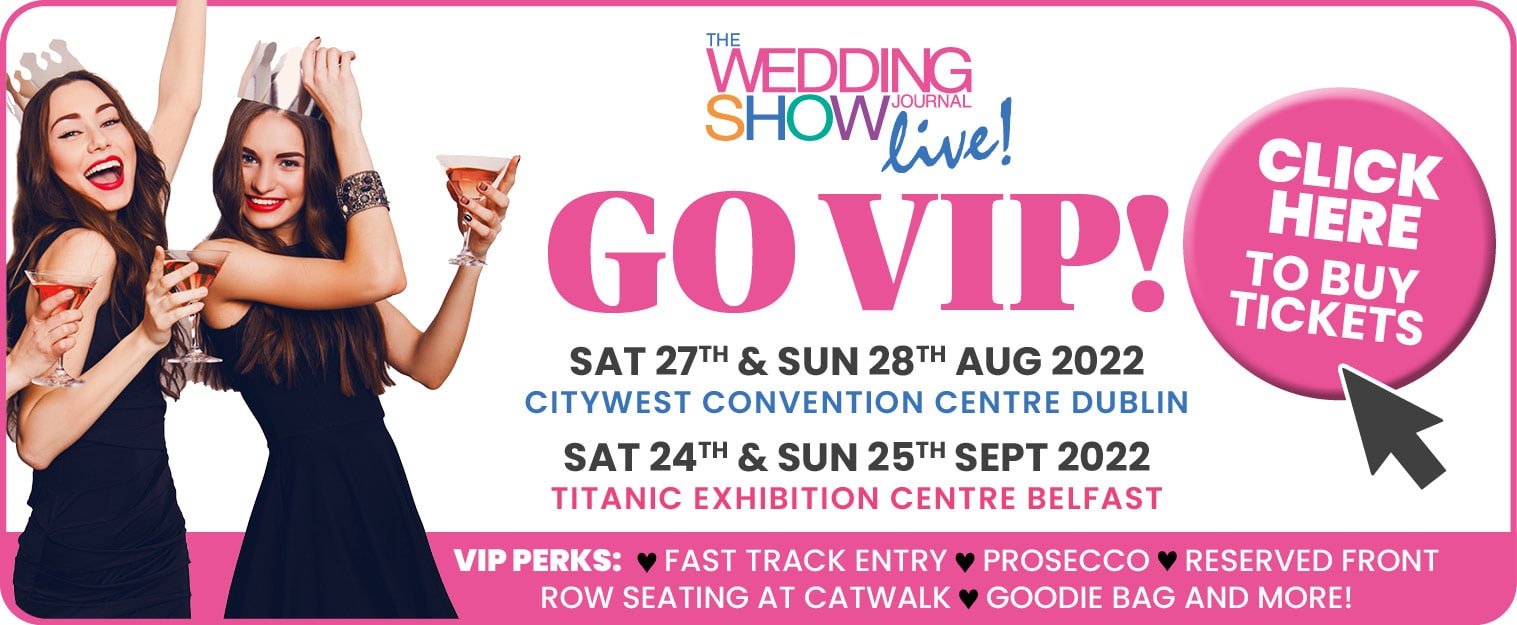 If you love colour, cosy vibes and cute doggos, you're going to love this real-life wedding just as much as we do!
Clodagh and Philip Staunton from Galway tied the knot at Kilkea Castle in County Kildare on October 24th with a magical ceremony followed by a twinkling chandelier reception – and even incorporated their Golden Retreviever Teidí into the day and the cake!
RELATED TO: The Best Wedding Venues In County Kildare
The day was captured beautifully by Claire at Studio Brown… Keep on scrolling to find some Pinterest-worthy ideas for your own day.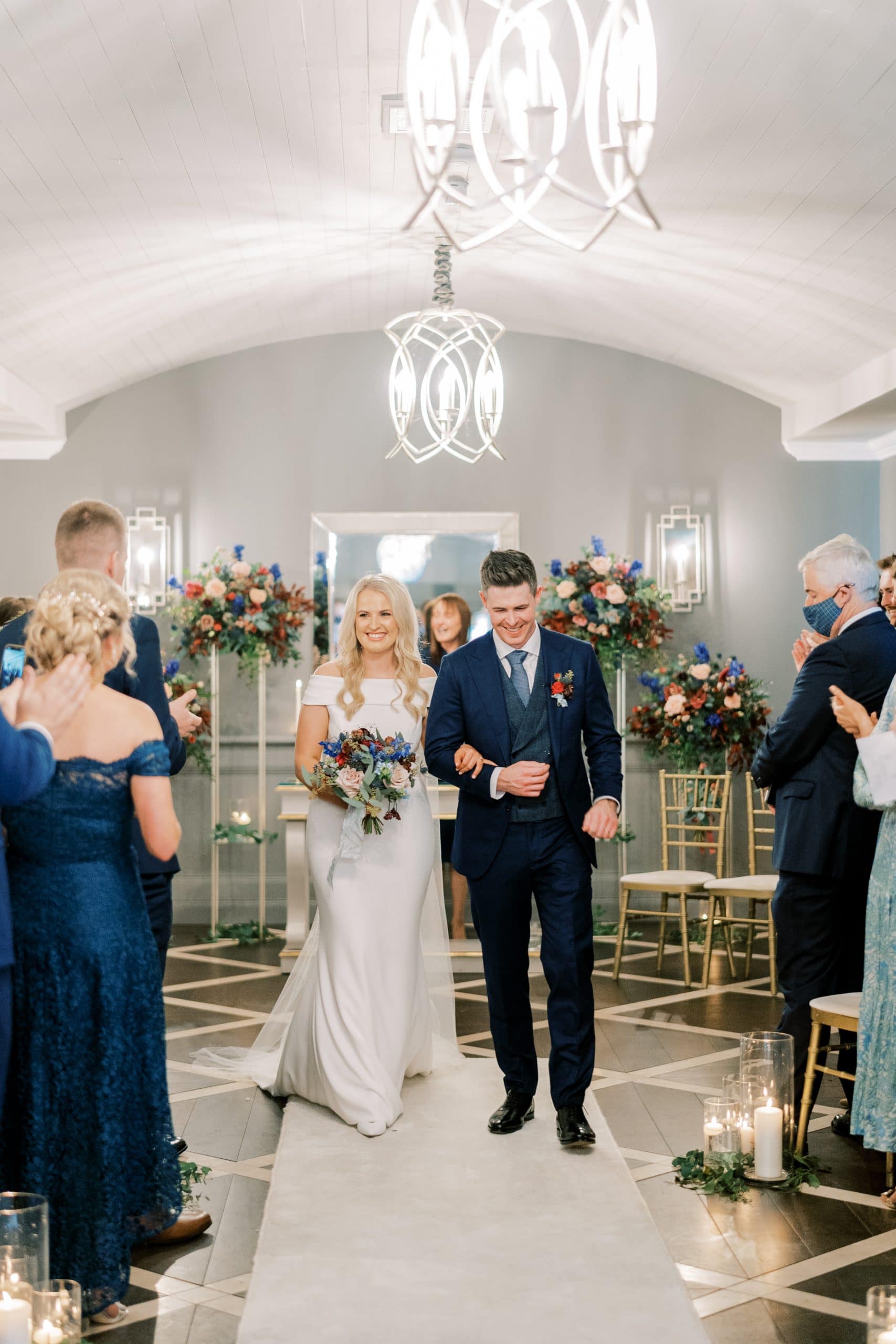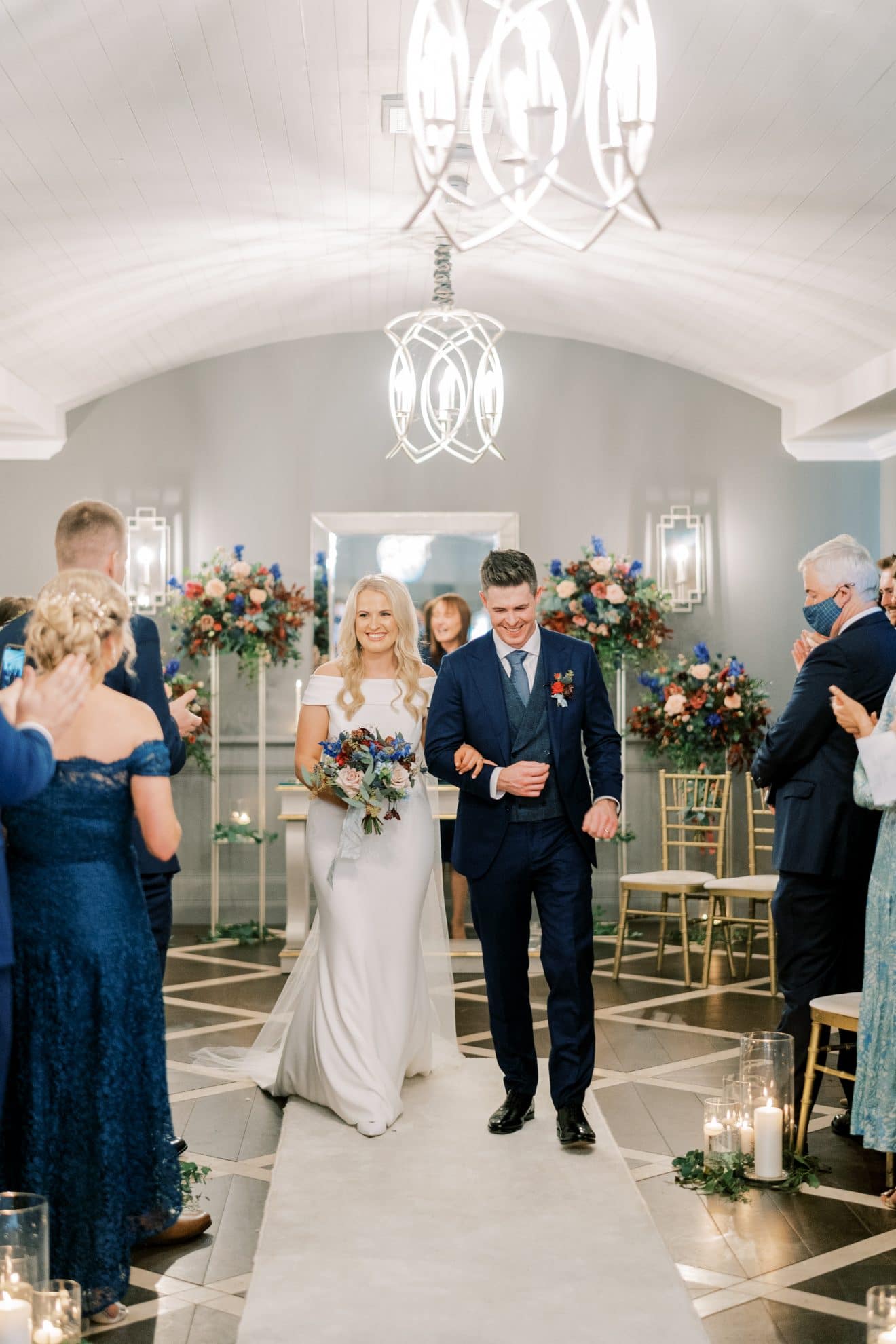 HOW THEY MET
Clodagh and and Philip first met in 2014 when Philip worked in Galway and Clodagh was visiting for the day. It wasn't long before they went on their first date to The Copper Rooms in Limerick and after a few glasses of wine, the rest was history!
"After the first thirty minutes of our first date, it was probably fair to say neither of us thought we'd now be husband and wife," Philip says. "Clodagh thought I was dry and I thought she was serious, but eventually after a couple stories and glasses of wine later Clodagh agreed on a second date!"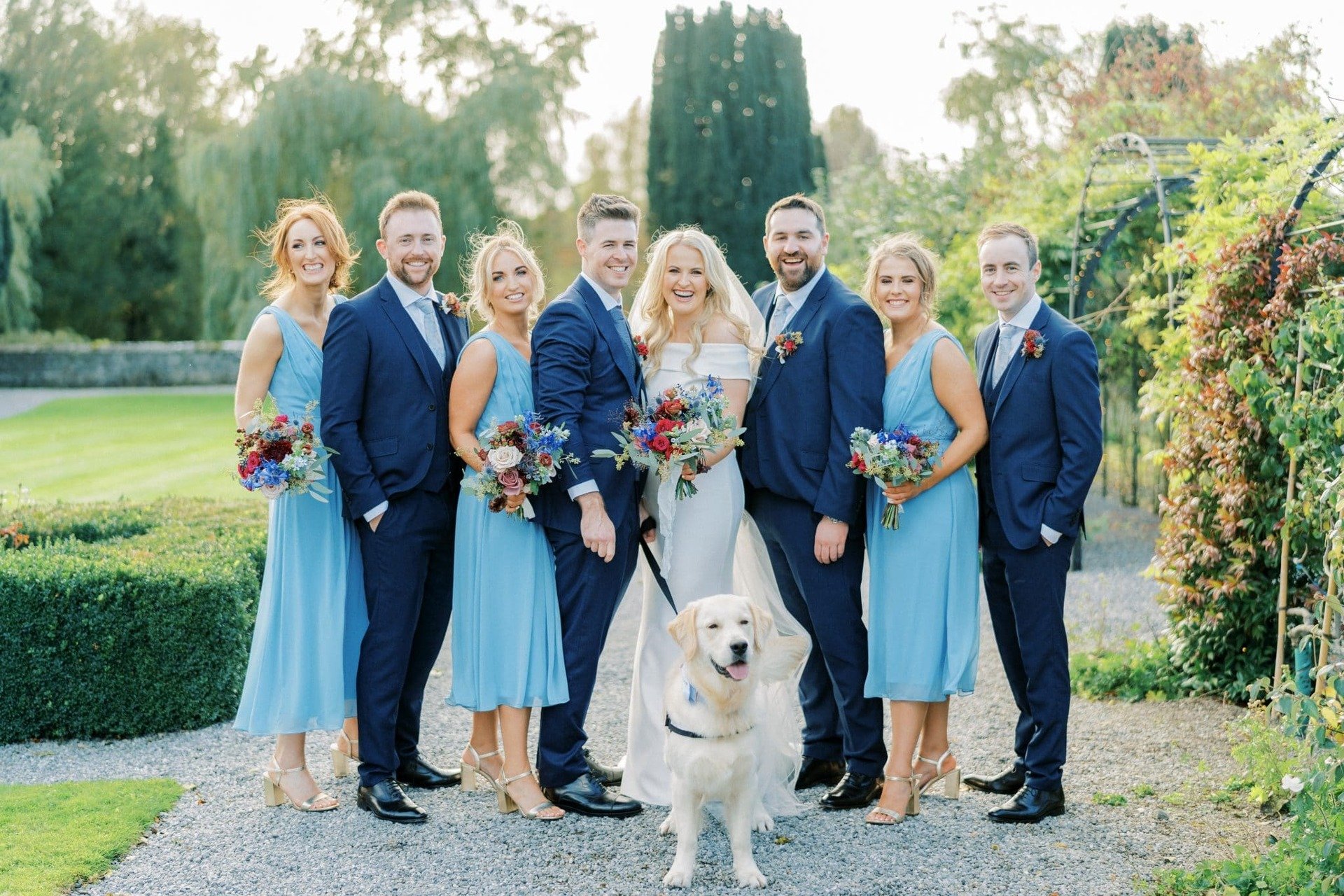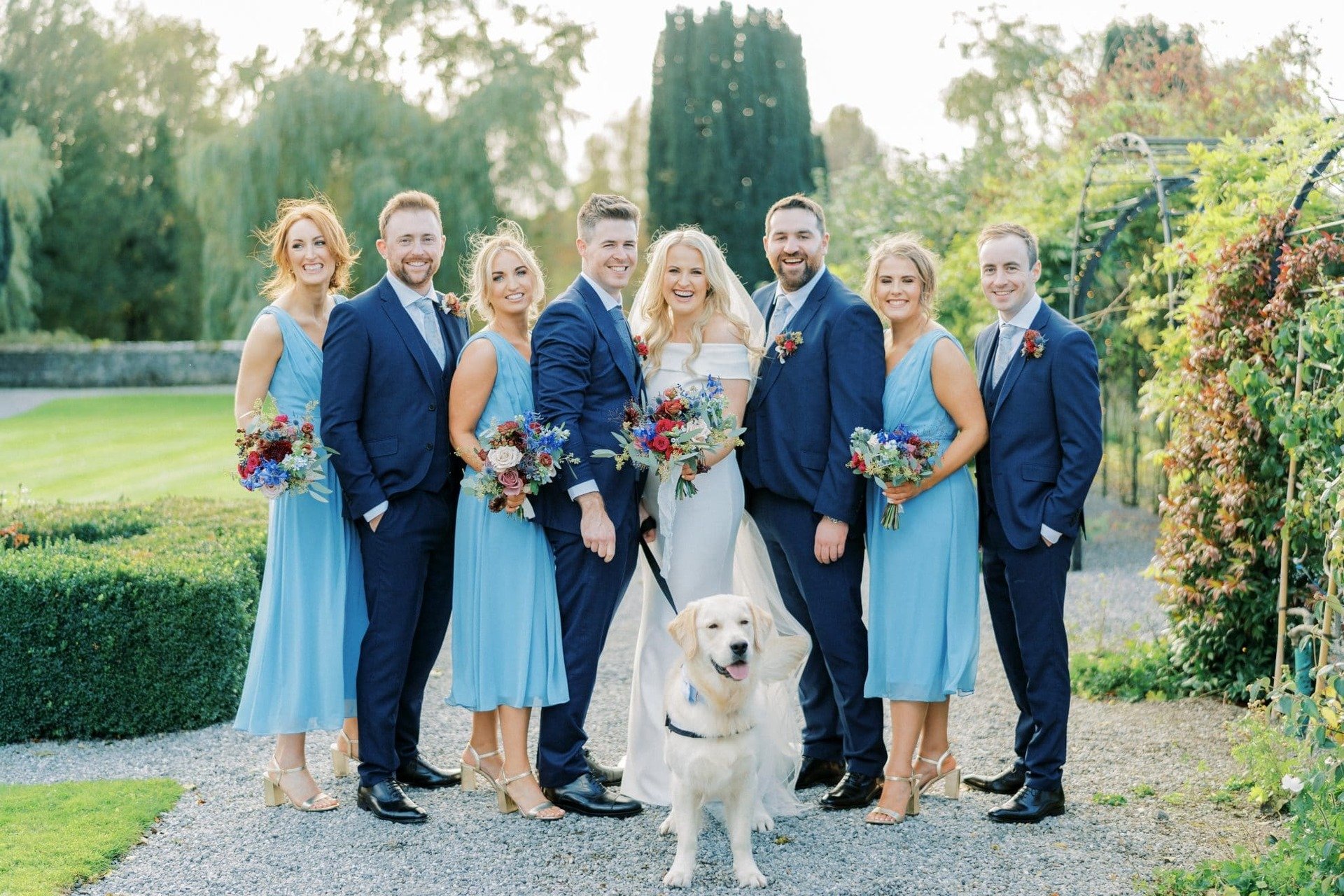 THE PROPOSAL
Philip planned a romantic proposal overlooking the views of Galway City in Renville Park but not everything went to plan – cue the proposal nerves!
"The ring was hidden in my pocket and I was trying to play it cool, but failing miserably," Philip confesses. "The edge of the ring box was digging into my side and I couldn't put two words together the entire way! About five minutes in, I was silent when Clodagh asked 'what's wrong with you? Are you going to propose or something?'. Whatever nerve levels I originally had, they escalated to a level 10 now!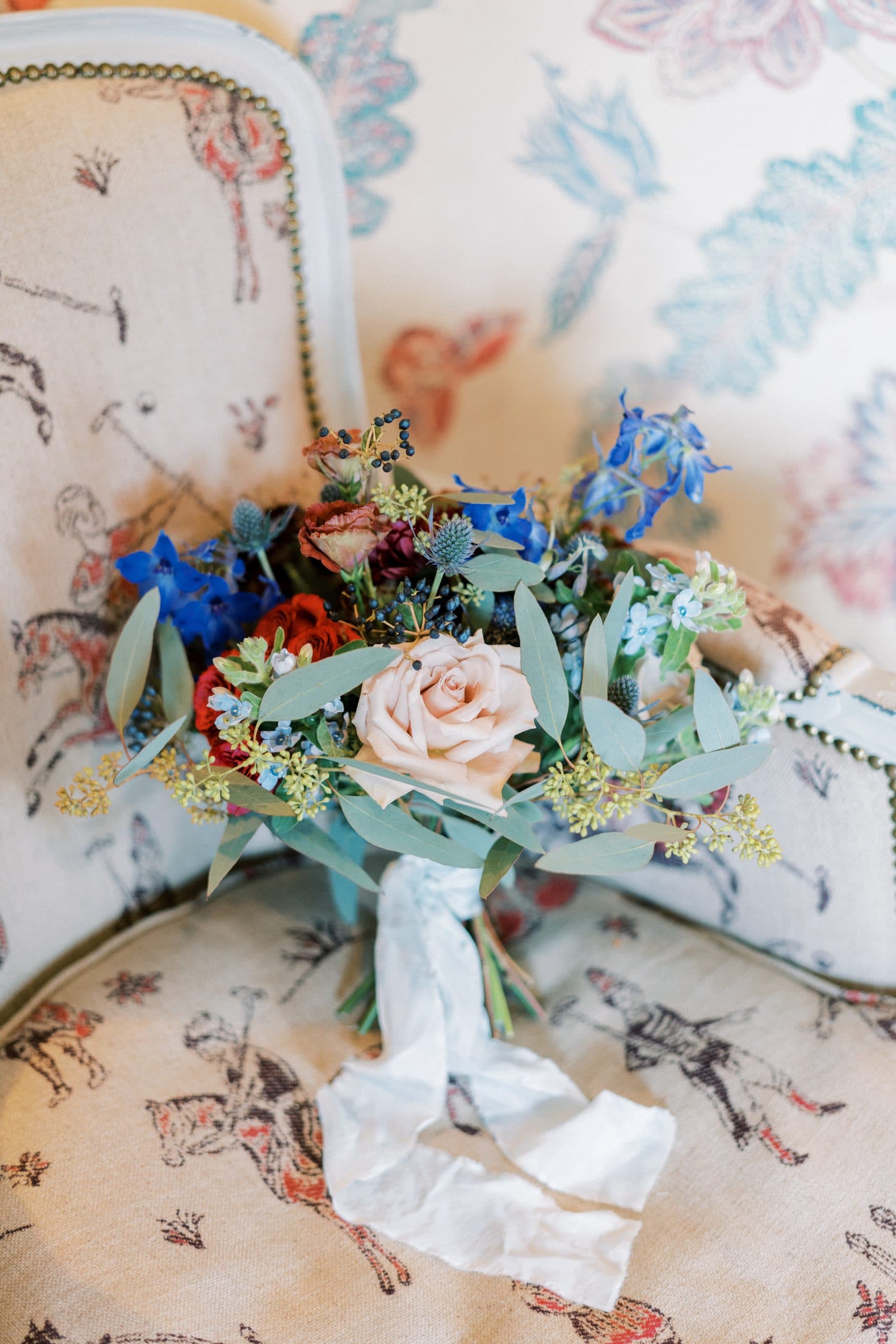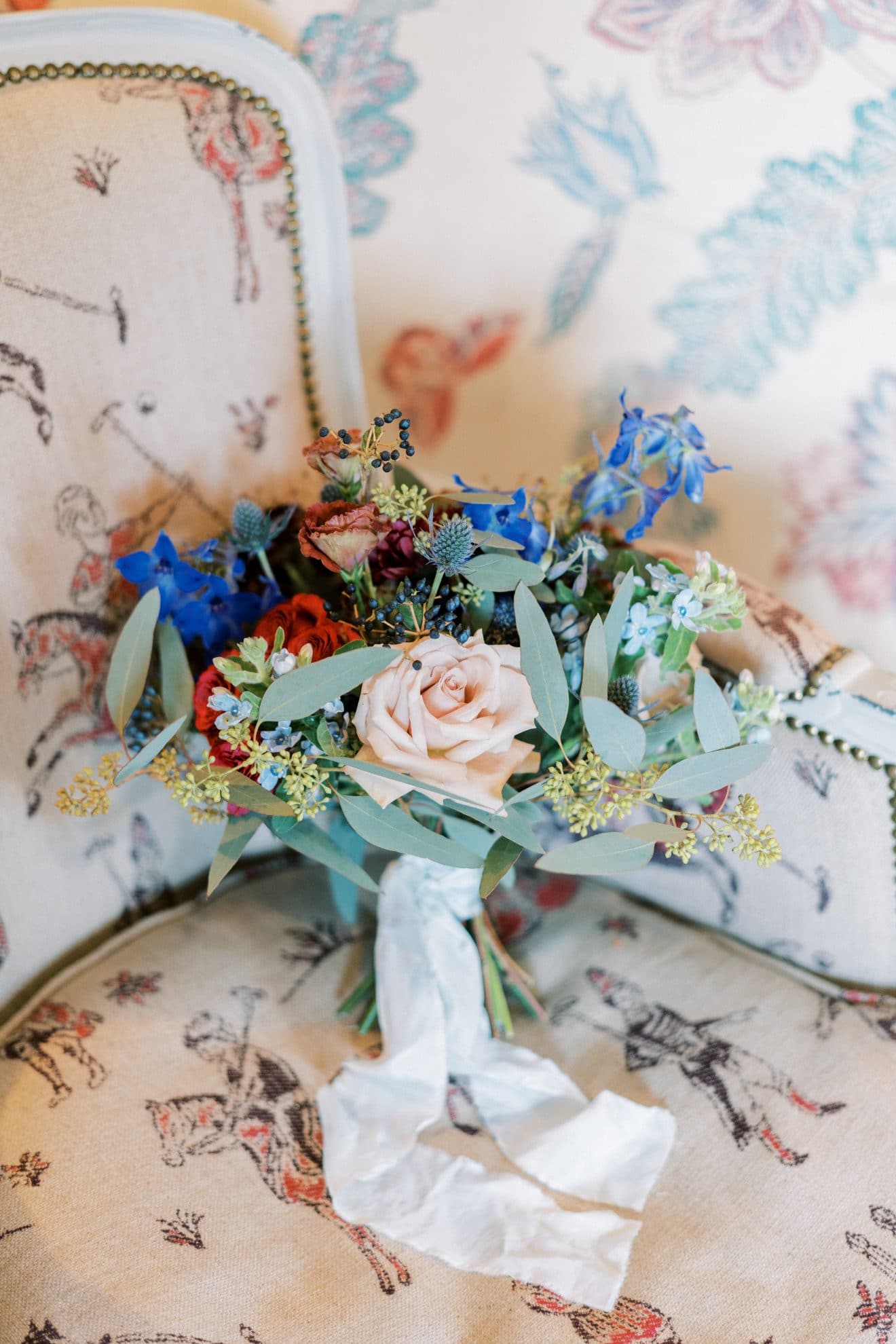 "Eventually we reached the point alone and were overlooking Galway city when I asked Clodagh to marry me. Of course, I forgot to get down on one knee and when we wanted to take a selfie to commemorate the occasion, my phone battery died and Clodagh had left her phone at home!
"A kind stranger took a photo and sent it to Clodagh the following day. As perfectly planned proposals go, this was far from ideal in theory. But in reality, it was a perfect proposal for us and we wouldn't change a single detail or mishap!"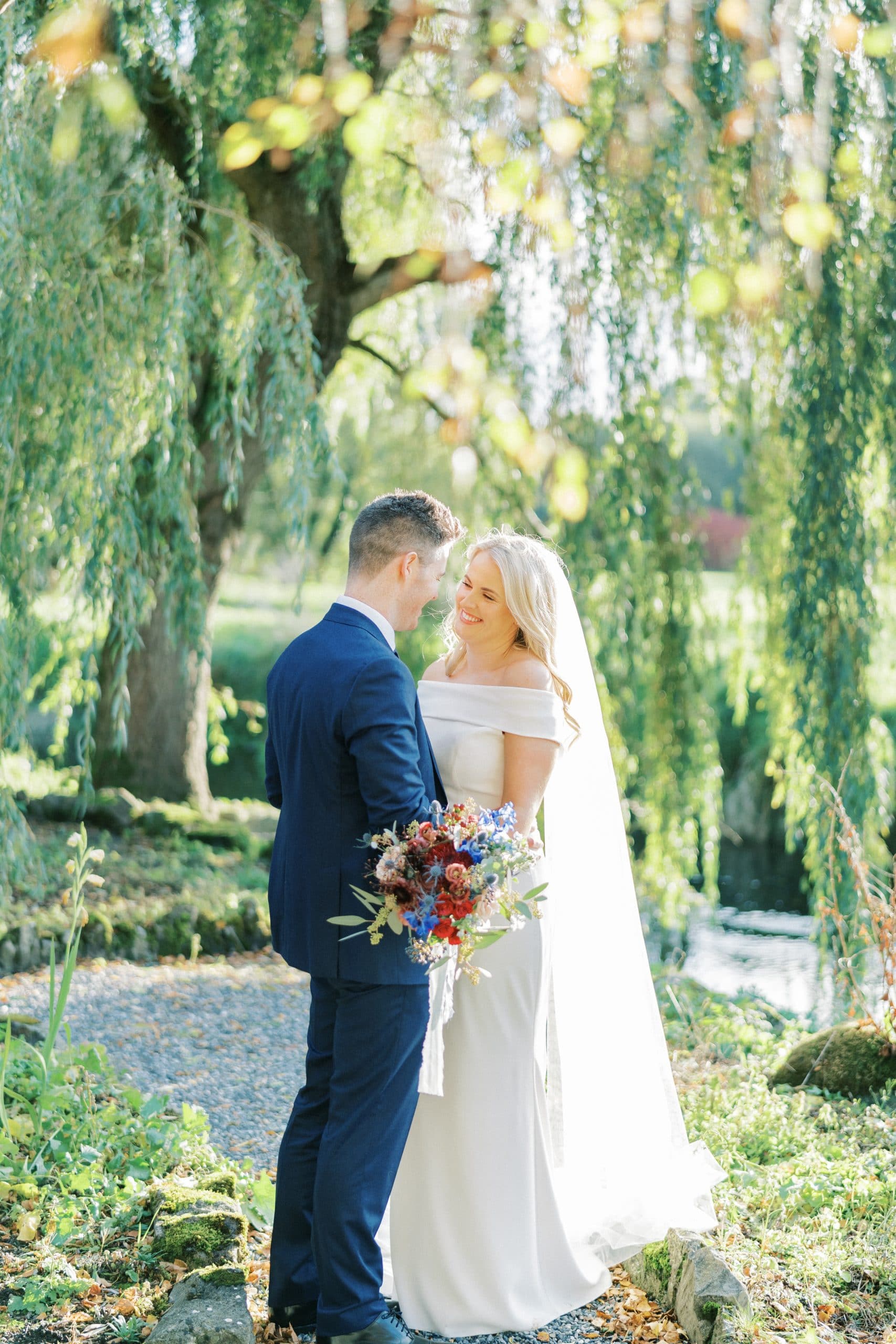 THE PLANNING PROCESS
Philip and Clodagh wasted no time in planning their dream day and arranged everything themselves but with COVID affects still looming, their date was put off three times – but was all worth the wait in the end!
Philip continues: "We set up a Google Drive with different folders for photos and spreadsheets. Our wedding was affected by COVID, twice. We were married third time lucky and it was worth the wait! The changes we had to make from our original plans ended up working out better."
RELATED TO: 17 Fairytale Castle Venues in Ireland
Clodagh and Philip choose Kilkea Castle in County Kildare for their big day – a charming 12th century castle with twinkling chandeliers, stone walls and filled with old-world glamour.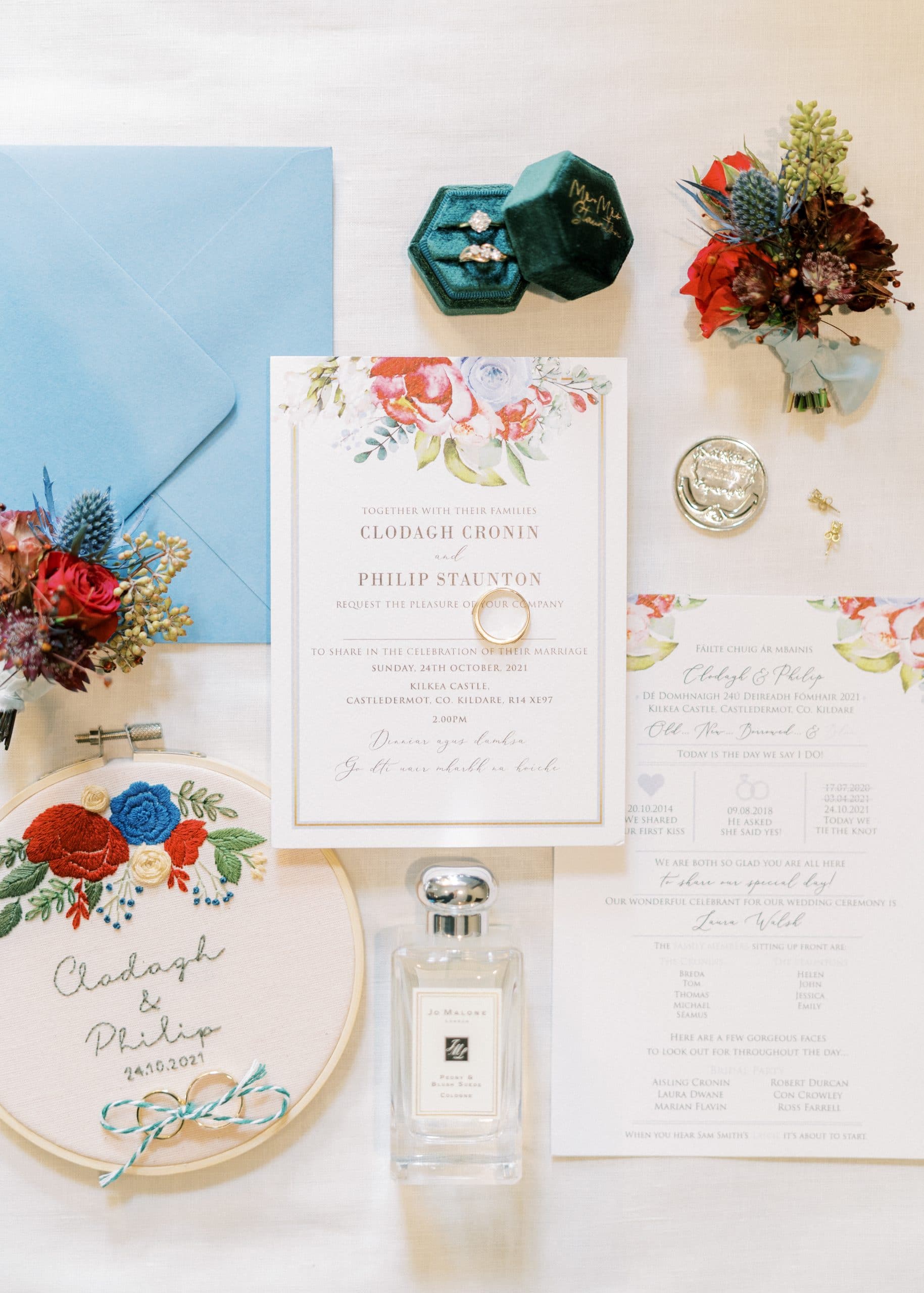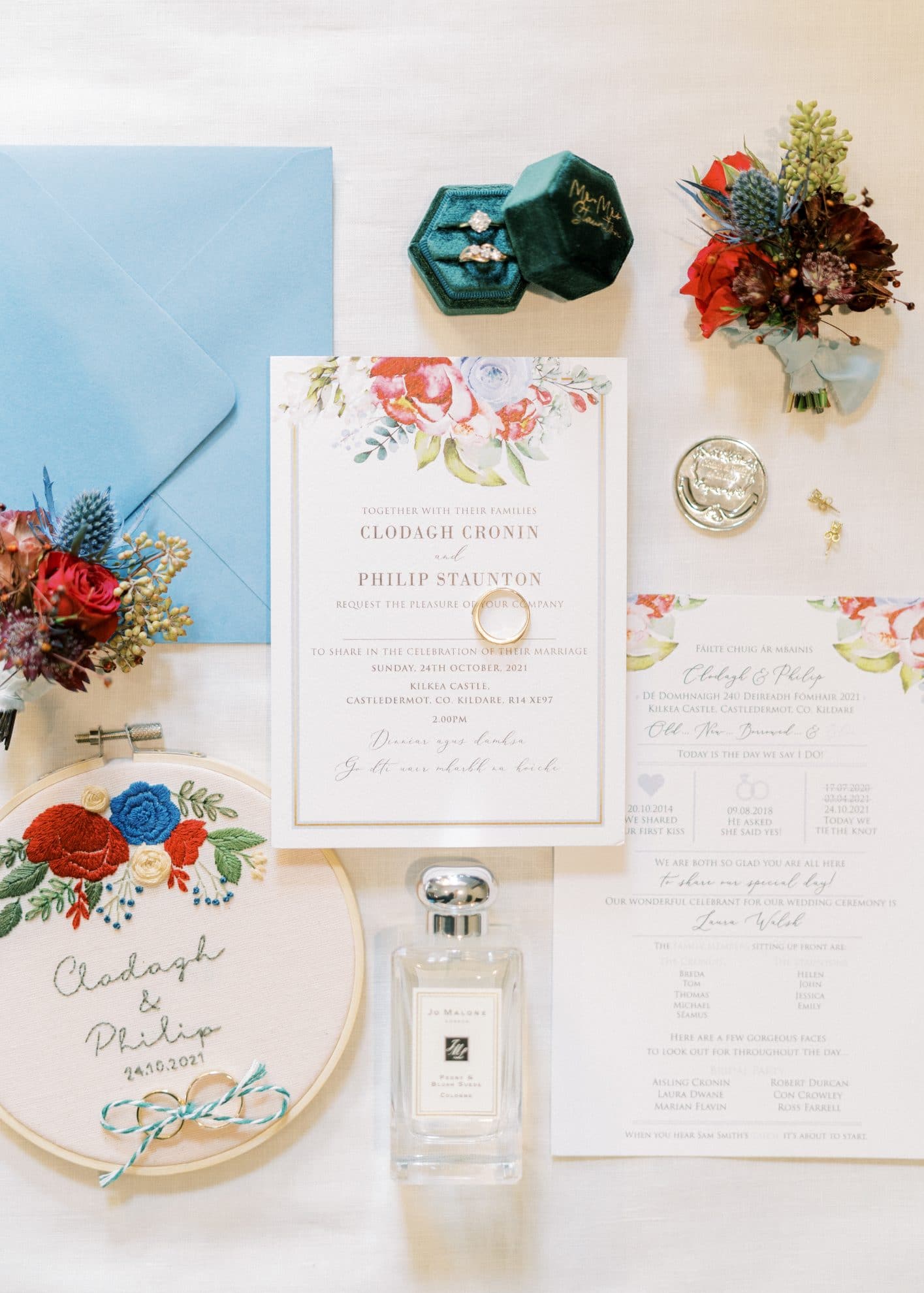 "Having everything on site at Kilkea Castle with the dress rehearsal, ceremony, reception and day two celebrations meant no time was lost on the day travelling," Clodagh says.
"It made the morning of the wedding a lot more relaxed and stress-free. Kilkea Castle lends itself to provide all the amenities to make your wedding an amazing experience. I had my wedding bouquet dried into a wall hanging print. It is a beautiful way of remembering the day!"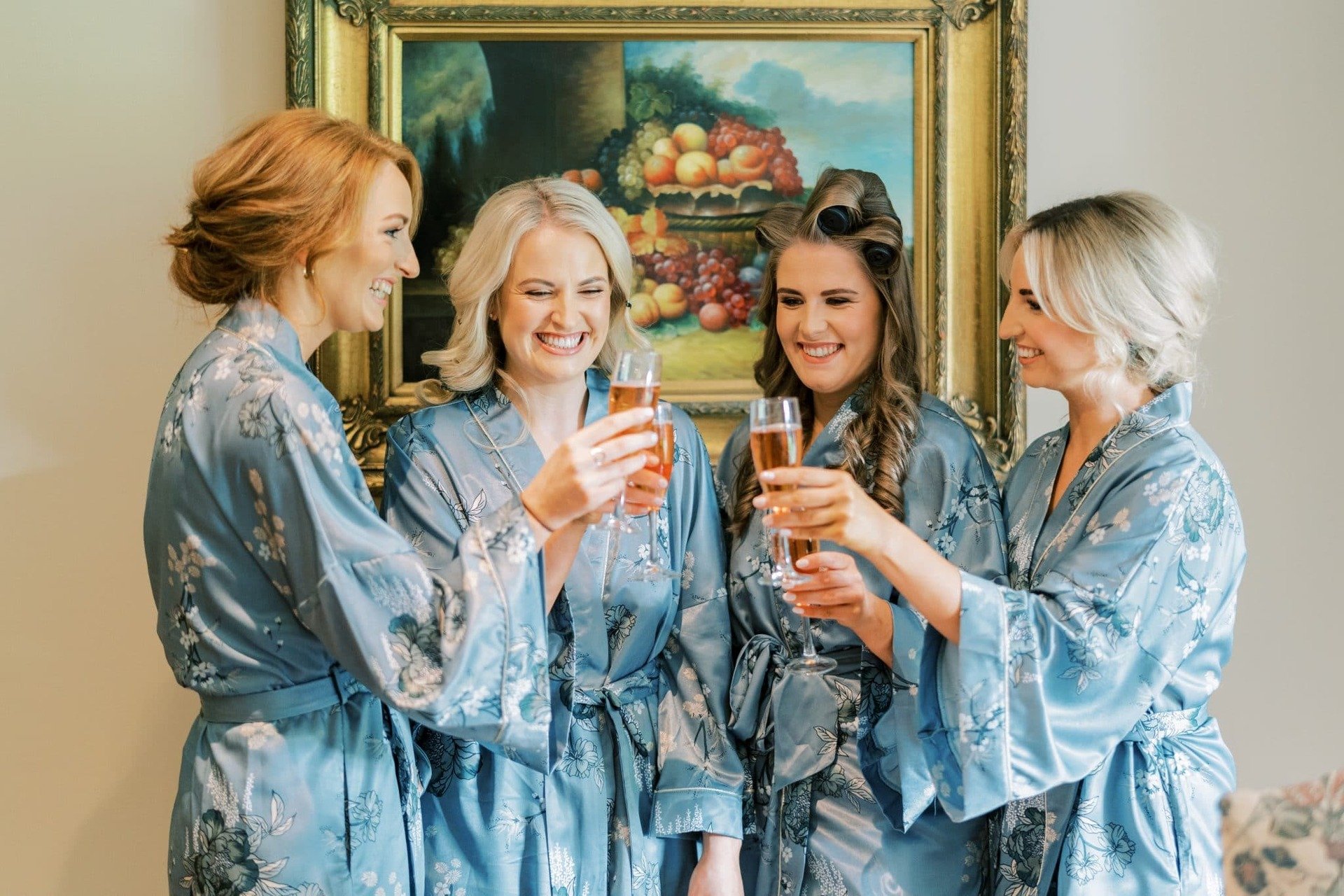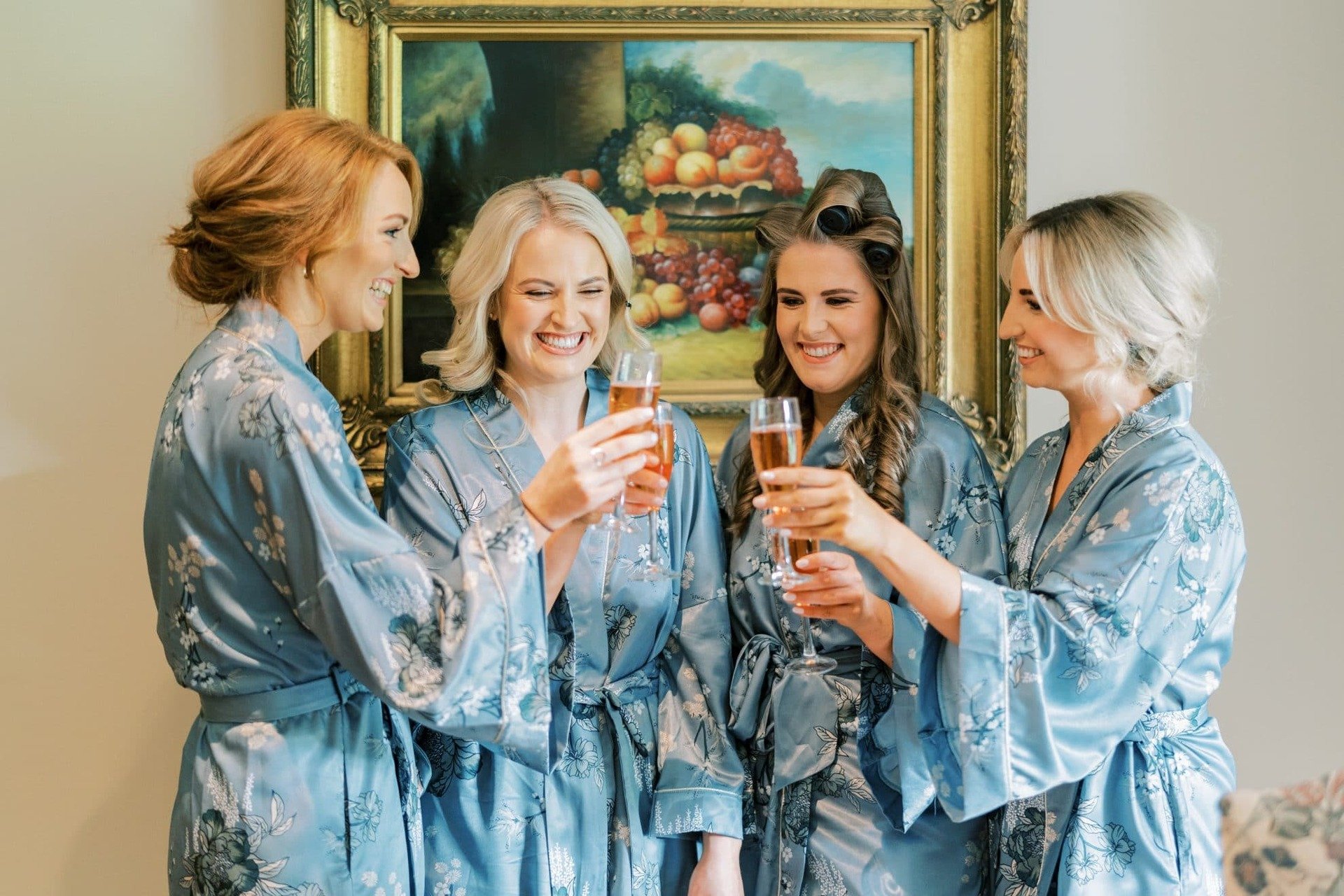 For flowers, the two went with Seonaid from Mad About Flowers who put together a stunning arrangements of blue, red and pale pink florals. We're obsessed with the three-tier cake by Norma Coughlan featuring pressed flowers and knitted figures of the couple and their furry friend. How cute!
RELATED TO: How To Choose Your Wedding Flowers
Their was also lots of fun décor and entertainment as the bride and groom went for a photobooth from the Photobooth Guys, décorations from Elderwoods Wedding Décor and Sax Appeal for the DJ. There was also James from Kif the band and Aisling Connolly playing the ceremony and reception music.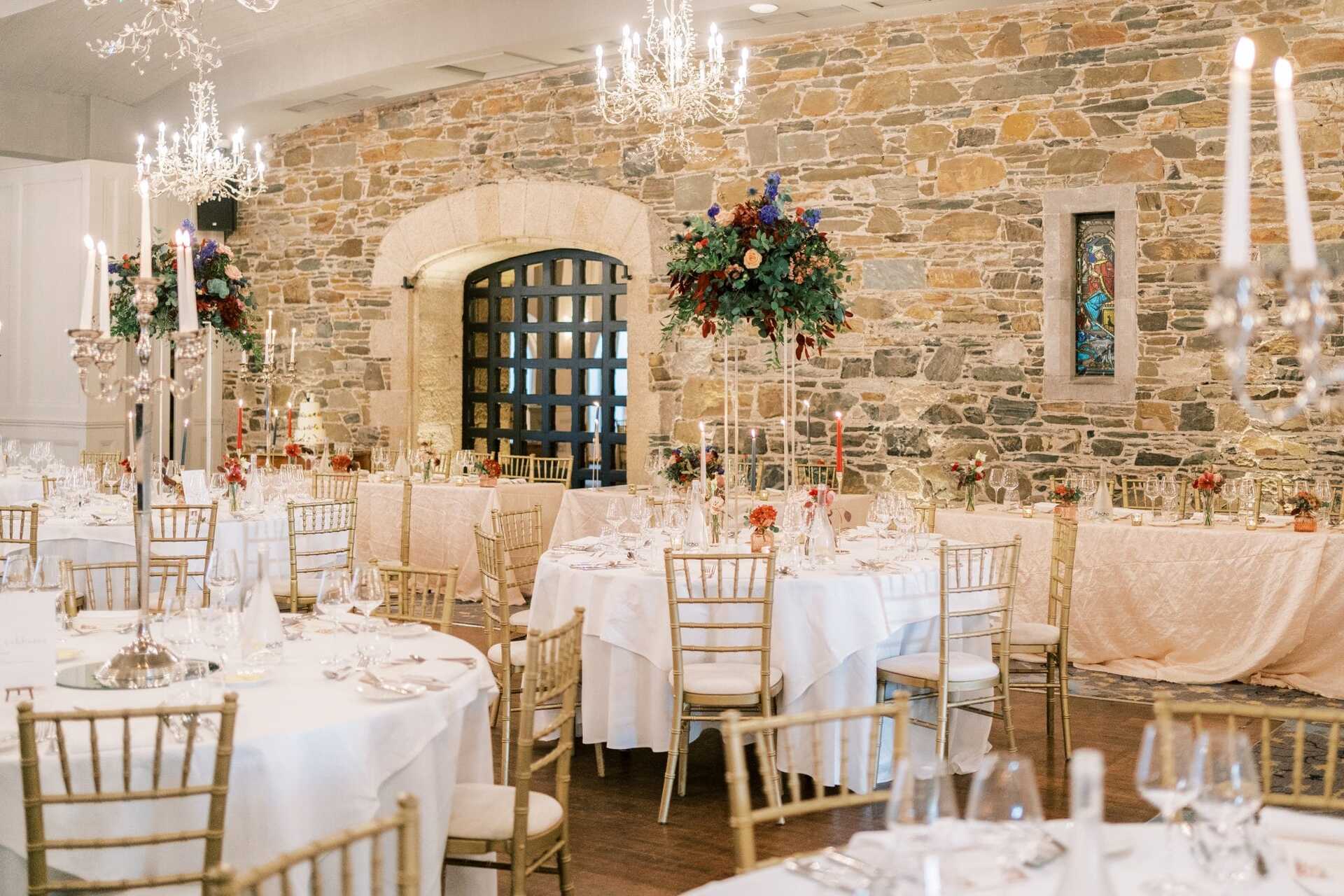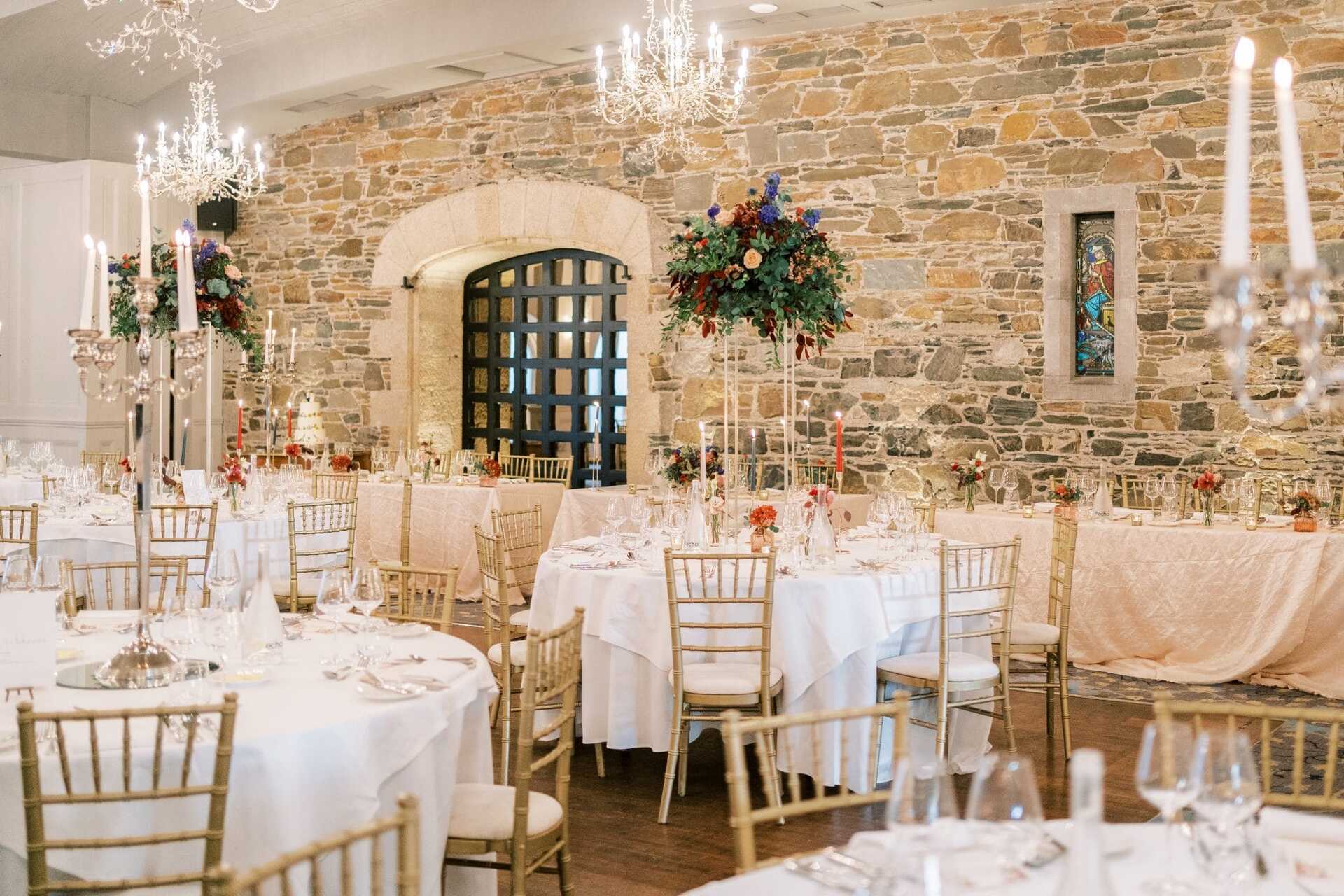 CAPTURING THE DAY
"Claire from Studio Brown captured our photos and Rodolphe from Best Day Productions did our video," Philip says. "Both suppliers were excellent. Our photos and videos are relaxed, natural and they captured the most important parts of the day. Claire put us completely at ease and was able to quickly realise what shots we were comfortable taking.
RELATED TO: 17 Fresh Spring Wedding Cakes That Look Too Cute To Eat!
"Being able to talk about her own golden retriever, while photographing our retriever Teidí with us was great. The best compliment we can pay Rodolphe is we barely noticed him during the day and the film that came back is stunning with how it captures the small intimate moments between us and our guests on the day."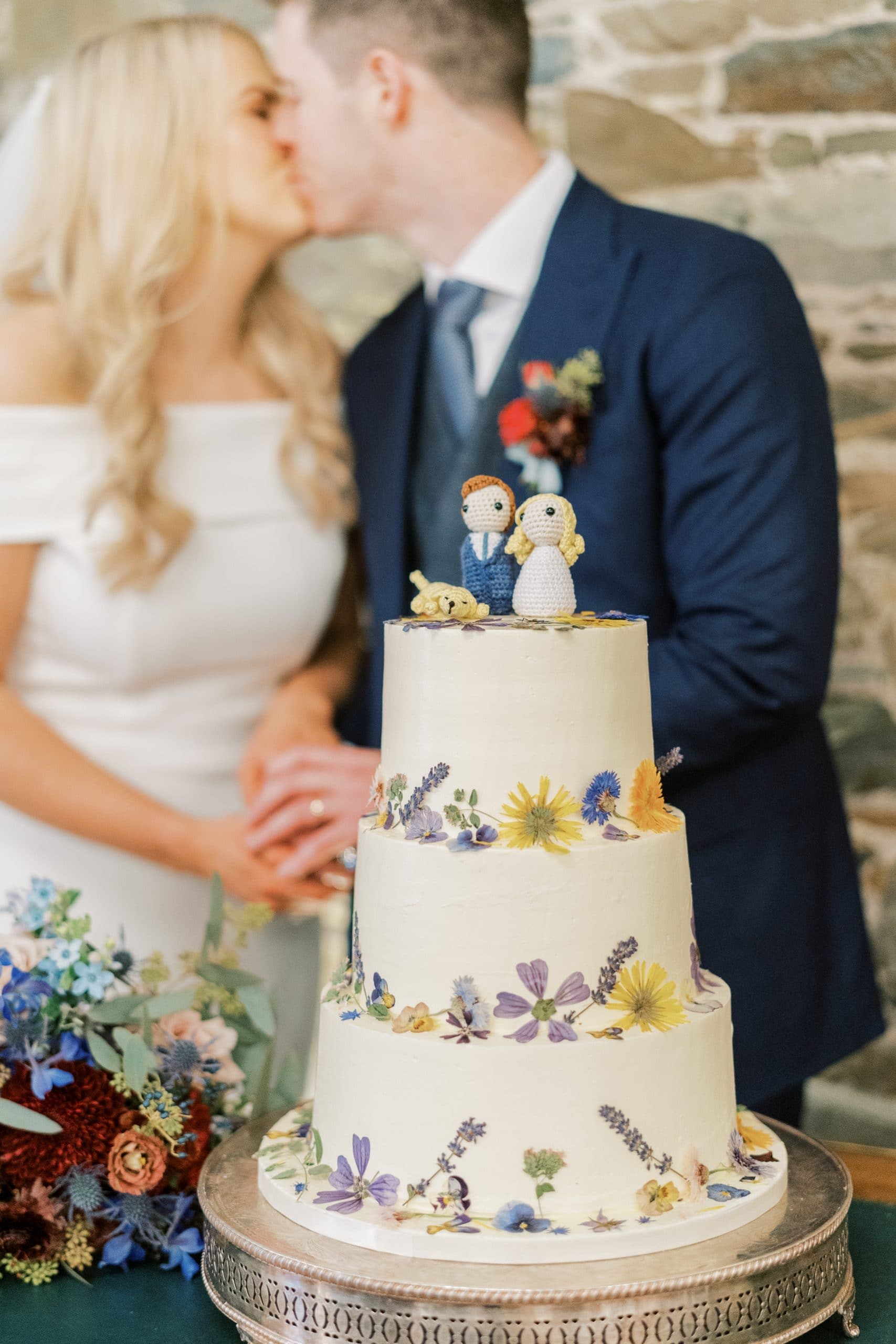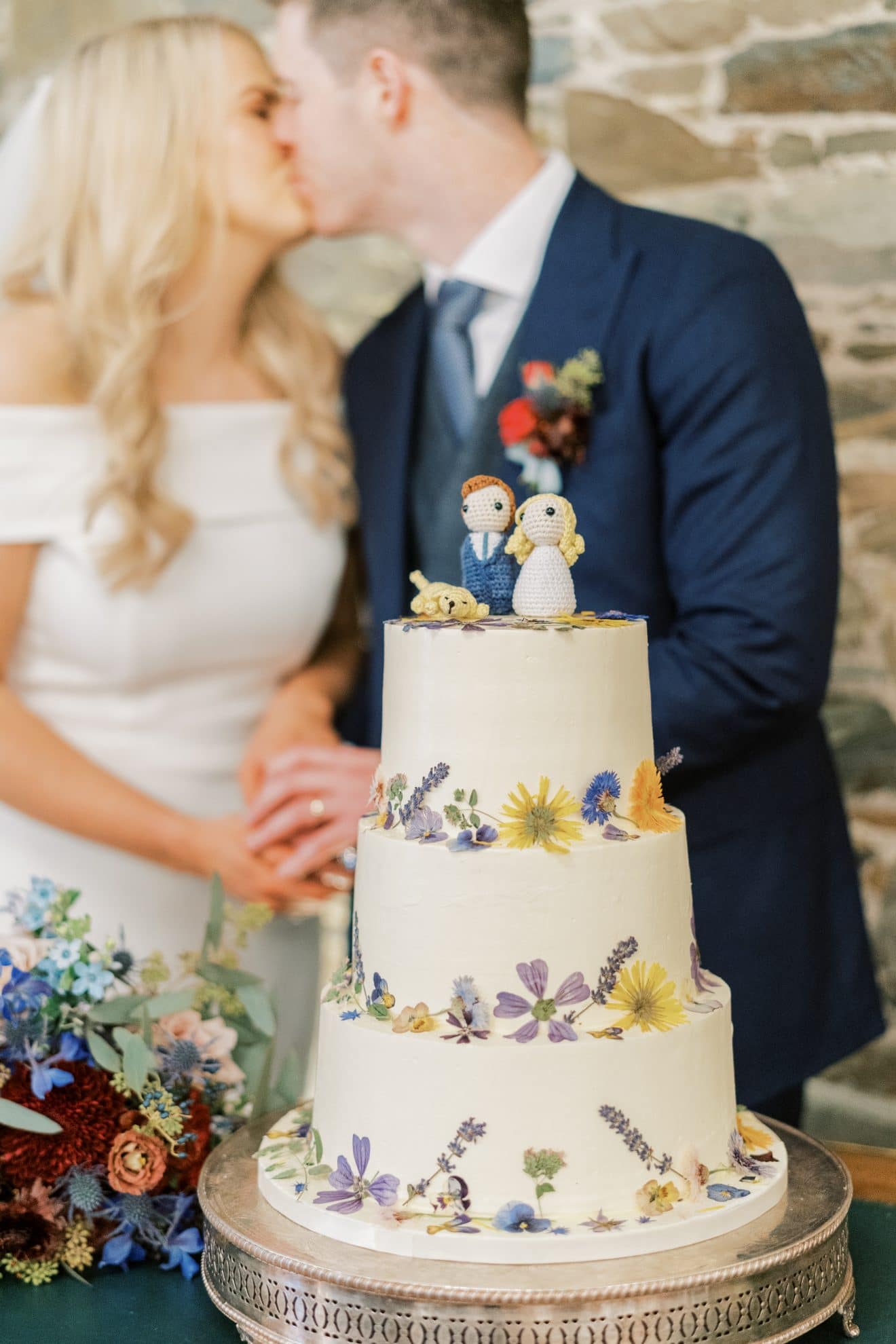 WEDDING WARDROBE
Clodagh looked the part as princess of the castle wearing a gorgeous off-the-shoulder gown with a simple and sophisticated fit-and-flare silhoutte.
RELATED TO: Sweet & Sexy Off-The-Shoulder Wedding Dresses For The Trendsetter Bride
"My dress was handmade by Kathy De Stafford," Clodagh says. "I always loved crepe material, french buttons and an off-the-shoulder style. It was impossible to find in the shops and when I went to Kathy, she brought my vision to life! She was amazing to deal with and I honestly couldn't recommend her highly enough. The bridesmaid dresses were from Thistles in Galway – my something blue!"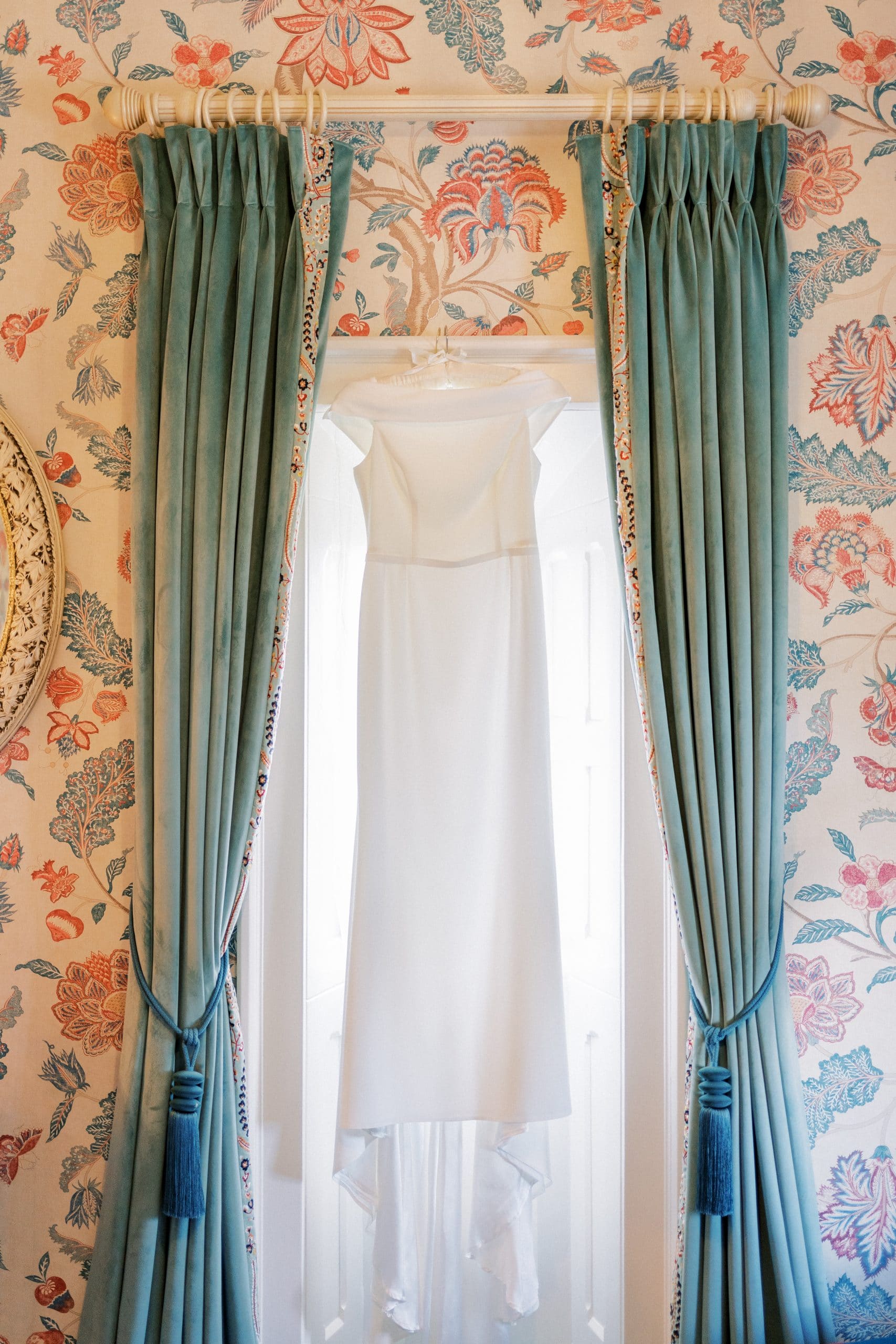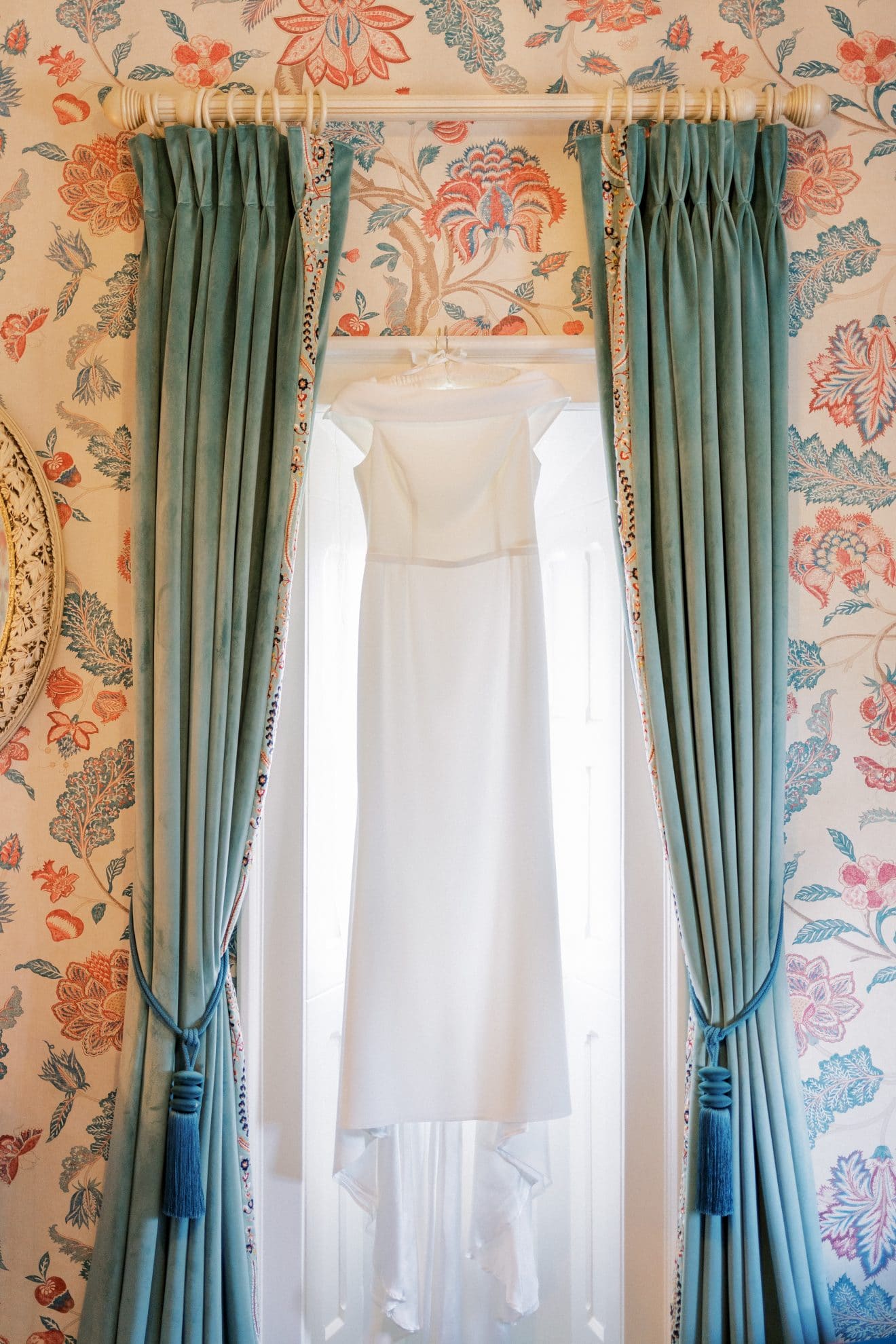 Philip created his own unique custom suit using the Made To Measure Service from Louis Copeland & Sons which was a navy suit with a lightly checkered waistcoat and the groomsmen were in matching navy numbers.
"Working with John on the different fabrics and swatches was a great experience that I always wanted to do," Philip explains. "The groomsmens' suits came from Wolf & West in Oranmore, Galway. Deirdre is one of the most hardworking and caring people I've met in my 20 years of retail.
"There is no bluff and she tells you what works and what doesn't. We had a groomsman come back from America 48 hours before the wedding and she got his suit altered no problem. Couldn't lavish both retailers with enough praise for their immeasurable help."
FAVOURITE MOMENT
For Philip, his favourite moment had to be seeing his beautiful wife walking down the aisle which he describes as one of the best moments of his life. We're not crying, you are!
"It was very special having all of our friends and family in the one room again after 18 long months with COVID. Watching Clodagh walking up the aisle to Latch sung by Aisling Connolly was one of the best moments of my life. Beautiful woman, moment and song. We were at a friend's wedding last week and those emotions came flooding back.
"Getting photos of our golden retriever Teidí with us on our wedding day made the day special for our little family. We'll always have the photos of him with our bridal party for the rest of our lives."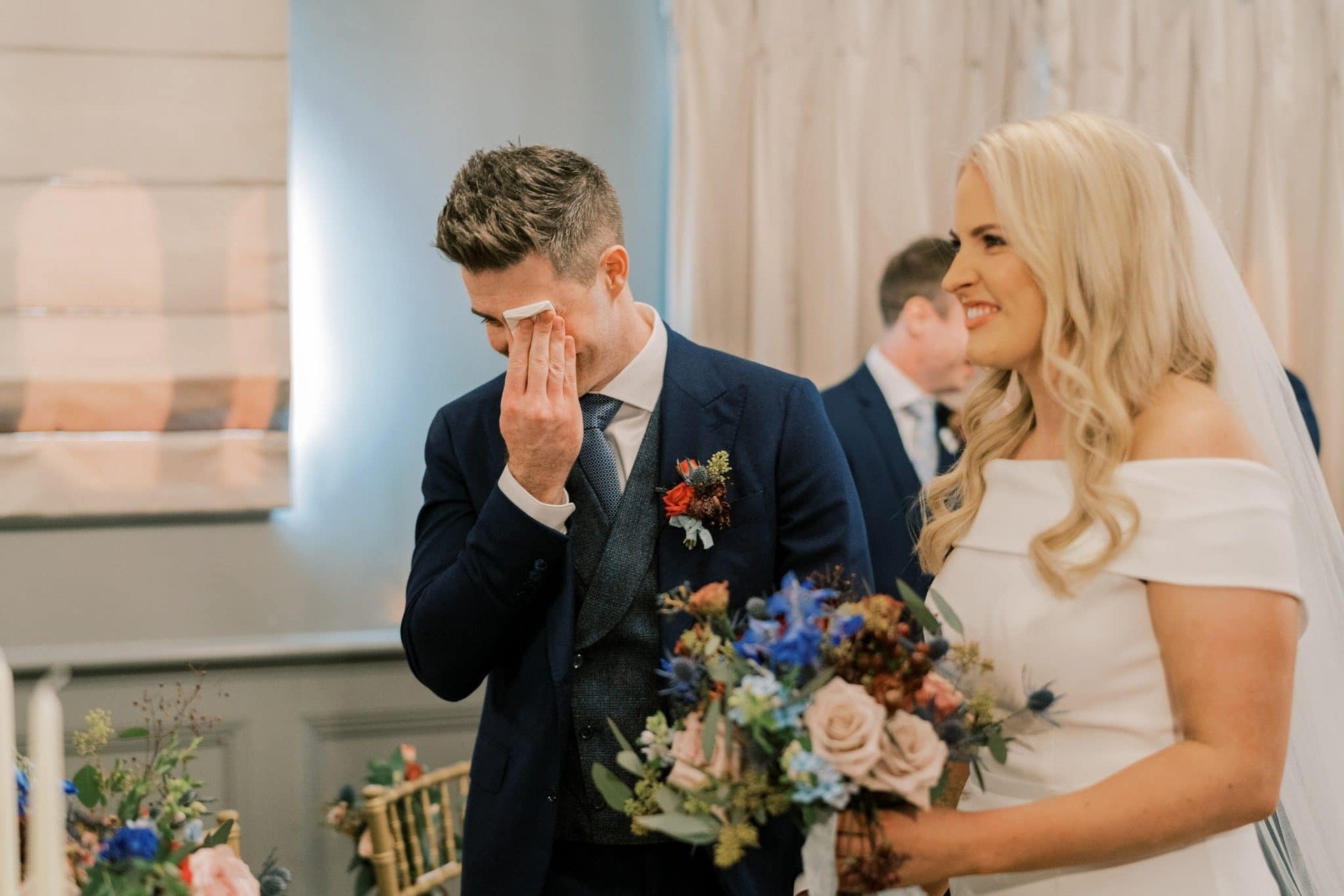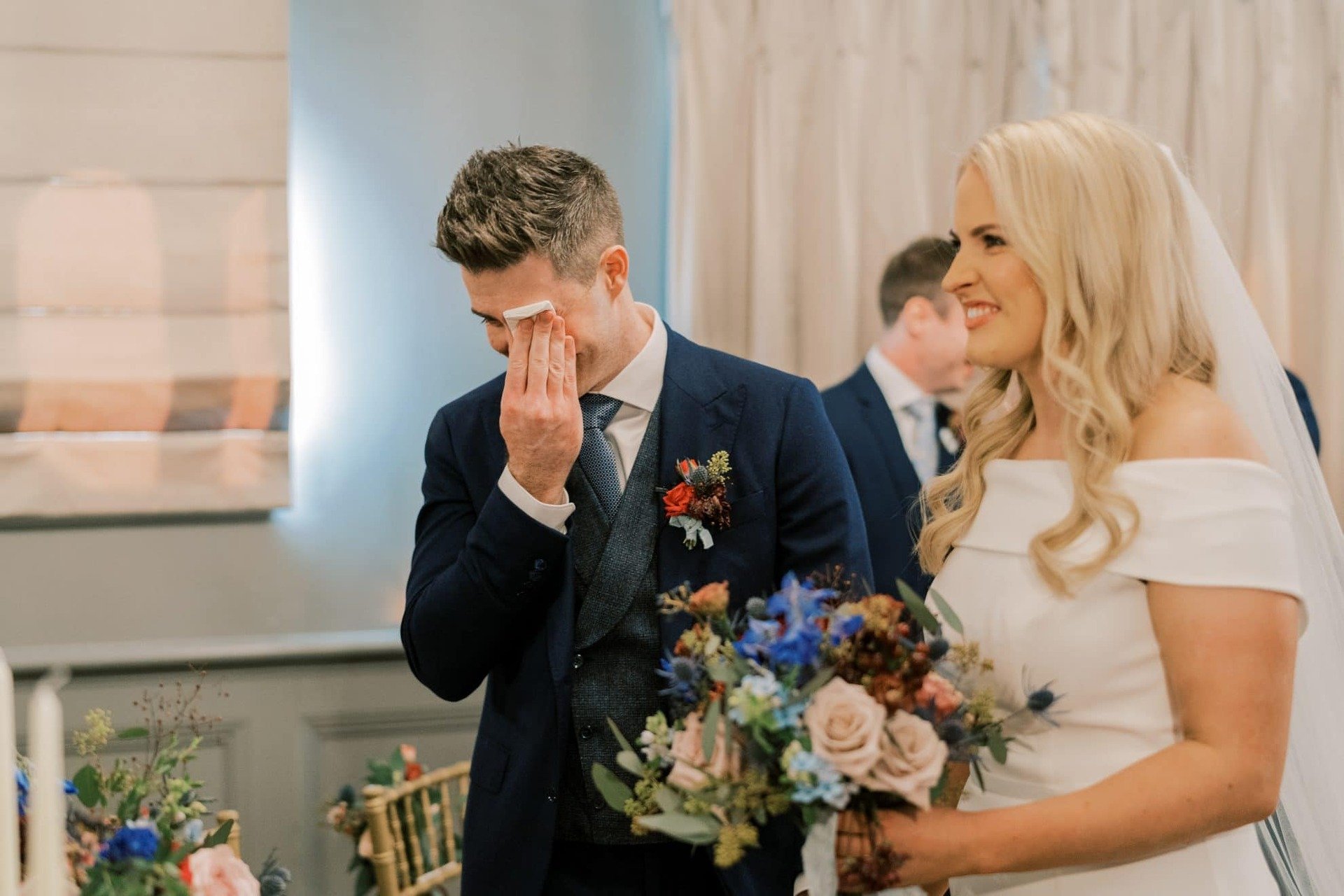 WEDDING ADVICE
For those newly-engaged couples out there, Clodagh and Philip have some wise words of advice, so take notes!
RELATED TO: 21 Common Mistakes Couples Make When Wedding Planning
"Take your time and enjoy the engagement bubble," Philip says. "We originally planned a big wedding day, but COVID forced us to bring our capacity back. It worked out for the best and made the day much more intimate. We are so glad we had a smaller number of 120 now."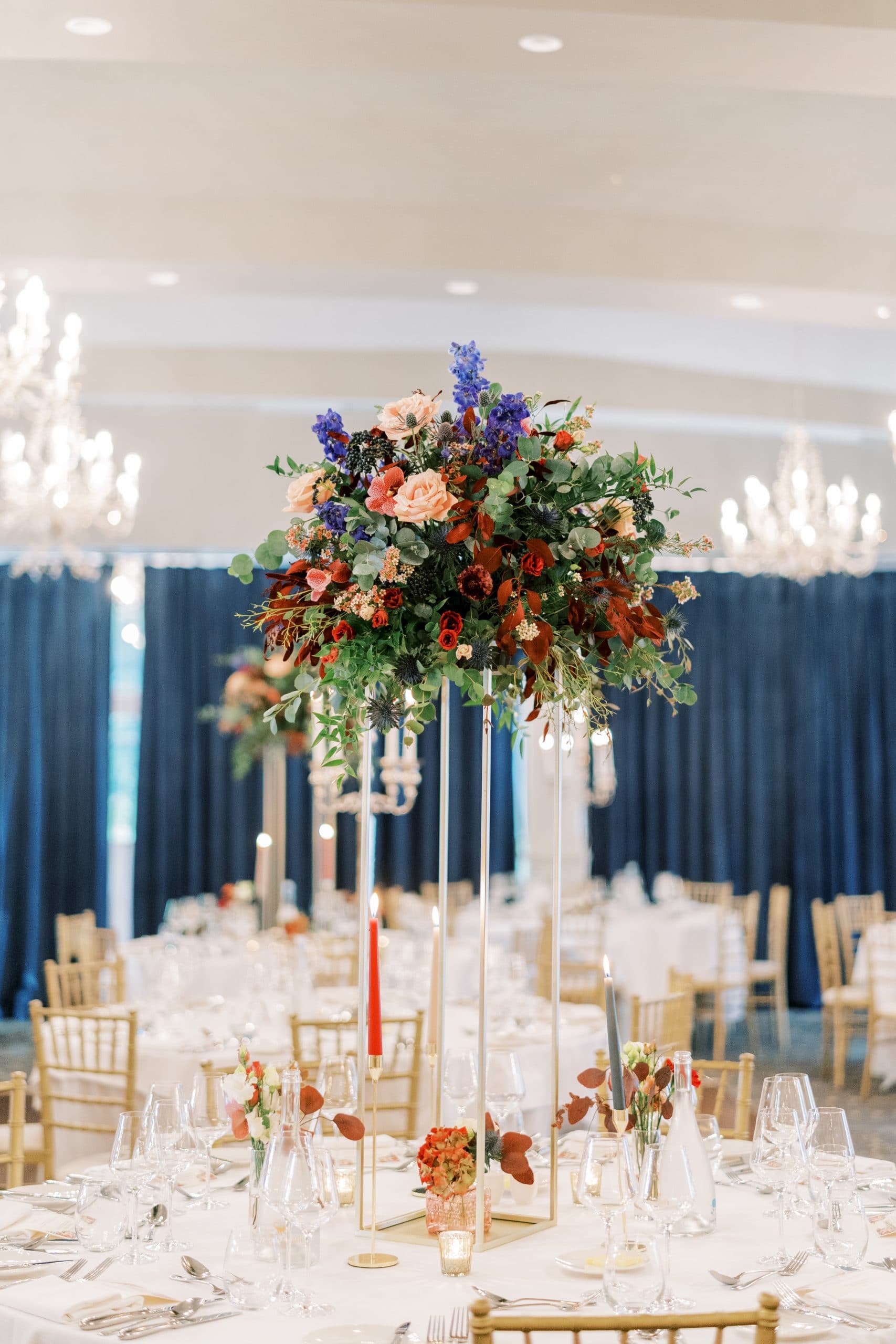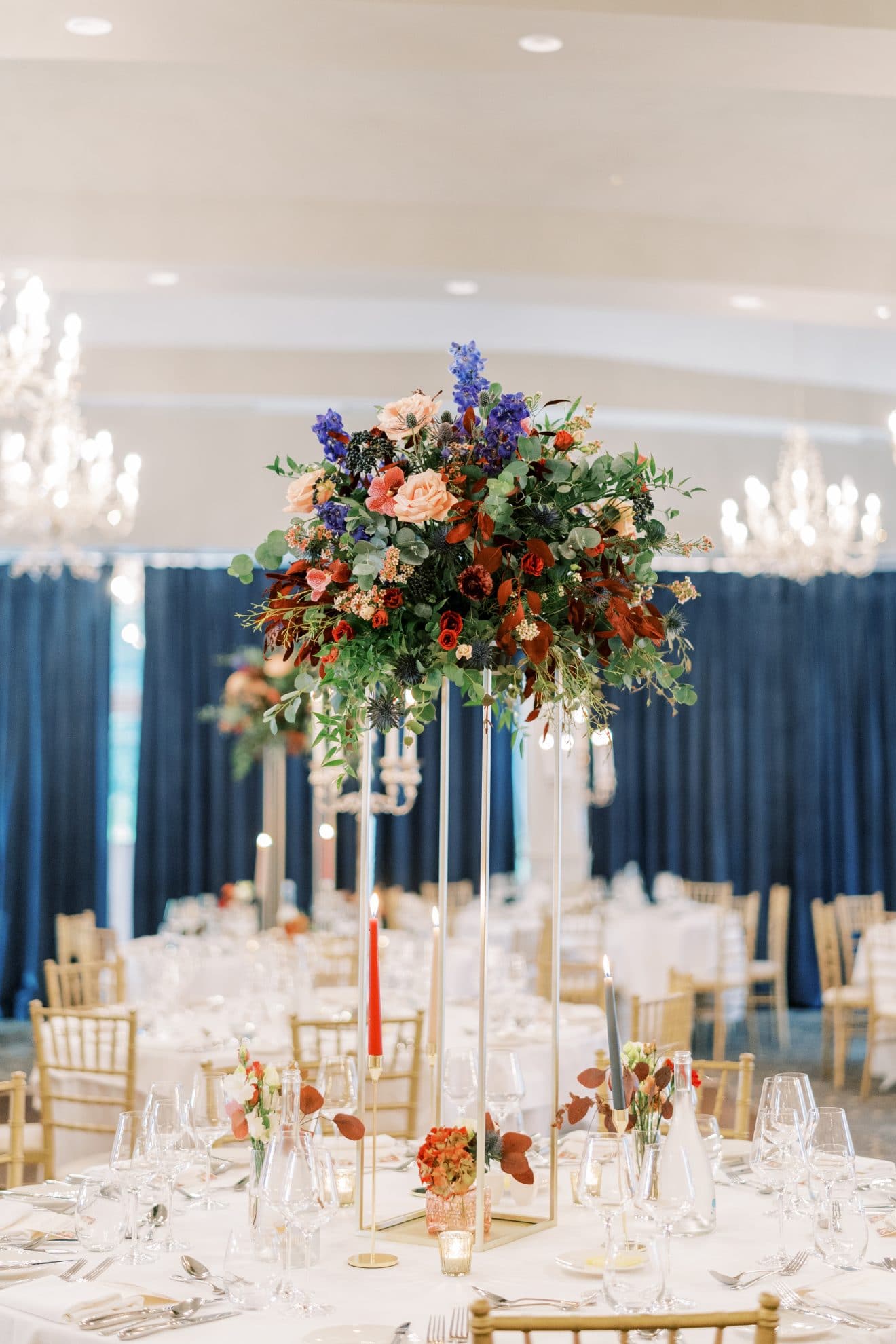 WEDDING SUPPLIERS
Venue: Kilkea Castle
Photographer: Studio Brown
Videographer: Best Day Productions
Band: Kif
DJ: Sax Appeal
Reception/Ceremony Music: Aisling Connolly
Flowers: Mad About Flowers
Cake: Norma Couglan
Wedding Dress: Kathy De Stafford
Grooms' Suit: Louis Copeland & Sons
Celebrant: Laura Walsh
Photobooth: Photobooth Guys
Decorations: Elderwoods
Hair: Aisling Hamill
Makeup: Anne-Marie Doherty
Day Two Pizza: Food Junkie
Day Two Music: Ian McGovern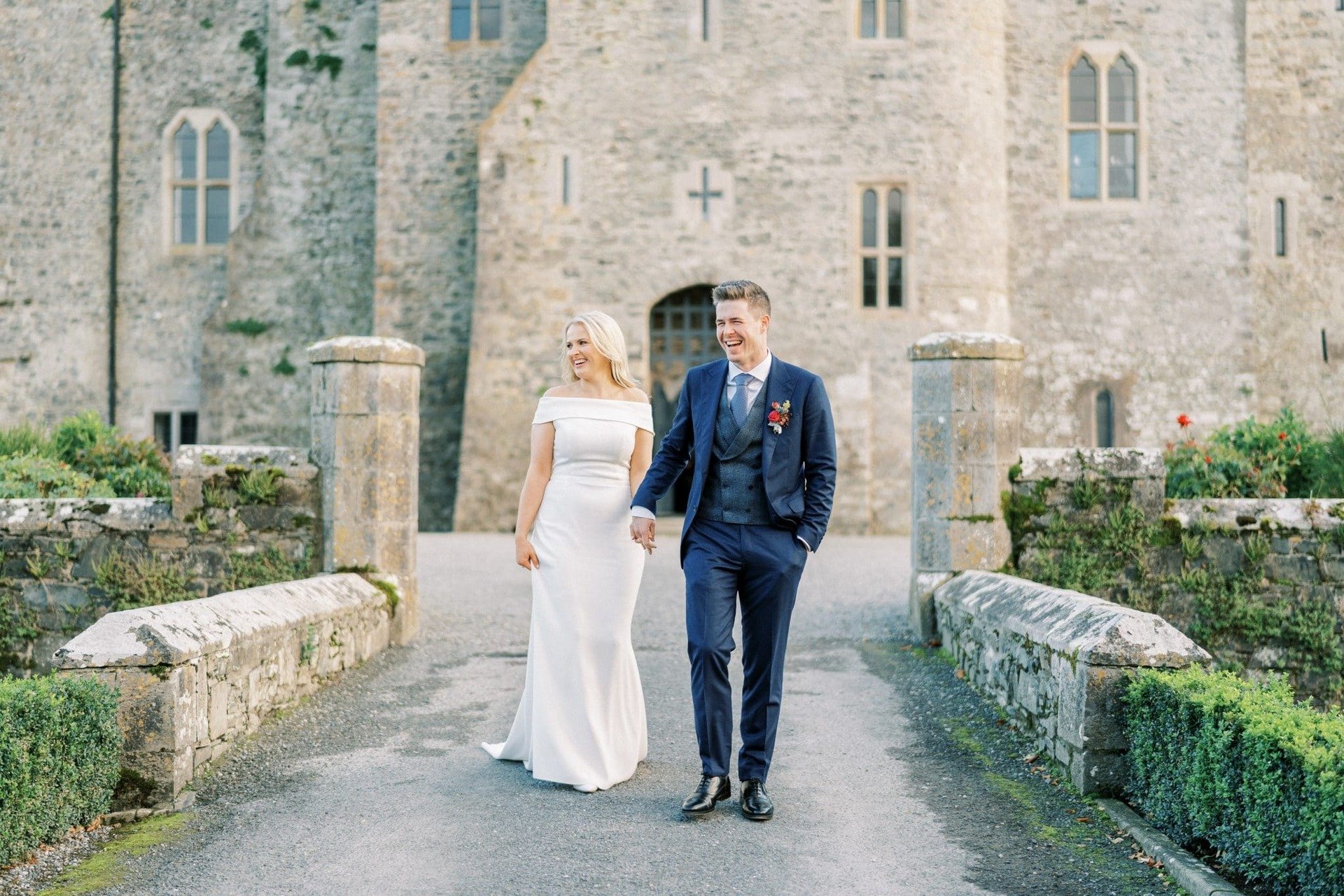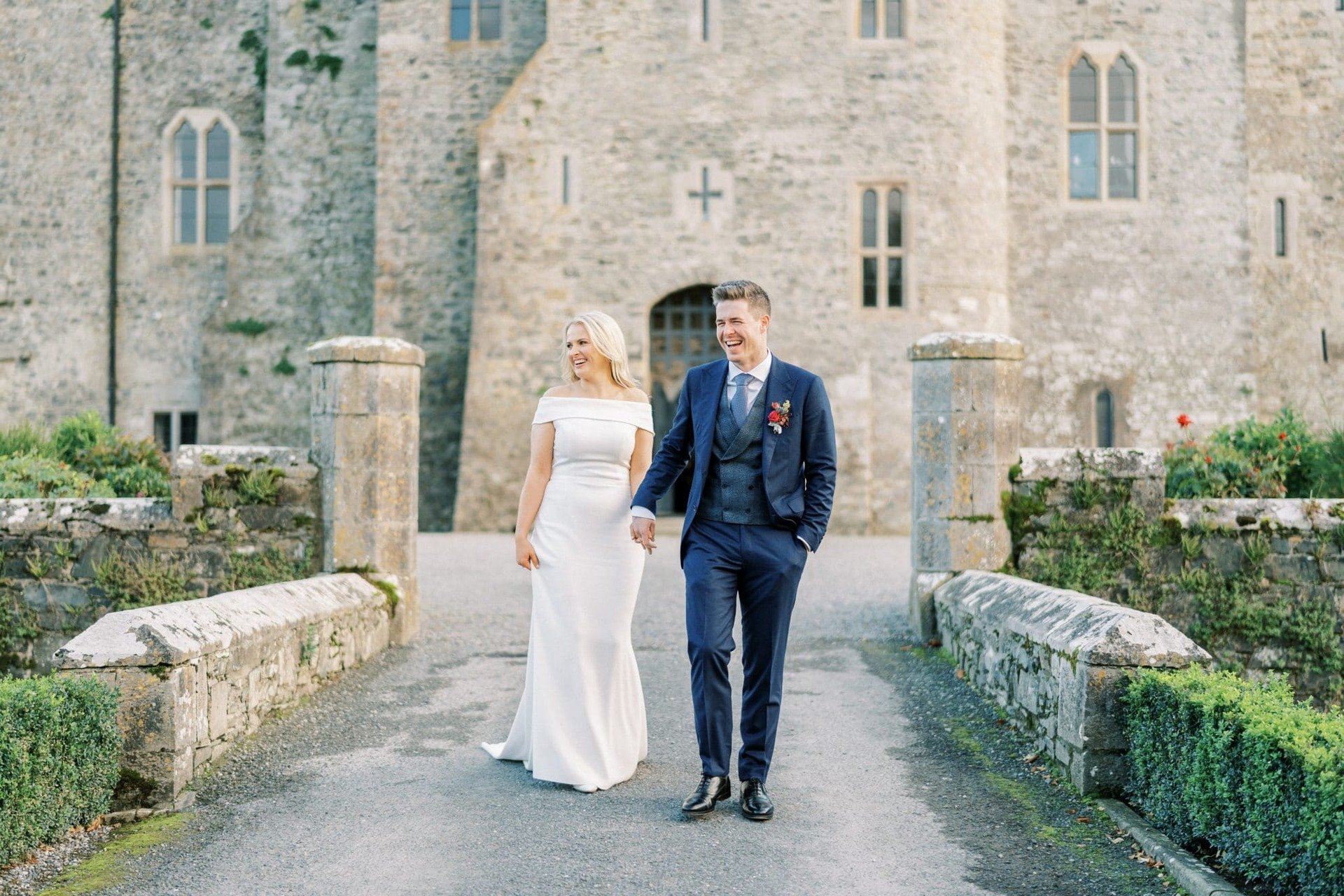 Want to see more stunning real-life weddings? Check it all our brides and grooms HERE!