Style fans are loving the first glimpse of the Twilight actress as she plays the People's Princess in the forthcoming Diana biopic.
Twilight star Kristen Stewart appears in a replica of one of the world's most iconic wedding dresses in the first full trailer of Princess Diana biopic Spencer.
The actress sweeps through winter trees in the legendary Emanuel designed dress in what may be a flashback or dream sequence in the acclaimed movie.
The original gown, which recently went on display in Kensington Palace, features a spectacular sequin-encrusted train, which at 25 feet filled the aisle of St Paul's Cathedral and remains the longest in royal history.
RELATED TO: Why Princess Diana's Iconic Wedding Dress Is Still Making Headlines
Designed by the Emanuel studio, it features a scooped neckline and large puffed sleeves trimmed with bows and deep ruffles of taffeta, a style popularised by the Princess in the early 1980s, and the full skirt is supported upon a mountain of stiff net petticoats to create that famous silhouette. 
Fans are already obsessing over the style in the new movie as the late 80s and early 90s styles make a return including oversized collars, pearls and mid-length skirts.
RELATED TO: The 10 Most Expensive Wedding Dresses In The World
The film, directed by Pablo Larrain, is set over a weekend in 1991, during a Christmas holiday in which Diana decides to end her marriage to Prince Charles.
In a recent interview, Stewart says she felt Princess Diana's presence on set while filming the biopic, telling the LA Times: " I felt some spooky, spiritual feelings making this movie. I felt like there were moments when I kind of got the sign-off.
"It's scary to tell a story about someone who's not alive anymore and who already felt so invaded. I never wanted to feel like we were invading anything, just that we were kind of adding to the multiplicity of a beautiful thing."
The biopic is already receiving rave reviews from critics, with Stewart being hailed for her performance in the iconic role.
She received a three-minute standing ovation during the premiere at the Venice Film Festival, and has been named by Variety as a possible Oscar contender.
RELATED TO: Royal Wedding Dresses On A Much Lower Budget
In the dramatic new trailer, Diana arrives late for the festivities at the Queen's Sandringham Estate to endure three days with the extended royal family.
"Mummy, what's happened to make you so sad?" a young Prince William asks. She responds: "Here, in this house, there is no future. Past and the present are the same thing."
The trailer sees Prince Charles tell his wife: "There has to be two of you. There's the real one, and the one they take pictures of."
Stewart, as Diana, states: "There's no hope for me. Not with them."
Stewart performs alongside Jack Farthing as Prince Charles, Stella Gonet as the Queen, Timothy Spall as Equerry Major Gregory, and Sally Hawkins as Diana's staff member and ally Maggie.
RELATED TO: Did Princess Beatrice Wear The Queen's Dress At Her Royal Wedding?
The official synopsis from production company NEON says: "The marriage of Princess Diana and Prince Charles has long since grown cold.
"Though rumours of affairs and a divorce abound, peace is ordained for the Christmas festivities at the Queen's Sandringham Estate. There's eating and drinking, shooting and hunting. Diana knows the game.
"But this year, things will be profoundly different. Spencer is an imagining of what might have happened during those few fateful days."
Style fans were wowed by the variety of outfits worn throughout the movie, including a beautiful white ball gown, yellow skirt suit and green plaid cardigan teamed with jeans.
Stewart revealed during a press conference that she was given information from royal insiders about the reality of Diana's day-to-day life.
RELATED TO: When Old Hollywood Glamour Meets The Modern Bride
"The movie doesn't offer any new information," she said.
"It doesn't profess to know anything. It imagines a feeling. I think my impression can only be my own. But Diana was a woman who wanted people to come together and I think that this movie's ambition is to bridge gaps."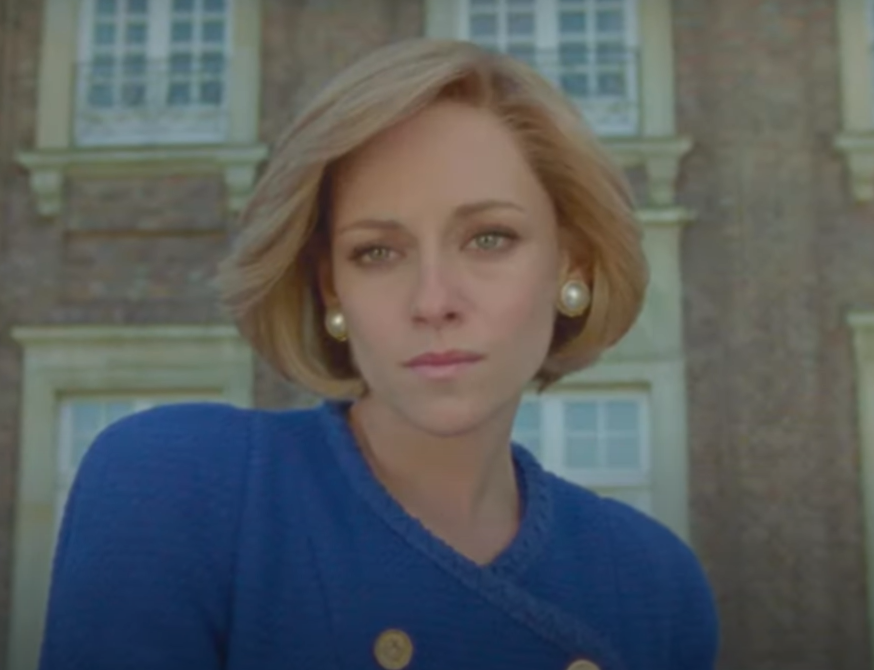 Spencer is released in the US and UK on 5 November 2021.
RELATED TO: 11 Most Iconic Celebrity Wedding Dresses Of All Time
Looking for the latest wedding inspo and ideas? Tickets for the upcoming Wedding Journal Shows are on sale NOW.