The former 90s It girl tied the knot with her partner after they had to postpone their wedding three times during the pandemic.
At last, model Sophie Anderton has married her partner Count Kaz Balinski-Jundzill in Ireland following a series of postponements due to the Covid pandemic.
The 44-year-old former It girl and model married her partner, a member of the Polish aristocracy who owns Glendalough House in Co Wicklow, after four years of dating, afterwards telling a Daily Mail journalist: "Yesterday, I married my best friend, soulmate and lifetime partner in crime.
"I cannot believe that after so many obstacles and date changes, I am officially Mrs Kaz Balinski."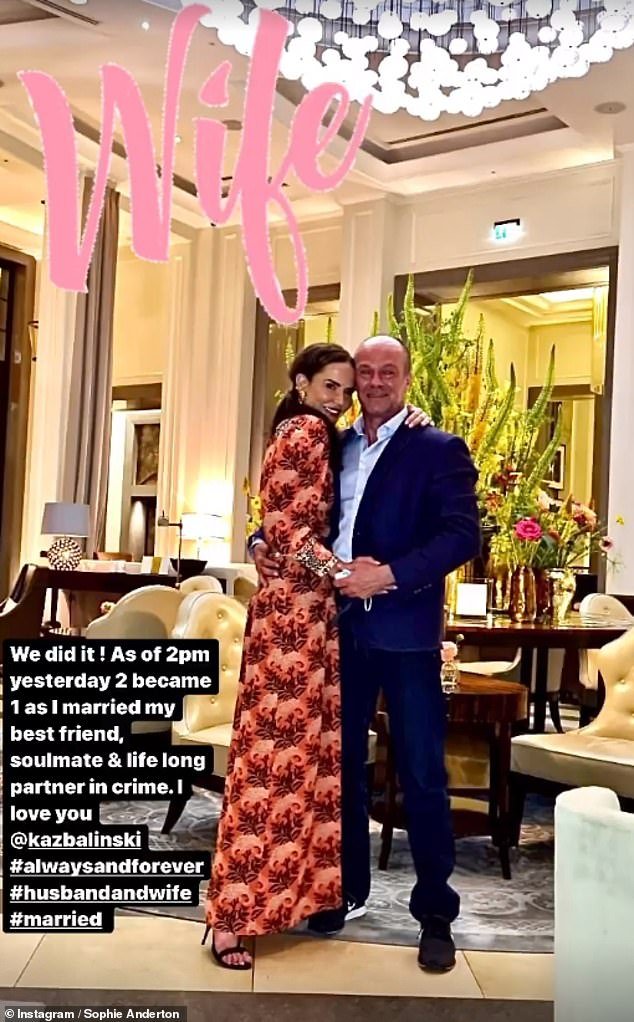 RELATED TO: Celebs Turn Out In Style At Ant McPartlin's Showstopping Wedding
The couple were forced to postpone their nuptials twice last year due to Covid, and again at the end of July when one of Kaz's four children became ill.
One of his children is the actress Ella Balinska (24) who starred in the 2019 Charlie's Angels film – her mother is his TV chef ex-wife Lorraine Pascale.
Kaz (52), who works in the oil industry, owns a 1,500 acre estate at Glendalough, which is currently closed to weddings.
Earlier this month, Kaz and Sophie celebrated a pre-wedding camp-out at his estate with their family and friends before tying the knot.
RELATED TO: Which Celebrity Inspired Wedding Hairstyle Should You Choose For Your Face Shape?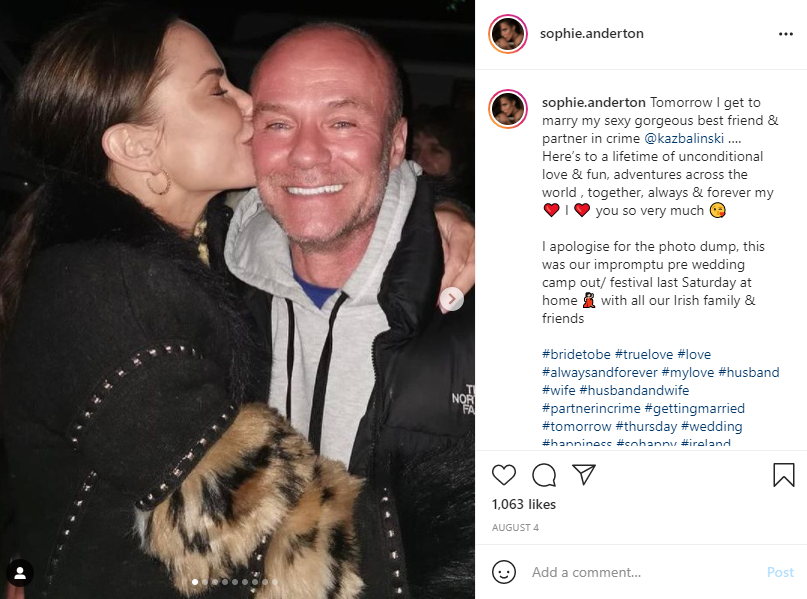 Back in 2018, speaking of her excitement about the future, Sophie said : I'm really looking forward to getting married and having children. I've been waiting for someone to be an amazing father to my children and it was so worth the wait."
RELATED TO: 10 Gorgeous Boho Style Wedding Dresses Worn by Celebrities – Get The Look!
And in February 2020, as she planned for her initial wedding date, Sophie opened up about relocating to Ireland, saying: "The best thing I ever did was get out of London – much as I love London, I've now got the mountains."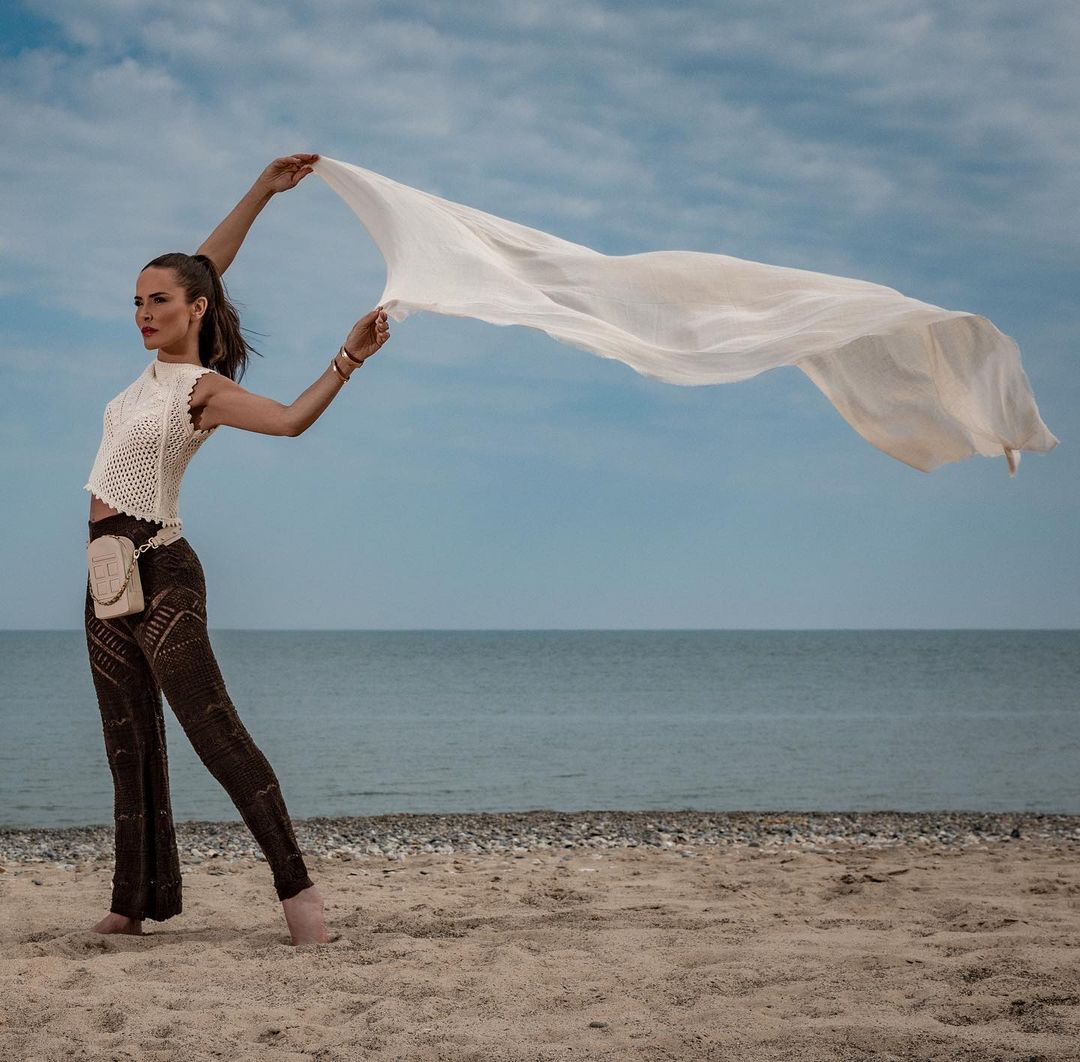 She added: "We feel our life together is moving forwards after the standstill of the past eight months. It will only be a civil wedding in February — a very small affair. 
"But we'll have a big blessing ceremony in the summer that Kaz's children can attend and all my family and friends who are all around the world."
RELATED TO: Small Weddings: How To Wed Like A Celeb
As events transpired, it wasn't to be, but the couple are jubilant after finally tying the knot in summer 2021.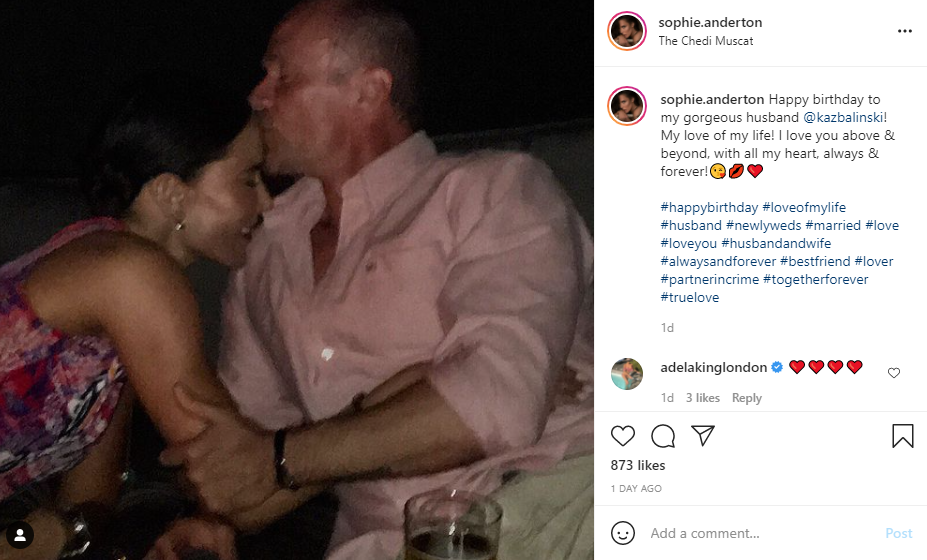 Following the wedding, Sophie marked Kaz's birthday with an Instagram post saying "Happy birthday to my gorgeous husband @kazbalinski! My love of my life! I love you above & beyond, with all my heart, always & forever!😘💋❤️"
Model Sophie originally shot to fame as the face of Gossard bras and was a staple of the showbiz scene in London in the 90s and 00s, appearing on I'm a Celeb in 2004 as well as Celebrity Big Brother in 2013. She was engaged to businessman Mark Alexiou in 2005 and has also been linked to ex footballer Mark Bosnich and Bros singer Matt Goss.
RELATED TO: 10 Most Expensive Celebrity Engagement Rings You Need To See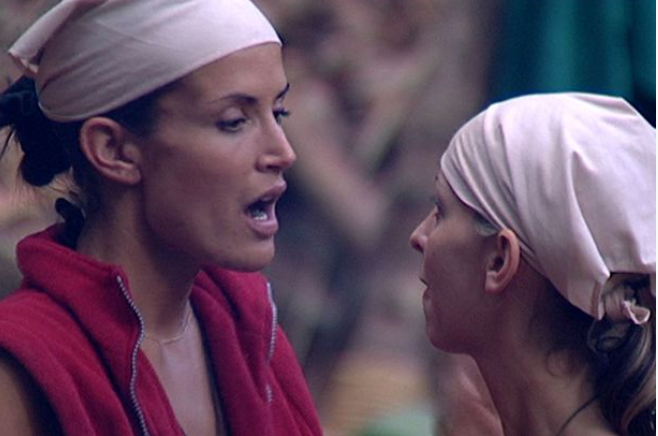 Speaking to the Daily Mail in 2015, the model spoke of her previous battles with drink and drugs, saying they were "light years from where I am now".
"I was very unhappy… I had no control over who I was or how I looked," she said.
"I was a model but at some point modelling became only one part of what was required of us. And suddenly to be successful we had to be celebrities. It's not something that came naturally, I was terrible at being famous."
RELATED TO: Spider-Man Actor Alfred Molina Marries Frozen Director Jennifer Lee In Sweet Garden Ceremony
In the run-up to her August 2021 wedding, Sophie posted images of herself on 'Date Night' at the Mayson Hotel in Dublin, adding: "HIDE & SEEK …. Mr & Mrs Balinski style….. cannot wait to marry my sexy gorgeous insanely talented husband to be in two days…. I love you @kazbalinski so very much 💃🏻😘❤️ #bridetobe #husbandandwife."
RELATED TO: Love Island: Guess What Couples Wed and Who's Newly Engaged
Still organising your perfect day? Check out our gallery of fabulous suppliers HERE.
Sign up to our newsletter to get all the latest from The Wedding Journal!
Join Here>>>>http://eepurl.com/ck9vLb