Soft elegance meets delicate details in this charming wedding at Castle Leslie Estate!
Today's real-life wedding features a natural colour palette, a unique wedding dress and all the delicate details you could ever want from a fairytale castle wedding. Aaron and Kirsty Black from Laurelvale love travelling the world together and have went on many adventures, however their wedding at Castle Leslie Estate on September 11th 2021 is up there with one of their best adventures yet!
Before we dive in to their dreamy wedding day, let's take a trip down memory lane where it all began… 90s babies prepare for some major nostalgia!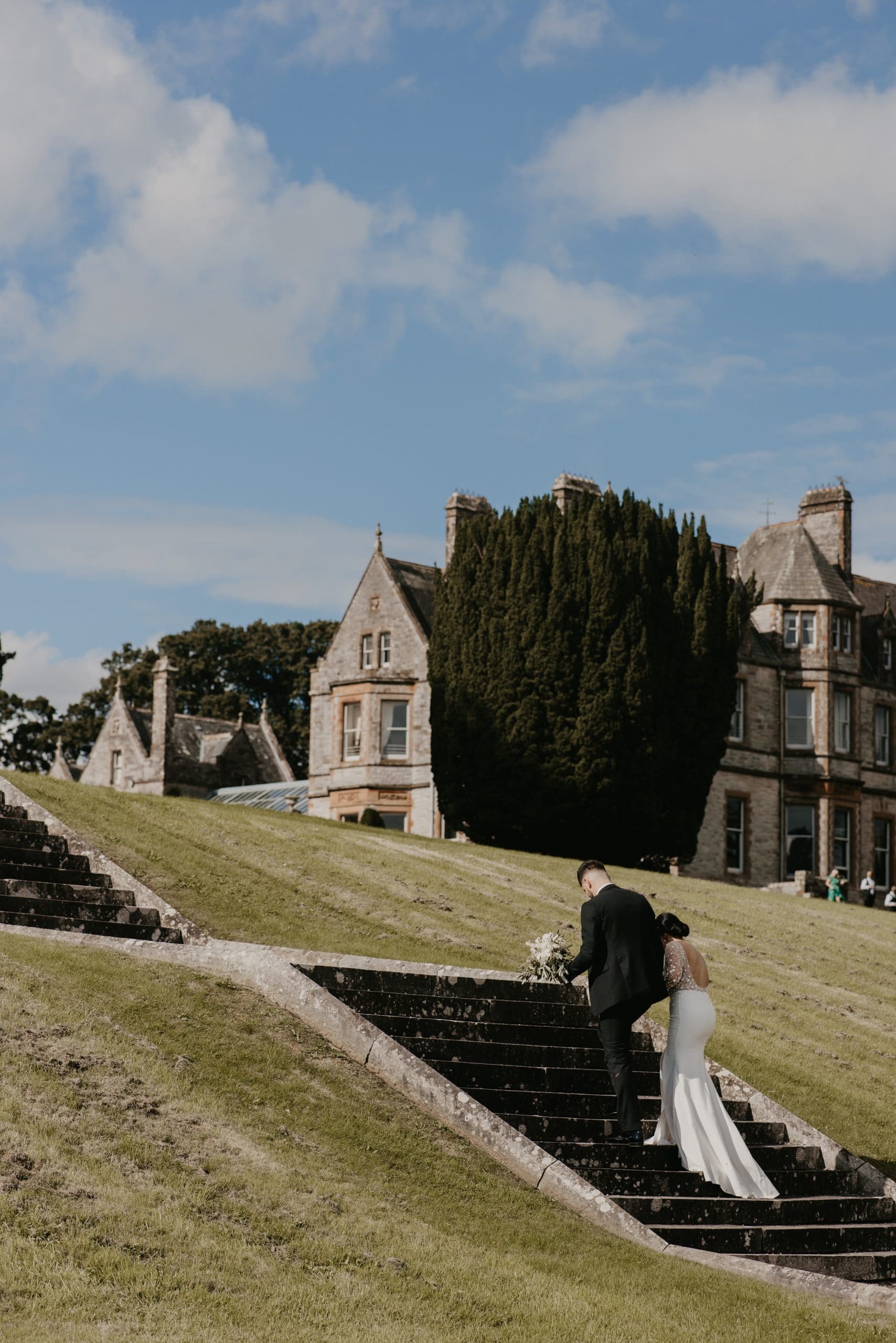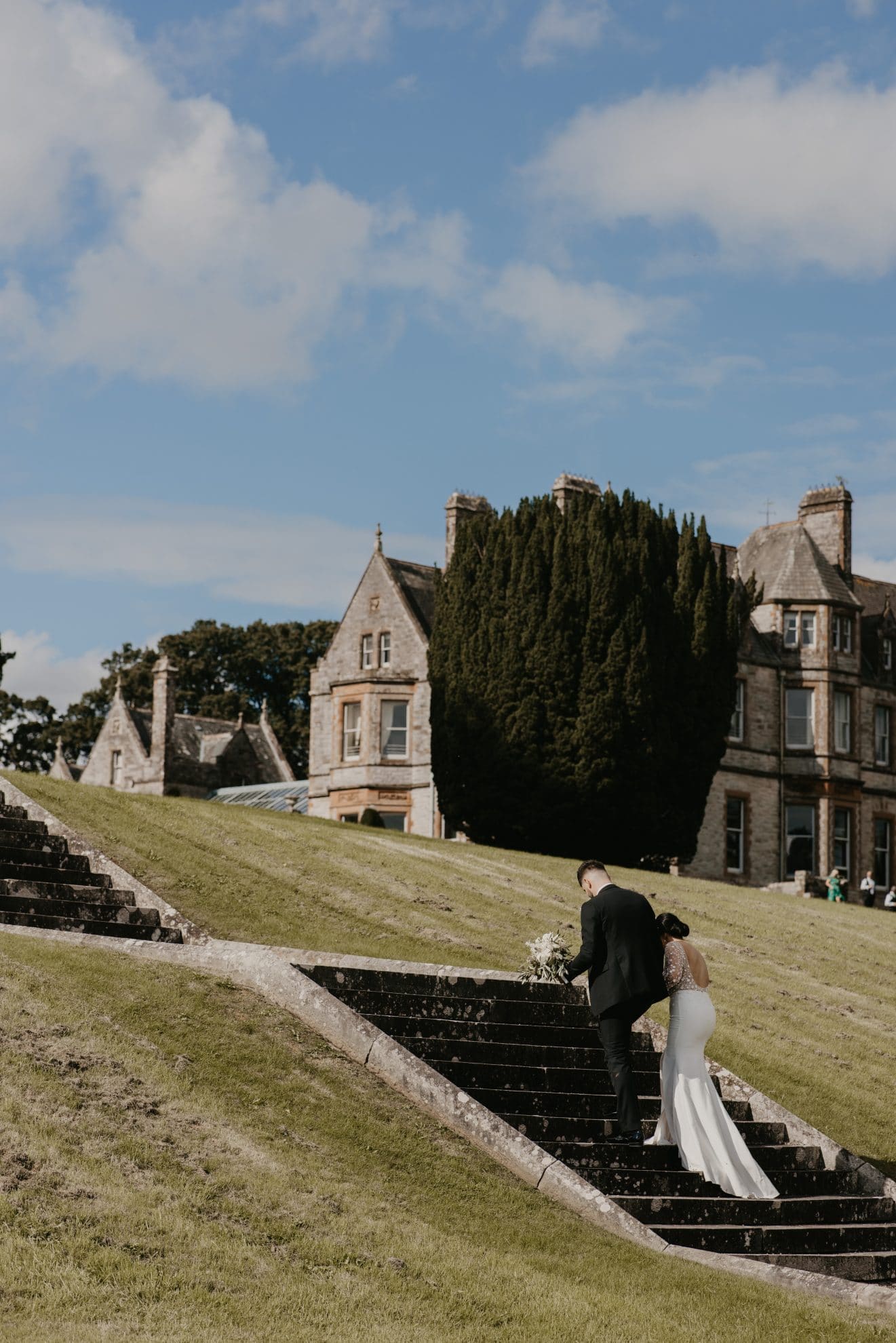 HOW THEY MET
Before the world of iPhones, iMessage and snapchat, there was once a thing called BBM on Blackberries. We're getting nostalgic feels from Kirsty and Aaron's story on how they first met… Let's just say it was love at first PING!!! Ah how we miss the early 2000s.
"Aaron and I had mutual friends at secondary school but the real reason we met was through the BBM messenger on our Blackberry phones – such a oldie but a goodie!" Kirsty reminisces. "Aaron updated his status to show he was watching Grease and I changed mine too. He popped up and messaged me and the rest is history!
RELATED TO: Island Vibes: Lisa & Matthew's Summer Wedding at Lusty Beg
"Aaron definitely made the first move! He invited me on a first date, we headed to Belfast for food and shopping and he took me to the top of Victoria Square and asked me to be his girlfriend. We shortly came down as he said he was scared of heights." Kirsty laughs.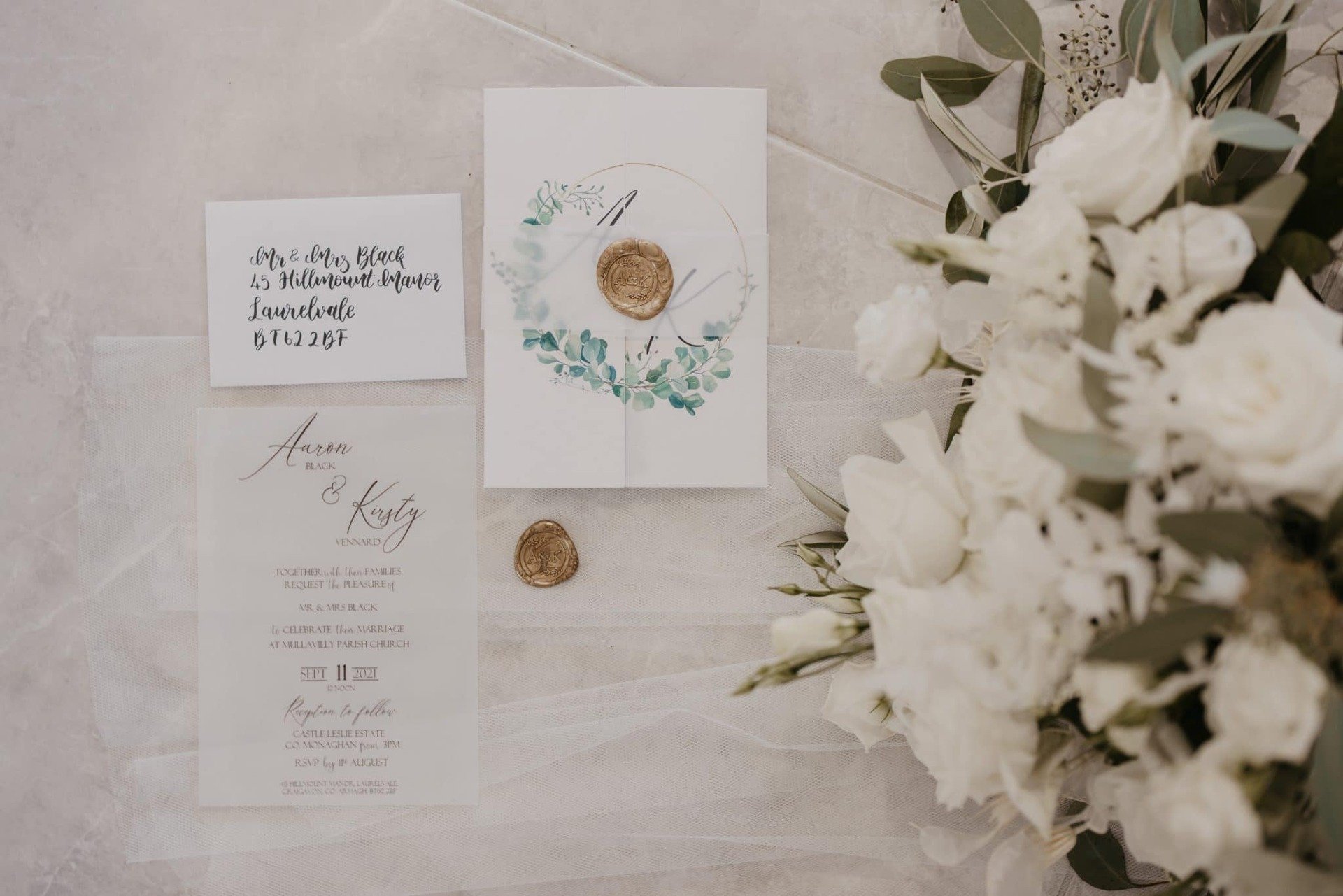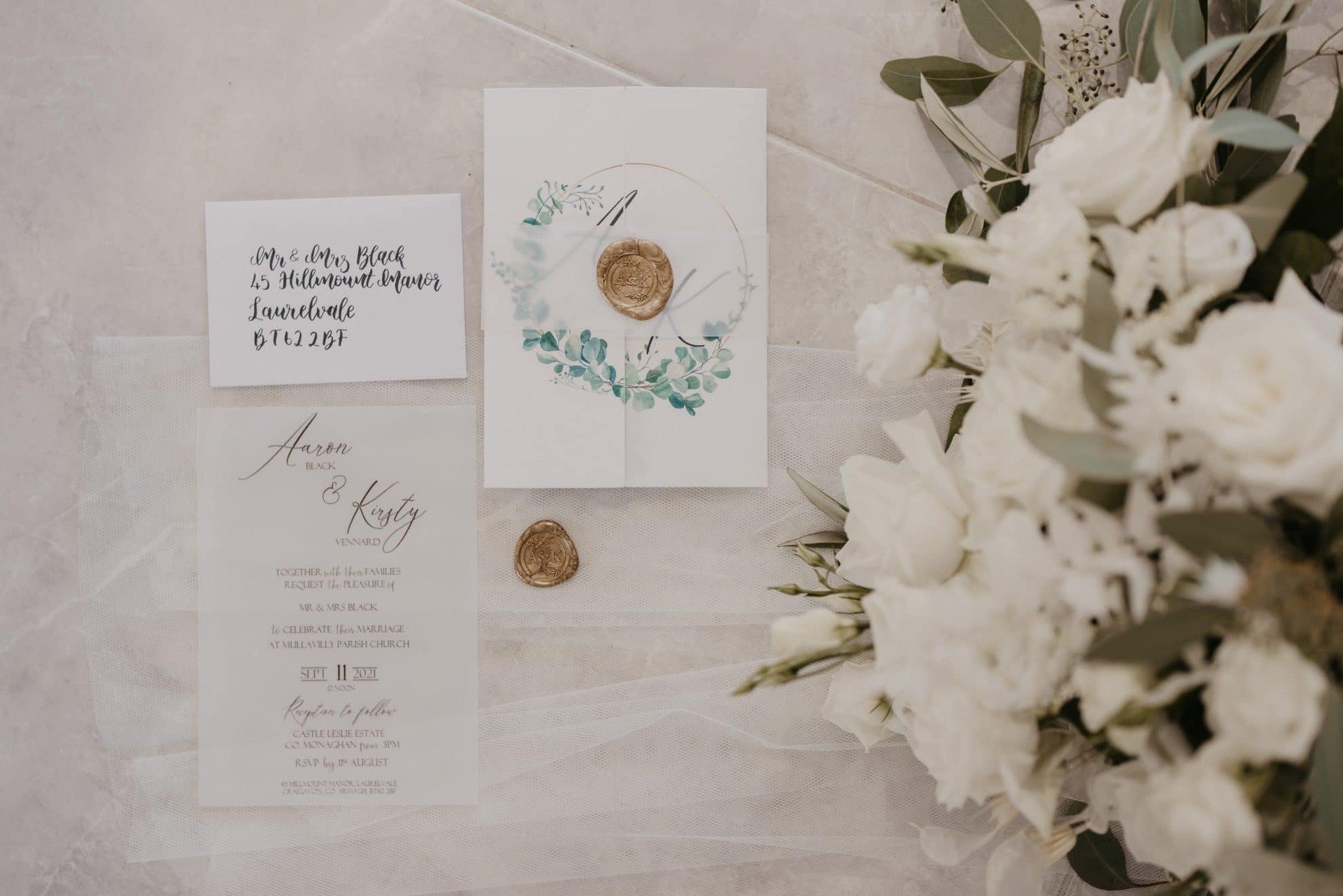 THE PROPOSAL
After meeting in 2013, Kirsty and Aaron went on many travels together – one of which was Rhodes in Greece which ended up being the most important holiday of all! They both will never forget May 22nd 2019.
Aaron says: "I asked Kirsty's Mum and Granda for permission to propose a few weeks before heading away. I hid the ring in a pair of boxers in my hand luggage but of course my bag got stopped going through security!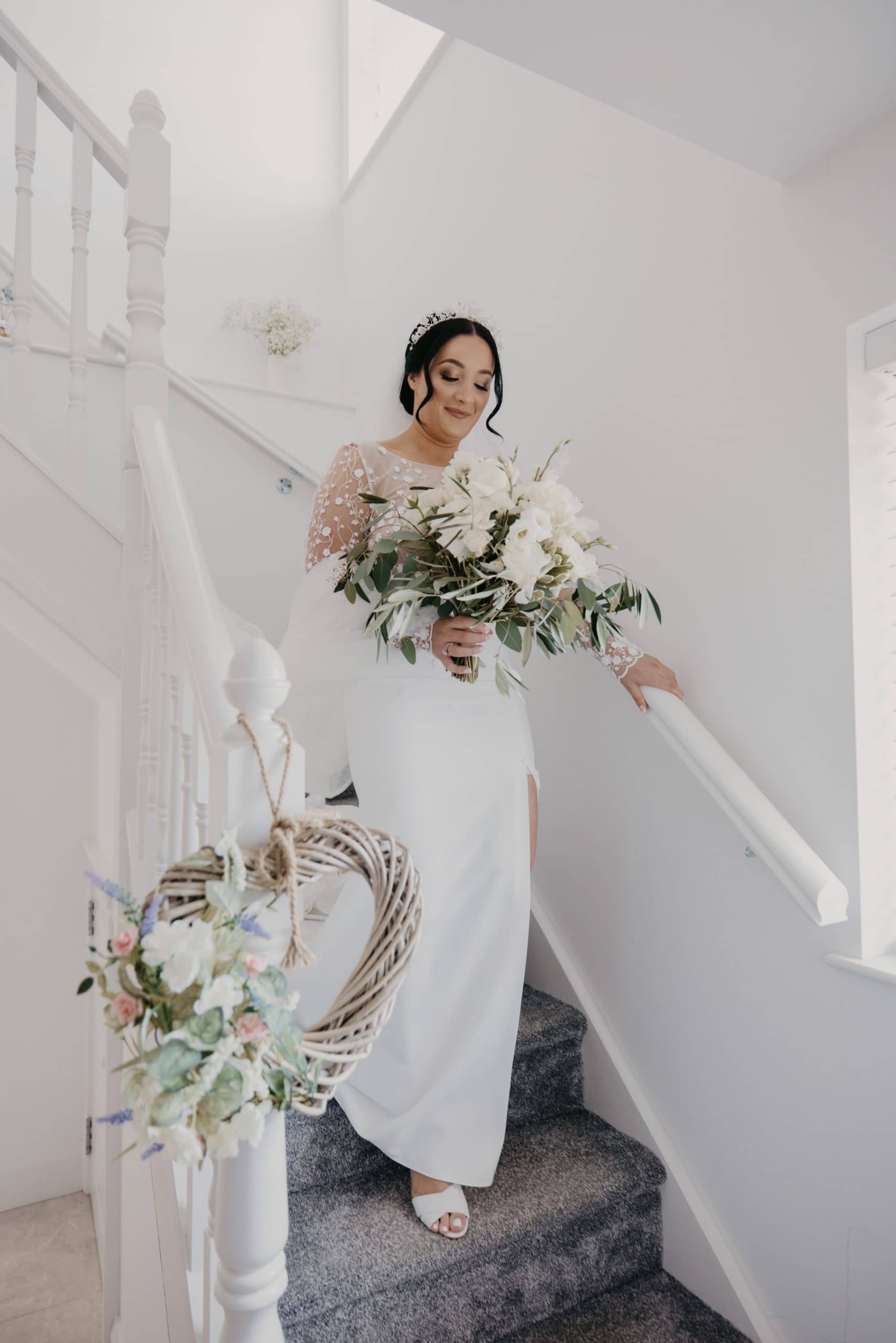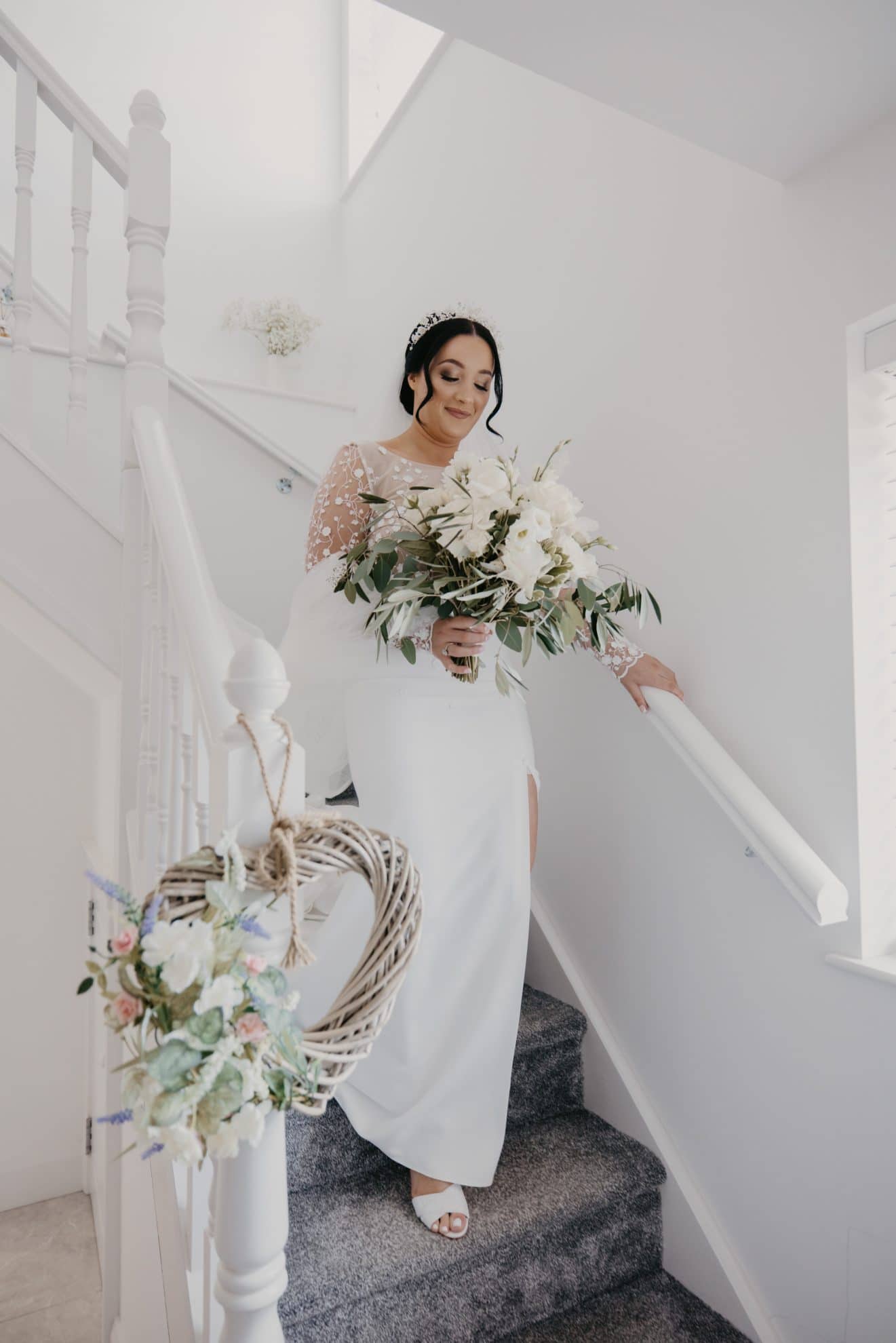 "Thankfully Kirsty had already gone through security and didn't see this happen. Kirsty and I organised to go into Lindos town at the end of the holiday for our dinner. We went to a beautiful ocean view restaurant and this is where I planned to do it the whole time.
"Hiding the ring for this long was hard. I got down on one knee after dinner when the sun went down and asked her to marry me. I wasn't nervous until this moment. I knew it was right after six amazing years together!"
RELATED TO: Sparks Fly: Ellen & Ben's Spring Wedding At Clandeboye Lodge Hotel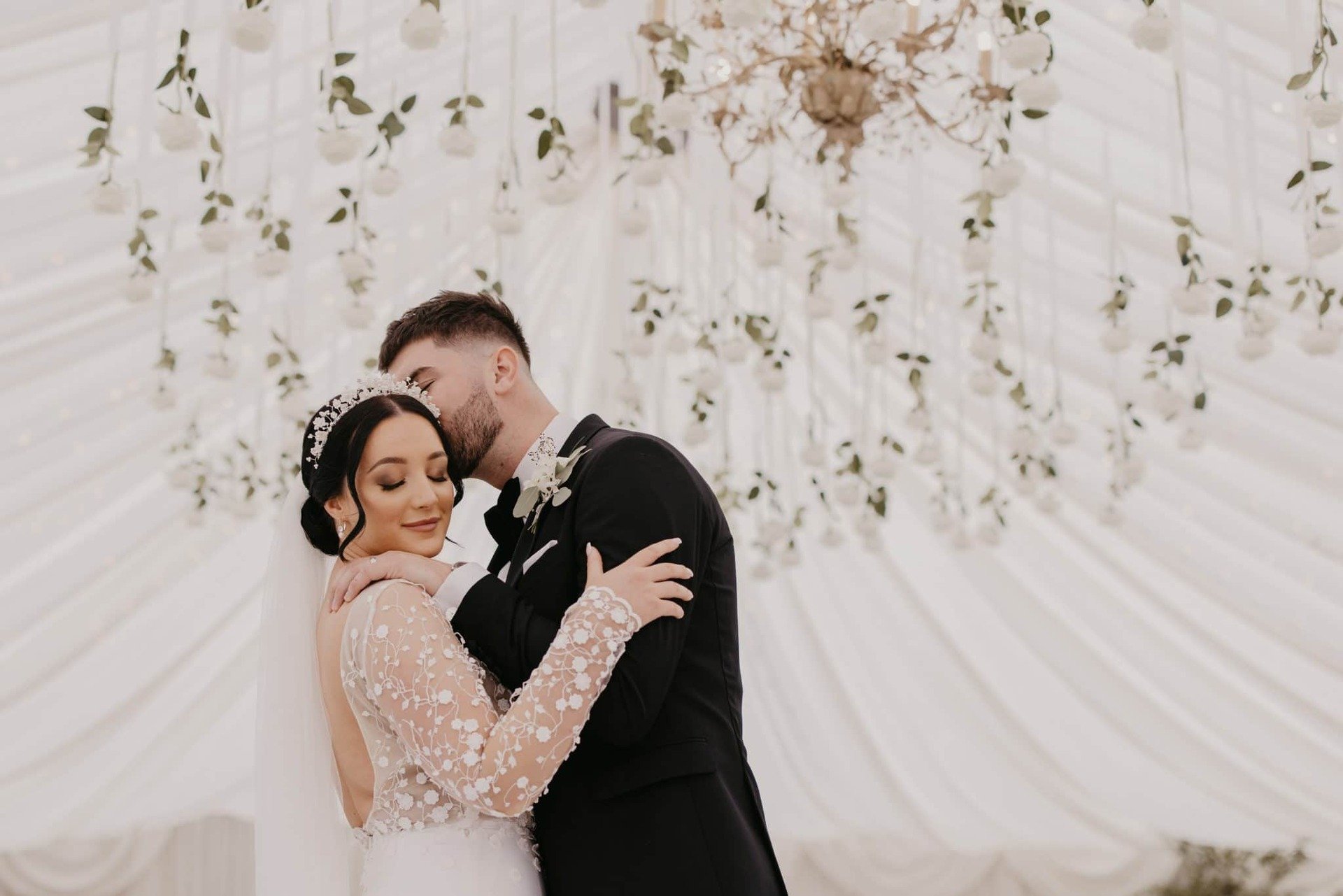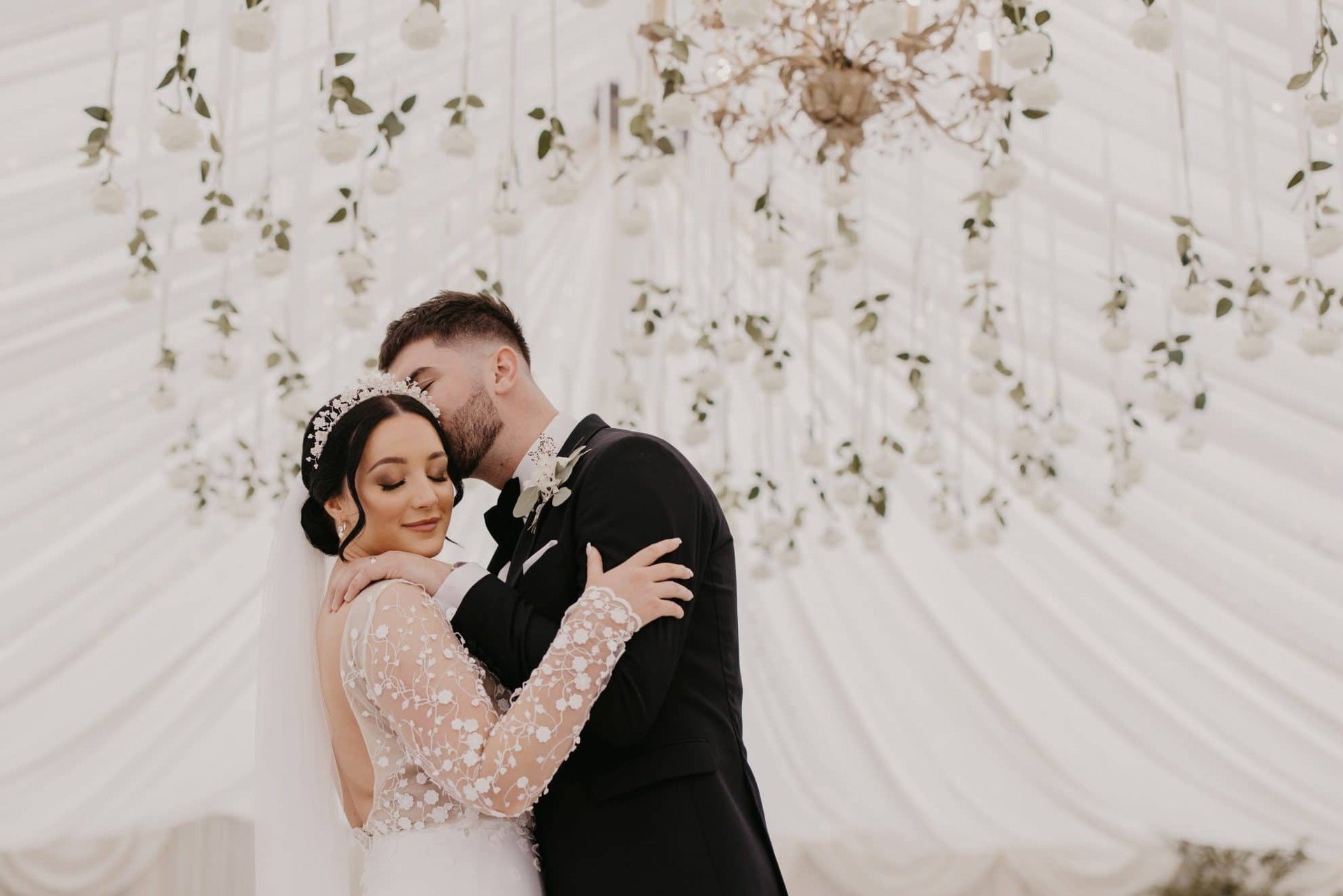 THE PLANNING PROCESS
To represent their many adventures, Kirsty and Aaron even had their wedding tables named after each country they had visited alongside a photo of them together there. We love this idea!
"I absolutely loved the planning process, we planned everything ourselves and Aaron was pretty hands on with the planning too so everything was what we both loved!" Kirsty says.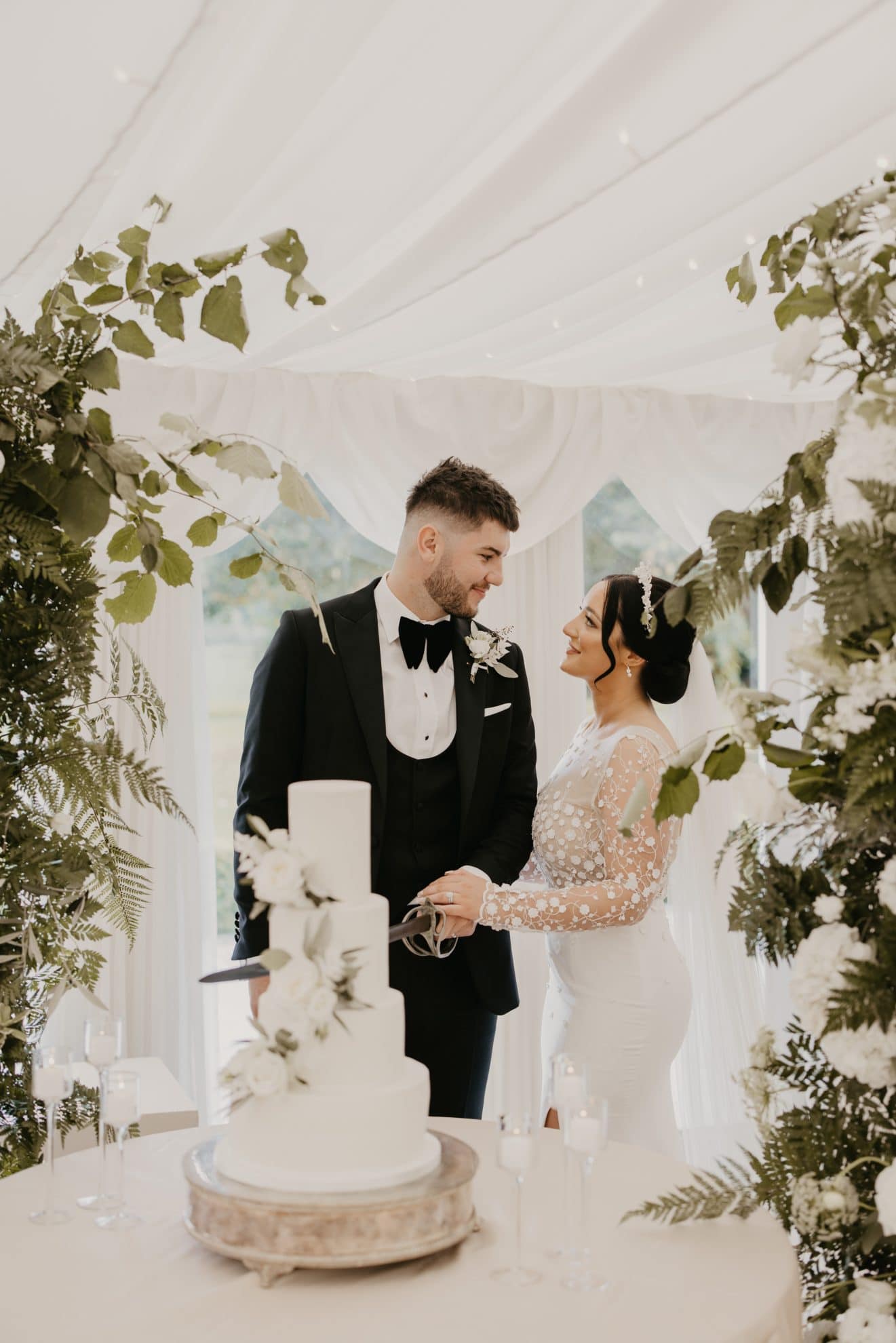 "We started looking at venues in September 2019. We viewed three venues and both loved Castle Leslie which was last venue we visited. We fell in love with the unique yet flattering castle vibes and could really envision having our wedding at Castle Leslie Estate.
RELATED TO: Dancing In The Rain: Kirsty & Neil's Modern Belfast City Wedding
"Planning was going amazing until Covid came along last minute! We have to say we were one of the lucky ones and the only change we had to make was a smaller guestlist which we didn't mind in the end. We had a more intimate day with close family and friends and we wouldn't change a thing!"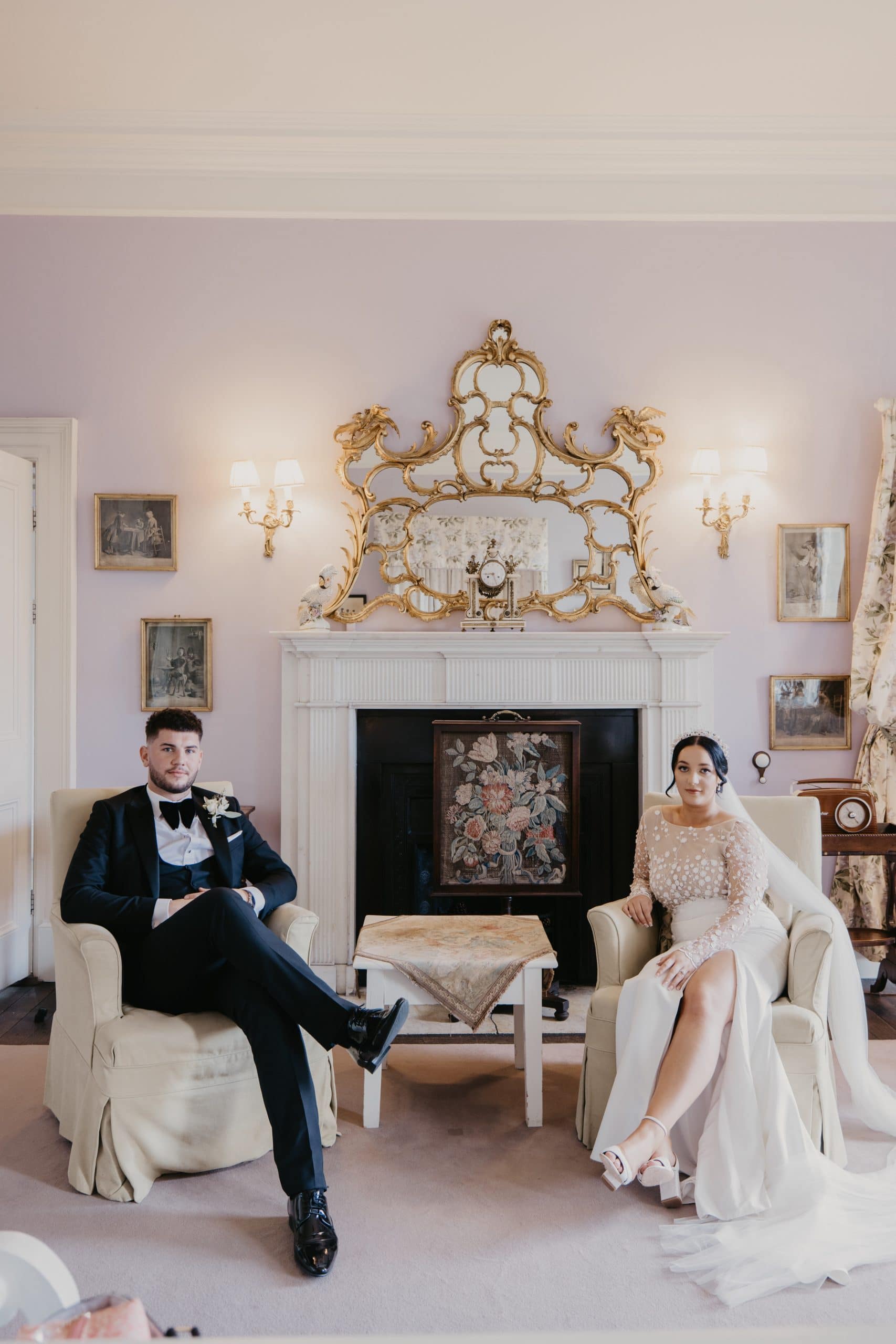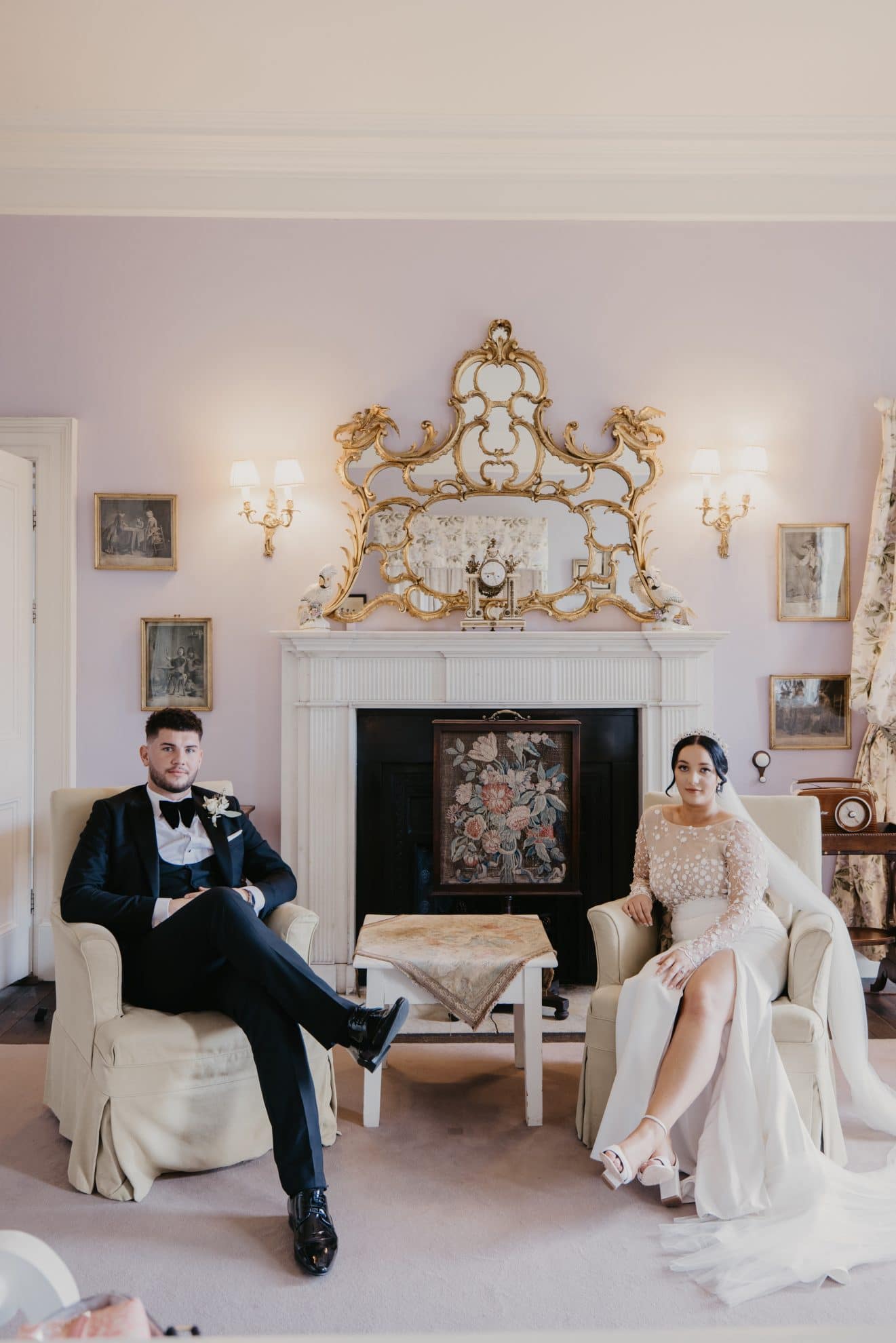 CAPTURING THE DAY
Sasha Treanor Photography and Shutter & Light videographers captured Kirsty and Aaron's wedding at Castle Leslie Estate perfectly with an array of beautiful candids and picture-perfect moments that they will cherish forever.
Kirsty continues: "Sasha has become a friend right from our engagement shoot to our recent baby bump photoshoot! Her attention to detail is out of this world. Sasha was there to help me into my dress, help the bridesmaids, fix up the men's bow ties and everything in between. We put our full trust into Sasha and we love how our wedding photographs turned out!
"After looking at Shutter & Light's Instagram, we knew we needed them as our videographers! We had a brilliant zoom call with Tommy and James before the wedding where we talked about all our ideas. They had a lovely nature and even kept a very nervous groom calm until I arrived to the church! Our wedding video was everything we wanted and more. We would highly recommend them to all brides and grooms."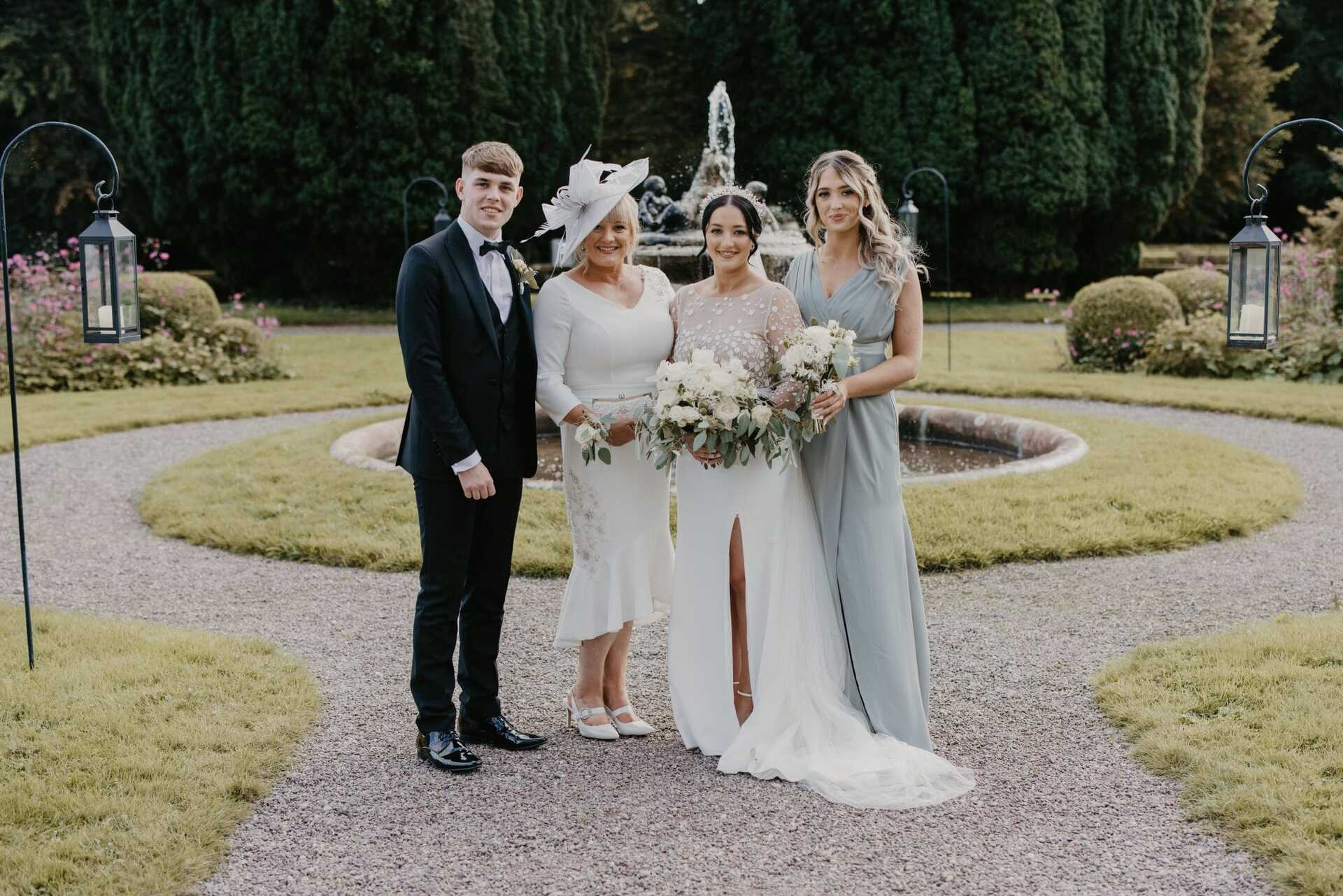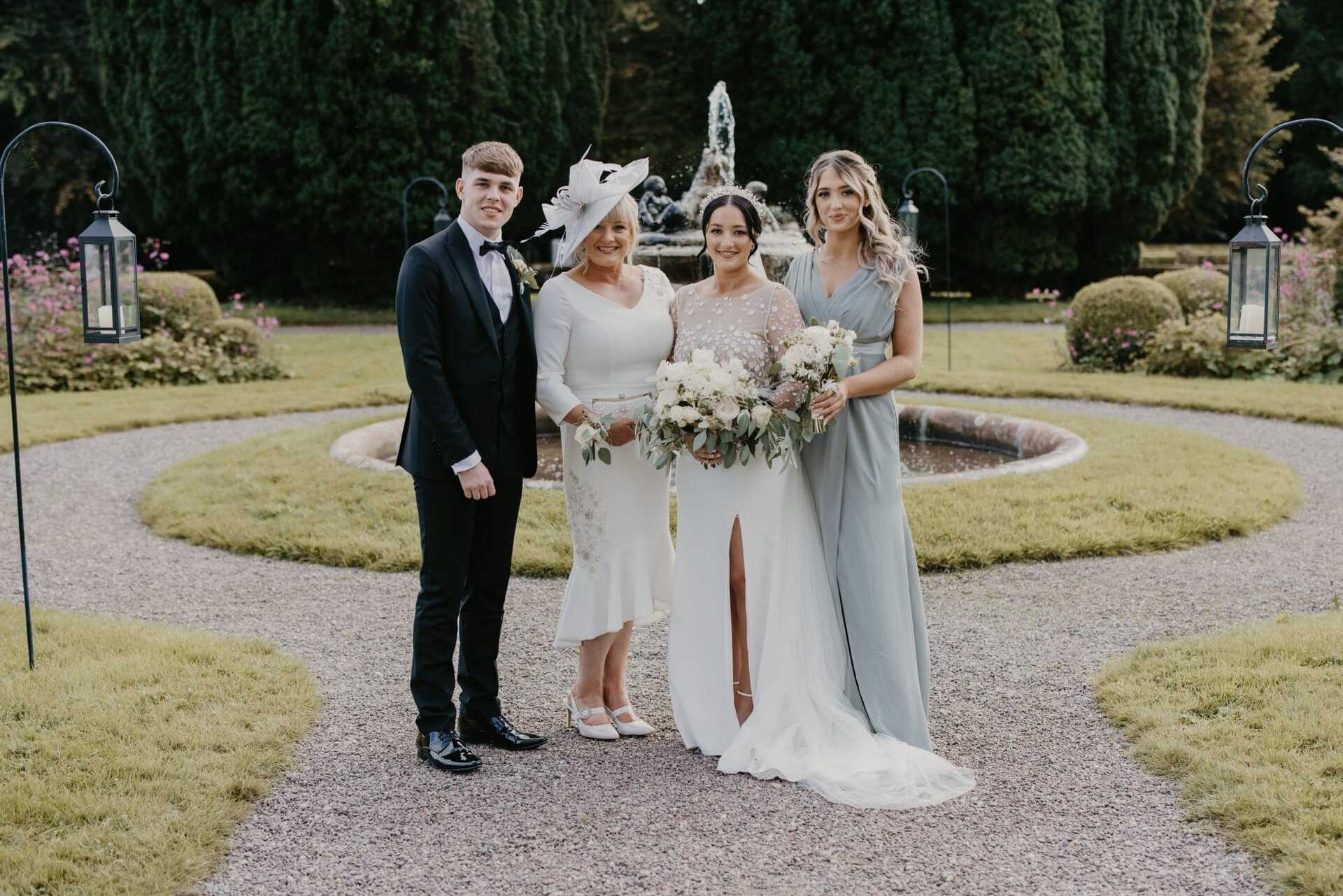 WEDDING WARDROBE
Kirsty looked like a real-life princess in a floral long-sleeved sheath wedding dress with a thigh high split and low scoop back from The White Gallery in Warrenpoint, County Down.
"The designer was Rime Arodaky based In Paris, France and the dress was called Blair. I matched this with a simple cathedral length veil, Charlotte Mills block heels and a bespoke head piece by Deborah K Design. I knew the dress was the one from the moment I put it on. I wanted something different that people wouldn't have normally seen before.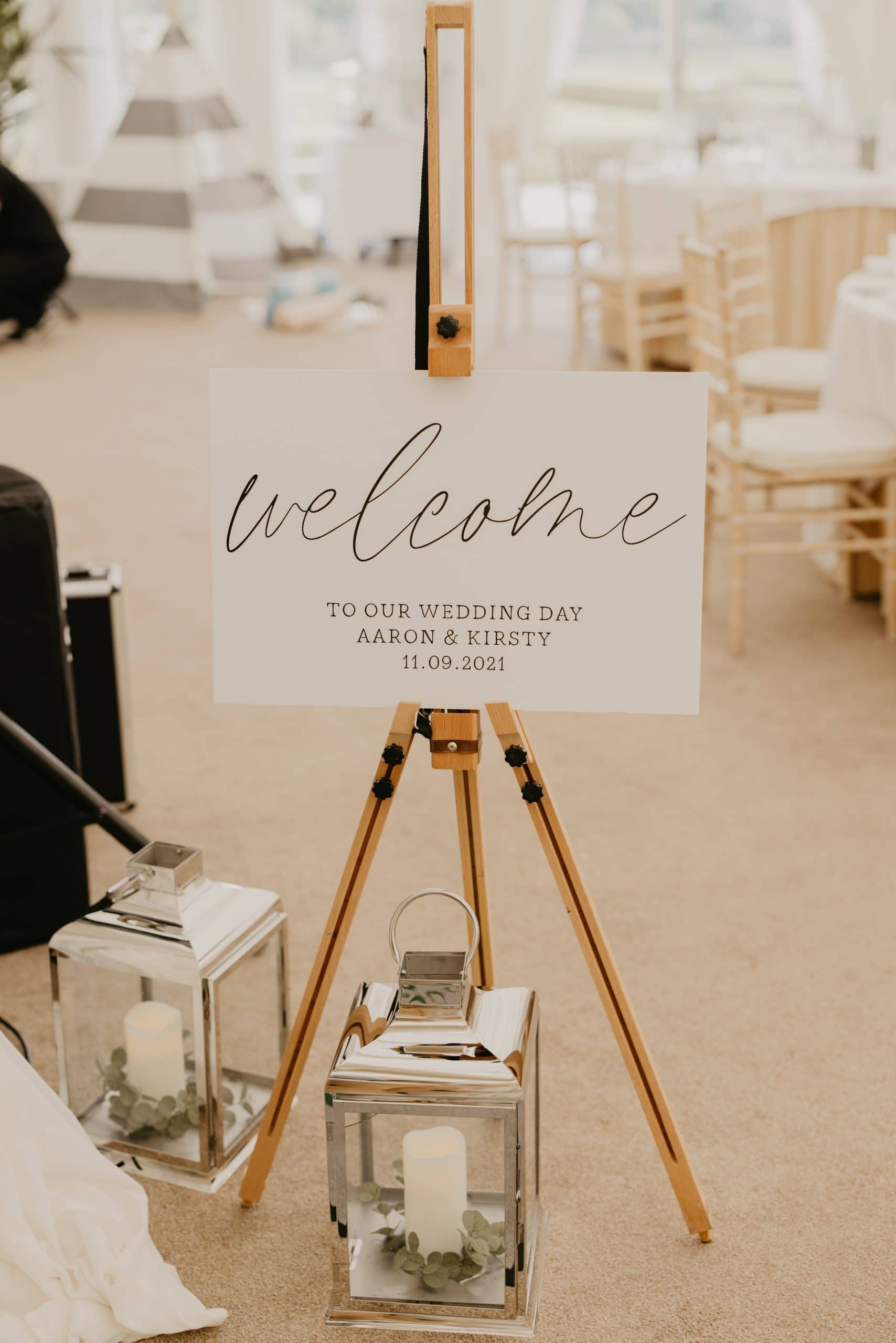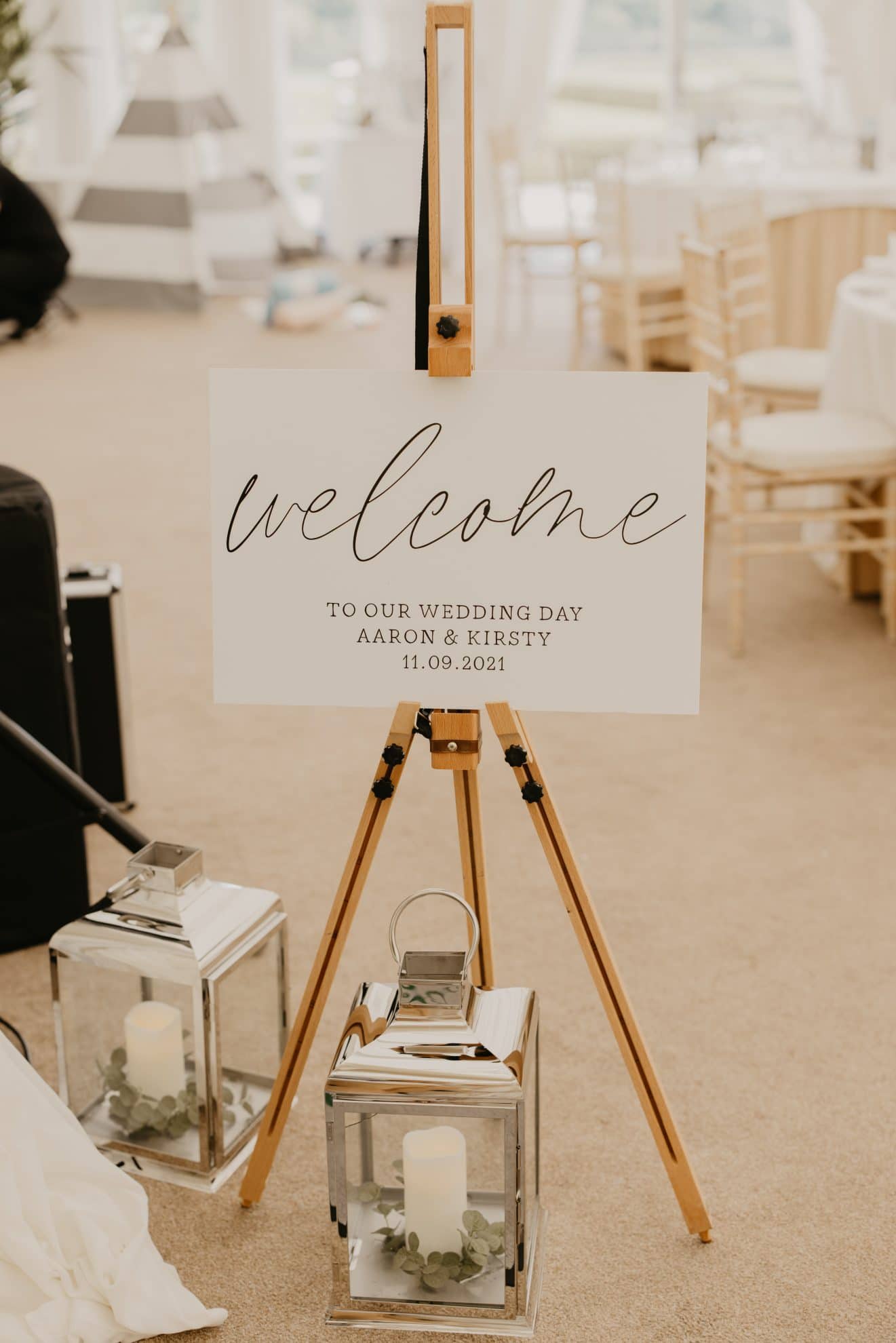 "The bridesmaid dresses were from ASOS and I absolutely loved them and got them altered to change them up a bit and get the style I was originally after. I loved the sage green and knew with the natural theme, flowers and venue, they would go perfectly!"
RELATED TO: Long Distance Lovers: Brittany and Sean's Markree Castle Wedding
Aaron and the groomsmen also looked smart in black tuxedos from Freddie Hatchet in Belfast. Aaron personalised his wedding look with a velvet black bow tie and a scooped front waistcoat. Kirsty's mother wore an angelic white number while Aaron's mother wore a beautiful ivory gown from Queen Bee in Five Mile Town, County Tyrone.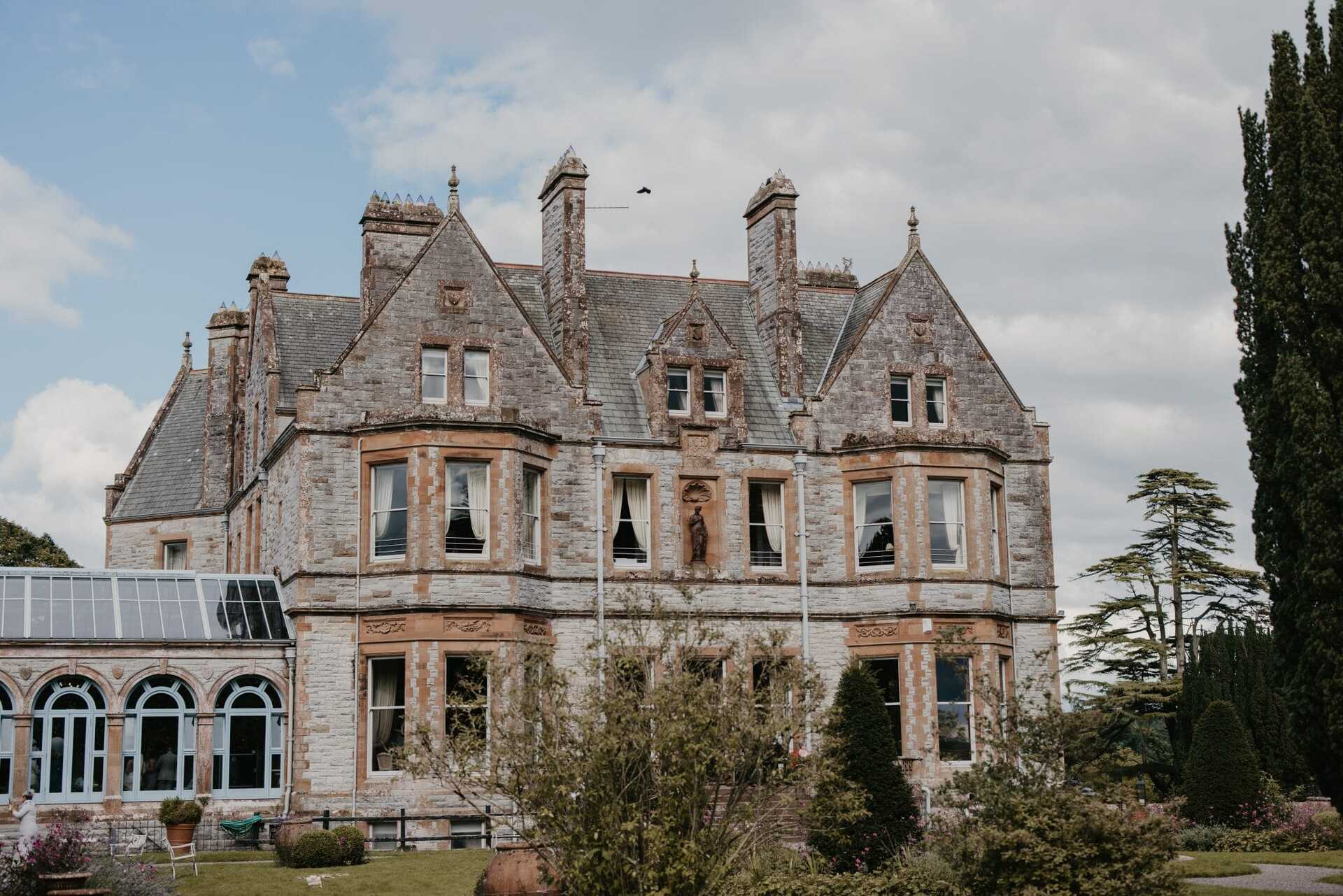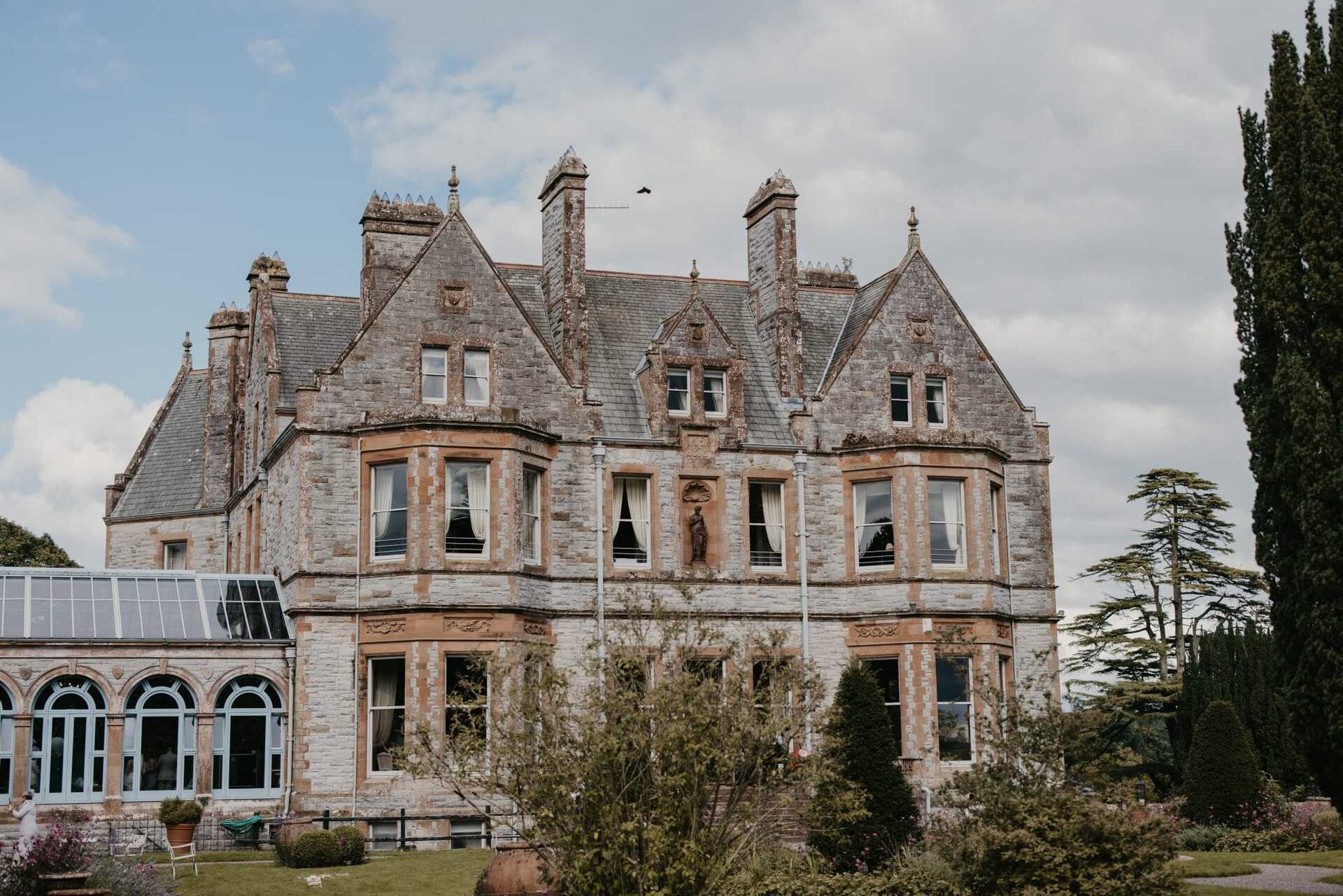 FAVOURITE MOMENTS
With such a special and sentimental wedding, Kirsty and Aaron have a variety of treasured memories and favourite moments from their big day!
Kirsty says: "My favourite moment has to be walking down to Aaron at the top of the alter. It was by far the best feeling in the world and I just thinking to myself… 'This is it'".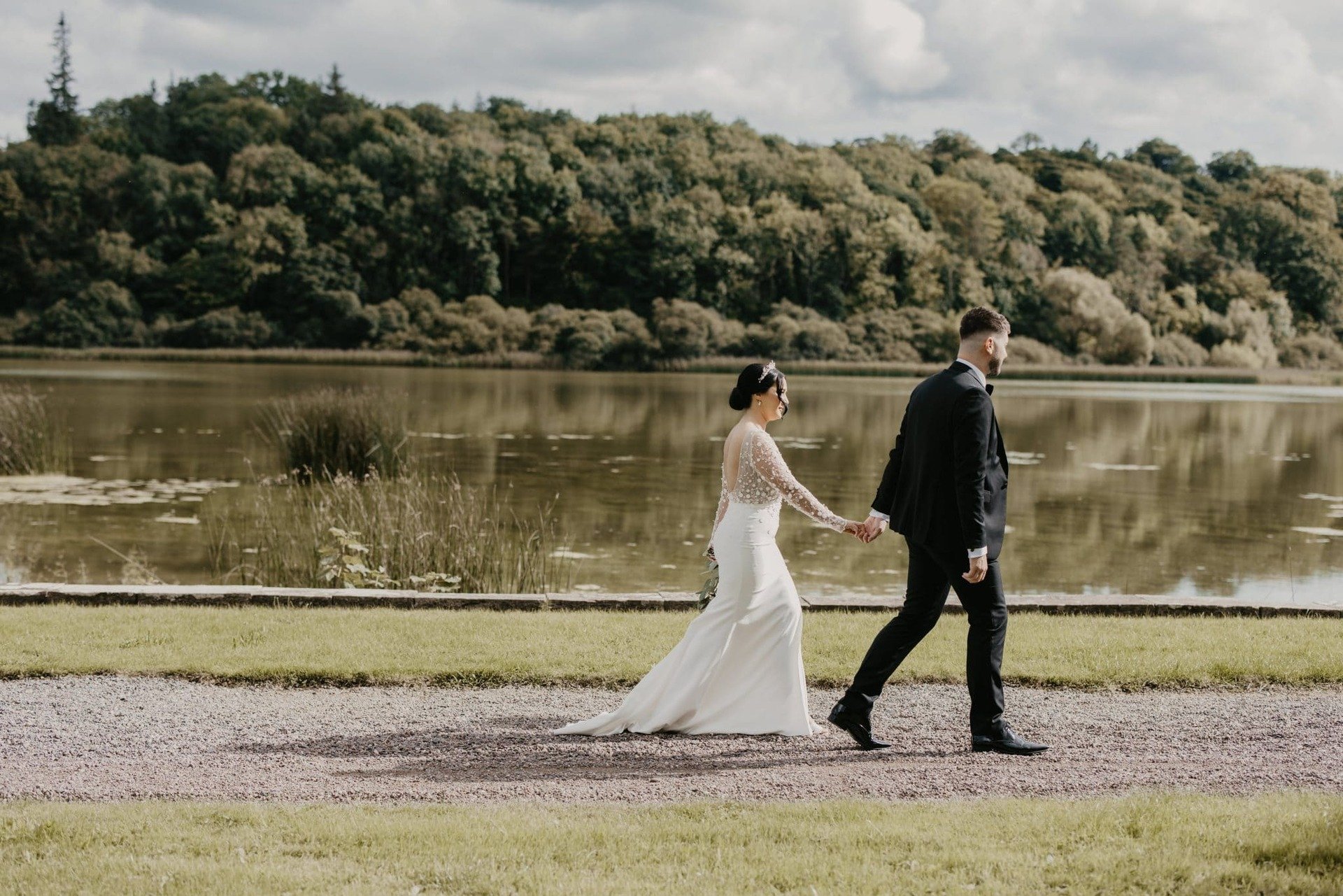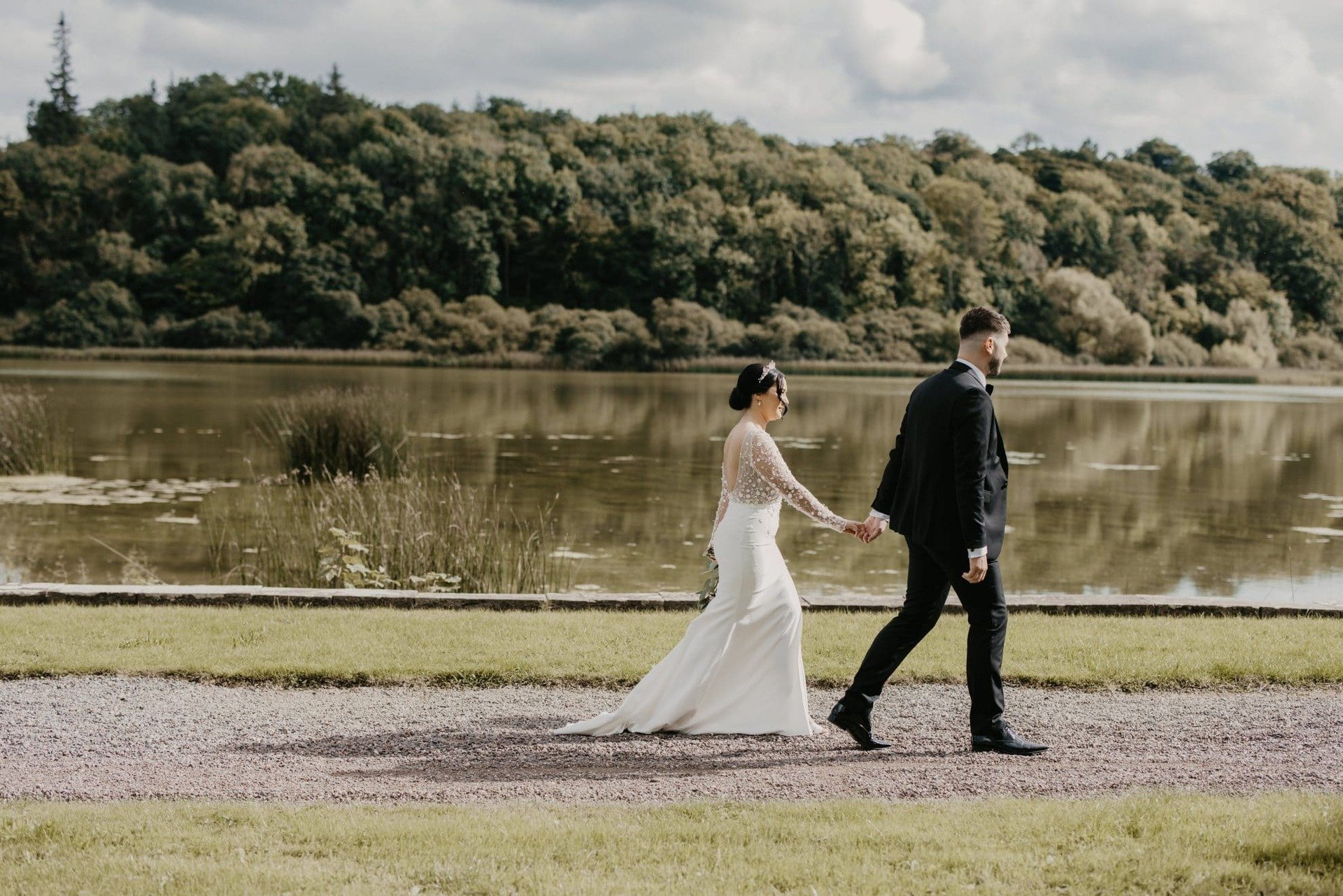 Aaron adds: "My favourite part was the car journey up with Kirsty. Just us two enjoying a class of champagne and a beer was so peaceful. Also sitting outside at our drinks reception before going into dinner listening to Eoghan Quigg with our friends and family was out of this world.
"Both of us really loved the singing waiters. We kept this a secret from all our guests – they were so shocked when they started singing. Watching this back from our wedding video makes us emotional to see all our nearest and dearest in one room up on their feet enjoying life. That's what it was all about!"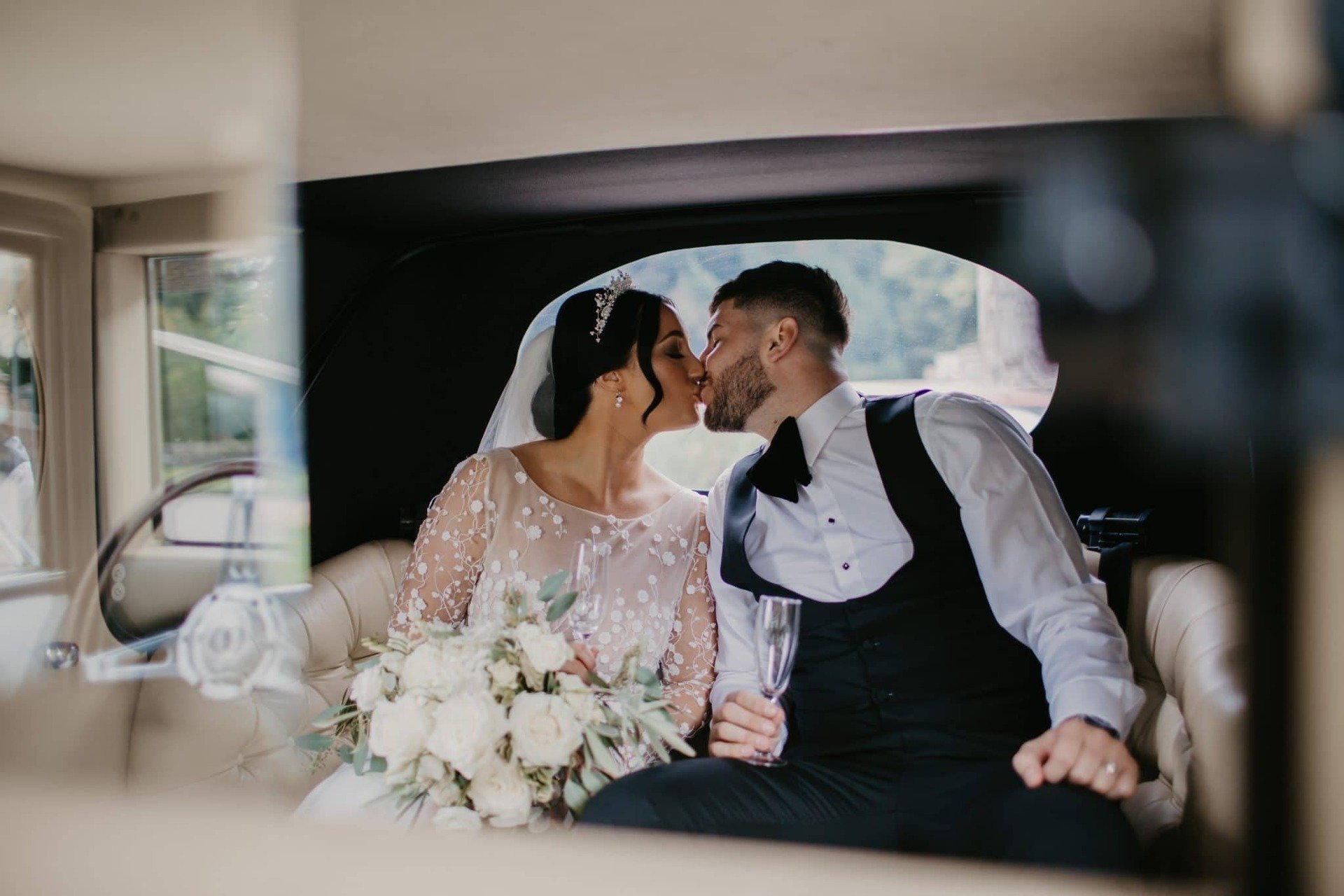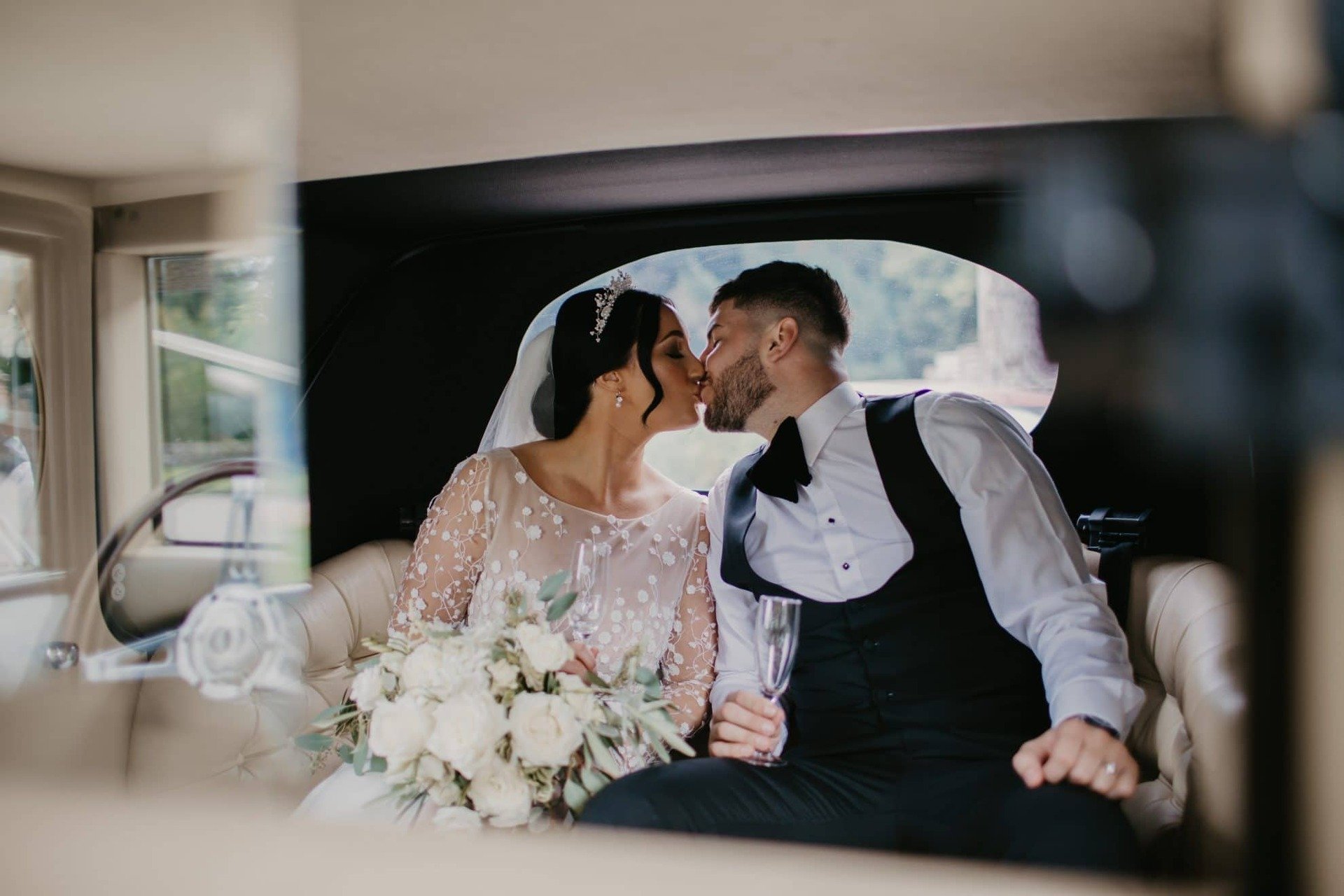 BRIDAL ADVICE
For all the brides and grooms-to-be out there in the midst of planning their big day, stop and take note of these wise words of advice from Kirsty and Aaron!
They say: "ENJOY EVERY SECOND! You are planning for your dream day which should be about you and your partner. Do what you want to do, change it up and love every minute of it. The day goes by so fast. On the day, go away to view your wedding room just you and your partner. Have a sneaky first dance and just stand back and enjoy it."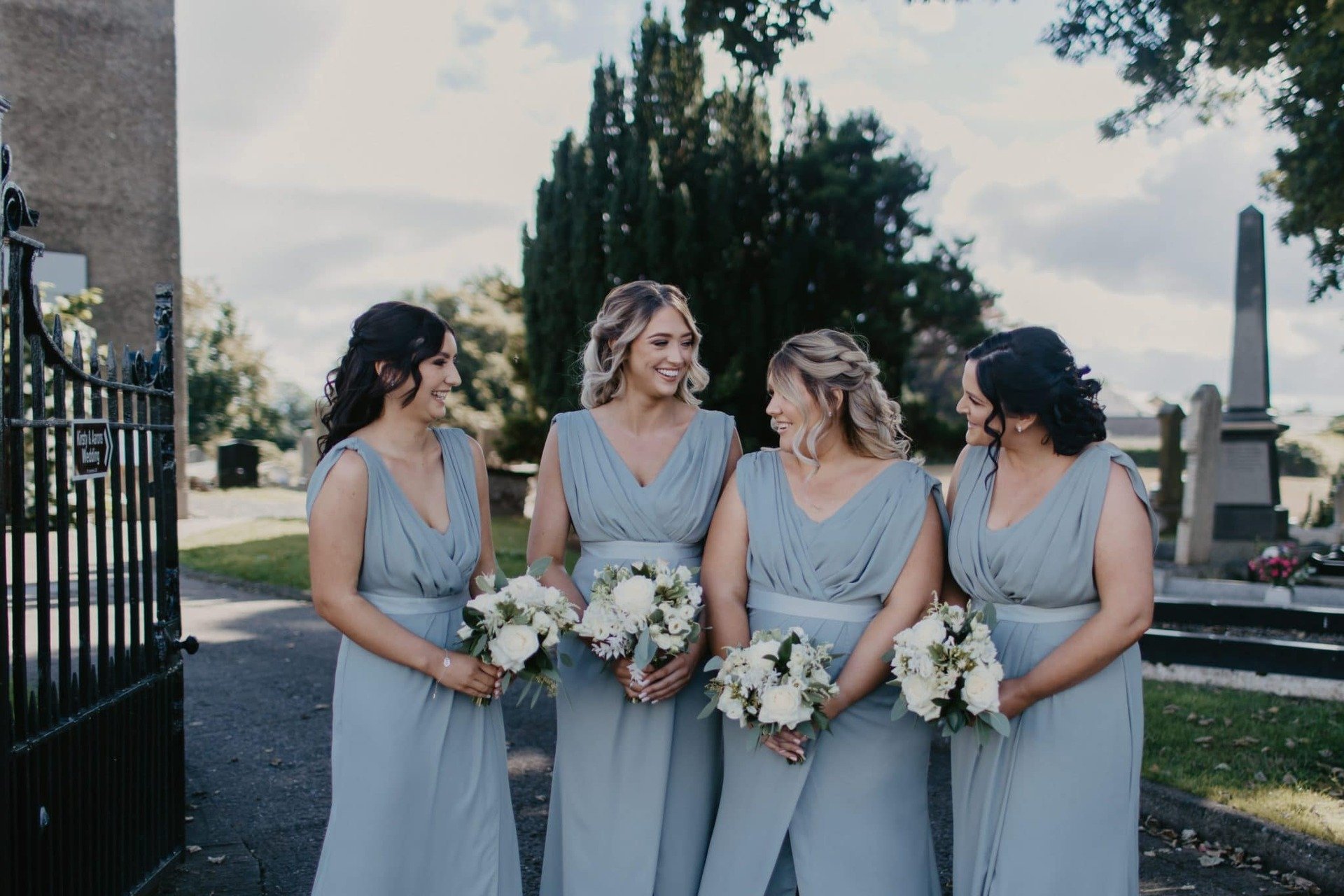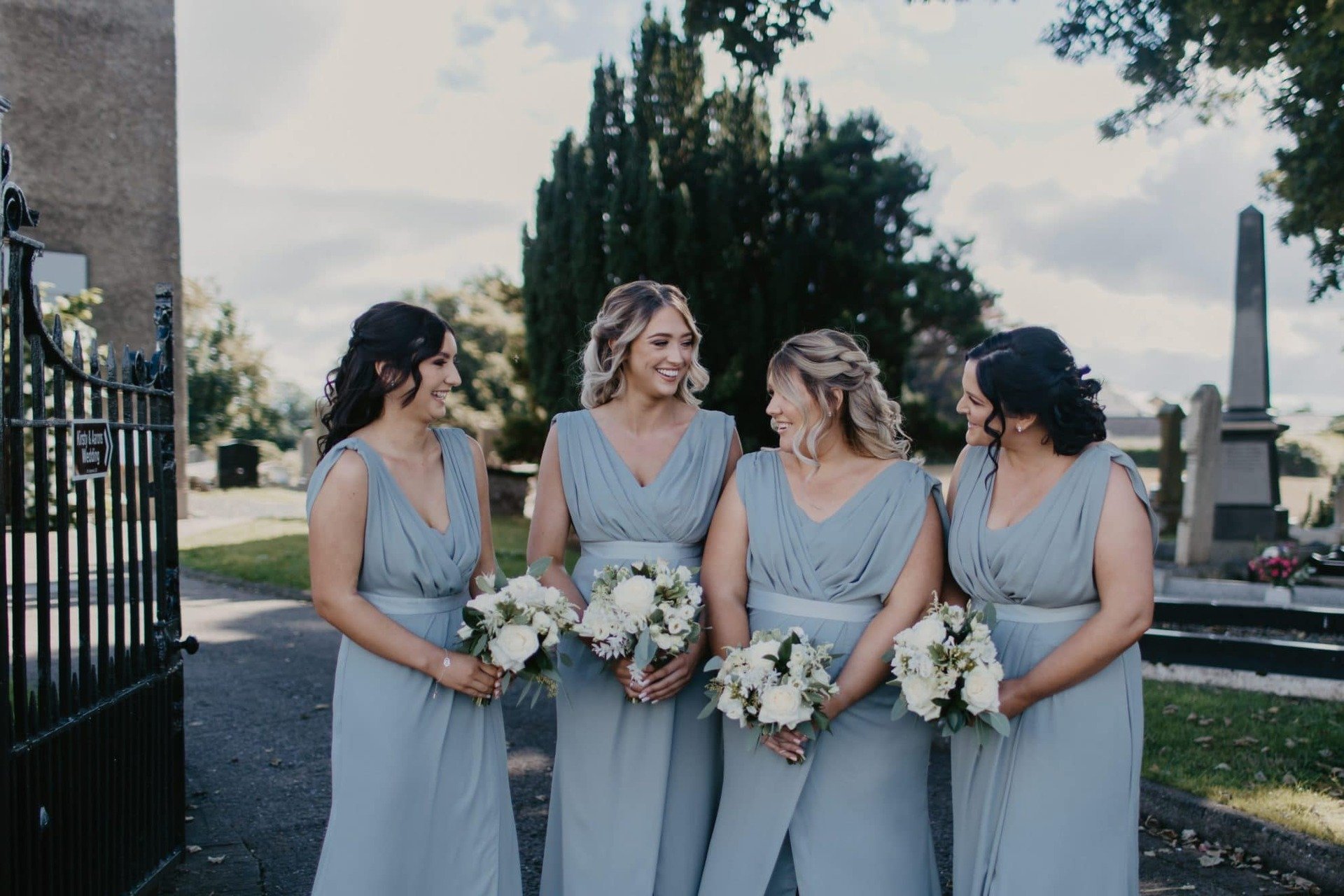 DREAM WEDDING TEAM
VENUE: Castle Leslie Estate
PHOTOGRAPHER: Sasha Treanor Photography
ACESSORIES: Deborah K Design Jewellery & Headpieces
SUITS: Freddie Hatchet
HAIR: Rebecca McBurney Hair
CHURCH SINGER: Emma Horan
MAKEUP: Michelle Diffin
FLORIST: Vintage Violet Florist
ICECREAM CART: Brook Avenue
CAKE: Wedding cakes NI
DJ: Michael O'Neill Wedding DJ
SONGONG WAITERS: Singer Secreto
PAVILLION DRESSING: EP DESIGN
LIVE SINGER AT VENUE: Eoghan Quigg
SAX PLAYER: Bill Fineggan
VIDEO: Shutter & Light
DRESS: The White Gallery Boutique
BRIDESMAID DRESS: ASOS
Check out more of our inspiring real-life weddings HERE!