A elegantly chic spring celebration!
Featuring delicate details, fabulous florals and pretty pastels, you're going to love today's real-life wedding at Clandeboye Lodge Hotel! Ellen and Ben McCadden from Lurgan said 'I do' on April 14th at this stunning venue in Bangor with a neutral colour palette and a Pinterest-worthy aesthetic.
RELATED TO: Home Is Where The Heart Is: Louise & Daire's Dublin City Wedding
But before we dive in, let's go back to where it all started…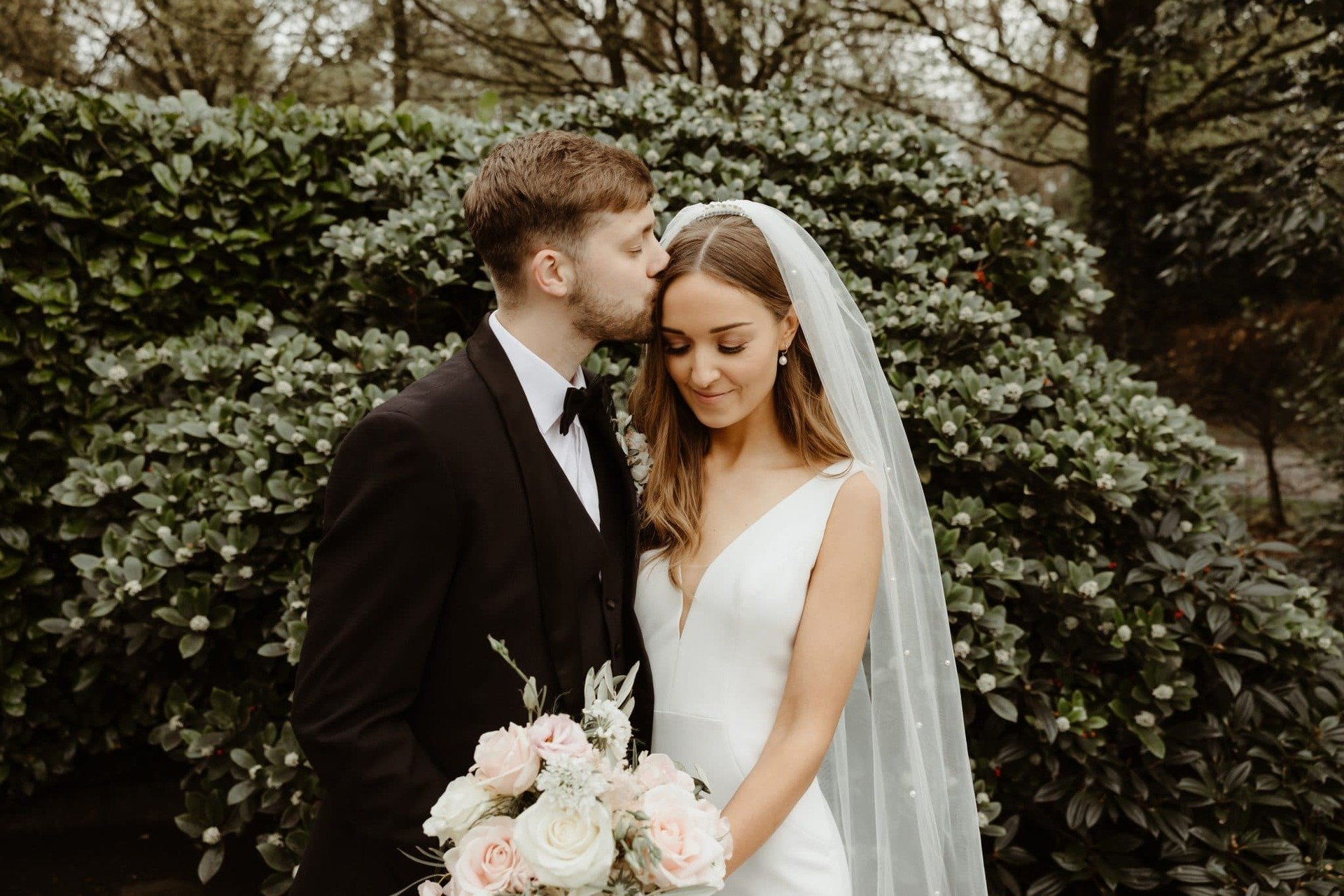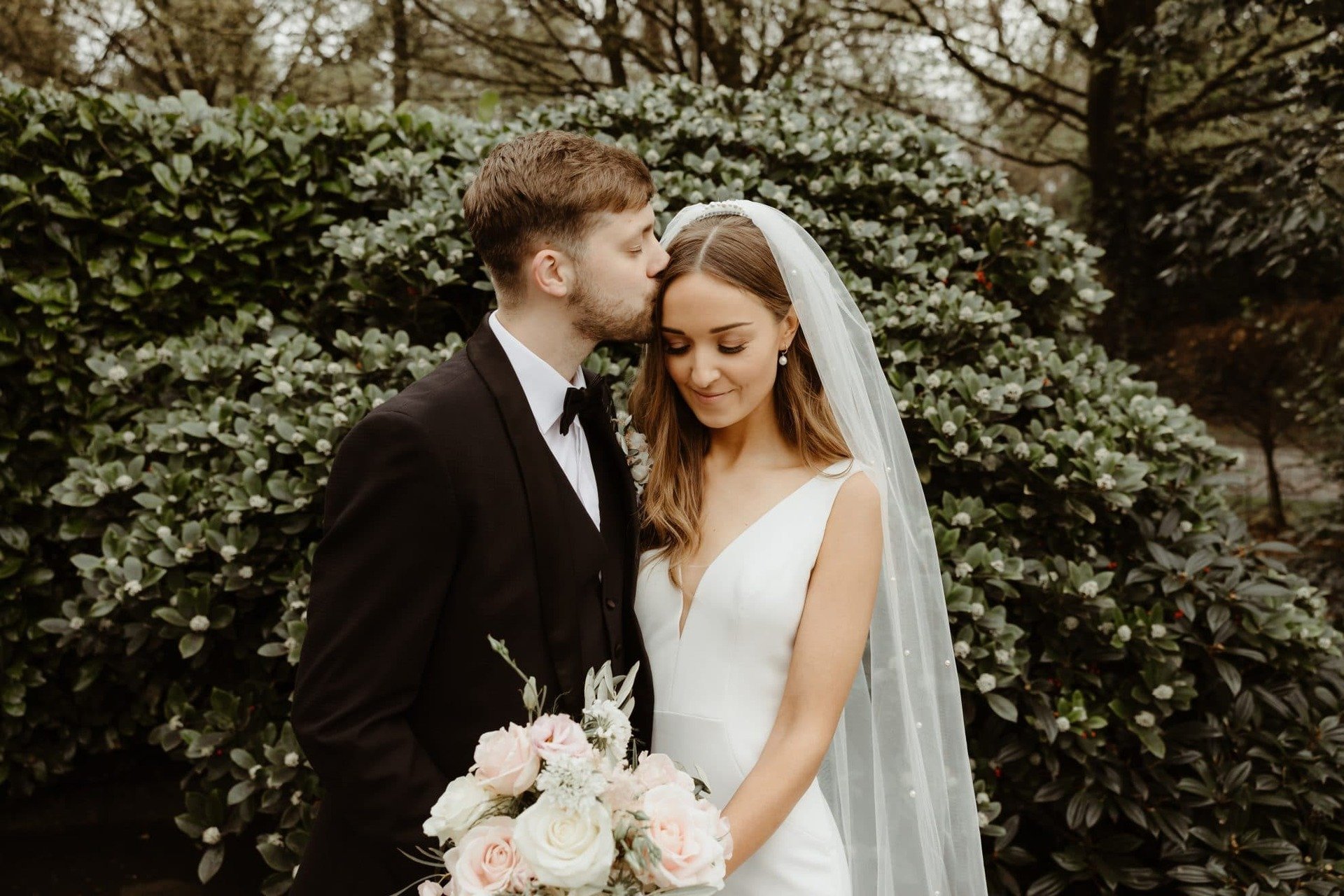 HOW THEY MET
Ellen and Ben both met at university which was just the start of their many adventure and travels together.
Ellen says: "Ben and I both studied Geography at Queen's University in Belfast. We were friends at first while and became a couple in 2016, right before final year. Ben says he asked a few times but I don't really remember that!
"After Queen's we both went on to do our teacher training in England and then went a little bit further to Australia. So, we've done a lot of travelling and you could say we have been inseparable since. We now have a little cockapoo called Bruno and are settled down in our house in Lurgan."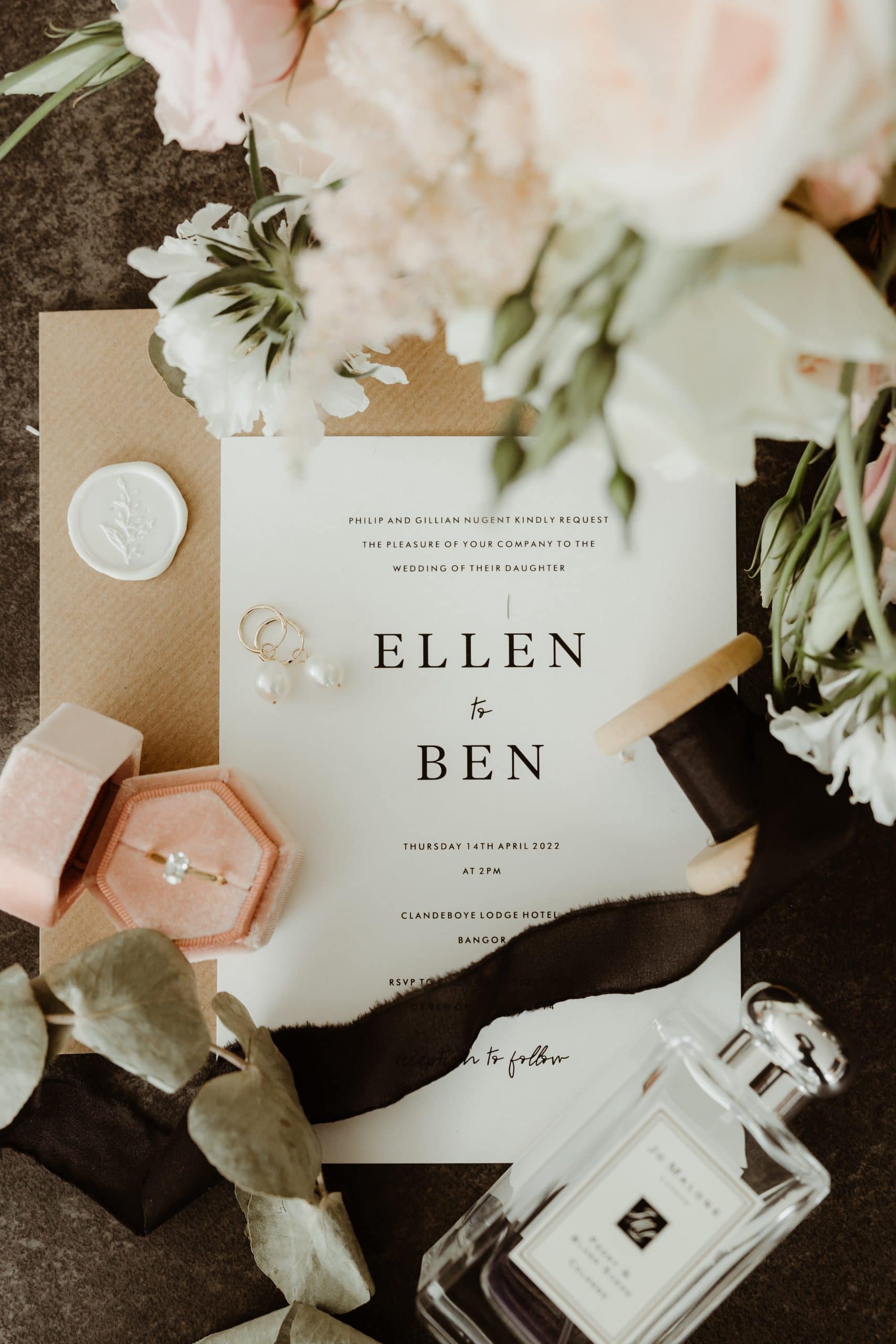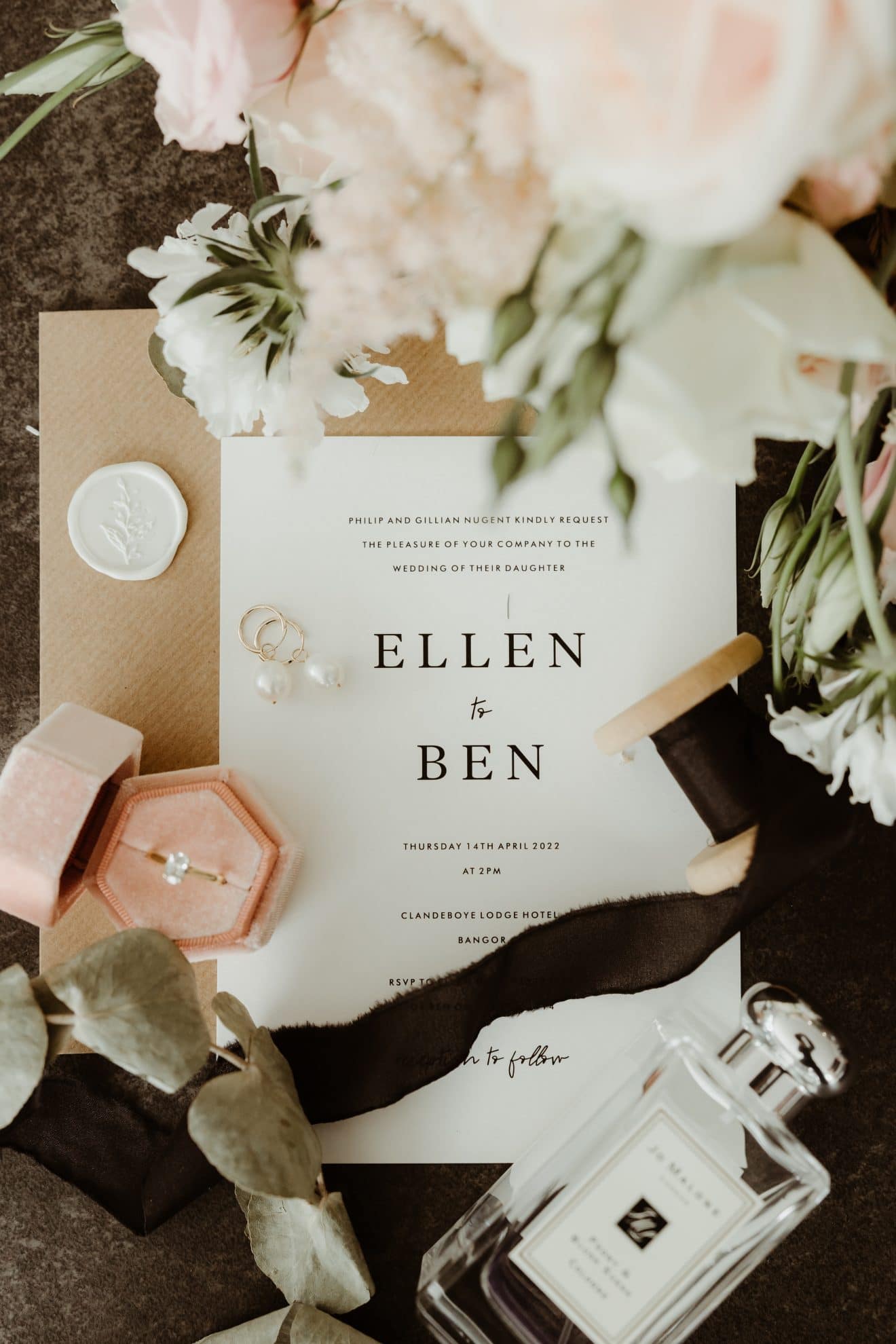 THE PROPOSAL
After four years of making memories, Ben knew it was time to pop the big question and let Ellen choose her dream diamond!
"One day in September 2020, Ben popped the magical question – 'do you want to go and buy a ring?'" Ellen continues. "We'd talked about choosing the ring together over the years and this was just part one of the proposal.
RELATED TO: Cute & Colourful: Clodagh and Philip's Kilkea Castle Wedding
"After that it was guessing when he was going to let me have it! However, he didn't make me wait long, and after thinking every weekend, 'this is definitely it', he officially proposed to me along a little walk we used to go on in university. We had dinner in Grand Central Hotel and celebrated later with family."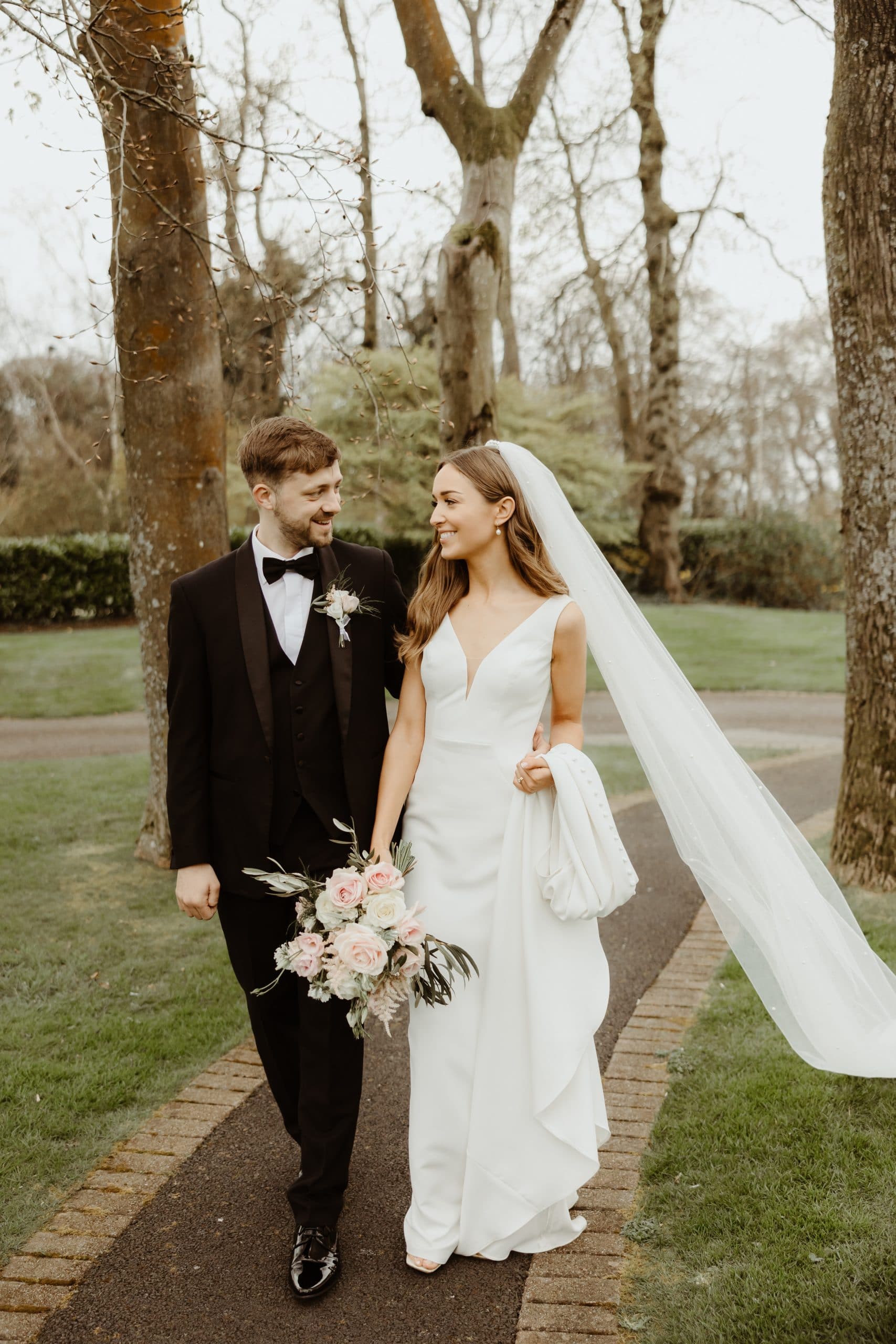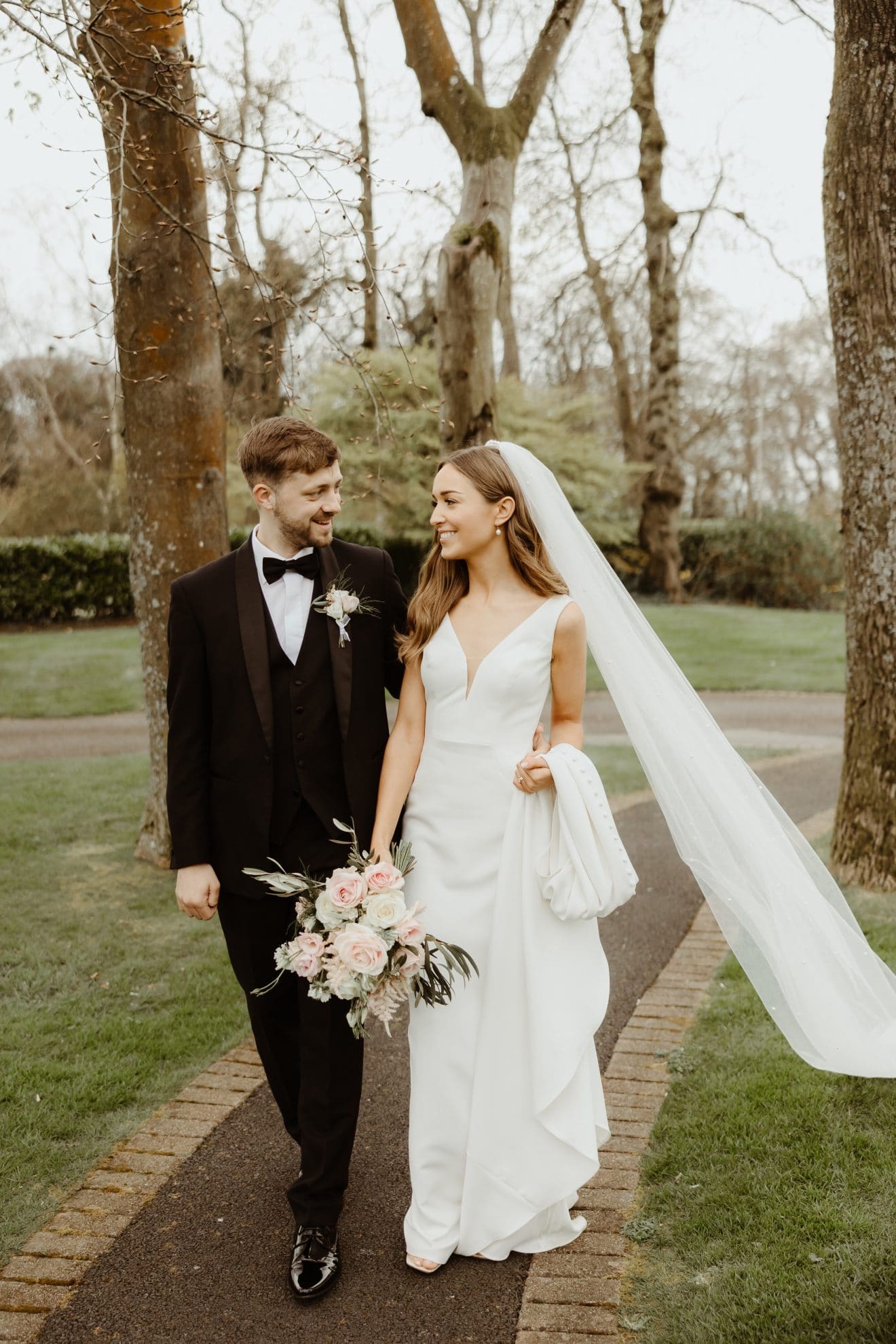 THE PLANNING PROCESS
It didn't take long for Ellen and Ben to get stuck into wedding planning and booking all their dream wedding suppliers!
Ellen says: "The planning process practically began the day after our engagement. Well, it did for me anyway! I would scroll endlessly on Pinterest and Instagram for ideas and inspiration. I was always very certain on what style I liked.
"I would research all vendors on Instagram and send them a message from there. If you love a list, you'll love wedding planning! Setting yourself certain goals for each month is definitely the best way to go. We had 19 months to plan and it is never too early to book venues and photographers – the earlier the better!"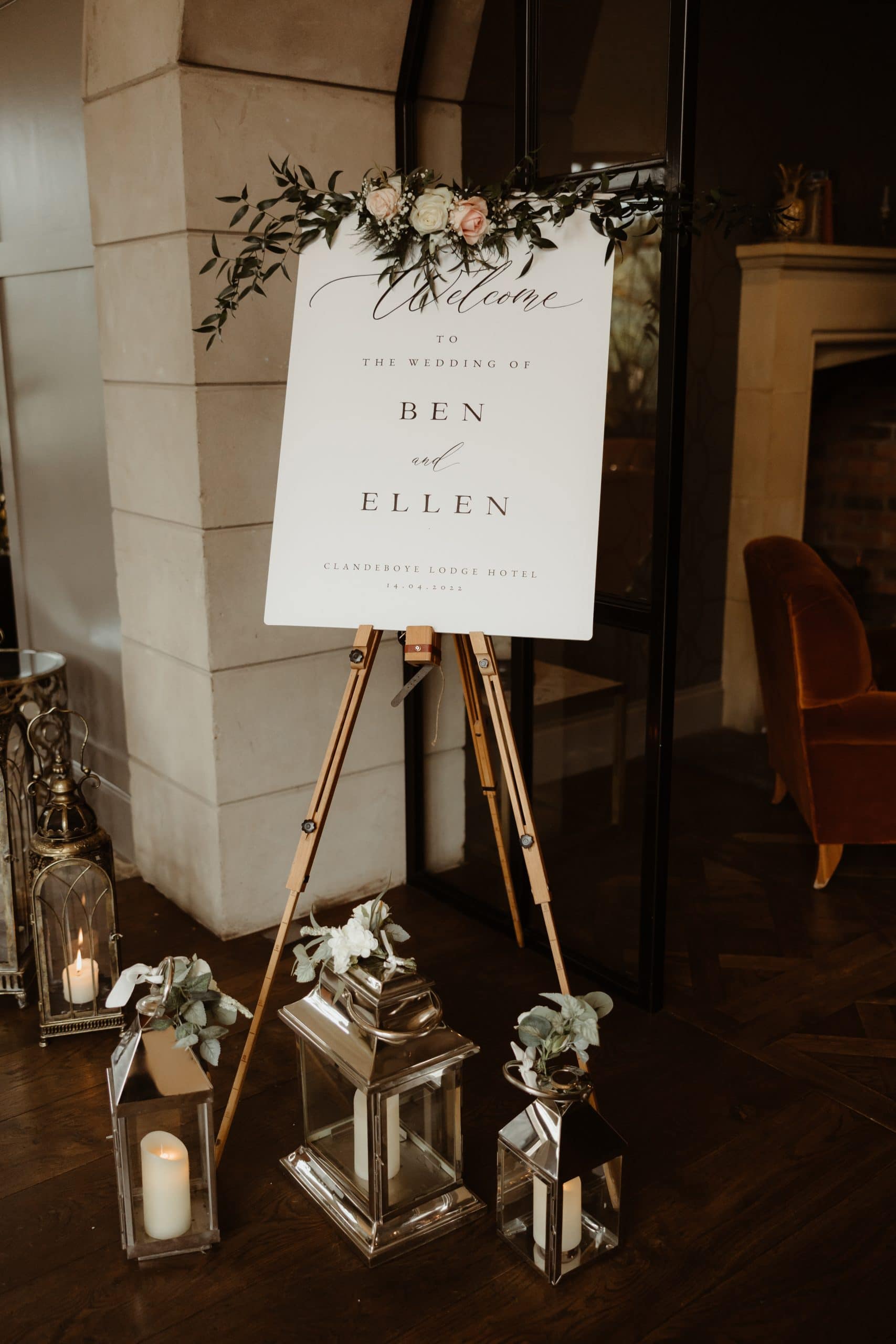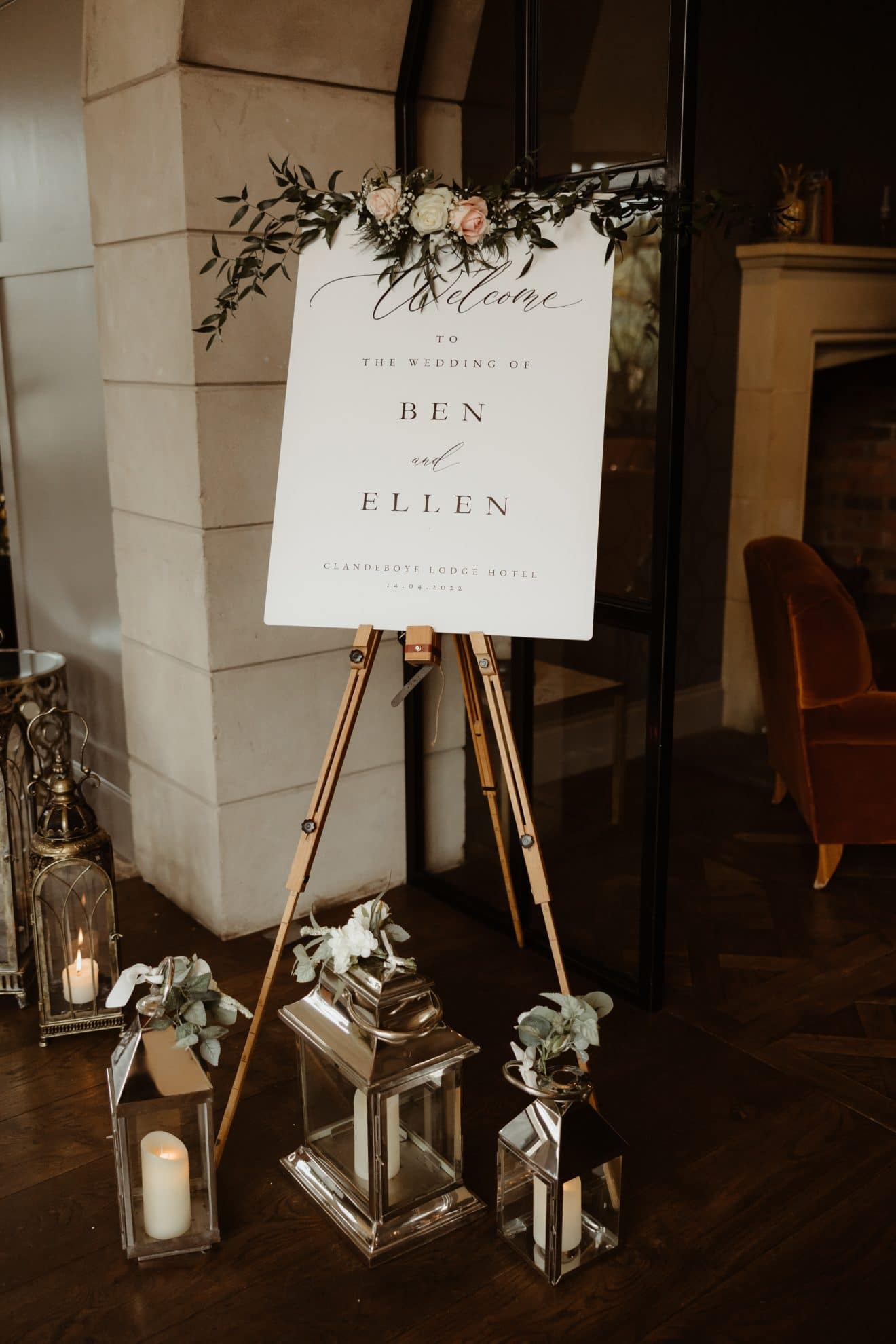 THE DREAM TEAM
"We chose the Clandeboye Lodge Hotel based on how elegant yet modern the setting was," Ellen continues.
"The Blackwood Suite was a beautiful place to get married and we fell in love with it straight away! The events team could not have been more accommodating and were always at hand to respond and help out, even with my frantic last-minute e-mails. We could not recommend this venue enough.
RELATED TO: Floral Fantasy: Sharon & Gary's Ultra-Chic Wedding At The Loft
"Sweet Cakes By Emma made our wedding cake and certainly did not disappoint. It was very much in keeping with the theme of simple yet elegant. Not to mention it tasted amazing!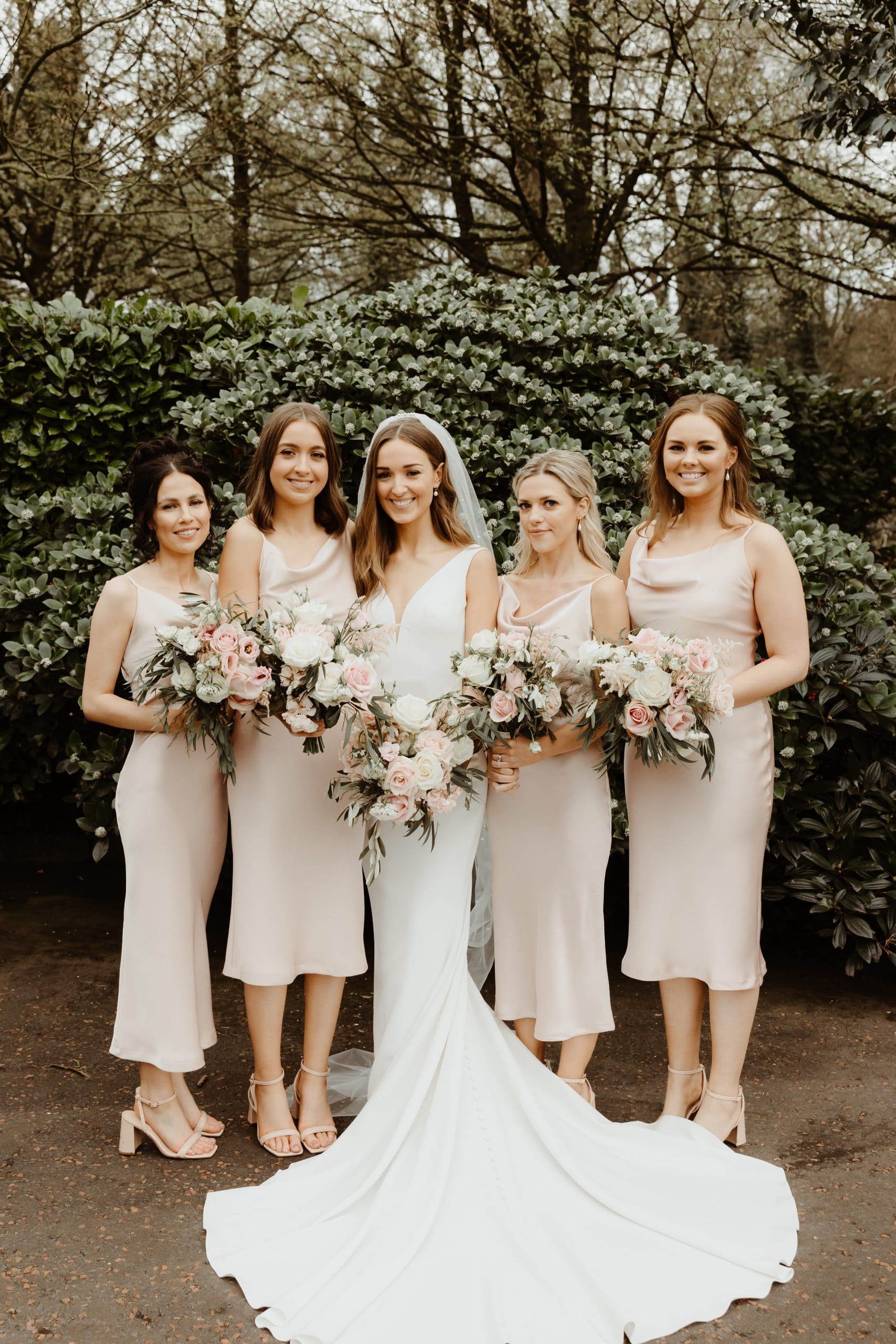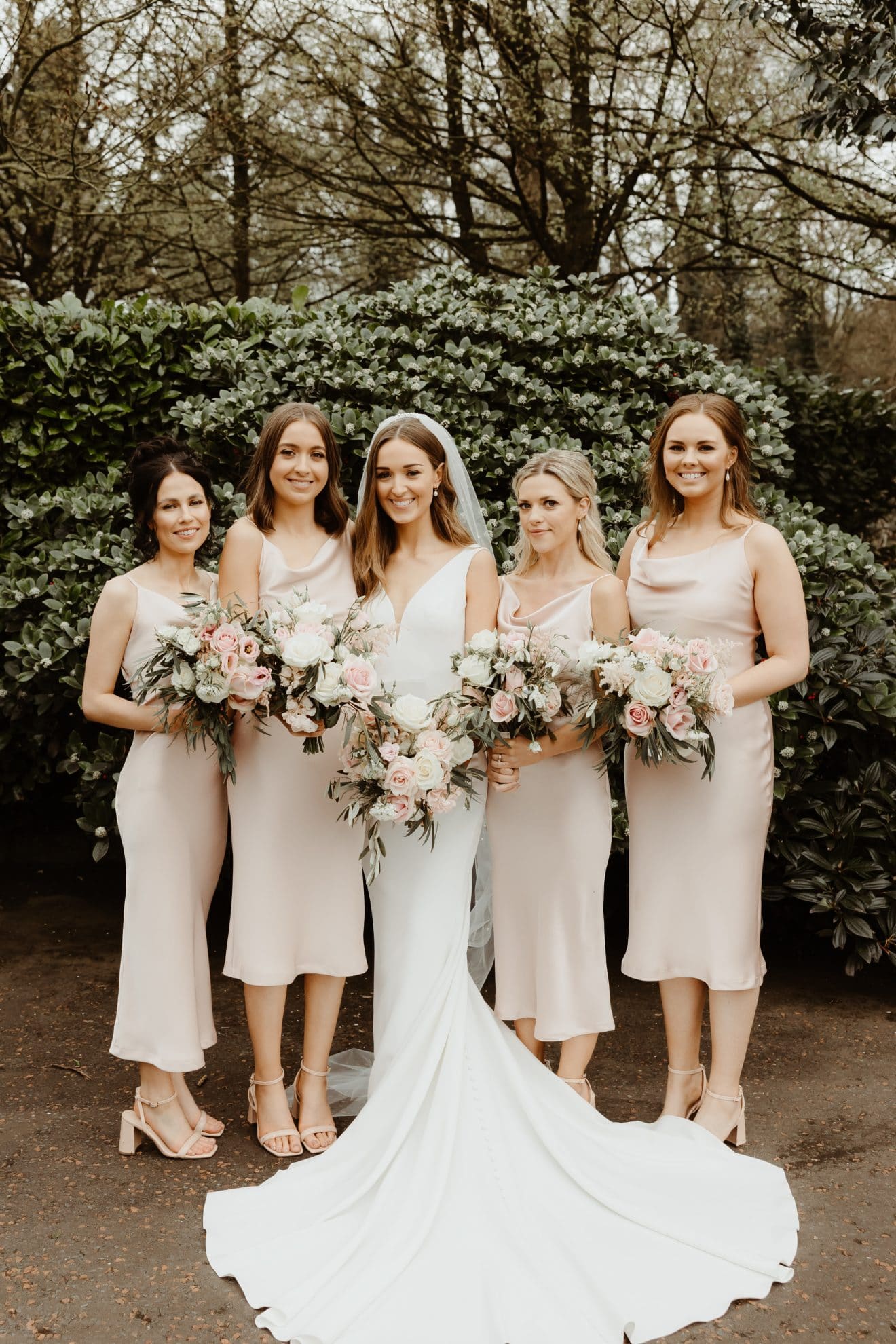 "After hours of scrolling on Instagram, I finally decided to message By Kerri Bridal Makeup on Instagram. She was extremely professional, and all the girls loved their makeup on the day!
"I also found Pro Hair By Catherine on Instagram. Catherine was an absolute dream to have with us on the morning of the wedding. She styled everyone's hair beautifully. I think it is important to have people around you who listen to what your style is but can also give their advice and expertise!"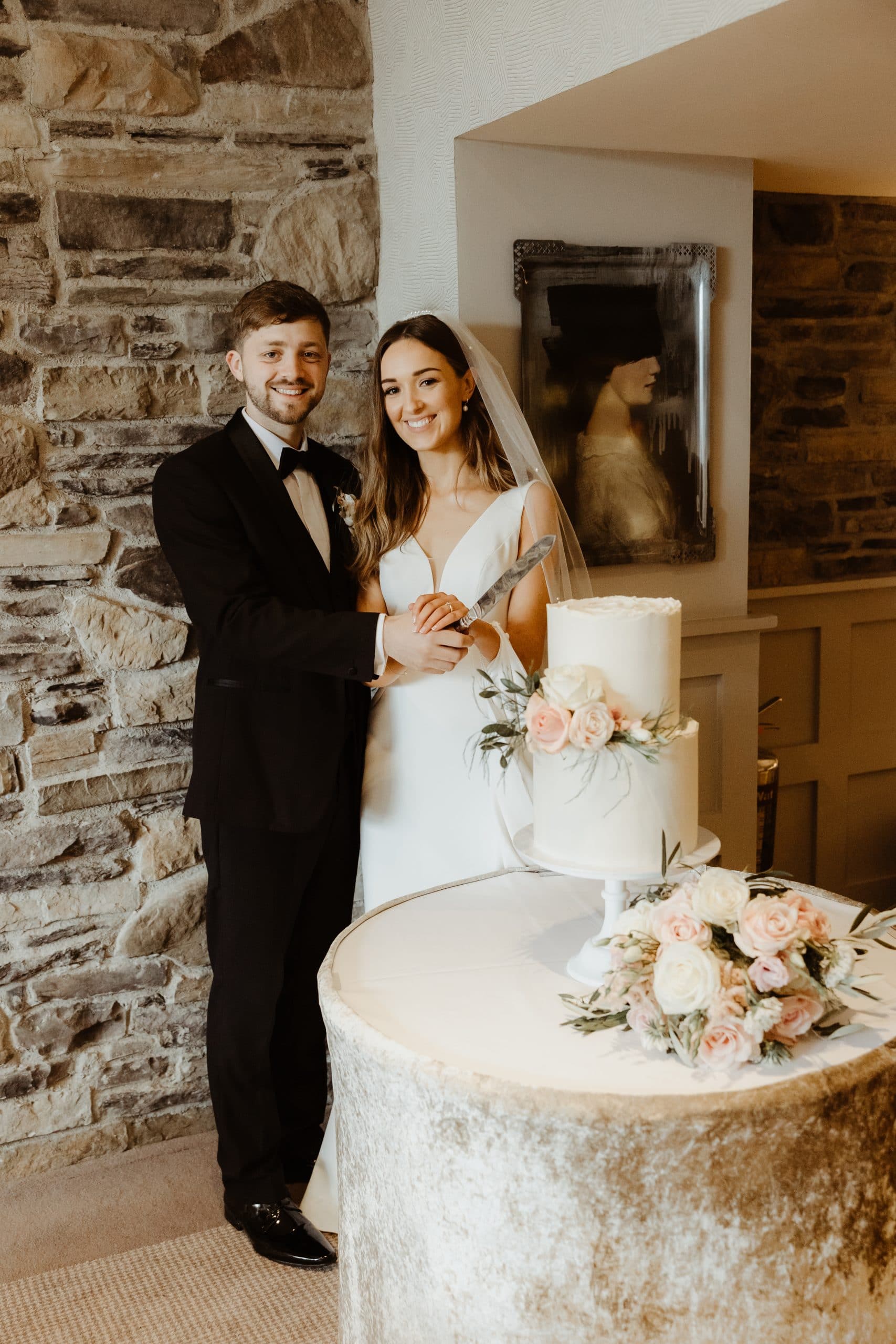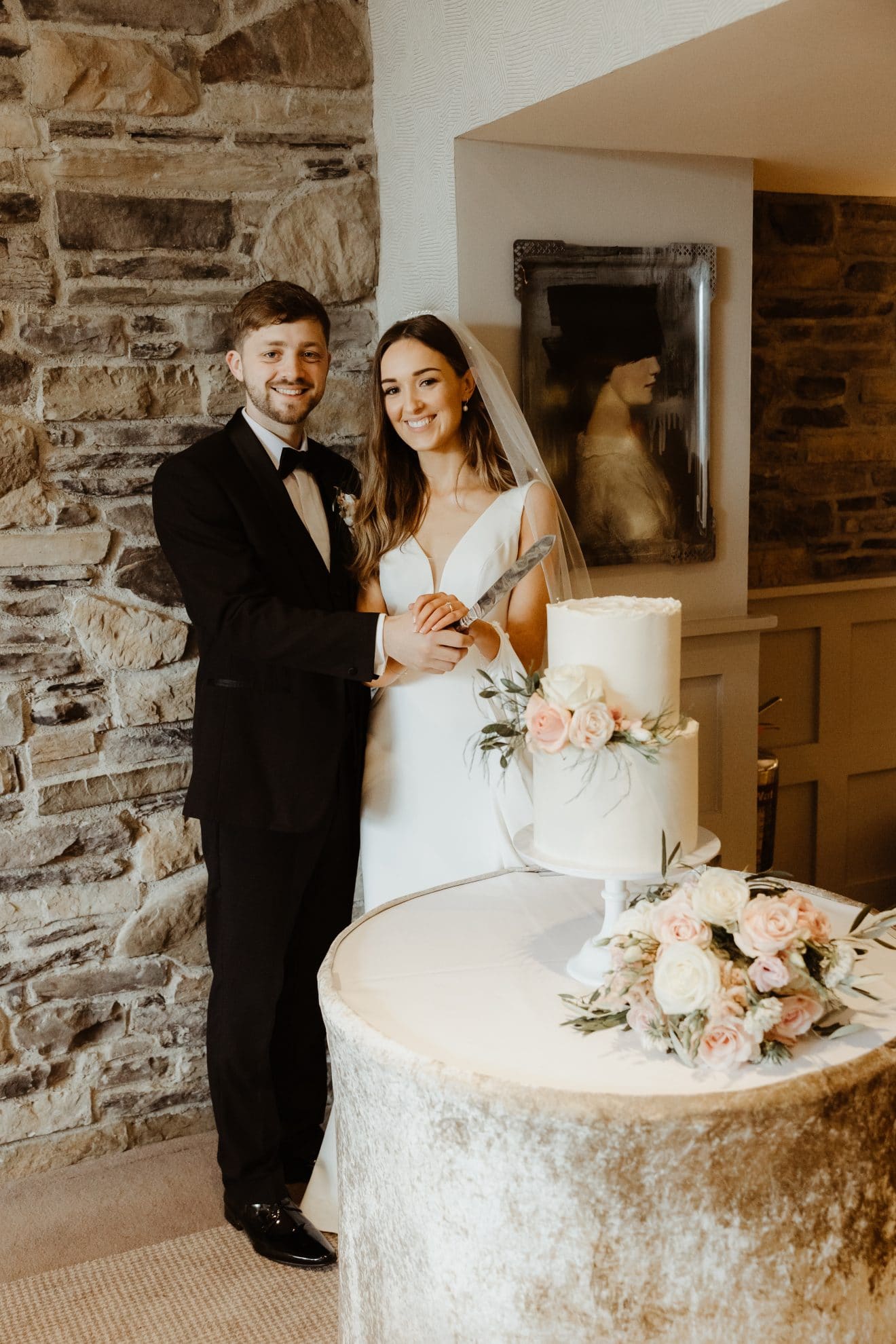 CAPTURING THE DAY
Ellen and Ben went with Adam from Wild Fern Photography after being inspired by his Instagram full of beautiful wedding shots.
Ellen says: "We chose Adam from Wildfern to capture the day, after seeing how amazing his Instagram was. We absolutely love the final photos.
"He was so great throughout the day, navigating us through all the various group and couple photos – we were surprised at how comfortable Adam made us feel in front of the camera, keeping everything light-hearted and fun. Not only that, but we love all the candid, happy moments that he captured!"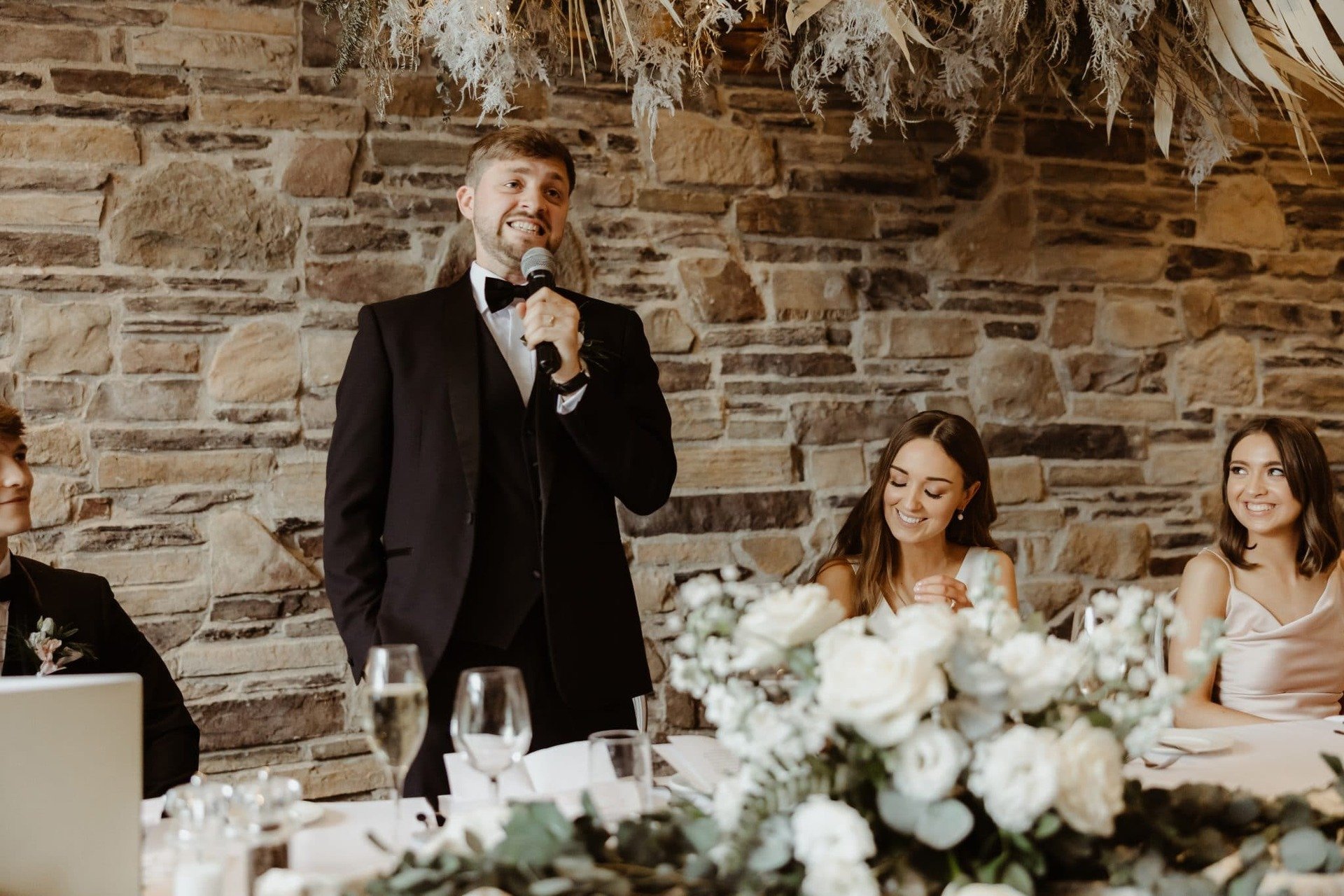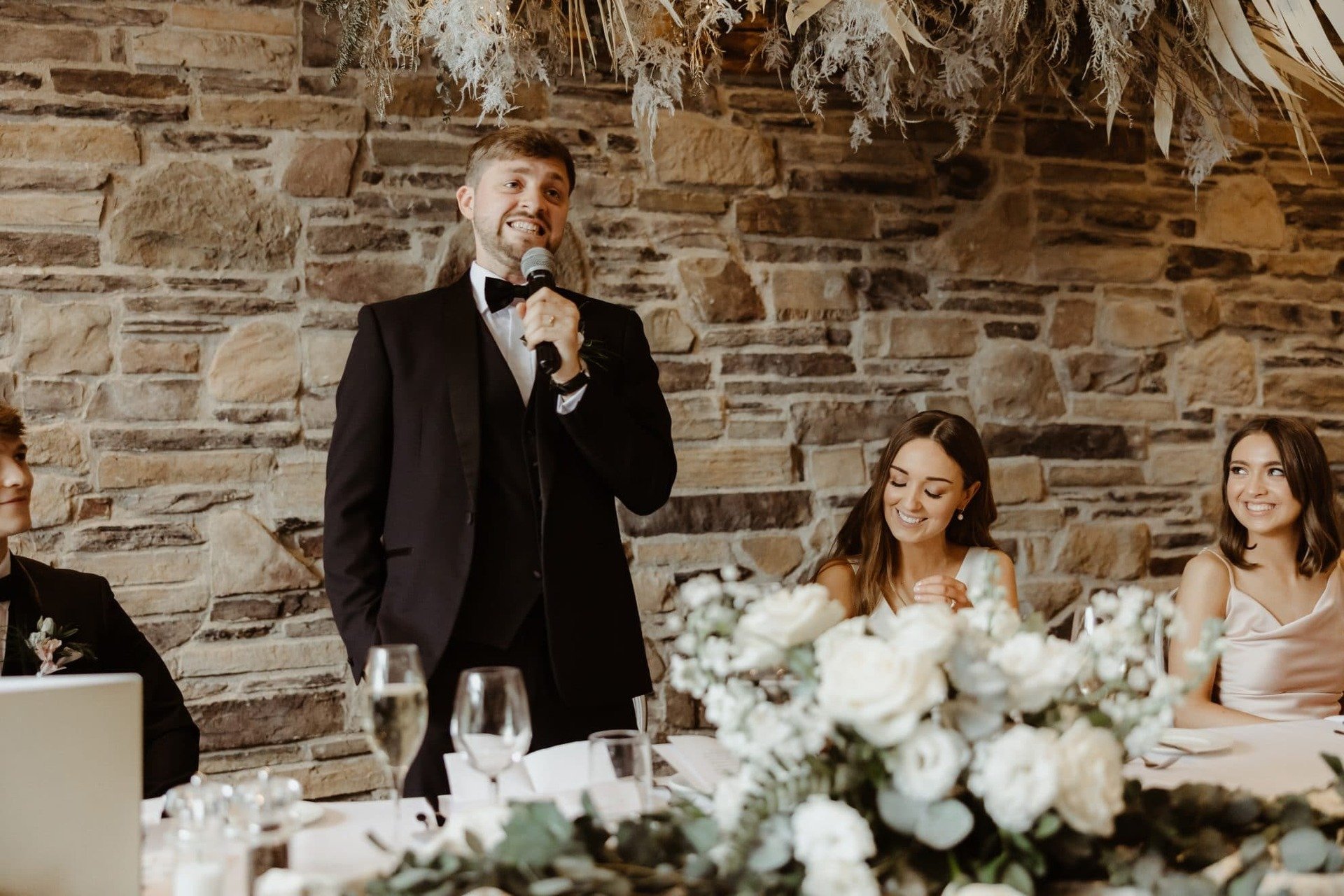 WEDDING WARDROBE
Ellen looked like a dream in a sleek figure-flattering dress with a plunging V-neckline from La Boda Bridal in Banbridge.
RELATED TO: Dreaming In Colour: Róisín & Michael's Pinterest-Worthy Wedding at Tinakilly Country House
"My dress was from the Pronovias range in La Boda, Banbridge. It was the first dress I ever saved on my phone after we got engaged. After watching all of the reels La Boda posted on their Instagram, I couldn't wait to get down to try on their dresses! I had looked elsewhere and nearly said 'yes' to the dress but when I tried this one on, I just felt like it was 'me'!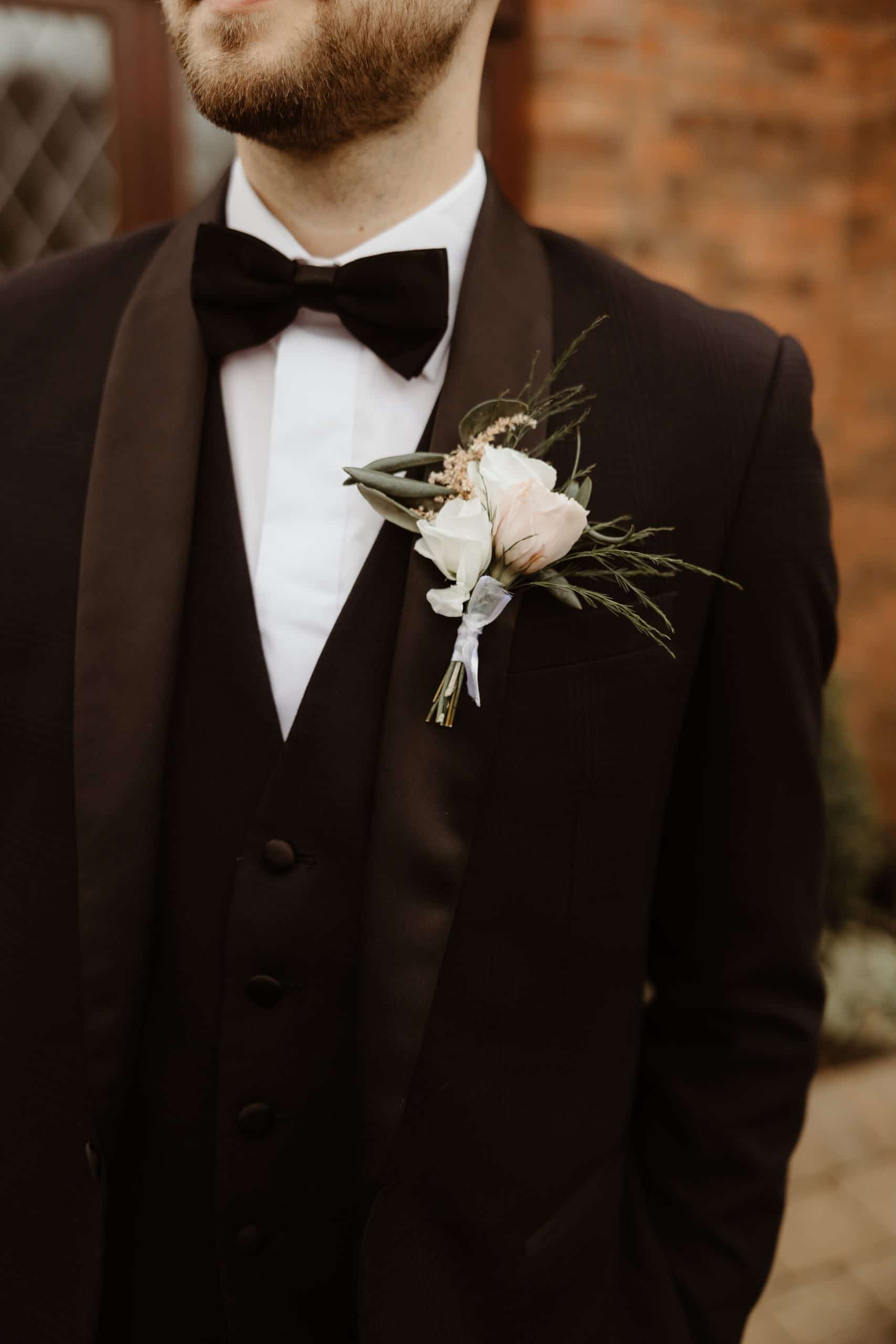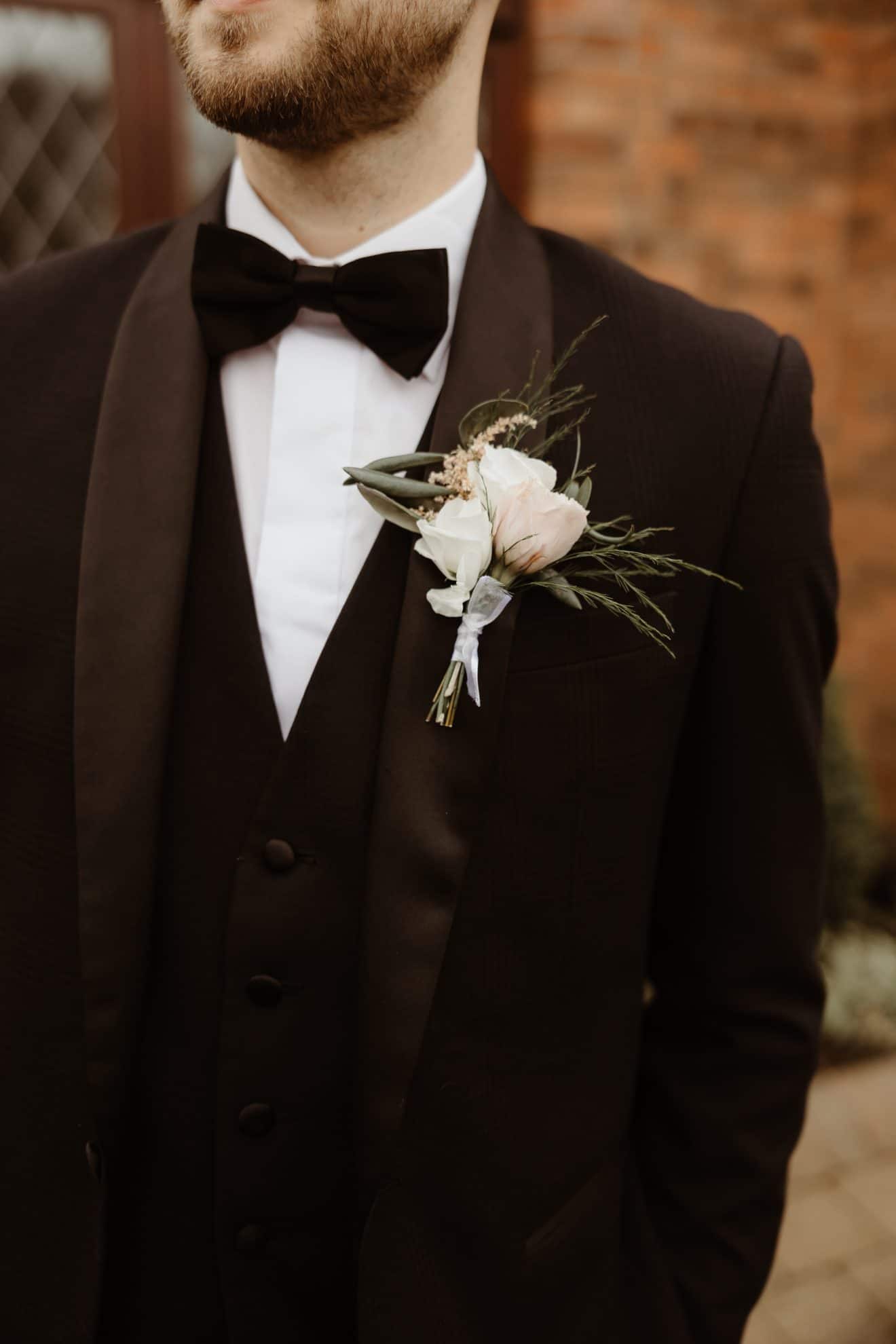 "I think this was the most exciting part of the planning! I loved the simplicity but quality of the dress. I always wanted a dress with a long train and it really felt like 'the one.' I loved the neckline, fit and how comfortable I felt in it!"
Adam and the groomsmen also looked smart in classic black tuxes from Focus NI Menswear in Bangor and the bridesmaids wore modern and minimalistic slip dresses in pastel pink.
RELATED TO: Summer Lovin': Jean and Aisling's Colourful Day at Tankardstown House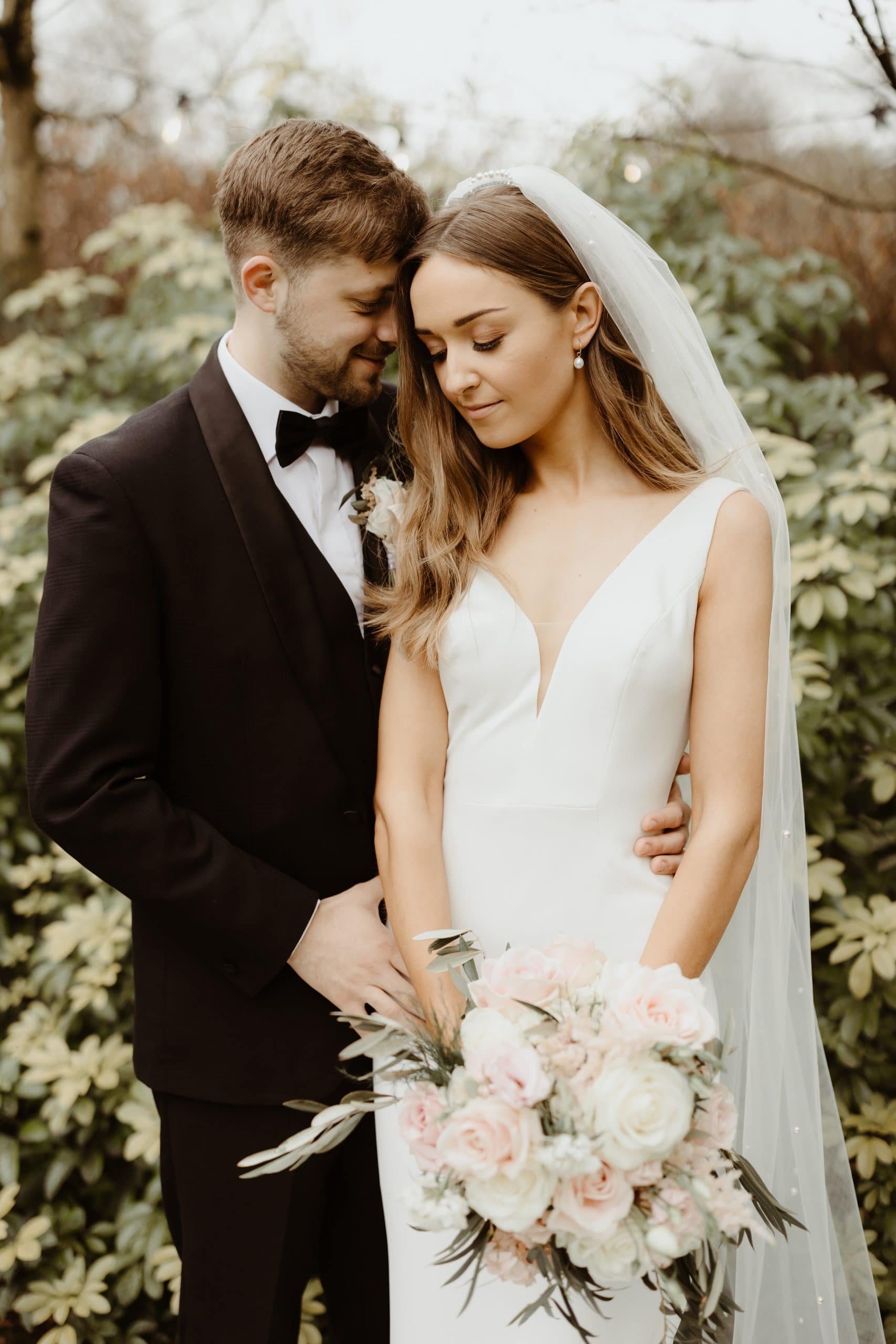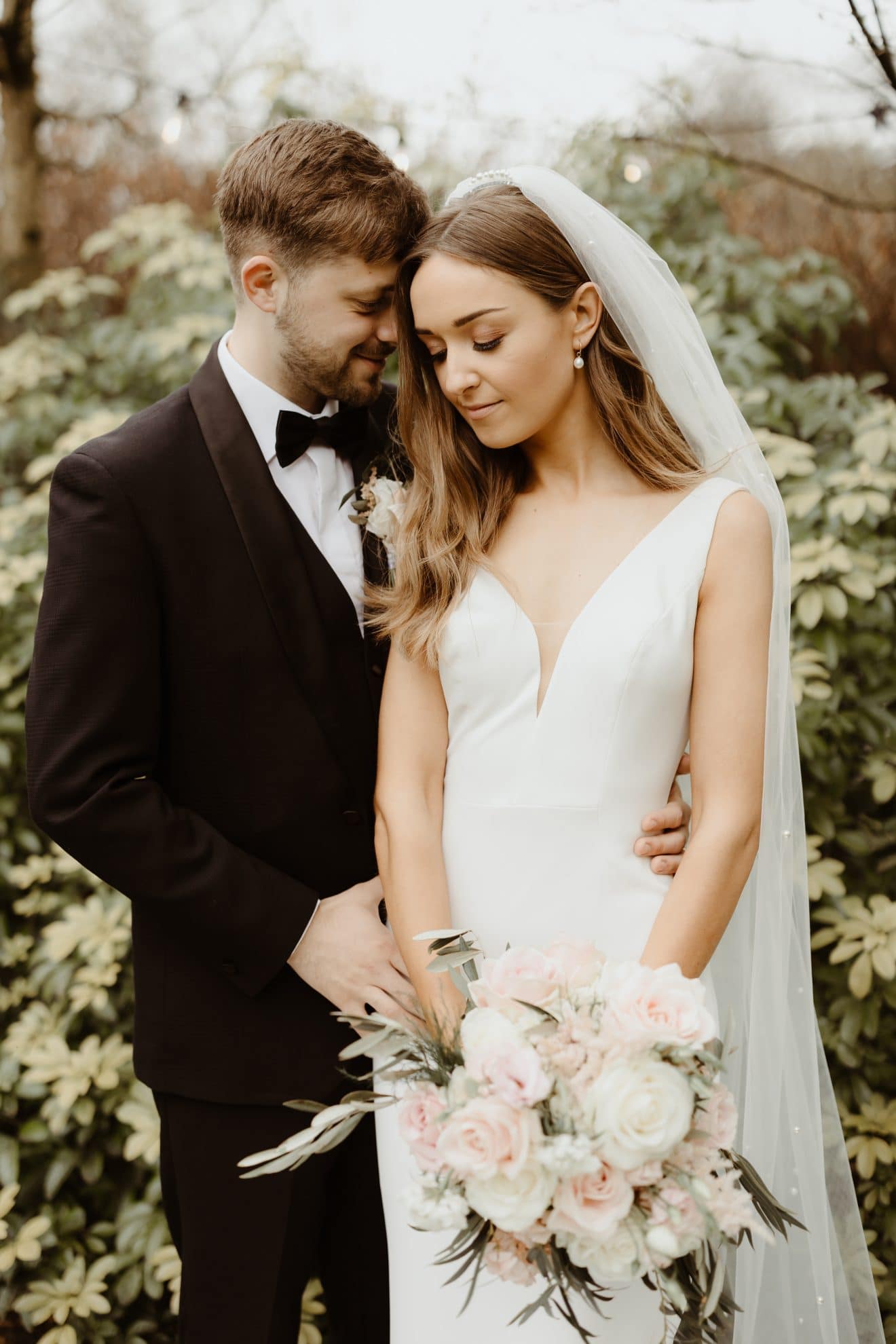 FAVOURITE MOMENT
Ellen has so many favourite moments from their day from getting ready with the girls to sparks flying at the end of the night!
"Looking through each of the photos Adam took, it is hard to pinpoint an exact favourite moment," she says. "It was more like a favourite day, from getting ready with my girls, seeing Ben in the ceremony, all of the speeches and dancing with our guests – we just loved it all. We also had sparklers for the evening as they added a little more fun!"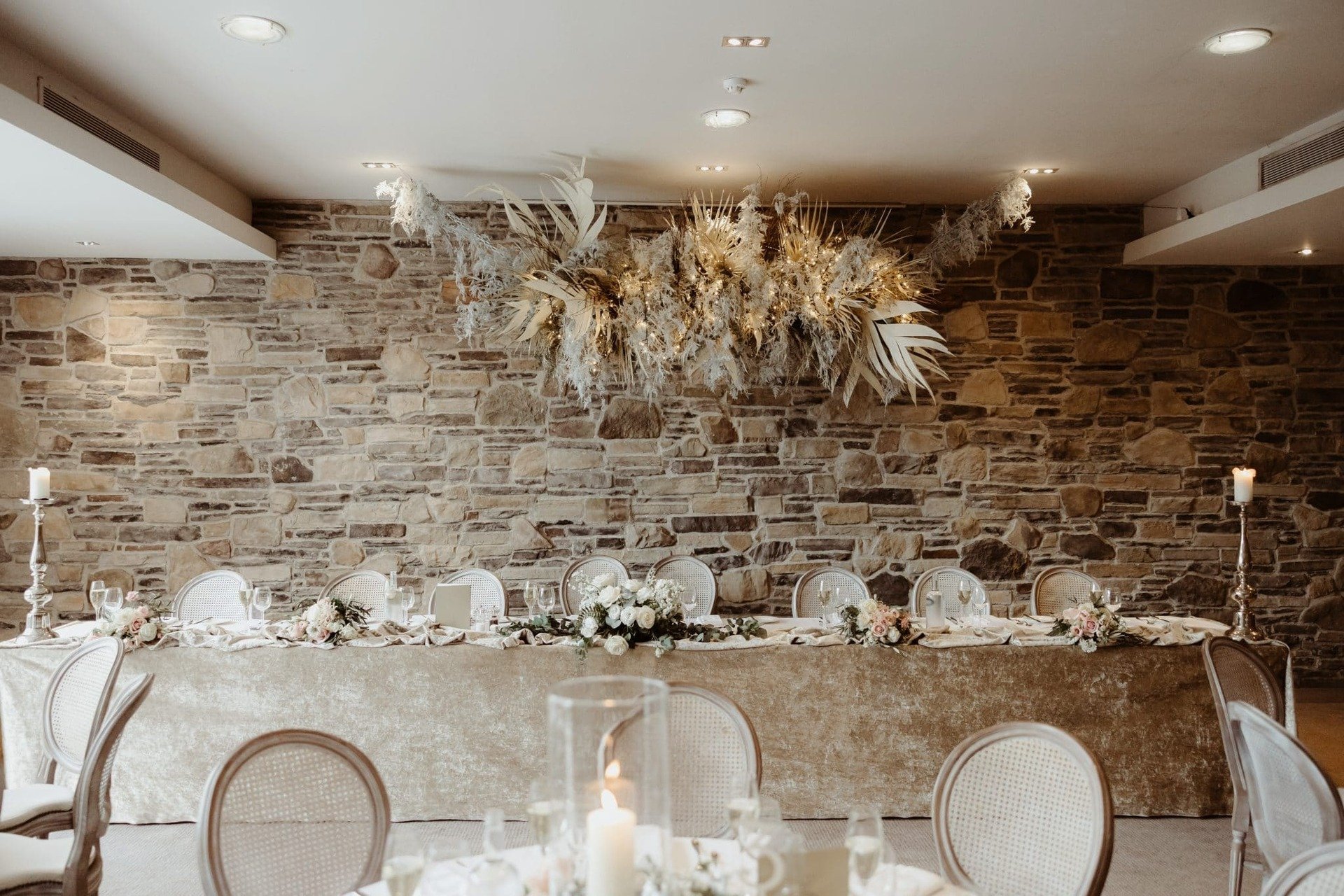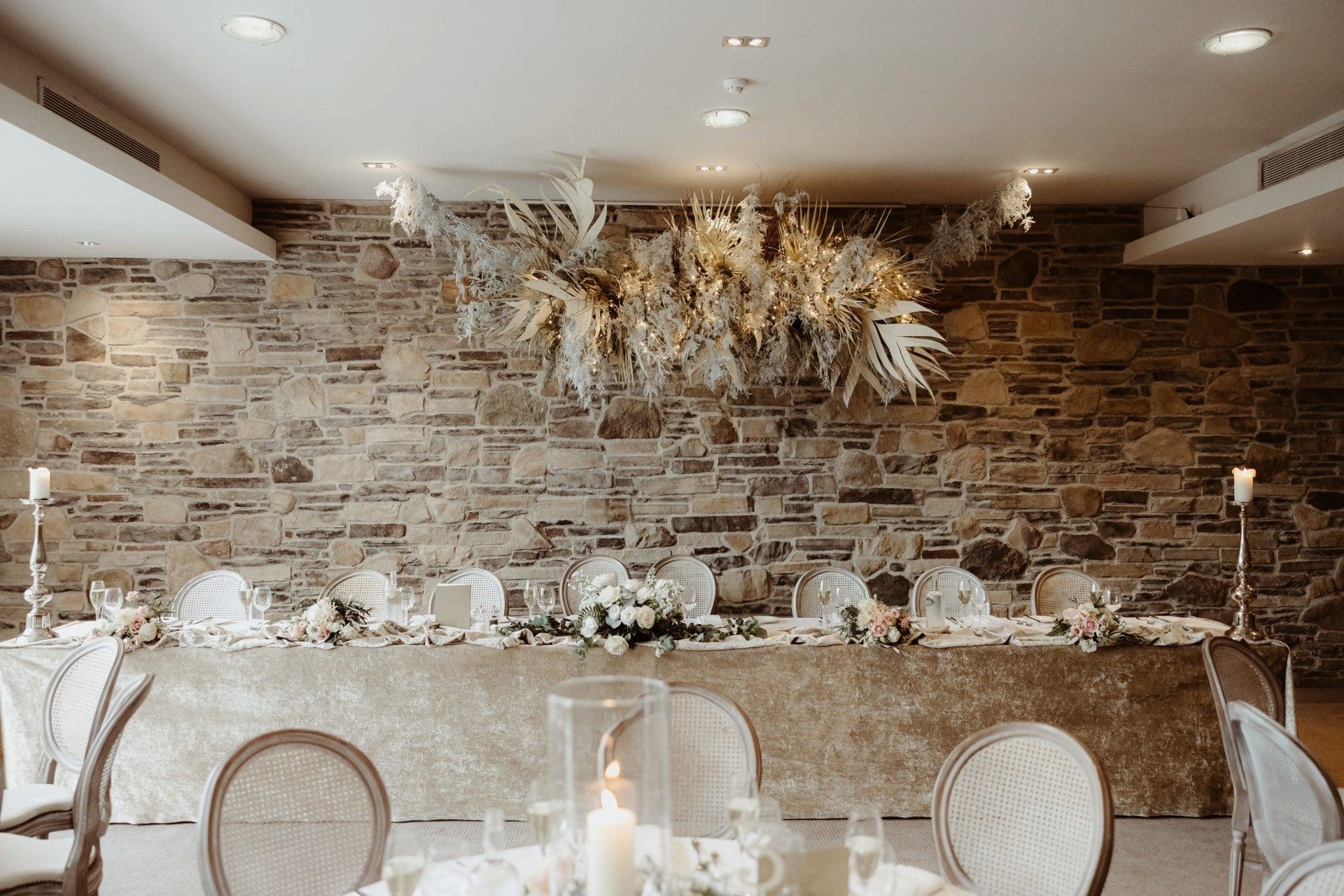 BRIDAL ADVICE
For all the brides and grooms out their who are in the midst of wedding planning, Ellen has some wise words of bridal advice!
Ellen continues: "Our advice would be, to agree on a budget and plan around that. Make your to-do lists, leave yourself plenty of time and enjoy the entire process!"
For more inspirational real-life weddings, click HERE!