You've survived another marriage, congrats! To celebrate your wedding anniversary, its tradition for couples to give and receive gifts, with each year suggesting a new and unique theme.
The big wedding anniversary milestones, like 10, 25, 30, or even 50 tend to traffic the most attention and the biggest presents! But we believe that EVERY wedding anniversary deserves to be as special and unique as the last. There's something romantic about sticking with tradition.
Don't worry, this doesn't mean you need to buy expensive presents that will break your budget, there are gifts included that are cost-effective or can be handcrafted instead.
If you are in need of anniversary inspiration and advice, then look no further. Here you will find the hottest yearly trends, goodies and themes, that your partner will love!
1st Wedding Anniversary – Paper
You might be thinking that paper doesn't sound pretty special, but if you're creative about it, you might just be on to a winning first wedding anniversary gift idea.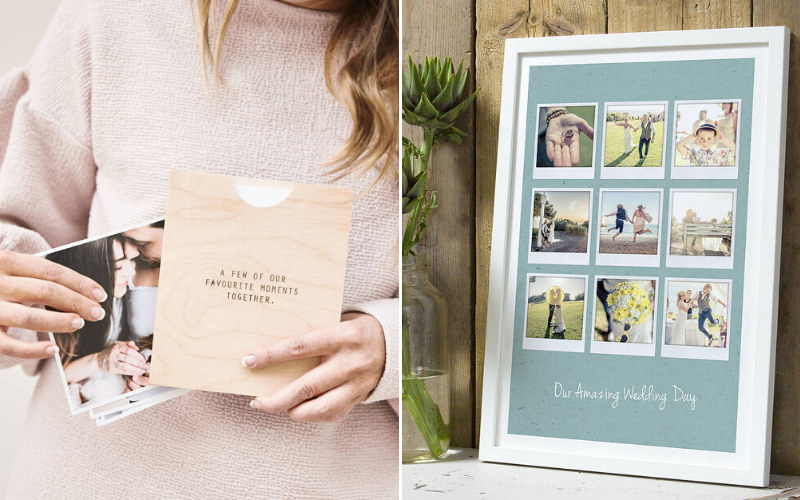 How about printing out your favourite, unseen wedding photographs to display in your new home? It will be a fabulous reminder on the day, and is also a nod to your paper theme.
2nd Wedding Anniversary – Cotton
It might seem strange, but there is a symbolic meaning behind a cotton gift, your marriage needs to be able to stay strong even when faced with difficult changes. In marriage your bodies and lives becoming intertwined like the threads in cotton.
We're obsessed with the boho chic macrame trend, how cute would this be! We've spotted macramé plant hangers, macramé wall hangings, macramé curtains, and more. If you're brave enough you can try to make something yourself, with handy DIY step-by-step instructions for making your own macramé online.Or you can find plenty of macramé products pre-made by artists on Etsy. 
3rd Wedding Anniversary – Leather
The traditional  three year anniversary gift is leather, which is symbolic of the marriage reaching a stage of flexible durability. Leather represents the shelter and security that has come from your three years of marriage together. Through thick and thin, rain or shine, you have each other.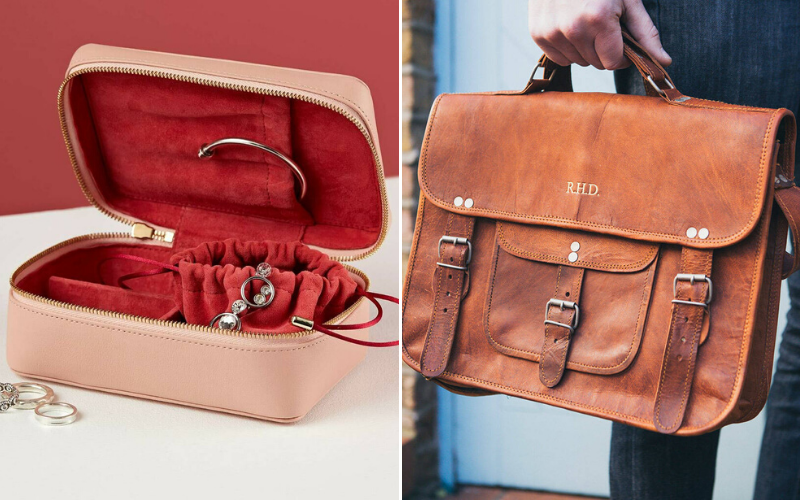 Just look at this stunning hand-crafted leather jewellery case for her. While perfect for trips away, this jewellery case looks equally smart and chic on a dressing table at home. Meanwhile for the groom, this vintage style leather satchel is an expertly handmade, rugged beauty, that's super functional, stylish and gets even more beautiful with use!
4th Wedding Anniversary – Linen
Tradition claims that the gift of linen is ideal on your four year anniversary. However more modern couples are swaying towards the American custom to include fruit, flowers and appliances. But you won't need our help choosing something from the latter 3 categories, so let's focus on linen.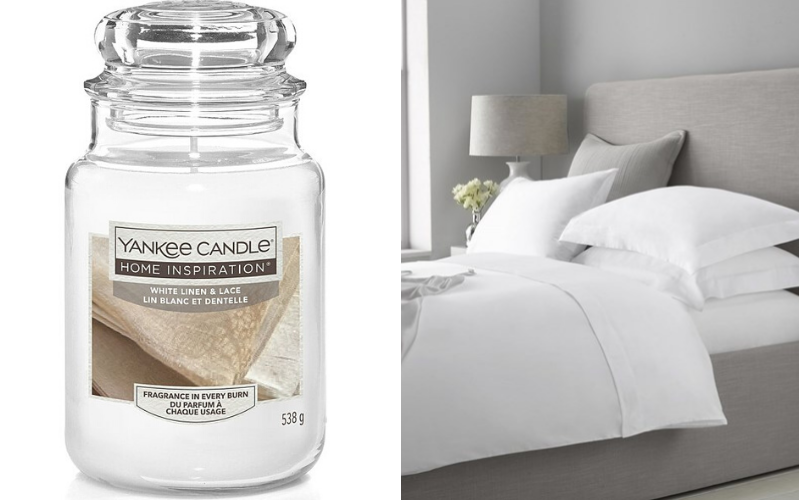 It's a fabric that's woven together from fibres of flax, just like your union was created from your shared experiences. You may have included luxury new bedding on your wedding gift list, but that was four years ago now. It's time to upgrade to ultra-soft washed linen for a bed you'll dream of going home to. You also can't go wrong with the classic scent of clean sheets. Gift your partner with one of these candles to instantly upgrade your bedroom.
5th Wedding Anniversary – Wood
This is definitely a fun celebration, you've made it half a decade together! Traditionally, wood symbolises the fifth-year wedding anniversary. Trees symbolise strength, wisdom and time With deep roots growing together, your love is steadfast.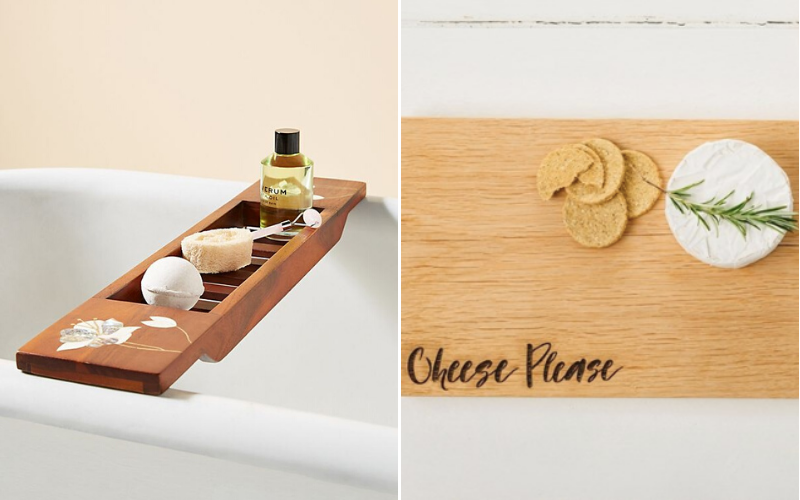 Now for the ladies, or lads, we've found this fabulous shelf for the bath…come on! This Olivia bath tray features compartments that are perfect for bath soaps and perhaps a glass of wine. Meanwhile you could also go for something you can both share together, a luxury cheese board! Two perfect gifts for epic date night experiences.
6th Wedding Anniversary – Sugar/ Iron
How sweet – six blissful years together! Now for the sixth year anniversary you have two choices, either iron or sweeties. Candy serves as a reminder of how sugary sweet your love for one another is. Iron symbolises the strength of your marriage.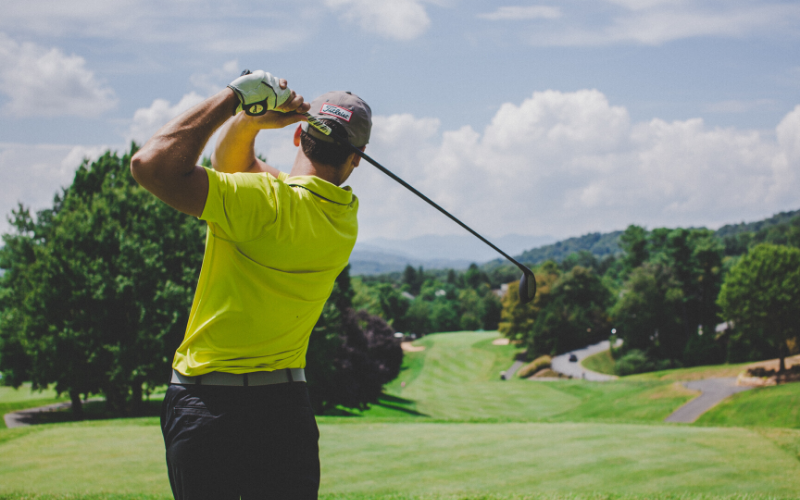 You could go basic with this one, a simple box of chocolates or your partners favourite sweet treat. Or with iron there's always the handcrafted jewellery route. But if your other half is a fan of golf, what about a fresh set of irons, or a golfing retreat somewhere. Top tip for this year, if you want to make it to your seventh year of marriage, DO NOT get your spouse an electric iron!
7th Wedding Anniversary – Copper/Wool
Copper is an excellent heat conductor, symbolising the heat, warmth and stability of your seven years together. A great seven year anniversary gift that sticks to tradition is copper homeware, from mugs to pots.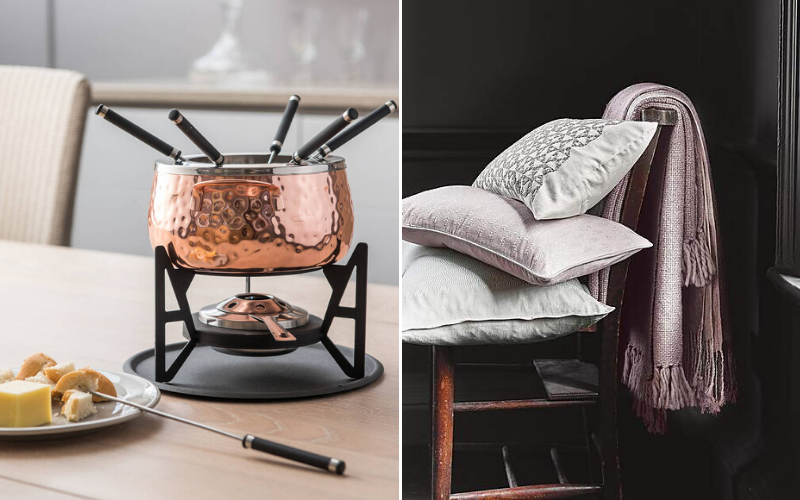 Wool also symbolises the comfort and security of marriage. Popular wool-based wedding anniversary gifts are woollen jumpers or woollen blankets – perfect for those cold winter nights snuggling up together.
8th Wedding Anniversary – Bronze
Traditionally, bronze or pottery was what you would get if you were celebrating your eighth wedding anniversary. Just like your marriage, bronze represents the blending of two hearts (copper & tin) combined to become a single strong entity.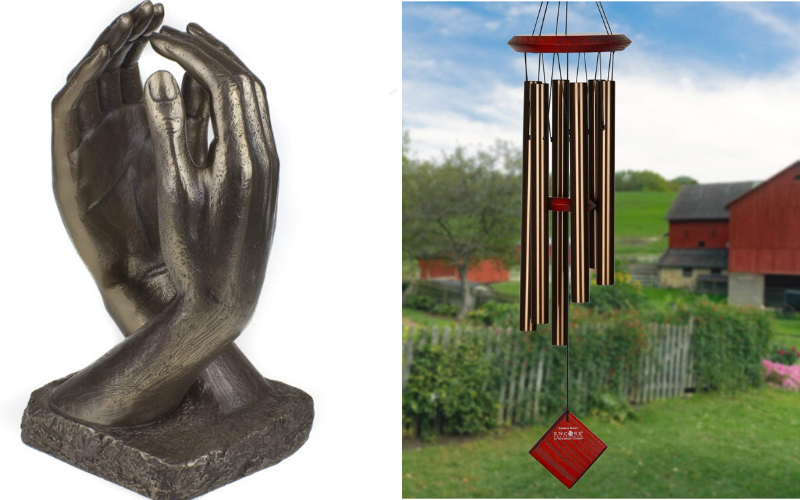 Anything bronze goes, from summer garden furniture/ornaments to indoor sculptures. As the saying goes, 'it's the though that counts.'
9th Wedding Anniversary – Pottery/Willow
Pottery and willow both represent nature, simplicity and flexibility, and are the traditional materials of the ninth anniversary. If you're looking for fun experiences together, you could arrange a local pottery class for you both to enjoy. Or if you're on a budget, Mr & Mrs mugs are always a cute and sentimental option.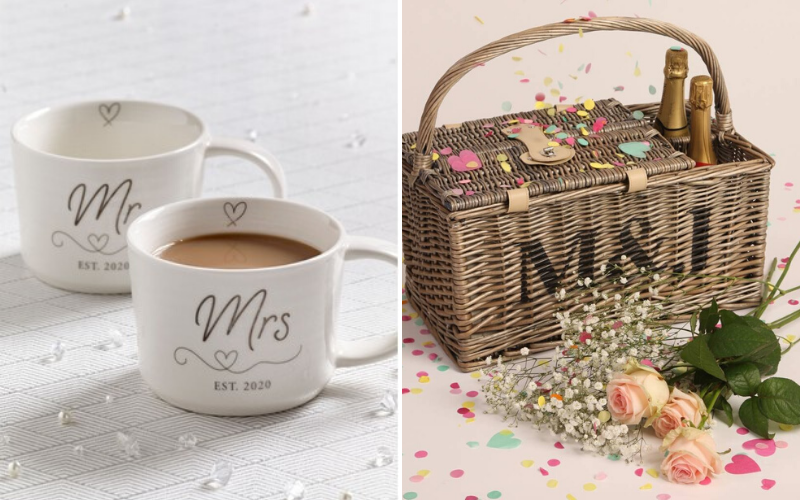 Another budget-friendly idea, and a nod to the willow theme, would be a willow basket. This beautiful picnic basket is available for two or four people and can be personalised with the initials of your choice to make a truly unique present.
10th Wedding Anniversary – Tin
To mark your double digits, tradition states that the two of you exchange tin or aluminium gifts. Tin doesn't rust or wear down – so if you've made it this far you've definitely got something special. After ten years together, you can now handle any obstacles thrown your way.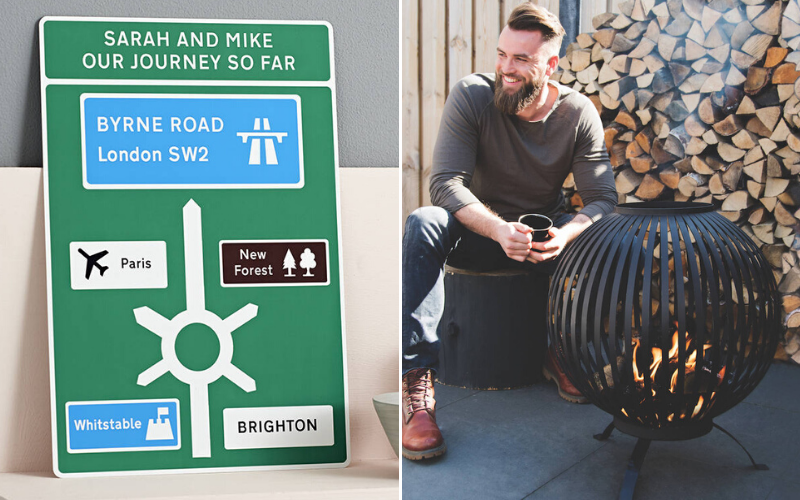 We've found two really cool ways to explore tin gifting, like this quirky road sign that is personalised to show your journey together. Then how lush is this fire pit, perfect for summer nights, relaxing in the garden.
15

th

 Wedding Anniversary – Crystal
Another momentous milestone, 15 years together. Crystal is a luxurious product and chosen for its clarity – how the couple see each other clearly after 15 years together.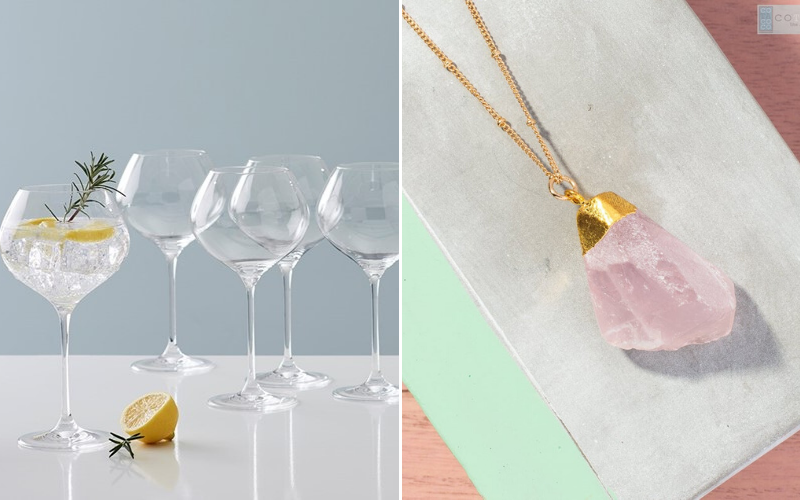 Staying on trend for 2020, you could throw a spin on a cult classic, crystal glassware. Or you could indulge in some more holistic gifts, with perhaps a crystal necklace. If you partner is into gin or crystal healing, they'll love these anniversary gift ideas.
20th Wedding Anniversary – China
Twenty whole years since you tied the knot, your twentieth anniversary gift is the ideal chance to celebrate all of the moments you've shared to get you to this milestone. You might have noticed, as the years go on, the value of each gift increases.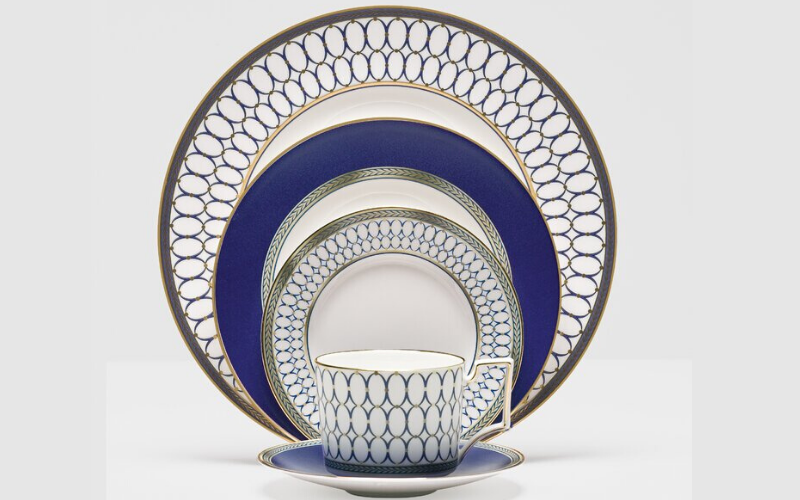 Elegant but also delicate and fragile, China is an overall representation of your marriage after two decades. Do not take it for granted or mishandle it, or it could break. The obvious gift for a China-themed anniversary gift is a beautiful set of China. You could, of course, treat your spouse to a once-in-a-lifetime adventure along the the Great Wall of China, but that might be stretching the budget too far. 
25th Wedding Anniversary – Silver
Halfway to 50! Silver needs no introduction, as one of the most precious metals around. May your marriage continue to shine just like silver. Photo frames and even silver Champagne glasses would be a grand way to celebrate such a milestone. But it's always nice to have something you can keep forever, and is significant to you both.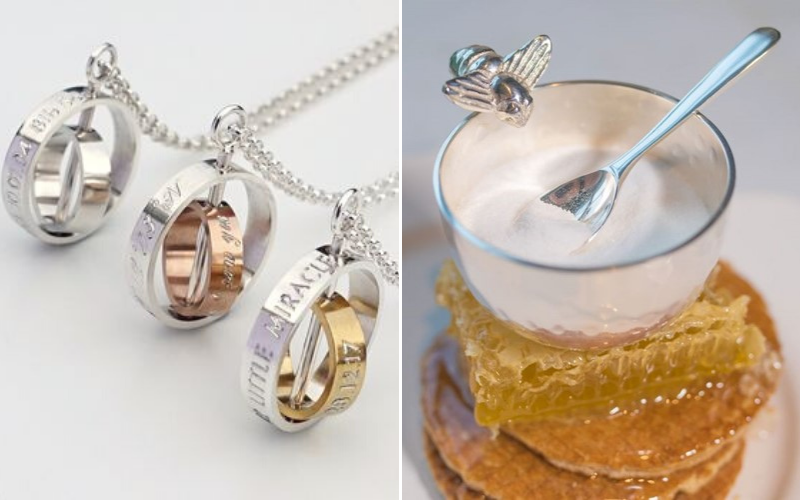 Silver jewellery is always a sure-fire way to please your other half, we just couldn't resist this adorable little bee honey pot too!
30th Wedding Anniversary – Pearl
After being married for three decades, a pearl gift repents something beautiful that has been created through longevity. It also symbolises the hidden beauty in your relationship and the beauty that comes with maturity and from within.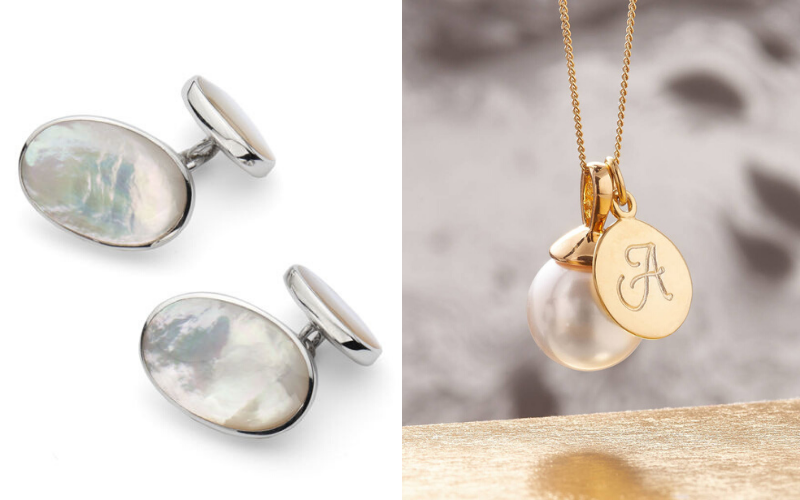 You can't go wrong with a piece of jewellery adorned with pearls. An elegant necklace or earrings for her is timeless. A set of pearl cufflinks is a great gift idea for him too.
35th Wedding Anniversary – Coral
Coral is known as the stone of peace and transformation, it symbolises longevity and strength, two traits that are certainly key in a marriage that has lasted this long.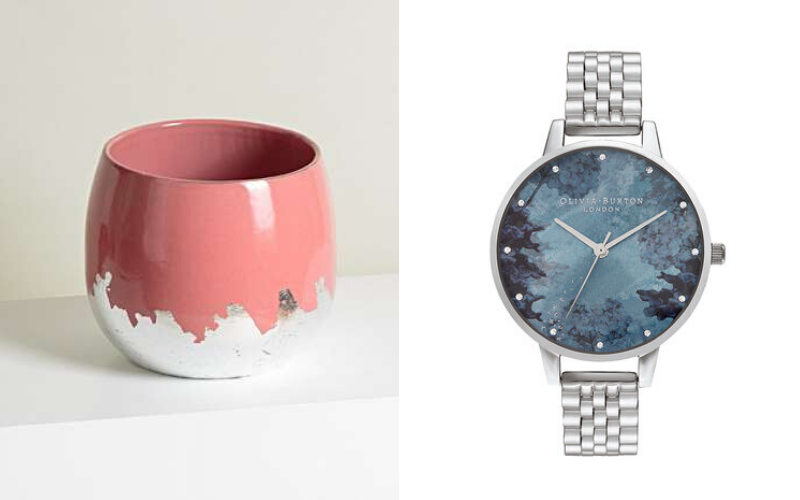 Anything nautical themed will work in this instance, from a coral necklace to a new bathing suit. A trip overseas would be another epic present to give to your other half too.
40th Wedding Anniversary – Ruby
Ruby is the stone of love and passion, a symbol of your deep and unwavering love for one another. You're well on your way to half a century together with this anniversary milestone. This is your chance to show them how much they mean to you.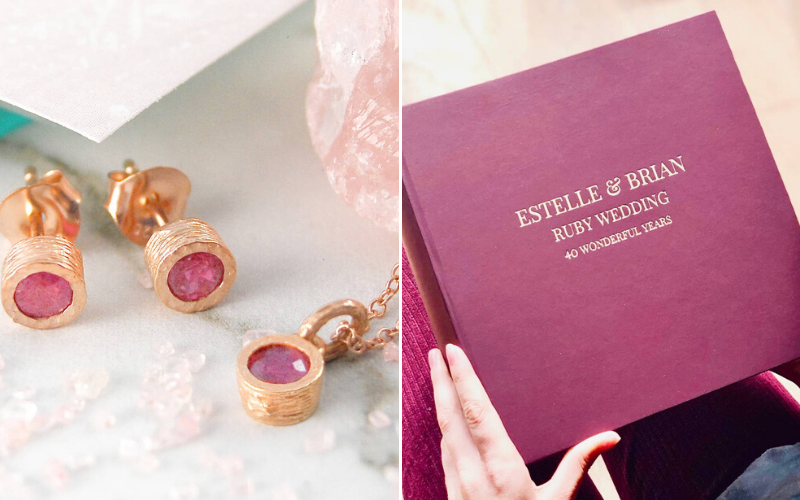 Rubies were once the stones of ancient kings and queens, making jewellery with set ruby stones an entirely regal choice.
45th Wedding Anniversary – Sapphire
For year 45, the appropriate wedding anniversary gift is sapphire. This precious stone represents the lasting nature of your adoration for one another. It's also known as a stone of royalty, if it's good enough for the queen, it's good enough for us.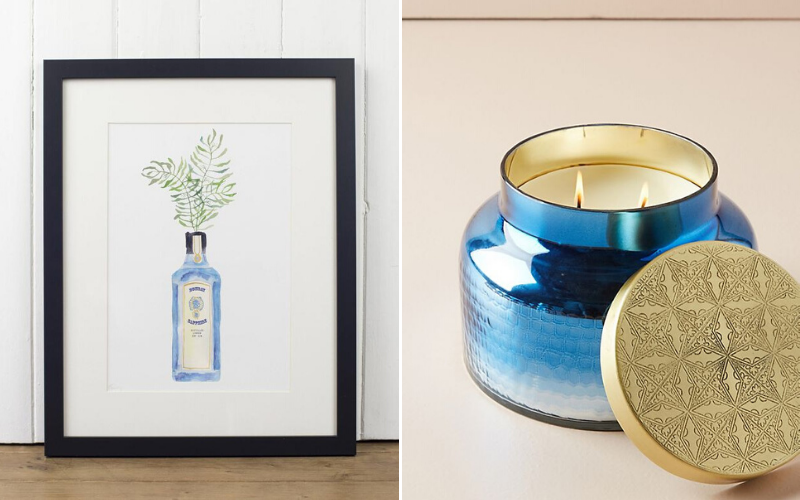 You can always splurge on a piece of statement sapphire jewellery, perhaps a necklace with matching earrings. But an alternative gift could be this hand-painted Bombay Sapphire print, or this beautiful candle.
50th Wedding Anniversary – Gold
Half a century of being married, and you've made it to the gold standard, that is such an achievement. Gold represents the strength, wisdom, prosperity and significance of your marriage. There's not many have the opportunity to reach such a special anniversary, so you need to celebrate it for sure!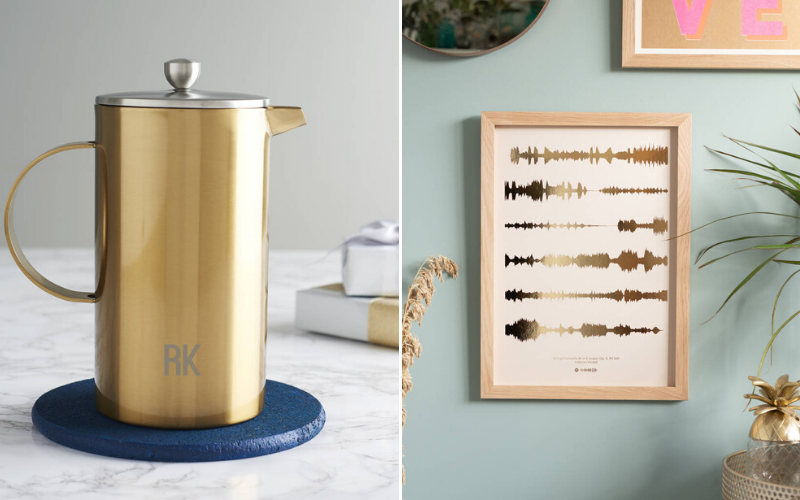 Now it's way too easy to get your other half a piece of expensive gold jewellery, the secret to a long and happy marriage is the element of surprise. So why not think outside the box on this one, with a unique wedding anniversary gift.
55th Wedding Anniversary – Emerald
Emeralds have long been thought to represent genuine love, and some say that they even change shade if a partner is unfaithful. Giving a gift associated with emeralds to a couple celebrating their 55th anniversary therefore represents devotion, loyalty and adoration.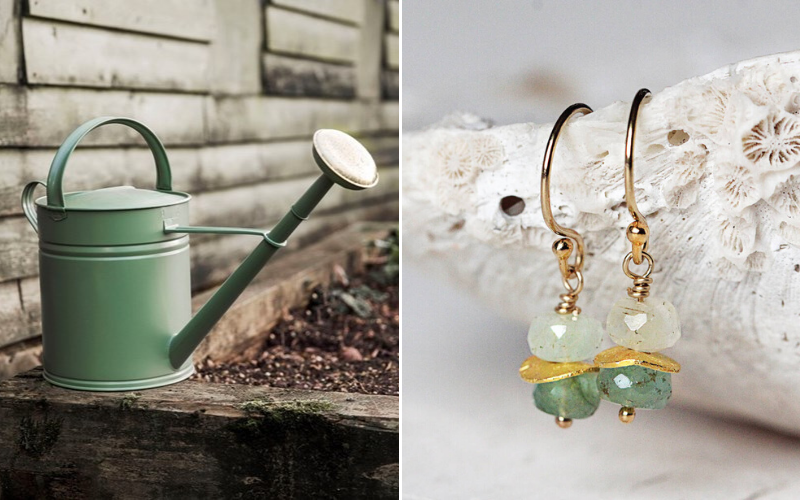 The green hue of emeralds is also thought to reflect spring and natural rebirth, with a possibility of boosting creativity and opening the way to exciting new possibilities. Therefore, even after 55 years of marriage, a couple can endeavour to pursue new experiences together as they continue the life journey together.
60th Wedding Anniversary – Diamond
Diamonds are always a girls best friend – this precious stone symbolises strength, affection and undying love for one another. For something as special as a 60th anniversary gift, it's time to treat the love of your life.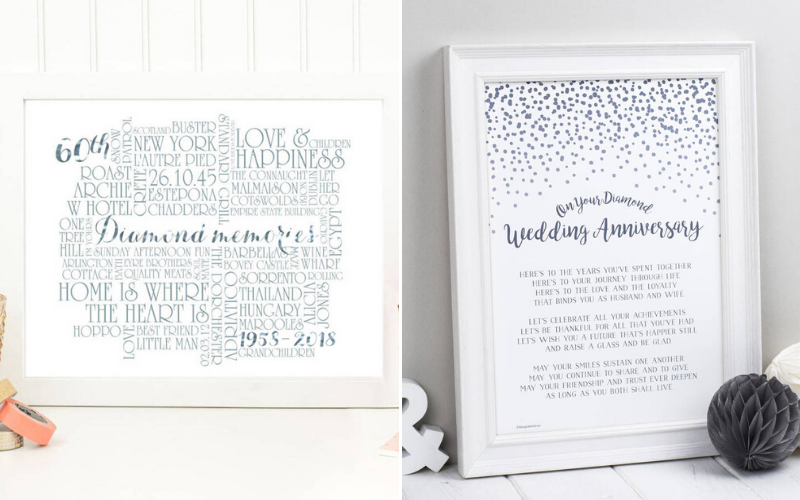 A present with significance to you both is priceless, so why not choose a more personal present than just a diamond.
70th Wedding Anniversary – Platinum
Platinum is a metal that resists wear and is incredibly hard to tarnish. It's one of the rarest metals, making it exclusive and is a symbol of endurance. What better way to describe 70 years of marriage?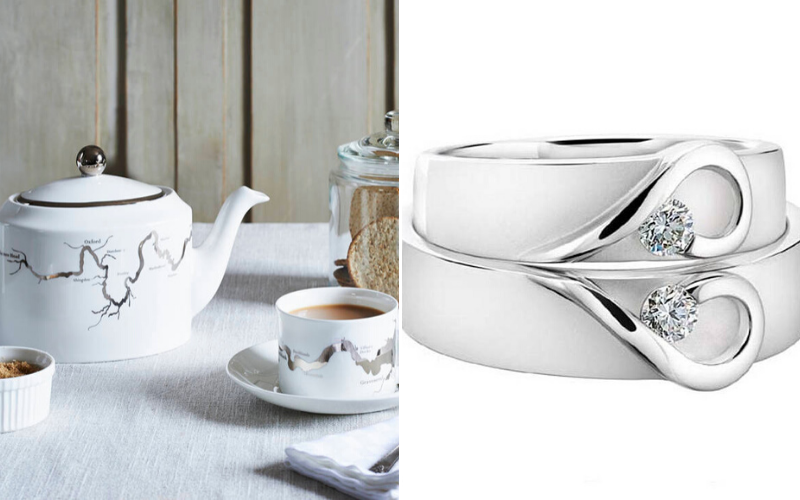 Celebrate by giving each other platinum gifts. There's no better feeling than catching up with loved ones over a cuppa, sharing funny memories and adventures together. This platinum teapot would be perfect for just this occasion. Or it might be nice to take a trip down memory lane, by exchanging rings and renewing your vows together, you'll need His & Her rings of course.
A love that stands the test of time, that's a very precious thing! Something that needs nourished regularly, it takes hard work and commitment, but it's all worth it!