What's the best way to celebrate your forthcoming nuptials? Here are our ideas for stag and hen dos you can organise right now.
You're on the countdown to the big day and your friends are waiting to celebrate with you – so what are you going to do?
Well, with the country starting to open up once again, it's perfectly possible to partayyyy – as long as you take care and keep the socially distancing guidelines in mind!
The key is to come up with flexible ideas that can be moved outside or spread out. Maybe a mini festival in your back garden or a games night you can take onto Zoom at the last minute if the worst comes to the worst.
RELATED TO: 100 Questions For The Ultimate Mr And Mrs Quiz
So you're probably not going to be jetting off for a weekend's debauchery in Amsterdam or Barcelona, but there are plenty of fun ideas you can put into action right here!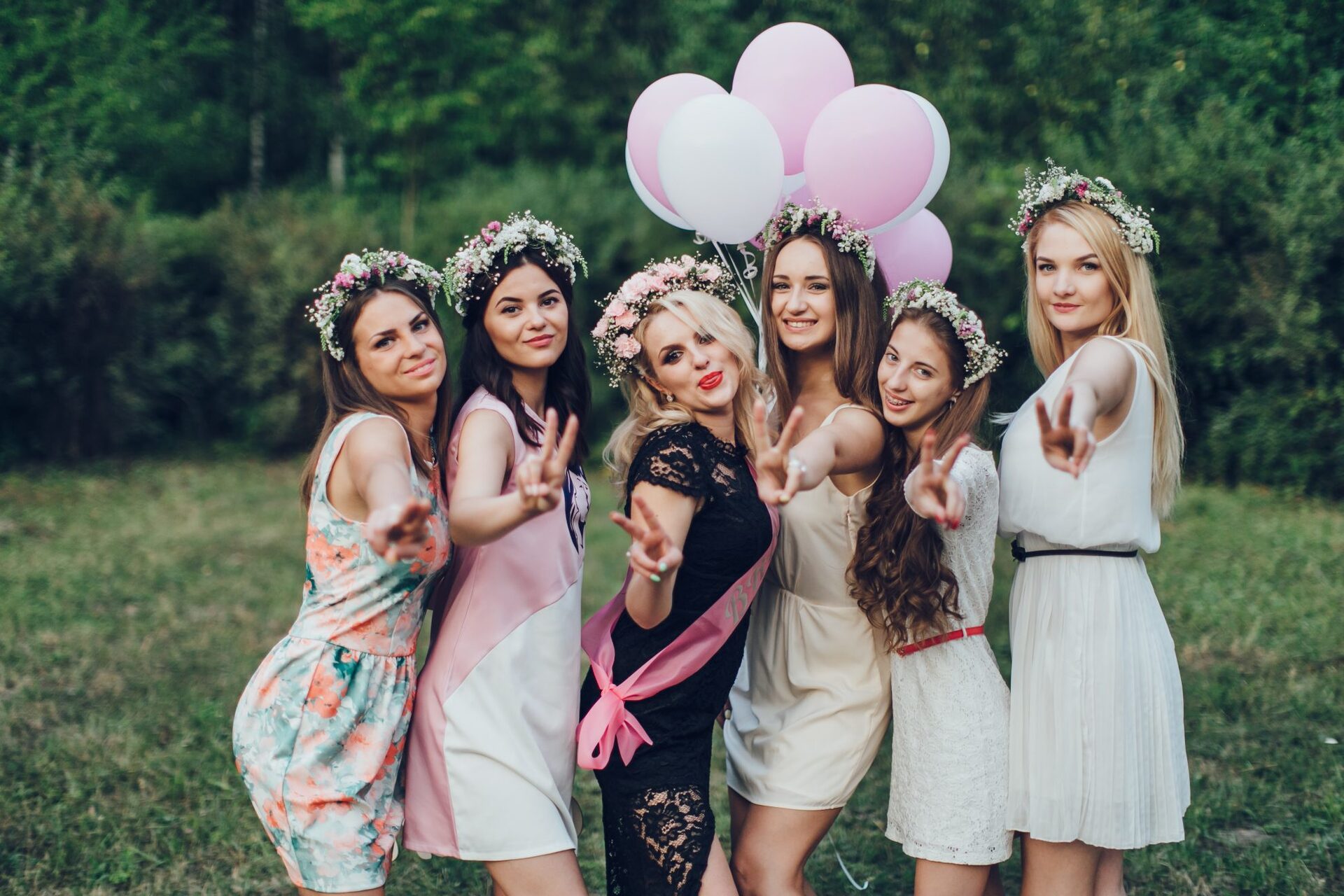 Unmask your inner superhero
Treat yourselves to an amazing indoor experience where you can soar like an eagle in the indoor skydiving facilities at We Are Vertigo in Titanic Quarter. Then combine your trip with a few more adventures, like duelling on the battle beam at the Inflatable Park and testing your agility at the Ninja Master Course, before topping off your day of adventure with a lively night out at CARGO By Vertigo, Belfast's largest outdoor licensed restaurant close to the Titanic Park complex. Available at We Are Vertigo.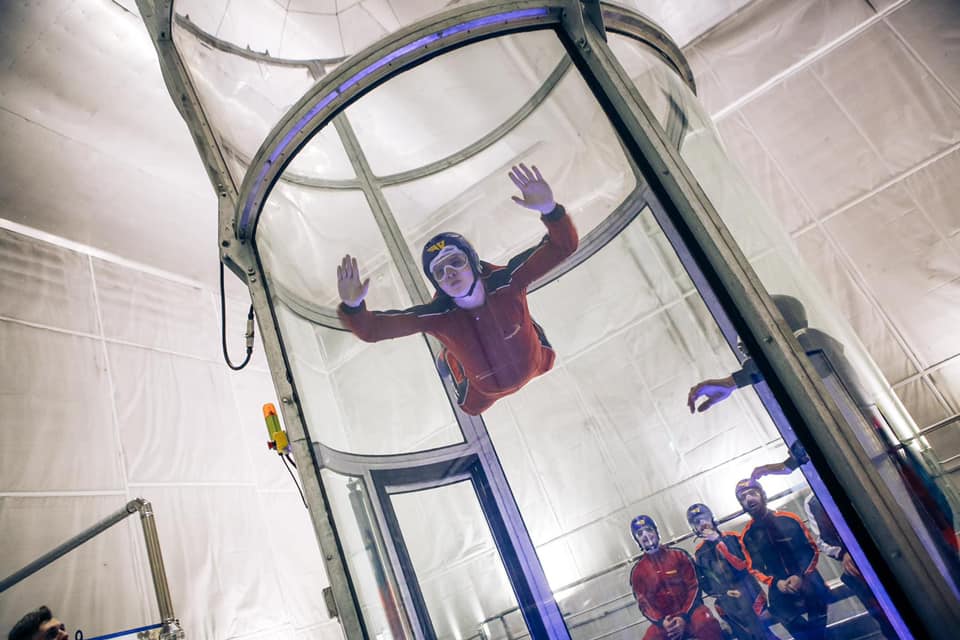 RELATED TO: Has Your Man Turned Into A Groomzilla?
Glamping Hen Party
Party with your hens in a fun glamping dome or cute treehouse in the midst of a wonderful woodland at the BYOB Teapot Lane Glamping. Tuck into wood-fired pizzas before enjoying some chilled out tunes from the resident DJ. Then have a riot designing the best knickers for the bride and exploring the local beaches. You could go for a chilled out evening playing party games or hit the nearest town for a night out. Add on fun activities like a treasure hunt; life drawing class; Battle of the Bridesmaids; Finding Ted – The Father Ted experience; or Mrs Doyle & her Grannies – Battle of the Grannies. Available at Teapot Lane Glamping.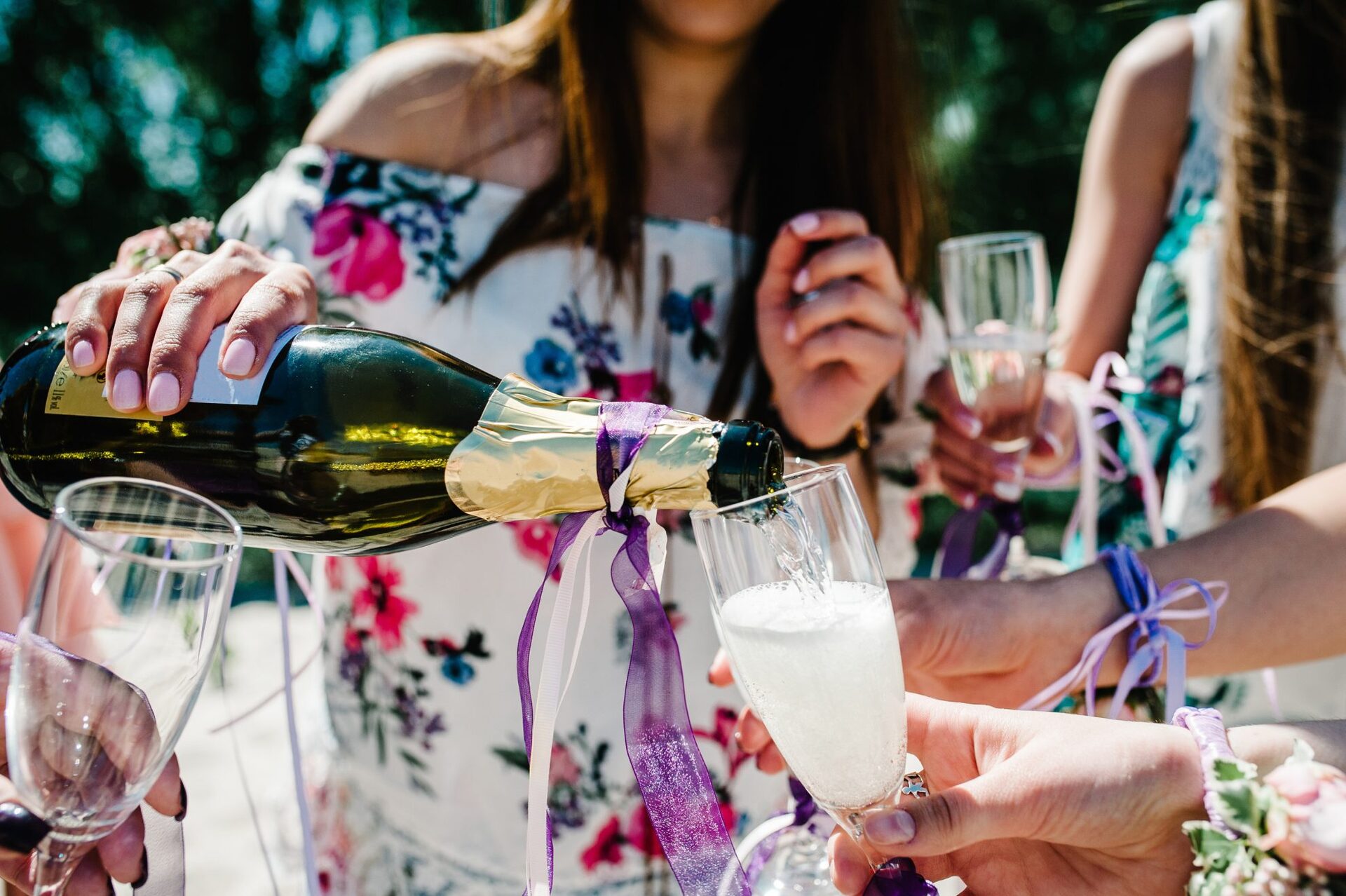 Axe Throwing
Get in touch with your inner Ragnar as you learn to throw axes at a target. This is a group activity where you will play fun games and enjoy some friendly competition – all bookings include a dedicated coach to teach you everything you need to know and make sure no-one comes over all Odin and loses an eye. Urban Axe Throwing at The Axeyard in Belfast can accommodate groups of up to 40.
RELATED TO: Quirky Wedding Entertainment Your Guests Are Going To Love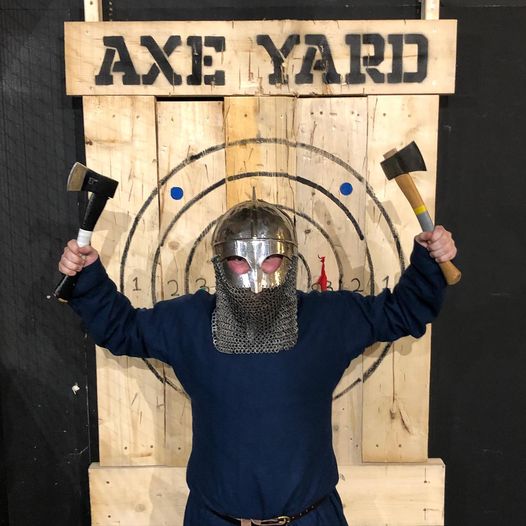 Make a big splash
Enjoy your own aquapark session at Splash NI, based in Moneymore in Northern Ireland – what more fun can you have in the summer than bouncing, jumping and splashing your way round the giant new custom-built aquapark with your mates? Two new A-frame cabins have just been built, so you'll be able to make a weekend of it and tackle the Tarzan Tree Top Adventure Course as well. From Splash NI water park at Jungle NI.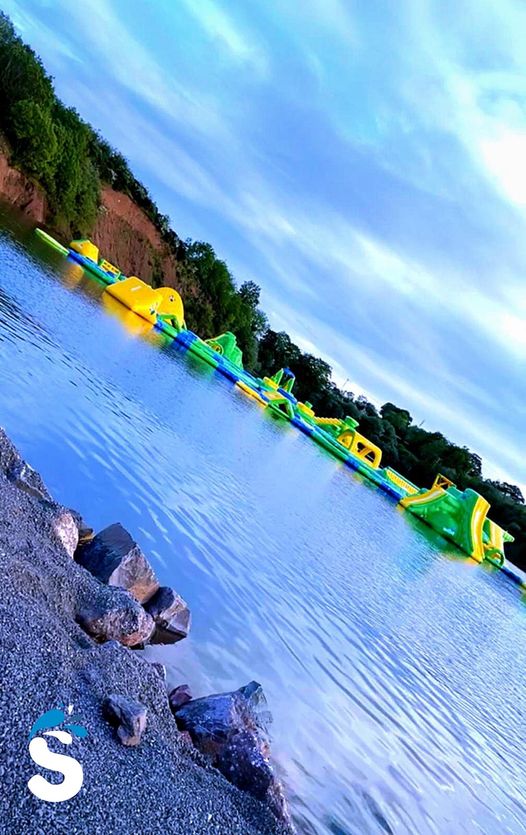 Escape the Room
Challenge yourselves to an escape room, an immersive adventure game in which people are 'locked' in a themed room with their friends and have to solve a series of puzzles, find clues and escape within a set time limit. Incognito Escape Room in Dublin offers the Baker Street Mystery, challenging players to solve a murder mystery while attempting to dismantle the notorious Baker Street Five, a high-profile gang that has been terrorizing Victorian London. Or head to Westeros for Game of Stones, in which you and your friend will have to save the Seven Kingdoms by finding the hidden dragon egg. From Incognito Escape Room in Dublin.
RELATED TO: 10 Budget Friendly Buys To Put In Your Hen Party Bags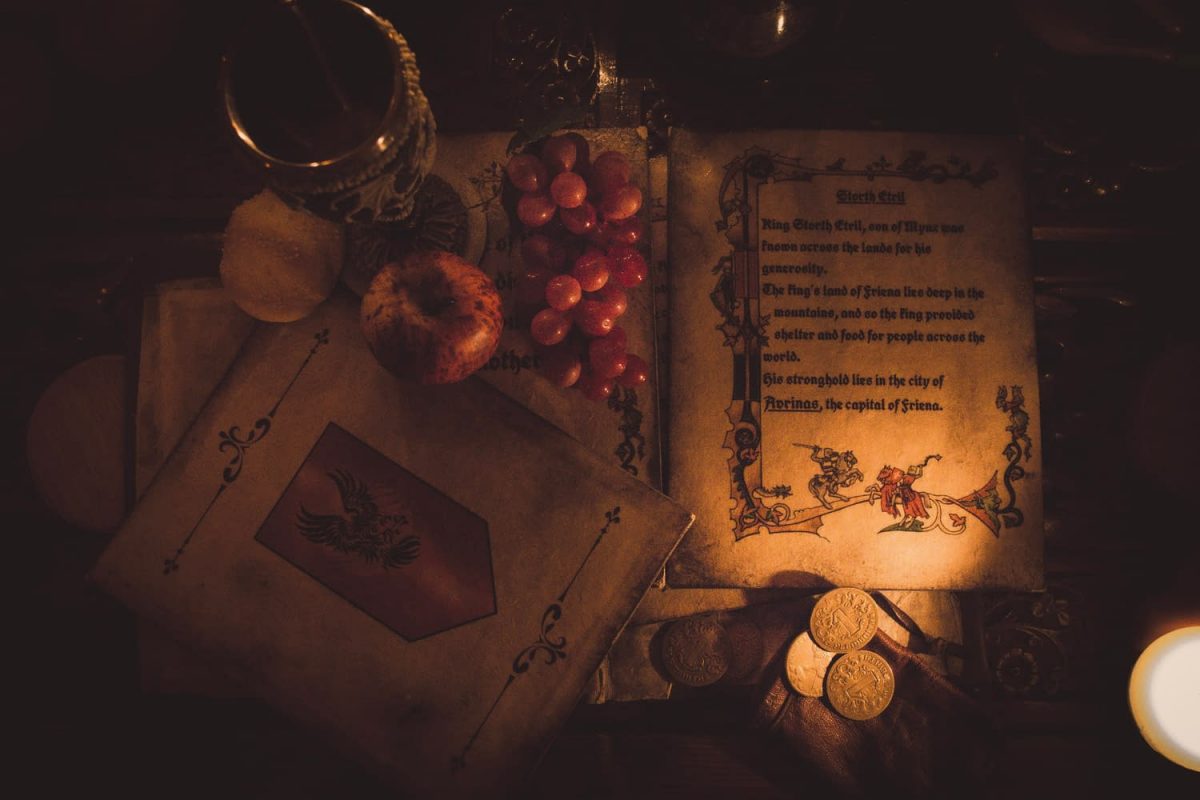 Let the professionals sort it!
Carrick-on-Shannon is renowned as a popular hub for stag and hen weekends and your go-to is The Courtyard Apartments, who offer more than 30 hen and stag packages in a series of self-catering accommodation options. There's the Murder Mystery Package, the Culchie Craic package (getting busy on a farm!), the Dance Class Party Package and the Ann Summers package (we're blushing!). It also offers go-karting experiences, paintball, air rifle and archery and the awesome-sounding disco dodgeball. From The Courtyard Apartments.
RELATED TO: How To Throw The Perfect Love Island Hen Party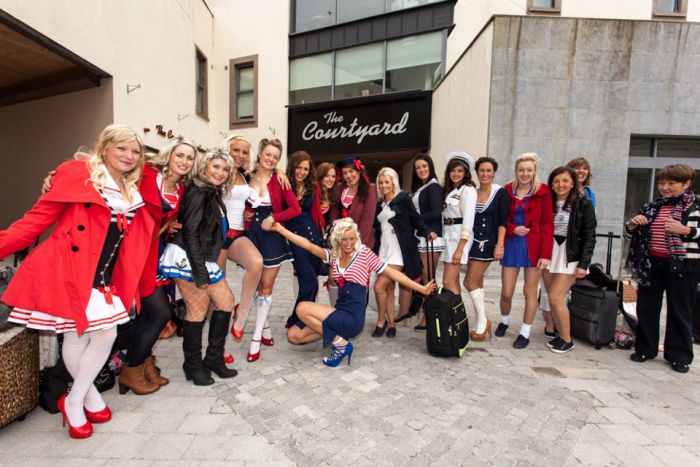 Book a private cinema screening
Why not make a night of it and book out a cinema to watch your favourite movies? Whether you adore Bridesmaids or you're ready to find out the worst that can happen with The Hangover, this is the perfect chill night out with your pals as you count down to the big day. Try IMC Cinemas.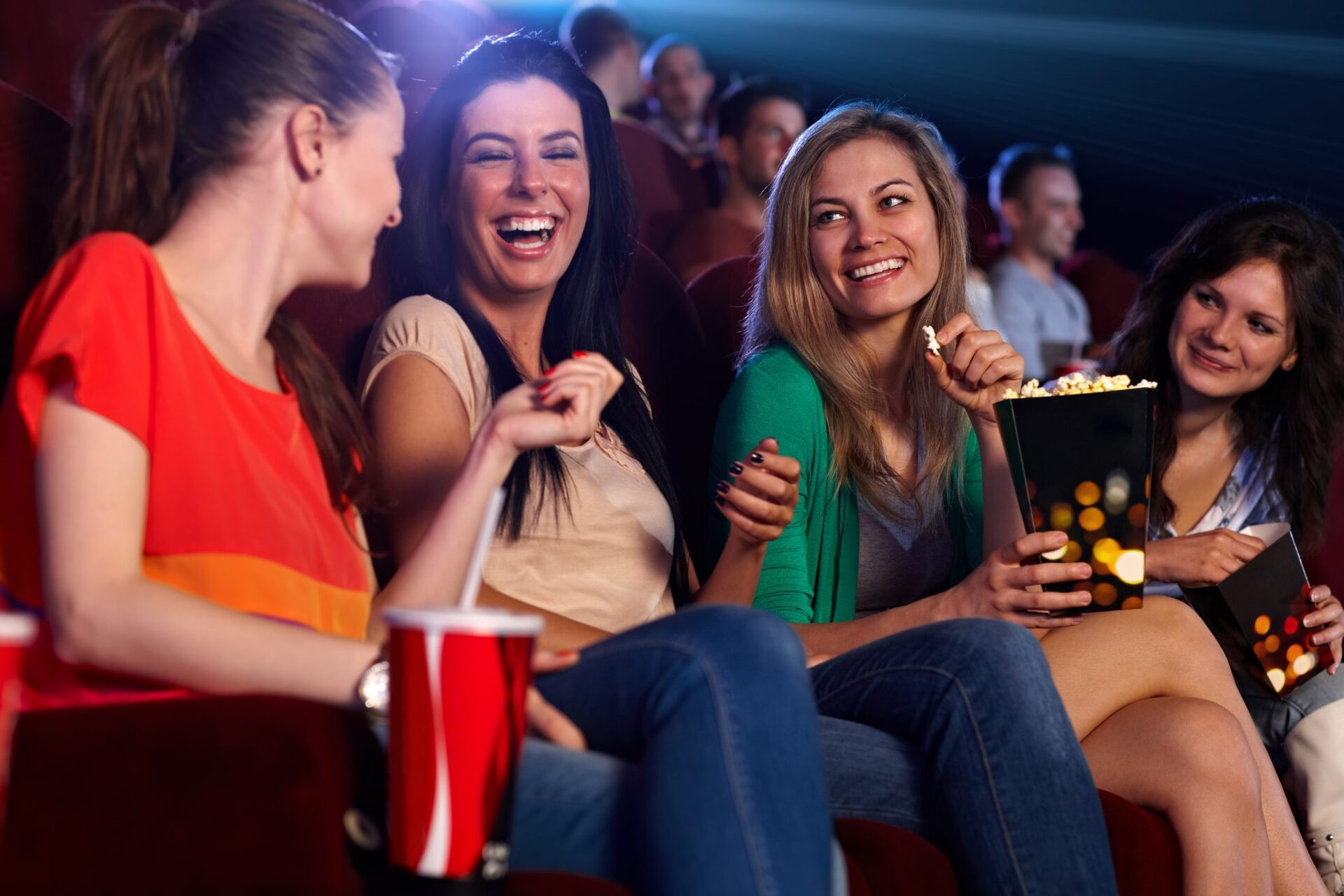 Make your own spirit
Try concocting your own fabulous flavoured gin at the Belfast Gin and Spirits School. You'll learn how to blend your own recipe using a base spirit and botanicals to create a drink you can take home. This is the perfect group event and you get to enjoy bespoke cocktails as part of the experience, along with gin-infused sweet treats. Available at Belfast Gin and Spirits School.
RELATED TO: 13 Best Wedding Planning Podcasts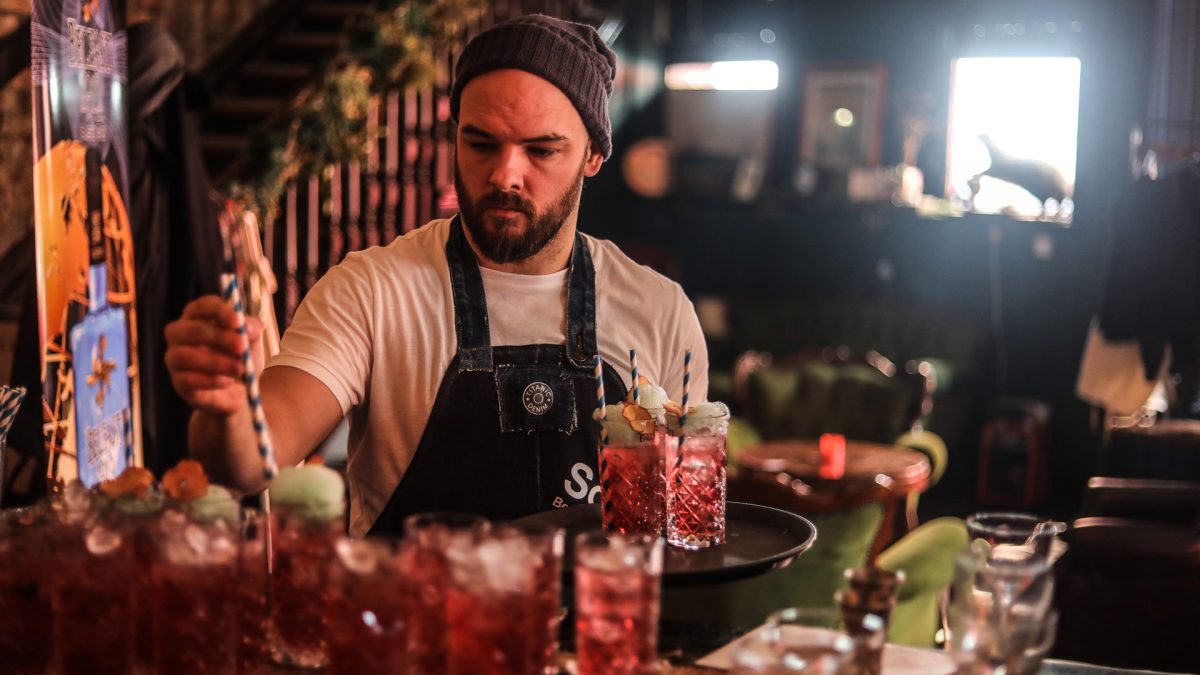 CSI Save The Groom
You've just received a video of your abducted groom, tied to a chair and pleading for your help – what do you do next? Why, split up into teams, gather the evidence and track the poor man down, of course! Create Your Night runs Save the Groom games all over Ireland, using the help of actors, but has also launched a hugely popular virtual version which you and your hens can play from the comfort of your own living room or hotel room. It's just one of the many fun stag and hen packages they run, including song recording packages, cocktail making, pedal tour crawls and an NYPD experience! The only difficulty is picking just one… From Create Your Night.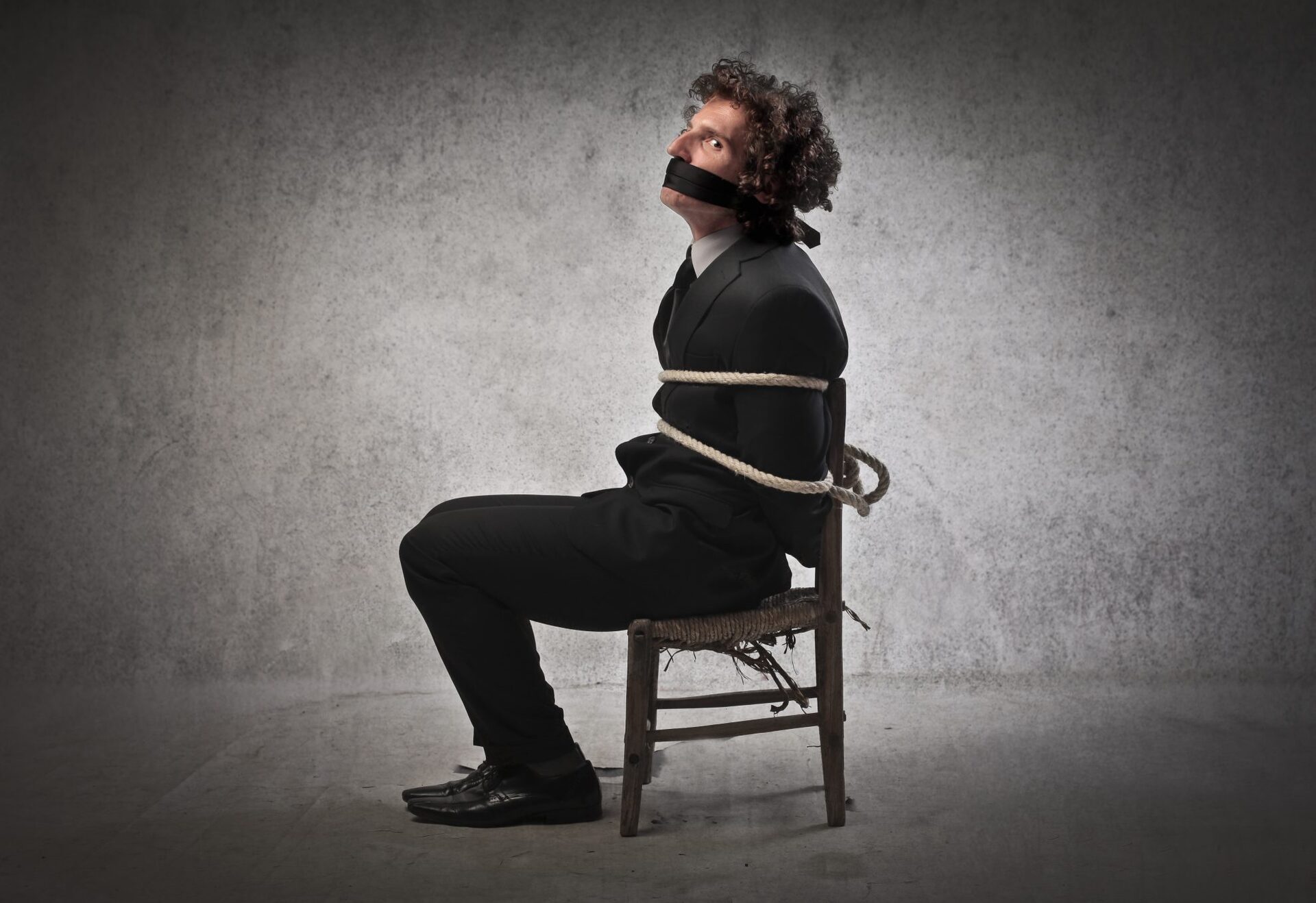 RELATED TO: How To Have A Virtual Hen Party
Still looking for your perfect venue? Check out our gallery of fabulous venues HERE.
Sign up to our newsletter to get all the latest from The Wedding Journal! Join Here>>>>http://eepurl.com/ck9vLb