Forget the misty hues of spring and summer – now is the time for gorgeous floral arrangements that really pack a punch!
If you love vivid colour, this is the time of year for your wedding to really shine!
The deep, vivid jewel colours of autumn are everywhere and you will really be able to turn heads with wonderful and imaginative floral arrangements.
After the bright hues of summer, flowers are now mellowing into warm autumnal shades – and don't forget about all the added texture from berries, fruits, seasonal foliage and architectural seedheads.
RELATED TO: How To Create Your Stunning Burnt Orange Wedding Theme
Wedding staples like roses and lilies are available from your florist all year round, of course, but you can choose deep jewel-like tones such as oranges and crimsons to bring a heady end-of-summer feel, combining with some more autumnal elements. Wreath from Blossoms and Bluebells, left; autumnal arrangement from Dundrum Blooms, centre; floral arch captured by Katie Stoops Photography.
We love the deep orangey tones and fruit and berry elements of these arrangements, which look good enough to eat! Get the look by asking your florist to include flowers in earthy tones.
RELATED TO: Rustic Autumnal Wedding Inspiration
According to Interflora, calla lilies are great for autumn weddings as they add structure to designs, while roses and leucospermum bring textural notes to bouquets and arrangements. Autumn centrepiece with pine cones and seedheads by Pure Flowers of Distinction, centre; squash arrangement by Dundrum Blooms, autumn flower arch by Event Stems Florals, right.
Just because it's no longer summer doesn't mean you can't incorporate a floral crown into your look! Switch it up with colourful autumn foliage, bright berries and warm hues.
And don't forget about the seasonal flowers – this is the time of year when agapanthus, aster, clematis, sedum and hydrangea really come into their own.
RELATED TO: 11 Showstopping Looks For Your Wedding Hair
There's no law that says it has to be all orange and red hues – we love these berry-inspired colours and looks that are perfectly seasonal and beautifully rich and romantic. Berry ideas from Interflora, left and centre; rose and hyacinth arrangement from Blossoms & Bluebells, right; atmospheric berry florals from Bella Botanica shoot, bottom.
RELATED TO: How To Pull Off A Cool Jewel-Toned Wedding
And here are a few other gorgeous autumnal looks that break from the traditional orange, including this stunning peacock feature wreath from Blossoms & Bluebells, below left; deconstructed floral arch from Jesus Caballero; red rose, hyacinth and pine cone wreath from Blossoms & Bluebells, right; and green grass, apple and ivy arch from Early Hours London, bottom.
RELATED TO: Nine Floral Arches That Will Wow Your Wedding Guests
But one of our favourite autumnal arches of all is this gorgeously vivid and mossy Enchanted Escapes display, a woodland installation created by Early Hours London for the Ivy Chelsea Garden to mark the autumn staging of the the RHS Chelsea Flower Show – absolutely magical!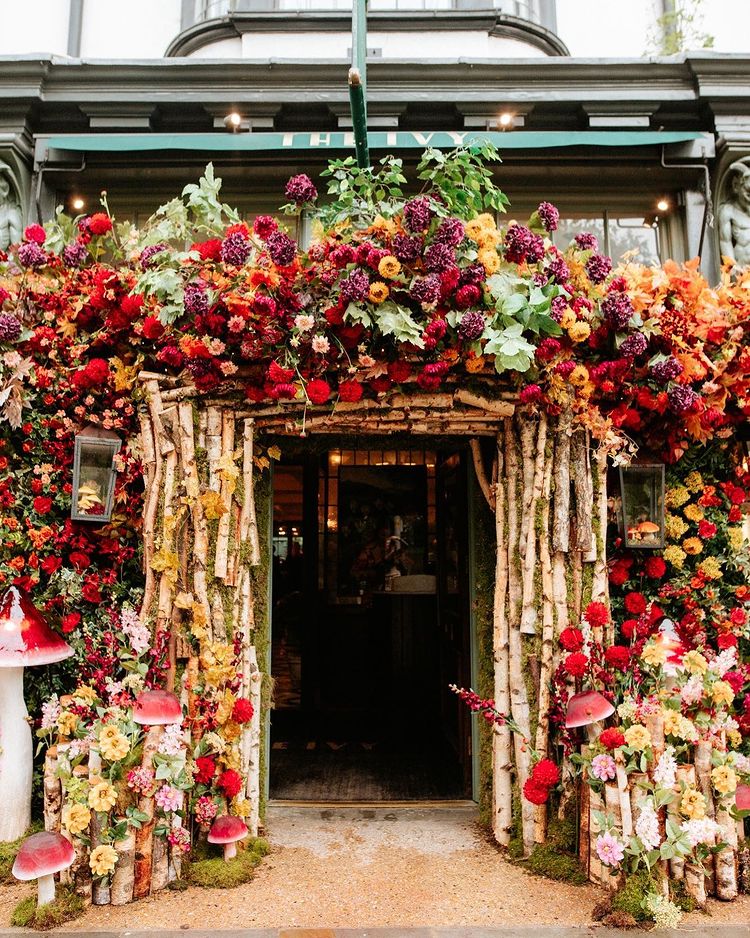 RELATED TO: How To Choose Your Wedding Flowers
Click HERE to read our FREE digital winter Wedding Journal issue!
Looking for the latest wedding inspo and ideas? Tickets for the upcoming Wedding Journal Shows are on sale NOW.