The Wedding Journal exclusively reveals how 34 women came together to make a spectacular music video celebrating weddings, brides and the magical landscapes of the Wild Atlantic Way. 
Say yes! A new music video shot in the spectacular wilds of Donegal showcases the iconic wedding dress as you've never seen it before – up the airy mountain, down the rushy glen, twirling round ruined castles and teetering on the spectacular Donegal shoreline as the breakers come crashing down..
The wedding dress is the star of the stunning new music video for 'This Bride', sung by wedding singer Kelli McGrory and unveiled exclusively today by the Wedding Journal.
34 Wild Atlantic women dressed up in 40 wedding dresses – some old, some new and some borrowed! – and hiked into the wilderness to shoot the video for the song, which was written to celebrate the resilience and diversity of brides as the country emerges from lockdown.
It took six weeks and a small army of Wild Atlantic women to put the video together, and the results are stunning – click below to find out what we're talking about!
'This Bride' was written by Celtic folk singer-songwriter Bri Carr for her brother Paul's fiancee Lorissa, from Philadelphia – the couple are due to marry at Lough Eske Castle in May 2022, but Bri hasn't been able to see them since December 2019.
RELATED TO: Guide To Traditional Irish Wedding Rings
"With my brother getting married next year, I wrote the song for his fiancee and for all brides as a song of hope, resilience, beauty and to open the eyes of the world to our vision of diversity and inclusion, " Bri says.
"Weddings are for everyone, we've all missed them, and once a bride, always a bride, something those of us who are married forever shouldn't forget!
"Putting on that dress is girly, poignant, special, memorable and an iconic moment in our lives and by sharing that joy amid the iconic spectacular beauty of Donegal's scenery, I hope to capture the essence of it all."
RELATED TO: Wedding Traditions & Superstitions: Everything You Didn't Know
The song features music from female musicians who took part in the Wild Atlantic Women Lockdown projects, including Bri, Louise Doherty in Buncrana, Yvonne Fahy in Galway and Sinead Gibson in Arcanadh.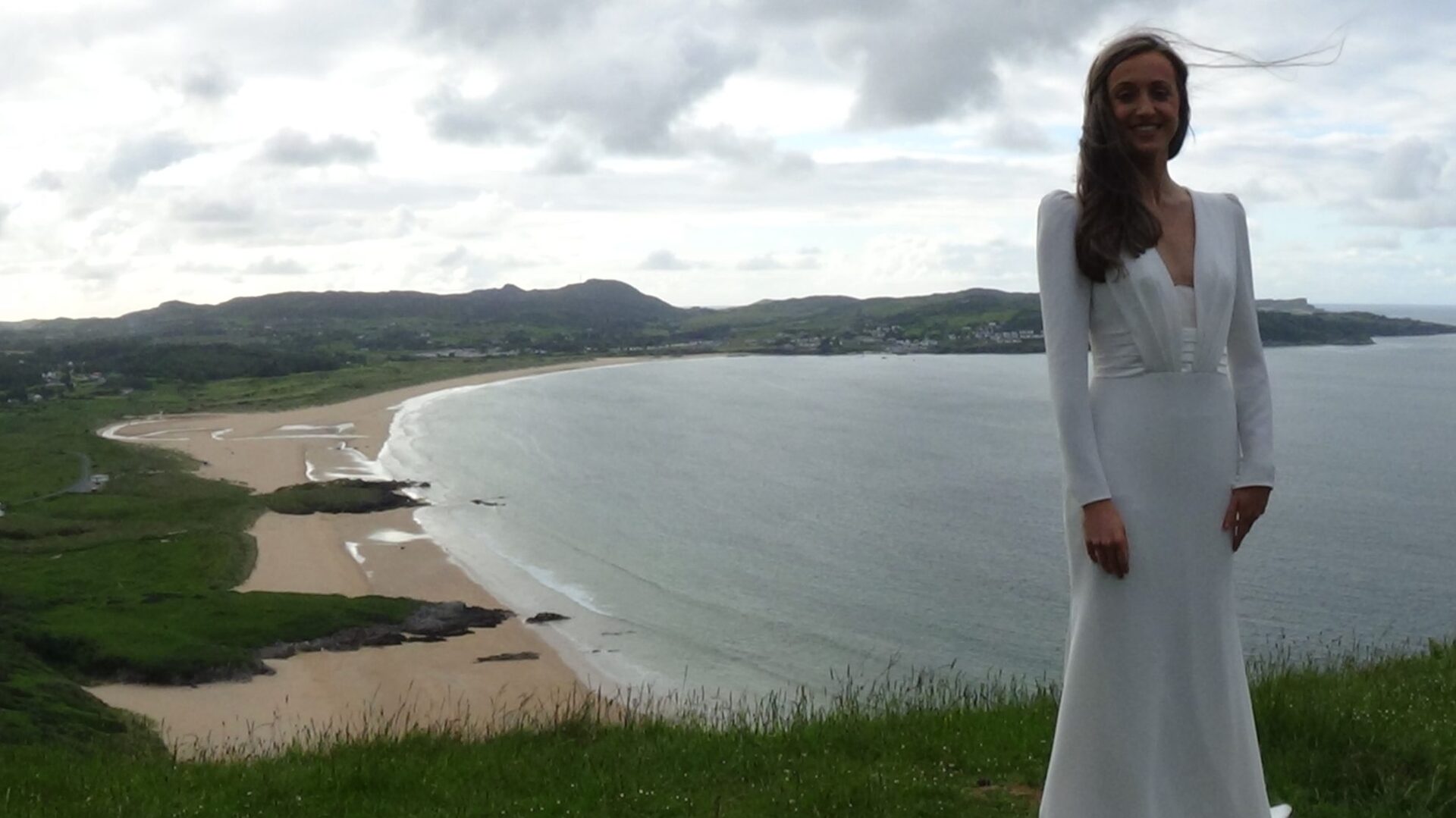 Bri's 2017 song 'ArainnMhor' was the first Irish language song to reach the world download charts in 10 years, climbing to No 3 and winning the National Pan Celitic Song Contest. Her follow-up 'Stad an Ras' (Stop the Race) is the current #fillyourheartwithireland ad campaign song for summer 2021 with Tourism Ireland.
The wedding dresses used in the shoot came from brides who held their weddings in lockdown, women who celebrated big wedding anniversaries in lockdown, those who were celebrating being able to get back into their dresses decades after their weddings and younger women who borrowed some of the very newest sample gowns from McElhinneys of Ballybofey.
RELATED TO: 11 Most Iconic Wedding Dresses Of All Time
The video gathers together a host of fascinating backstories which may soon be compiled into a book celebrating the project.
"The overall goal is celebrating weddings and diversity coming out of lockdown, acknowledging the challenges we all encountered in the wedding circuit – photographers, videographers, wedding parties, venues and of course wedding bands such as myself, Kelli and others," Bri says.
"The music video is a fantastic, passionate collaboration of 6 weeks' work and great craic, traipsing all over the country of Donegal to capture the beauty and diversity of the county and marry it with that of our women and inclusive, beautiful expression for all 'this bride' has to offer!"
To find out more about the Wild Atlantic Women, visit https://www.facebook.com/wildatlanticwomendonegal.
Scroll Down To See The Wild Atlantic Women Who Starred In The Video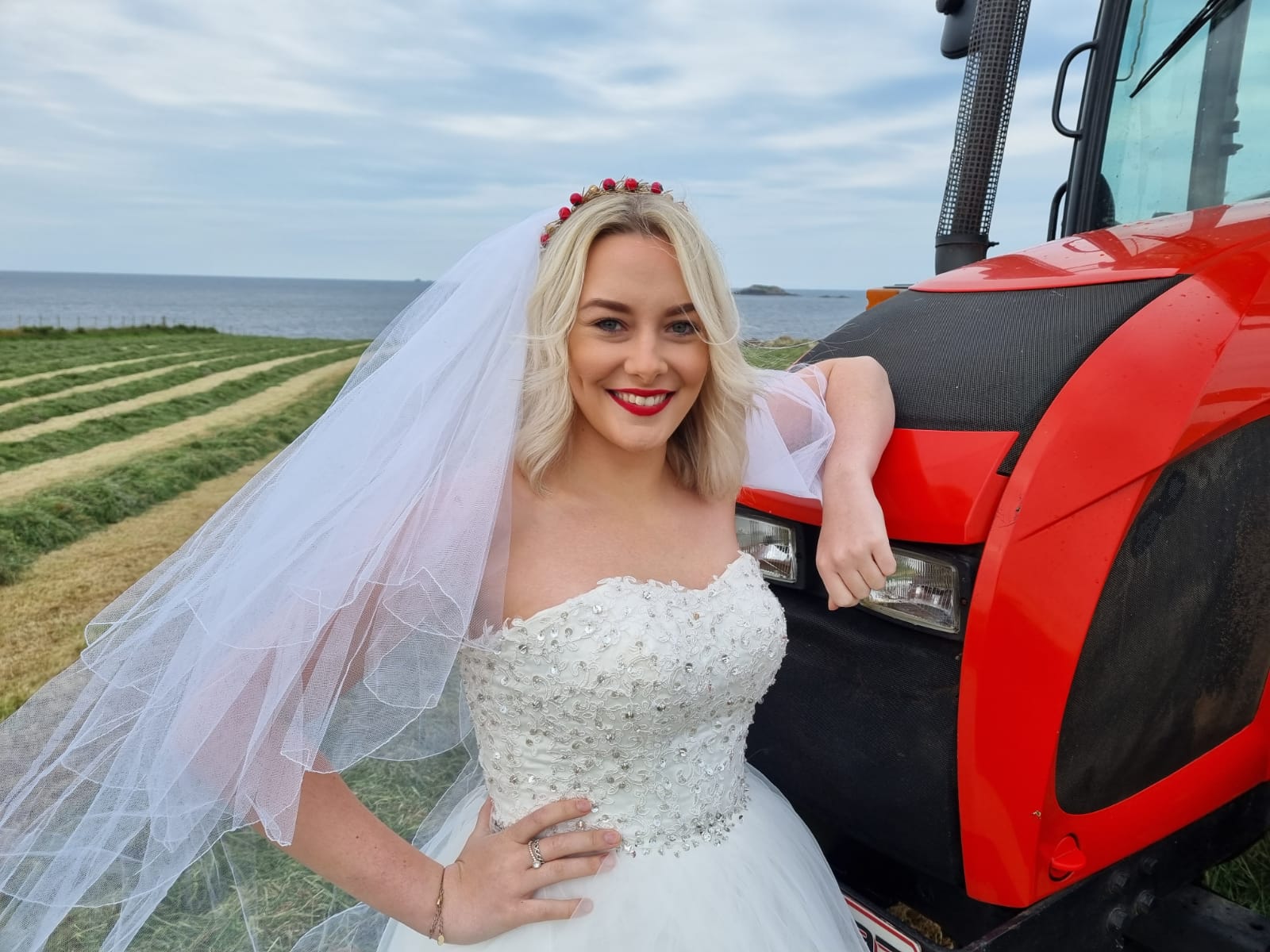 Siobhan Farren (20), from Malin Head, a final year student studying Irish and Geography at NUI Galway. She is wearing a wedding dress from St Vincent de Paul: "My uncle Ali used his powers of persuasion for me to participate in this photo shoot – however, I enjoyed the shoot much more than I anticipated after being told to wear a wedding dress.
"I doubt it will be a long time until I'm in an official wedding dress but it was a test run for the big day, whenever it will be!"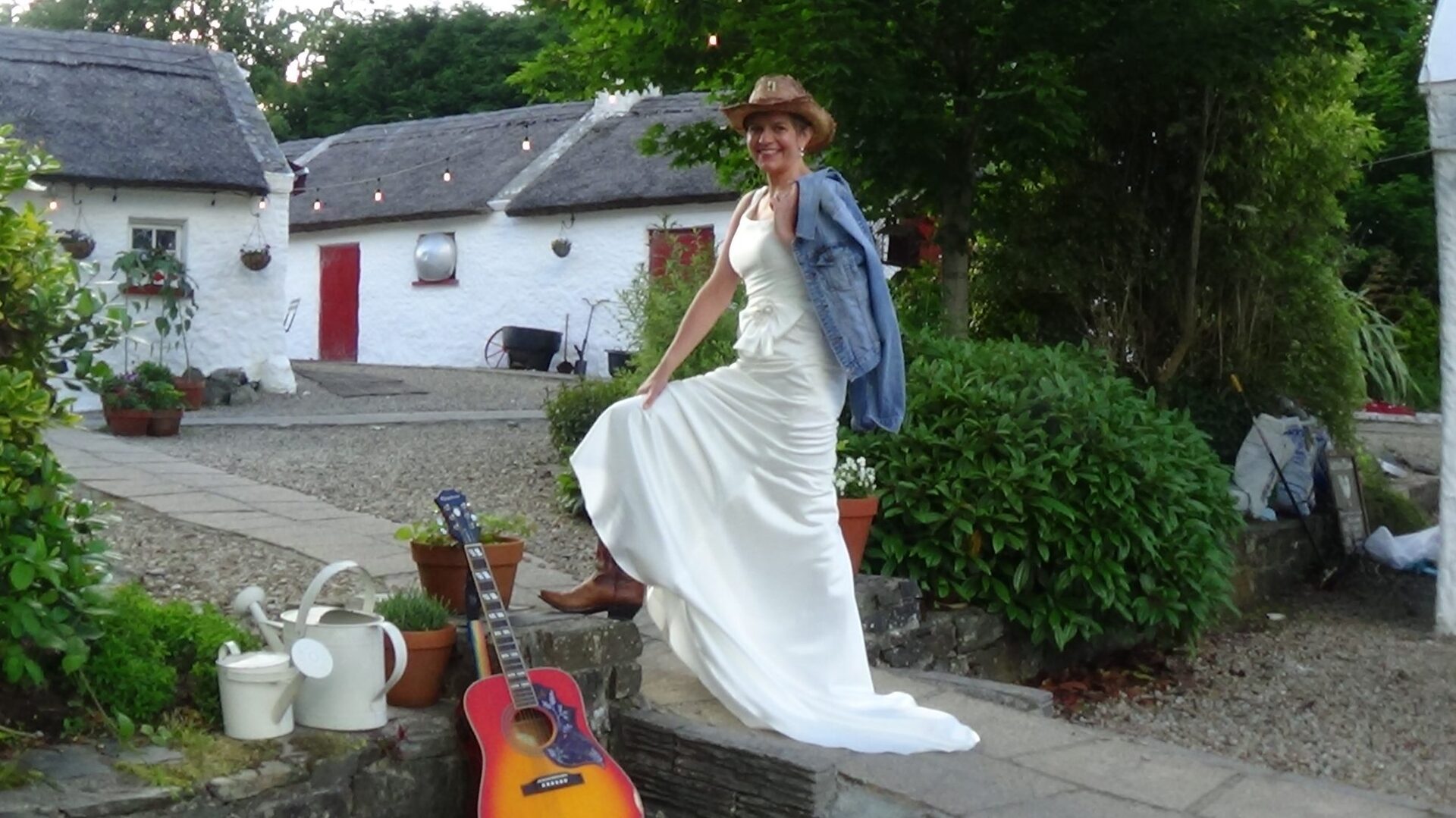 Gretta Toye says: "When my friend Brighdin told me about her adventure with wedding dresses, sure I was only dying to get back into mine after almost 10 years. Now changing into it at the gable end of a stone house – hey, I'll do anything for love!
"Like with the man I married – I loved him and the dress from the first time I saw them. The dress let me feel so elegant, comfortable and light that I was able to do one of my favourite things – dance. That was a big stipulation on the day of the purchase – can I jive in this?"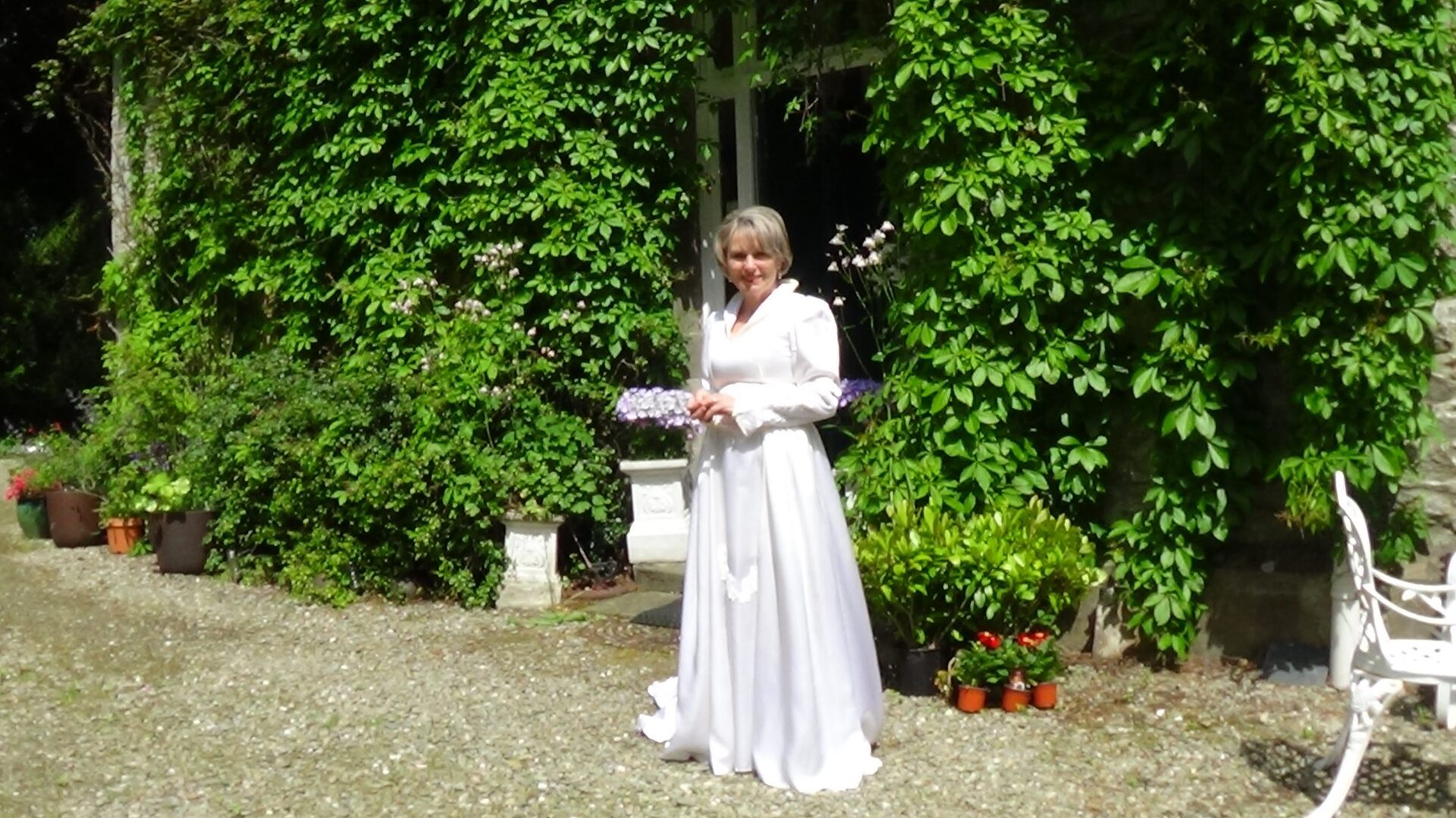 Jean Curran at Ramelton Rectory says it was fun doing the photo and video shoot wearing her actual wedding dress almost 33 years later.
"Who would ever have guessed that I would do that, or that it would fit? Certainly not me," she laughs.
"So many memories of the morning of the wedding came flooding back once I donned that dress, and the beautiful surroundings of Frewin House made it all so special. Although I have to admit my main concern driving from Lettetkenny to Ramelton in my wedding dress that day was 'Please God, don't let there be any Garda checkpoints on the road." As Yoda might say a hard one to explain it would be!"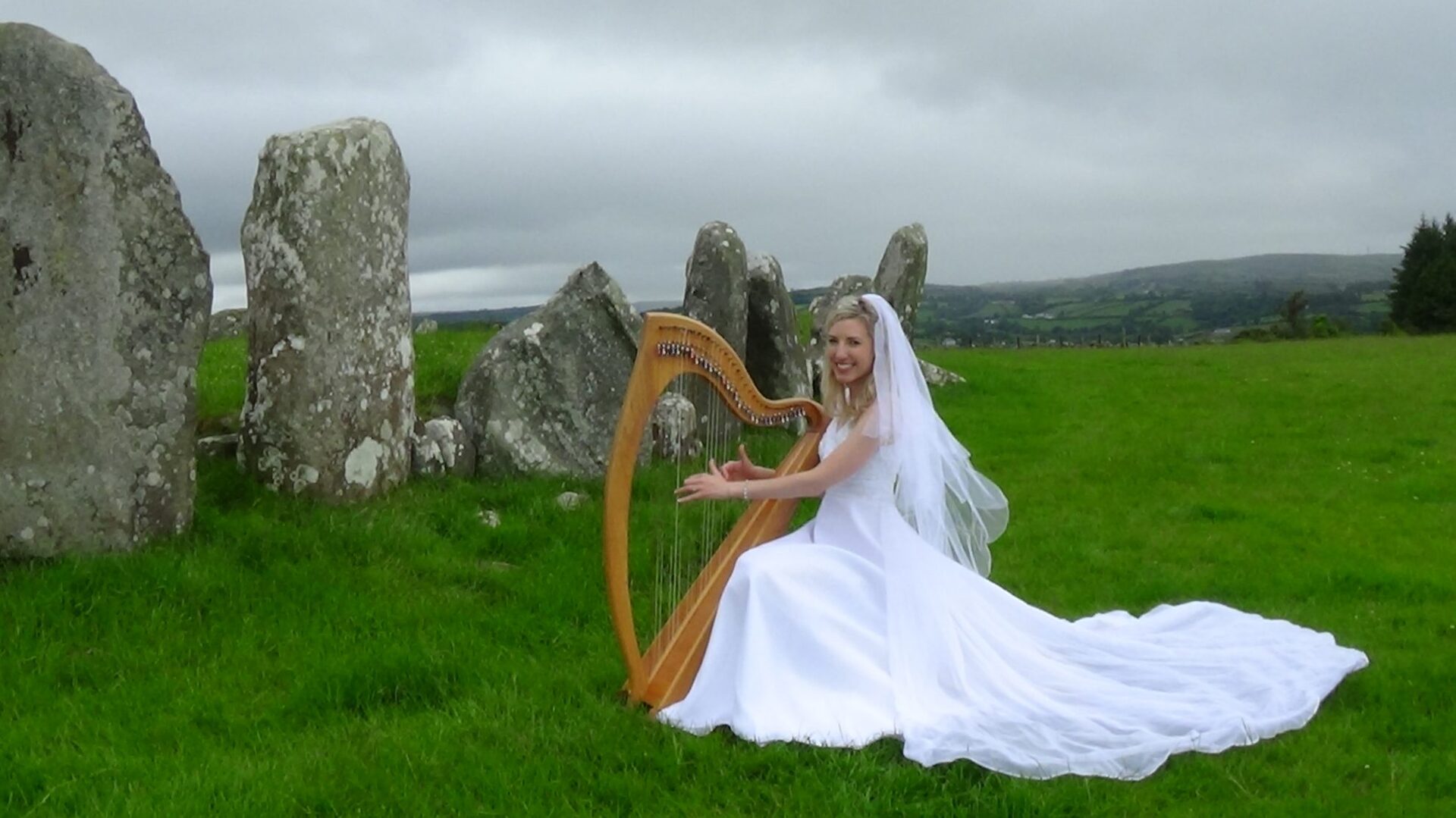 Wedding harpist Emma Martin borrowed a dress to play at Beltany Stone Circle, Raphoe.
"I feel absolutely privileged to be involved in this wonderful project. Even though I gave my fiancé a fright that morning when he walked in on me dolled up to the nines in a wedding dress, it was worth every minute of it!" she says.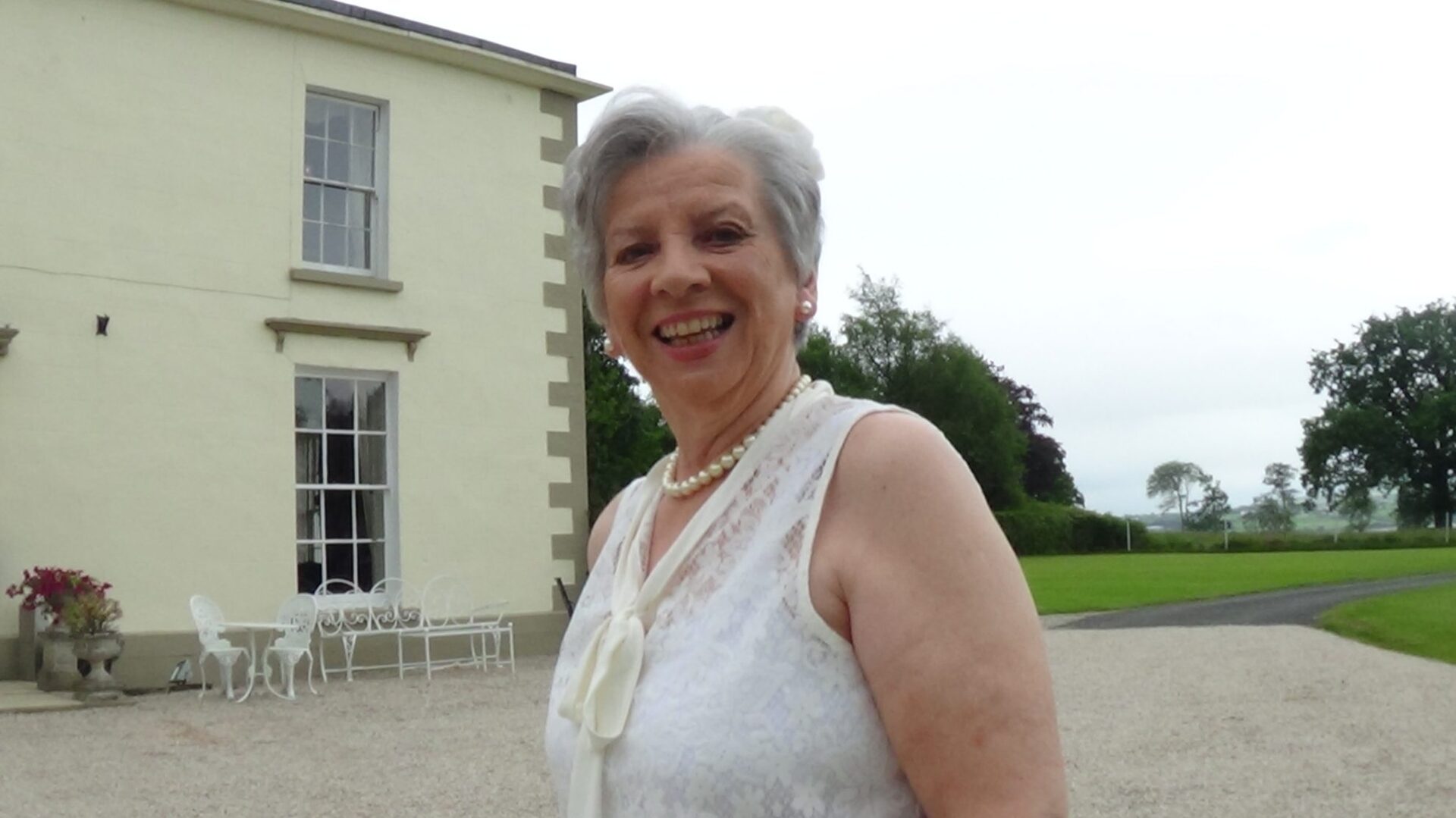 Joan Kelly from Castlegrove House says she told everyone that she was going to be a bride for a wedding song video.
"I got my hair and make up done and felt like a queen. I did the shoot on the day of my 47th wedding anniversary and felt every bit as giddy as a new bride. Such a fantastic experience!"
RELATED TO: 11 Fresh Ways To Arrive At Your Wedding In Style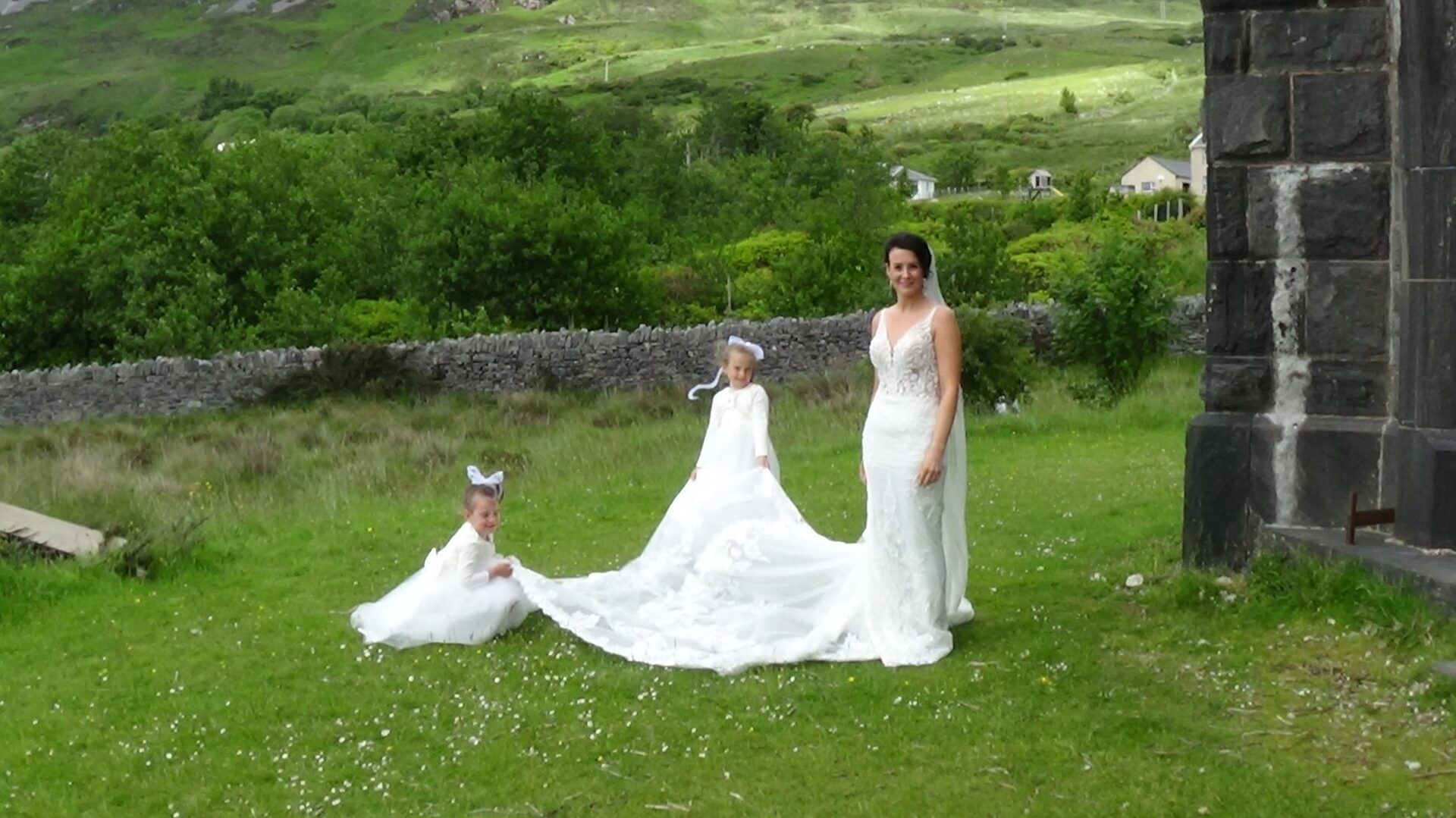 Leonie NIc Aodha Feiritear says she had getting dressed up with her little girls Freya and Sophie as flowergirls.
"As a mum of five, I was delighted to be a part of the project and princess for another day. Glenveagh Castle staff were so good to us all – we had a ball," she says.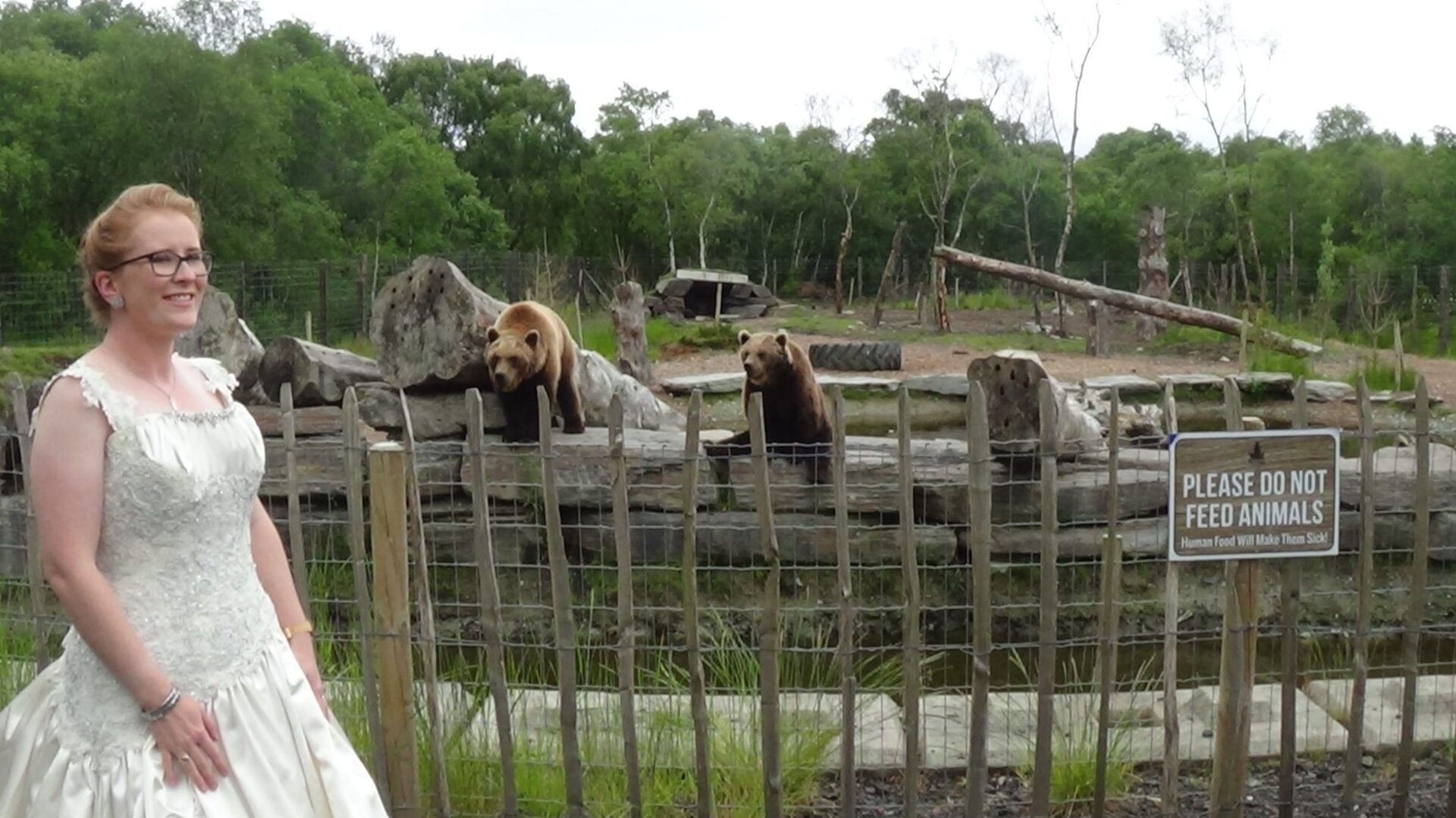 Mary Lane with the bears at Wild Ireland, wearing a Sophia Tolli dress from Wed2Be in London.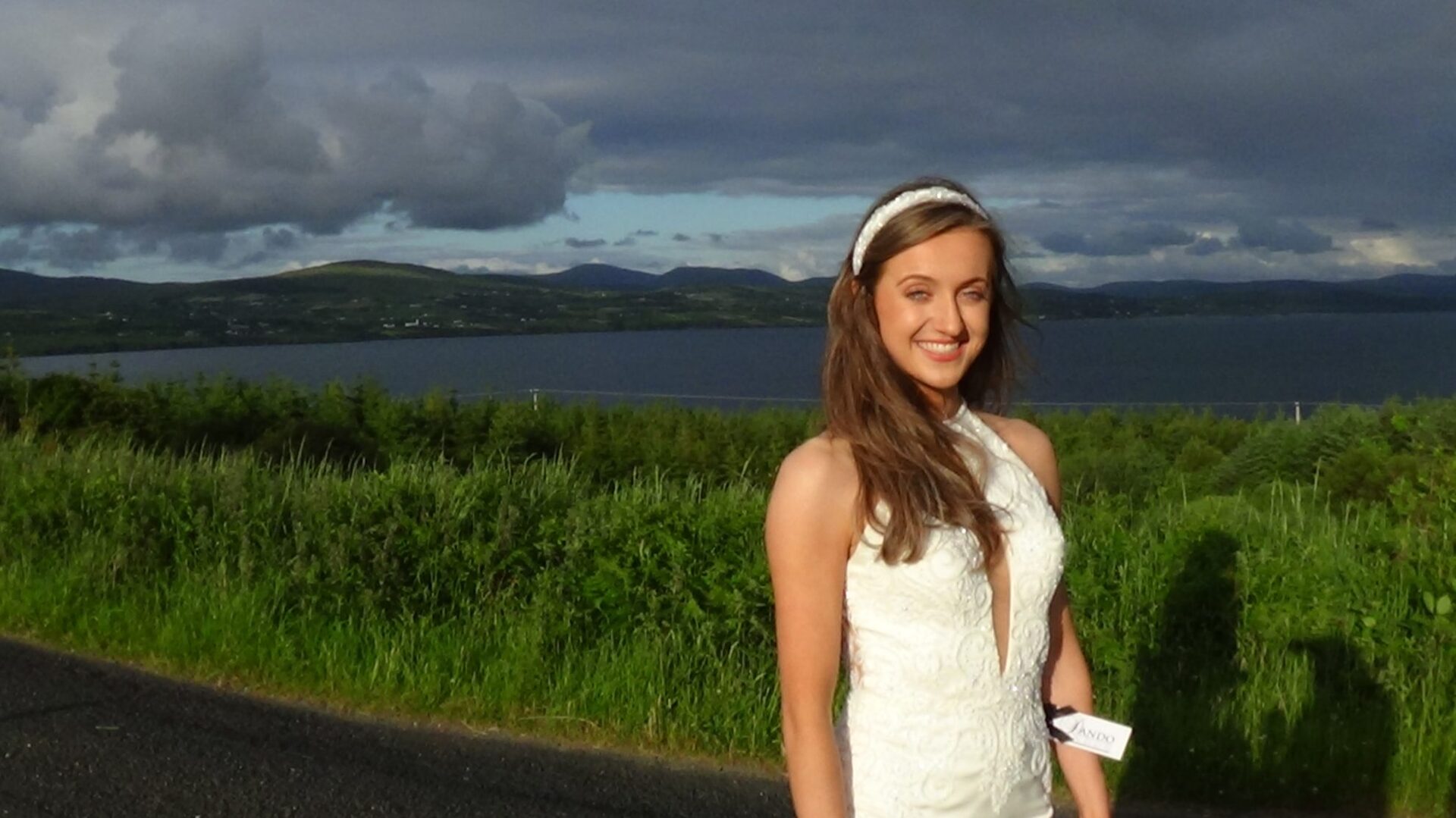 Lauren Stewart at Knockalla beach, wearing a dress from McElhinney's of Ballybofey.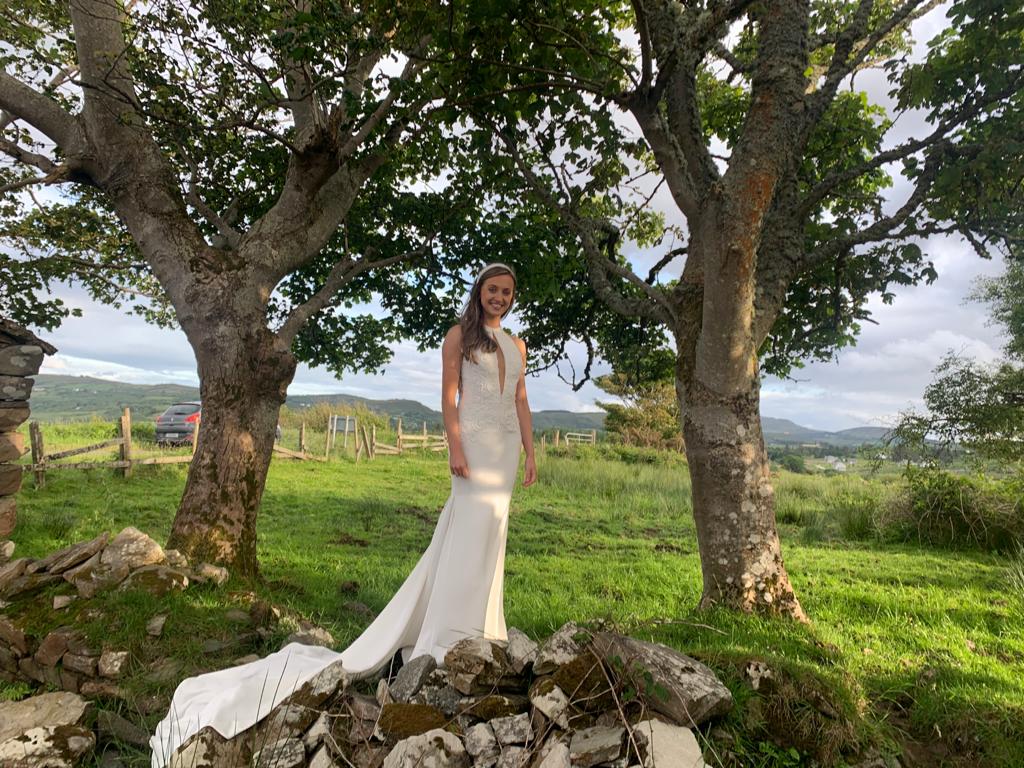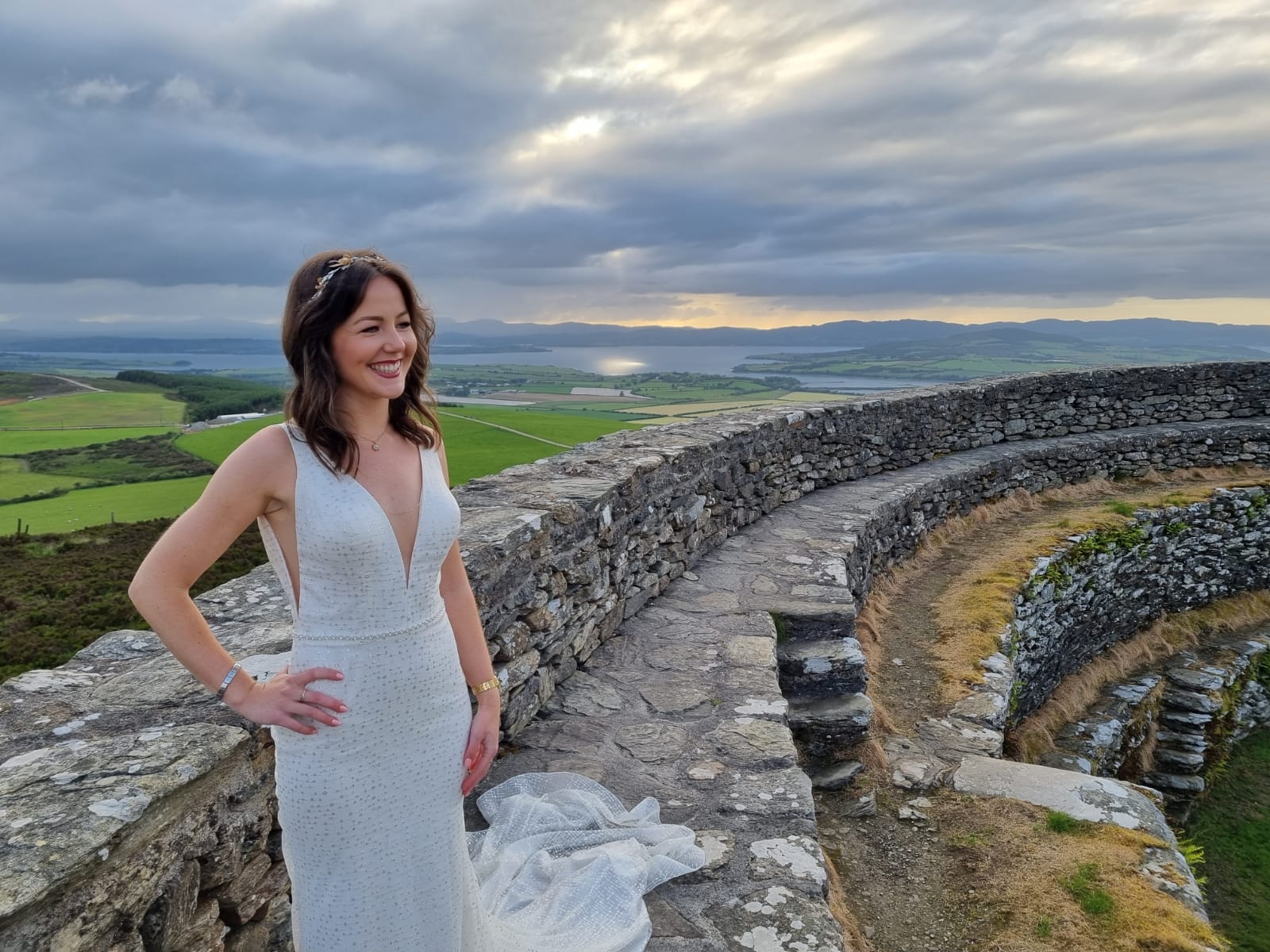 RELATED TO: Minimoon Fever: Why You Should Honeymoon In Ireland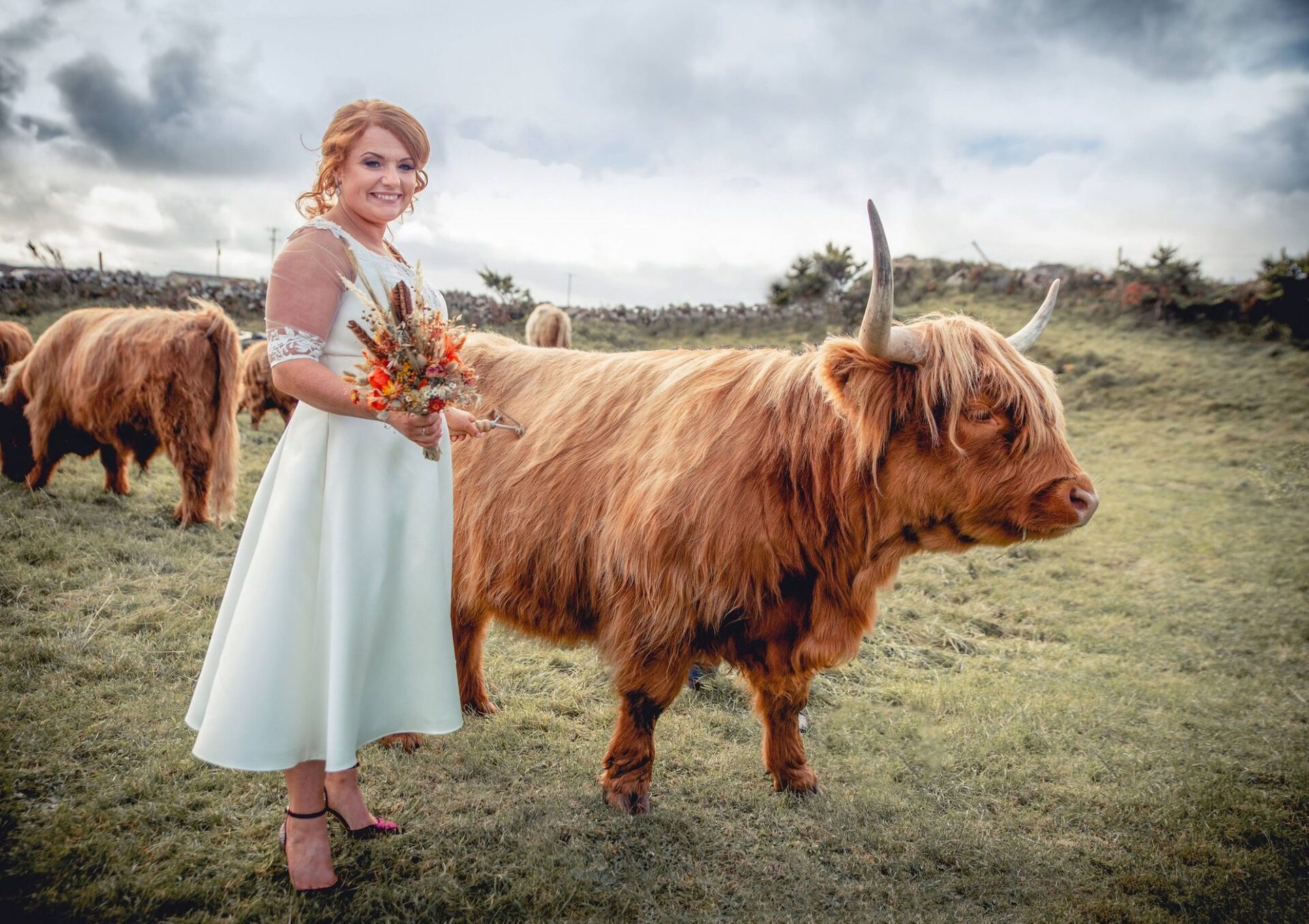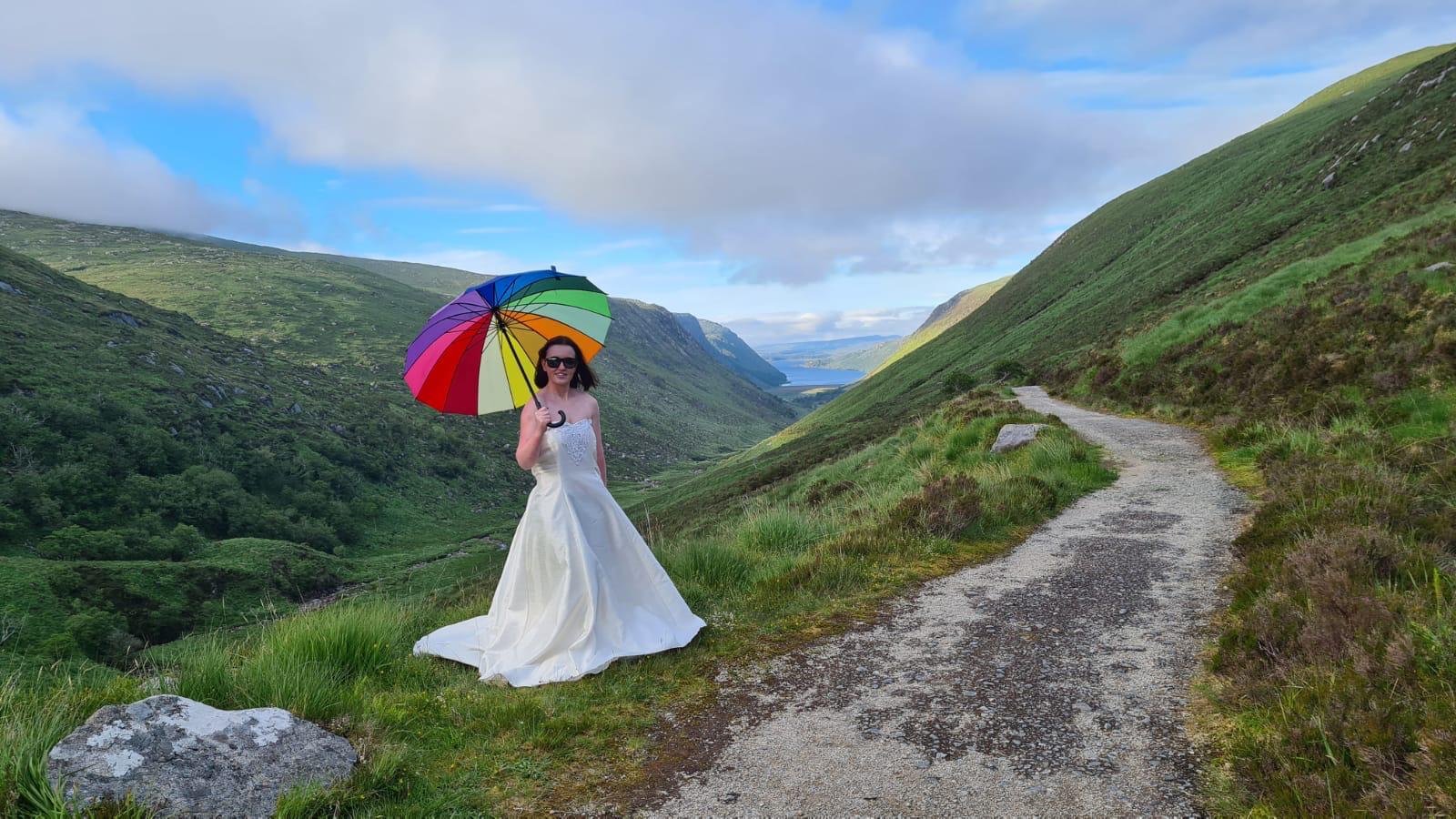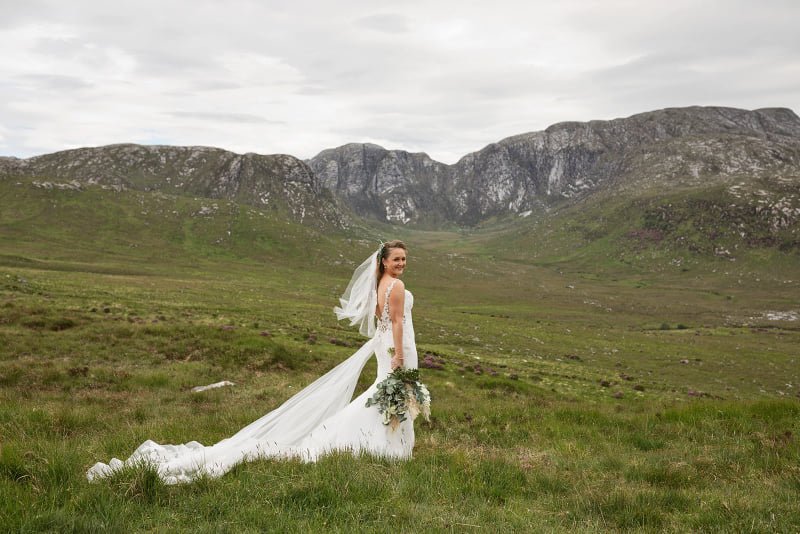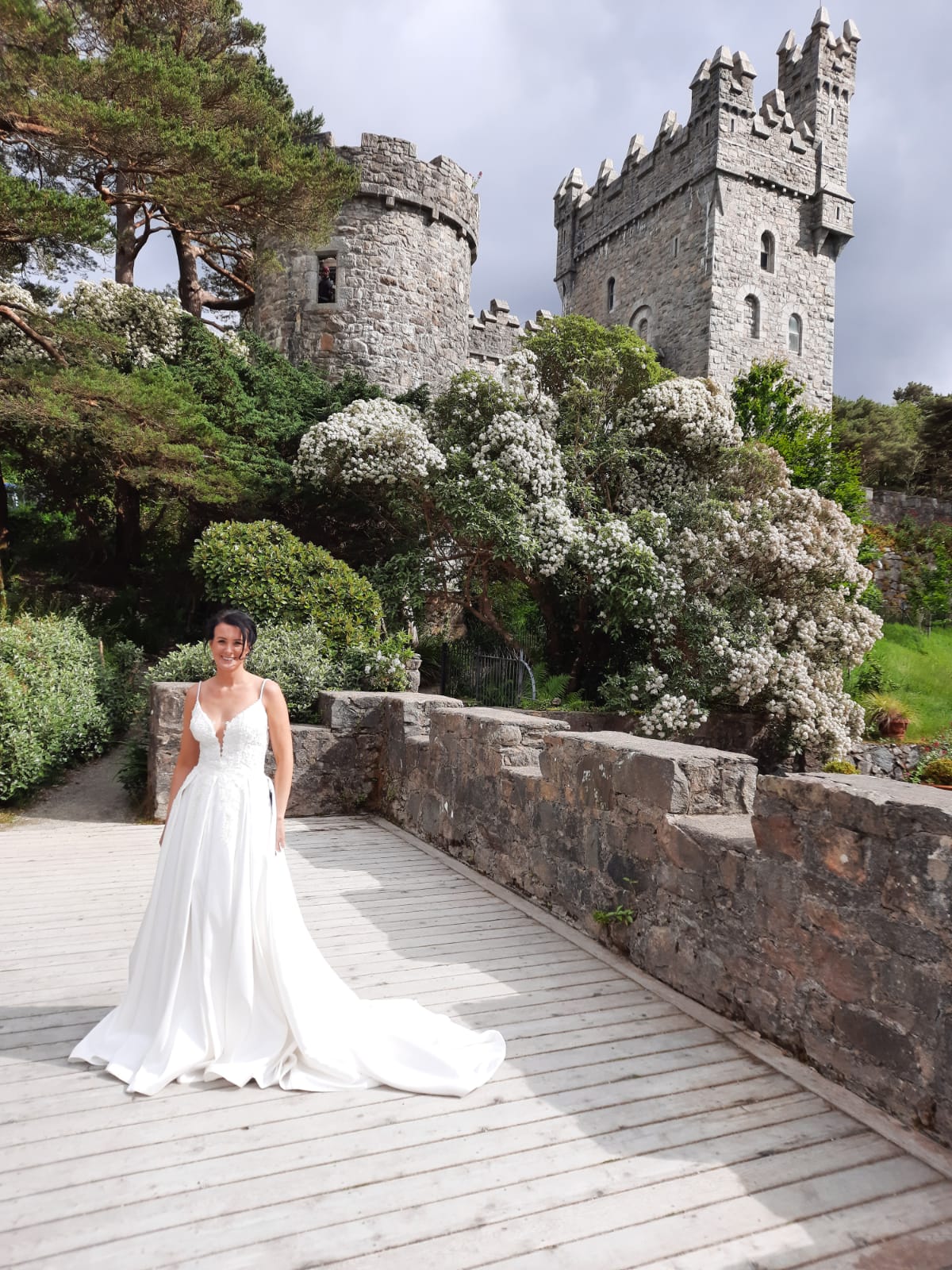 RELATED TO: 17 Fairytale Castle Venues In Ireland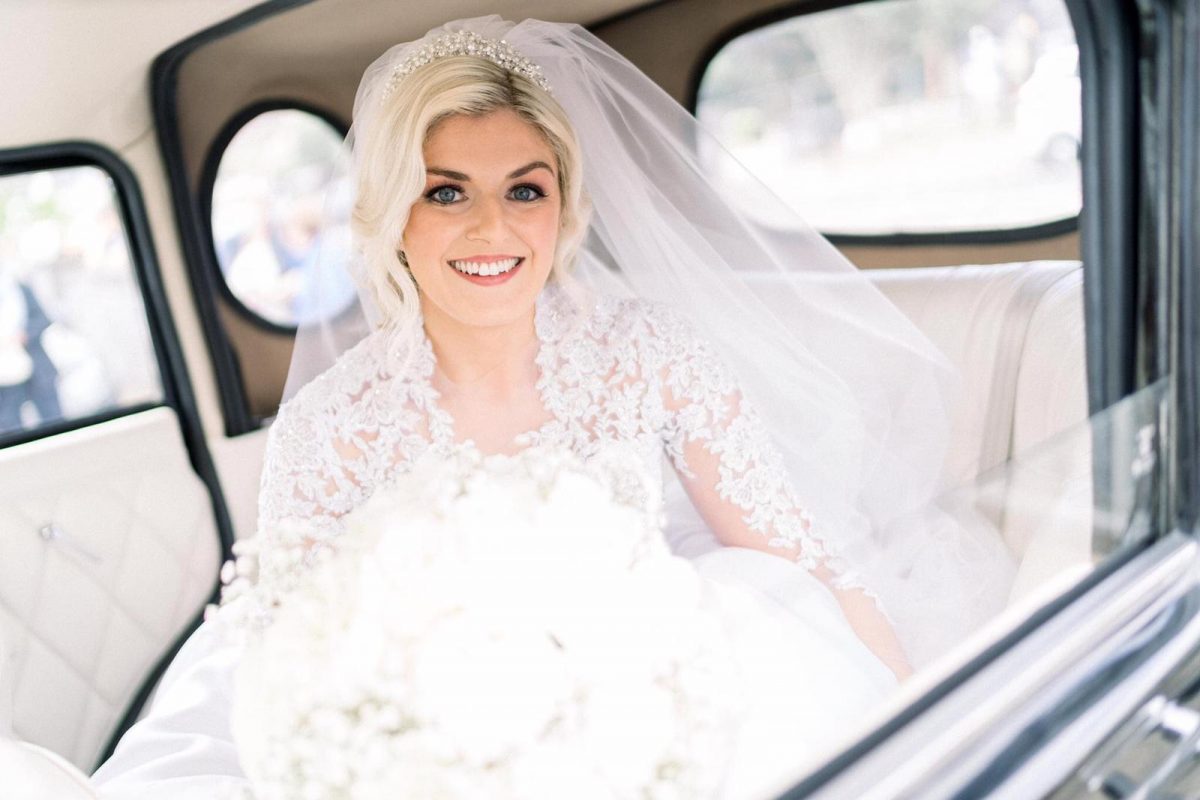 RELATED TO: Timeless wedding hairstyles we all know and love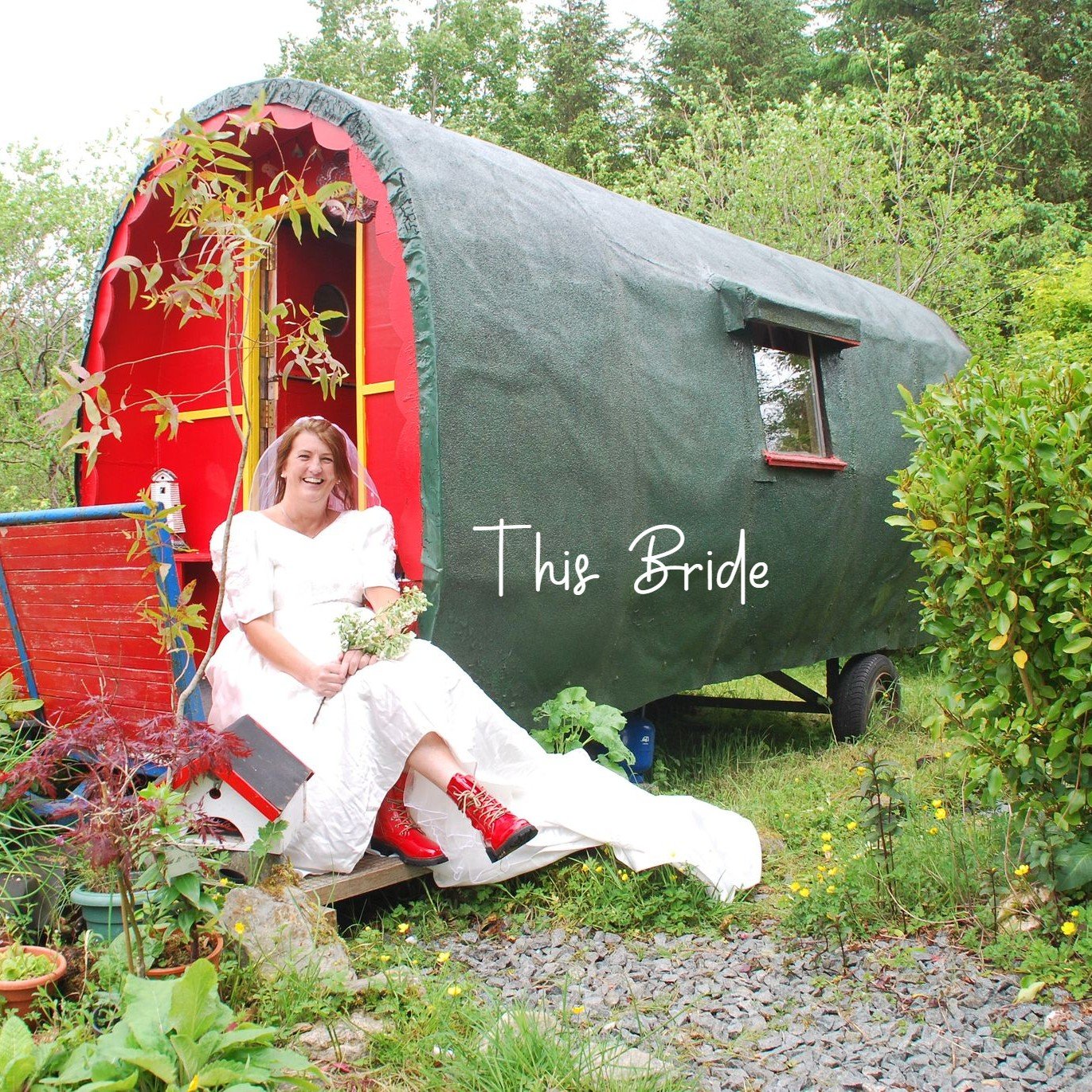 RELATED TO: Long Sleeved Wedding Dresses You'll Love

Still looking for your perfect wedding dress? Check out our gallery of fabulous bridal stores HERE.
Sign up to our newsletter to get all the latest from The Wedding Journal! Join Here>>>>http://eepurl.com/ck9vLb