The R-rated movie took an affectionate and VERY rude look at the world of weddings – and 16 years on, star Owen Wilson has confirmed he's in talks for a sequel. Here's why we loved Wedding Crashers the first time around!
The Party Animals
It could have been creepy – and yeah, it kind of was. Two divorce lawyers lie their way into a string of strangers' weddings every summer, partying with the in-laws, becoming the life and soul, dancing their heads off, all in order to tumble into bed with a series of women. Only at the end does it start to dawn on them how sad and predatory their hobby is becoming, but let's face it, Jeremy (Vince Vaughn) and John (Owen Wilson) genuinely love a wedding and there's no doubting the pure joie de vivre they bring to the big day.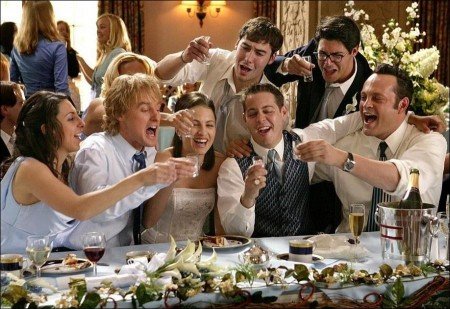 2. The Joy Of Weddings
That five-minute wedding crash at the start was based on a single page of script and took a week to film, but we love that montage in which we see Jeremy and John working their magic across a series of weddings, including an Indian and Jewish wedding. You'd swear blind they were the closest of friends with everyone there, and the scene just encapsulates everything that's fun about weddings – the wild mismatch of party-goers, the hilarious asides, the bonkers speeches and just the pure unabashed emotion.
RELATED TO: The Wedding Movies You Need to Watch
The Mad Relatives
The guys inveigle an invitation to a weekend party at the home of the US Secretary of the Treasury, played by the ever intimidating Christopher Walken – but the longer they stay, the harder it becomes to keep up their fake personas and the lie begins to unravel. They've met their match in the rich and bonkers Cleary family after John finds himself falling for sharp-as-a-tack daughter Claire (Rachel McAdam) and the pair soon find themselves outstaying their welcome, thanks to an array of bonkers relatives, including the tiny homophobic granny, the Secretary's cougar wife (played by Jane Seymour) and Claire's unhinged sister Gloria (Isla Fisher).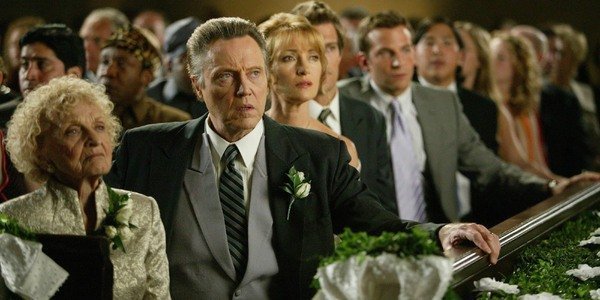 The Wedding Crasher Rules
The guys have formulated their own set of more than 100 rules for crashing weddings – and these have gone down in history. There's #19: 'Toast in the nature language if you know the native language and have practiced the toast. Do not wing it.' And there's the astute: 'Don't waste your time on girls with hats – they tend to be very proper.' And of course rule #55: 'If pressed, tell people you're related to Uncle John. Everyone has an Uncle John.' And the one every toddler knows, rule #12: 'When it stops being fun, break something.'
The Wedding Crashers Legacy
Weddings have always been a great way to meet people, but the movie brought it to a whole new level. In fact, after it came out in 2005, it became something of a guide for single men chasing women, providing tips on how to be a womaniser, sneak into strangers' weddings and hook up – so much so, that the movie actually inspired an uptick in real-life wedding crashes.
RELATED TO: Date Night Ideas For Couples In Lockdown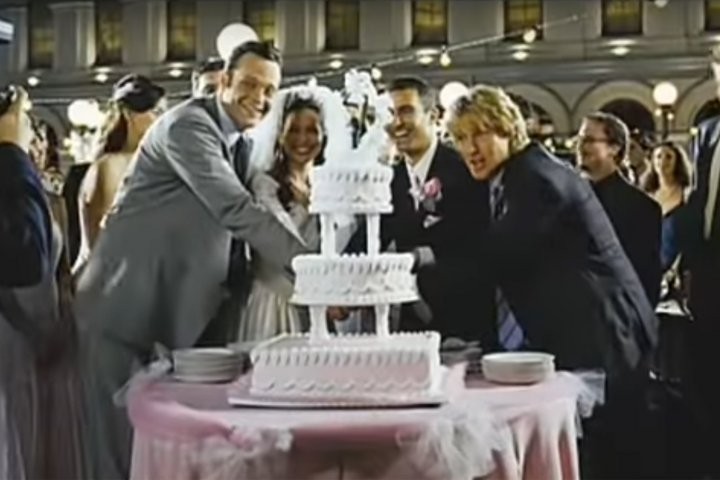 The Wedding Speech That Goes Horribly Wrong
We've all been to a wedding where a speech went down like a lead balloon, but it's refreshing that in this case it's maid of honour Claire whose attempt at wry humour goes extremely awry – even when she's been warned off beforehand by John. That speech kicks off with the immortal line: "I never thought my sister would find someone who cared about what other people thought as much as she did until I met Craig." As the room falls silent, Claire realises her speech is bombing and pulls off a quick U-turn…
Gloria
Isla Fisher was a revelation as the more-than-a-little unhinged sister who turns out to be the perfect match for Jeremy after absolutely scaring the pants off him. A bipolar nymphomaniac, first she pretends to be a virgin, then she pretends to be obsessed with Jeremy and then she plays him like a wedding harp – and in the end he realises how unpleasant it is to be lied to. At first terrified, he ends up embarking on a relationship with his newfound love with the immortal words: "I'm not perfect, but who are we kidding, neither are you. And you want to know what? I dig it."
RELATED TO: Does Anyone Actually Have Sex On Their Wedding Night?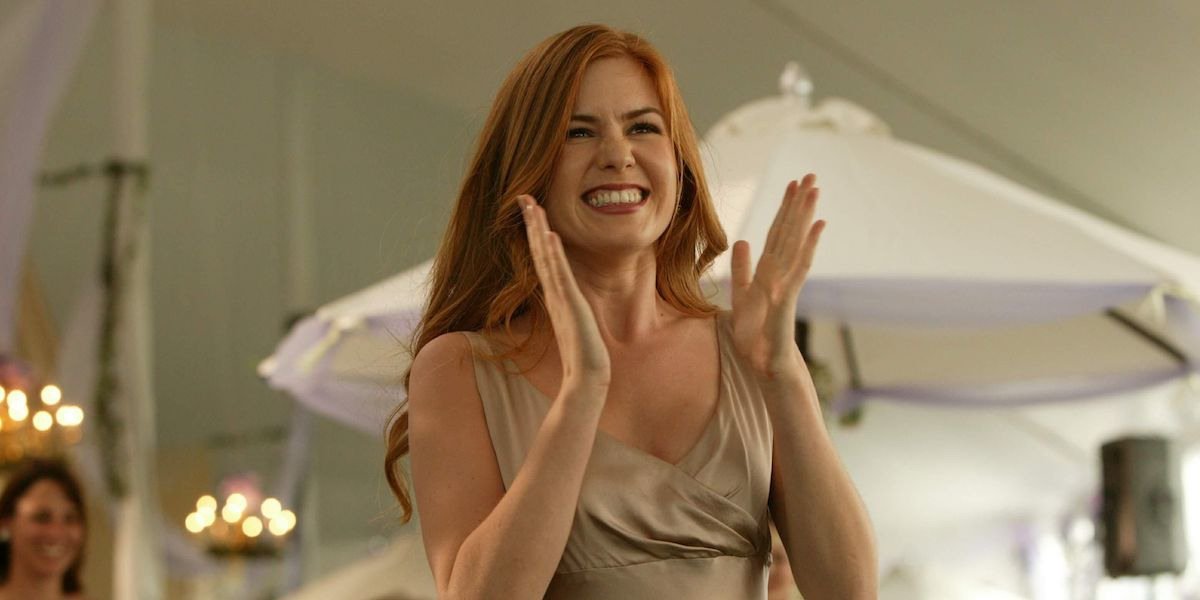 Will Ferrell
Cast at the last minute, WIll Ferrell played the guys' mentor Chazz, who taught them everything they know about wedding crashing – but when we finally meet him, he's living in the basement of his mother's house, wearing a kimono and a set of nunchucks strung around his neck. It's only when he sees Chazz crashing a funeral to hook up with women that John begins to reconsider his career as a wedding crasher.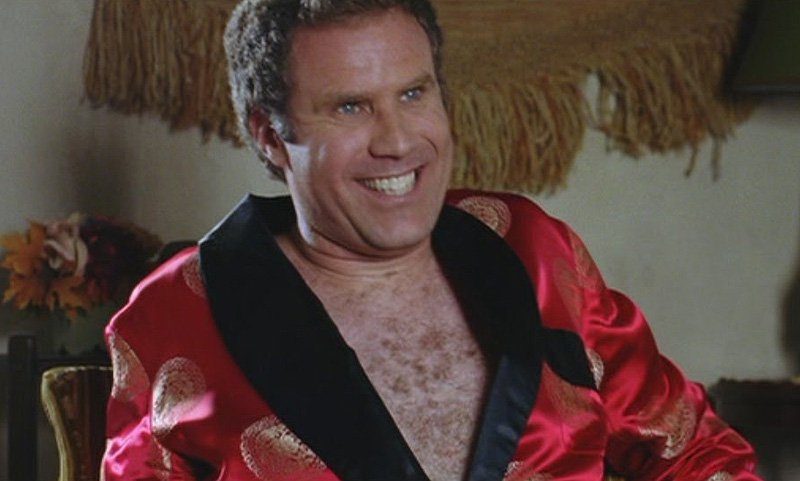 The True Love Ending
Jermey ends up with his perfect match Gloria, John breaks up Claire's wedding to her obnoxious and controlling fiance Sack Lodge (Bradley Cooper) and the two guys end up falling in love at long last. And it seems like wedding crashing is behind them forever – until the two couples drive off into the sunset, planning to crash another nearby wedding disguised as folk singers from Salt Lake City. Who knows where a sequel will take them…?
RELATED TO: 25 First Dance Songs Your Guests Won't Expect
RELATED TO: 9 Naughty Night-In Ideas
Planning your big day? Check out our experts HERE.
Sign up to our newsletter to get all the latest from The Wedding Journal!
Join Here>>>>http://eepurl.com/ck9vLb