Jane and Andrew really brought the creativity with their gin inspired décor!
We're getting modern-day Grease vibes from this week's real-life wedding at Magheramorne Estate. Our bride and groom are looking super cool in their red MG and sunglasses after tying the knot – not to mention their wedding is gin themed! We're obsessed.
Jane and Andrew Purdy from Belfast said 'I do' on July 23rd 2021 at Magheramorne Estate where they planned a Pinterest-worthy wedding that all our gin-lovers will adore. Keep on scrolling to pick up some unique inspiration and hear all about their amazing journey to the alter!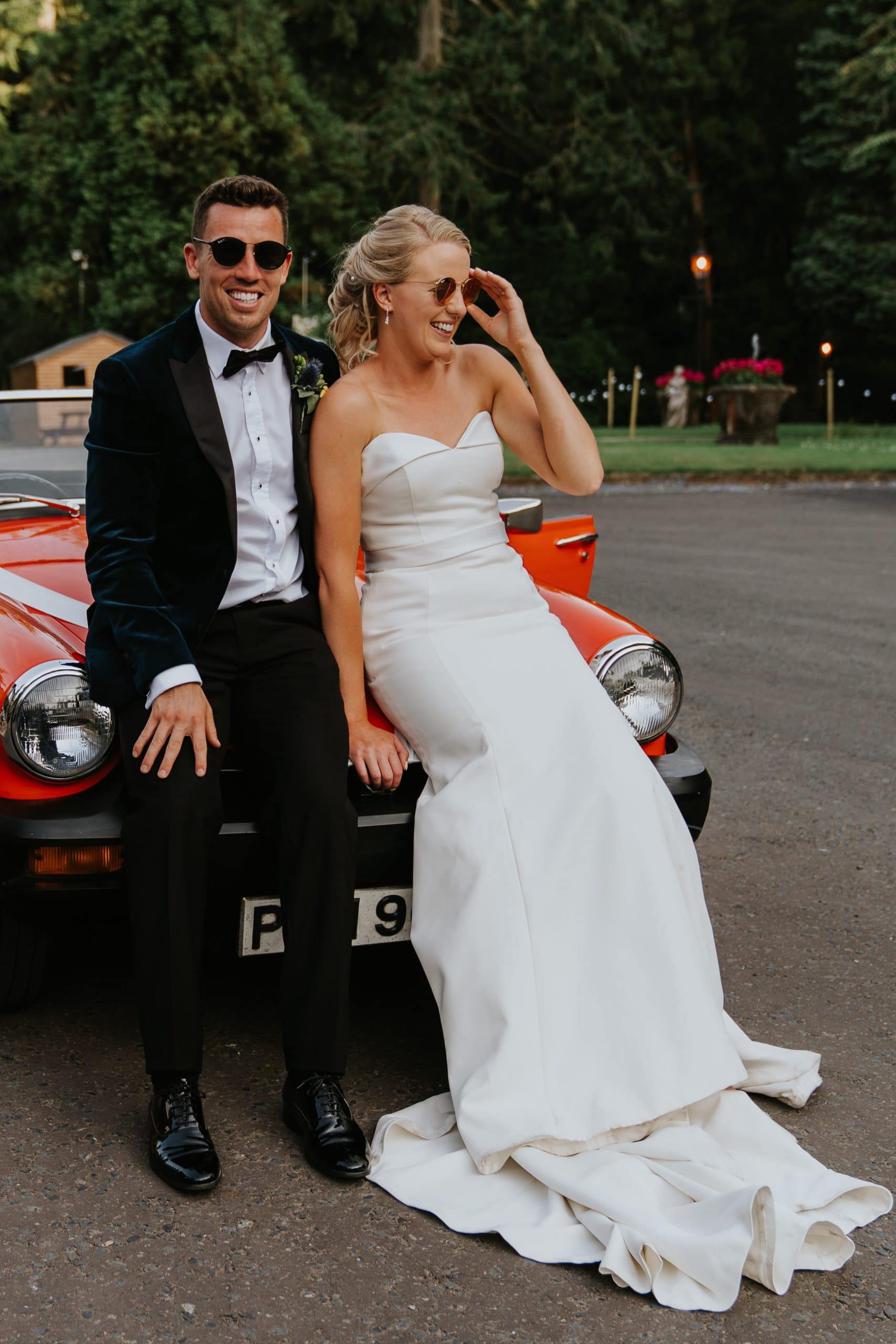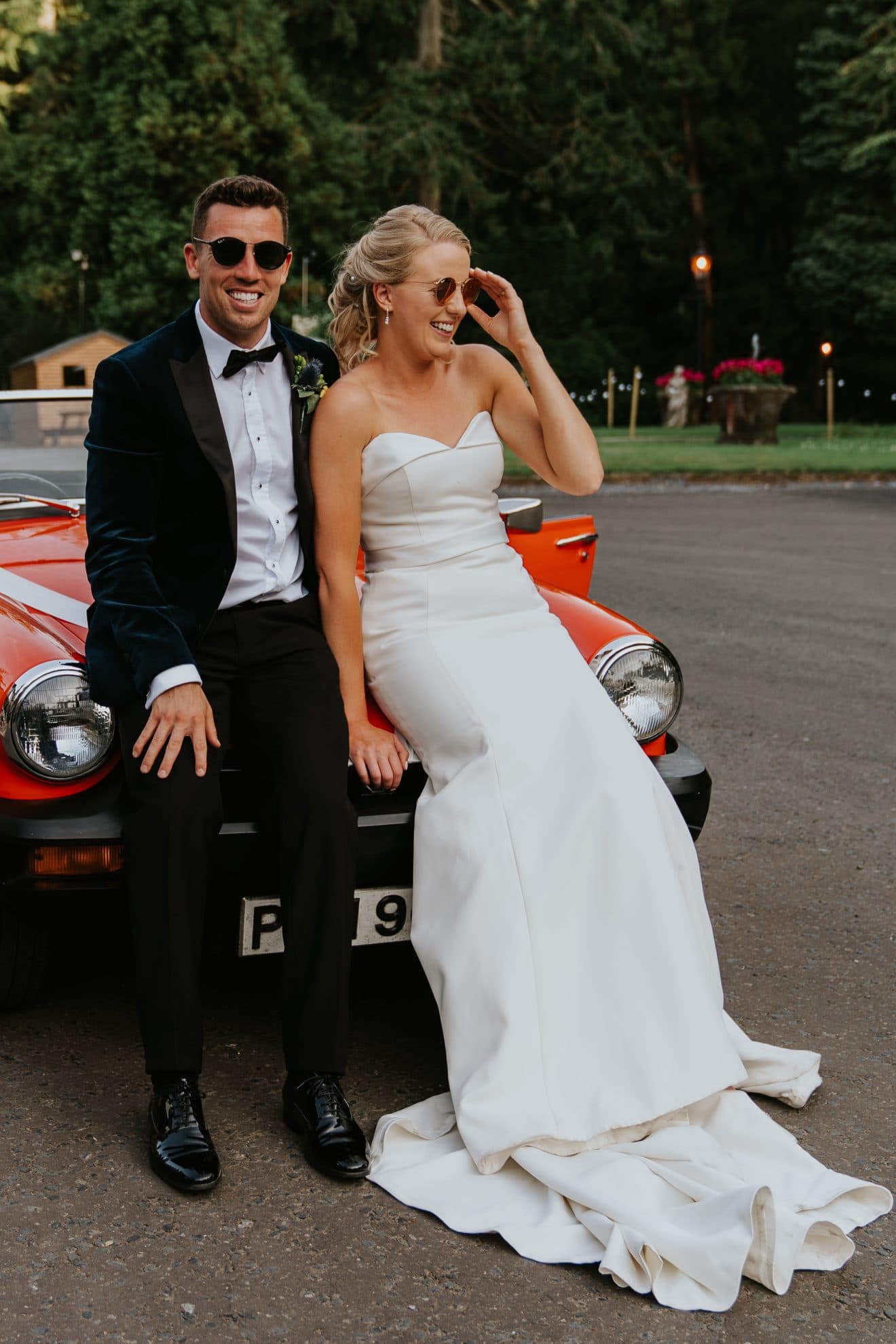 HOW THEY MET
Single peeps… if you're family is trying to set you up with someone, this is your sign to give it a go! You never know what might happen, you might find the love of your life like Jane and Andrew did back in 2015.
Jane says: "I met Andrew's family friends, Auntie Karen and Uncle Laurence, through a close girlfriend and they were itching to set the two of us up! After a little convincing, Andrew added me on Facebook when I came home to Northern Ireland after travelling around New Zealand. I gave Andrew my number and then didn't hear from him for a couple of weeks – during that time he was building the courage to call me!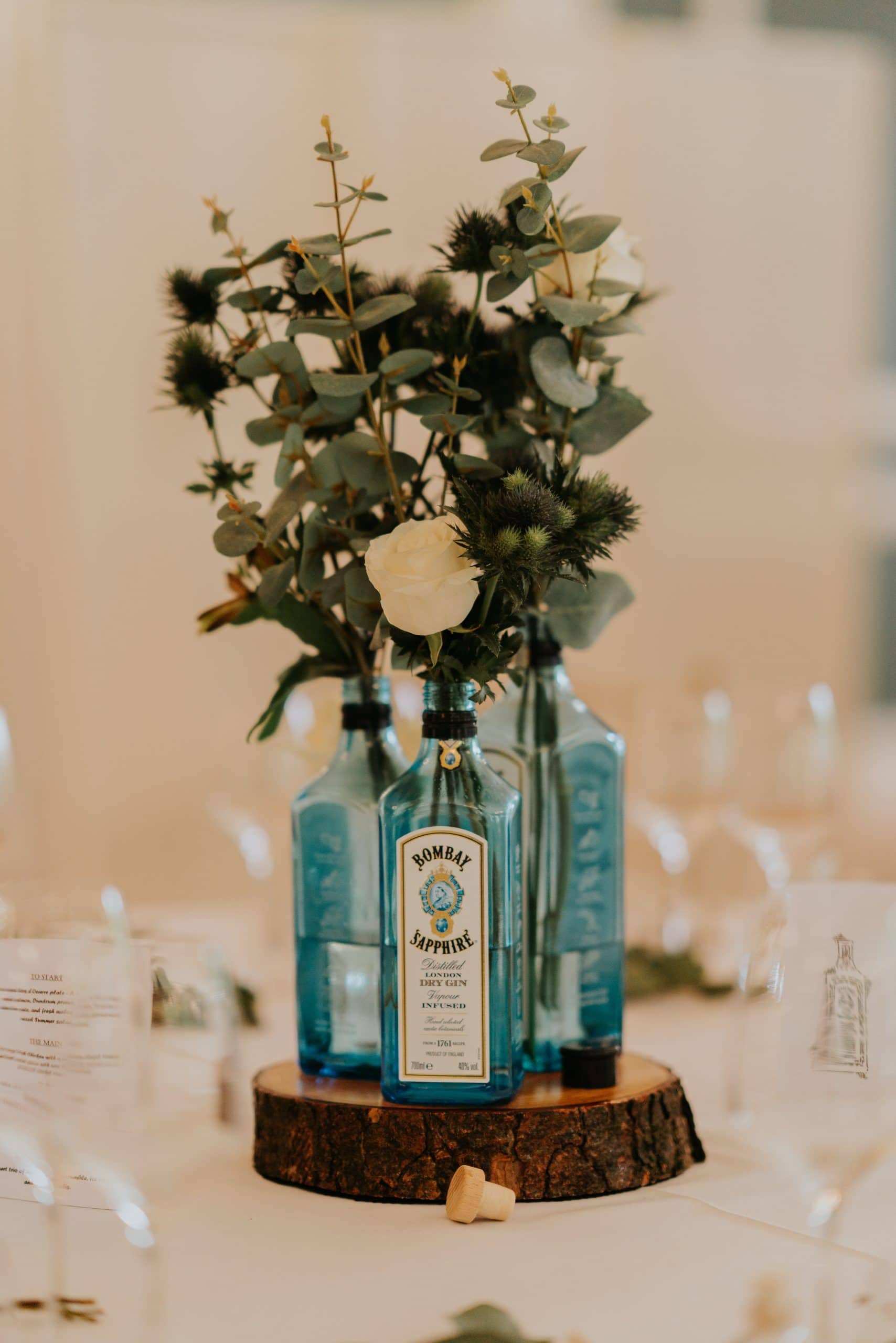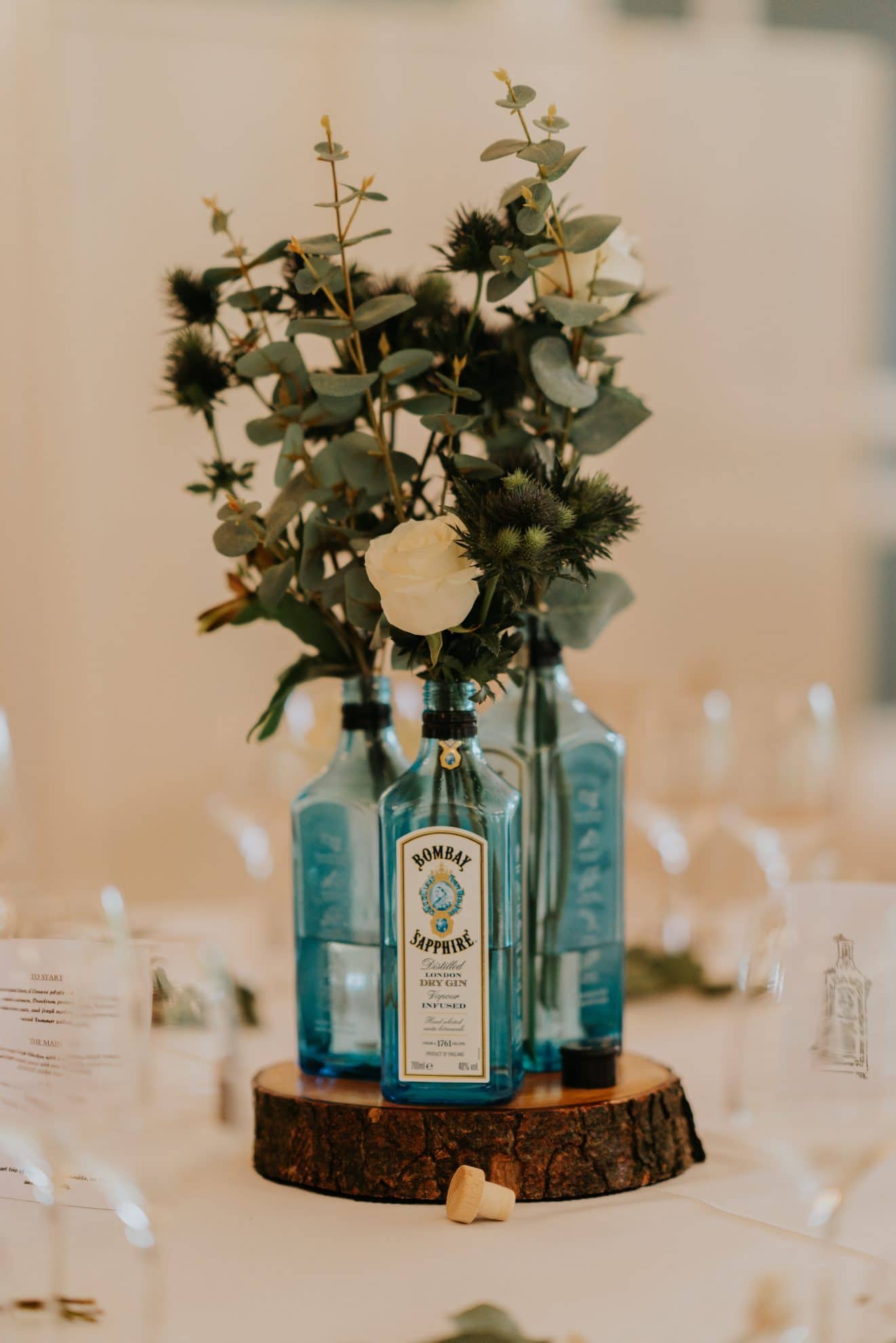 "Eventually he called and was very sweet on the phone. Our conversation never ran dry and after a few chats, we arranged a date to meet. Our first date was February 13th 2016 at the Apartment in Belfast. Andrew turned up with a gorgeous 3ft red rose… you could pick him out in a crowd! The gesture seemed super keen but he was very cool and endearing.
"After a few drinks, it was home time but Andrew wasn't quite ready for the night to end so we walked across to Love and Death. We walked past City Hall where lots of couples stared enviously at my HUGE rrose and made comment to their partners as to why they didn't have one! After a few more drinks we had our first kiss dancing to Fergal Sharkey's 'A Good Heart' – cringe! This ended up being our first dance song."
Although Andrew was working in London at the time, they made things work by planning long weekends together in Belfast and London for the first few years of their relationship.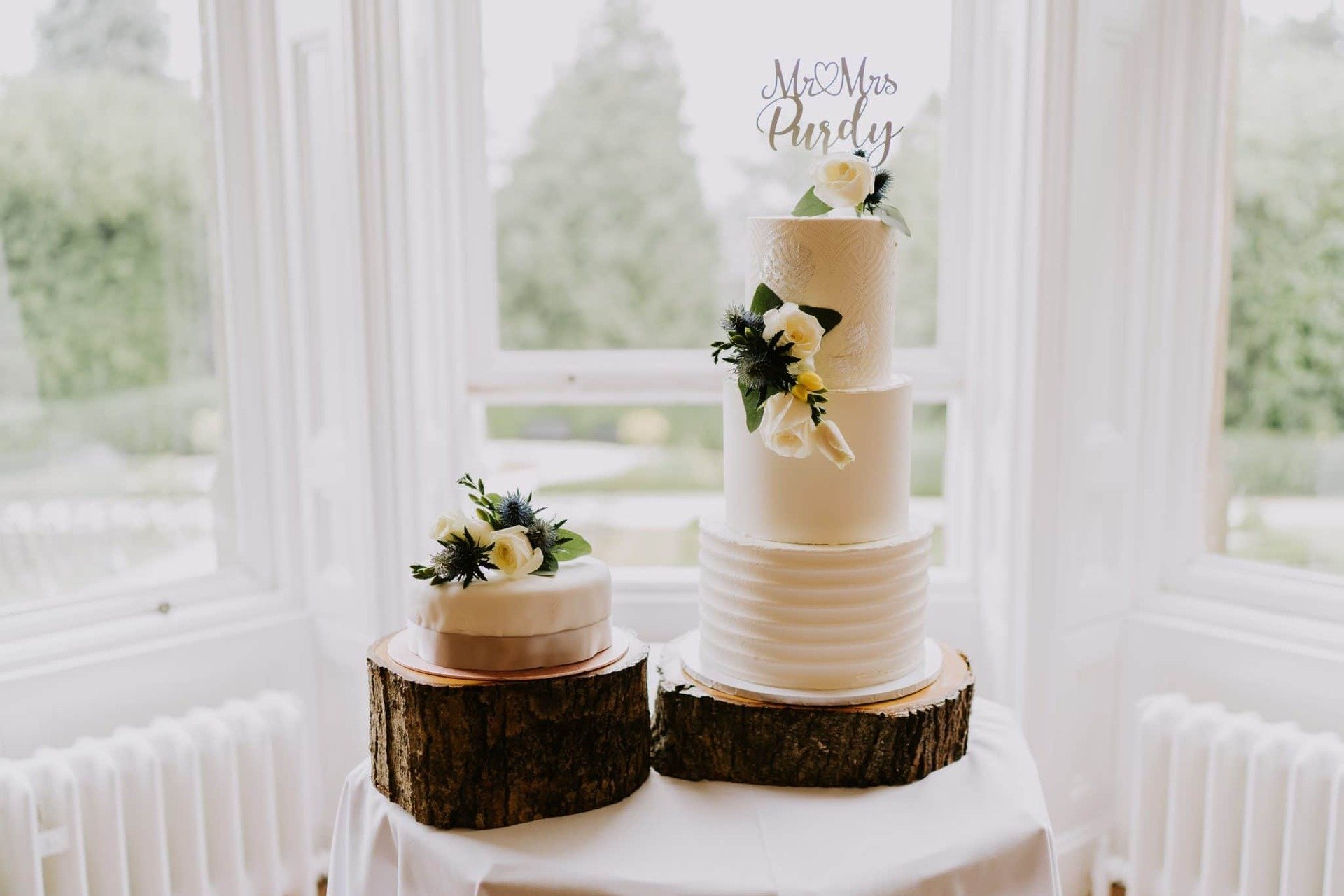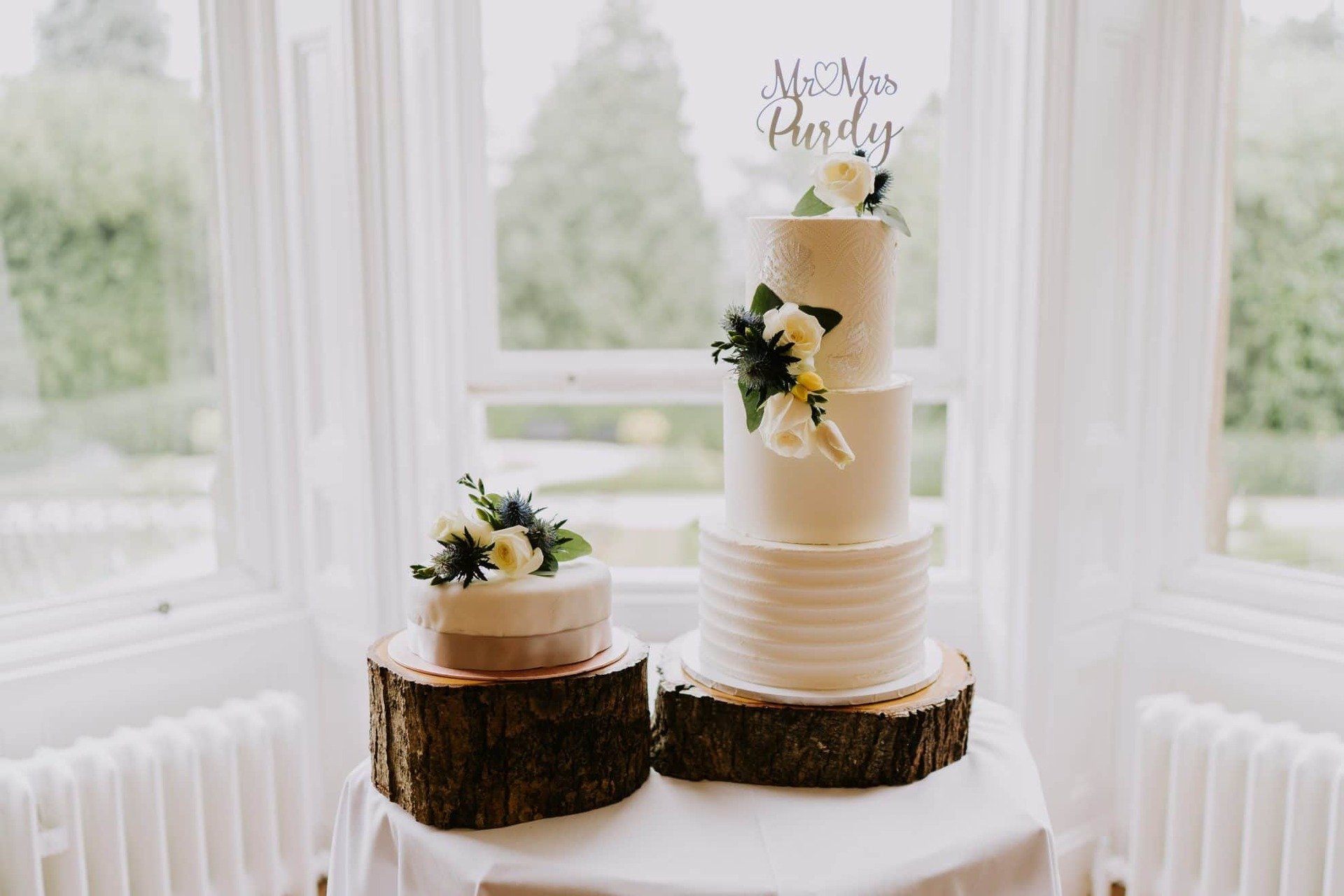 THE PROPOSAL
Fast-forward to 2020 when Jane's favourite ring mysteriously went missing. Little did she know, this was all part of Andrew's plan to find her dream engagement ring!
RELATED TO: The Greatest Adventure: Kirsty & Aaron's Fairytale Wedding at Castle Leslie Estate
Jane continues: "I lost my amber ring that Andrew had bought me which I loved and wore every day. Not to my knowledge, Andrew had taken this to be sized. He reached out with Fred J Malcolm and Neil Watt sorted him out with videos of different rings and a road side Covid-friendly exchange on the Hillhall Road.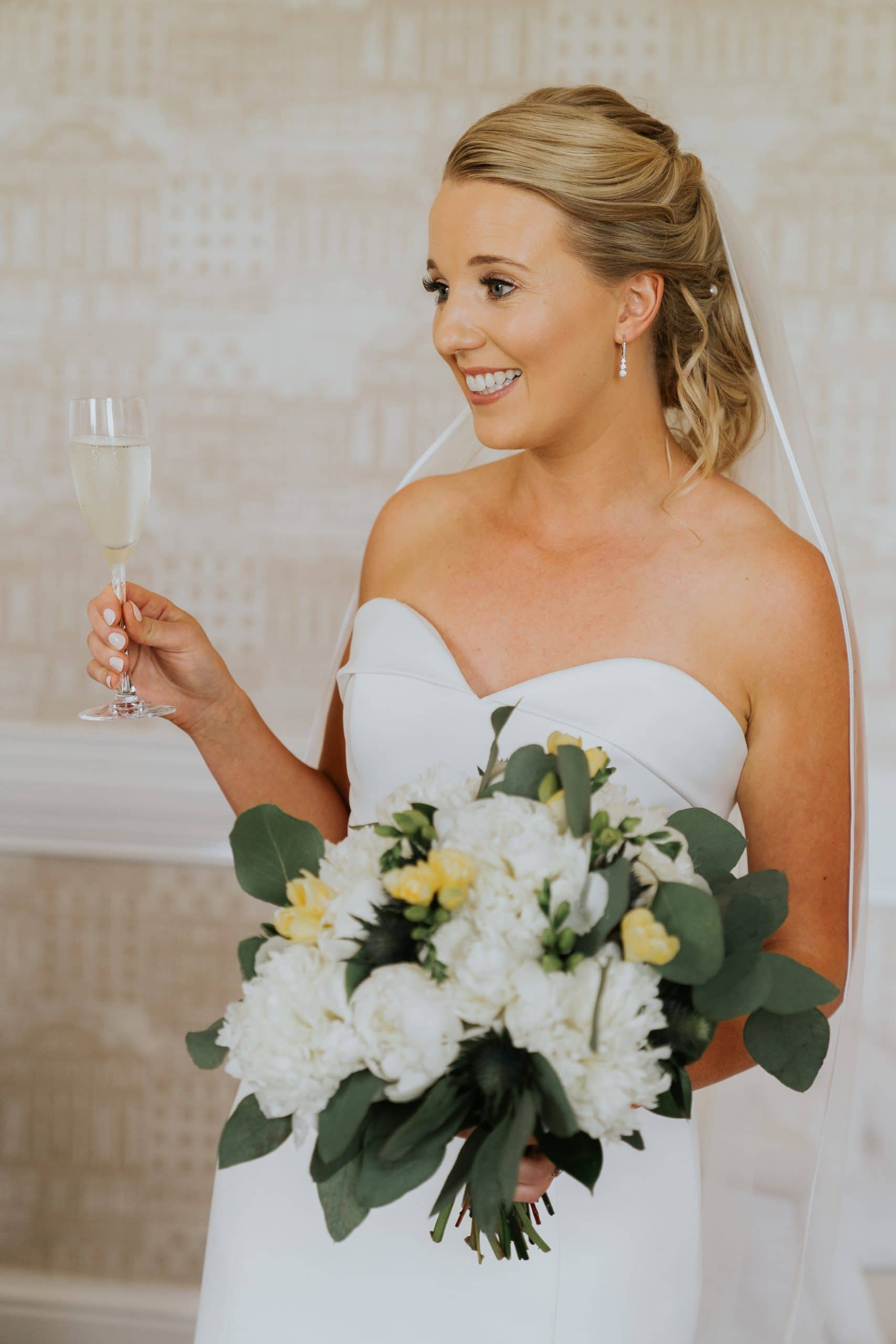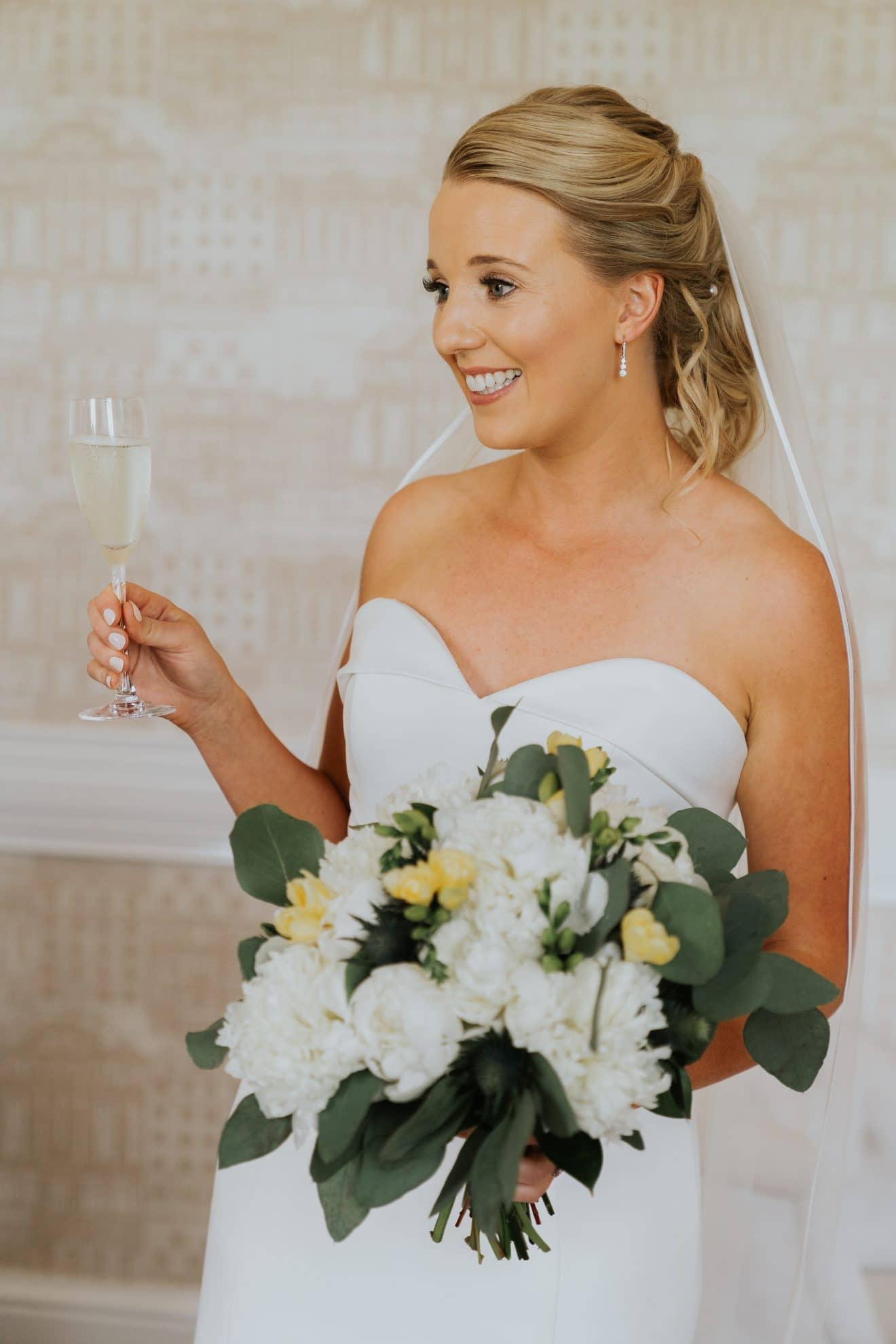 "Andrew asked my Dad for my hand in marriage and after the first lockdown, we visited Andrew's family for dinner. It was a really wholesome evening and Andrew and I stayed in his parents caravan. The next day he handed me my amber ring (which I found a few weeks priors!) and said, 'are you going to wear that or lose it again'. My cheeky response was, 'I'll wear it but I would like an upgrade some day please!'
"Andrew had no intention of proposing that day but after a really lovely evening and my timely response, he got down on one knee on our walk at Ballyboley Forest in the middle of the countryside with Belfast in the background. It was such a special moment, so surreal and we were both speechless!"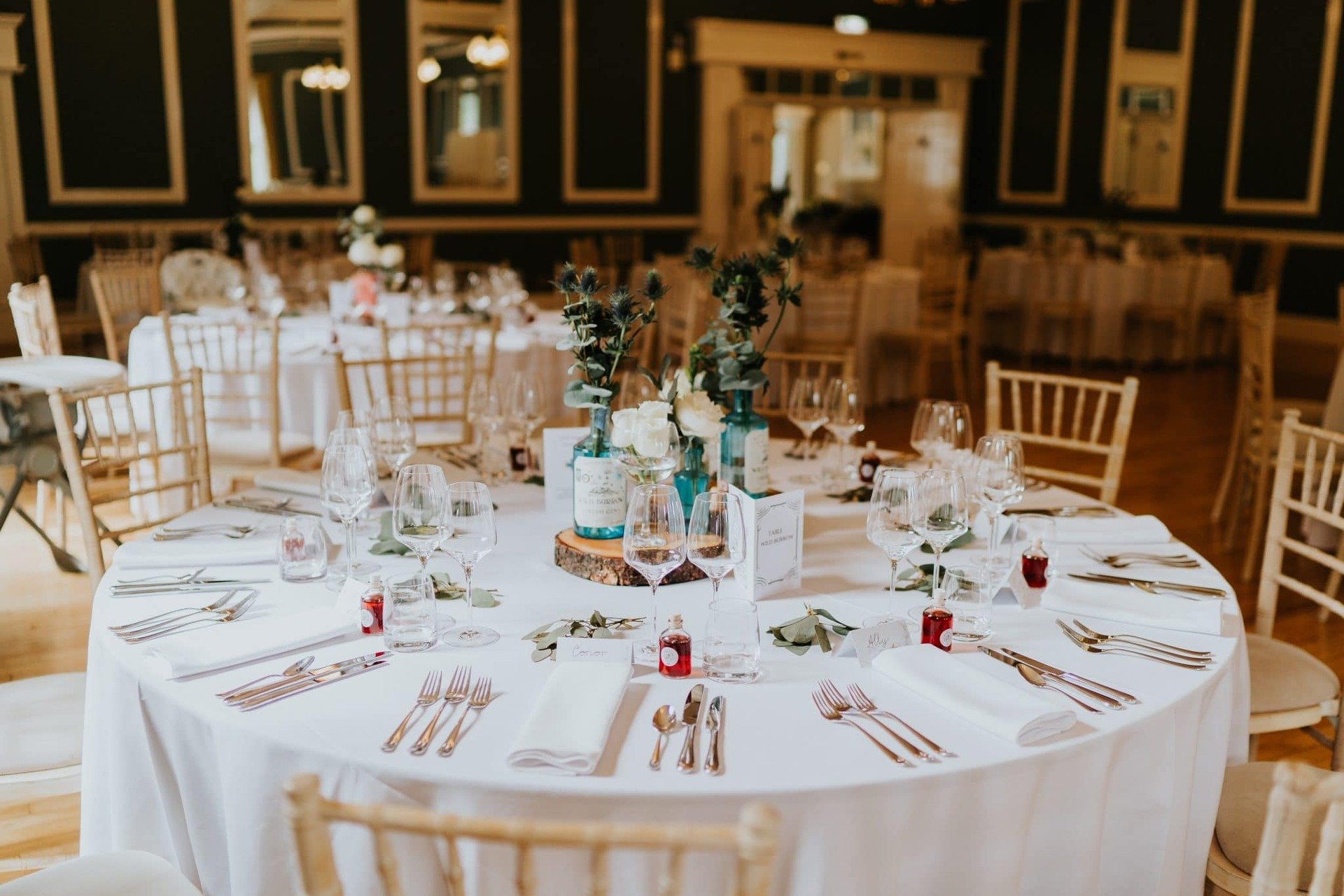 THE PLANNING PROCESS
Jane and Andrew got engaged in May 2020 and with Covid lasting longer than anyone expected, they had time to perfect their wedding planning and created a gin themed celebration with help from their family and friends. We love this idea!
"My bride tribe got together to perform lots of small creative tasks. My brother-in-law designed individual gin cards for every table and my other brother-in-law's helped with the design of the menu," Jane shares. "The whole family chipped in with collecting gin bottles for the centre pieces and tins for the 'Just Married' car tail.
RELATED TO: Island Vibes: Lisa & Matthew's Summer Wedding at Lusty Beg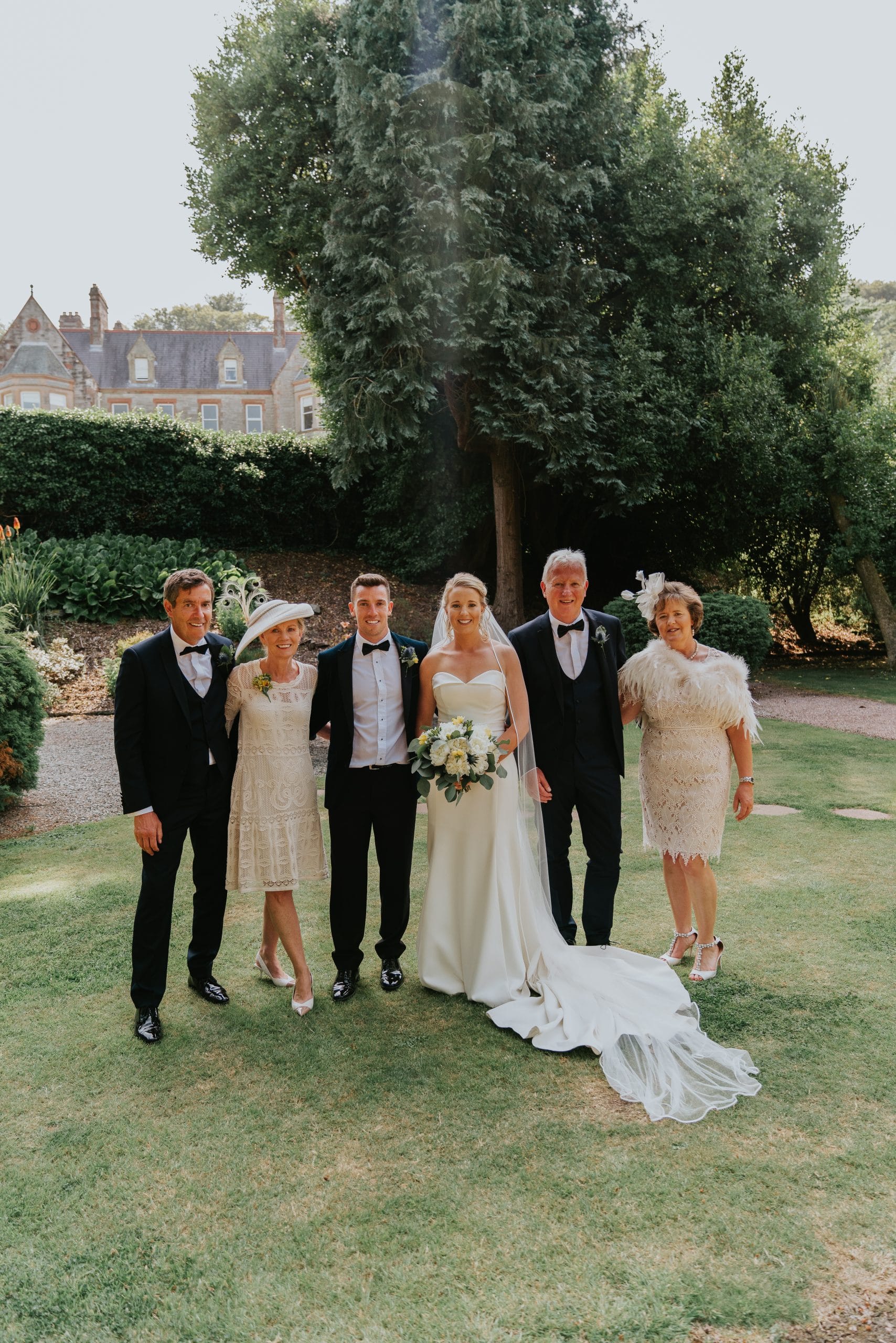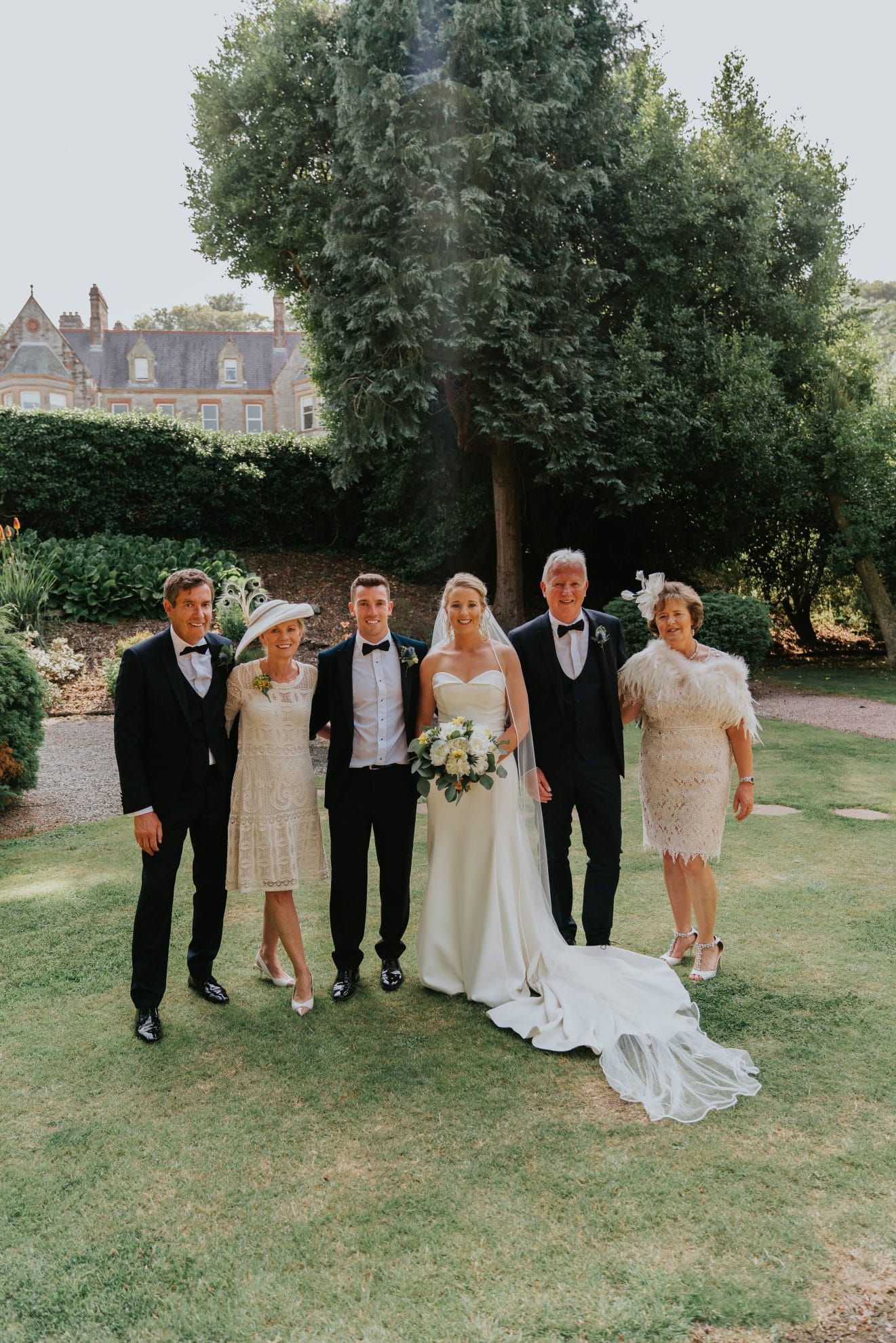 "I seen an Instagram post of Magheramorne Estate and it had everything we wanted in a venue! It was close to the sea, had great accommodation, a ballroom for up to 180 guests and it was exclusive. Andrew and I soon figured out our parents married there in the late 80s! So it was an easy decision for us.
"I visited the venue with my mum and was greeted by Katherine and Jane Allen to their new business venture which looked like a bit of a building site. However, they had a fabulous vision and after another visit with Andrew, we had no doubts that we would have the best day under their guidance.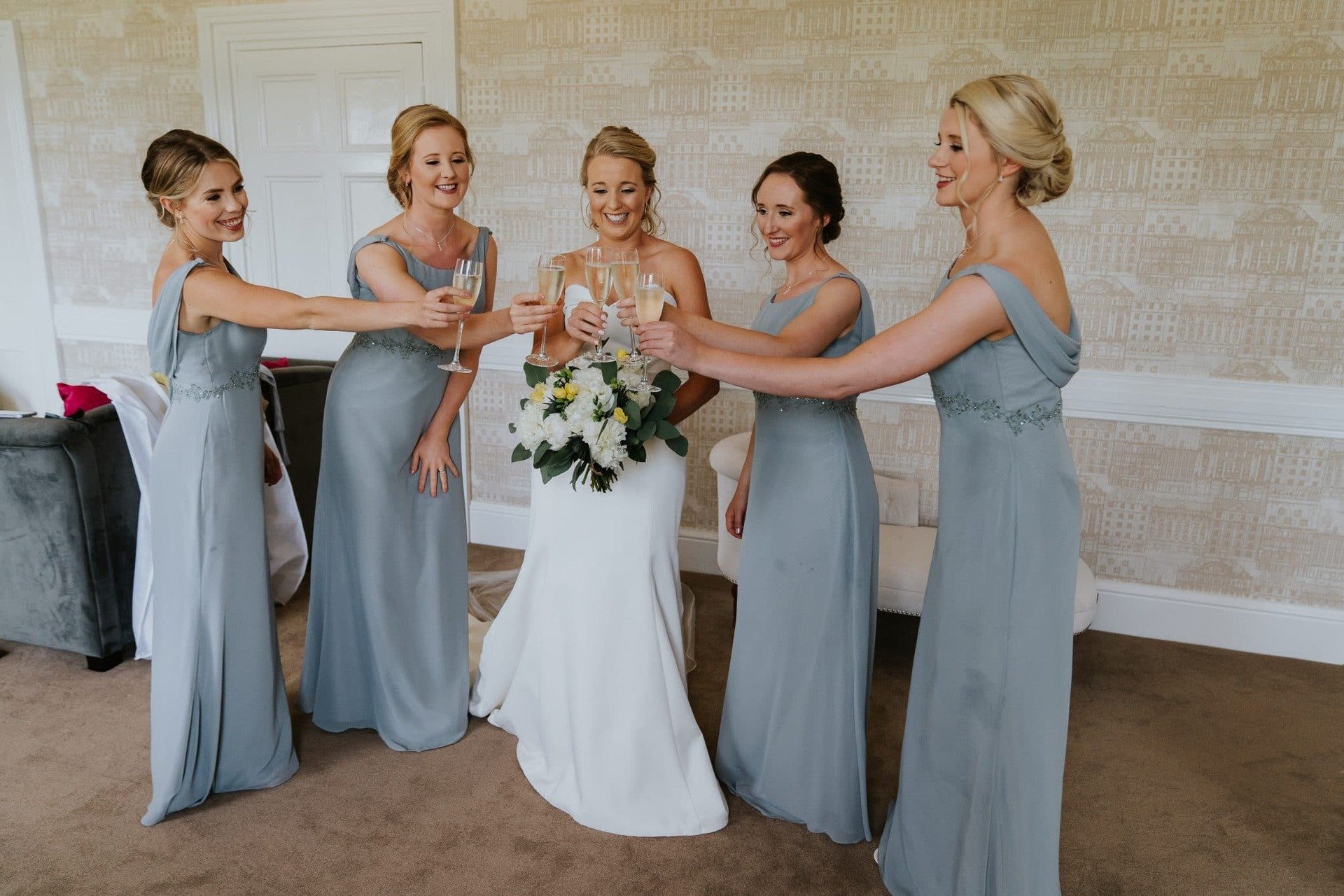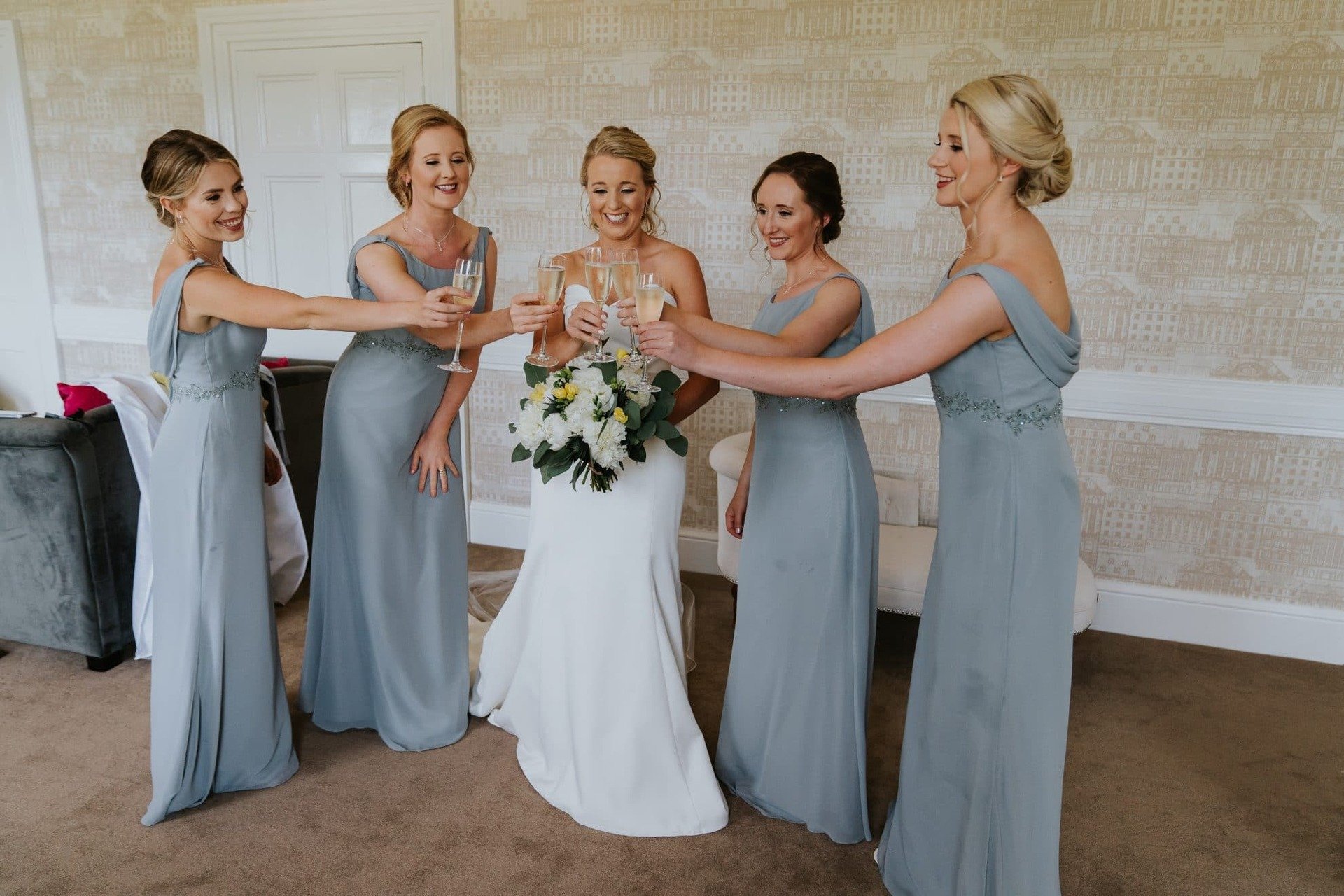 CAPTURING THE DAY
Vicky Maher photography captured Jane and Andrew's dream day perfectly with an array of cool and chic candids and treasured memories that will last a lifetime. We could really feel the love!
"Vicki and I immediately got on and have a similar sense of humour which always helps," Janes says. "I knew immediately she was our girl. We didn't meet until that winter when we had an engagement shoot in Crawfordsburn. Andrew and I both walked away delighted with our choice in photographer. We were already like old friends, looking forward to hanging out again at the wedding.
"Vicki was professional, with a photo call list that was organised to a tee. For me, it was important we both got on with our photographer, as you literally spend the whole day together but also that they are subtle with attention to detail. Vicki was so impressive and we loved how our photos turned out!"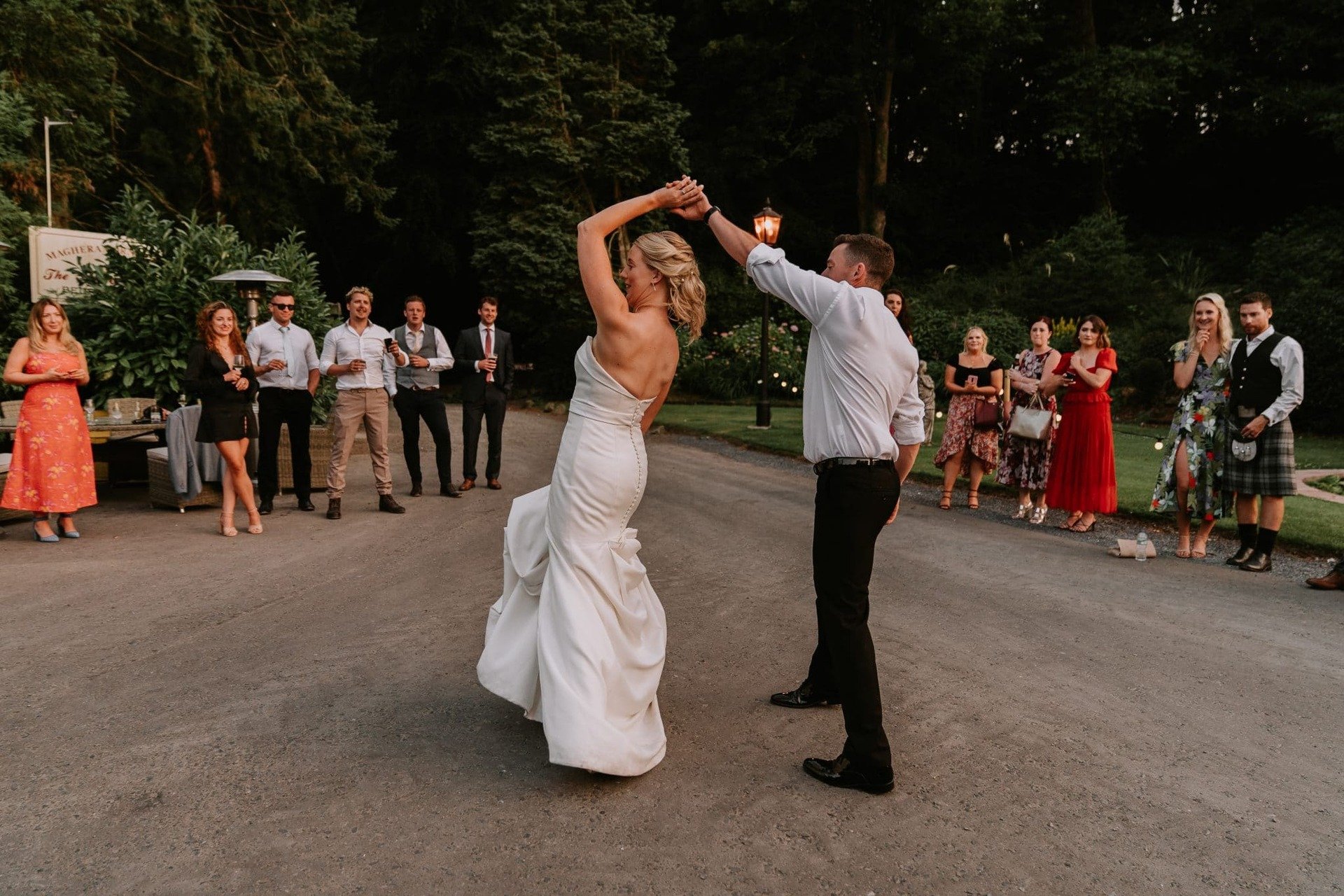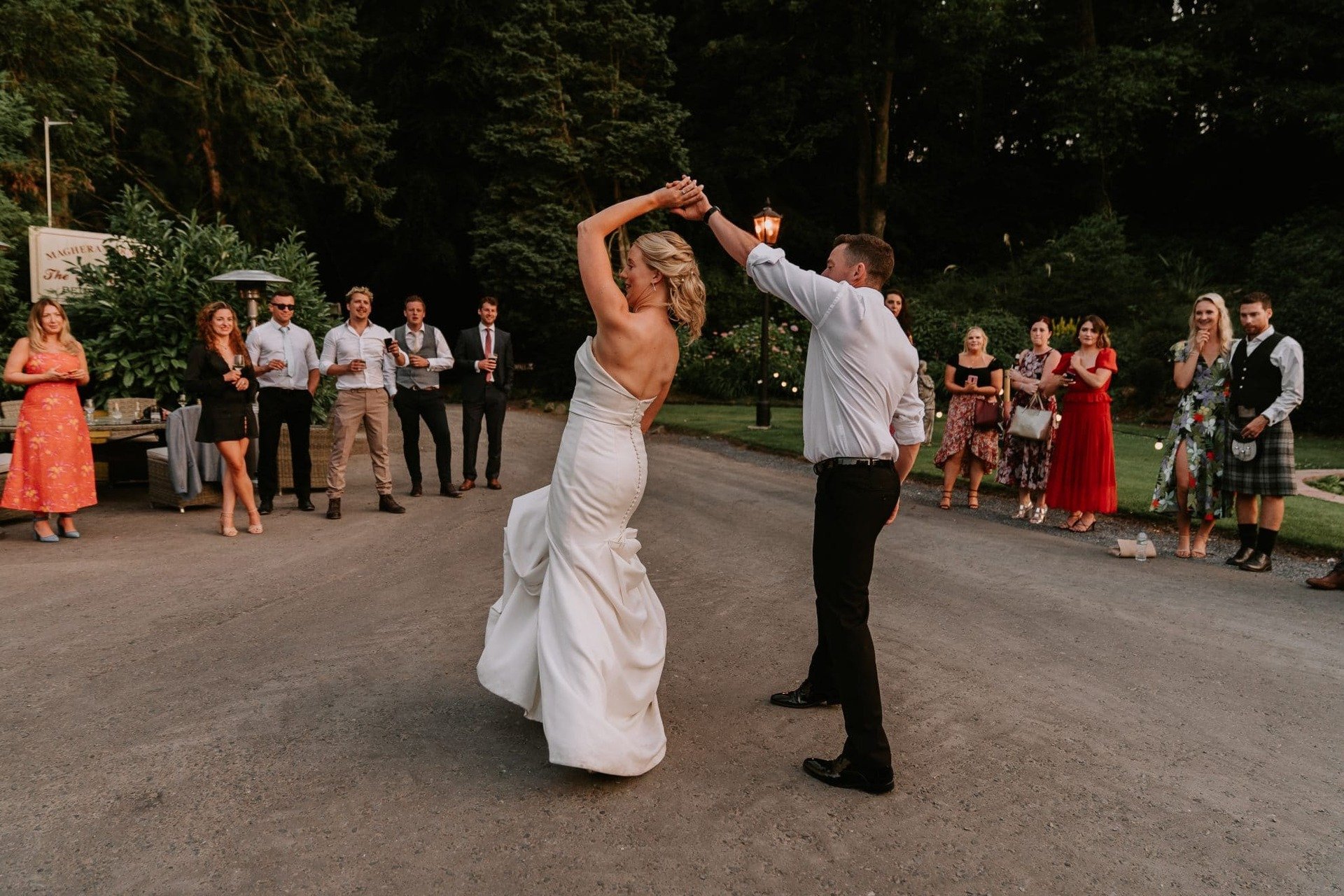 WEDDING WARDROBE
Jane looked angelic in a sleek fit-and-flare strapless Mikado gown by Justin Alexander from Pronuptia in Belfast.
RELATED TO: Sparks Fly: Ellen & Ben's Spring Wedding At Clandeboye Lodge Hotel
"I added a few additional features to the dress and loved wearing it. I tried on ballgowns and A-line dresses, but the fit-and-flare silhouette really gave me a boost of confidence with an elegant style and a timeless look.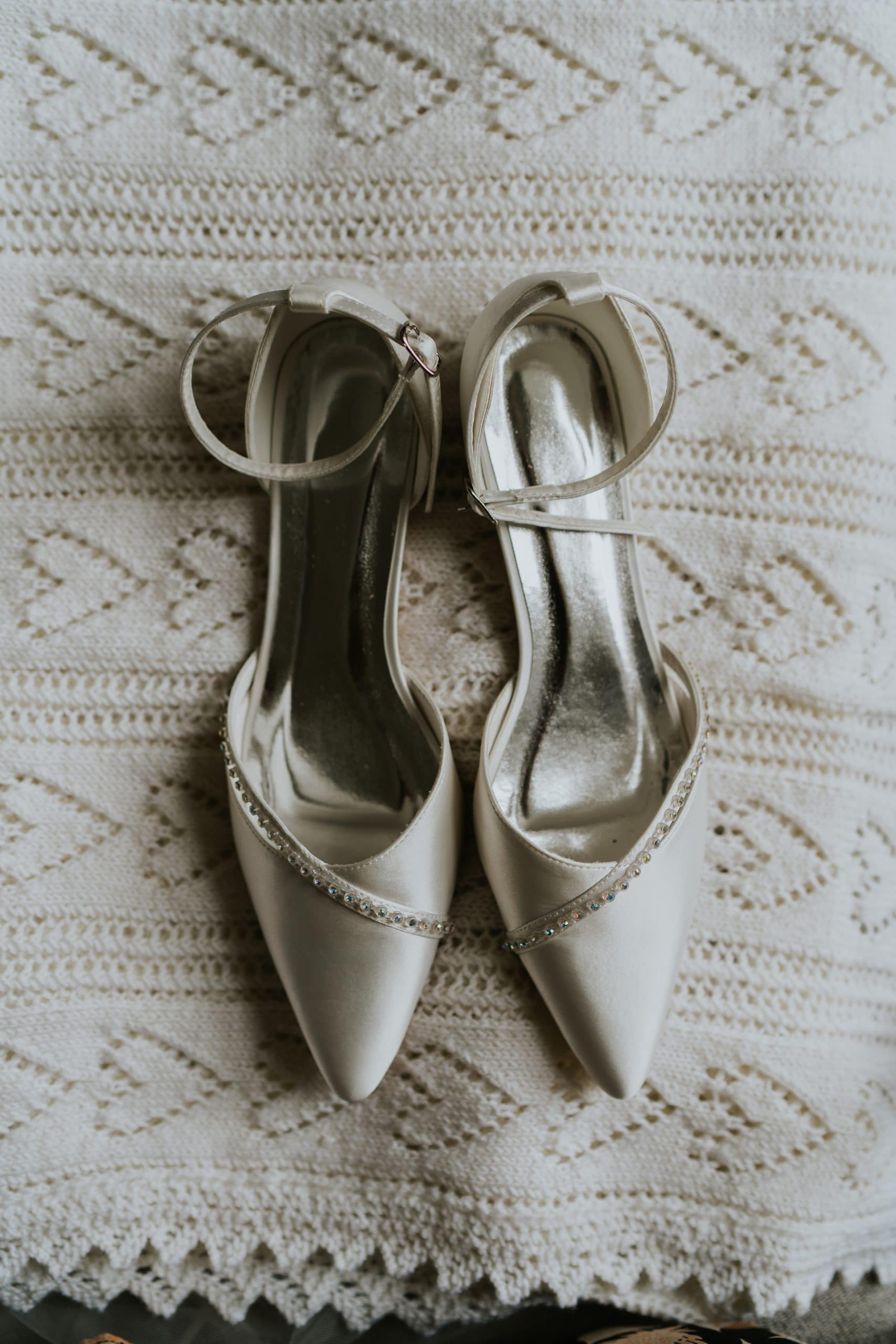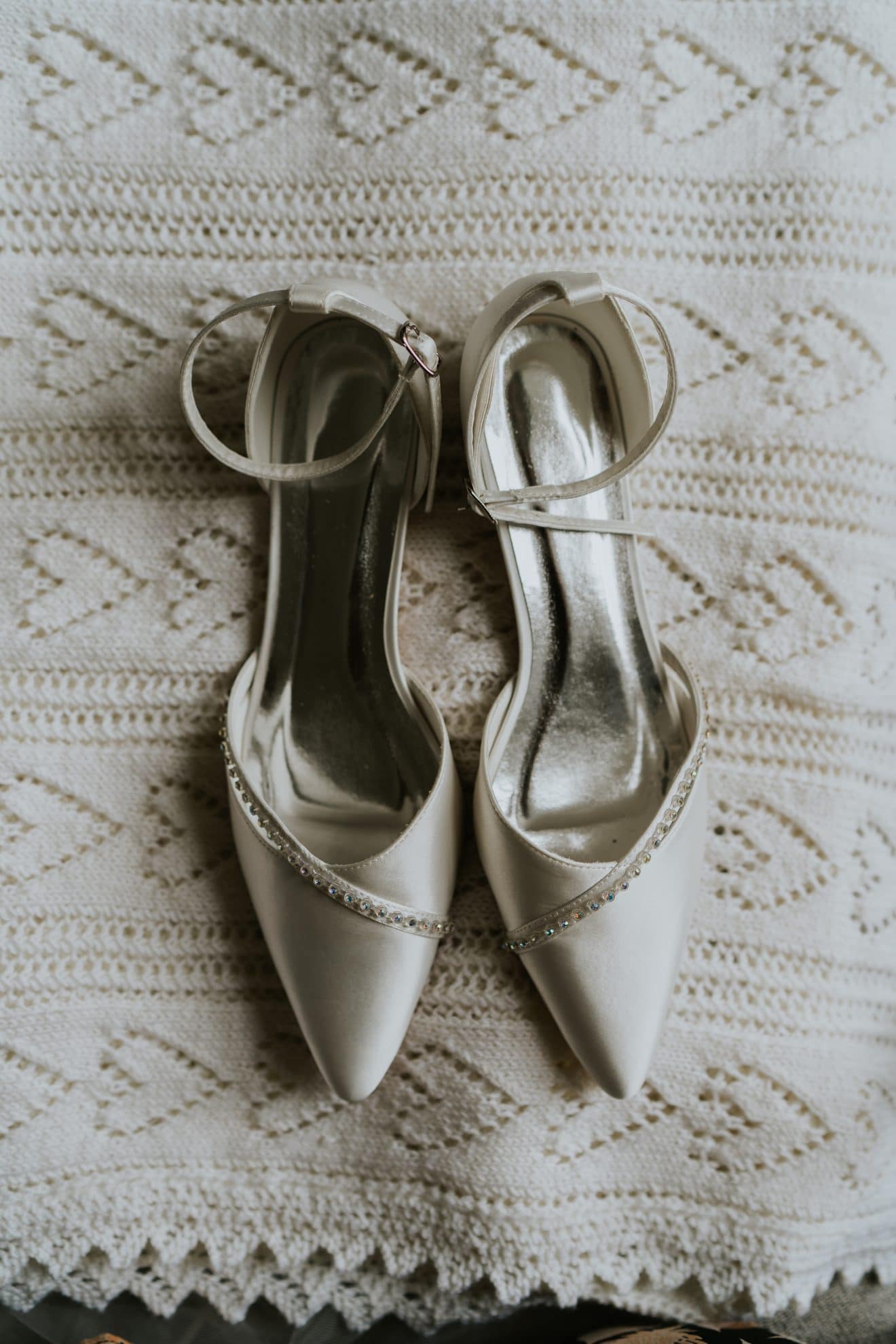 "The bridesmaid dresses were from Naomi Bridal in Ballyclare. I loved the platinum colour which allowed me to work from a blank canvas with regards to colours on the day. By this stage I hadn't really thought too much about flowers or the colour scheme, but the platinum tied in beautifully with the venue and our eucalyptus florals. I let the girls choose whatever dress they felt most comfortable in.
"Andrew chose a gorgeous blue velvet tuxedo from McCalls of Lisburn. The groomsmen had navy tuxedos with waistcoats, but Andrew opted for no waistcoat and he really stood out. They all looked super sharp!"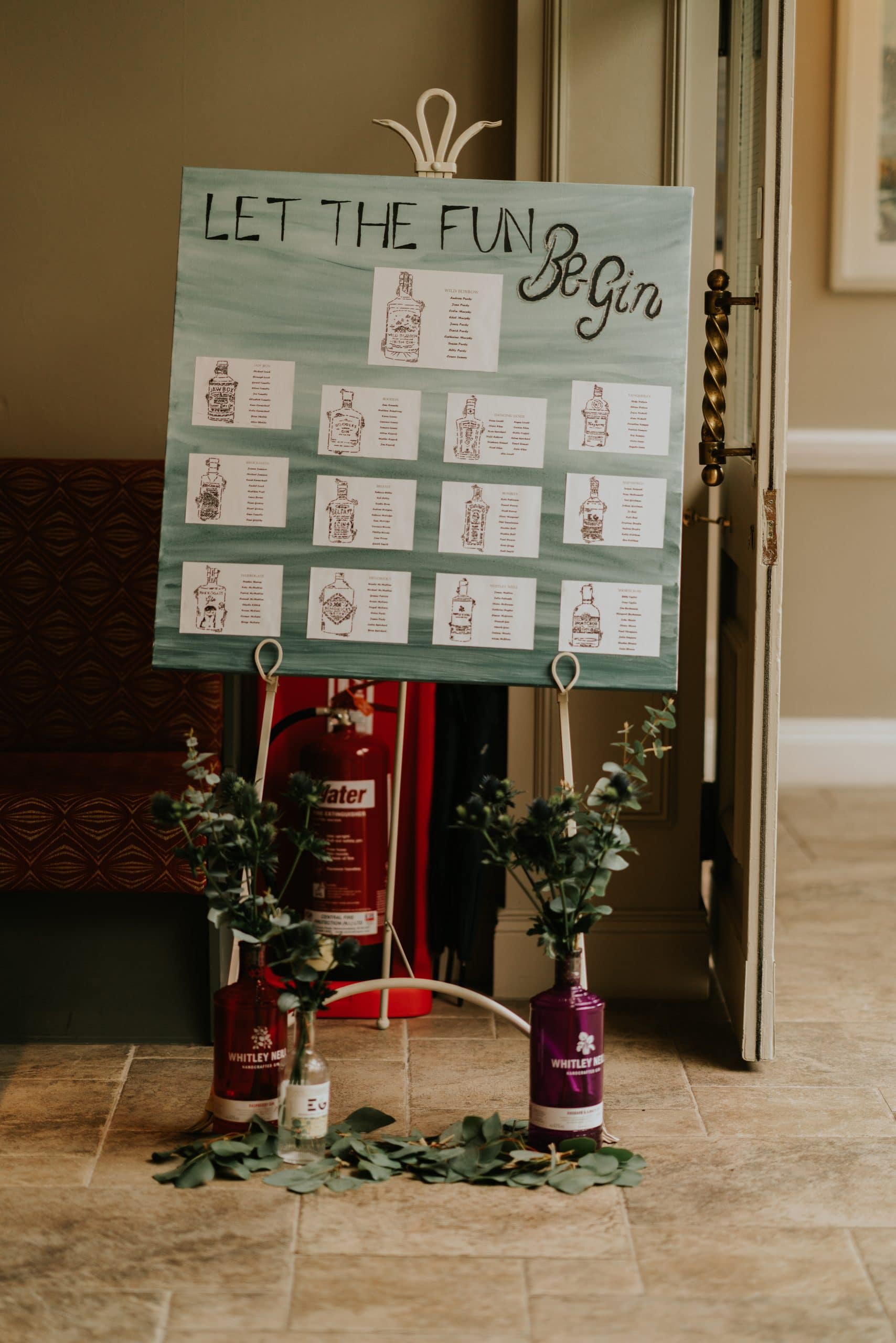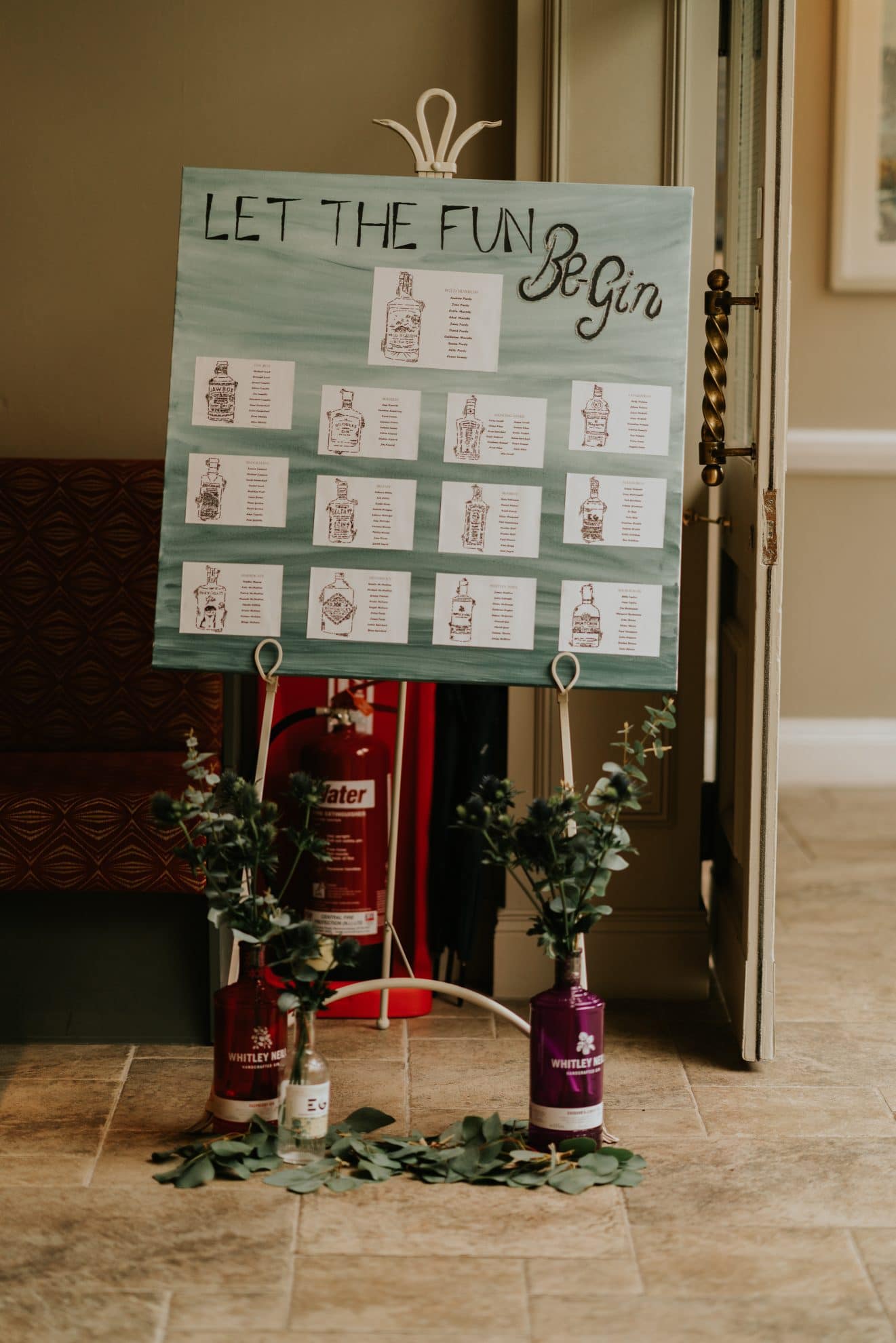 FAVOURITE MOMENTS
Jane and Andrew's standout moment from the day was the surprise Irish Dance set up by their friends and family which really started the party!
"After our first dance, we were both chatting away to our guests when we were called back to the dancefloor. Andrew's sister Susan and my friend Steph had choreographed a fabulous Irish Dance routine to Riverdance and were joined by my sisters and Andrew's brother's girlfriend. It was such a great surprise and the guests also loved it! It really set off the evening."
RELATED TO: Dancing In The Rain: Kirsty & Neil's Modern Belfast City Wedding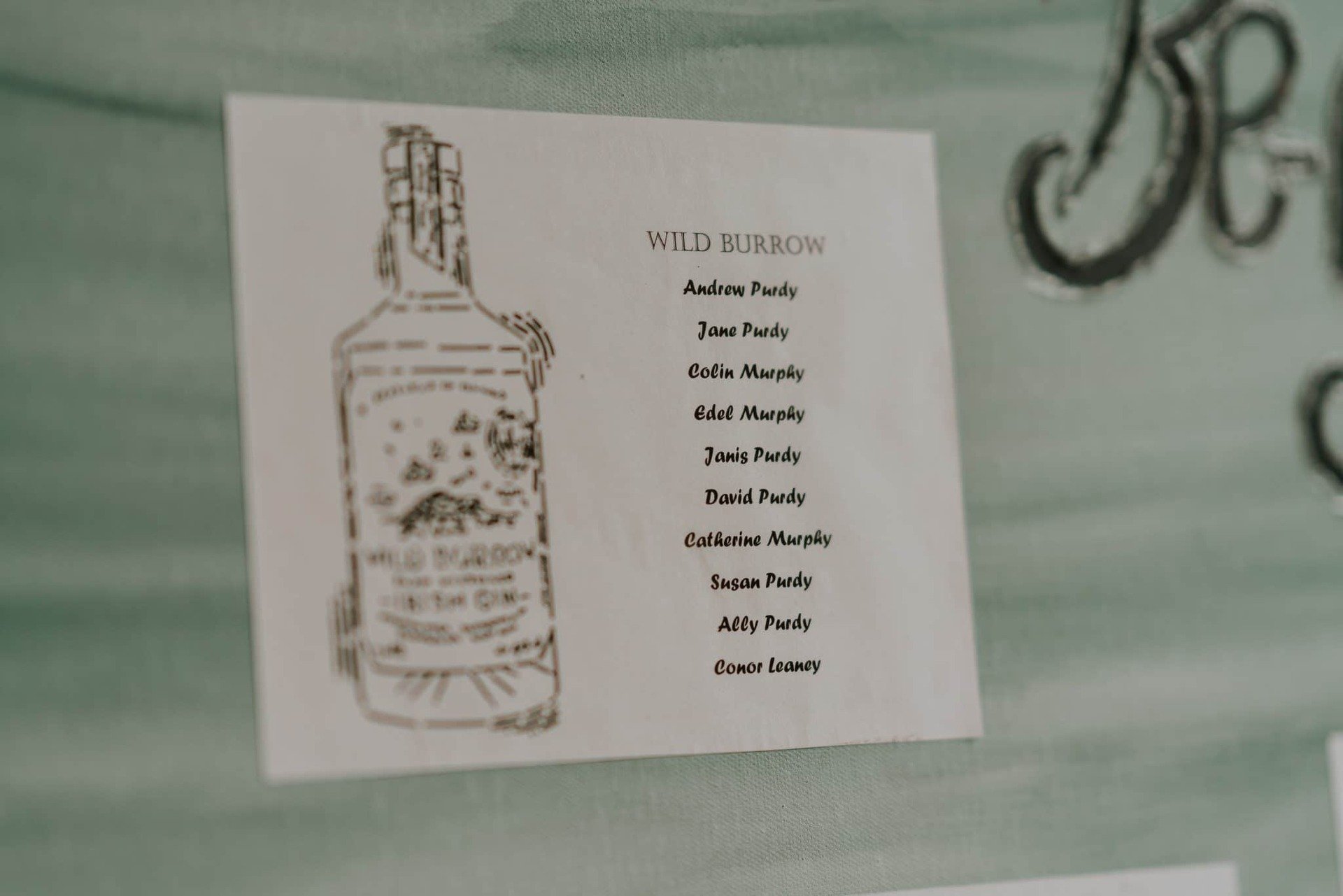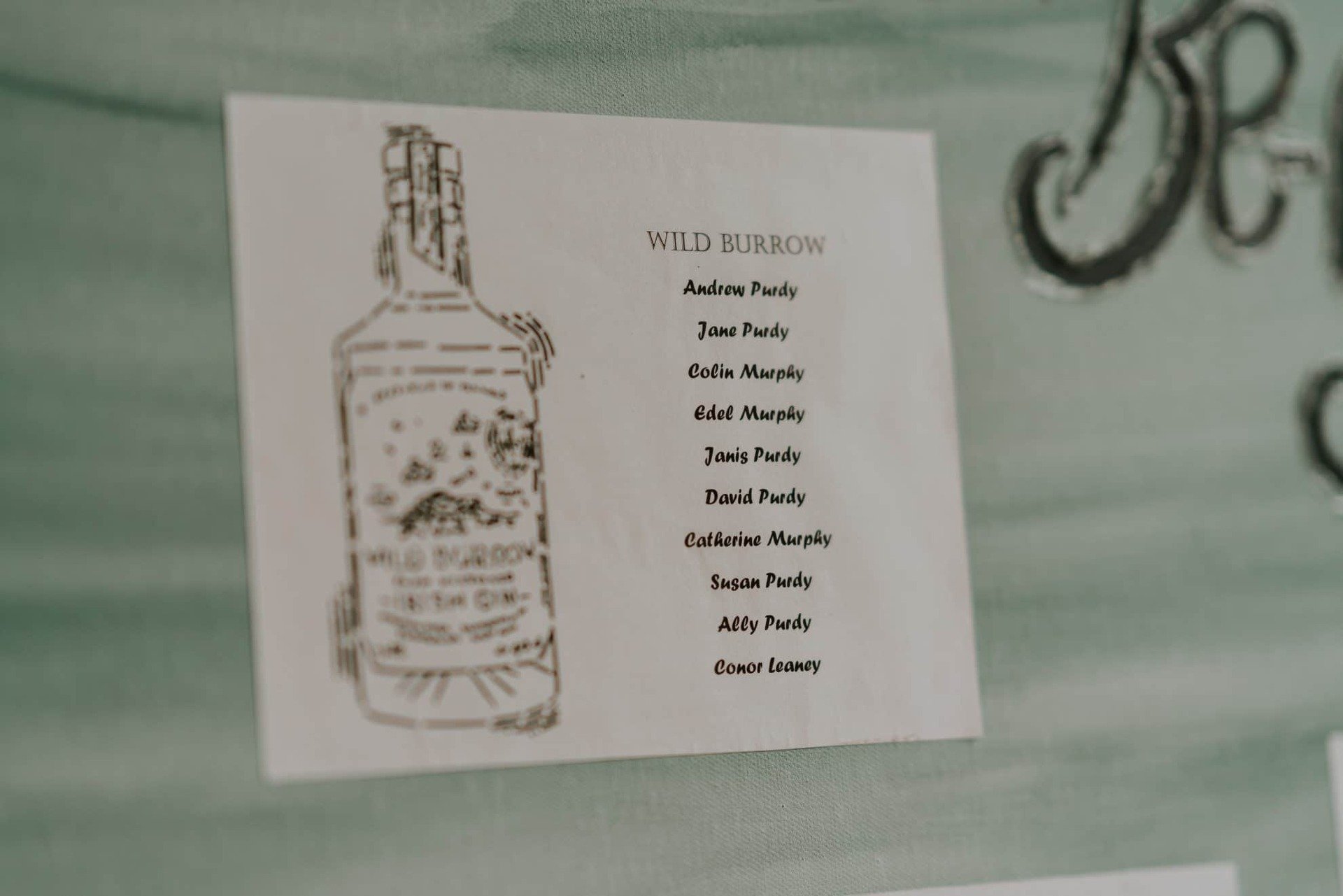 DREAM WEDDING TEAM
Venue: Magheramorne Estate
Photographer: Vicki Maher Photography
Wedding Dress: Justin Alexander from Pronuptia
Groomswear: McCalls of Lisburn
Bridesmaids: Naomi Bridal
Flowers: Cedar Tree
Makeup: Caroline from Banking on Beauty
Hair: Sinead from The Hair Shed
Ceremony music: Briege McCarry
Evening entertainment: MoJo
Cake: NI Cake Design
Invites and order of service: Lighthouse Drawings
Wedding Transport: Andrew's mums old MG that was worked on by Willie McVicker