Everyone from the Biebers to Samuel L Jackson has tapped into the trend for personalised groomswear – and here's how you can get the look.
More and more grooms are going for bespoke suits to mark their big day – and our favourite new groomswear trend takes it a step further. Here's how you can get the look from Belfast's Red Groomswear.
When we saw these images of legend Samuel L Jackson kitting himself out in his bespoke suit, we were bowled over by his supercool look, featuring an amazing custom lining emblazoned with images of his character, hitman Jules, from Tarantino gangster movie Pulp Fiction.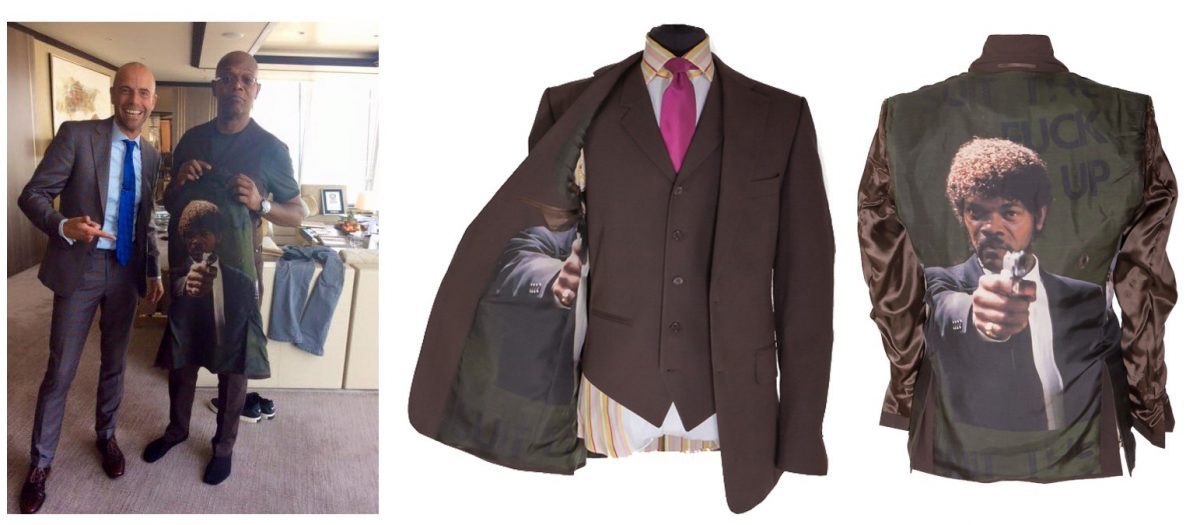 And it's not just Samuel L who has picked up on the new trend – Oliver Phelps who played George Weasley in the Harry Potter movies drew on his love of classic cars as inspiration for his own custom printed lining.
RELATED TO: Statement Styles For Summer Grooms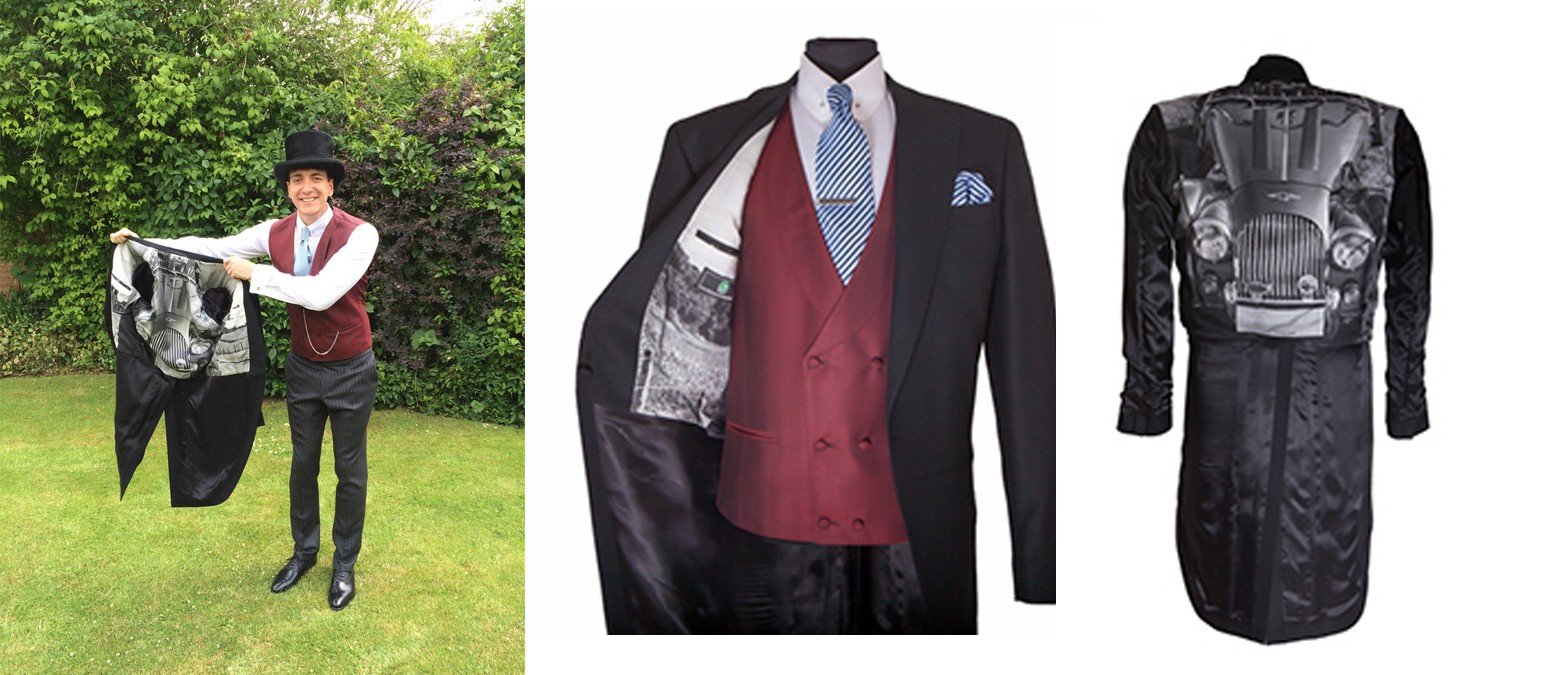 Meanwhile Downhill mountain biker Greg Minaar went for a similar look, displaying his achievements silkscreened into the lining of his Mathieson & Brooke suit.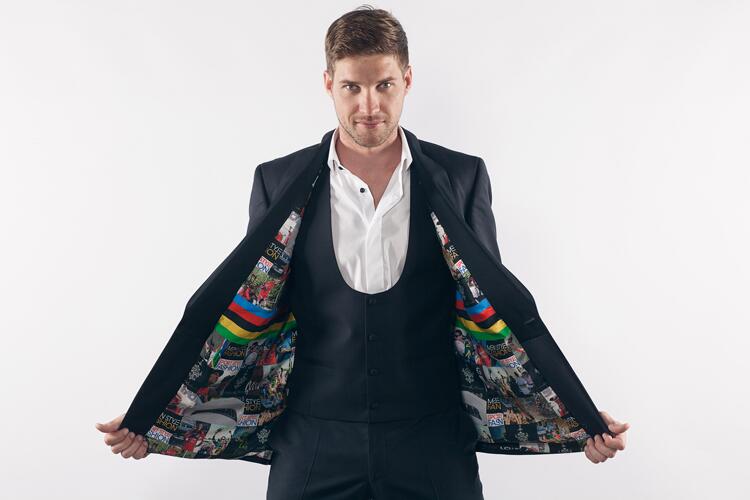 And thanks to Belfast-based wedding and tailoring specialists Red Groomswear, you can bring your own vibe to the latest celebrity custom trend and get your suit personalised with an image that means something special to you.
For example, you might immortalise your beloved cat with images silkscreened onto the lining of your jacket, says Jamesy from the store.
"Then you would have your cat close to your heart on your wedding day," he says.
More and more grooms here are picking up on the idea, with many choosing images of Man United or Liverpool players to personalise their wedding rig.
RELATED TO: How To Ask Your Best Man And Groomsmen To Be Part Of Your Wedding
Some are going for beloved family members as well, he says.
"One rugby player had had a photoshoot done for his engagement, with his fiancee and their child and he wanted to use a photo from the engagement shoot inside his suit," he says.
"Another groom whose granny had recently died wanted to include a picture of her inside the lining of his jacket."
For unrepentant petrolheads, images of trucks have proved surprisingly popular at Red Groomswear and some grooms from farming backgrounds have included their ruling passion in their wedding day outfits with lining printed with images of their favorite Massey Ferguson or John Deere tractors.
RELATED TO: 9 Reasons Why We Loved Wedding Crashers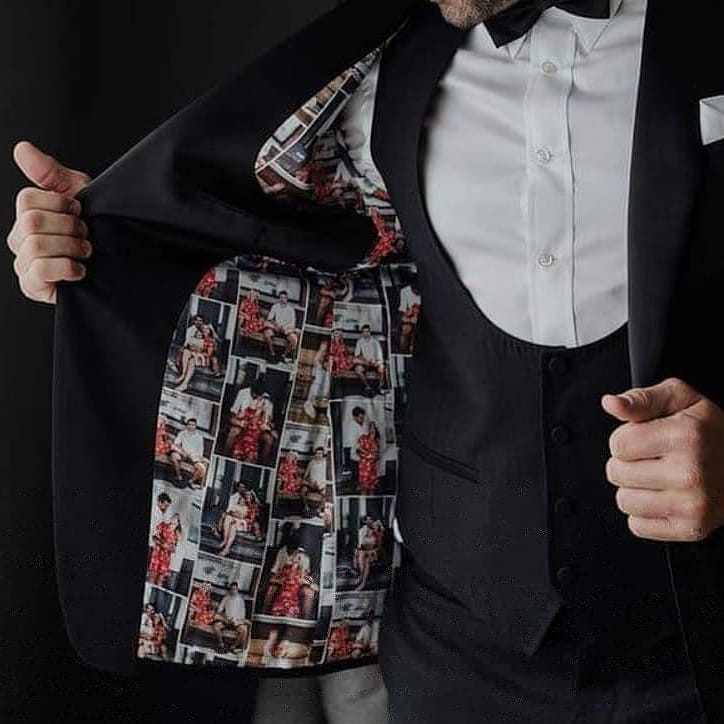 And there are other ways to personalise your suit as well. "If you wanted to wear a tie with a picture of your dog on it, we could do it," Jamesy says.
"Or you can make the groom's suit that wee bit different – the waistcoat could be double breasted or low scoop, or it could have differently coloured buttons.
"You could have the buttons stitched in ivory or red to tie in with the bride's colours or you can have embroidery stitched inside the suit jacket with the bride's name and the date of the wedding. We've had made-to-measure shirts with stitching on the cuffs saying Mr & Mrs Jones.
"It's really anything that's personal to you, but something a little bit out of the ordinary – all you have to do is ask us. It's really nice to have that personalised lining with images of your loved ones," he says.
RELATED TO: Has Your Man Turned Into A Groomzilla?
To find out more and book your appointment at Red Groomswear, find out more HERE.
Sign up to our newsletter to get all the latest from The Wedding Journal!
Join Here>>>>http://eepurl.com/ck9vLb