You're about to ask one of life's biggest questions, you've planned an elaborate proposal, but now it's time to search for the most perfect ring.
There's a lot of pressure on this purchase, this will be a symbol of your love for your partner, and shows a token of your willingness to take the relationship to the next level. Plus, it doesn't help that your fiancé will be showing off the ring to friends and family too.
For many men (and women) finding the perfect engagement ring can be their first experience purchasing such an expensive gift and perhaps even buying jewellery. It can feel overwhelming with the jewellers start using bespoke terminology, such as setting, inclusions, bands etc.
It's important to do a little research before you start shopping, so you're already off to a good start reading this! We'll talk you through the general terms used to describe a ring, plus upcoming trends, styles and inspiration you will need.
How Much Should I Spend On An Engagement Ring?
Choosing a cheap engagement ring that suits your partner is a hard task for anyone. This is completely up to you, no one can force you spend a certain amount on this? Rumours say you should spend two months of your income on an engagement ring, but generally speaking it's you're looking at a four-figure sum. The truth is that you should only spend what feels right for you and what you can afford. In the end, it's not the amount of money you spend on an engagement ring that matters, but rather the thought that goes into purchasing it.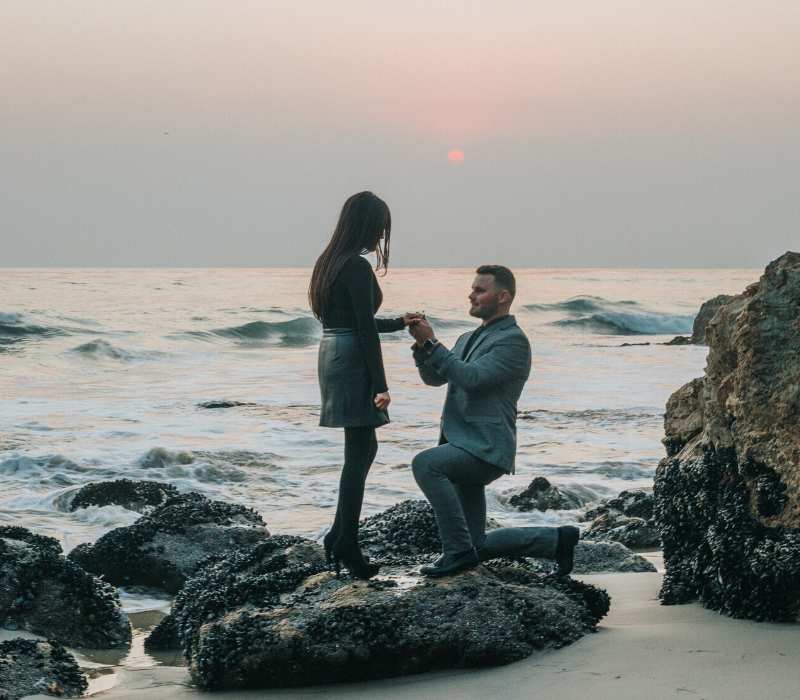 Don't stress if something comes up and you have to sacrifice your ring budget on something else, a humble ring will be a memory of the hard work you both put into your relationship at the start. You can always get an upgraded ring as an anniversary present a few years down the line.
How Many Carats Is Appropriate For An Engagement Ring?
The carat is simply a measurement of how much a diamond weighs. The average for an engagement ring is typically one carat, but ultimately your budget will determine how big you go – the higher the carat, the more it will cost.
Where Should I Go To Buy An Engagement Ring?
It's definitely important to shop for your perfect ring in person; seeing the ring up close makes a huge difference, you can imagine it on your other half's finger a lot easier this way. This also means you can negotiate the price which is common practice when shopping for such expensive gifts like this.
We advise all our soon-to-be engaged couples, to do as much research as possible online – it will help you in the long run. Our online directory is a great place to start, we've got some of Ireland's most trusted wedding rings and jewellery experts. Here you can see some pictures of their work, and can also send them a no strings attached enquiry form. You should check this section out before you start shopping!
How Do I Figure Out Her Favourite Style?
Getting a ring that they'll be over the moon with is such an achievement, and will earn you major brownie points in the long-run. When you're with your other half, take note of the type of jewellery they wear. Do they own more gold, silver or platinum pieces? Perhaps there's a particular stone/colour gem they tend to wears a lot, perhaps their birthstone.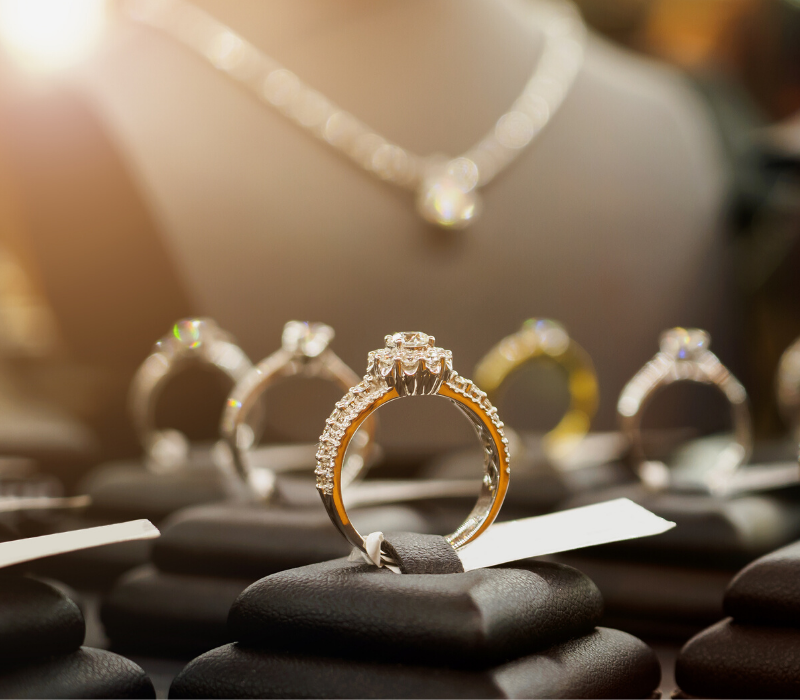 Do they like more minimalistic designs, something more understated? Or do you think they would prefer something big and sparkly? Think about their personality; are they outgoing, shy, traditional, eccentric or earthy?
Each part of an engagement ring can be designed bespoke to your partner – this might seem like a lot, but let's break it down a little more…
The Five C's Explained…
What Is Colour?
A diamond's colour is graded on a scale from D (colourless) to Z (light yellow), with D being the most sought-after. The exception to this rule is for diamonds that possess a very rare or unusual colour – like green or red. More common coloured diamond options include blue, yellow and pink.
What Is Cut?
The cut of a diamond doesn't actually refer to its shape, but to the way that the stone is cut in order to increase its sparkle, whether deep in shape or more shallow. A well-cut diamond should have a bright shine.
What Is Clarity?
Clarity refers to how many inclusions, or imperfections a stone contains. Only visible under a magnifying glass, these small specks feature in all diamonds; formed when the diamond was crystallised under the earth's crust.
What Is Carat?
The carat is the weight of your chosen stone or stones, and is one way to measure the value of the ring you choose. The higher the carat count, the more money you will be spending.
Don't Forget Your Certificate!
When purchasing any diamonds, make sure you get the correct certification with it.
Popular Engagement Ring Metals
You can choose from a variety of metals for the engagement ring's band. The most common include yellow gold, rose gold, white gold, platinum, and silver. But you can also do a mix of different types of metals too, you're not limited when it comes to sourcing your band materials.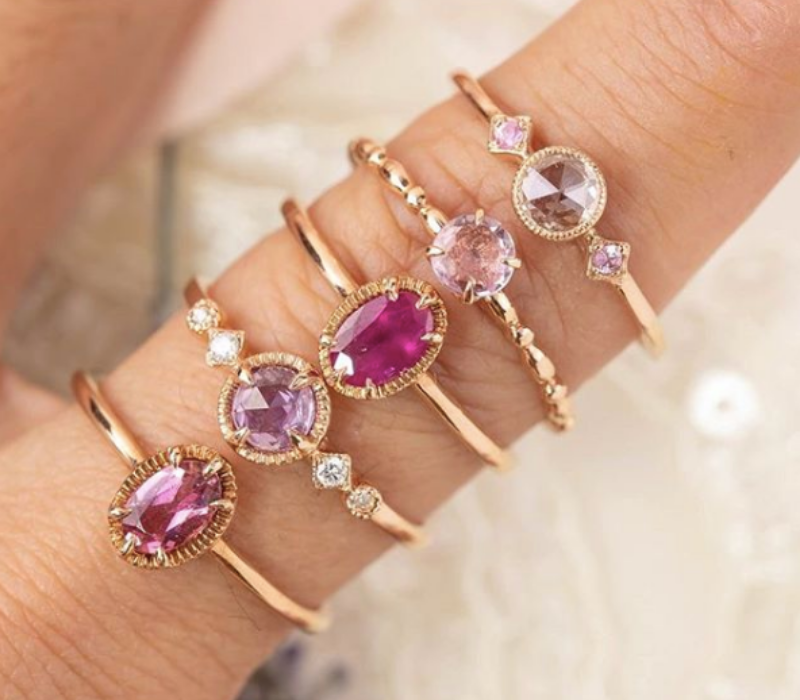 Yellow gold is set to still be huge for 2020 brides-to-be, that might be a great place to start!
Handy Guide On Diamond Cuts
In addition to the five C's, you'll also want to take into consideration the shape of the diamond you think your other half might prefer. Check out some of the possible shapes available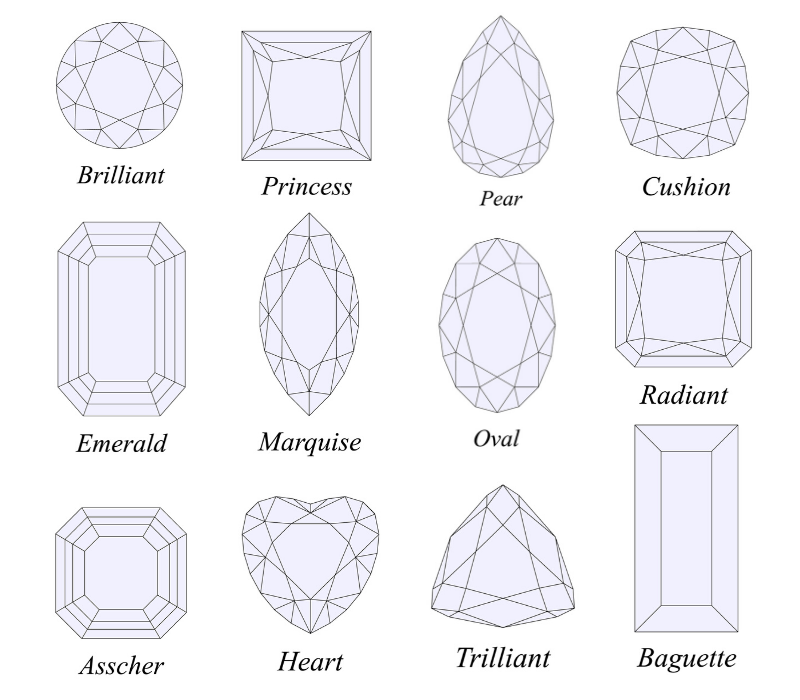 1. Round Cut
Brides everywhere tend to flock towards round cut diamonds. The round shape reflects the light perfectly, therefore it's no surprise that this is the reigning stone.
2. Princess Cut
The princess cut's versatile face-up shape, complete with square or rectangle sides, makes it a prime choice for nearly any ring style.
3. Cushion Cut
Also known as the pillow diamond, the square cut combination with rounded corners lends to a glamorous bride. The extra diamonds add some extra bling too, this one is WJ approved for sure!
4. Emerald Cut
This design is popular amongst modern, more art-deco inspired brides. With a more subtle and understated sparkle, its long silhouette and angular lines capture the diamond's clarity, while dramatically catching the light.
5. Marquise Cut
Also called the Navette cut, the marquise cut offers regal monarch vibes. Its distinctive silhouette is marked by curved sides and pointed ends. Its long, narrow shape not only creates an illusion of greater size but elongates the finger, perfect for any self-conscious brides who loath their shorter fingers.
6. Oval Cut
This shape can have just as many facets as a round cut stone, which means it has the capacity to be just as sparkly.
7. Radiant Cut
Brides who want to stray a little from the classic shapes will appreciate this stone's bespoke spirit, it's a bold ring that will catch everyone's eye!
8. Pear Cut
The pear-shaped diamond is a hybrid of two styles – the oval and marquise. This unique shape is a perfect choice for brides who breaks rules and are looking for something alternative.
9. Asscher Cut
The cut features an octagonal shape with 58 large step facets. Though it is technically an octagon, when it is set in a four-prong mounting it looks more like a square and is often referred to as the 'square emerald.'
10. Heart Cut
An eternal symbol of love, heart cut stones aren't traditionally used as engagement rings, but are ideal for the hopeless romantic and a barbie bride.
11. Trilion
Another unusual design, this shows a triangular-shaped diamond. Meghan Markle has two trillion diamonds in her own wedding ring both from Princess Diana's personal collection. If it's good enough for Meghan, it's good enough for us!
12. Baguette
This slim shape will give the engagement ring a unique twist that's not commonly seen.
READ MORE: How To Choose The Perfect Wedding Band For Your Engagement Ring
What Type Of Stones Can You Buy?
Whether you're looking for a classic look or an alternative engagement ring, these are some of the most popular choices.
1. Diamond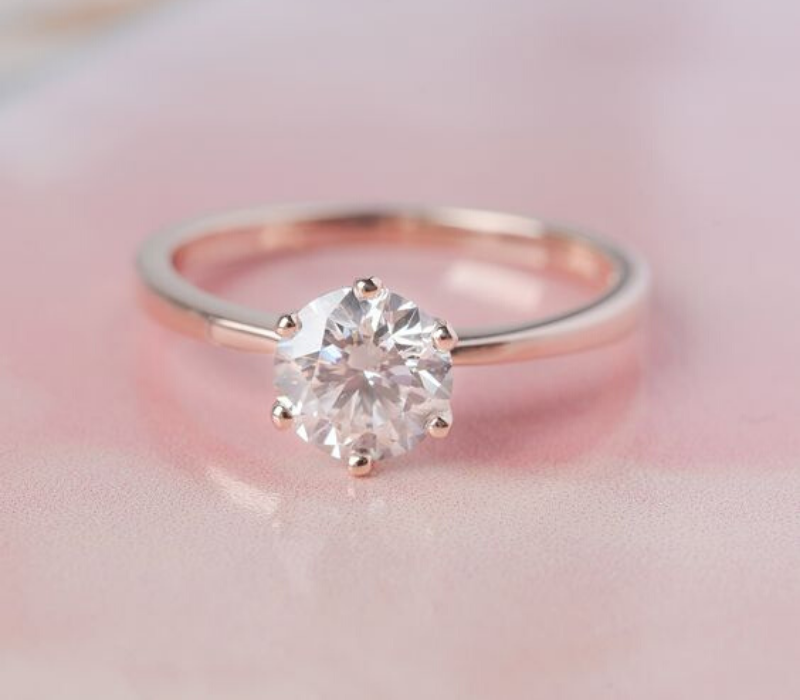 Not exactly groundbreaking, but diamonds are clearly a girl's best friend! You can also get yellow and pink diamonds so don't be shy to explore a little colout too. Champagne and grey diamonds are also having a moment amongst modern brides today.
2. Emerald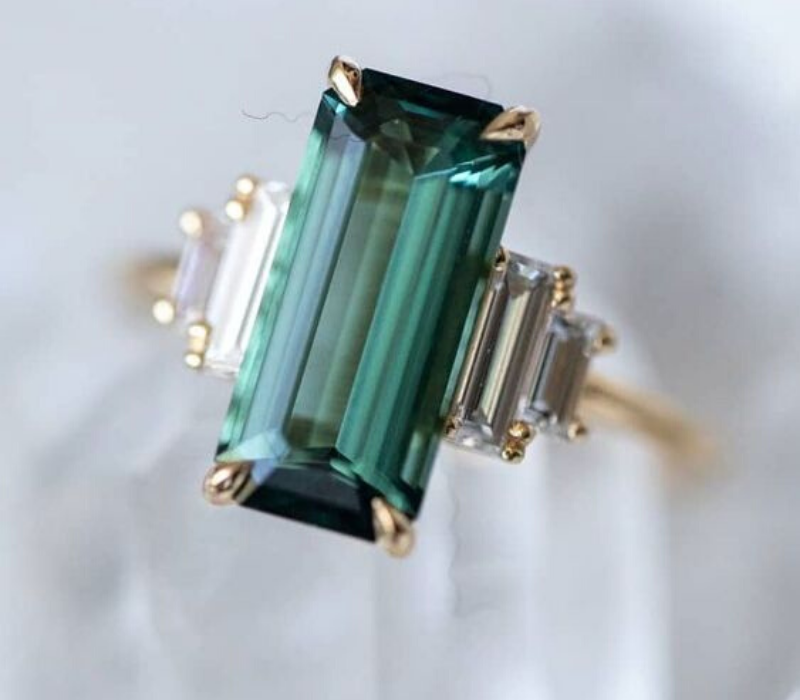 Emerald is a classic choice for an engagement ring, but this versatile vivid green stone looks gorgeous in a contemporary ring setting and in a more vintage style ring.
3. Onyx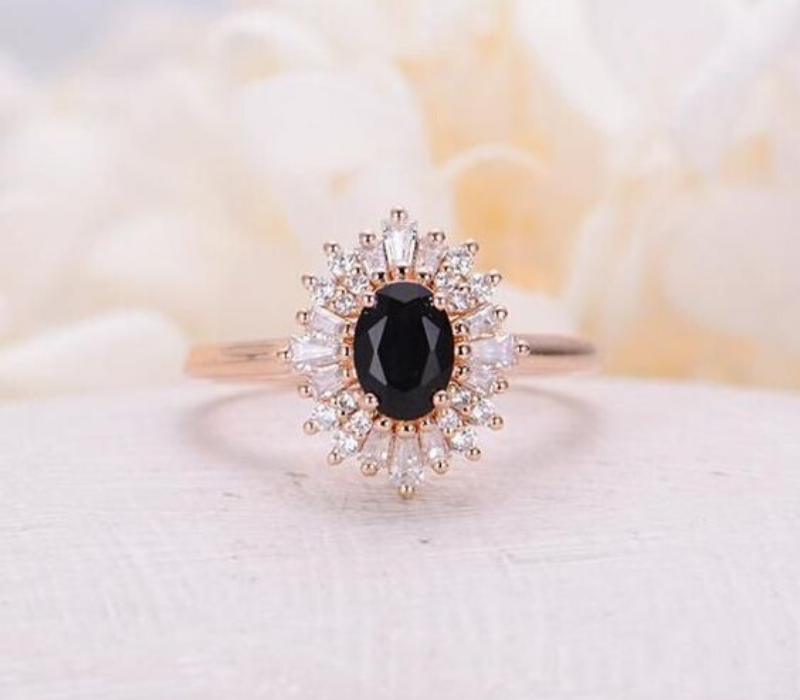 Onyx was used a lot in jewellery in the early 1900s and it's starting to make its comeback in contemporary jewellery too. If your partner is inspired by vintage trinkets, then this would be a perfect choice.
4. Opal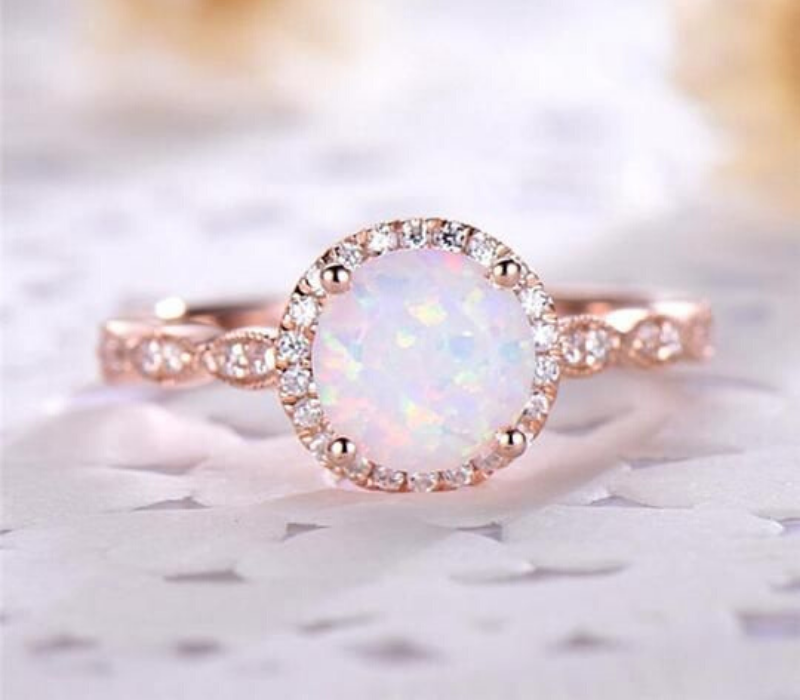 With a kaleidoscope of colours in each opal, no two are alike, ranging from the milky in hue to the icy-clear. Another choice for the alternative and vintage bride.
5. Rose Quartz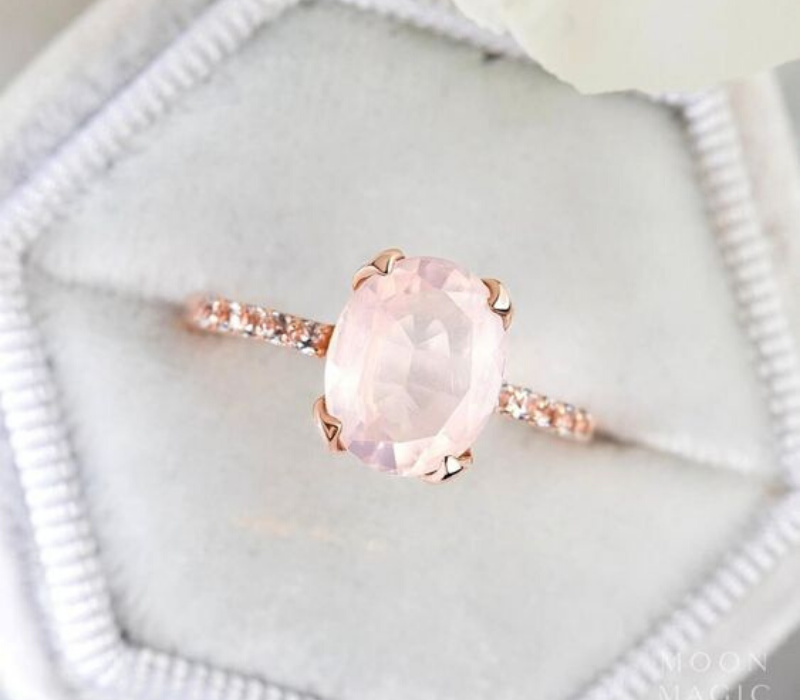 Rose quartz is a pretty pink stone, sometimes cloudy in colour. Often more associated with fashion jewellery than fine jewellery, modern designers have been pairing it with more precious stones to make beautiful contemporary engagement rings.
6. Sapphire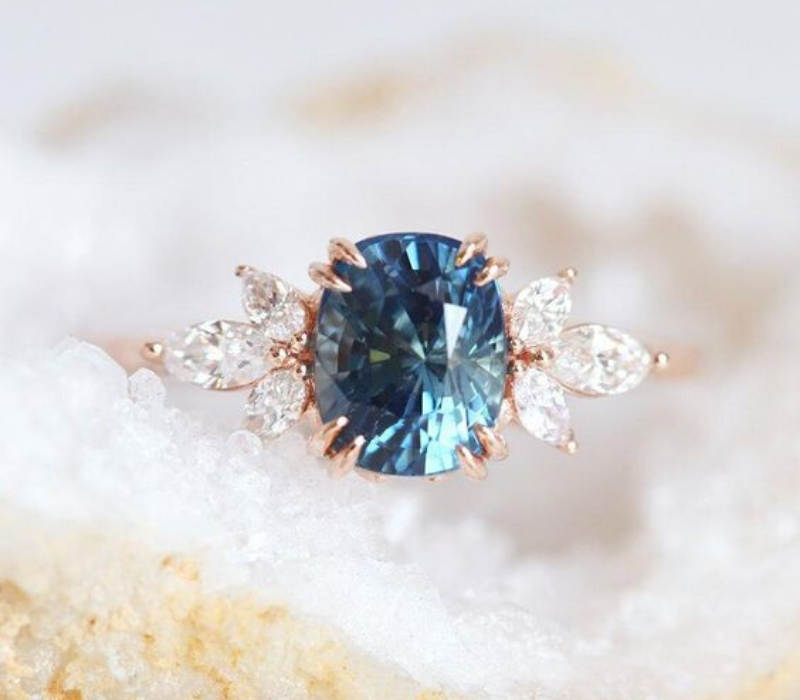 Sapphires are as hardy as emeralds or rubies, making them a fitting option for a ring that's all about everlasting love. Kate Middleton has been rocking her sapphire engagement ring for years now, and it still looks pristine.
7. Topaz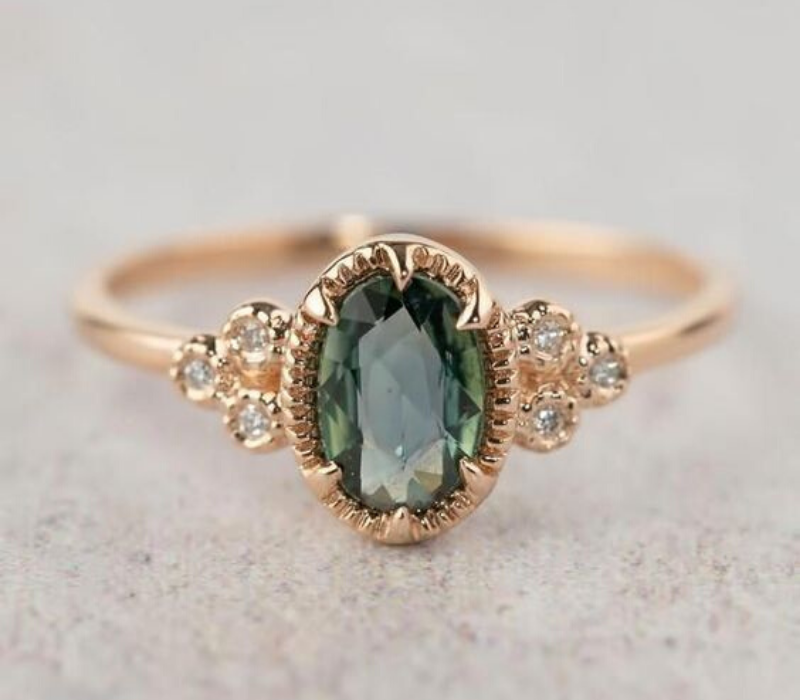 Most commonly found in a sky blue hue, topaz also comes in pink, green, orange, and red. Traditionally speaking, topaz symbolises friendship, so this would be a heartfelt choice of gemstone.
8. Amethyst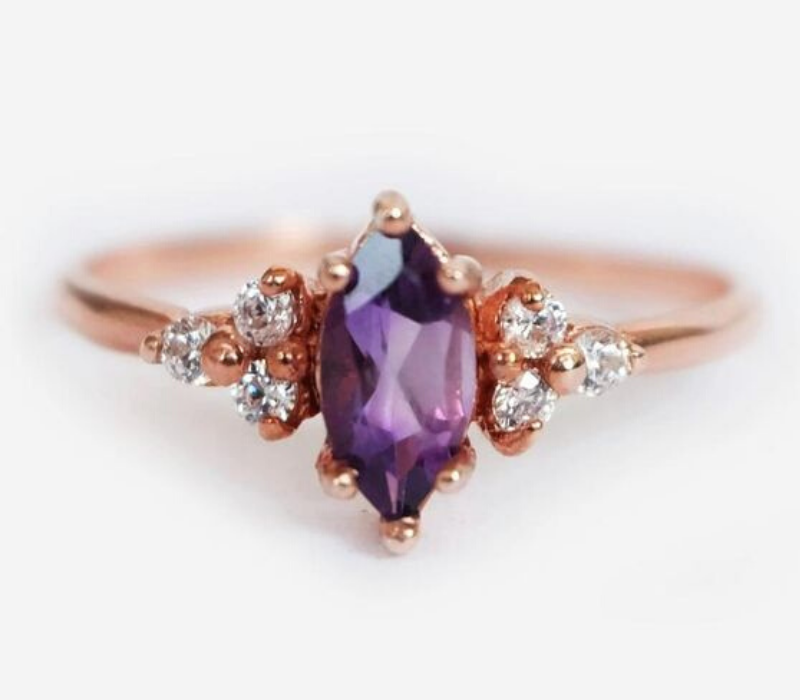 This pretty purple stone does tend to be seen in a raw state, but if it's well cut, it can look truly beautiful in fine jewellery.
9. Ruby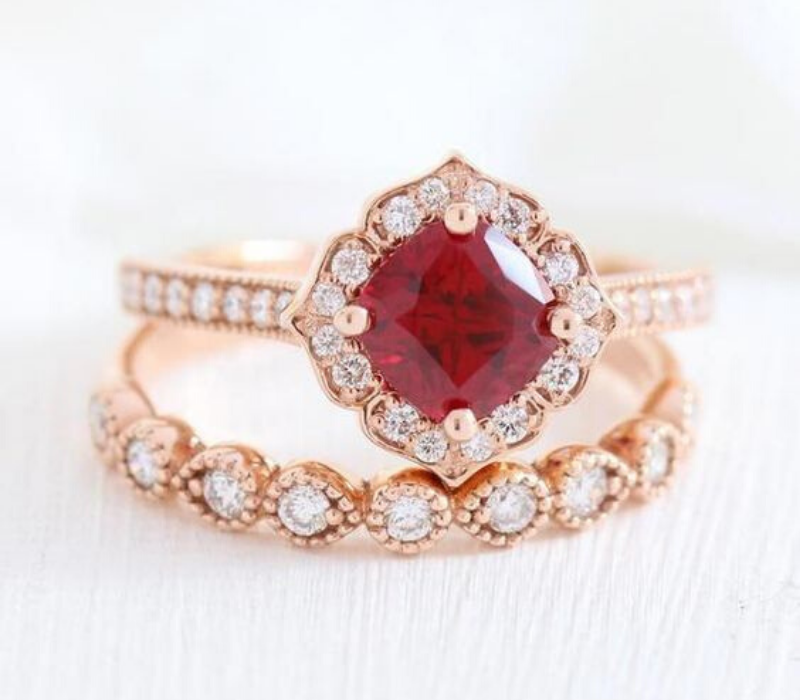 It doesn't get more romantic than choosing a stone the colour of love, ruby red. This looks particular stunning surrounded by smaller diamonds, wrapped around a yellow gold band.
How To Choose Your Engagement Ring Setting?
The setting is just as important as the centre stone, as it dictates the whole style of your ring. If your style is considered, then your setting should be too, especially if you're incorporating your partner's personal style, or including perhaps a family stone/heirloom into the ring.
Selection largely depends on style and preference, along with the lucky person's lifestyle. Some settings work better for active folks or those who do work with their hands, while other designs are more intricate with high-set stones.
1. Halo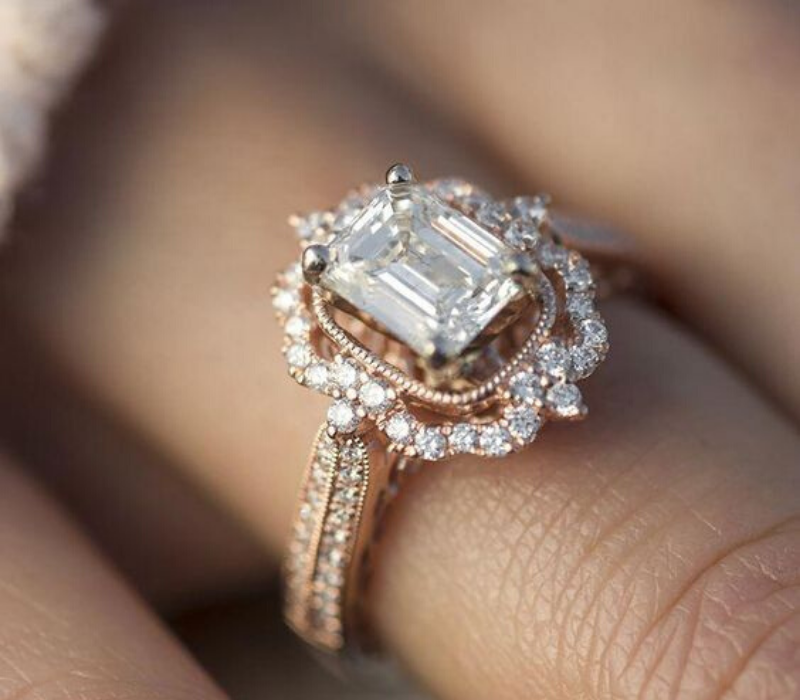 The halo setting makes the centre stone appear larger, a great option to boost the appearance of a small diamond, perfect for those on a tighter budget.
2. Three Stone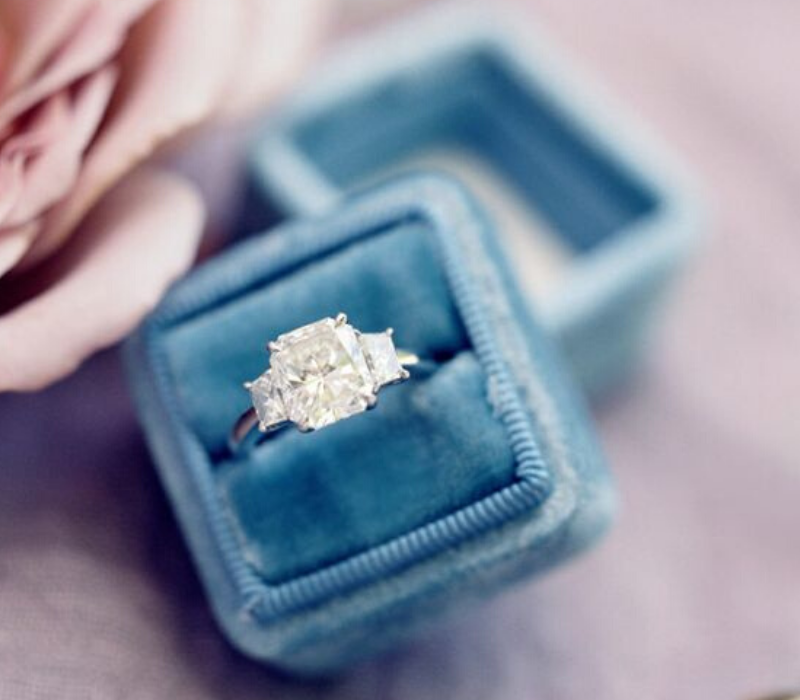 The three stones, set closely together, are said to symbolise the couple's past, present, and future.
3. Pavé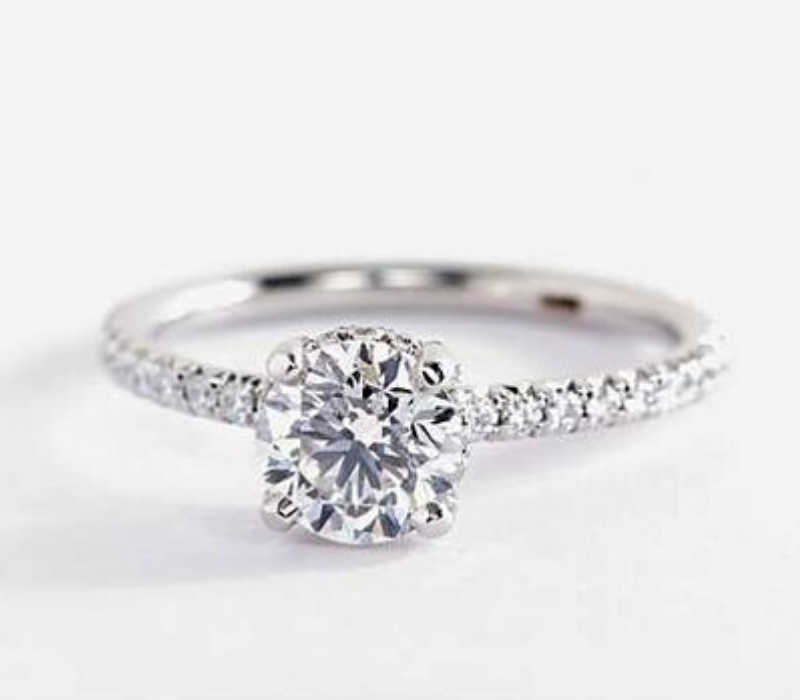 The pavé setting, pronounced 'pa-vay,' comes from the French word 'to pave,' as in paved with diamonds.
4. Cathedral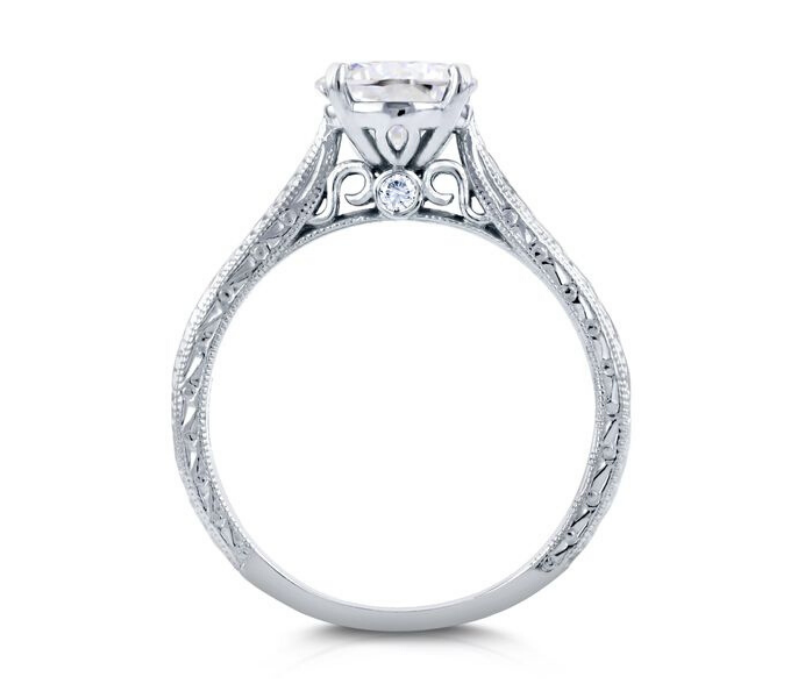 The cathedral setting is one of the most elegant and classic engagement ring settings. Similar to the graceful arches of a cathedral, this ring setting uses arches of metal to hold the diamond or other gemstone.
5. Flush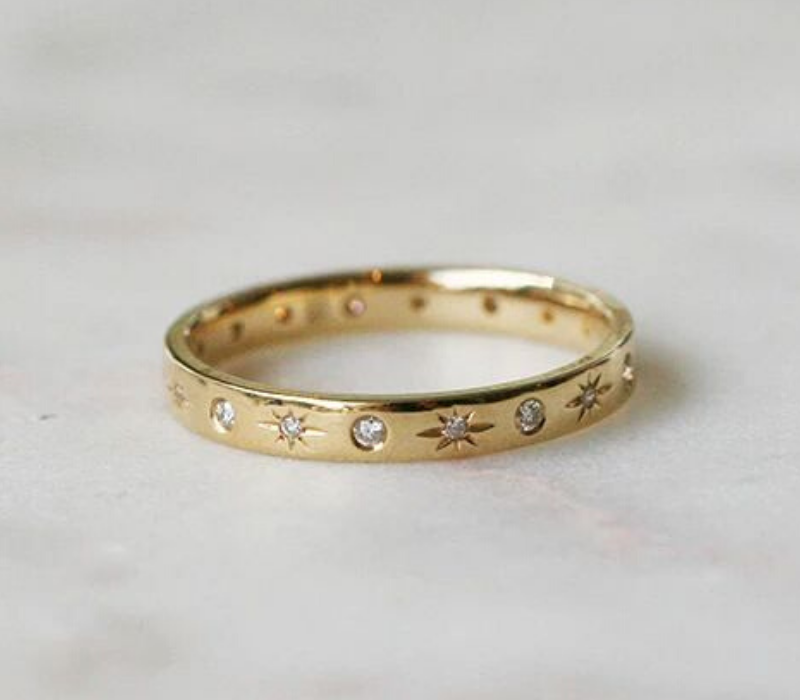 A flush setting, also known as a gypsy setting, sets the diamond into a drilled hole in the band of the ring so that the ring sits 'flush' with the band of the ring.
6. Cluster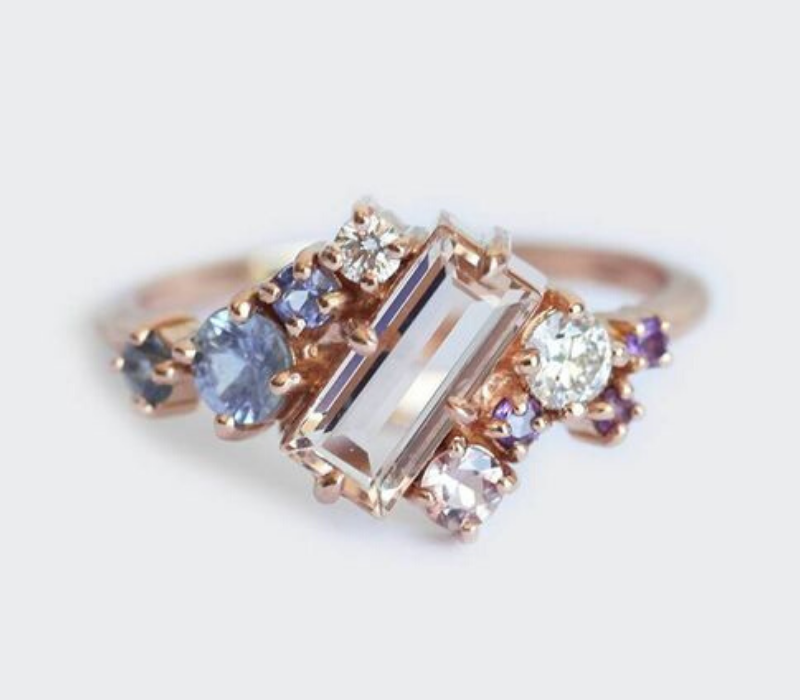 A cluster setting "clusters" stones tightly together in order to look like a large diamond. It can either contain a larger centre stone or cluster together stones of equal size.
7. Infinity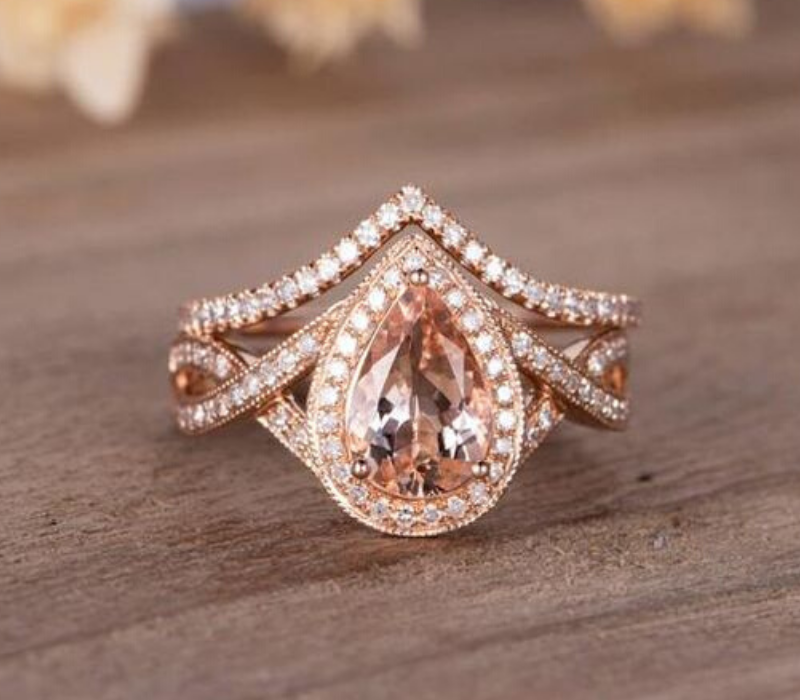 Designed to symbolise everlasting love, an infinity setting features a unique, beautiful design with an "8"-shaped pattern made up of two interlinking bands.
How Do You Insure Your Engagement Ring?
So you've picked and paid for your chosen ring, the fabulous proposal is officially planned, what's next? Getting that sparkler insured, in case of emergencies, and trust us, this might just come in useful, you never know! An engagement ring is both a financial and sentimental investment. You have a few options when you insure an engagement ring…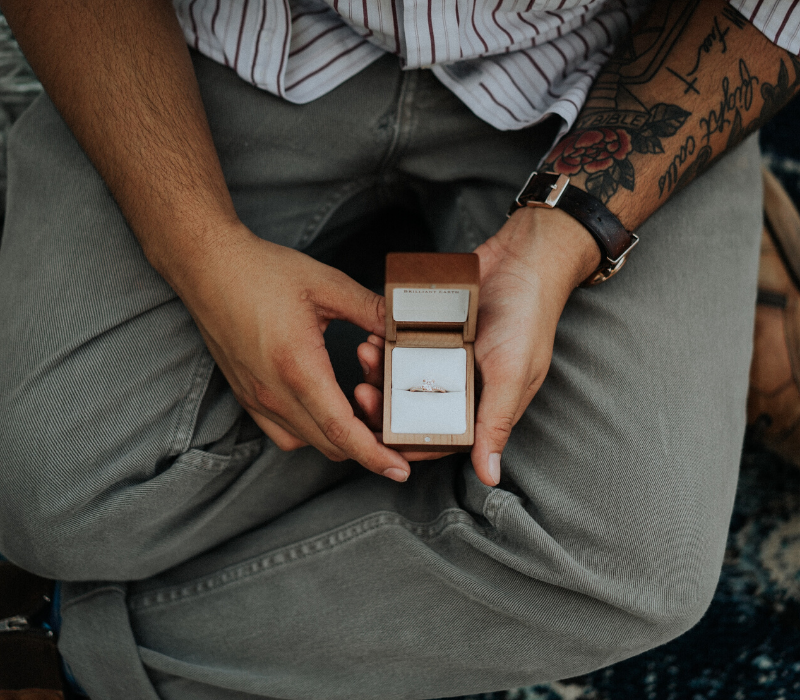 Homeowner's/Renter's Insurance
Many homeowner's/renter's insurance policies allow you to add the value of expensive items, like jewellery, to your coverage. However, make sure to check the policy to see what is actually covered.
Actual Value Policies
An actual value insurance policy will pay you the value of the ring minus its depreciation from use.  So, say if the ring you bought cost £/€2,000 and your wife loses it five years after you tied the knot, the insurance company may only pay you £/€1,500, taking into account the five years of wear and tear on the ring.
Replacement Insurance Policies
This policy will refund to you the market value of the ring you bought. This could mean you'll get more money than what you originally paid on the ring due to the appreciation of gold and diamond prices at the time.