This couple put together a timeless and elegant humanist wedding straight out of lockdown.
This wedding really was a case of hitting the ground running – Galgorm spa manager Jade Lavery (29) married her fiance, car salesman Dean Strain (32), on the first day the hotel was allowed to host weddings again after lockdown.
The couple married in the hotel's Phantom House and held their reception in the Renaissance Suite, dressing the wedding in a timeless and classic style.
How they met
Jade and Dean had known each other since their school days in Antrim, but didn't become a couple until they crossed paths again as adults on a night out.
"I was out one night with friends and we bumped into him again and he asked how I was doing," Jade explains.
"We got caught up about when we were younger at school and it all stemmed from then – we were reintroduced to each other and that's how it started! We've been together for five years now."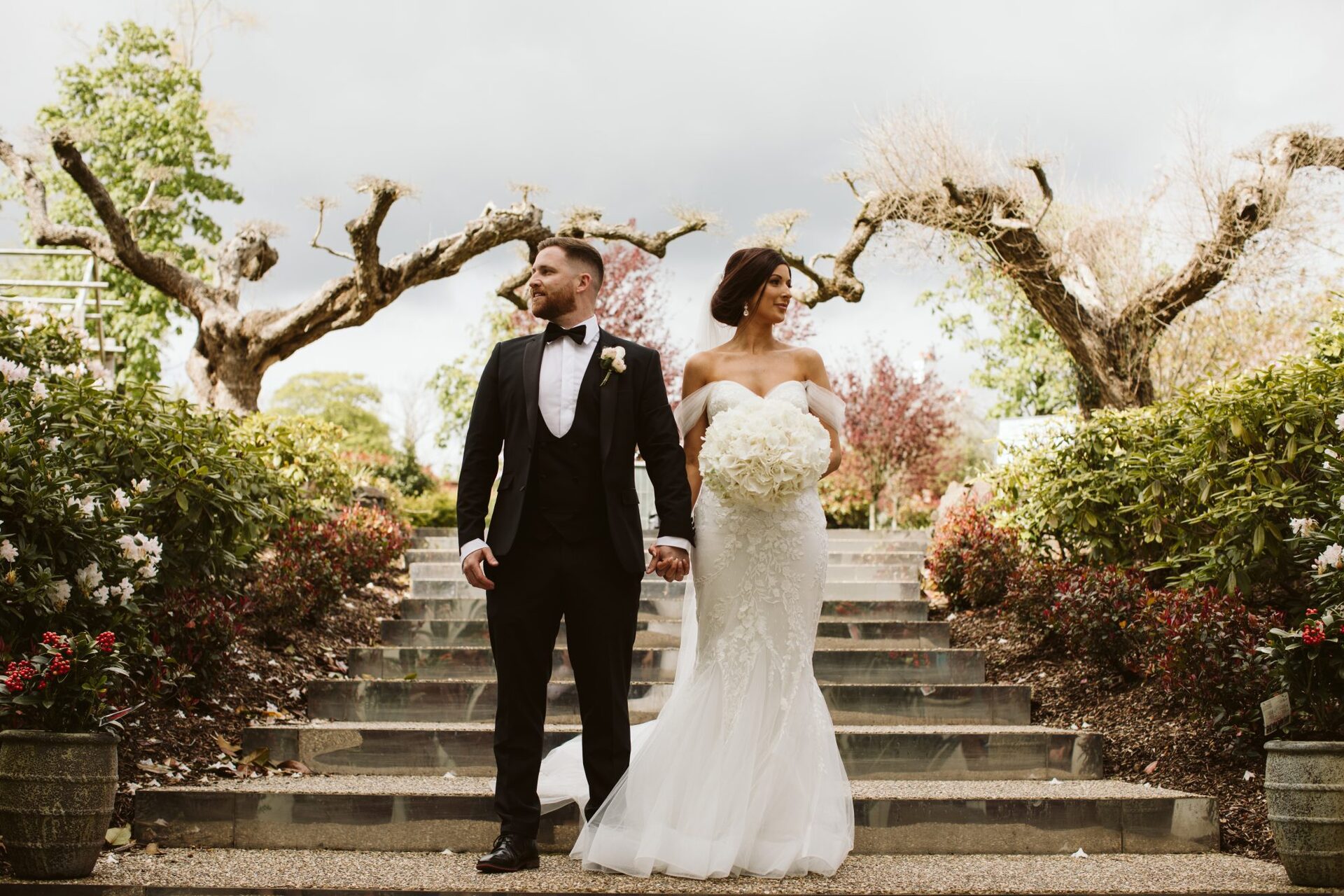 The Proposal
The proposal came when the couple were in Venice for Jade's birthday.
"We were on a gondola and Dean proposed – it was lovely and romantic!" Jade says.
"The only thing was I knew something wasn't quite right, because when we were on the gondola he was very quiet! I kept saying 'Are you ok, because it doesn't seem like you're enjoying it?' I think it was the stress of thinking about what he had to do!"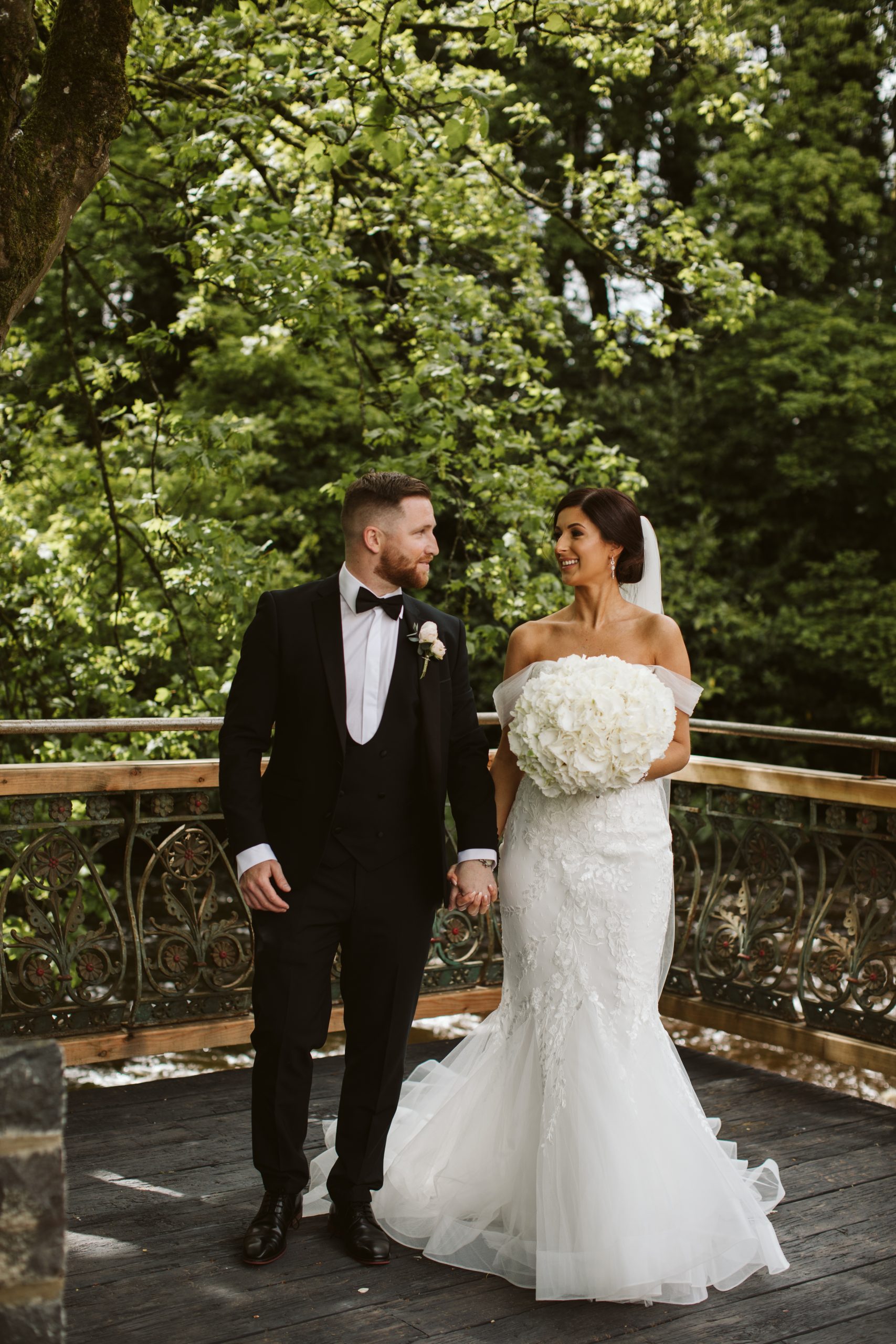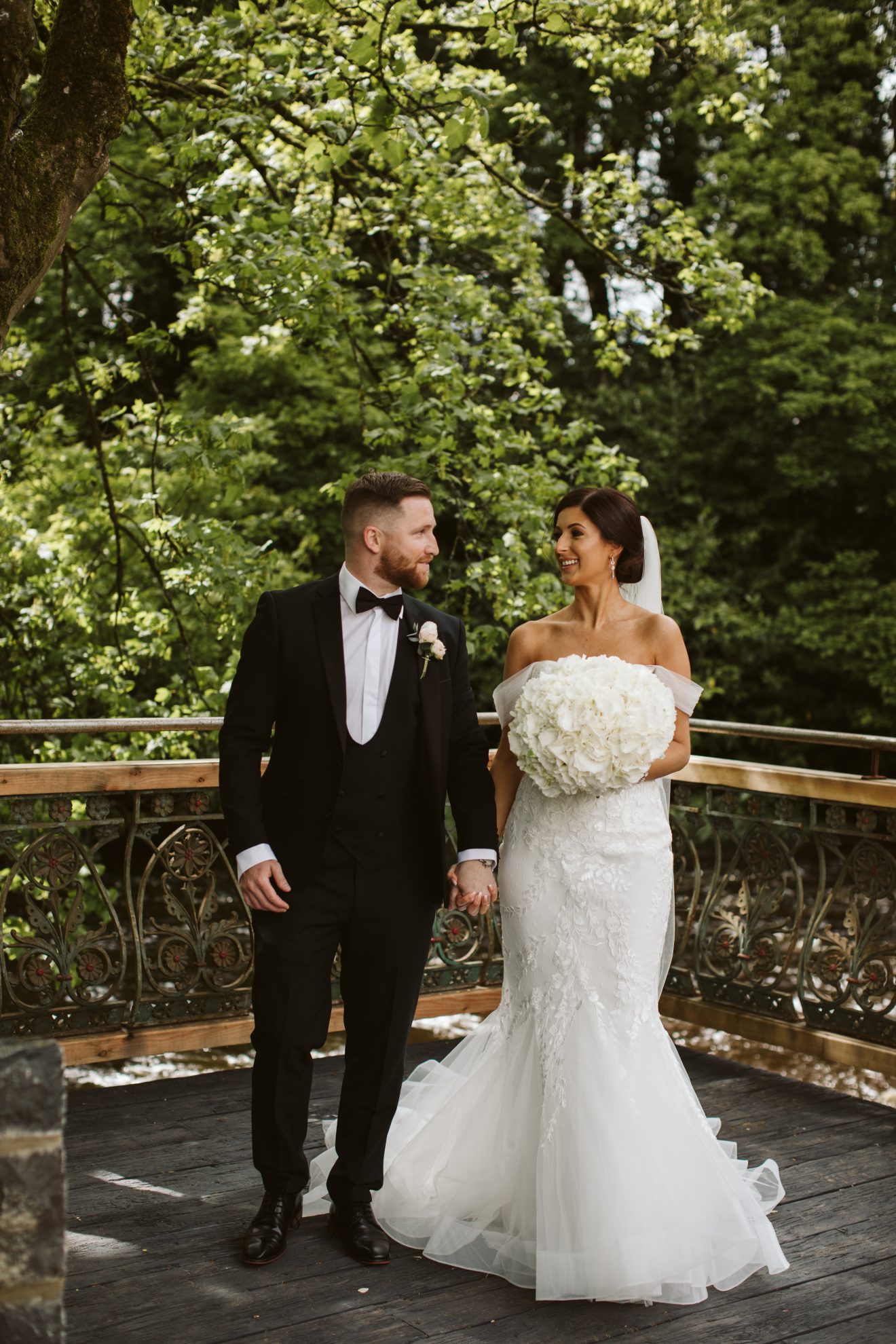 The Planning Process
"I've always loved Galgorm ever since I can remember and I work within the spa here at Galgorm, so it really was a no-brainer! I adore the style of the Renaissance Suite and it fitted so well to the theme of our wedding," Jade says.
"Our first date was September 24 2020 and we had to move it to March 2021. But the hospitality industry was still closed so it didn't go ahead again.
"It got moved to April 24 and that was the day that hospitality opened up in Northern Ireland, so we were very lucky that we got the day we wanted to have it!
RELATED TO: 10 Perfect Spa Venues To Celebrate Your Wedding In Style
"We were able to do a risk assessment of numbers for our venue and we were allowed to have 70 people which for us was still a very good number – originally we had 120 on our guest list, so we did have to cut back slightly. But most of our family and friends were able to come."
The Venue
The couple married in the Phantom House at Galgorm, a ceremony room that resembles a church, followed by a reception in the Renaissance Suite.
"We had a humanist ceremony which was lovely – it was very personal to us as a couple and all our guests commented afterwards about how lovely our service was," Jade says.
RELATED TO: Top 11 Heavenly Honeymoon Suites In Ireland
She says they chose the Renaissance Suite for the reception because it fitted the classic styling of the wedding so well.
"We wanted to go for a classic and elegant theme and it's a beautiful room that doesn't need much decoration done to it – it was really timeless," she says.
"That room has always really stuck out for me and I knew that when we were getting married it would be in that room.
"We loved that we chose a resort location, as there was no travelling between the ceremony and function, and it meant we had that little bit of extra time with our guests after the ceremony instead of rushing off."
Dream Wedding Suppliers
The classic and timeless theme was conveyed to perfection by florist David McConkey, who used white hydrangea for the bouquet and the groom's buttonhole, as well as pale pink hydrangea for the bridesmaid's bouquets. The groomsmen had pink hydrangea in their buttonholes and the venue's floral displays featured hydrangeas and roses.
Jade says: "My dress was from Ivory Grace, the bridal boutique at Galgorm, and it was by Kenneth Winston. It had lace detail at the top with diamante and a little off-the-shoulder sleeve and it fitted right down to below the knee, with a fishtail and a long train at the back."
RELATED TO: Sweet and Sexy Off The Shoulder Wedding Dresses For The Trendsetter Bride
Her hair was styled by Kerry McDonald, from House of Smyth in Antrim.
"She did my hair and all the bridesmaids' hair as well," Jade says.
"My hair was in a low bun with a little bit of volume to the top. A hairpiece was clipped in above the bun and a veil put in – it was very simple."
RELATED TO: How To Find Your Dream Wedding Team
"The make-up was done by Natalie McNab – she did my bridesmaids' and my mum's make-up as well. It was very natural, but very bridal, and in the photos it looks lovely!"
Dean went for a black tie style tuxedo ensemble, from Hire Class in Ballymena.
RELATED TO: Groomswear Demand Surges By 50% Since Before The Pandemic
"They were really good – they were closed throughout the main lockdown and it was a last-minute dash to get measured and ready in time, but they managed to get everything done in a few weeks for us – and the suits were amazing!" Jade says.
The Day
Jade says she loved being able to marry at her place of work, in part because it meant her colleagues could be there to see her arrive.
"When I arrived it was a really lovely, sunny day. I arrived 10 minutes early and I had to sit in the car and wait until everybody was inside," she says.
"When I eventually got out, it was a lovely day and all my colleagues were there to say hello before I went in."
The couple were able to have a sit-down four course meal, and while live music wasn't an option, they were able to hire a DJ to keep the celebratory atmosphere going.
"We were able to have our speeches, sit-down meal, a drinks reception, cut the cake, have our first dance and music for the wedding, so it still felt very much like a wedding day," Jade says.
"Galgorm was amazing at helping with reorganising it all. We'd booked a package wedding where a lot of the bits and pieces were booked through the Galgorm and they did it all for me. It took all the stress out of it – the wedding planners were great and helped us in any way they could and we were able to keep all our suppliers.
RELATED TO: 8 Fabulous Tiered Wedding Cake Trends You Need To See
"The cake was by Gemma's Cakes and it was a three-tiered cake with roses made out of icing. One tier was chocolate, the second tier was raspberry and white chocolate and the other one was lemon and elderflower gin flavour. They were all amazing – it was so hard to choose my favourite!"
The Music
The couple had been planning to have a live band for the wedding, but only discovered two days ahead of the big day that live music wouldn't be allowed.
However, they were allowed to have a singer at the ceremony, Jess Walker, hired through Starling Entertainments, and she performed an Ed Sheeran number
"She als sang an acoustic version of Bruno Mars 'Marry You' when we were leaving the ceremony," Jade says.
RELATED TO: How To Create The Ultimate Wedding Reception Playlist
She says Starling Entertainments really came through when it came to the reception music, promising that there would be some kind of music at the evening do.
"We were able to have a DJ and he played a range of music throughout the night, which was good," she says.
"We also had a Mr and Mrs quiz halfway through which was fun – it broke up the night for everybody and we all had a bit of a laugh."
Capturing the Day
Jade pays tribute to their photographer, Emma Rock.
"She made us feel really relaxed. She contacted us a couple of days prior to the wedding asking if there were any shots we wanted to get, and she was able to gather up family members for those on the day," Jade says.
"It means we weren't running around looking for grandparents for the photos! We felt really relaxed and weren't rushing about, stressing about anything – it was very laid-back.
RELATED TO: Top Questions You Can't Forget To Ask Your Wedding Venue
"Our videographer was Sean from Timeless Productions. He worked really well with Emma and they had worked previously together, which was one of the reasons why we chose him. He had the same style as Emma and it was very relaxed.
"He captured a lot of moments with our guests which we hadn't really seen so it was lovely to see those moments afterwards."
Favourite moment
"I would probably say the ceremony would be my favourite moment," says Jade.
"We didn't know what to expect with having a humanist ceremony, but it was relaxed and personal and people were laughing through it as well.
"The people that were there really loved the ceremony as well. All the feedback from the guests was that they'd never been to a ceremony like that before and it was lovely to see something so different."
RELATED TO: Should You Have A Humanist Wedding Ceremony
Advice for couples
"Enjoy every minute of your special day as it is true what people tell you, that it passes in the blink of an eye! Also try and take some moments out of the day just for the two of you to enjoy some time together!" Jade says.
The Dream Team
| | |
| --- | --- |
| Galgorm Wedding Planner – Megan Doherty | Wedding Dress & Accessories – Ivory Grace Bridal Boutique |
| Wedding Stationery – Darling Stationery | Shoes & Jewellery – Little Pearl Company |
| Cake – Gemma's Cakes | Hair – Kerry McDonald, House of Smyth |
| Flowers – David McConkey | Bridesmaid Dresses – Mark Lesley Bridesmaids from Ivory Grace Bridal |
| Entertainment – Starling Entertainment | Make-Up – Natalie McNab |
| Décor & Design – Fairytales | Groomswear – Hire Class Ballymena |
| Photographer – Emma Rock | Nails – Vain Salon, Antrim |
| Videographer – Sean from Timeless Productions | Favours – Chocolates |
RELATED TO: 11 Things I Wish I'd Known Before Planning A Wedding
Still organising your perfect day? Check out our gallery of fabulous suppliers HERE.
Sign up to our newsletter to get all the latest from The Wedding Journal! Join Here>>>>http://eepurl.com/ck9vLb