Some TV weddings just have you entranced, some stick in the memory forever and some are just a disaster. Here are some of our favourites that kept us utterly spellbound!
It's the ultimate watercooler moment, when a couple you've been following on a TV show forever finally decide to tie the knot.
Sometimes a TV wedding is just something that happens in the background, but sometimes it's a truly momentous occasion in the development of a beloved character, keeping millions of viewers on tenterhooks.
So which weddings delighted us – and which stuck in our heads for all the wrong reasons?
David and Patrick in Schitt's Creek
Who didn't love it when David and Patrick tied the knot at the end of Schitt's Creek? Despite disaster striking from every direction (lashing rain, missing officiant, you name it), the Rose family team up with best man Stevie to save the day – and somehow it all works out in the end. Who can forget the stunning scene where Moira outdoes herself, dressing up as the Pope to officiate over the ceremony, while becoming utterly overwhelmed with emotion?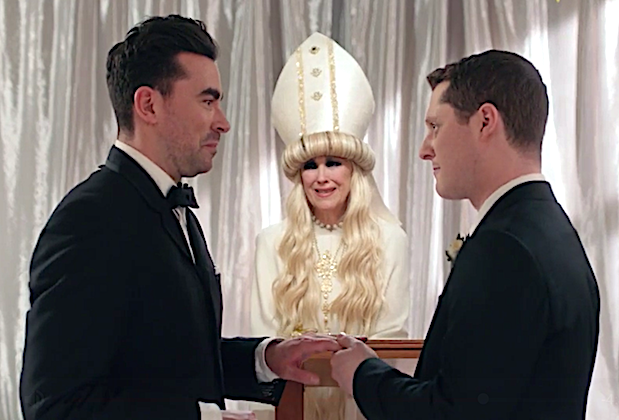 RELATED TO: Guess Which Couples Wed and Who's Newly Engaged
Denise and Dave in The Royle Family
It's one of our favourite weddings – and we don't even see the wedding itself. The Wedding Day episode of The Royle Family, starring the late Caroline Aherne, shows all the trials and tribulations of the wedding prep, from a tearful bride to a dose of the runs to Nana's missing shoes and groom Dave pretending to be drunk – right up to the sweet smoke break between Denise and her dad Jim as they wait for the taxi to arrive and she just about manages to tell him how she feels about him.
RELATED TO: Gwen Stefani Reveals Stunning Images Of Her Wedding To Blake Shelton
Lady Mary and Matthew Crawley in Downton Abbey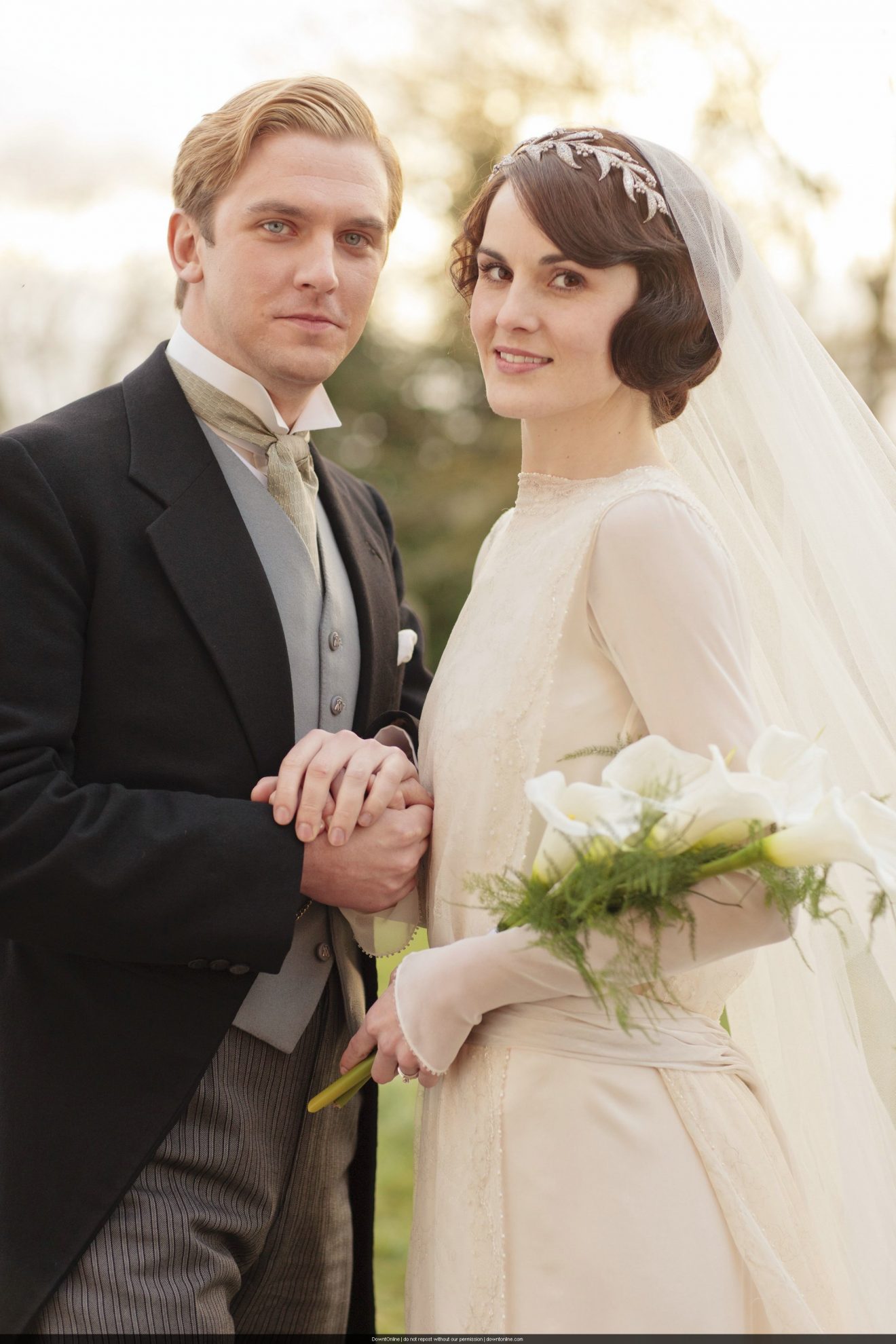 We'd been waiting for years and it was one of the most unforgettable moments in Downton Abbey. When the fierce and independent Lady Mary finally wed the kind and brave Matthew Crawley, there wasn't a dry eye in the house. She wore a stunning long sleeved cream dress encrusted in rice pearls and Swarovski crystals – and a custom made 45-carat floral diamond tiara. Fast forward a few years and their marriage would end in tragedy, but at least we had those long anticipated and magical moments!
RELATED TO: Create A Showstopping Day Like No Other
Steve and Miranda in Sex and The City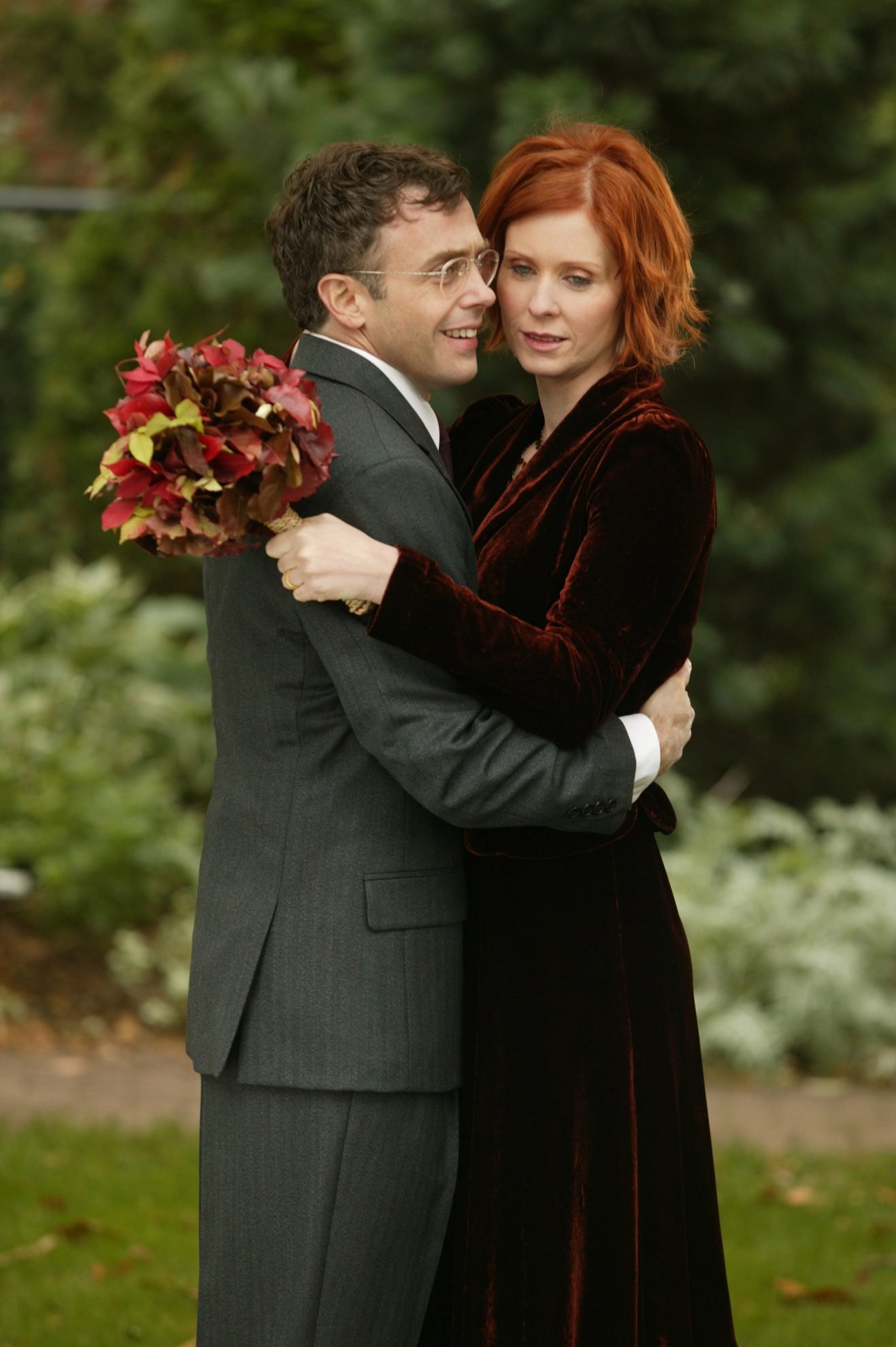 RELATED TO: 10 Most Expensive Celebrity Engagement Rings You Need To See
There were more than a few weddings in the hugely popular HBO series and its tie-in movies, but one of the sweetest – and the last in the series – turned out to be Steve and Miranda's. The spiky Miranda initially doesn't want to marry Steve, but it's only when they're enjoying a beer and watching a squabbling elderly couple that Steve comments that he doesn't want to lose her again, and Miranda unexpectedly pops the question, to which Steve responds 'Hell yeah'. Cue a charming little outdoor wedding in Jefferson Market Garden, followed by lunch at a nearby restaurant, with Miranda wearing a burgundy velvet tailored suit.
Gavin and Stacey
Who didn't love the long distance lovers as they traipsed from Essex to Barry in Wales and back again, with many a moving and hilarious moment along the way? The big finale of the first series was, of course, Gavin and Stacey's wedding, with a wonderfully tender moment between Uncle Bryn and Stacey in the car on the way there, not to mention his tear jerking speech as he gave her away. The big scene stealer was the arrival of Jason and the revelations about the never-to-be solved mystery of his fishing trip with Bryn. And the best thing was that the series would only go from strength to strength from then on, with the romantic focus switching to the rollercoaster relationship between Nessa and Smithy.
RELATED TO: Chrissy Teigen Bought Five Wedding Dresses Because She Felt 'Guilty'
Scott and Charlene from Neighbours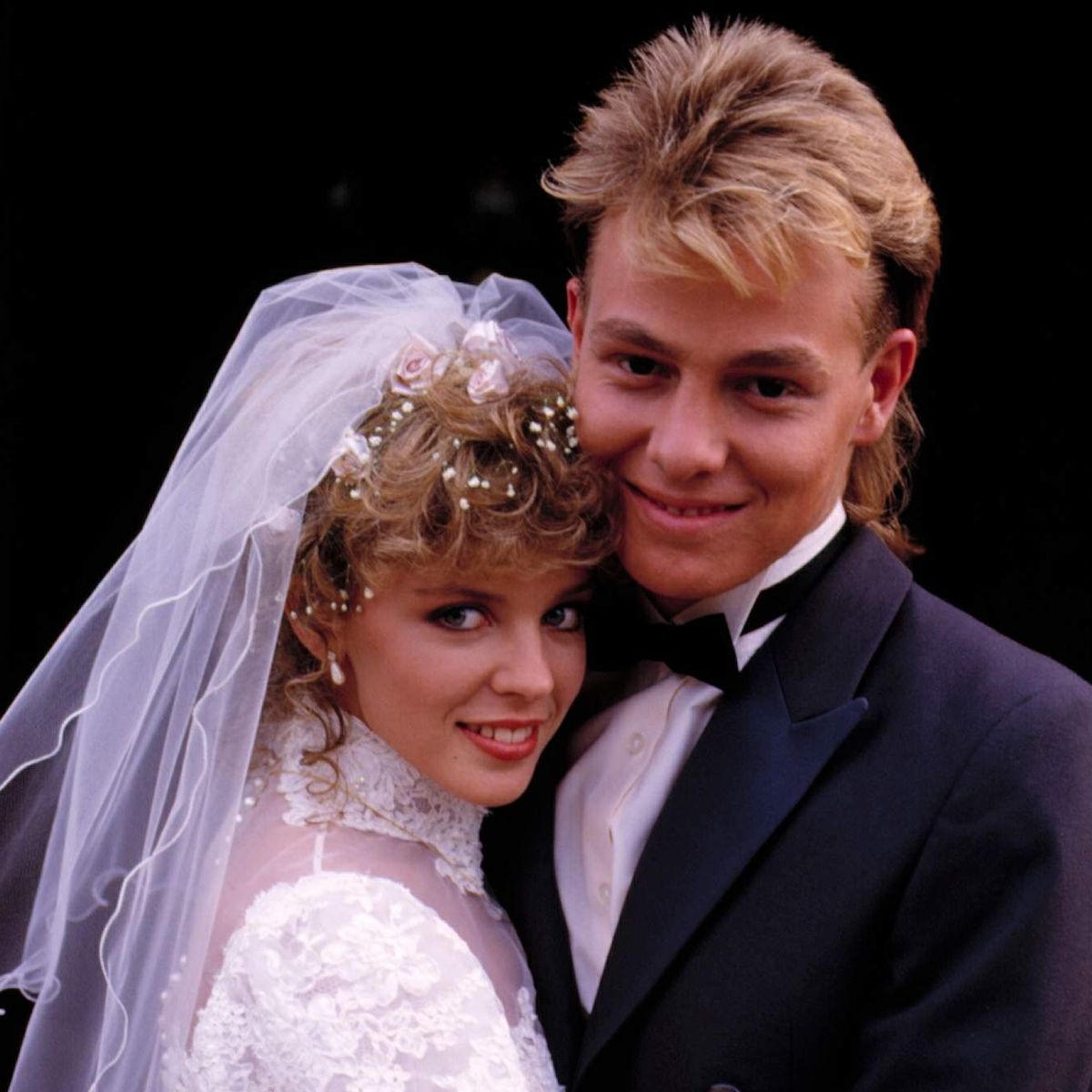 There are soap weddings and soap weddings, but the biggest hitter of them all was the romance between Scott and Charlene, played by Kylie Minogue and Jason Donovan. The pair meet when Scott mistakes Charlene for a burglar and confronts her, and she punches him in the mouth – a punch that was thrown for real by Kylie as she filmed the scene. Their wedding day was broadcast way back in 1987, becoming one of the most watched soap episodes in Australia and drawing almost 20 million UK viewers, making the cover of Time Magazine Australia. The young fan favourites toured Australia after the wedding to promote the show, sparking riots among fans.
RELATED TO: Small Weddings: How To Wed Like A Celeb
Monica and Chandler from Friends  
Rachel's pregnant, Phoebe's pretending to be pregnant and Chandler thinks Monica is pregnant. The big wedding day was a true comedy of errors as viewers eagerly waited to find out who was really expecting. But the most fabulous moment was Joey's hilarious, muddled and heartfelt speech about giving and receiving, having and sharing love, after he was ordained online in preparation for the big day. Monica found her perfect wedding dress, Chandler overcame his lifelong fear of commitment and the pair are still happily married, or so we understand…
RELATED TO: 9 Reasons Why We Loved Wedding Crashers
The Purple Wedding in Game of Thrones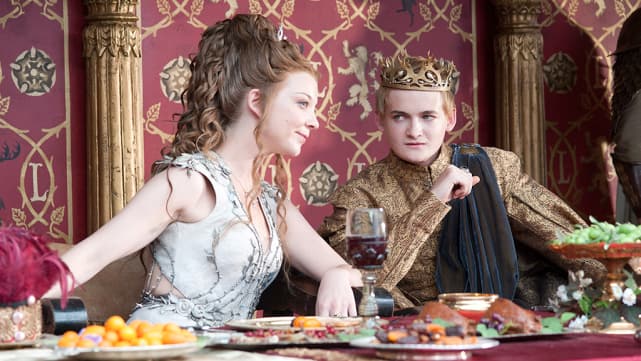 Say what you like, but the Game of Thrones weddings were pretty memorable. Horrible, but memorable. The best thing about them is that nobody's real-life wedding could ever go as badly. The most disastrous has to be the Red Wedding in which three of the Starks were murdered gruesomely by the Lannisters and Freys, but we're giving a shout-out to the Purple Wedding in which Lady Margaery Tyrell tied the knot with the monstrous king Joffrey Baratheon. The young tyrant came to an untimely end after he was poisoned by a mystery assailant, choking to death in the arms of Cersei Lannister and mourned by hardly anyone in the whole of Westeros. So that counts as the closest thing to a happy ending. How many times did we hit rewind?
RELATED TO: The Most Shocking Weddings In Game Of Thrones
Marshall and Lily in How I Met Your Mother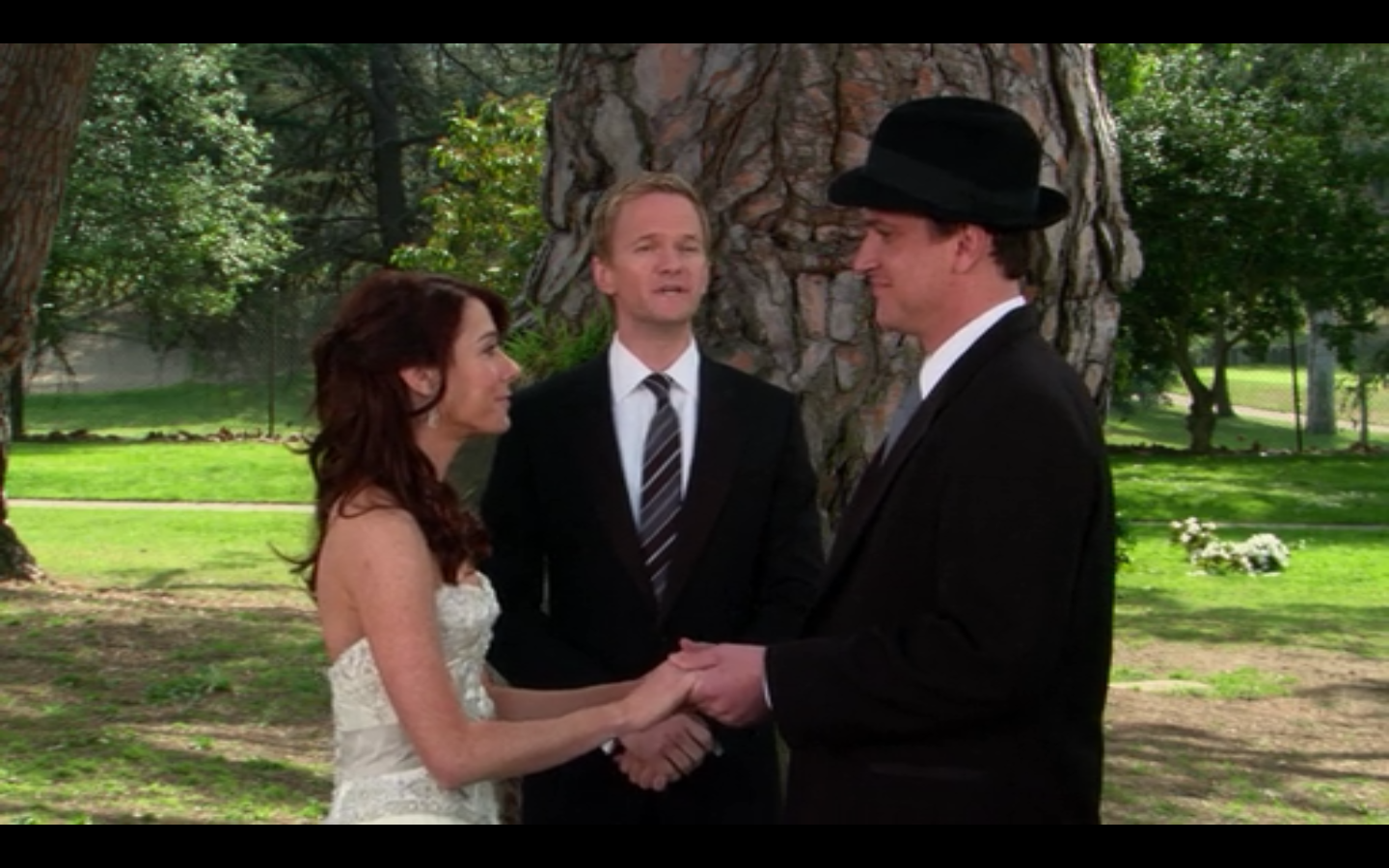 In true comedy style, Marshall and Lily's wedding takes place against a backdrop of break-ups and disasters, with their friends Ted and Robin calling it a day on their own relationship. Ad it's not their first rodeo, as technically they were married for 12 seconds off the coast of Atlantic City earlier in the season. Marshall and Lily are the most stable couple in the sitcom, fuelling Ted's belief that one day he too would find 'The One', and despite a host of mishaps on the big day, the wedding ended up becoming a touching moment with the pair making the last-minute decision to wed outside the venue with only their closest friends in attendance.
RELATED TO: The Wedding Movies You Need To Watch
Dad and Godmother in Fleabag
Like many weddings, this one is bittersweet, with the rather horrible godmother tying the knot with Fleabag's dad. And as the Hot Priest delivers a memorable wedding speech about love representing hope, it becomes clear that there's going to be no happy ending for Fleabag herself. But as one marriage is formed, there's long-awaited relief as another toxic relationship dissolves – Fleabag's spiky sister Claire finally manages to make the momentous decision to end her marriage to the loutish Martin and, prompted by the Priest's speech, takes off to the airport to meet her Finnish lover Klare. Here's THAT speech in full…
"Love is awful. It's awful. It's painful. It's frightening. It makes you doubt yourself, judge yourself, distance yourself from the other people in your life. It makes you selfish. It makes you creepy, makes you obsessed with your hair, makes you cruel, makes you say and do things you never thought you would do. It's all any of us want, and it's hell when we get there. So no wonder it's something we don't want to do on our own. I was taught if we're born with love then life is about choosing the right place to put it. People talk about that a lot, feeling right, when it feels right it's easy. But I'm not sure that's true. It takes strength to know what's right. And love isn't something that weak people do. Being a romantic takes a hell of a lot of hope. I think what they mean is, when you find somebody that you love, it feels like hope."
RELATED TO: 10 Things I Wish I'd Known Before Planning A Wedding
 Still organising your perfect day? Check out our gallery of fabulous suppliers HERE.
Sign up to our newsletter to get all the latest from The Wedding Journal! Join Here>>>>http://eepurl.com/ck9vLb