Show these cute shots to your wedding photographer for some amazing picture ideas!
Whether you're confident in front of the lens or a little camera shy, you could always use some inspiration to know what kind of photographs you want from your big day. After the bride and groom, the bridal party are the main stars of the show so it's only right you get some killer pictures to capture your squad!
Luckily for you we've gathered lot of striking photo ideas from classic shots to candid moments and creative ideas. Keep on scrolling to get inspired…
The Big Kiss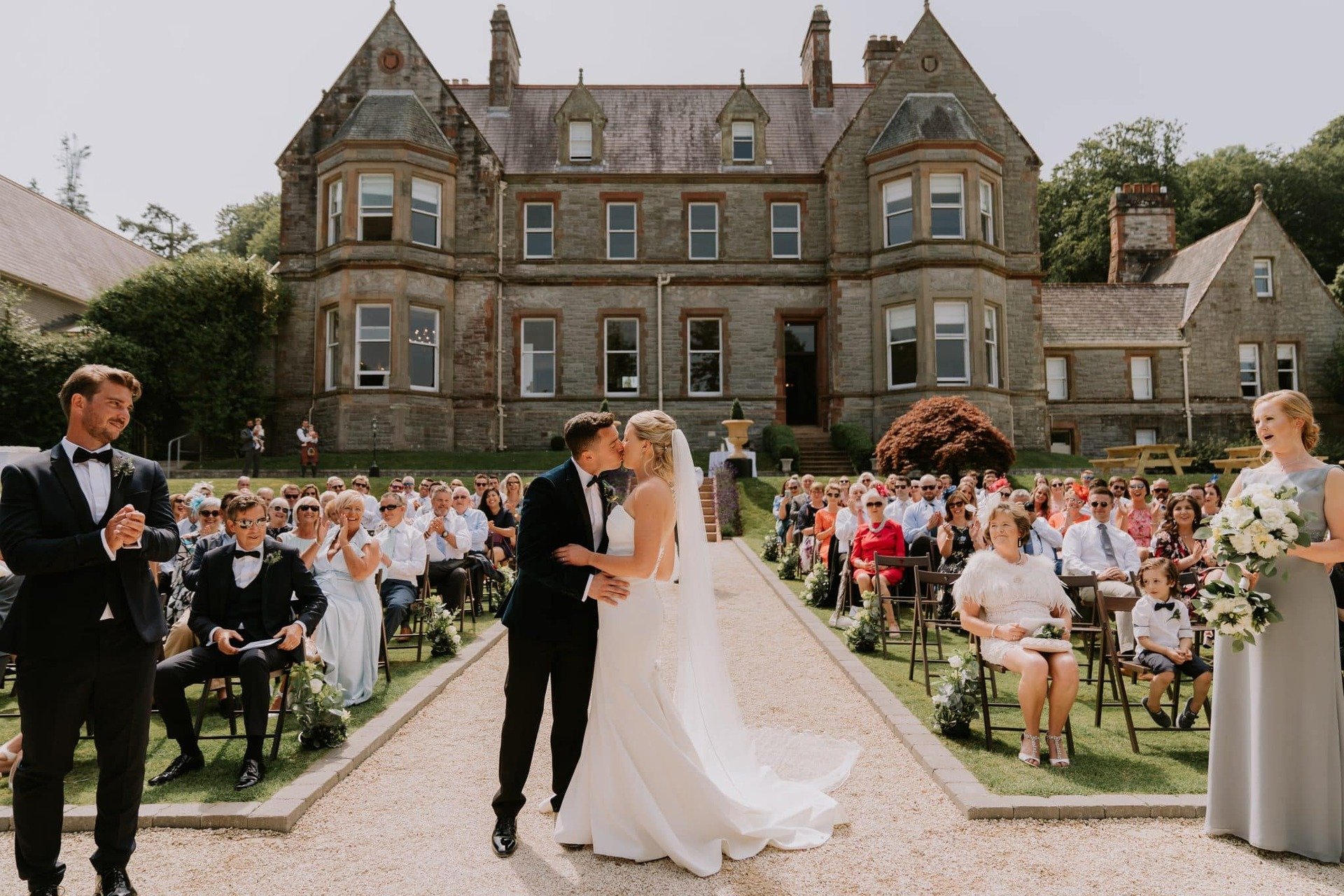 Sweet and not too posed, capture the moment you and your bride or groom seal it with kiss on the alter – bonus points if your guests and bridal party are cheering in the background!
See more of Jane and Andrew's day at Magheramorne Estate!
Confetti Throw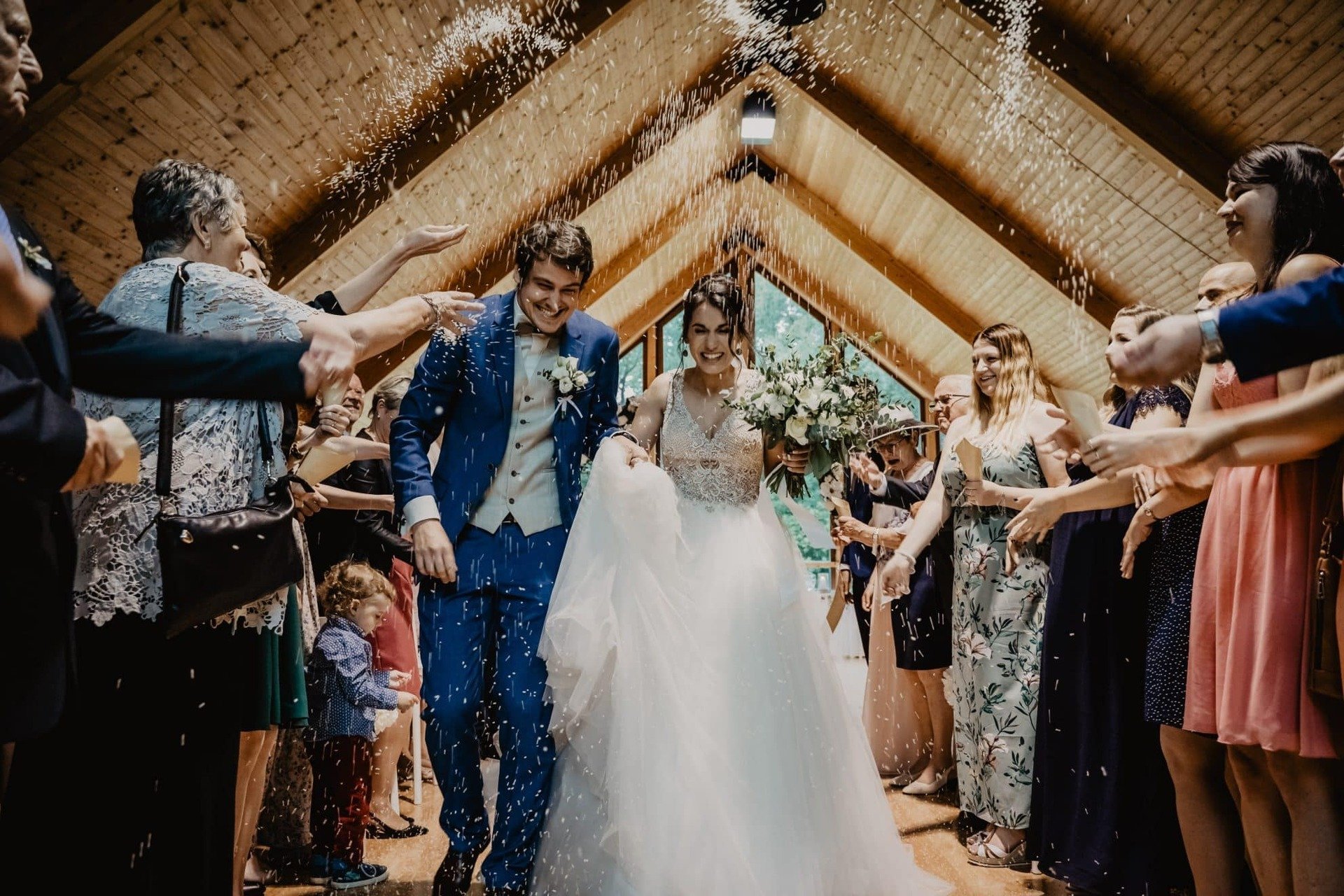 Photo by Tait Young – Wedding Photo & Film
A trend we're seeing couples take part in more and more is the confetti through when leaving the venue and we love it!
Birds-Eye View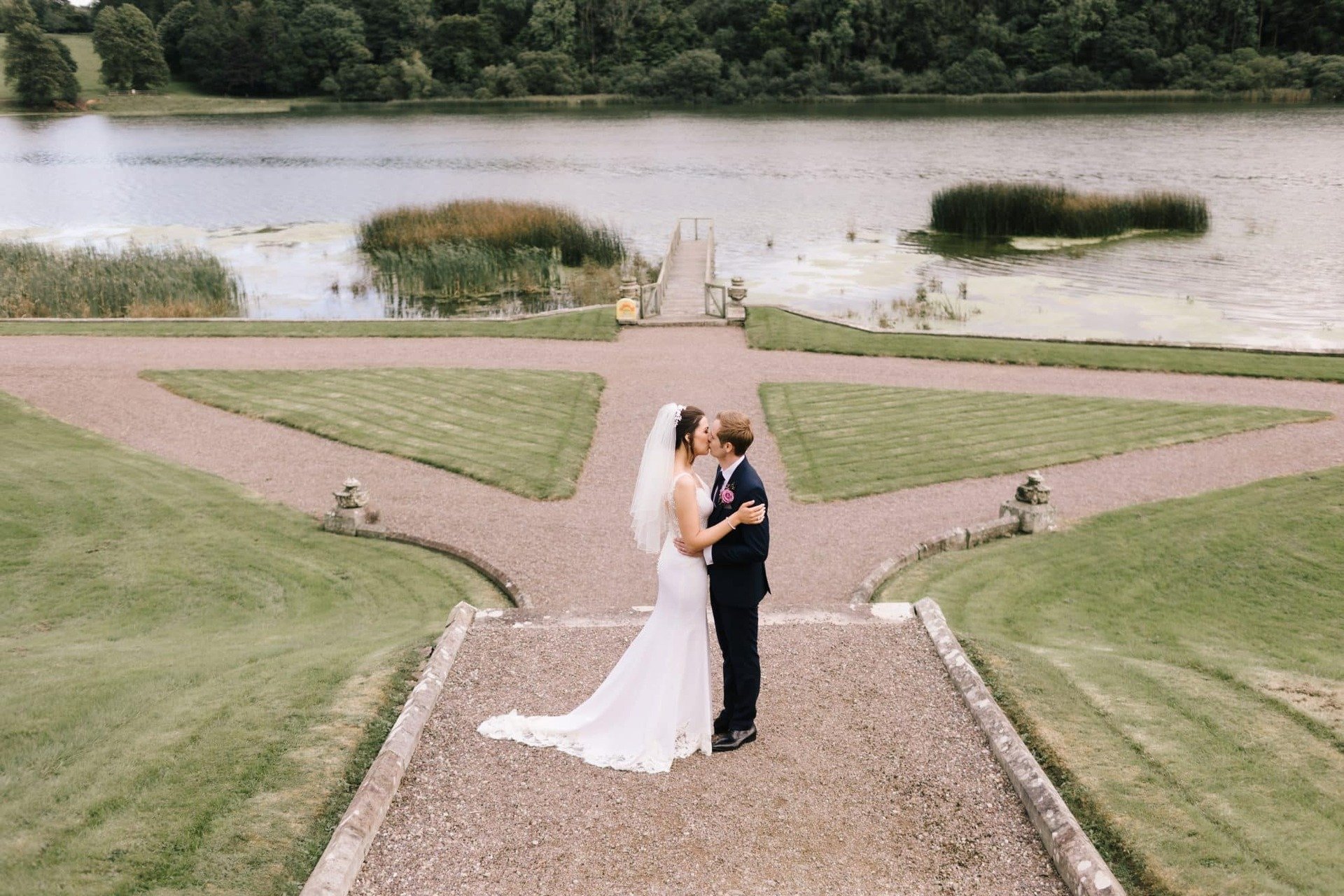 A creative style that captures your day from the outside looking in. It really sets the scene and can show off your venue whether it be an outdoor garden wedding, beach wedding or anything in between.
See more of David and Stephanie's day at Castle Leslie!
The Cheers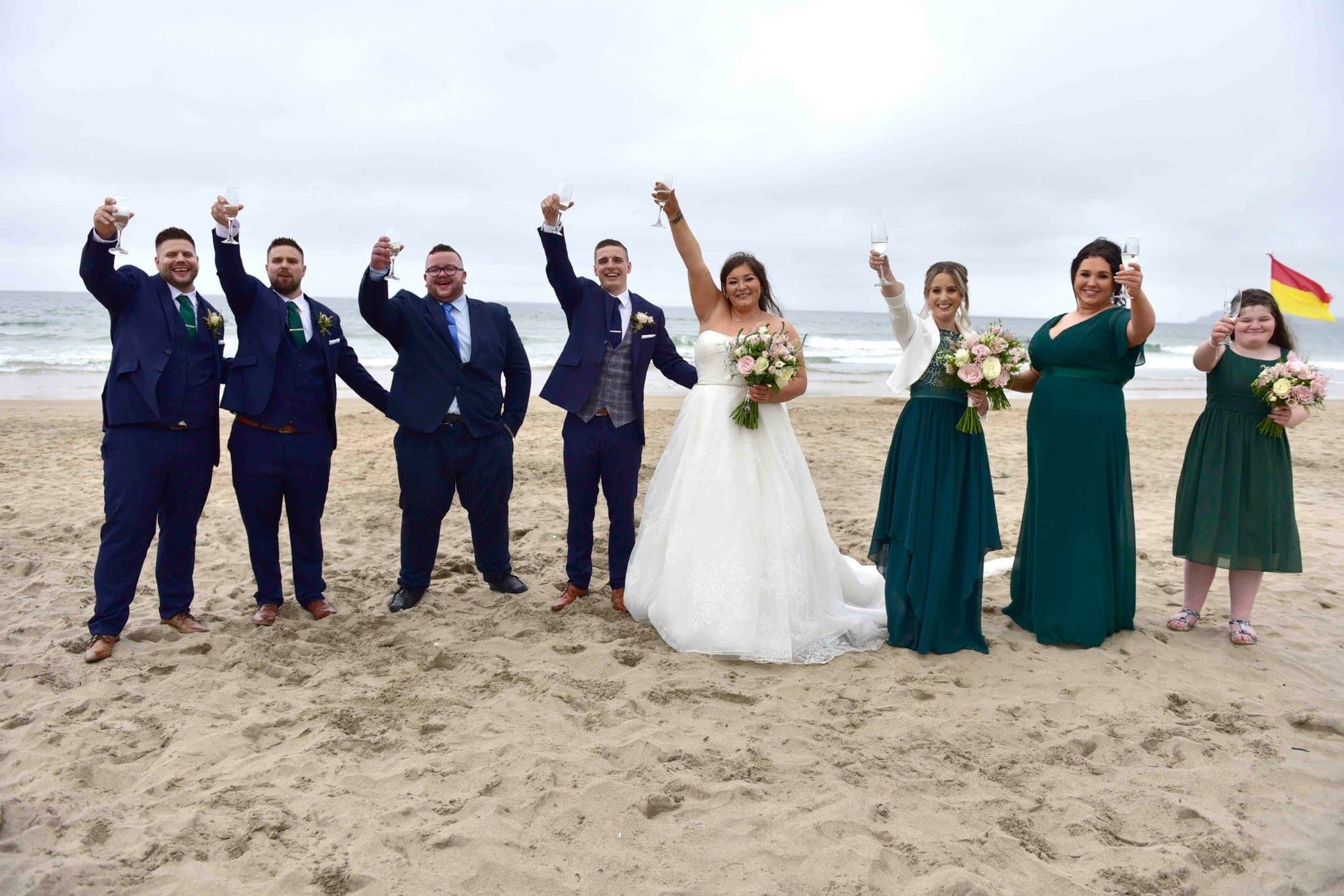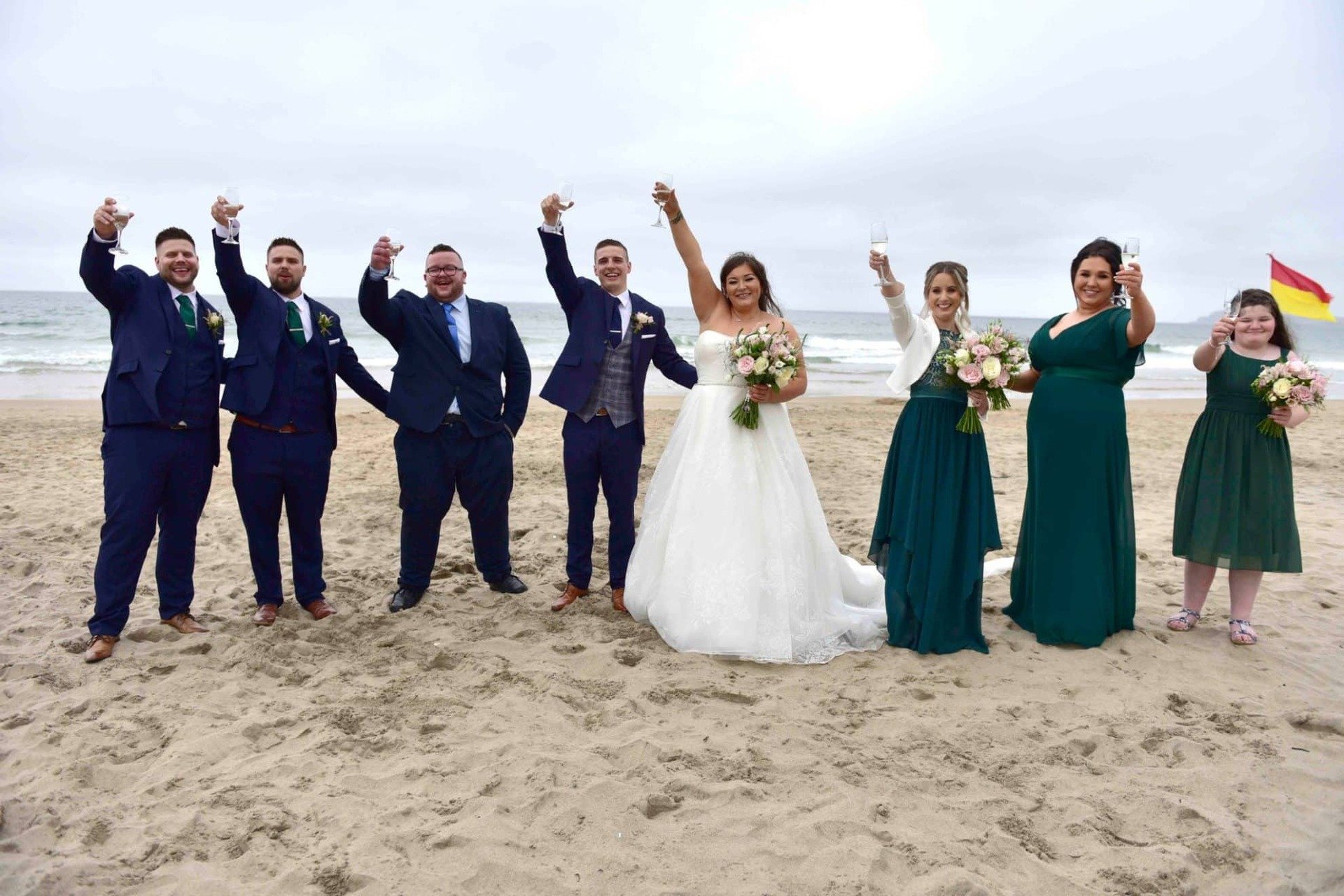 When the ceremony is over and you're about to get the party started, your photographer can capture you and your crew toasting some bubbly or taking some shots – before things start to get a little hazy!
The First Look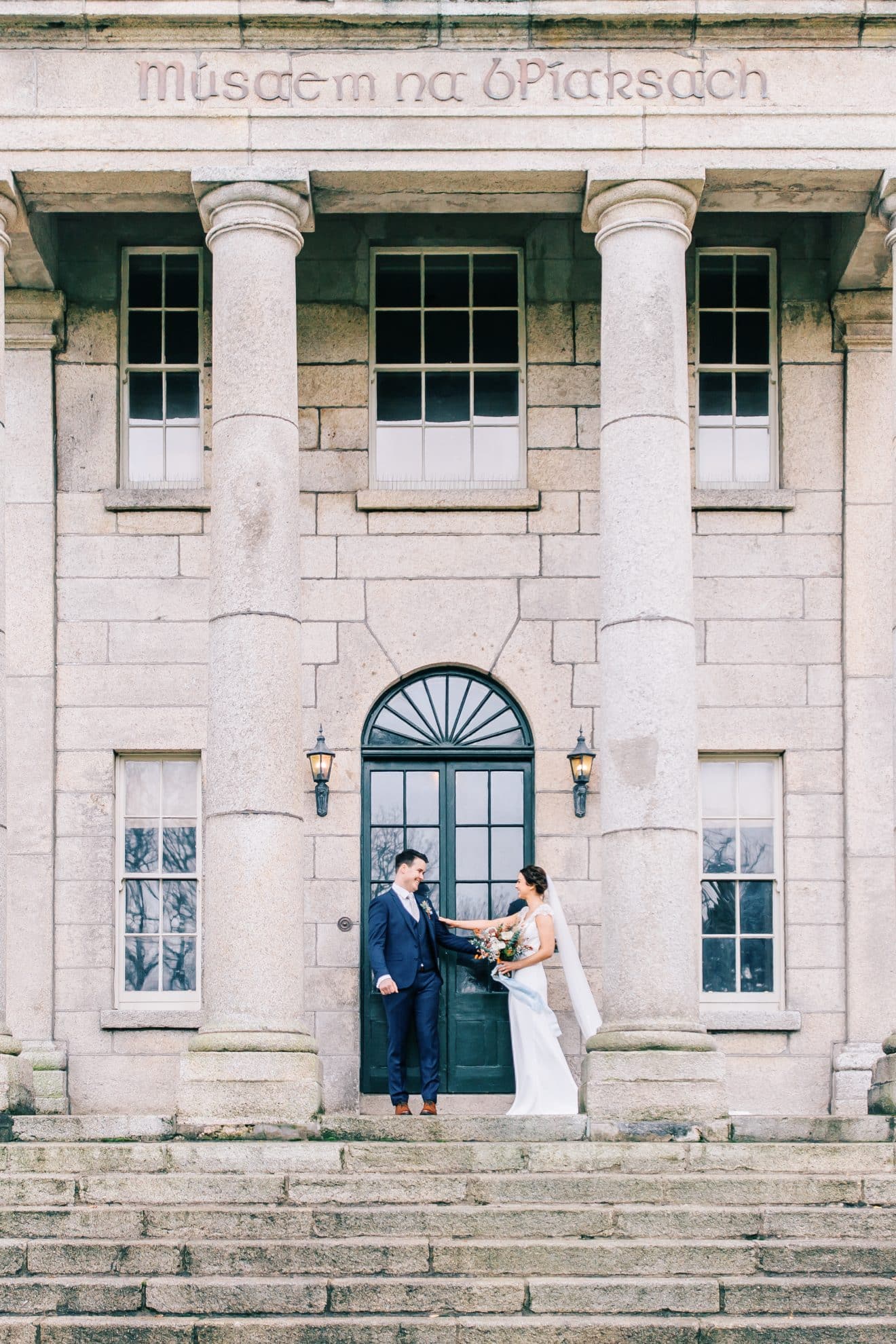 We love this modern wedding trend that can capture the moment you finally see your bride in her wedding dress just the two of you ahead of the alter! If you're doing a first look, you won't regret getting this shot to always remember that special feeling.
See more of Róisín and Michael's day at Tinakilly Country House!
A Moment Together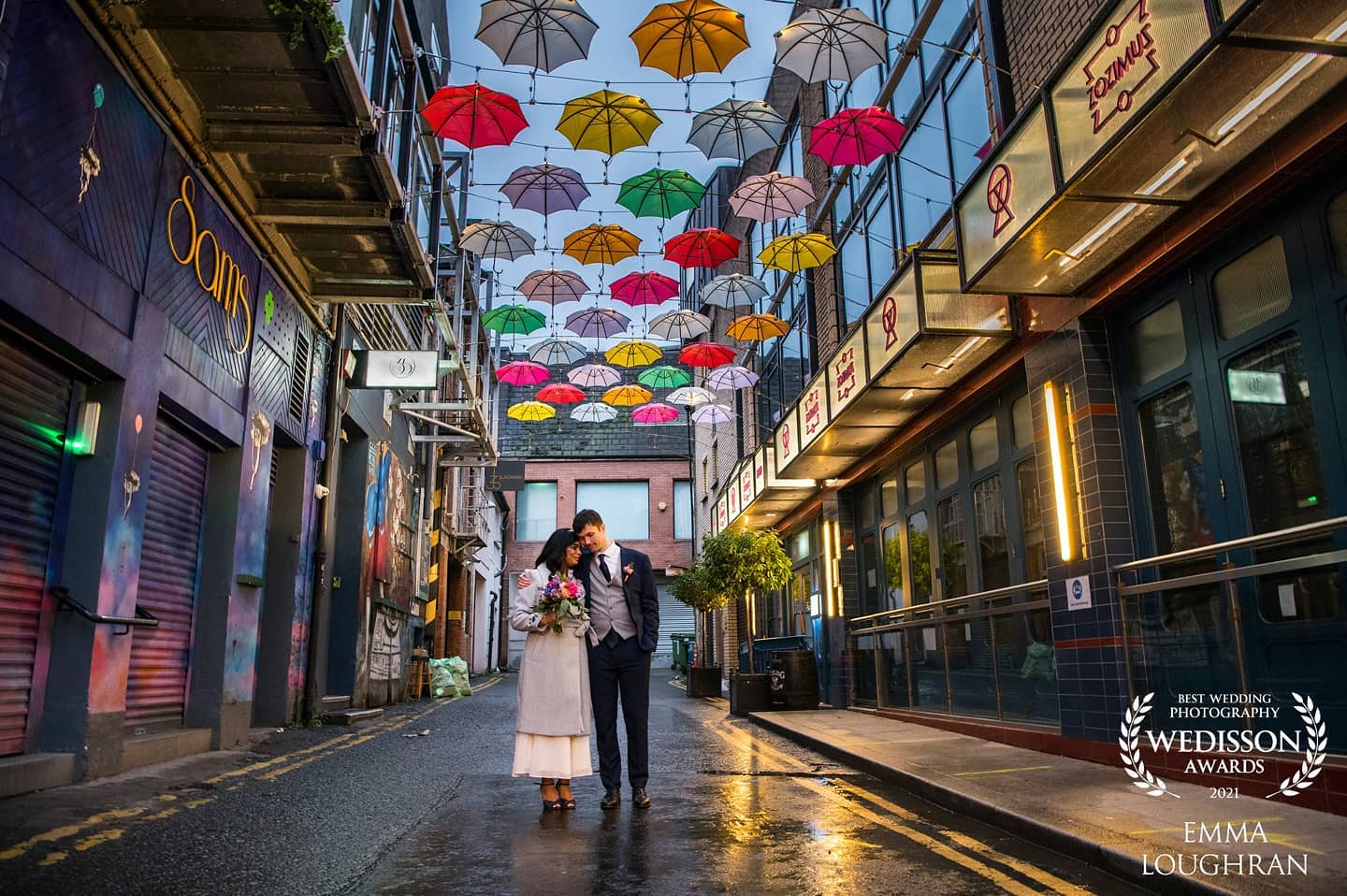 Make sure you get a few special moments alone and bring your photographer along who can hopefully capture the bride and groom reflecting with each other as the day unfolds.
The Wedding Party Walk In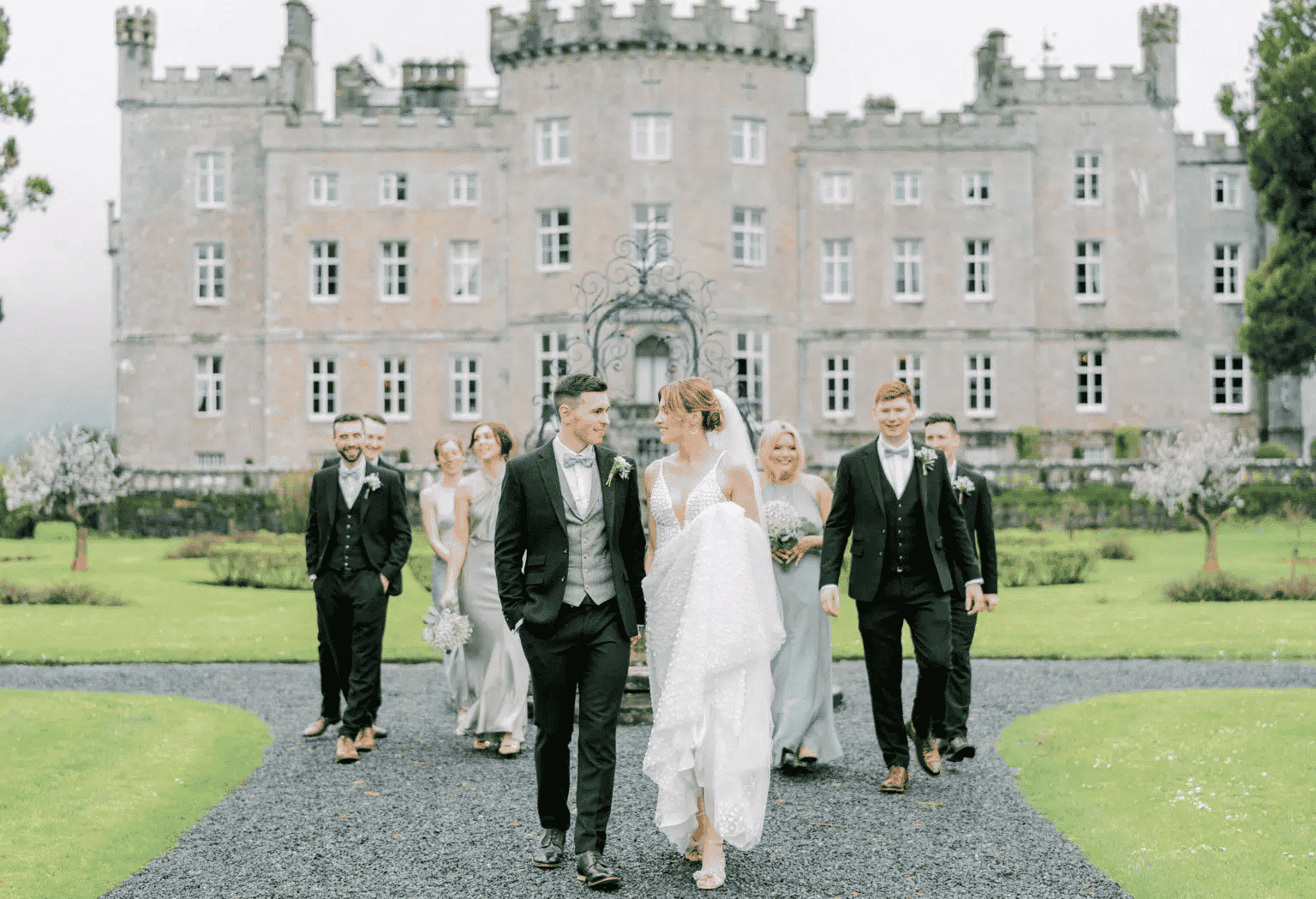 Have the bride and groom take centre stage and walk a few paces ahead of the bridal party for a powerful shot! This brings lot of movement to the photo and works well if the bridal party interact with each other to give it a more natural look.
See more of Brittany and Sean's day at Markree Castle!
The Symmetrical Shot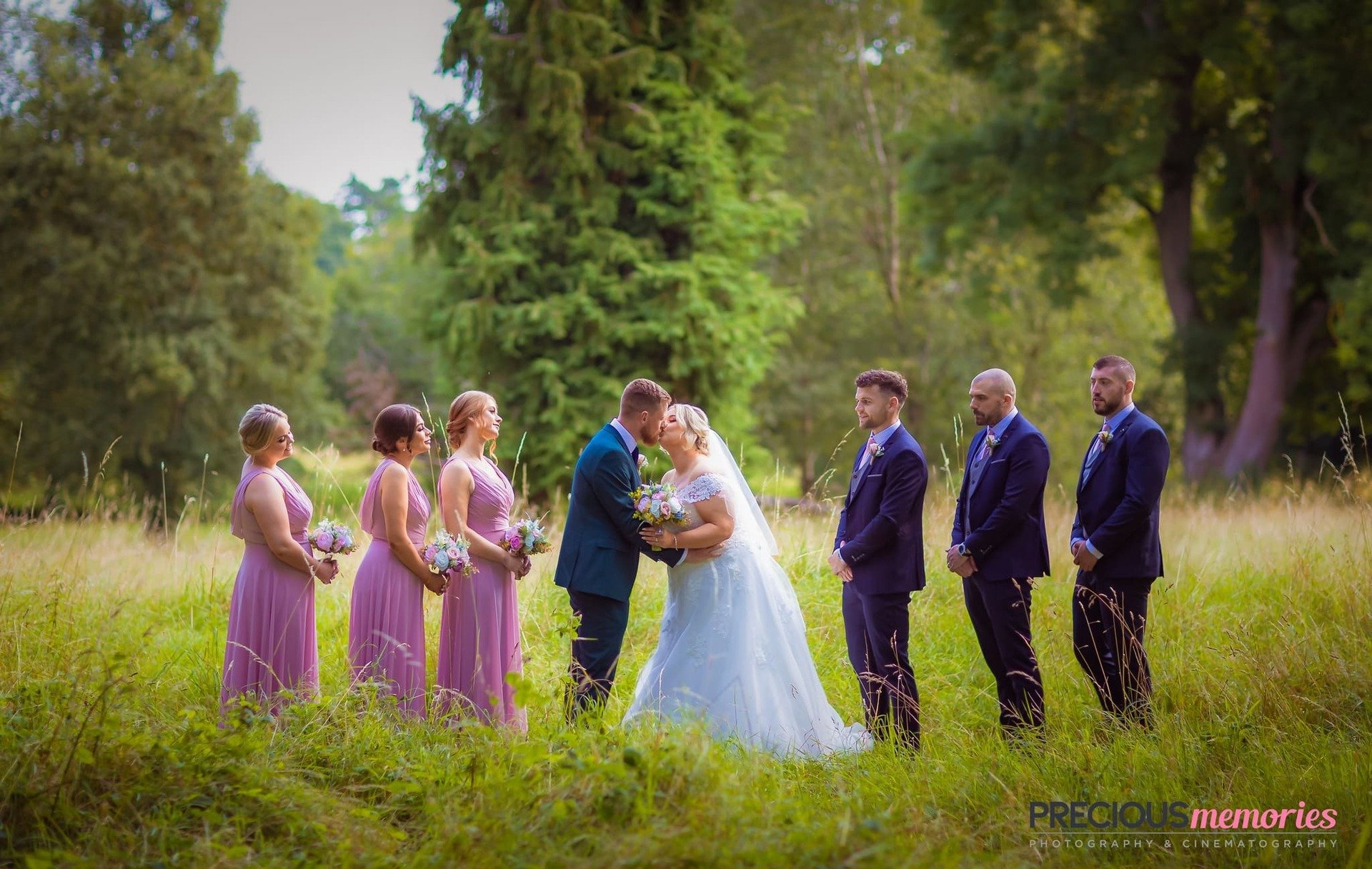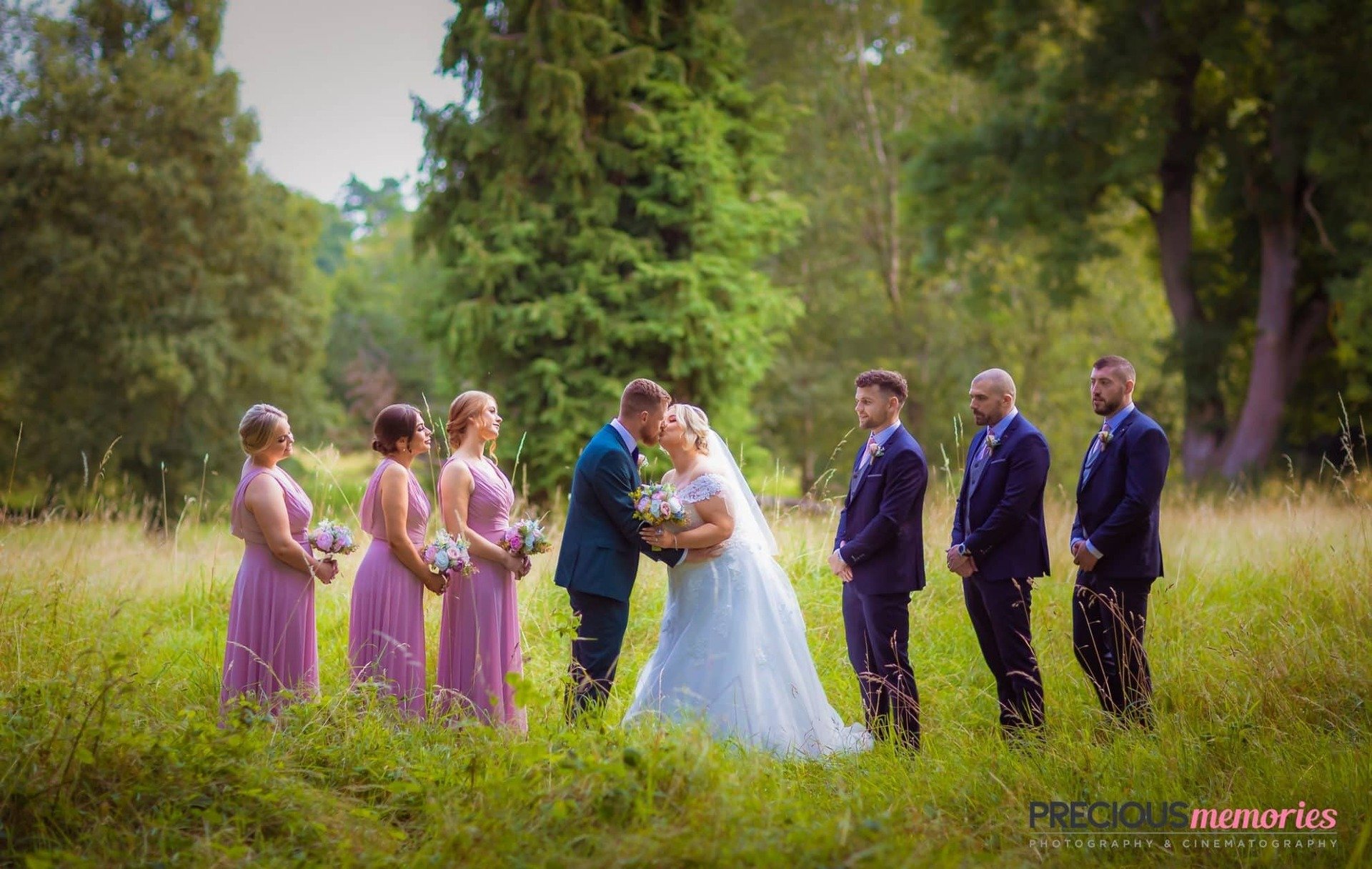 Show off colour palette and synchronicity of your day with a symmetrical shot which has all the bridesmaids on one side and the groomsmen on the other. Normally this happens at the alter naturally!
Bridal Party Prep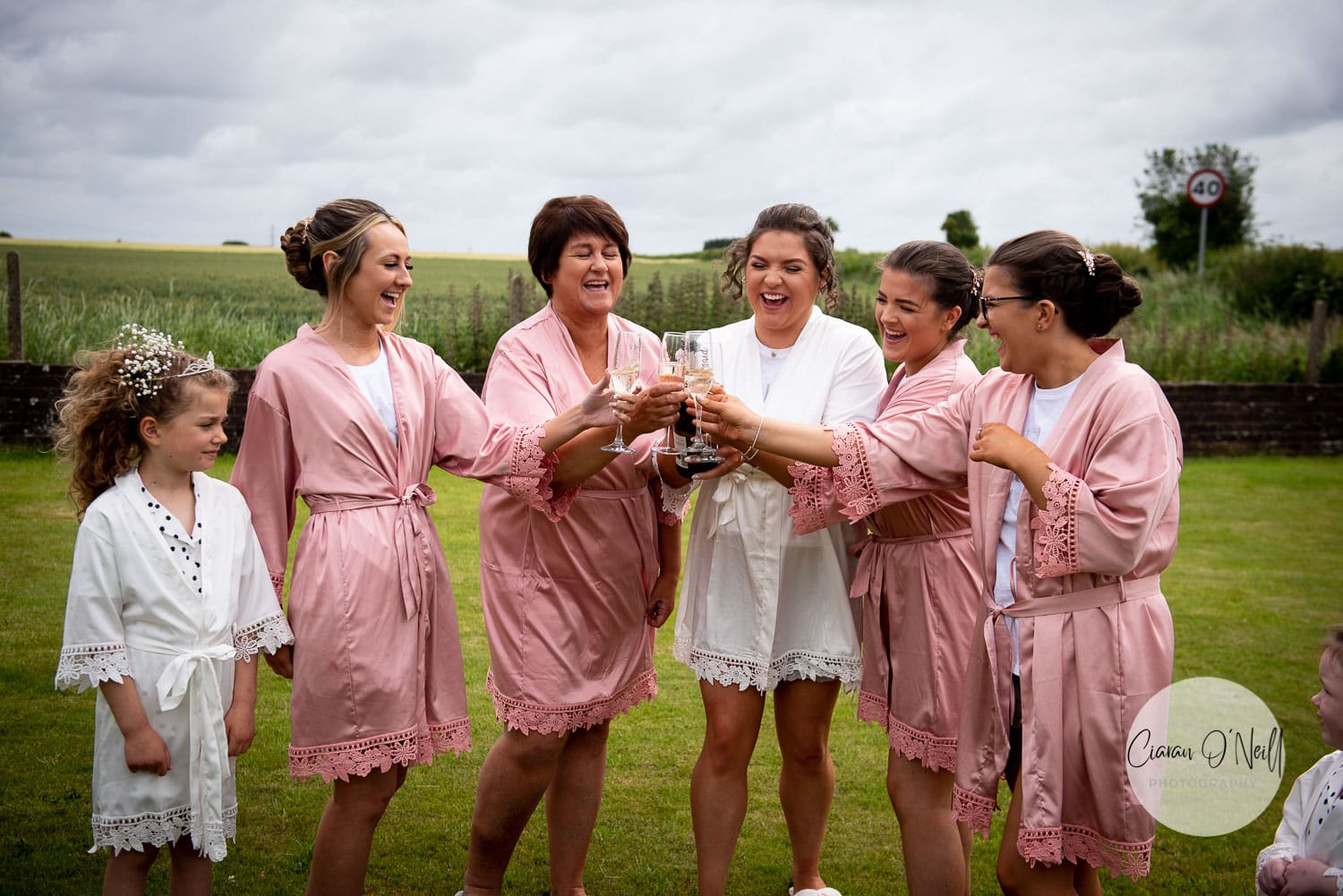 Pop some bubbly, get your matching bridal party robes on with your maids and just have fun getting ready while your photographer snaps those precious moments!
The Look Back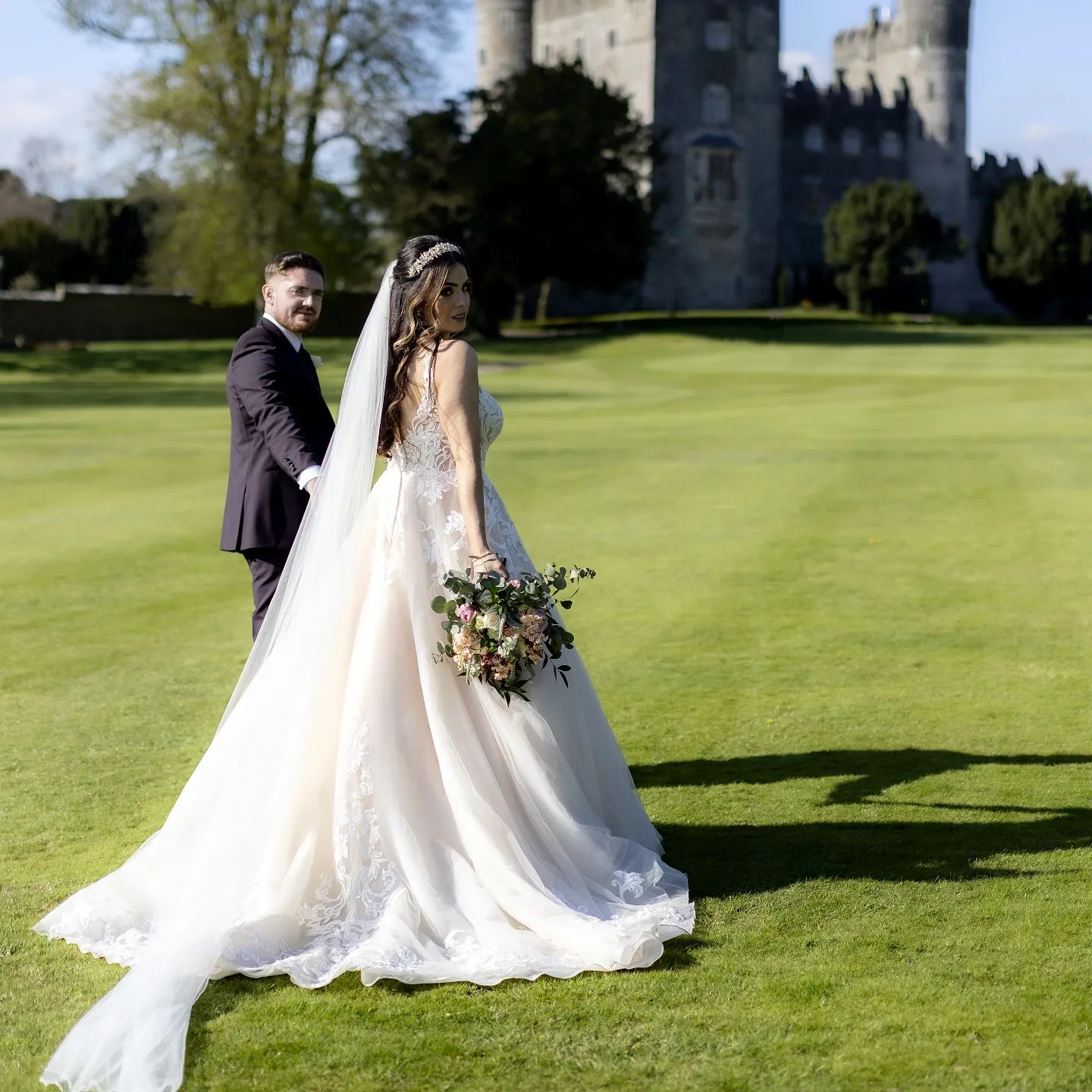 Stunning and dramatic, this shot works amazing with eye contact straight into the camera. You can both look back or just one of you.
Alternating Bridesmaids & Grooms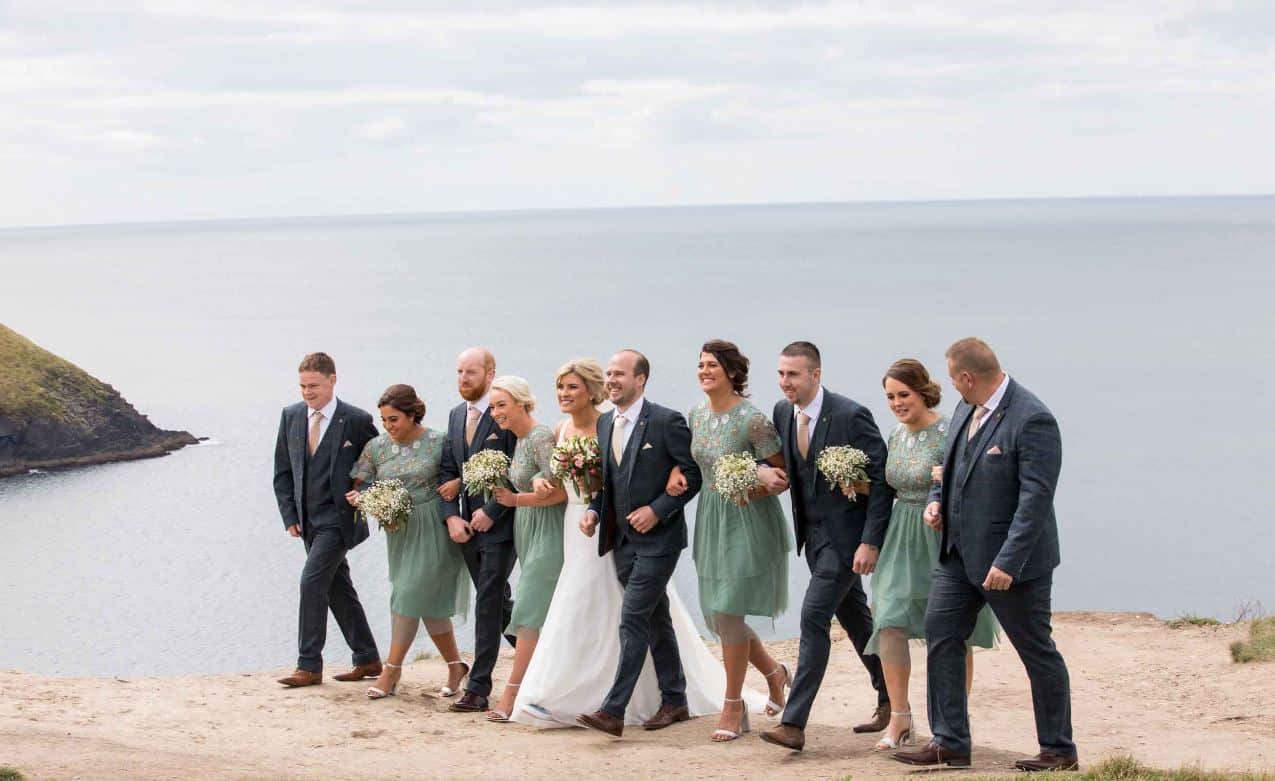 Although symmetry is aesthetically pleasing, don't be afraid to mix it up by alternating your bridesmaids and groomsmen for a more relaxed shot – the different colours can look great intertwined.
The Classic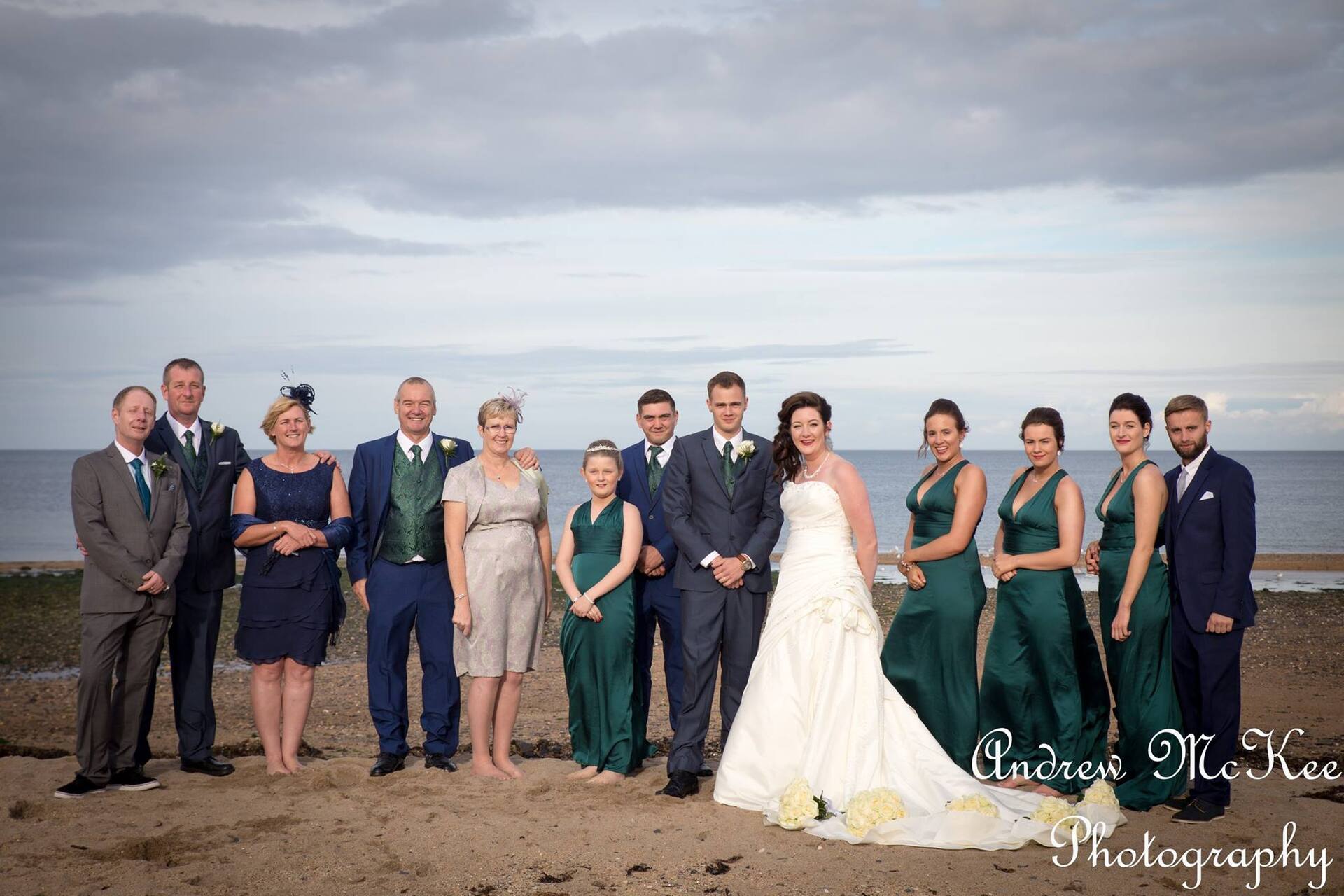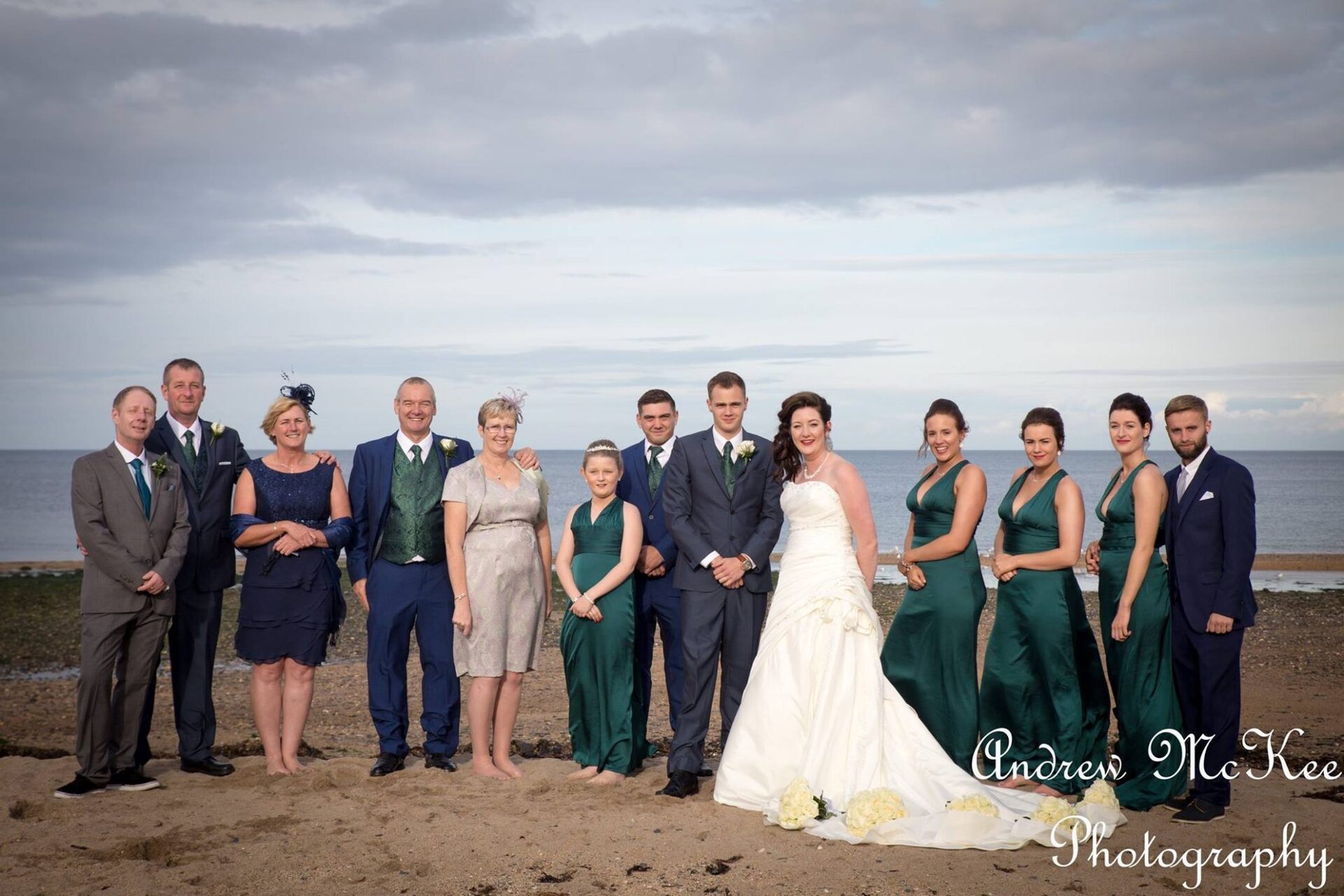 Keep things classical with a formal shot of your full wedding party – bridesmaids, groomsmen, flower girls, page boys and the parents!
The Album Cover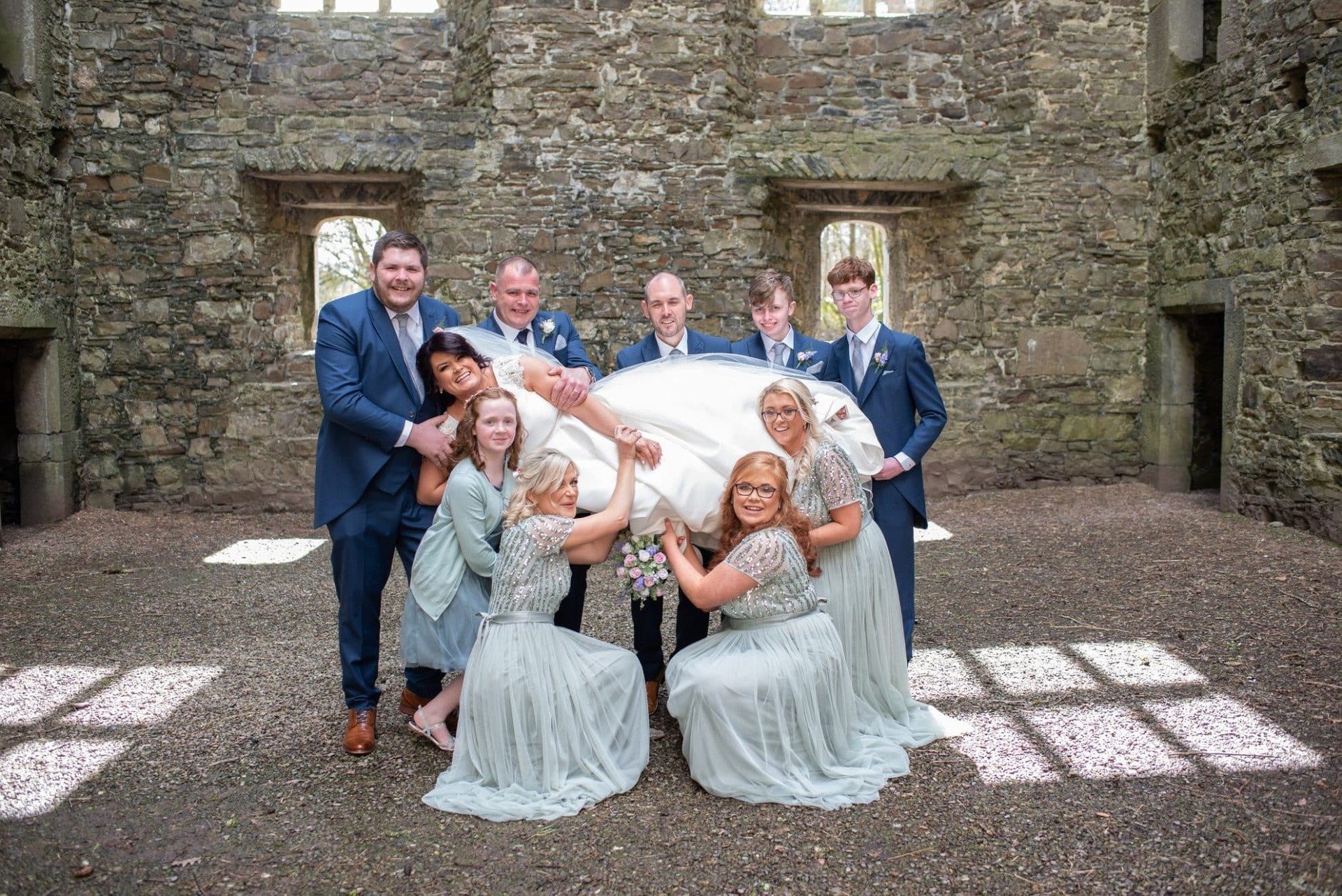 Loosen up and get some silly shots which show you and your bridal partys' personalities! Show your fun side whether it be a fun pose lifting the bride, jumping in the air or anything that can make you chuckle later.
Squad Goals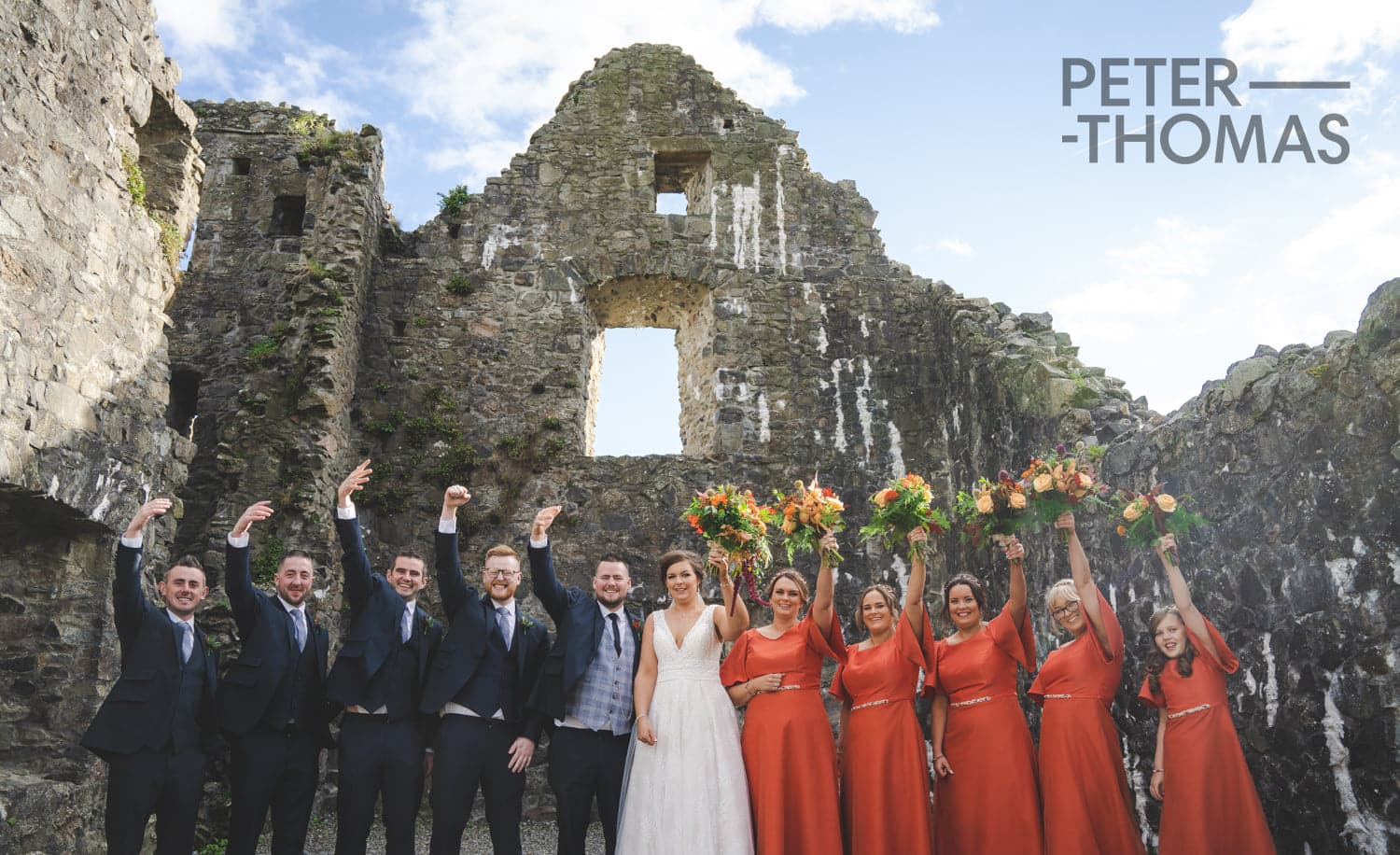 The silly theme doesn't end here! It's time for a squad goal photo, this can be planned or just go random on the day with a certain pose you all find funny.
Adoring Bridesmaids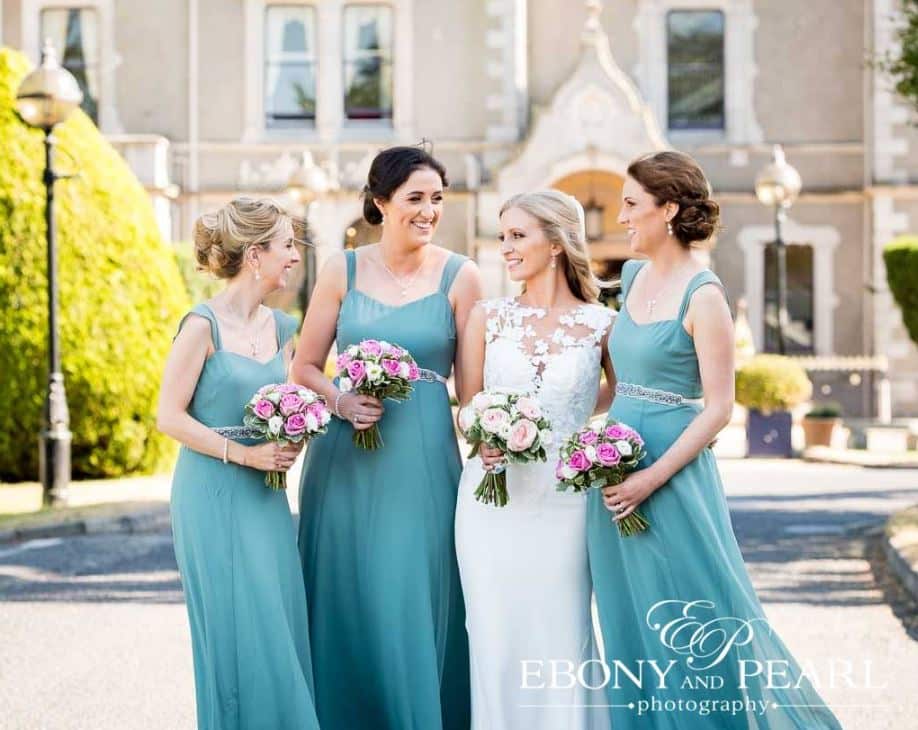 Get your bridesmaid gushing over the bride and looking at her with heartwarming expressions – the bride can react naturally and you will capture plenty of real smiles.
Snack Time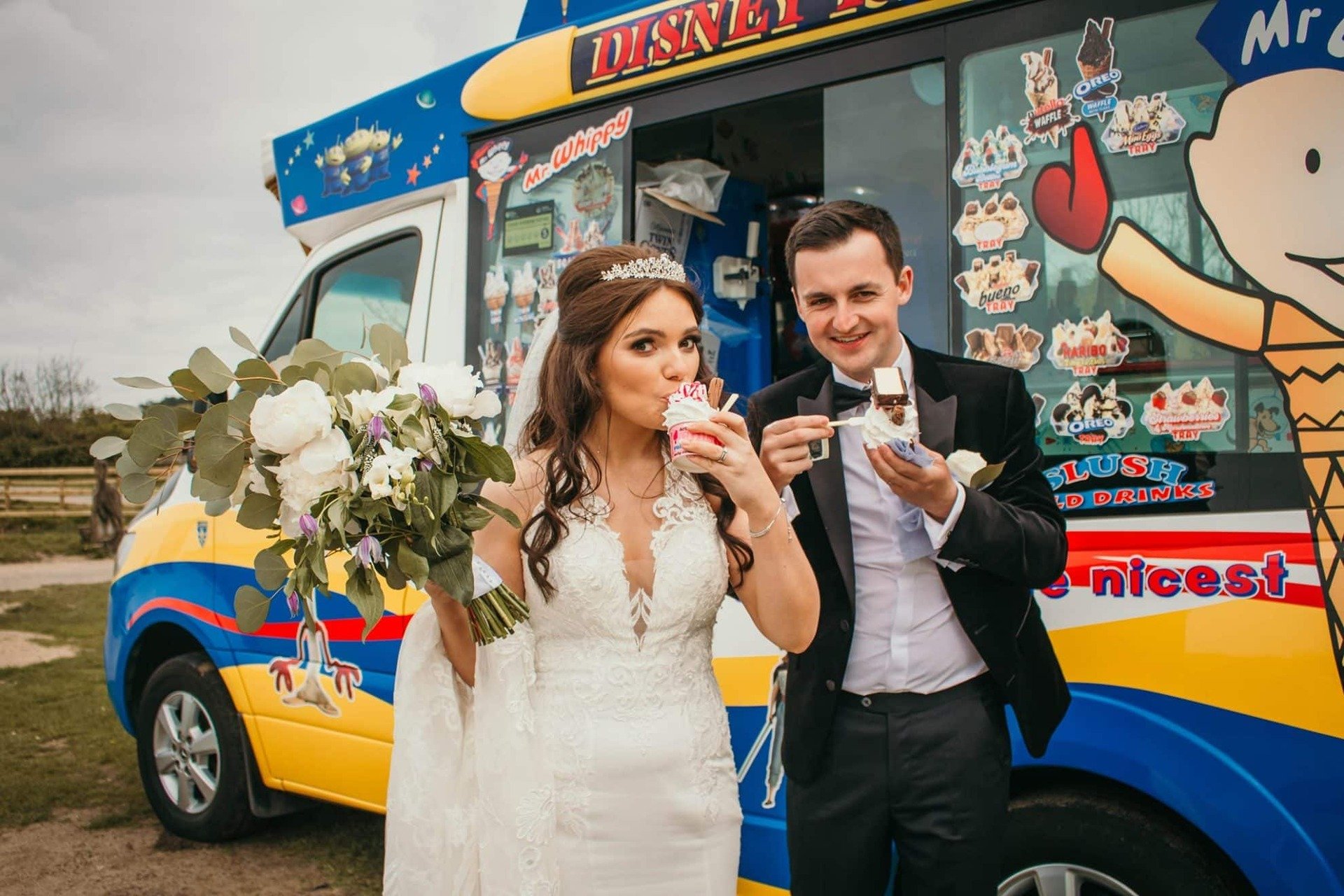 If you're having some fun snacks and treats like fast food or a cute cupcakes, make sure you get some shots of you and your bridal party sharing a sweet treat!
Candid Moments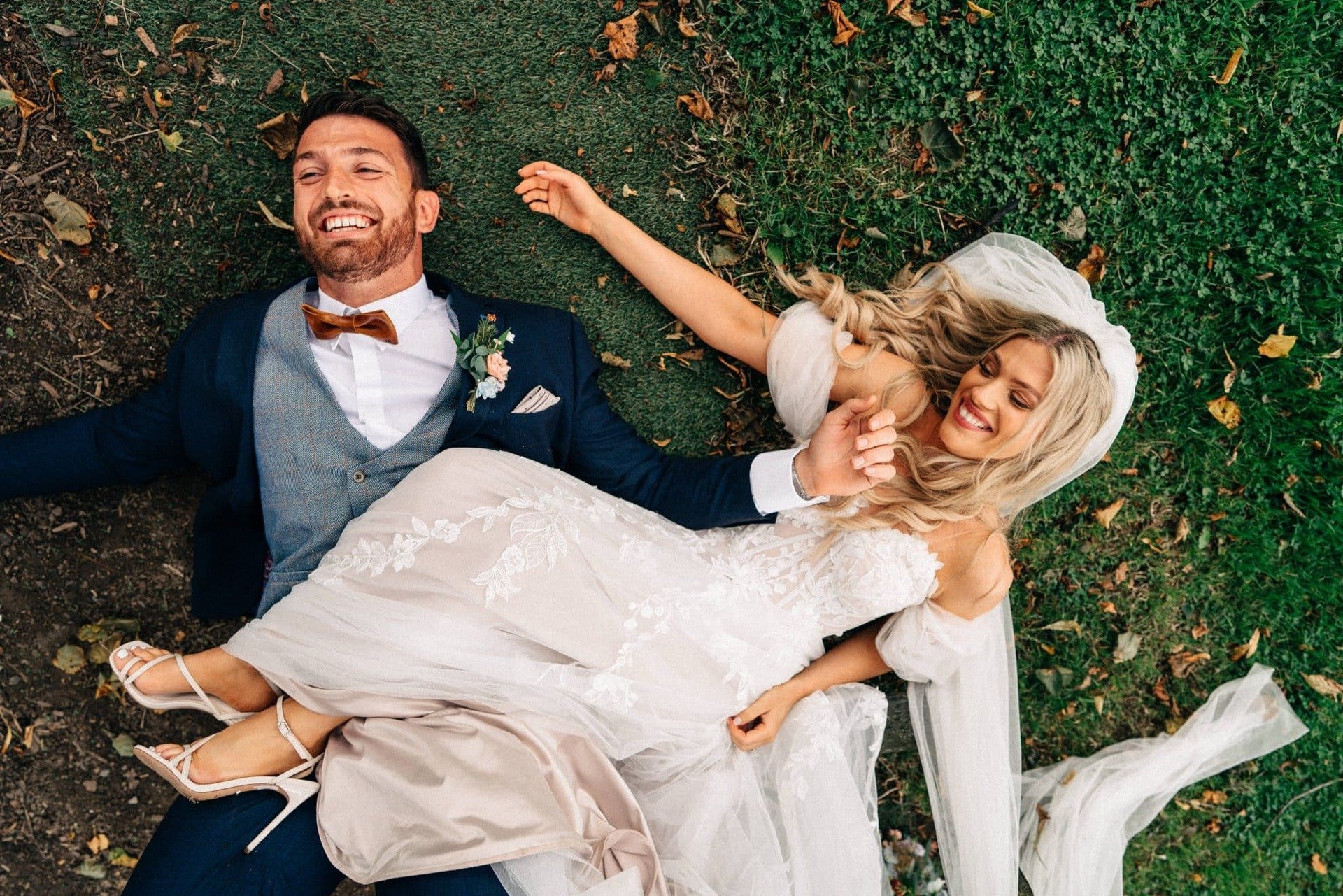 Alongside all the posed photographs, your photographer is sure to be on the look out for some real candid moments that unfold on the day. This is one of our bride and grooms who fell off a swing and the photographer captured the whole thing – if something like happens, laugh it off and let the photographer do their thing as it can make hilariously adorable photographs.
See more of Jean and Aisling's day at Tankardstown House!
Post-Vows Bliss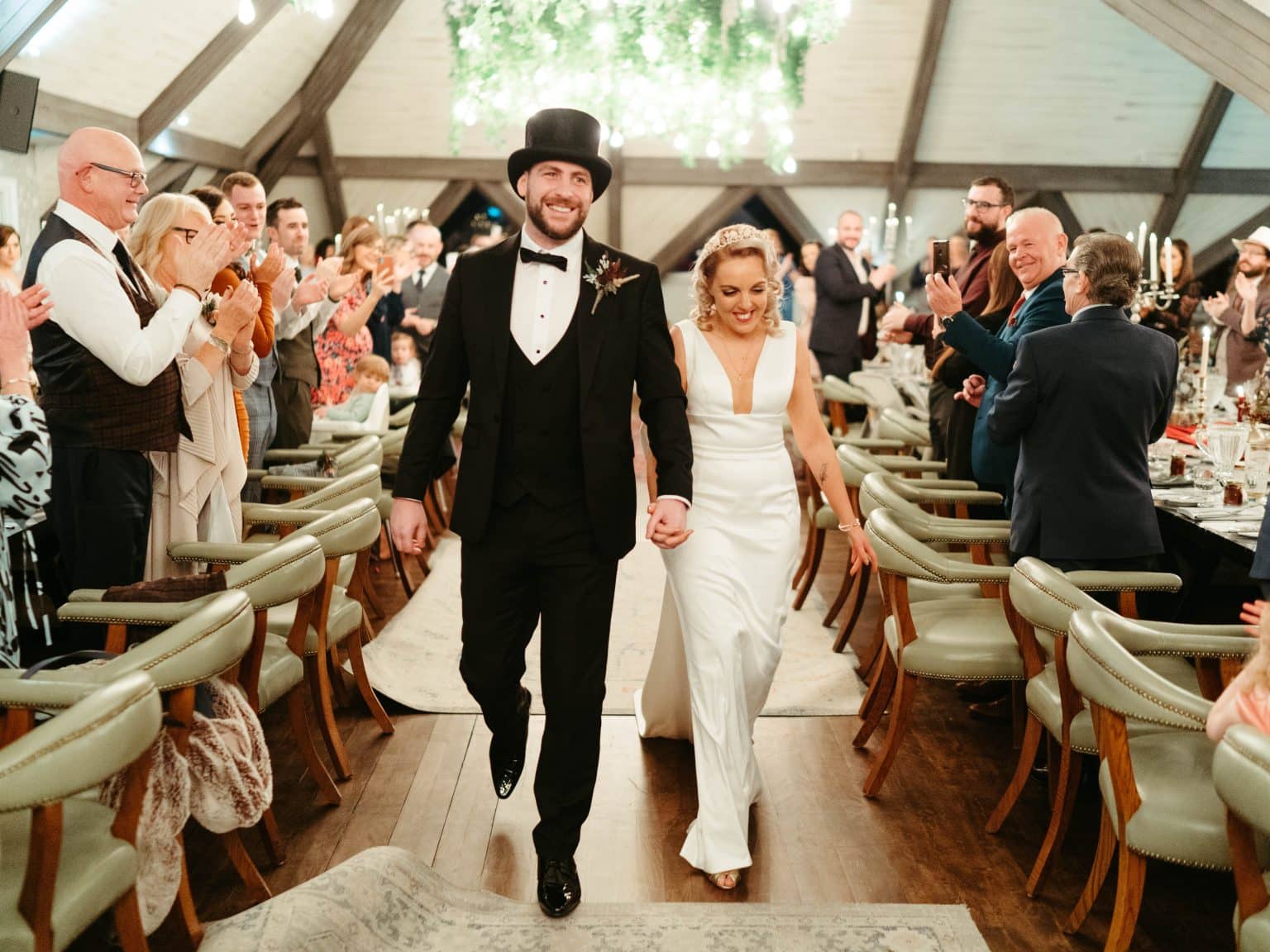 Photograph by by Sun and Beau
Sharon & Gary's day At The Loft
After the couple tie the knot and make their way back down the aisle, get ready for that post-vows bliss shot that will show you both smiling from ear-to-ear! It's always nice to see your happy guests looking super touched in the background.
The Grand Exit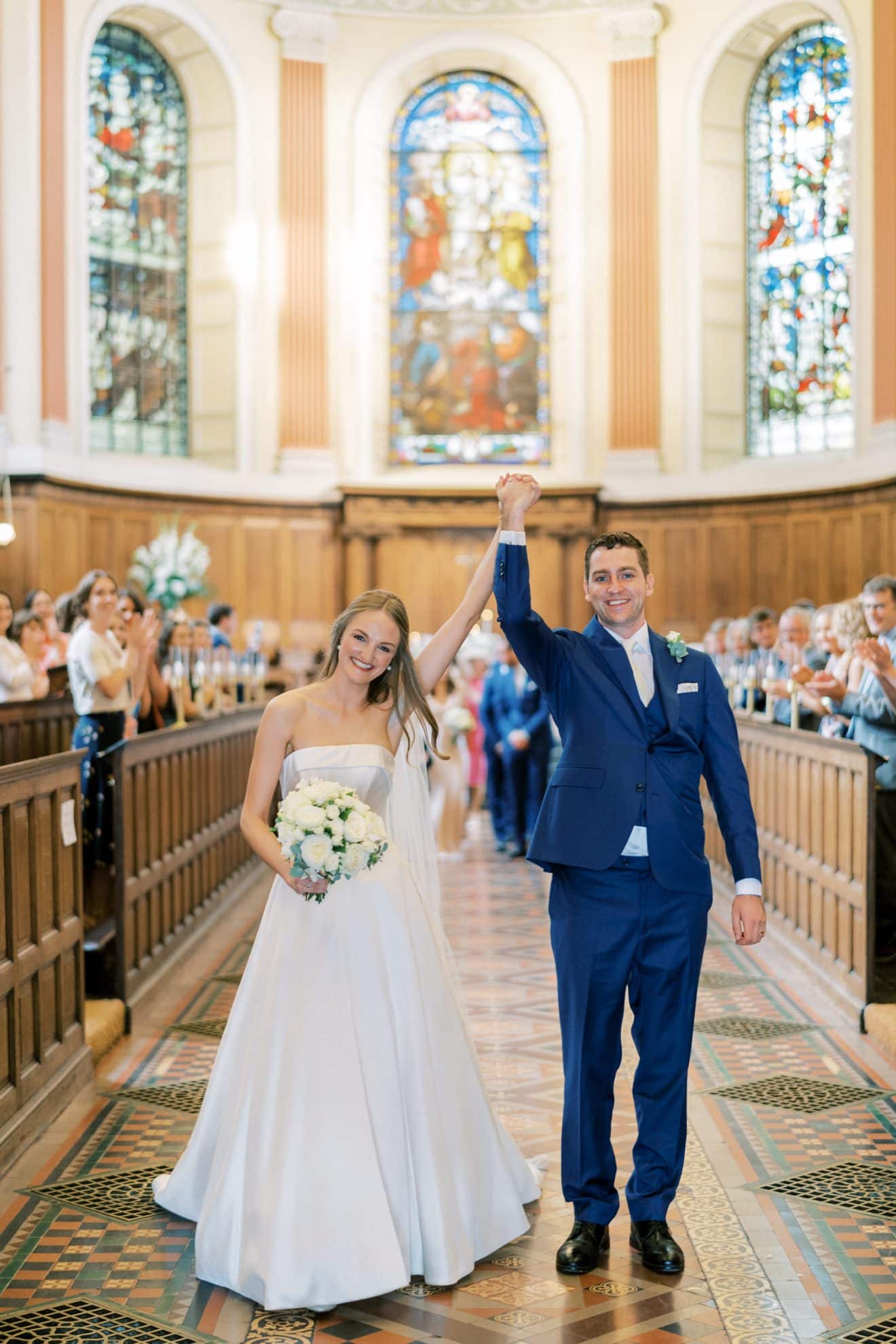 Hannah and John's day at The Merrion Hotel
As you leave the ceremony venue, don't hold back your excitement – you've just sealed the deal! Put your hands in the air, smile at each other and have a little cheer of joy. This will be super cute caught on camera.
On The Alter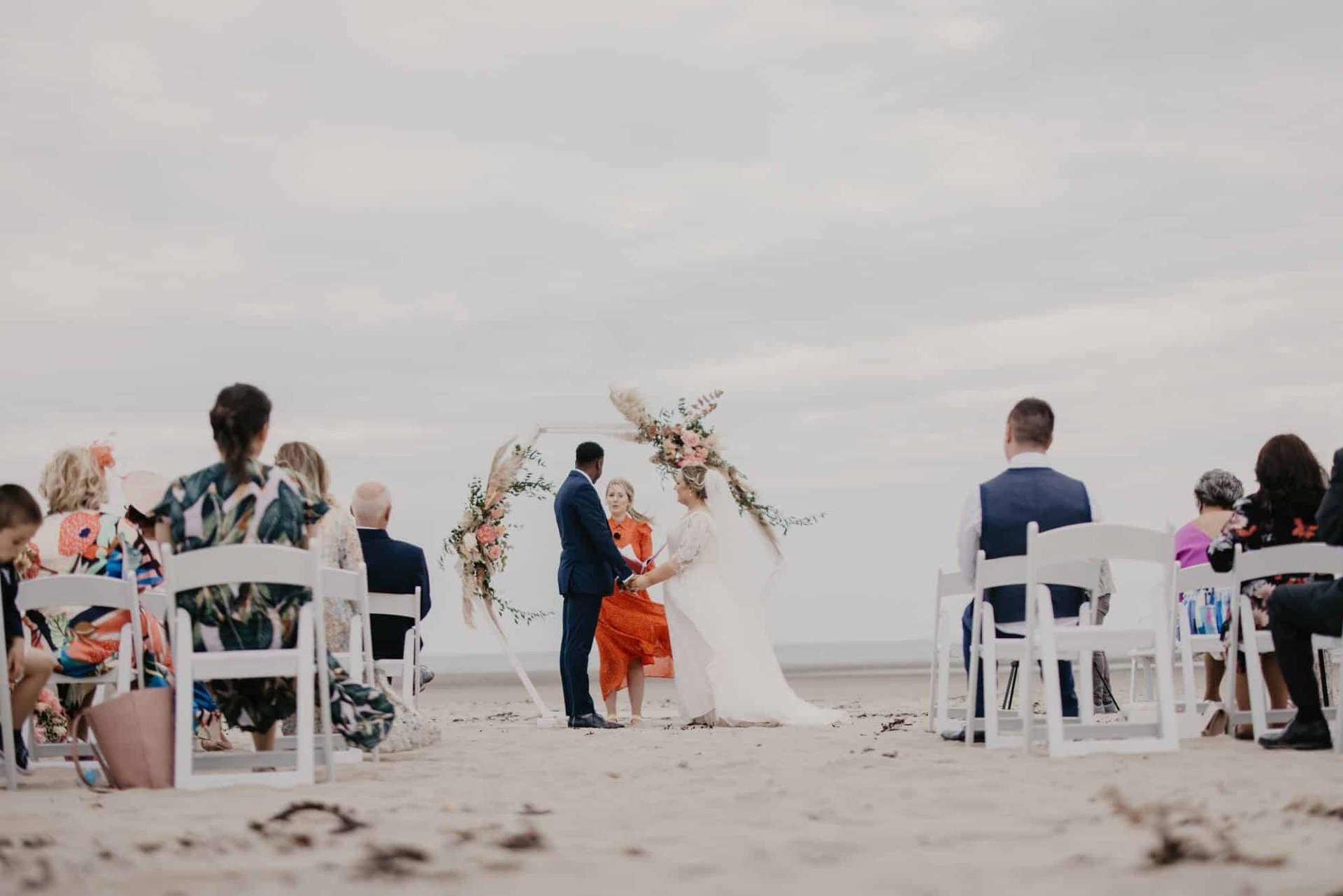 As your exchanging your vows make sure you capture this heartfelt moment and even a close up of your facial expression so you can really feel all those emotions when you look back at the photo!
Still looking for your dream wedding photographer or videographer? Check out all our local suppliers HERE!