Go deep undercover and VERY glamorous with a glittering James Bond style wedding that delivers a taste of the shadier side of jet set chic!
If you're a fan of the classic Bond movies, then you might be considering adopting 007 as the theme for a high stakes wedding reception, complete with black tie groomswear, slinky cocktail dresses and sassy theme tunes!
Dress code is cocktail hour, and if the father of the bride has ever had a hankering to dress up as Blofeld, now's his chance!
Here's our guide to a night of espionage – shaken, not stirred!
The Venue
Your setting is KEY – we're talking serious glamour! Any good hotel will be perfect for setting your stylish scene, but we really love the elegance of Dublin city hotel 25 Fitzwilliam Place, with its classic yet contemporary style and period features. The perfect place for your spy to come in from the cold…
Alternatively, for a very different take, ask yourself where exactly an M15 agent would be hanging out in search of a mission – we can't help thinking your spy could be making contact with a political target! You may not realise that Parliament Buildings at Stormont with its wonderfully grand interiors is available for weddings – and it ticks all the boxes for this particular mission!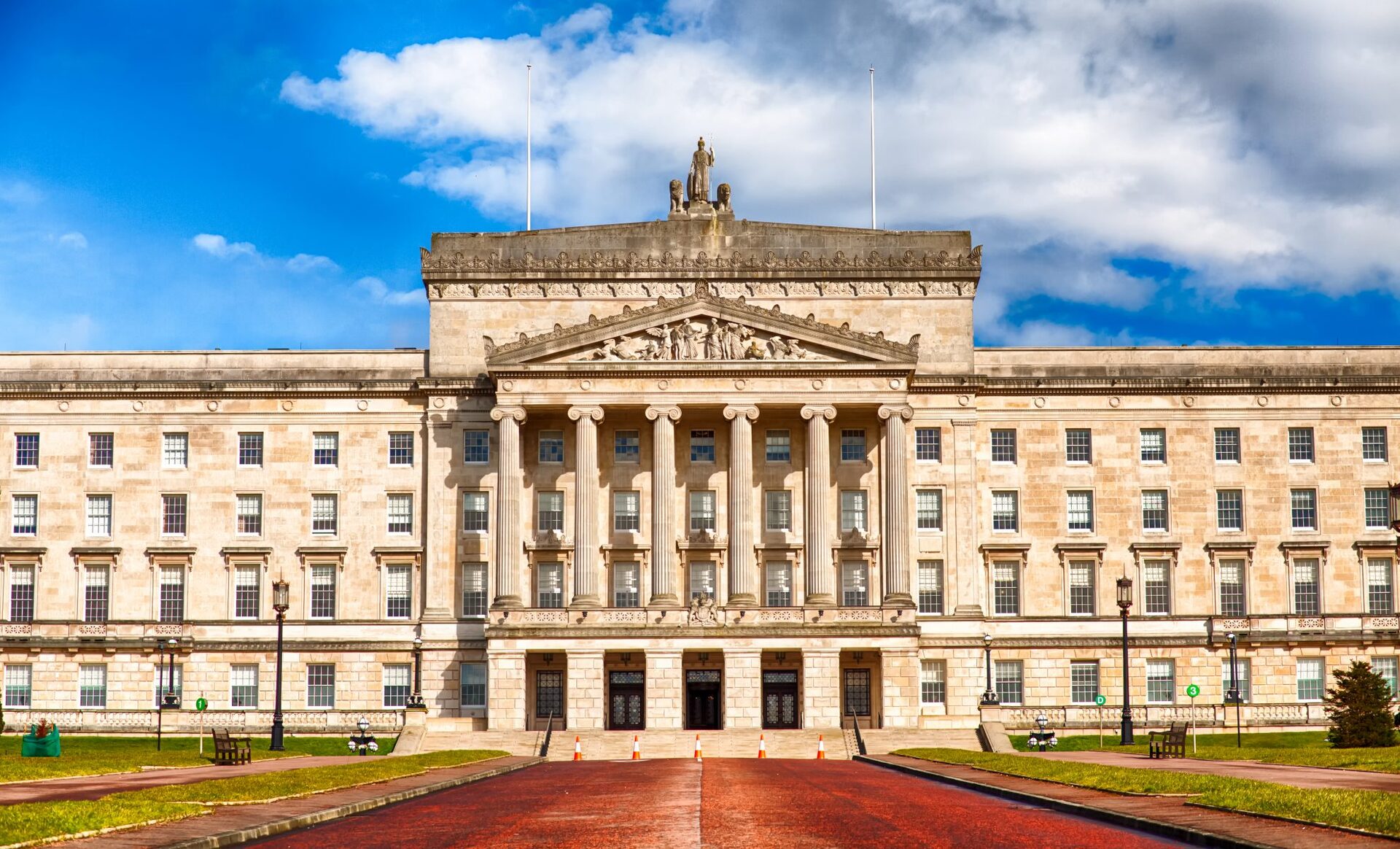 The Invitations
The iconic imagery from the movies is perfect for setting the scene in your invitations – you'll find no shortage of images that you can show to your stationery supplier! We love the look of this glamorous wedding stationery which you could draw on for inspiration, and the table plan below will really set the tone!
RELATED TO: Marie and John's Chilled Ceremony With A Grand Entrance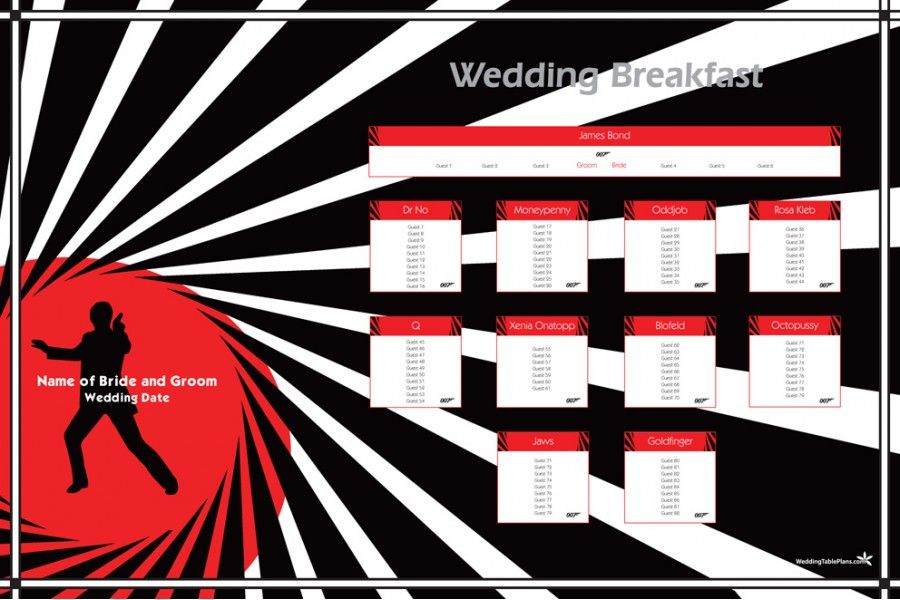 The Groom
Absolutely crucial to your look and also a complete no-brainer – it's got to be black tie. We love how many of the groomswear stores have been introducing stylish new tuxedo ranges, and any groom will be dressed to kill in these looks from Red Groomswear (left) and from Marco Capelli at The Groom's Room At Diffney (right).
RELATED TO: Why You Should Never Rule Out A Black Wedding Dress
The Bride
There are a few ways you can go- slinky cocktail dresses a la Bond girl or villainess or stylishly jumpsuited as a secret agent in your own right! No one is going to mess with this sassy bride!
From left to right, the Camden Wedding Dress (style 12121) from The Other White Dress by Morilee, stocked by Jean Millar; Bridget satin jumpsuit (style 12109) from Morilee, stocked by Dublin Bridal House; Puffsleeve crepe wedding gown (4950) from Mikaella, stocked by Tomorrow's Bridal.
The Transport
You're talking anything chic and exclusive, but if you really want to be authentic, it has got to be an Aston Martin, Bond's wheels of choice! Roll up in style in this 2005 Aston Martin DB9, available from Star Car Hire.
RELATED TO: 12 Fresh Ways To Arrive At Your Wedding In Style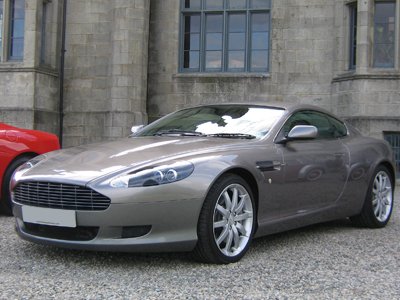 The Drinks
We all know Bond prefers a Martini and it has to be shaken, not stirred – but what kind? Liquor.com has the answer – it has to be a Vesper Martini, invented by Bond creator Ian Fleming in his 1953 novel Casino Royale and named for fictional double agent Vesper Lynd.
The recipe? As Bond instructs the bartender: ""Three measures of Gordon's, one of vodka, half a measure of Kina Lillet. Shake it very well until it's ice-cold, then add a large thin slice of lemon peel. Got it?"
RELATED TO: 15 Cute & Creative Cocktails To Personalise Your Wedding Day
The Entertainment
When it comes to music, you've no shortage of classic Bond themes for your DJ to choose from, from Shirley Bassey to Guns 'n' Roses and from Garbage to Billie Eilish. If you're having a string quartet or harpist to greet your guests at the reception, you could ask them about a few Bond theme covers – Entertainment Nation should be able to hook you up with just the right musicians!
And most importantly, you'll need that casino vibe for everything to really feel authentic – but that's not a problem! You can hire blackjack tables, roulette wheels and poker tables from Fun Casino Hire, complete with professional croupiers!
RELATED TO: 11 Fun Ways To Entertain Your Guests While You're Getting Your Photos Taken
RELATED TO: How To Create Your Own Rocktastic Festival Style Wedding
The Extras
There's no shortage of bits and pieces out there that will help you complete the look, from these cool shades for your groomsmen from Castle Hall Creative to this cool cake topper from Best Wedding Decor (below), both on Etsy.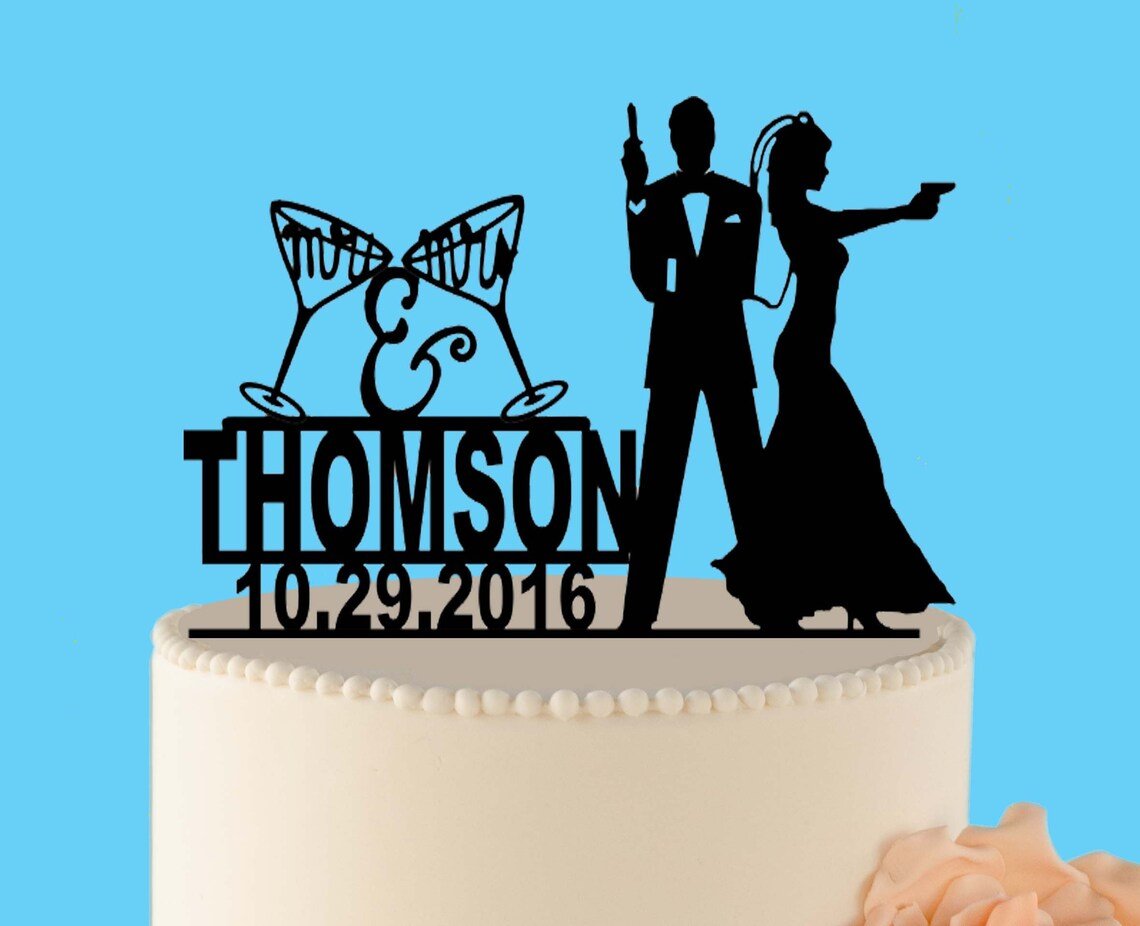 RELATED TO: Unique Unions: 4 Real Life Quirky & Unconventional Weddings
The Cake
And let's not forget the cake! We love these looks where the cake designer has really gone for it and let their imagination run wild!
The Villain
Many couples hate to leave their pets out of their wedding, so if you own a beloved white cat and you know it will be cool with meeting a lot of wedding guests, even just for part of the day, well here's an idea…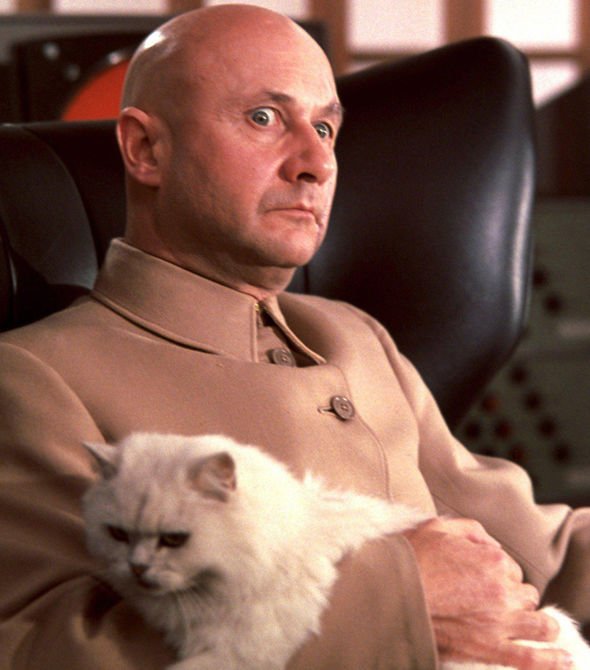 RELATED TO: 75+ Unconventional Ideas For The Unique Bride
Still organising your perfect day? Check out our gallery of fabulous suppliers HERE.
Sign up to our newsletter to get all the latest from The Wedding Journal! Join Here>>>>http://eepurl.com/ck9vLb