After a few false starts, pharmacist Melissa O'Brien and Stephen Walsh had their perfect day with a church wedding and a magical reception at the Merrion Hotel, topped off with an old fashioned sing song.
Pharmacist Melissa O'Brien (31), from Galway, met the love of her live in first year at college.
She found herself working alongside fellow pharmacy student Stephen Walsh (32), from Dublin, and the pair soon discovered their perfect chemistry!
"We were lab partners in our first year and we just got to know each other that way. Then in second year, we had our first kiss at the pharmacy ball and it all went from there!" she says.
The couple have now been together for seven years and work as community pharmacists in different parts of Dublin.
The Proposal
The pair got engaged after they had been going out for five years, and Stephen decided to surprise Melissa with a weekend at the Powerscourt Hotel.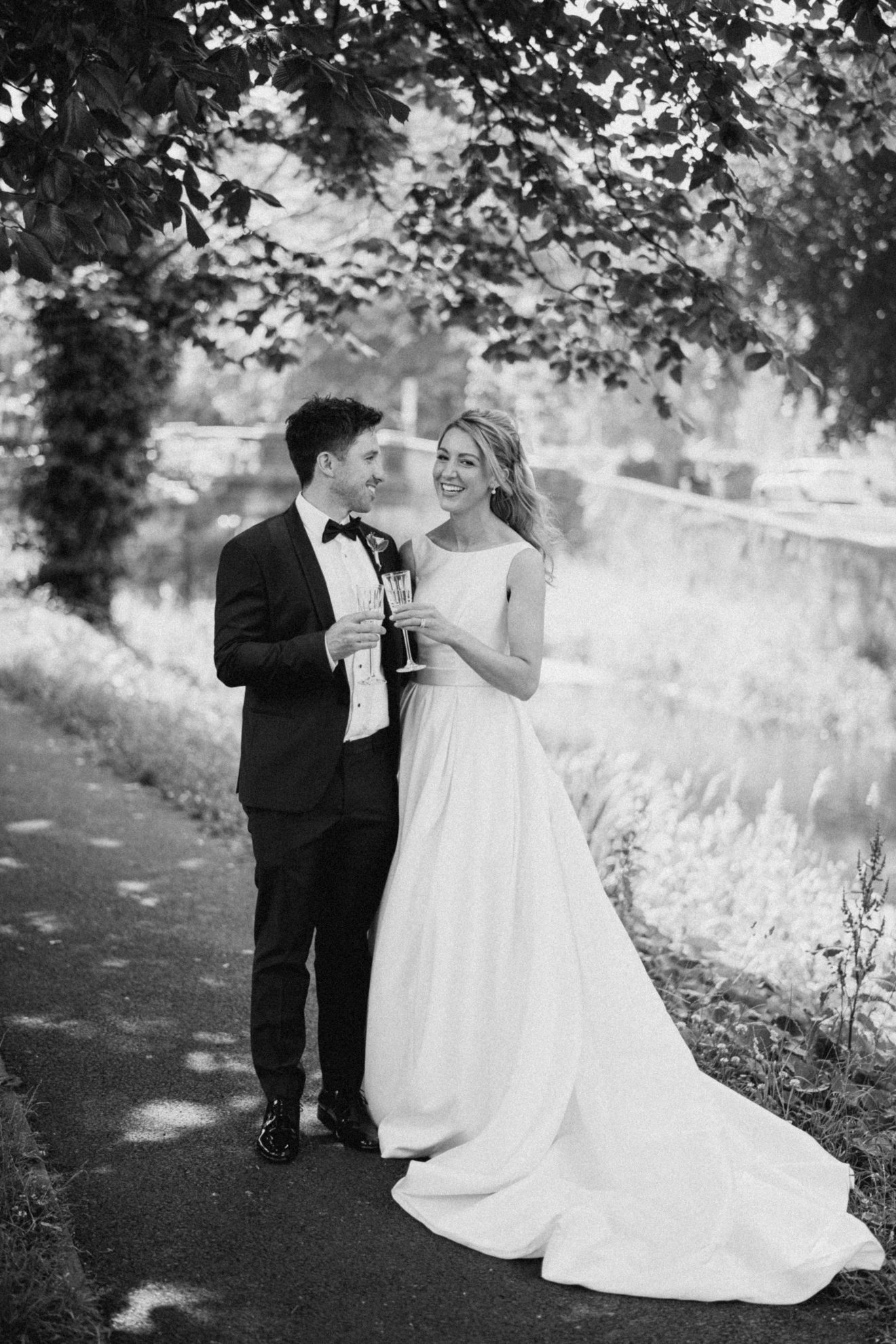 "We went to the Powerscourt Gardens on the Saturday morning, and he wanted to propose under the cherry blossom trees, but the place was jammed with tourists," Melissa laughs.
"So we did two or three laps of the cherry trees, and then we ended up walking back up to the water feature. Then Stephen went down on his knee and I was totally surprised – it was just a magical time.
"We didn't tell anyone for a few hours – we just wanted it to be just the two of us, to soak it all up. It feels like a lifetime ago!"
The Planning Process
Like many couples caught up in the Covid pandemic, the pair had to change their wedding date several times, not to mention their venue. They've had to work to three different wedding dates.
RELATED TO: 7 Creative Ways To Announce Your Engagement
"It was originally going to be at the Armada Hotel in Clare. It was supposed to have been in August 2020, and then with travel restrictions, we decided it would be easier to get married in Dublin. A couple of our friends had married at the Merrion Hotel which seemed to handle things really well," Melissa says.
The couple also changed all their suppliers to ones in or near Dublin in case they weren't allowed to travel outside the county when it came to the time of the wedding.
"We had booked the new date for April 2021 but only if people were allowed at the wedding," Melissa says.
At the time, however, Covid rules required that just six guests were allowed.
RELATED TO: Postponed Your Wedding Day? Here's Why Your New Date Is Going To Be Even Better
"We were kind of thinking about going ahead with it, but we decided that for the sake of a few more months we would push it back to 1st July," Melissa says.
"We said we'd be delighted if we could include 25 – that would be our immediate families and best friends on each side and one or two aunties. It meant it would be a very special and intimate day."
The Style
Melissa's wedding dress, by Pronovias, was a heavy satin sleeveless style with a boat neck with a low back and a large train, bought from Thistles in Galway, but she admits she decided to make some alterations before the big day.
"I got the dress back in 2019 and I always kind of wanted to go for a fantasy style ball gown," she says.
"I loved it when I bought it, but it had been hanging in my parents' house for two years and the more you look at it, the more you say 'Maybe I'll tweak this or change this'. The more I looked at it, the more I wanted to change little parts of it.
RELATED TO: The Ultimate Guide To Wedding Dress Silhouettes
"There was beading on the waistband and lace on the back so I got all that taken off to simplify it more. Biata from Trendy Threads in Galways did the alterations for me – she made a bow for my hair with the excess material. She took off the lace and transformed it into a low back dress."
RELATED TO: 11 Wedding Expenses Every Bride Forgets To Budget For
The bridesmaids' dresses were from Debenhams but were also adapted using ribbons from Hickeys which were stitched to go along with the bow theme.
"I wanted them to be comfortable but to keep it really simple as well. We had a few bows – the mass booklets had little pink bows and I had a bow in my hair on the day."
Melissa says they wanted to go for a classic style that wouldn't' date.
"When we were picking the suits for Stephen and the groomsmen, we were deciding between suits and tuxedos, but we decided to go for tuxedos because they never really date," she says.
RELATED TO: Which Suit Style Is Your Groom?
"We got the groomswear from Protocol – they did the tuxedos and shirts and shoes. We were delighted with them – it was a great service there and they were all able to go in at different times to be measured, which suited them."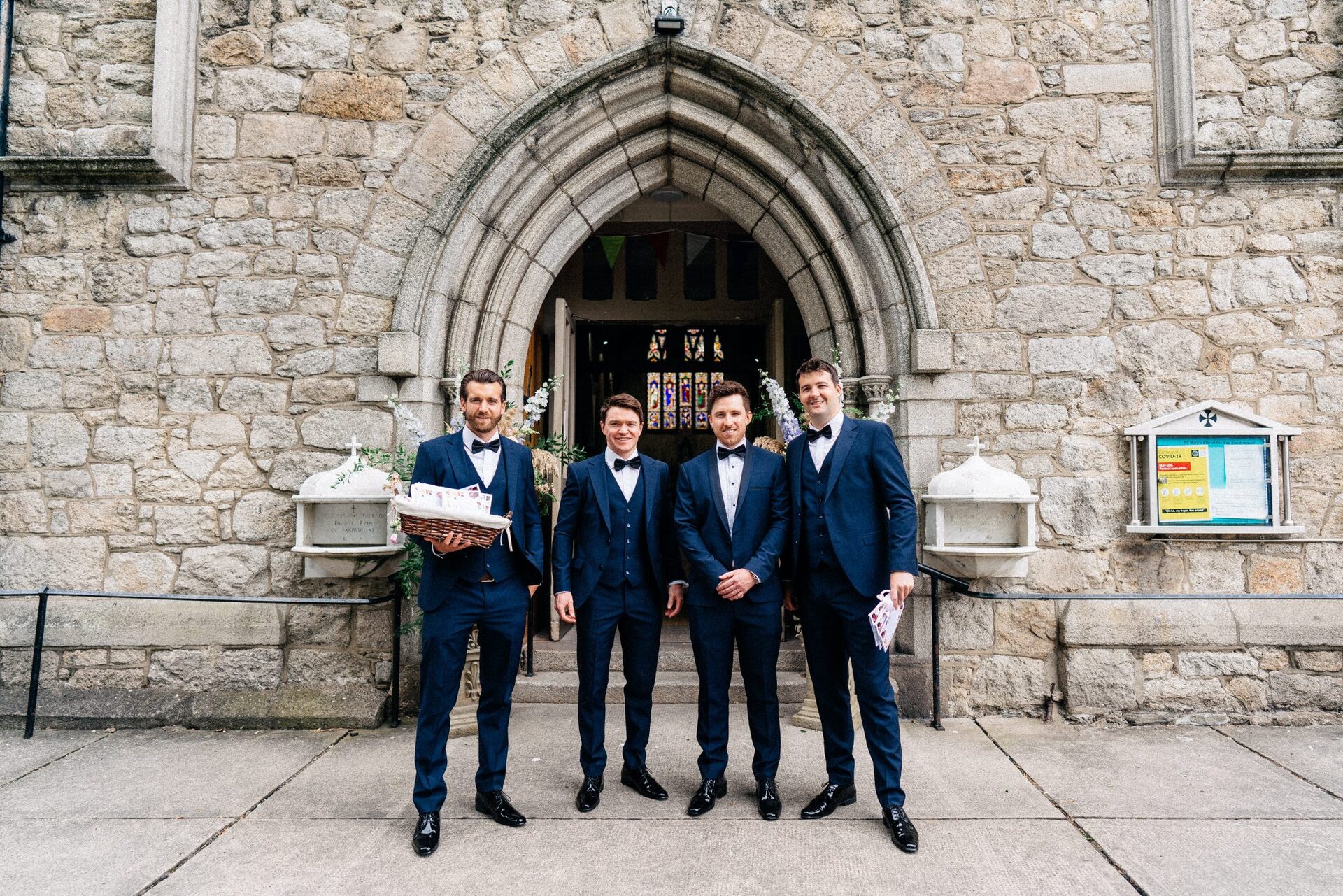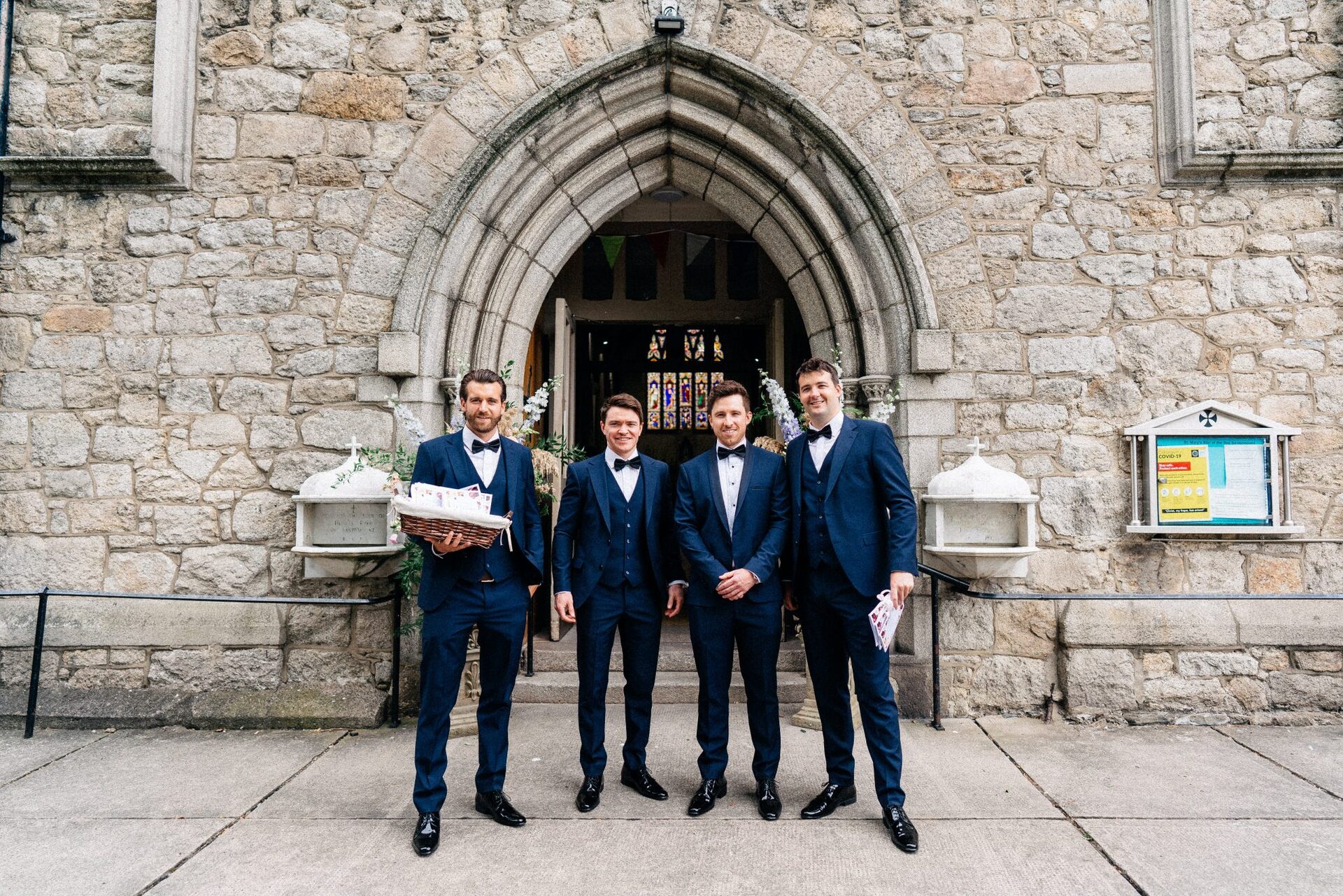 The Details
Bridal makeup was by Ellie Murphy who Melissa describes as absolutely fantastic: "I was so delighted with her.
"She did such a good job on my make-up, the bridesmaids, my mum as well – everyone has different skin types and she did such a great job."
"The hairdresser was Lisa Babikian – she was so good at doing my hair. She backcombed it and curled and clipped it so that it was half up half down. I just got a haircut the week before and on the morning of the wedding she brought her scissors just in case I wanted a bit more off it.
"She ended up cutting into my fringe a bit to make it more pronounced when it was clipped back."
RELATED TO: Four Undone Hairstyles For An Effortless Bridal Look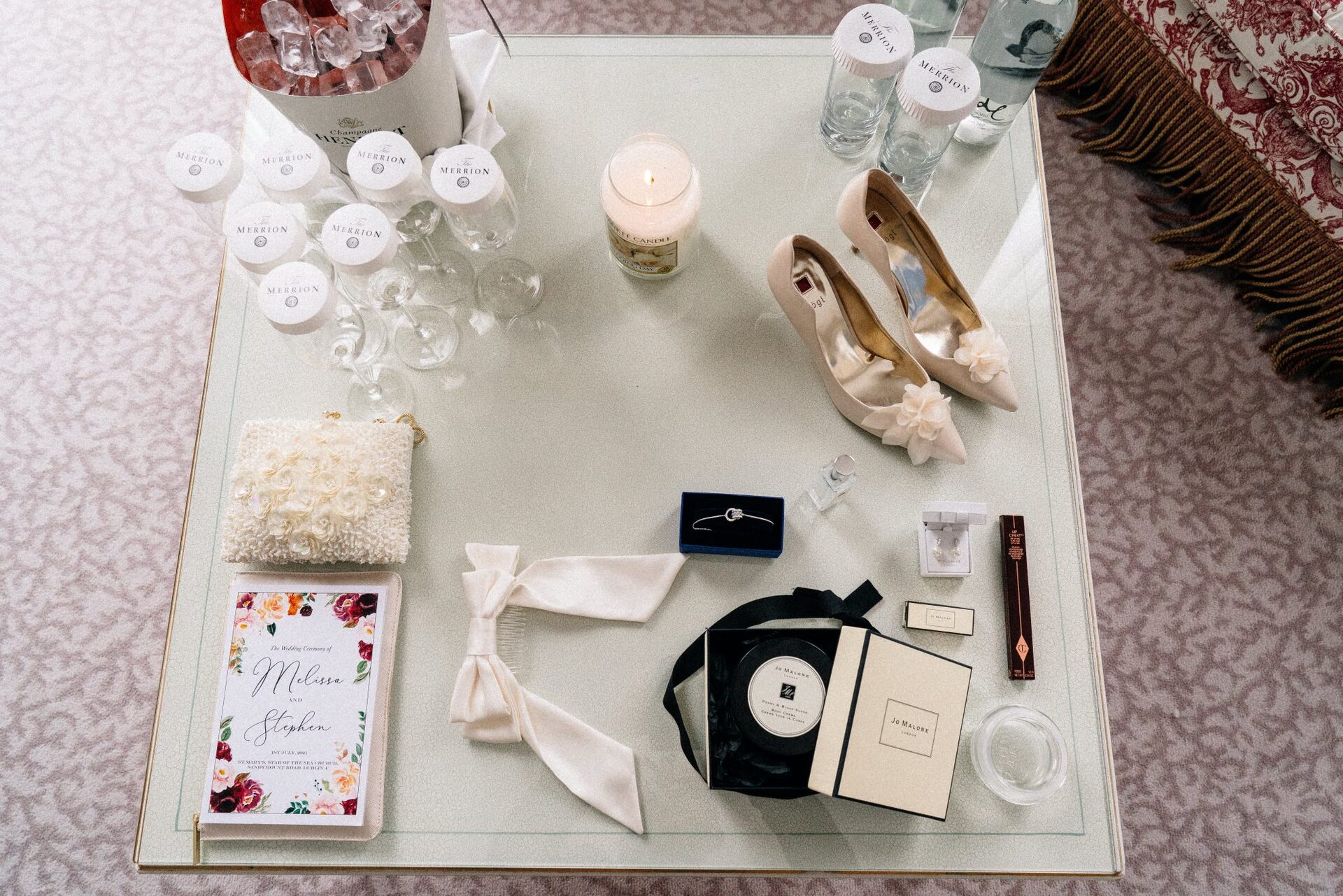 The flowers were by The Frog Prince: "I wanted to go for bright colours, and for the pedestal outside the church we added in some pampas grass to add a fun twist to it. We had peony roses, dahlias and different shades of pink.
"I'd bought all my own jewellery – only on the morning of my wedding, my sister Tara gave me earrings from Tipperary Crystal which I ended up wearing, and my sister Denise gave me a bracelet from Fallers Jewellers in Galway. So I didn't wear any of my own jewellery!
RELATED TO: How To Find Your Dream Wedding Team
"I had a veil just for the church and I said I'd see how I got on with the veil. But to be honest I found the veil so annoying – it just kept getting caught up in everything! Outside the church my hairdresser just took it out of my hair and swept it back, so I didn't have the veil hanging out of my head for the rest of the day!"
The Day Of The Wedding
The whole bridal party stayed at the Merrion Hotel the night before, Melissa says.
"I woke up in the bridal suite and it was brilliant and so special to be getting up in this fabulous room. We had our breakfast delivered to us and then at 10am the hotel sent up afternoon tea to us – there were so many mini croissants and little pastries!"
Once ready, Melissa and her dad travelled to church in a vintage Bentley hired from Fred Hoey Vintage Cars.
Melissa and Stephen chose Our Lady Star of the Sea church in Sandymount to marry in as they live close to the area.
"We only moved to this area in January 2020 and it was the start of Covid, but we became really attached to Sandymount and when you were restricted to 5km we were out on lots of walks," Melissa says.
RELATED TO: 12 Fresh Ways To Arrive At Your Wedding In Style
"We were always walking or running past the church, so it felt really familiar and we said that's where we'd love to get married.
"All the girls I work with were waiting outside the church and it was lovely to see them!"
A friend, Richie Martin who is in a band, sang and played the guitar in the church.
"It was lovely and relaxed and went with the vibe of having a small intimate wedding – he played Beatles and Beach Boys songs," Melissa says.
The Celebrations
Afterwards the guests headed to the Merrion Hotel and the newlyweds stayed in Sandymount with photographer Pawel Babenca to take some photos, especially one very special one along the canal.
Their one-year engagement anniversary had come during the strict lockdown, so they ended up celebrating it at the canal last year.
RELATED TO: 13 Stress Free Steps To Help You Plan Your Ultimate Wedding
"We've been through so much, the two of us, and we love it there. We ended up having our one year engagement anniversary there during the first lockdown with homemade cocktails, so it was really nice to get a wedding photo there!" Melissa says.
Afterwards they headed back to the Merrion Hotel for a drinks reception.
"The sun was shining with all the flowers out and it nearly felt like we were abroad," Melissa says.
While live music and DJs were out of the question at the time, recorded music was allowed and the bridal party decided to make a big entrance at the reception.
"We decided to have a baby Guinness shot before we went in and a song was playing for our entrance, so we were dancing going in. The groomsmen were twirling the bridesmaids around and everybody was standing, clapping and cheering – there was great excitement!" Melissa says.
The Evening Do
After a sumptuous dinner, the couple cut the cake which was baked by Camerino on Merrion Street.
RELATED TO: 8 Fabulous Tiered Wedding Cake Trends You Need To See
"It was a gorgeous two-tier cake with chocolate biscuit cake on the bottom tier and vanilla sponge with homemade strawberry jam on the top, then covered in buttercream with dried pressed flowers all around the cake – it was a fairytale cake!"
Afterwards they moved down to the Cellar Bar where they had music playing in the background.
"Everybody had a few drinks, we sat in a circle and we had a bit of a sing song – it was a really good crack," Melissa says.
RELATED TO: Quirky Entertainment Your Guests Are Going To Love
"We had been hoping to have a band but back when that option disappeared, Laura, the wedding coordinator from the Merrion said: 'I guarantee when it's a small wedding, you won't miss it", and she was right!
"It was just fantastic, even without the band – it was more on our terms. People didn't mind standing up and singing a song and I don't think anybody missed having a band. We just had a Spotify list with our own 80s music."
Capturing The Day
Melissa pays tribute to photographer Pawel Bebenca and videographer Lukas from Diga Lukas Videography who captured every moment.
"There was great banter between the two of them – they worked really well together," she says.
"Pawel was fantastic – he would be telling us 'Melissa, you need to put the dress on now. Bridesmaids, tell me when she's decent and I'll come in and take pictures'!
"He got a lovely shot of us all in the bridal suite when Tara texted my dad to come in. I didn't realise coming in that I was ready and dressed – he got such a shock and Pawel captured that! My dad was standing in the door with his mouth open and we had to give him a glass of champagne after that!"
Favourite Moments
Melissa's favourite moment was walking up the aisle.
"When the music was playing, the best part of the day was walking up the aisle and having my Dad to hold onto and seeing Stephen at the top of the aisle smiling, and looking around and seeing all my best friends and closest family there. It felt like after everything with Covid, that we finally got to do it and we had all our friends around us," she says.
"Stephen says that when the doors of the church opened and he saw my friend Grace who was a bridesmaid – he got really emotional when he saw the bridesmaids coming in because he knew I was coming next. When he saw me and my dad coming, he thought 'It's really happening!'
RELATED TO: The Most Romantic Places To Say 'I Do' In Ireland
"With rescheduling things for so long, it becomes almost like a job and you feel like it will never get done!
Bridal Advice
"I'd say just go for it and invite your nearest and dearest," Melissa says.
"You're not as nervous when you know it's your closest family there and they are so excited for you that it will make the most fantastic day.
SUPPLIERS
| | |
| --- | --- |
| Church: Our Lady Star Of The Sea | Hair: Lisa Babikian |
| Reception: The Merrion Hotel | Make-up: Ellie Murphy |
| Dress: Pronovias from Thistles in Galway | Cake: Camerino Bakery |
| Alterations: Biata from Trendy Threads | Cars: Fred Hoey Vintage Cars |
| Flowers: The Frog Prince | Video: Lukas from Diga Videography |
| Groomswear: Protocol | Photographs: Pawel Bebenca |
| Bridesmaid Dresses: Debenhams | |
RELATED TO: Five Of The Best Wedding Planning Apps
Still organising your perfect day? Check out our gallery of fabulous suppliers HERE.
Sign up to our newsletter to get all the latest from The Wedding Journal! Join Here>>>>http://eepurl.com/ck9vLb