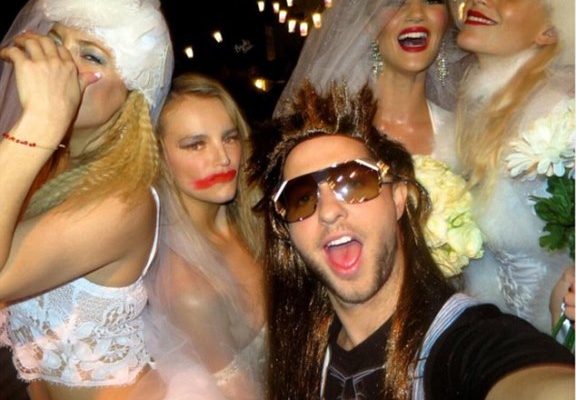 Hot Mess Brides is the latest party theme you need to try
Spoiler: Adopting the Hot Mess Brides theme means you must commit to crimping your hair, wearing garish make-up and being a 'hot mess' in general. Easy!
In all honesty, here at Wedding Journal HQ we see a lot of brides every single day. From young brides to older brides, Irish or beyond, we like to think we know a thing or two about brides. But Kate Hudson has taken brides to a whole new level with a birthday party theme we really can't stop looking at- Hot Mess Brides.
Before pictures of Kate's unbelievable 37th birthday bash were revealed we hated seeing brides looking anything less than amazing on their big day. Its the one day where all brides really do want to look perfect and if issues with the dress, hair and make-up wreck havoc on that its a shame.
But now we've seen pictures of Kate's Hot Mess Bride birthday bash- we're obsessed.
The star-studded event was attended by members of the celebrity elite, include M&S model Rosie Huntington-Whiteley and socialite Poppy Delivigne. The dress code was simple- take bridal gone wrong to the extreme and be as crazy-looking as you like. Its the perfect theme for hen dos, bridal showers, or even a bride-to-be's birthday party.
Here's the must-haves if you're going to give it a go.
Crimped Hair
OTT Blusher and Pantomime Lippy
Lots of Flesh on Show
Some Outlandish Bridesmaids
A Snazzy Veil