Jessica Timlin and Jonny Gannon from Dublin first bumped into each other at Body and Soul back in 2016 – and had no idea it was the start of their forest festival love story.
"It's actually quite a funny story how we met," Jessica says. "We ran into each other very briefly at Body and Soul, although Jonny doesn't remember much from that night.
"We ended up meeting again at Castlepalooza the same year when one of my friends was seeing one of Jonny's friends, so that's how we crossed paths again. I obviously made quite the impression on Jonny as well as he spent the next few weeks trying to convince me to go on a date with him!"
The two festival lovers had another fateful encounter again at Longitude when they decided to go to book tickets for a smaller festival, 'Another Love Story', at Killyon Manor – and that's where all the magic happened.
RELATED TO: How To Have A Woodland Themed wedding
"That's kind of where it all started and the story really began," Jessica confides.
"We wandered into the little chapel in the forest which is where we had our first kiss and then we were joking around pretending we got married. Four years later, we got married in that same chapel!"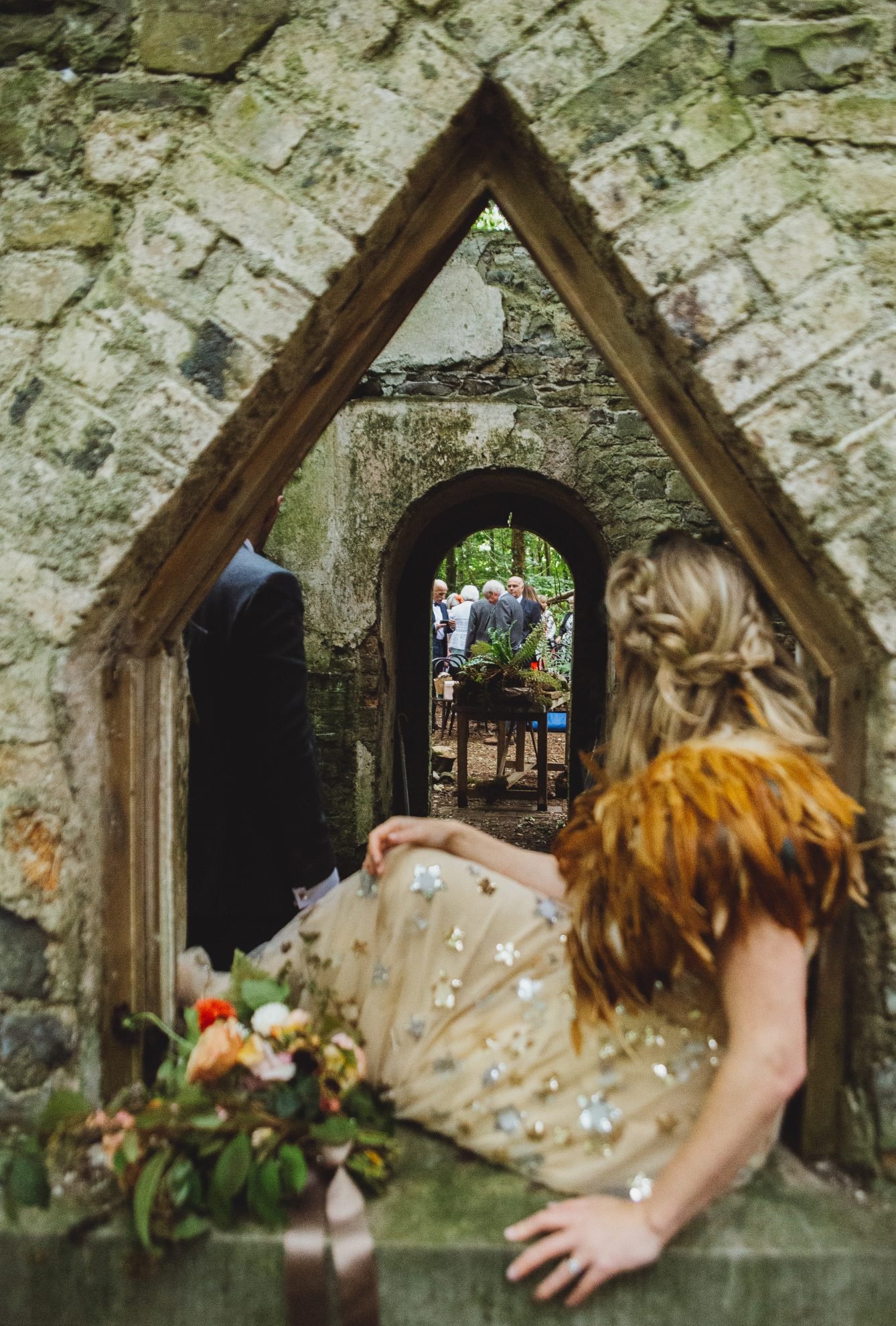 THE PROPOSAL
After three years of dating, Jonny brought Jessica back to the scene of the crime, Killyon Manor, where he set up a magical proposal during a festival weekend break.
"The chapel at Killyon Manor is actually where Jonny proposed as well, the year before the wedding!" Jessica explains.
"I had it all set up to propose at the same festival in the forest," Jonny reveals.
"Everyone, from the festival organisers to the photographers and even some of the band members, all knew about it and my friends were all in on it as well, but Jess didn't have a clue!"
RELATED TO: 5 Romantic At Home Proposal Ideas During Lockdown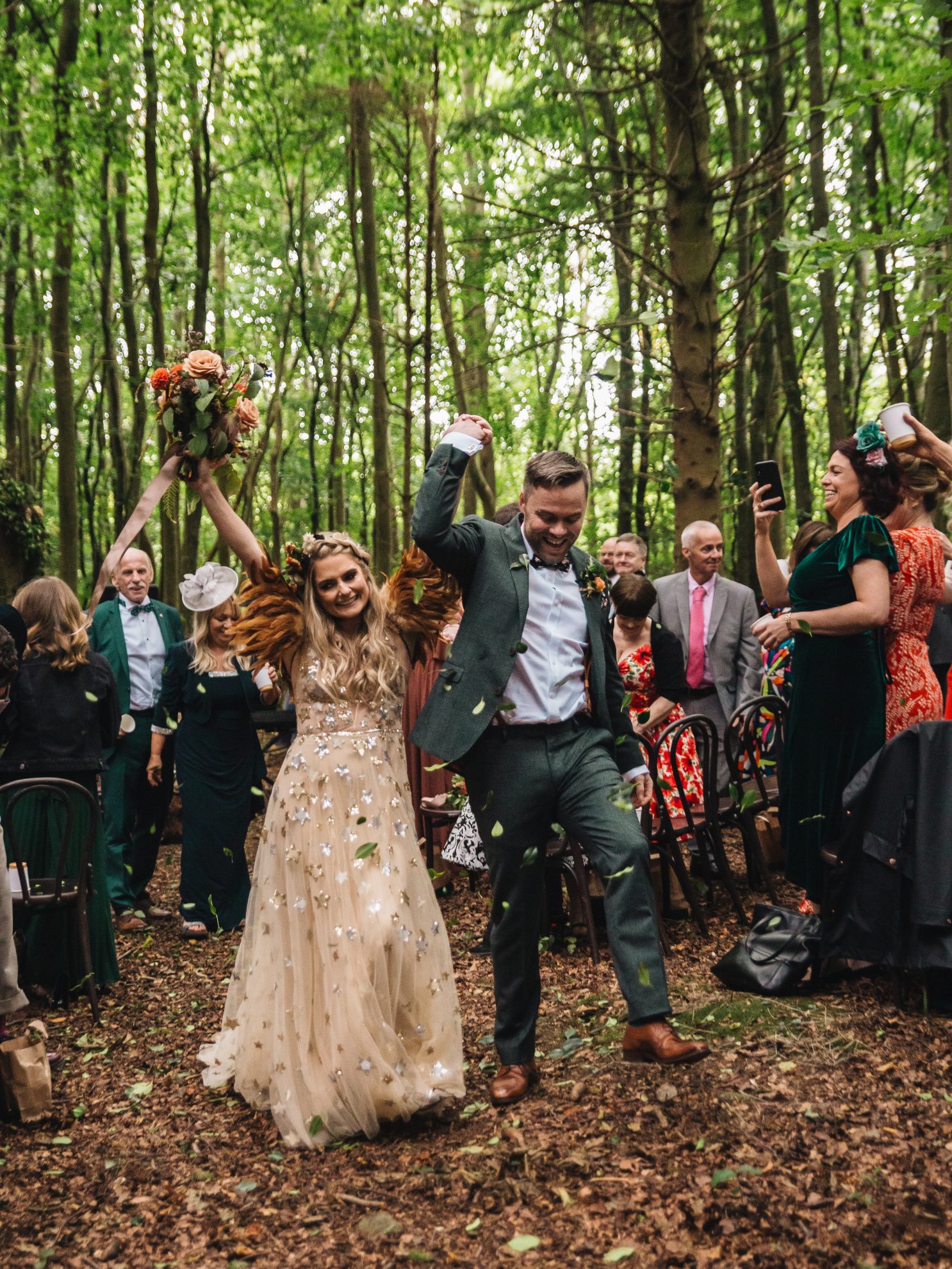 Jessica laughs: "Our friends actually made up this story that there was going to be a light show in the forest just so they could get me down there.
"Looking back now, I don't know how I didn't know, especially because Jonny mysteriously went missing for part of the night – but I think I was too hungover to even notice!
"Walking into the forest, I still didn't really know what was going on until I walked into the chapel and saw Jonny standing there and I knew something was up. He then got on one knee and asked me to marry him and I couldn't believe it – of course I said yes!"
RELATED TO: Quirky Wedding Invitations You And Your Guests Will Love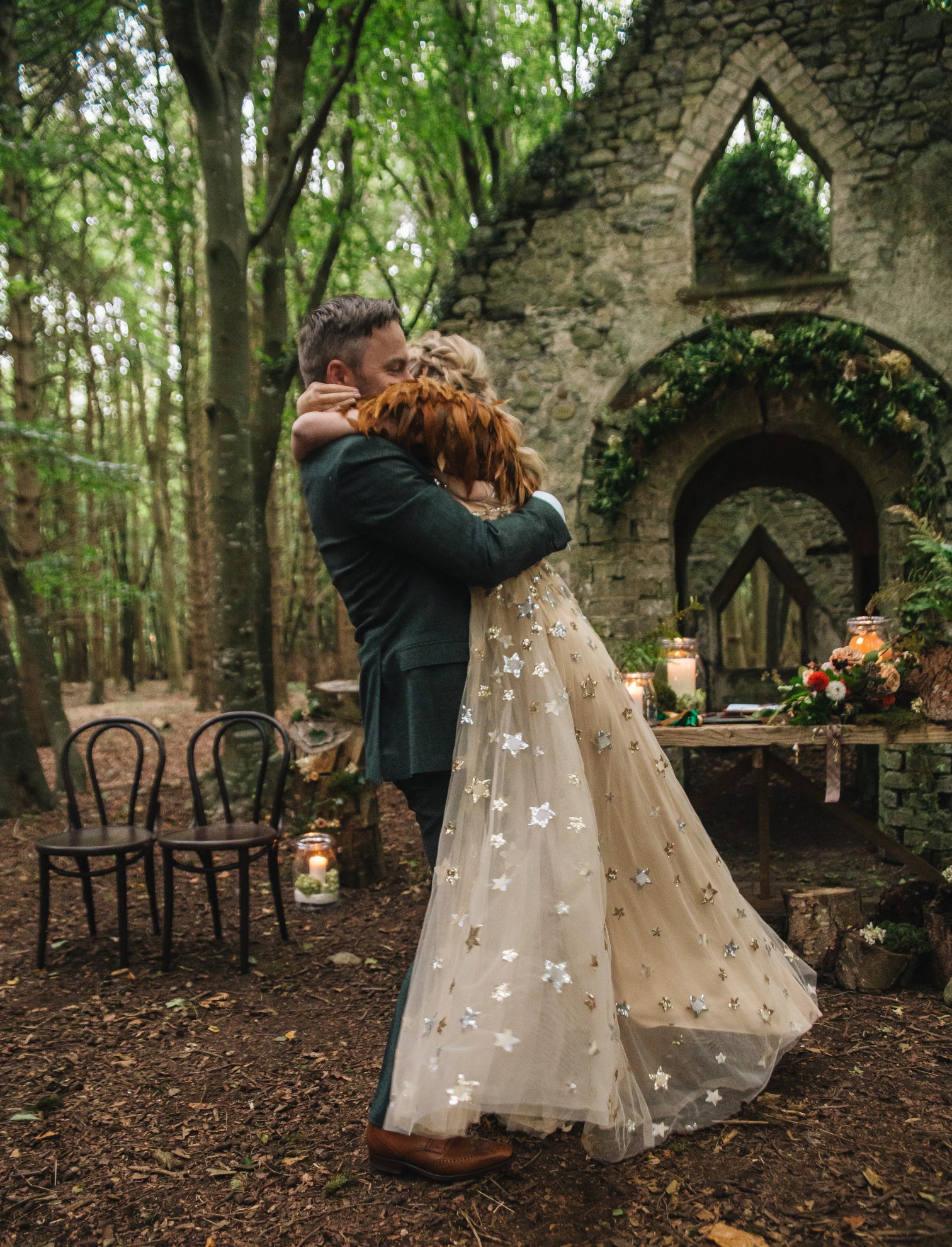 PLANNING PROCESS
Jessica and Jonny, who both work in the creative industry, took on a lot of the planning process themselves.
"I really planned everything myself, with a little help from Jonny of course!" Jessica laughs.
"In retrospect, looking back I kind of wish I had gone for a wedding planner because there was a lot going on, especially with the pandemic – but I think we pulled it off quite well! We basically had two venues – our ceremony was at Killyon Manor and then our reception was at Bellinter house and the wedding co-ordinators there were great!
RELATED TO: Which Wedding You Should Have Based On Your Star Sign
"The main thing for us is that we wanted to have a laidback day that was full of fun! I work in set decoration and Jonny is a landscape architect and we wanted to bring Killyon forest with us throughout the day. So we decorated with lots of greenery and had performances under the trees, including our first dance!"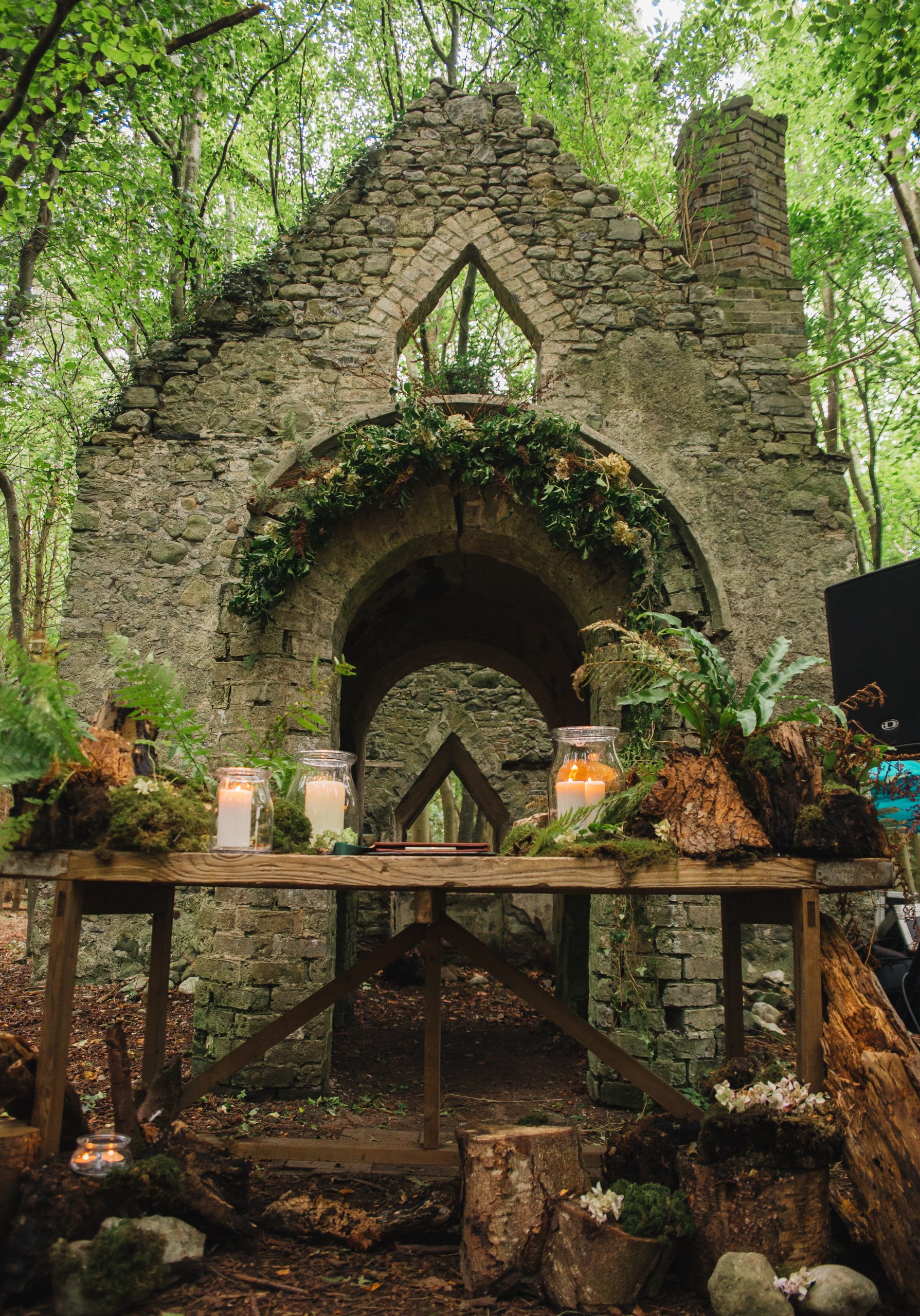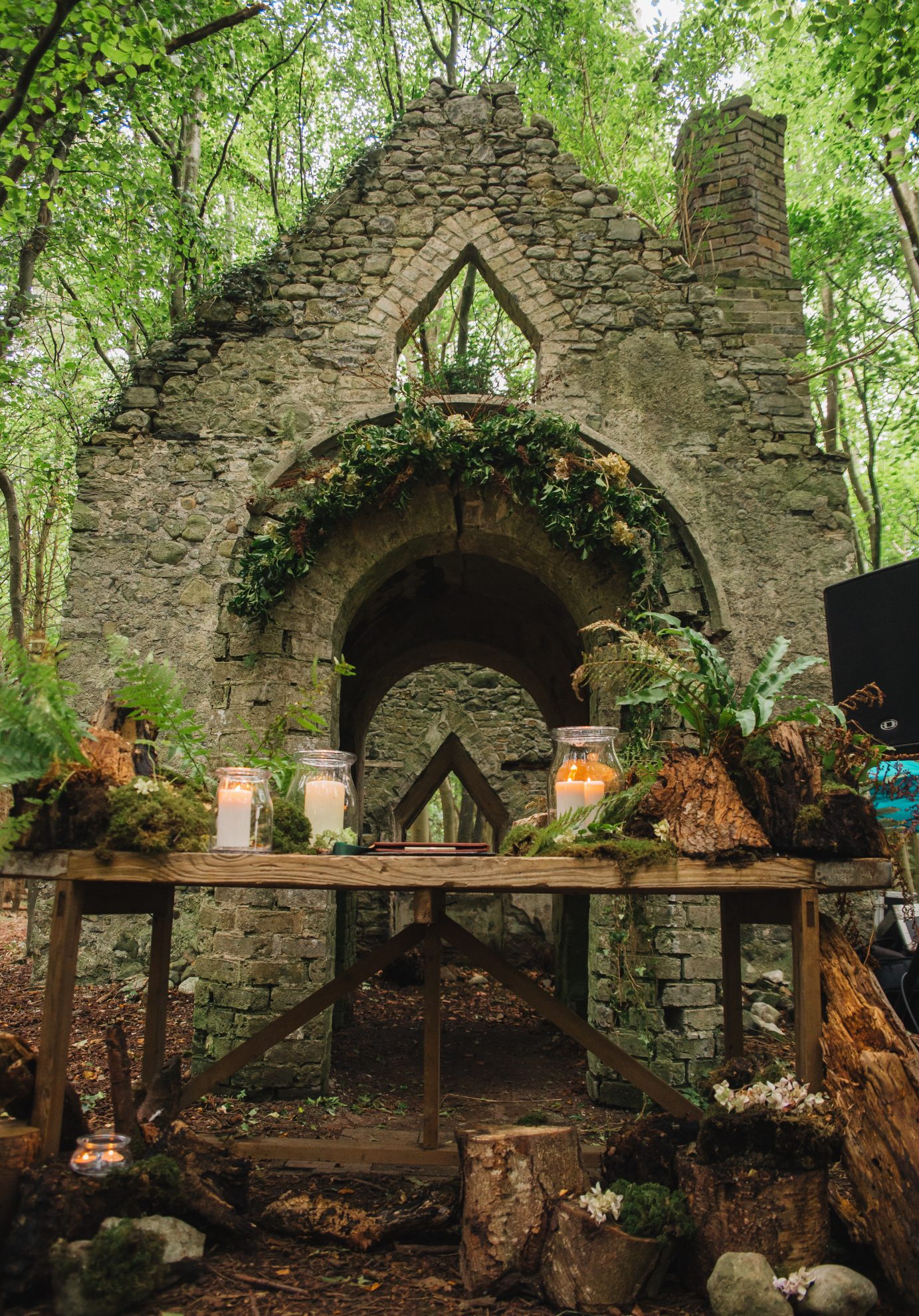 Jonny says: "Jess actually made all of our invitations herself and I decorated the whole place with a lot of greenery to tie in with the theme. I brought lots of birch trees and ferns and set up around 200 trees in the reception room – it was like walking into a forest!"
Although Jessica and Jonny organised a wedding of a lifetime, planning during a pandemic is never easy.
"We were originally meant to have around 150 guests, but when Covid came we obviously couldn't have that many, so we only ended up having 50 people there," Jess explains.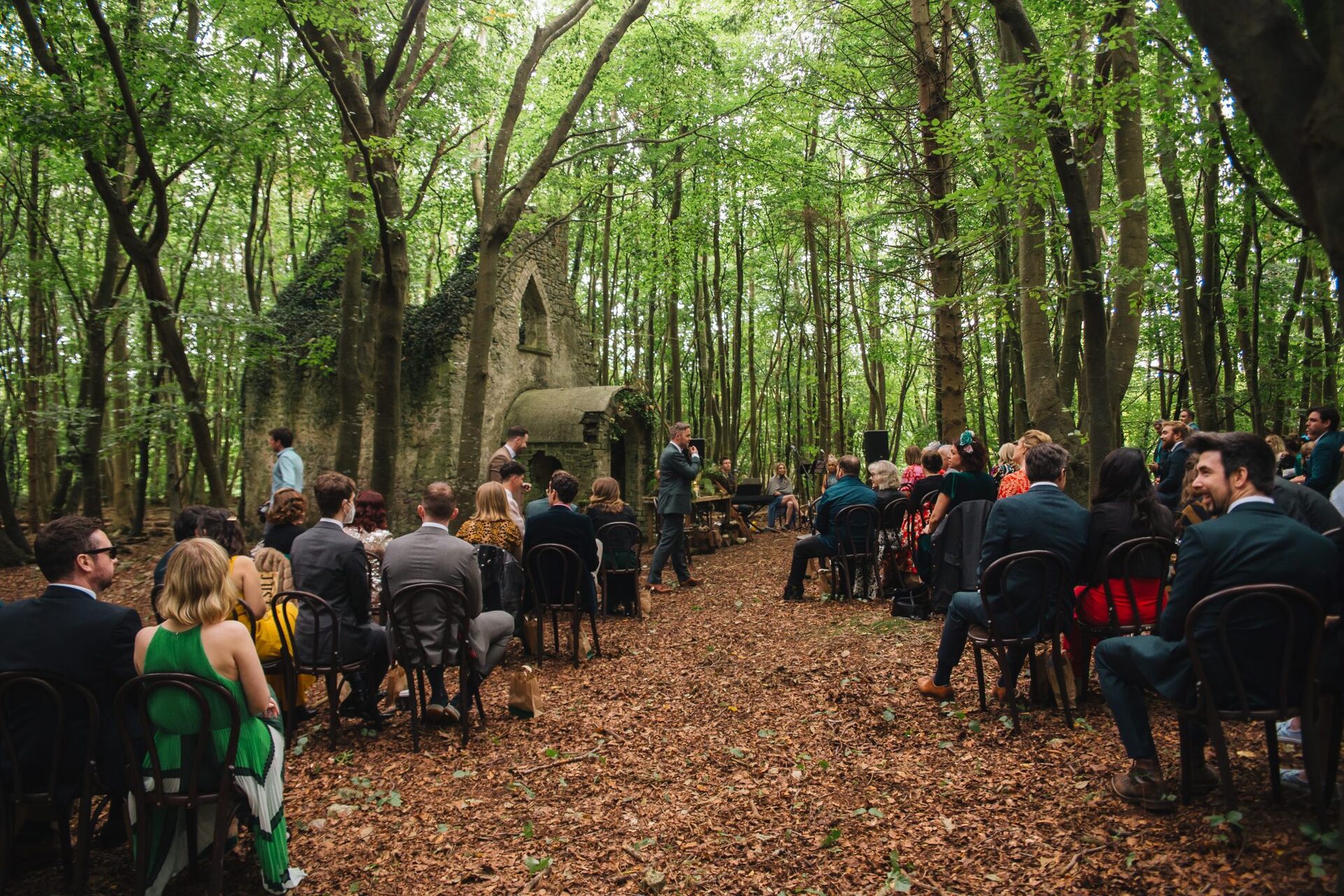 Jonny adds: "It definitely was a lot more stressful planning a wedding during the pandemic. Not knowing what we could or couldn't do and the restrictions constantly changing, there was a lot to think about, but we actually ended up getting really lucky and didn't have to move our date."
Jessica says: "We didn't want to put it off any longer, we didn't know when the pandemic would end and we just wanted to get married!
"I think it's always a good idea to have a backup plan though, in case things don't work out. You just have to focus on what you can control and go with it, and not get too hung up on all the details."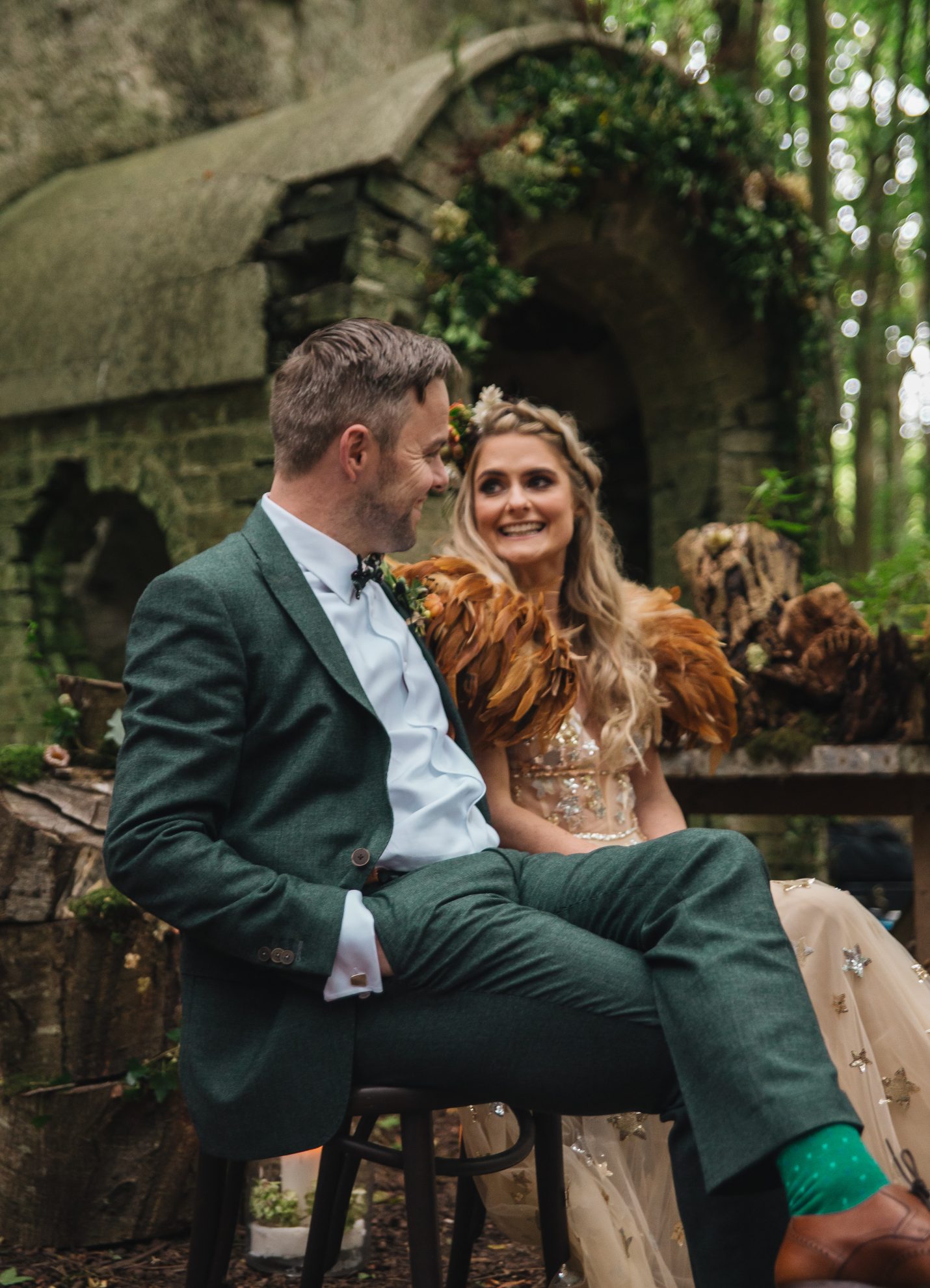 DREAM WEDDING SUPPLIERS
Killyon Manor played a huge role in Jessica and Jonny's unique love story, so they knew they had to have their dream wedding there too.
"The owner of Killyon Manor, Zoe Purcell, was so good to us after hearing our story," Jessica says.
"She normally does smaller elopements, but we convinced her to let us have our wedding there and she helped out with loads of extra decorations like a flower arch and the altar was decorated beautifully and there were signs leading people to the wedding – it was all very natural and exactly what we wanted."
RELATED TO: Nine Floral Arches That Will Wow Your Wedding Guests
After their stunning ceremony at Killyon Manor, Jessica and Jonny brought the forest with them to their reception at Bellinter House.
"It was great there because we were able to make use of the outdoors as well and it all turned out really beautifully," Jessica says. "We got to decorate it how we wanted – there was fire pits outside, candles and trees everywhere and there was even a little area set up outside for our first dance."
"The food was also really great and the staff were lovely, especially Gina and Derek who ran the day and were excellent!"
The wedding flowers were from Patsie & Co in Dublin and stayed true to the natural and autumnal theme.
"Our flowers consisted of Irish Garden roses, dahlia, scabiosa, rudbeckia, marjoram, mint, rosemary beech, long grasses, fern and blackberries," Jessica explains.
RELATED TO: 12 Hot Summer Looks For Your Wedding Flowers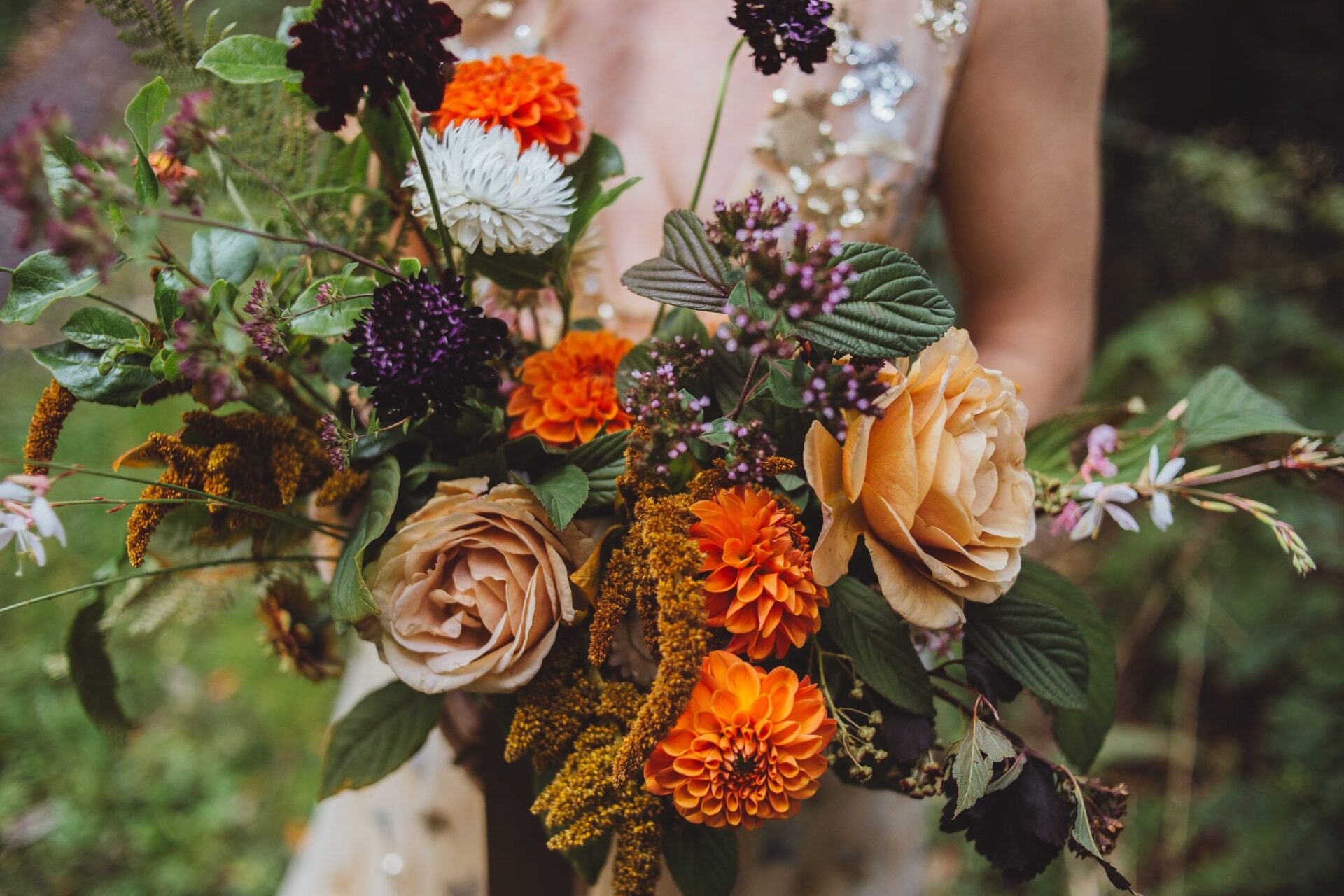 "Due to the pandemic, the flowers did end up being a last-minute thing but I knew what I wanted and the colour scheme was very autumnal and I just loved how they turned out!
"A friend of ours, Jen Sheahan, actually made our cake so we were really lucky!" Jessica says.
"One layer was lemon and the other was salted caramel and it was delicious! It actually ended up matching my dress perfectly with gold stars and ferns that matched the whole theme.
RELATED TO: 10 Alternative Wedding Cake Ideas That Will Make You Drool
"Jen didn't even see my dress – I had sent her the invite and she knew the general theme was greenery and there was stars on the invite. So she based it off that and it all kind of came full circle in the end!"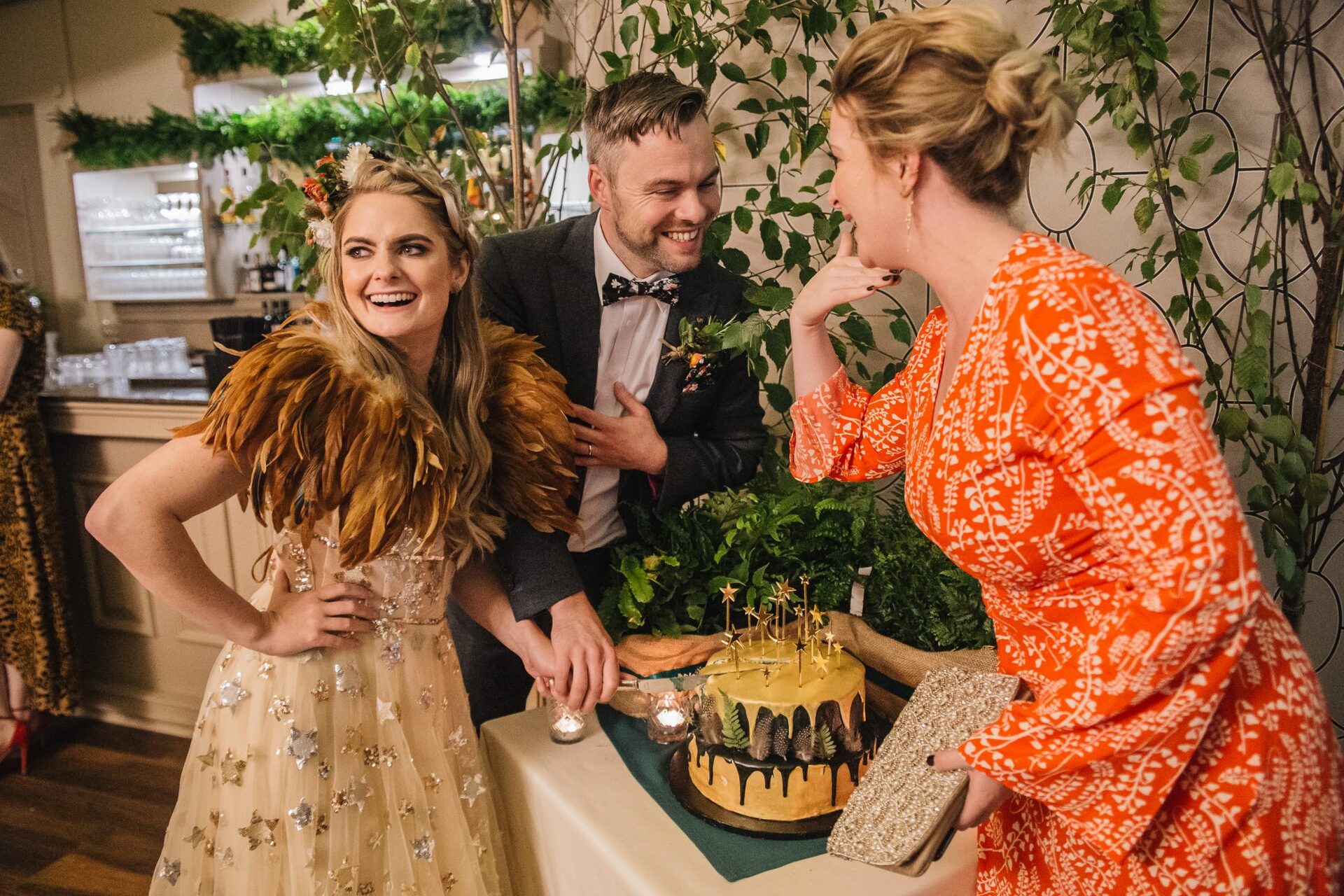 CAPTURING THE DAY
"Zoë Holman was our wedding photographer and she actually took our photos at our proposal as well!" Jessica reveals.
"She was a photographer at the festival when Jonny proposed and he convinced her to take our photos which turned out really beautiful, so we knew we had to have her for the wedding too!
"Caimin Jacob from Eden Vale Wedding Films also captured the day perfectly! I spent ages looking through videos and his style was exactly what I wanted – it was very cinematic and ended up really beautiful.
"The best thing was that we didn't even really notice he was there, so it came out very natural and comfortable."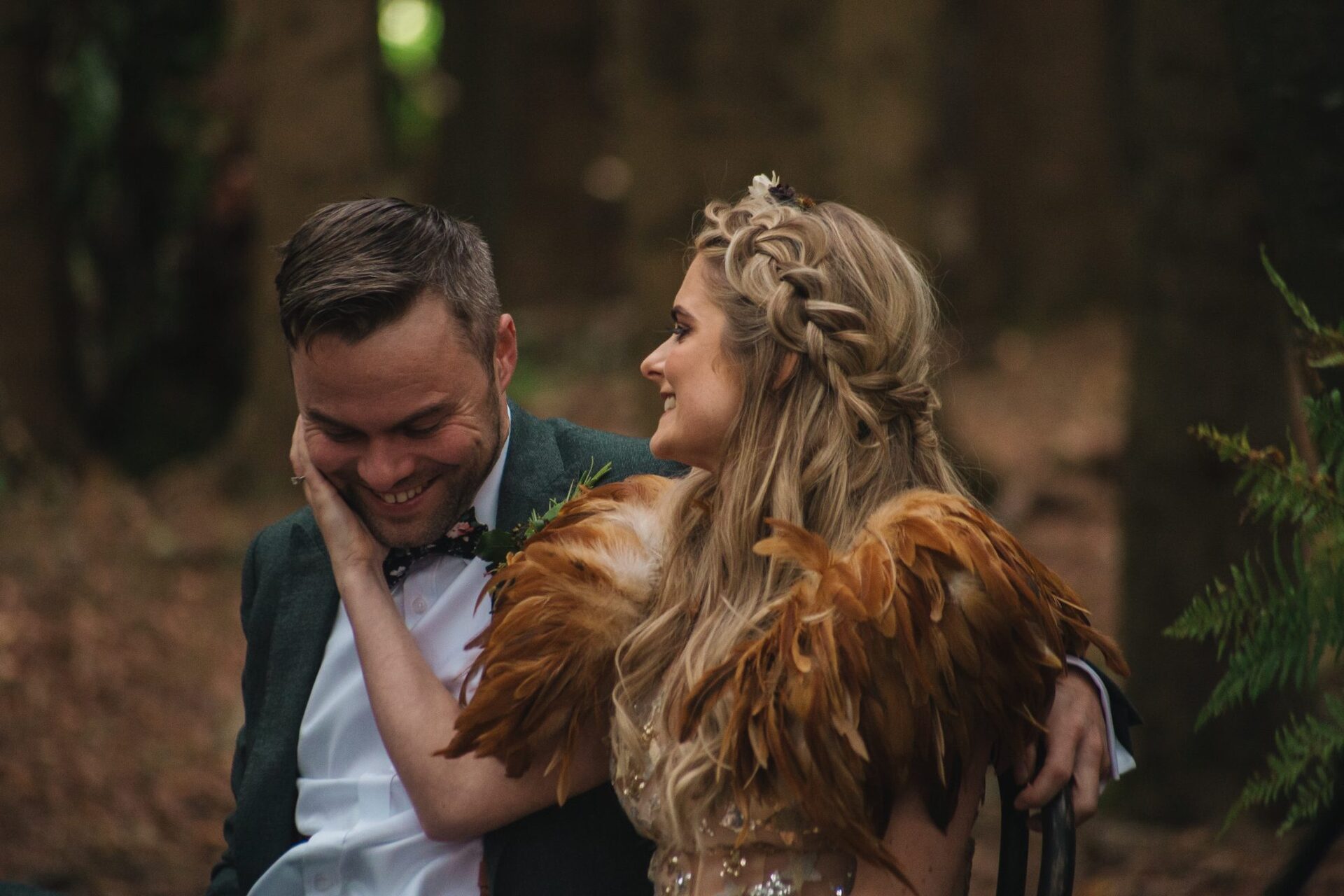 WEDDING WARDROBE
Jessica rocked a champagne Orion dress by Willowby Watters from Alice May in Dublin after falling in love with the unique gown on Instagram.
"I tried on a few different dresses by the designer and I really liked their style because it was kind of whimsical and not too formal," Jess reveals.
"When I went onto their Instagram page, I saw a picture of the dress and I was obsessed – I just knew it was the one.
RELATED TO: 7 Beautiful Boho Dresses For The Bohemian Bride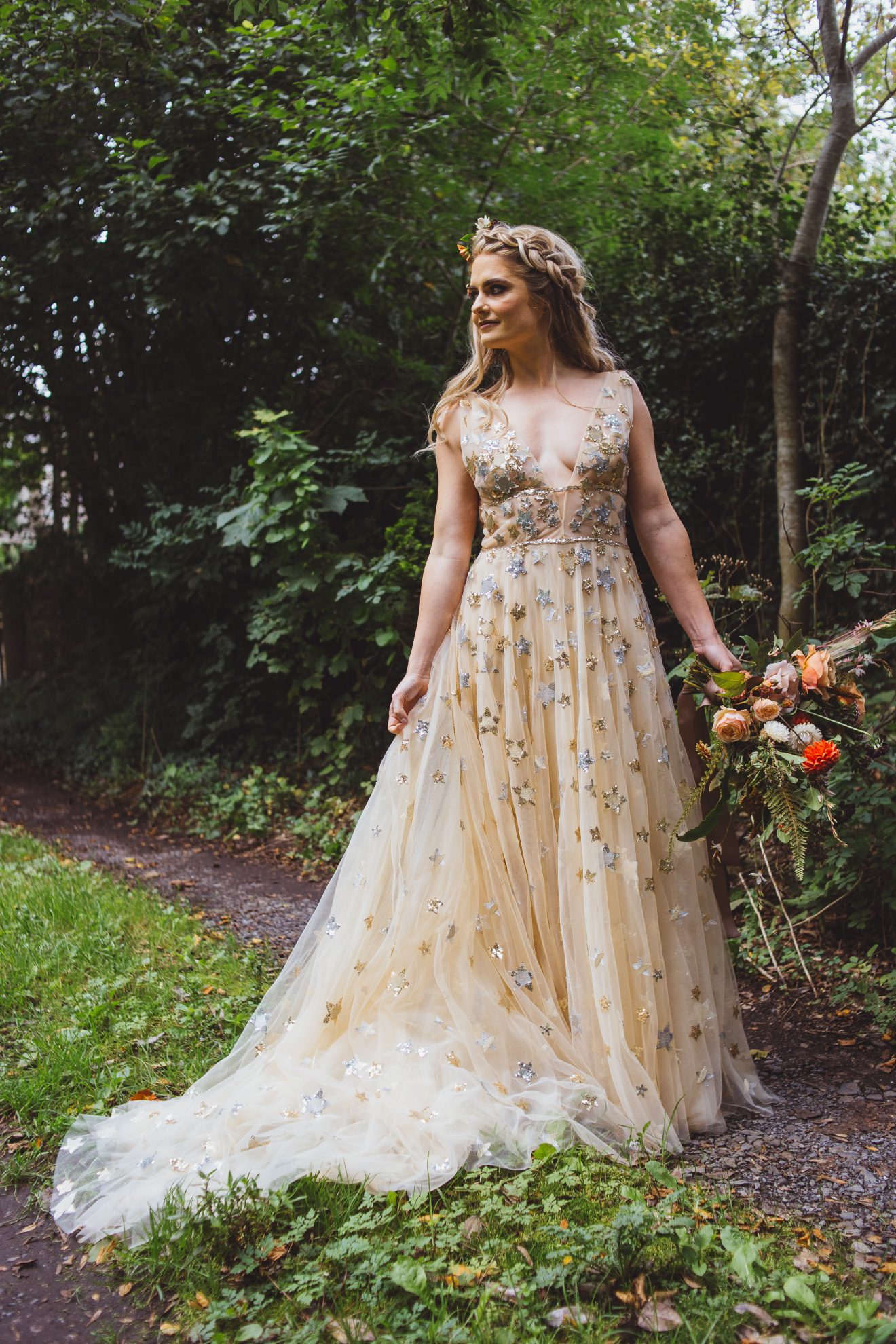 "A lot of places around here didn't have it in stock, but Alice May managed to get it in for me just in time, and when I tried it on I immediately fell in love with it and knew I had to have it!"
Shopping in-store for bridesmaid dresses was proving quite the task during the pandemic, so Jessica went online to find the perfect autumnal gowns to suit her forest fairytale.
RELATED TO: 10 Gorgeous Pink Dresses For Blushing Bridesmaids
"I came across a site called Revelry and they sent me some samples of fabrics and a book of their different styles, so I got to choose everything and they make them to order," Jessica explains.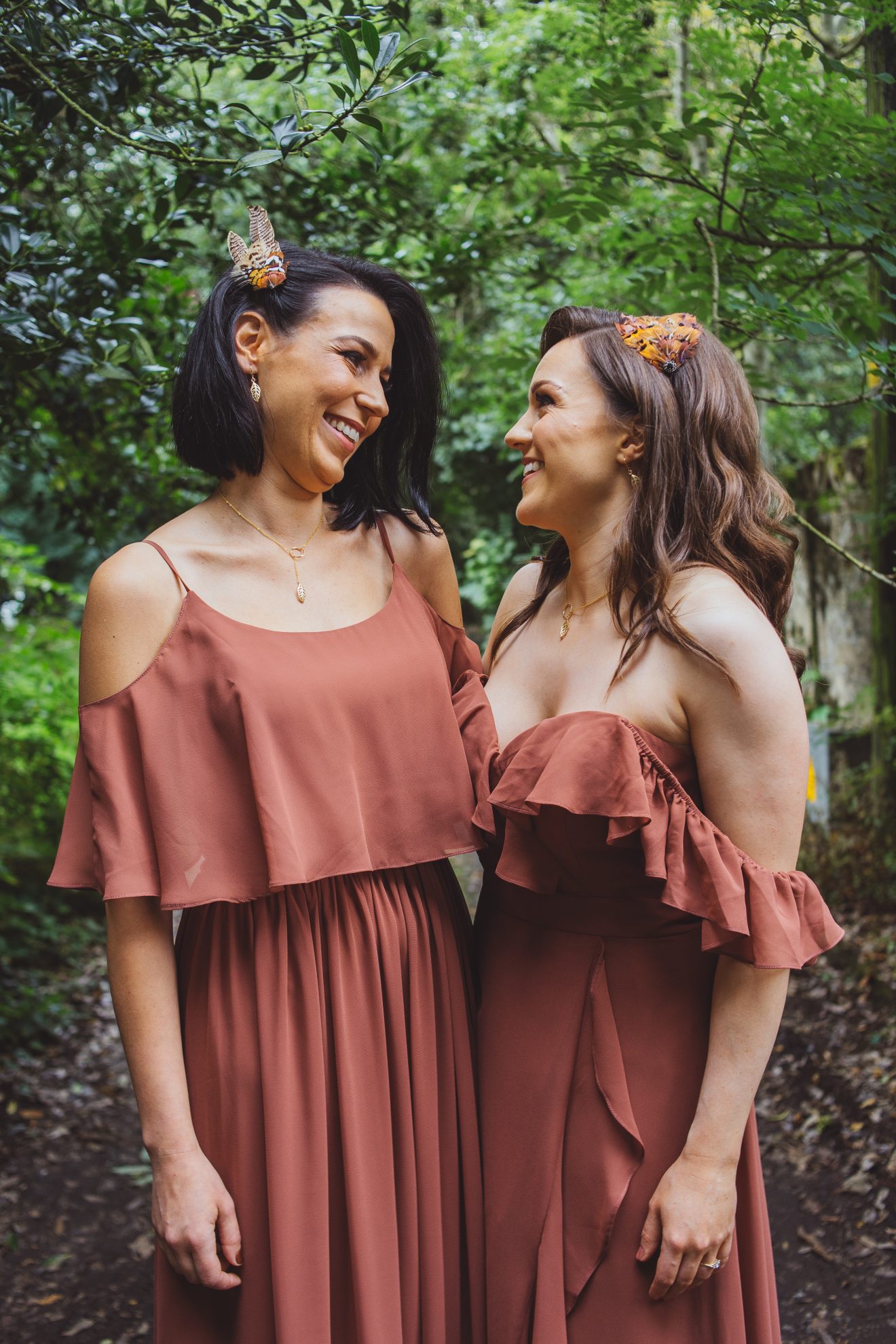 "Not being able to try them on was hard, but I knew I wanted autumnal colours so I just took a chance with it and it worked out really well!"
With a very specific look in mind, Jonny got a bespoke suit from Magee Menswear 1866 in Donegal.
"I had been looking all over for a very particular green shade I wanted to go with the forest theme, and they made it perfectly for me!" Jonny says.
"The process was great and I got to pick everything – my inner lining was pink, I picked the buttons and they personalised it with our initials and date which was a really nice touch."
RELATED TO: Statement Styles For Summer Grooms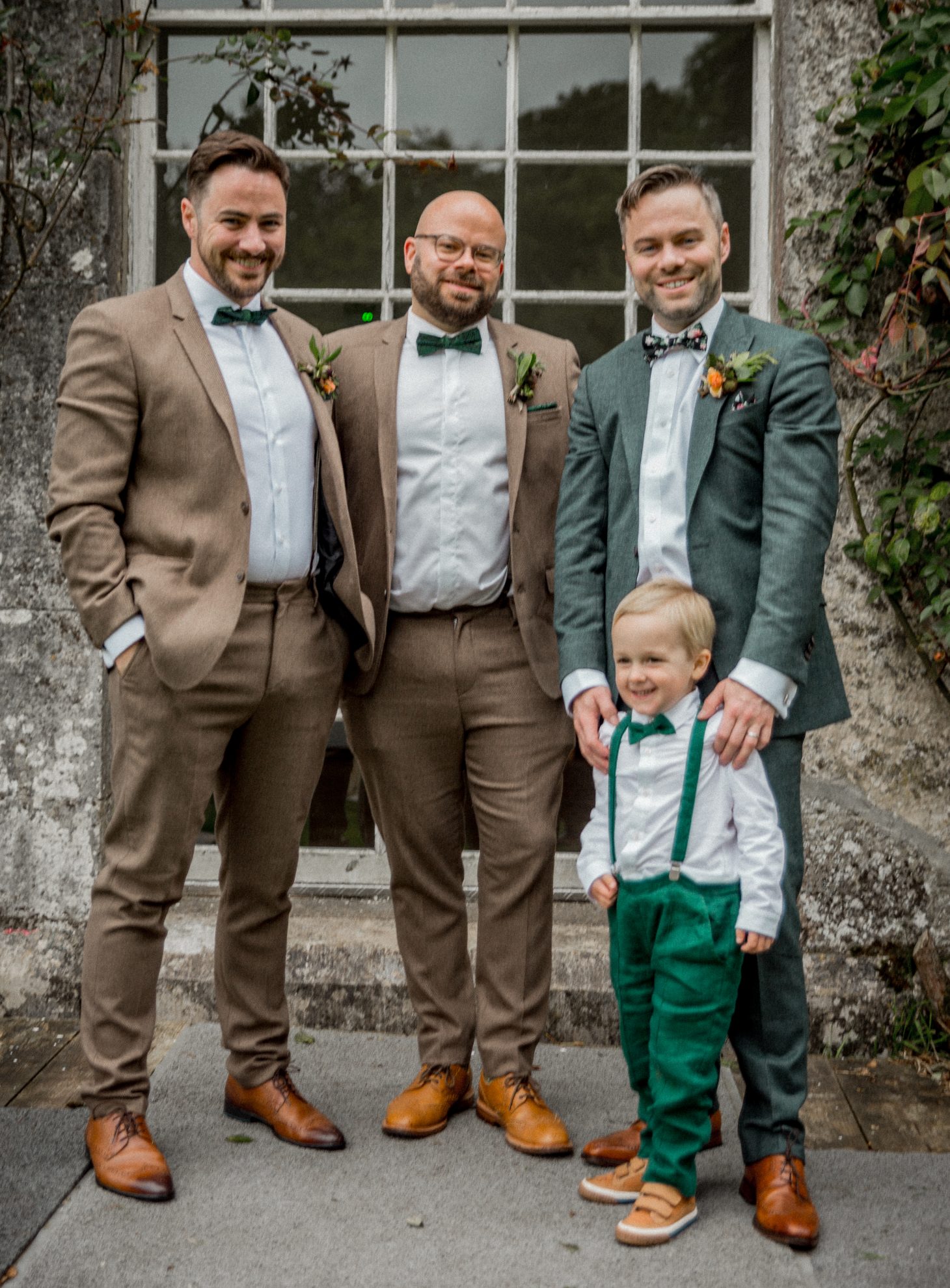 FAVOURITE MOMENT
Jonny's favourite moment was getting to see his beautiful bride walking down the aisle at the spot that meant so much to them.
"Being at the ceremony with all of our closest people there and then finally getting to see Jess was amazing," he shares.
"It was pretty emotional, I have to admit – I was bawling the whole way through it!"
For Jess, the ceremony and first dance both held a special place in her heart.
"It's so hard to choose – the ceremony was really special and emotional as well with the build-up of the pandemic, so we were just so happy to finally be there in that moment," she says.
RELATED TO: 10 Top Tips For A Fabulous First Dance
"Our first dance song was 'Your Love Is An Island' by Talos, which is a band that played at one of our first festivals together. We also took dance lessons, and our friend is a choreographer, so we came up with our own routine and it was so nice just having fun and dancing together.
"It was outside underneath the trees and we had a little platform covered with fairy lights and all of our closest friends were around us – it was a really special moment that we'll never forget."
RELATED TO: 25 First Dance Songs Your Guests Won't Expect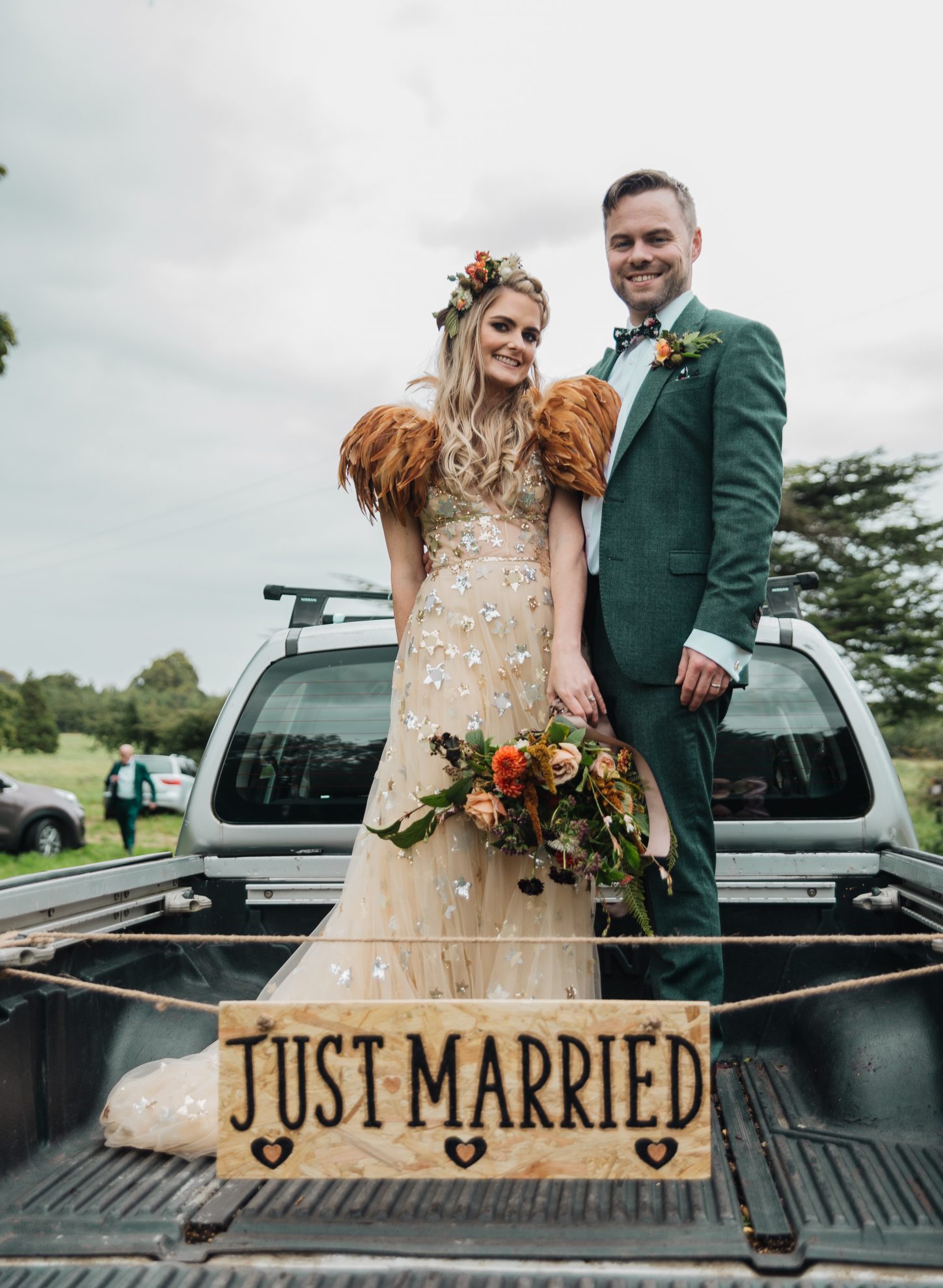 RELATED TO: 11 Things I Wish I'd Known Before Planning A Wedding

Sign up to our newsletter to get all the latest from The Wedding Journal! Join Here>>>>http://eepurl.com/ck9vLb