Every month has its own birthstone – and it's a lovely touch to include your birthstone in your wedding ensemble as an element that has a special meaning for you. Here are 12 of our favourite ways to wear your birthstone!
The idea of a birthstone is said to date back to Biblical times, with every month having its own special signature stone.
It's said that wearing a birthstone during the month that it's associated with heightens its healing powers. But there's no set way of wearing a birthstone, so whether you go for a necklace, earrings or bracelet, it's all good!
Meanwhile, the modern idea of a list of birthstones that is – ahem – set in stone is a relatively modern idea. The list was created in 1912 by the National Association of Jewelers in the US and was updated as recently as two years ago in an effort to organise the many games that had been associated with various months over the centuries.
RELATED TO: 13 Lucky Pieces Of Jewellery To Set Off Your Wedding Dress
So even if you don't particularly like the appearance of your own birthstone, don't worry – there's bound to be another version of the list with a birthstone you like better!
Which is your birthstone?
January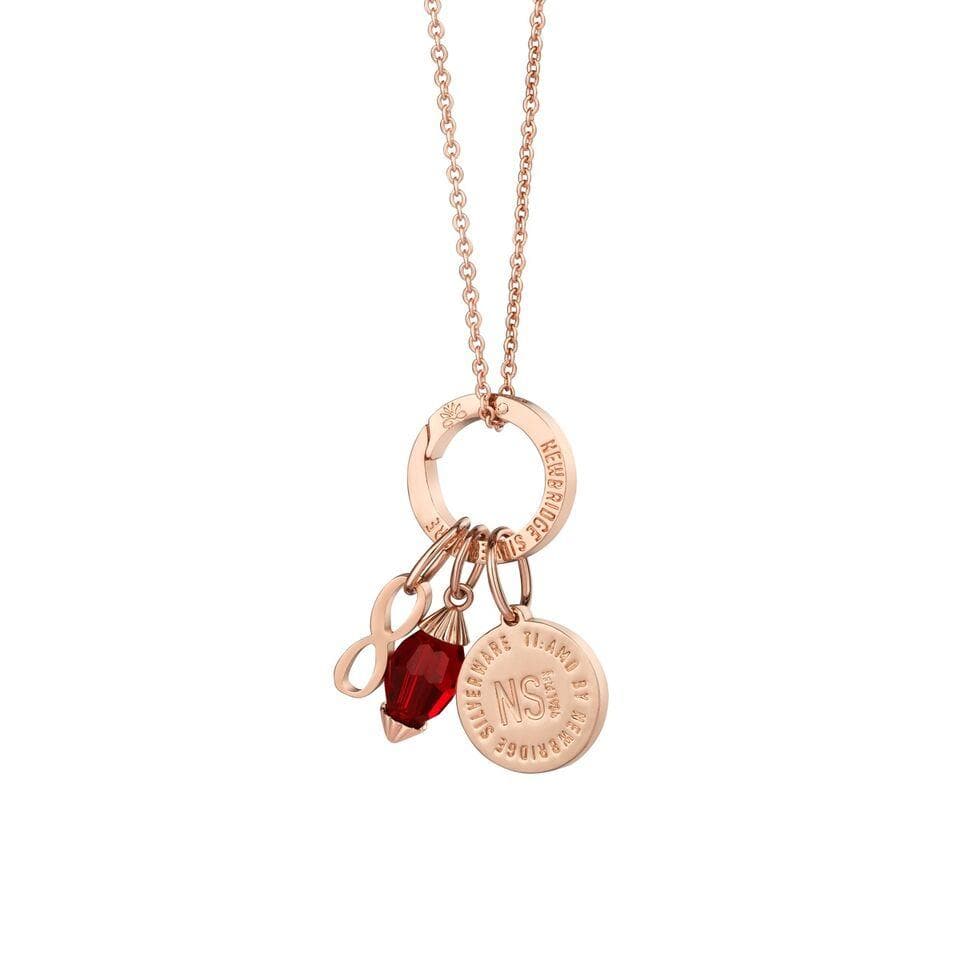 Birthstone: Garnets
It is believed garnets bring peace, prosperity and health to a home and they're thought to heal wounds, stimulate metabolism and purify blood. The Egyptians believed garnets were a symbol of life and nobility in ancient Rome wore garnets in signet rings. 
If your budget doesn't stretch to real garnets, get the birthstone look in your bridal ensemble with this lovely rose gold plated pendant, with its coloured stone setting with an infinity charm suspended from a Karma ring with the TI:AMO lotus flower detail. Choose your month of the year from the birthstone pendant range at R McCullagh Jewellers.
RELATED TO: Which Wedding You Should Have Based On Your Star Sign
February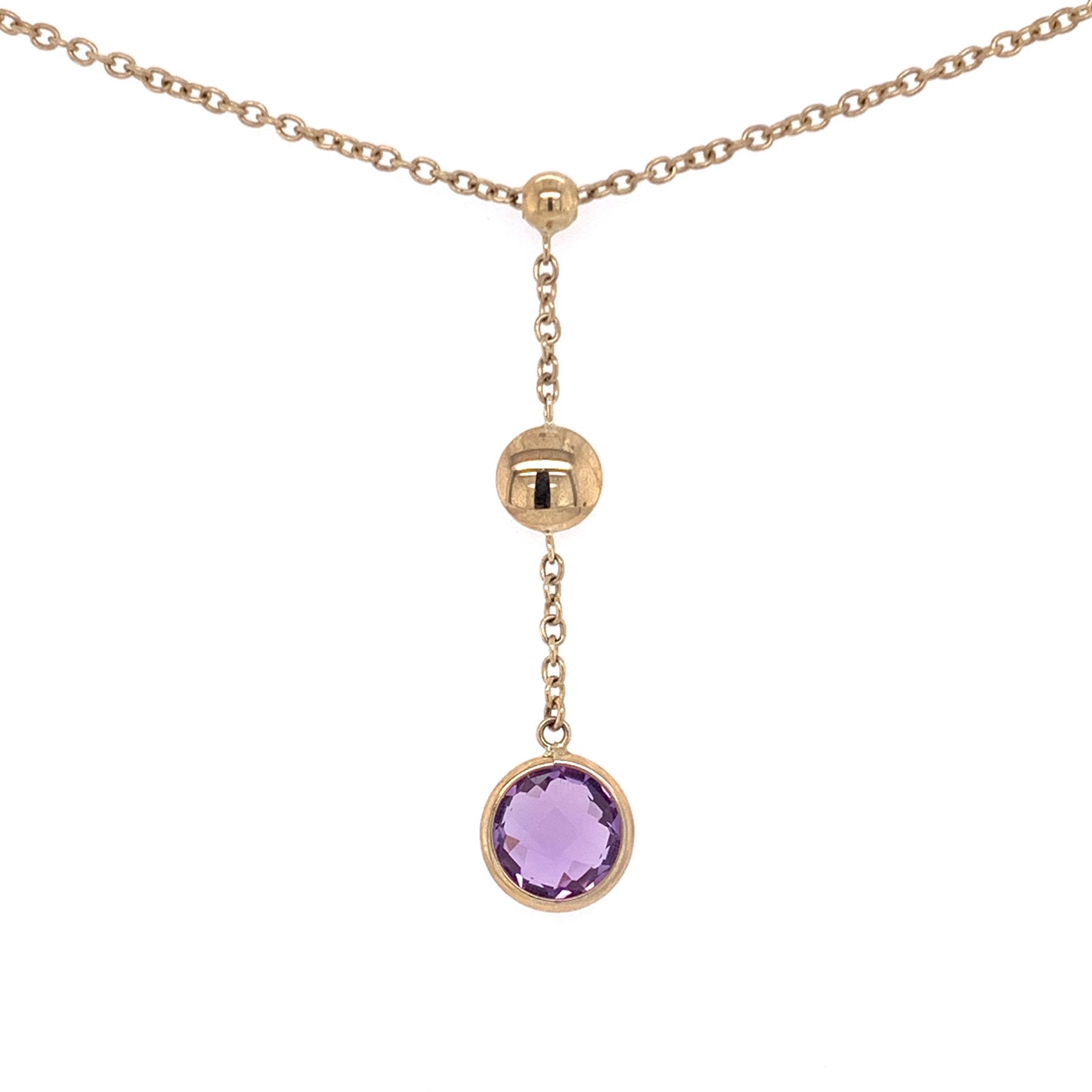 Birthstone: Amethyst
The word for sober in ancient Greek, amethustos, inspired the word amethyst. The term was actually based on the belief that an amethyst could prevent the person wearing it from becoming drunk.
Amethysts are thought to enhance creativity, passion and harmony. Often used in meditation, the energy of an amethyst is believed to help stability, humility and relaxation.
The stones are thought to have the ability to build the immune system, reduce bruising and pain.
If the amethyst is your birthstone, try incorporating it into your bridal ensemble with this stunning amethyst and 9ct gold drop pendant from Gardiner Brothers Ltd.
RELATED TO: 11 Showstopping Floral Looks For Your Wedding Hair
March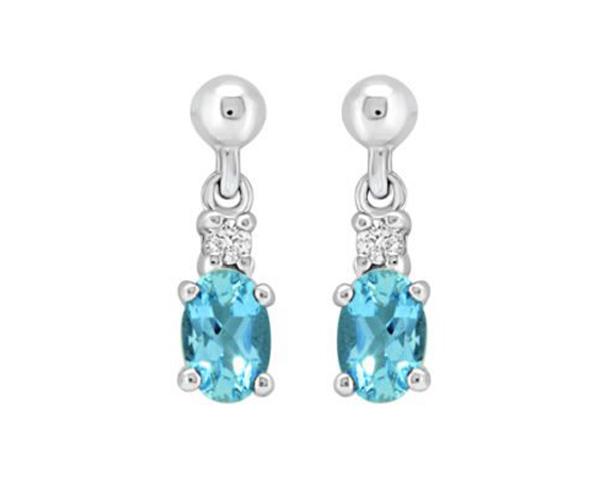 RELATED TO: Rose Gold Engagement Rings We're Loving Right Now
Birthstone: Aquamarine
The serenely colored aquamarine invokes the two Latin words that inspired its name: aqua for water and marina, for sea. The gem is used as an aid for meditation and spirituality and is supposed to provide a sense of calm and tranquility. Aquamarine is thought to heal sinus conditions, allergies and respiratory problems, teeth and gum issues, as well as tired eyes. It is known as a cooling gem.
The Greeks and the Romans considered aquamarines the treasure of mermaids and sailors believed they would safeguard a ship in a storm. It was also believed to protect soldiers going into battle.
Bring a touch of serenity to your bridal jewellery with these stunning 0.60ct oval cut aquamarine and diamond drop earrings from Commins & Co Jewellers.
RELATED TO: How To Match Your Engagement Ring To Your Star Sign
April
Birthstone: Diamond or Bloodstone
The Greek words adamas meaning unbreakable and diaphanus for transparent were merged together to form the term diamond. Diamonds are believed to bring a sense of radiance, energy and light to the soul as well as providing  strength and clarity in stressful situations. Diamonds are also thought to be beneficial in strengthening brain functions and cleansing the organs.
Warriors in ancient Greece wore diamonds to make themselves invincible while the Romans regarded the stone as a symbol of innocence and purity. It was during the Renaissance that diamonds were first used as engagement rings. The bloodstone is also known as a birthstone for April but has fallen out of popularity.
It isn't hard to find a way to incorporate diamonds into a wedding look as it has a traditional association! We love this pretty 0.25ct heart shaped diamond cluster pendant necklace from Commins & Co Jewellers.
RELATED TO: How To Care For Your Engagement Ring
May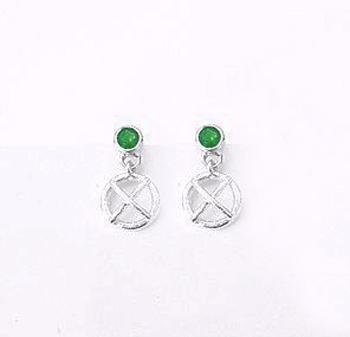 Birthstone: Emerald
Emerald is said to transform negativity into positive energy, security, harmony and spirituality.
Just looking at emeralds was once believed to cure stomach, skin and intestinal problems. The gem was also thought to be able to keep the wearer's attitude serene.
Emeralds were mined in Egypt as early as 330 BC and Cleopatra famously collected the stone. The Egyptians used emeralds in jewellery and in elaborate burials as a symbol of protection.
Team with cool silver for a striking bridal look – for example, these beautiful Jenny Gordon Kiss Hug  Silver Emerald Drop Earrings from Robinson Goldsmith.
RELATED TO: How To Match Your Wedding Band To Your Engagement Ring
June
Birthstone: Pearl or Moonstone
The only gem made by living creatures, pearls come in a range of colours from white to black Tahitian pearls and rare pink conch pearls.
They are believed to create a sense of balance and provide emotional healing and are associated with faithfulness, loyalty, modesty and purity.
Pearls have been used throughout history to help treat the digestive tract, maintain strong bones and brighten skin in the form of pearl powder.
Ancient Greeks believed pearls were tears of the gods, while Hindus thought pearls were tears of the moon. 
Pearls are a classic combination with a bridal gown – if your arms are going to be bare on the day, try this pretty personalised pearl sparkle disc bracelet from Boyne Jewellers.
RELATED TO: The 10 Most Expensive Wedding Rings In The World
July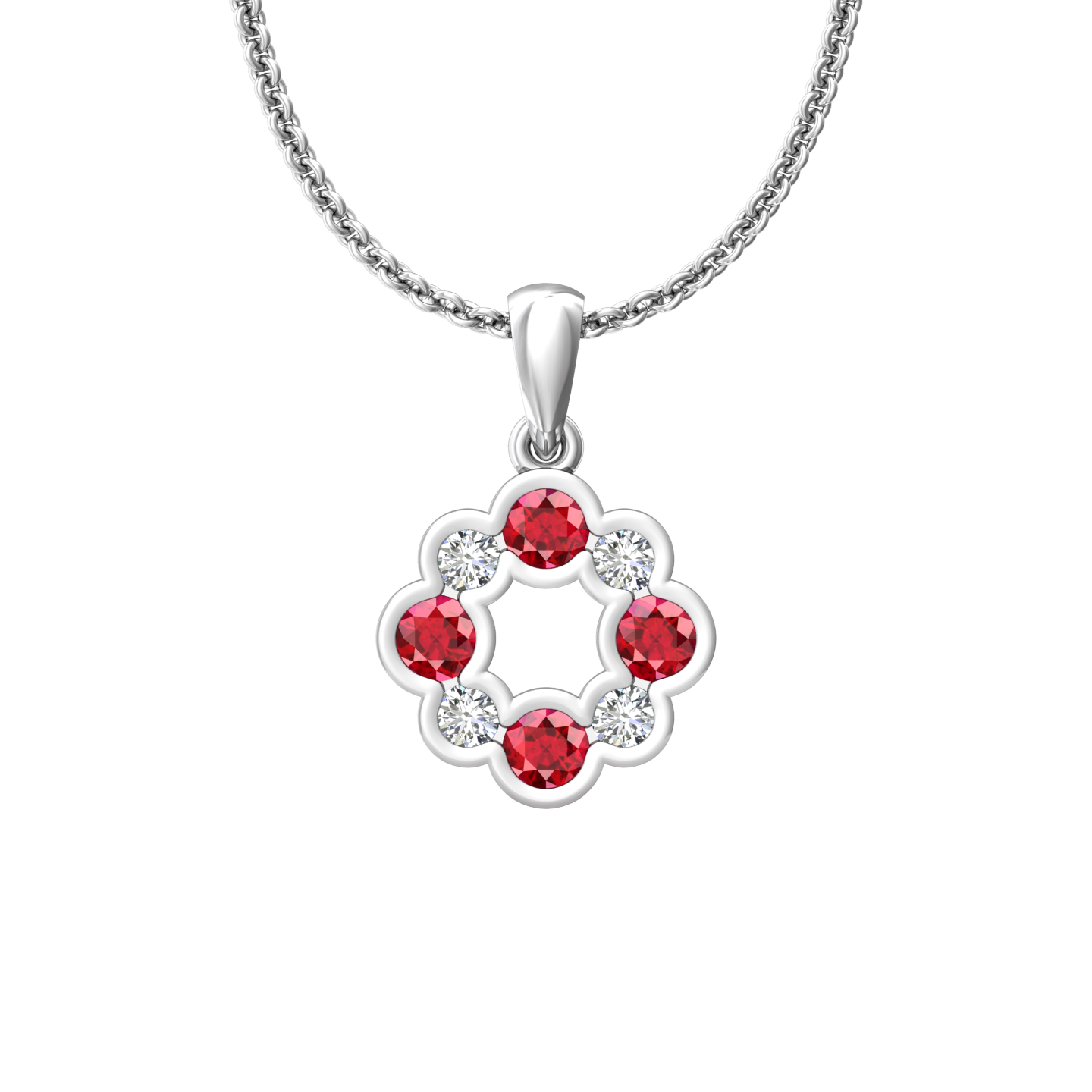 Birthstone: Ruby
The name ruby comes from the Latin word for red, rubeus. Rubies have been a symbol of passion, protection and prosperity since ancient times and are believed to amplify energy, heighten awareness, promote courage and bring success in wealth, love and battle.
Thought to energize and balance, stimulate the heart chakra and encourage passions, the stone is used to detoxify the body and heal the heart and respiratory system.
In ancient times, ruby was worn as an amulet to ward off the plague and diseases. It was also believed to be the most precious of gemstones during the time of the Judean Temple, because its passion and energy was said to bring love, success and good fortune.
Get the ruby look with this stunning Eclipse Collection ruby and diamond circle pendant on a 9ct gold chain from Gardiner Brothers Ltd.
RELATED TO: Wedding Traditions & Superstitions You Need To Know
August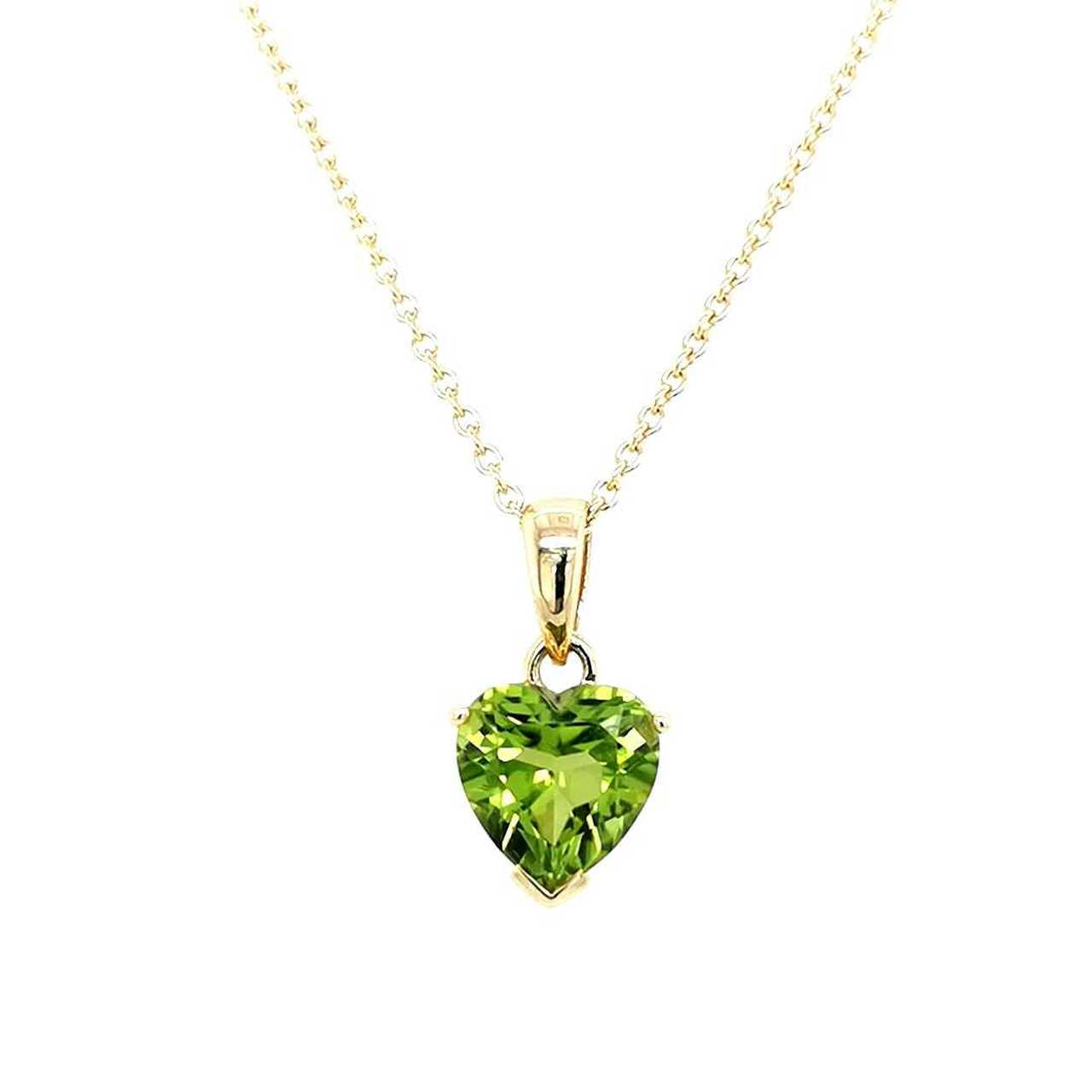 Birthstone: Peridot, Spinel and Sardonyx
Peridot is believed to stimulate psychological clarity and inspire a sense of happiness, truth and understanding. Believers think it empowers one to take responsibility and make decisions, resulting in prosperity and good fortune.
The stone is supposed to support the digestive system and was traditionally used as a talisman during childbirth. Its green energy helps with internal balance, peaceful sleep and releasing negative feelings.
Ancient Egyptians called peridot the gem of the sun. They believed it protected its wearer from terrors of the night and harnessed the power of nature.
Incorporate the powers of this greenish gem with this pretty 9ct yellow gold 1.87ct peridot heart pendant from Murray & Co.
RELATED TO: Just How Sexy Is Your Star Sign?
September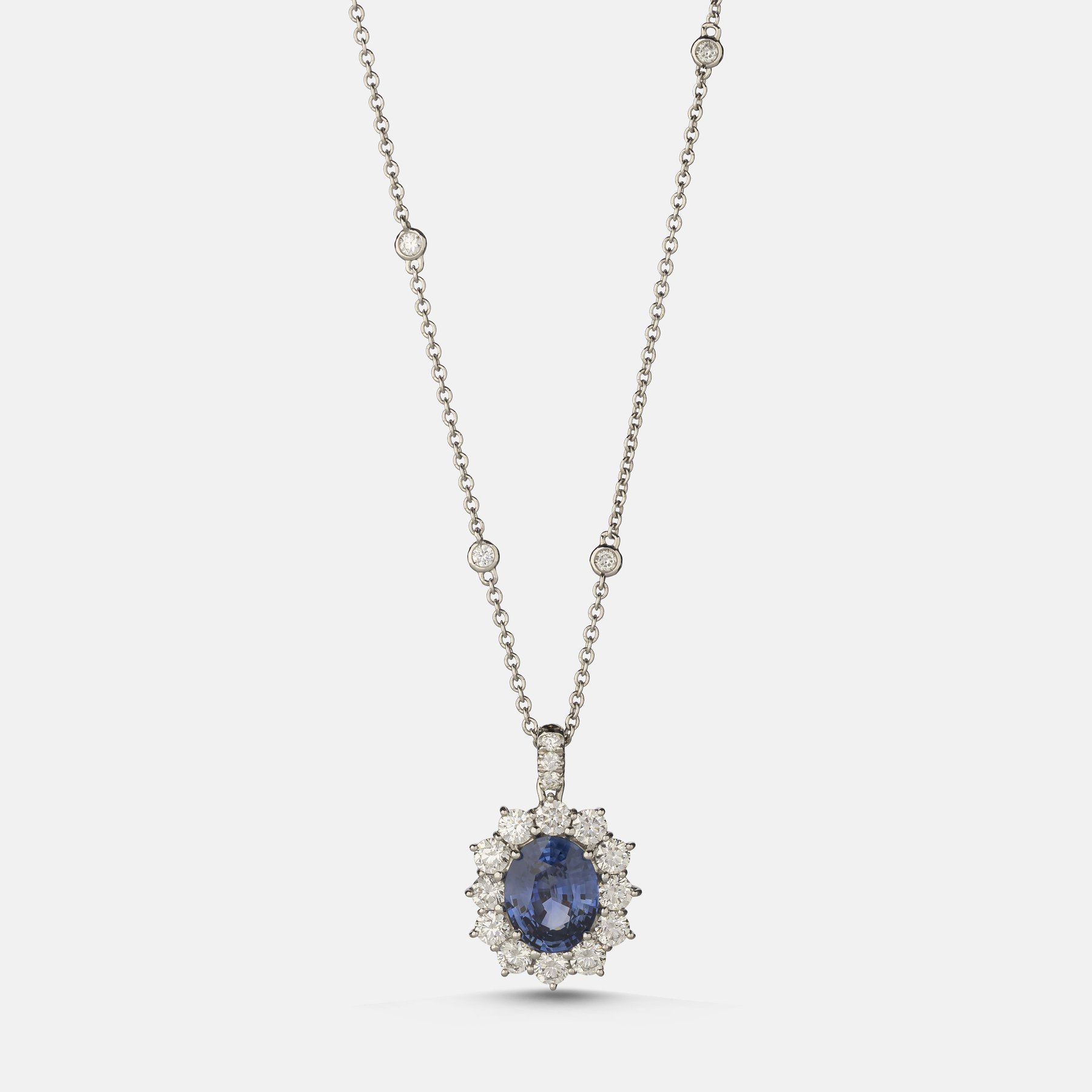 Birthstone: Sapphire
The name sapphire comes from the Latin sapphirus and Greek sappheiros – both mean blue stone.
Sapphires are a symbol of loyalty, nobility, sincerity and integrity. They are associated with focusing the mind, maintaining self-discipline and channeling higher powers.
Blue sapphires are believed to be a cure-all that do almost everything including helping insomniacs to find sleep.
The Ancient Greeks wore sapphire for guidance when seeking answers from the oracle, while Buddhists believed it brought spiritual enlightenment, and Hindus used it during worship.
Harness its mind-focusing powers on your big day by treating yourself to this 3.39ct oval sapphire pendant on a 18ct white gold chain from Paul Sheeran Jewellers.
RELATED TO: Are Your Star Signs Compatible?
October
Birthstone: Opal and Tourmaline
The name opal originates from the Greek word opallios, which meant to see a change in color. As a stone of light, opal is believed to be the ideal gem to attract positive energies and center the mind for prayer and meditation.
A supportive stone, dedicated to healing and emotionally strengthening, opal is thought to have properties to purify the blood, stimulate memory and balance hormones.
According to Arabic legend, opals fell from the sky in bolts of lightning. 
Adorn your bridal hairstyle with this Valentina silver opal diamante headpiece with Swarovski pearls – from Deborah K Designs and also available in gold.
RELATED TO: 4 Undone Hairstyles For An Effortless Bridal Look
November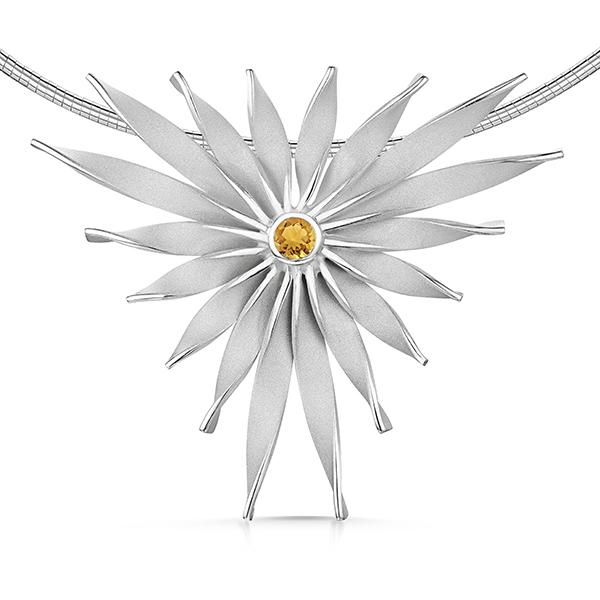 Birthstone: Citrine and Topaz
The name comes from the French word citron, meaning lemon.
Believed to be a powerful cleanser and regenerator, the gem supposedly inspires self-improvement and is thought to provide a boost to the circulatory system.
Citrines can be found in jewels dating back to ancient Greece. It was a very popular gem in jewels from the 19th century through the 1940s.
Incorporate it on your wedding day with this spectacular handcrafted Valentina silver pendant from the Elemental Collection at Steenson Brothers Ltd – it's also available in amethyst, blue topaz, peridot or garnet.
RELATED TO: 11 Wedding Expenses Every Bride Forgets To Budget For
December
Birthstone: Turquoise and Tanzanite
The word turquoise comes from the French tourques for Turkish stone. Traders from Turkey introduced the Persian blue stone to Europe via the Silk Road in the 13th century.
Turquoise is believed to heal and cleanse the body, as well as aiding in understanding, enhancing trust, kindness, and the recognition of beauty. Turquoise is a strengthening stone, good for exhaustion, depression or panic attacks.
Egyptians treasured its protective power and set it in necklaces, Persians set the stone into their daggers and war necklaces and Native Americans used it in sacred ceremonies.
Add a touch of vivid turquoise into your outfit with these simple but striking Kit Heath silver earrings from Robert Adair Jewellers.
RELATED TO: How To Buy The Perfect Engagement Ring
Still hunting for your perfect wedding jewellery? Check out our gallery of fabulous suppliers HERE.
Sign up to our newsletter to get all the latest from The Wedding Journal! Join Here>>>>http://eepurl.com/ck9vLb