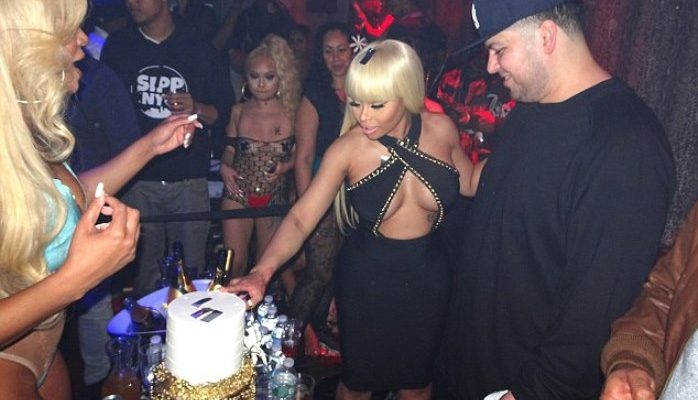 PIC: See Rob Kardashian & Blac Chynna's engagement party!
The famous pair have thrown a wild engagement celebration to mark their upcoming nuptials.
The world was shocked last week when it was announced that reality star Rob Kardashian, 29, and his new flame Blac Chynna, 27, were set to tie the knot. If you don't follow the American stars, Blac Chynna's ex (and baby's father) is currently dating Rob's little sister… queue a little bit of family awkwardness.
But all the rumours were true on the shock engagement and now the loved-up pair have marked the engagement with a sultry bash complete with a sparkling cake, champagne on the rocks and some very… err… scantily-clad guests. Oh, did we not mention it took place in a strip club?
Blac's outfit of choice was… black… while Robert wore his traditional attire of a t-shirt and tracksuit bottoms completed by a black snapback cap. The pair put on a romantic and amorous display for their guests- proving that their love is going nowhere fast. 
No details are yet known about the pair's wedding, however the rumour mill has been going into overdrive with claims that it will be used to launch Rob and Blac's own reality TV show to rival Rob's famous sisters- the Kardashians.
We wouldn't be surprised to hear the news, but for now at least the pair have given us a glimpse inside their fun-filled engagement celebrations. We're loving the on-trend gold glitter cake which appears to be three-tiered, and the seductive black and gold theme.
We're not sure about the location though… wouldn't be our first choice!